Advertising Disclosure
Advertising disclosure:
Our partners compensate us. This may influence which products or services we review (also where and how those products appear on the site), this in no way affects our recommendations or the advice we offer. Our reviews are based on years of experience and countless hours of research. Our partners cannot pay us to guarantee favorable reviews of their products or services.
NYC, often seen as the global epicenter for media and creativity, boasts a myriad of ad agencies vying for the top spot. In this article, we delve into the crème de la crème, spotlighting the top 10 contenders who have made remarkable strides in the world of advertising. Join us as we navigate through the brilliance and innovation these agencies offer.
---
Top 10 NYC Advertising Agency Picks
Top
advertising agencies nyc
2024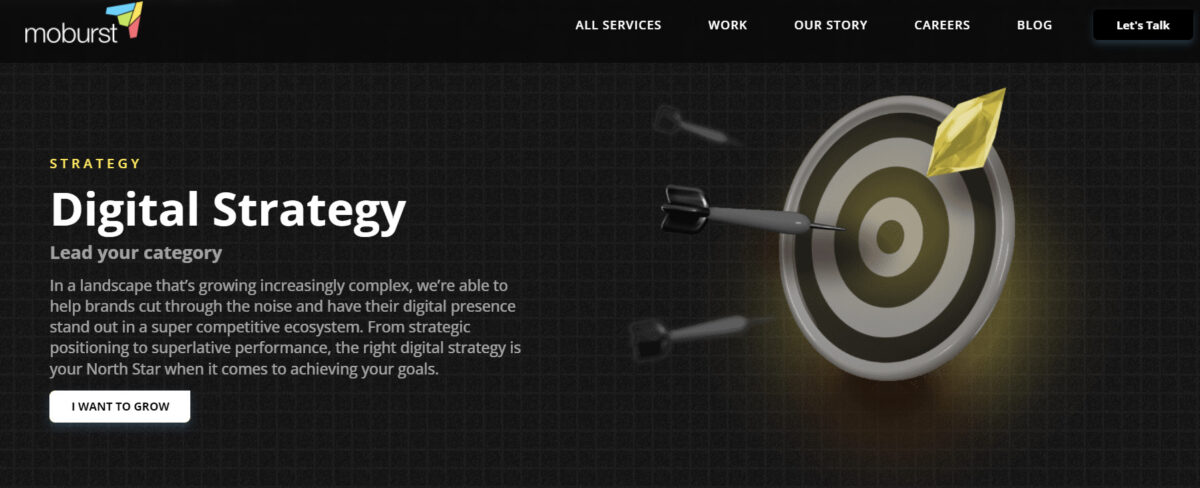 Moburst, strategically located on 5th Avenue, New York City, is at the forefront of revolutionizing the digital advertising landscape. With a particular expertise in OTT (Over The Top) marketing, Moburst offers businesses a cutting-edge advantage in delivering precision-targeted TV campaigns. Leveraging smart devices, the agency ensures advertisers pinpoint specific target audiences, enhancing ad spend efficiency and driving unparalleled performance. Beyond this, Moburst has a proven track record with notable campaigns, including assisting Redefine Meat in successfully launching in four European cities, a campaign that garnered 11 award nominations. Their holistic approach encompasses a spectrum of services ranging from media buying and creative & content to organic awareness and ad placements.
The agency's commitment to excellence is underscored by their extensive research phase, ensuring optimal targeting methods. With case studies revealing impressive outcomes, like achieving almost 16 million video views on a TikTok channel within 60 days and securing major accolades such as the Effective Digital Marketing Campaign Award 2022, Moburst has undeniably cemented its position as a dominant force in the advertising realm. Whether running Facebook ads, gaining email leads, or identifying the ideal customer, clients trust Moburst for dynamic solutions that resonate with today's digital consumer.
---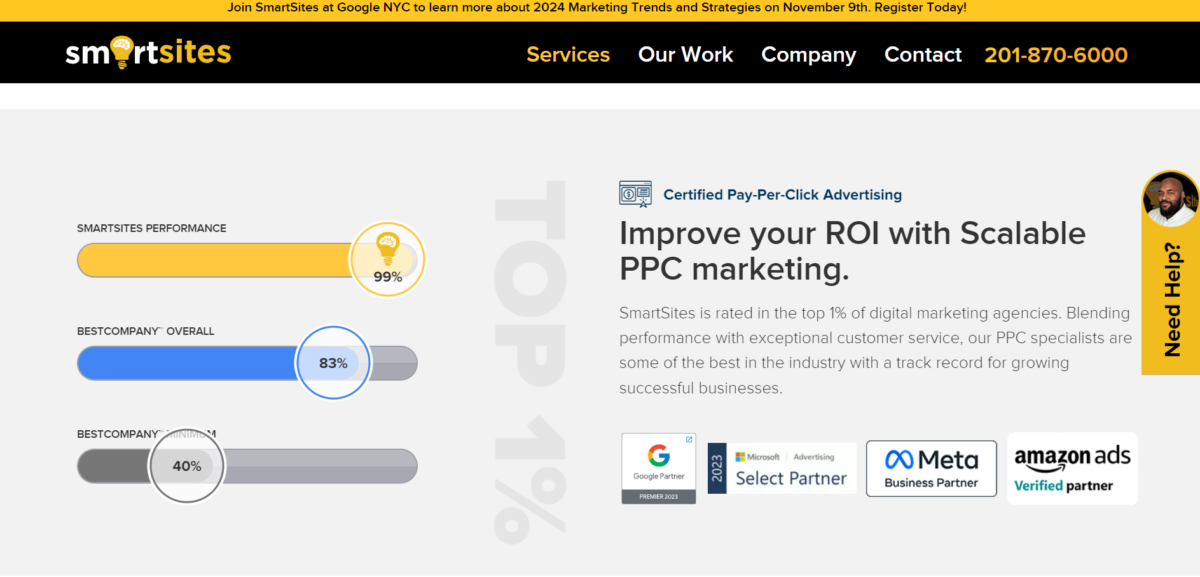 SmartSites Digital Marketing Agency is a front-runner in the digital advertising realm, particularly renowned for their unparalleled expertise in Pay-Per-Click (PPC) management. With a robust suite of services that span across Google, Facebook, LinkedIn, Amazon, and more, SmartSites crafts tailored strategies, leveraging a vast reservoir of over one billion data points from thousands of campaigns. Recognized by industry giants, they've achieved the Google Premier Partner status for 2023, as well as partnerships with Microsoft, Meta, and Amazon Ads. Their data-centric approach, combined with cutting-edge technology, ensures detailed, transparent reporting, offering actionable insights to eclipse competitors.
In addition to their prowess in PPC, they are rated within the top 1% of digital marketing agencies, having secured accolades from G2, GoodFirms, and BestCompany. The team of certified PPC experts at SmartSites diligently works towards identifying and connecting businesses with their target audience. Their stellar reputation is further cemented by an array of success stories showcasing dramatic increases in conversions and reductions in acquisition costs. If measurable results and industry-leading expertise are the benchmarks, SmartSites emerges as an evident choice among NYC-based advertising agencies.
---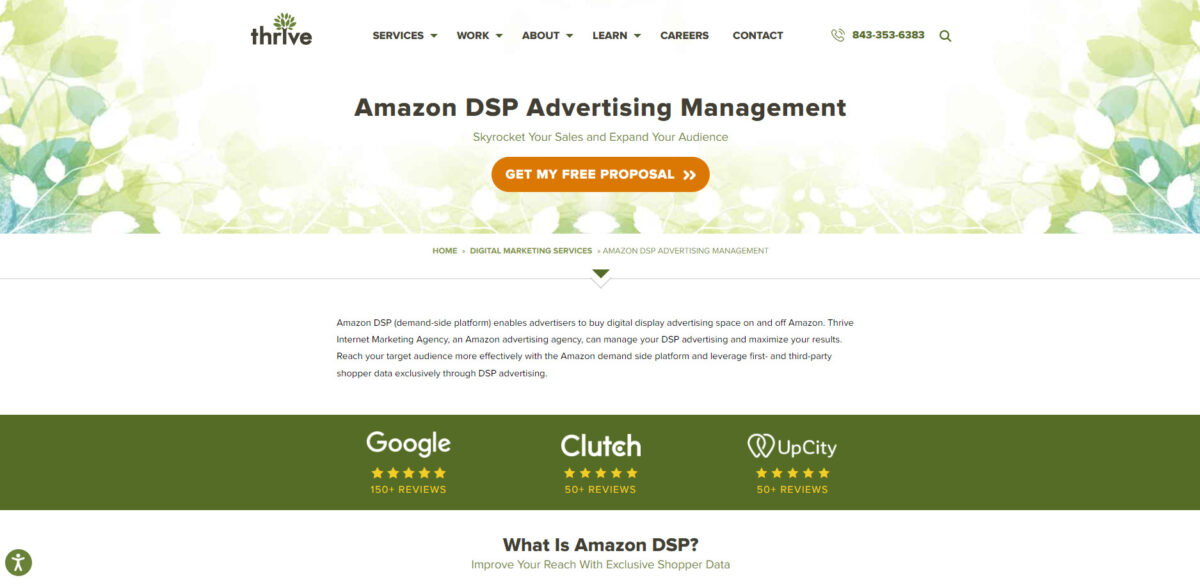 WIth offices in NYC, Thrive's prowess lies in its comprehensive Amazon DSP Advertising Management, ensuring brands achieve a dynamic presence on the Amazon platform. Leveraging extensive experience in eCommerce marketing, Thrive meticulously crafts strategies tailored to individual business goals. From strategizing to executing high-quality, custom Amazon ads, the agency guarantees adherence to Amazon's rigorous creative standards while standing out from template-based competitors. But what truly distinguishes Thrive is their aptitude for audience analysis, tapping into Amazon's unparalleled shopper data to optimize target audience reach. By continuously refining strategies based on data-driven insights, Thrive maximizes advertising ROI, ensuring every dollar invested is effectively utilized.
Diversifying their expertise, Thrive offers an expansive suite of Social Media Advertising Services. From comprehensive social media marketing and management to specialized services like Facebook ads and LinkedIn lead generation, the agency caters to a brand's holistic online presence. Their meticulous approach integrates auditing, strategic content creation, and platform-specific ad campaigns to bolster brand presence across various social channels. Their consistent track record, underscored by impressive client results, attests to their commitment to delivering superior campaign optimization and meaningful brand growth.
---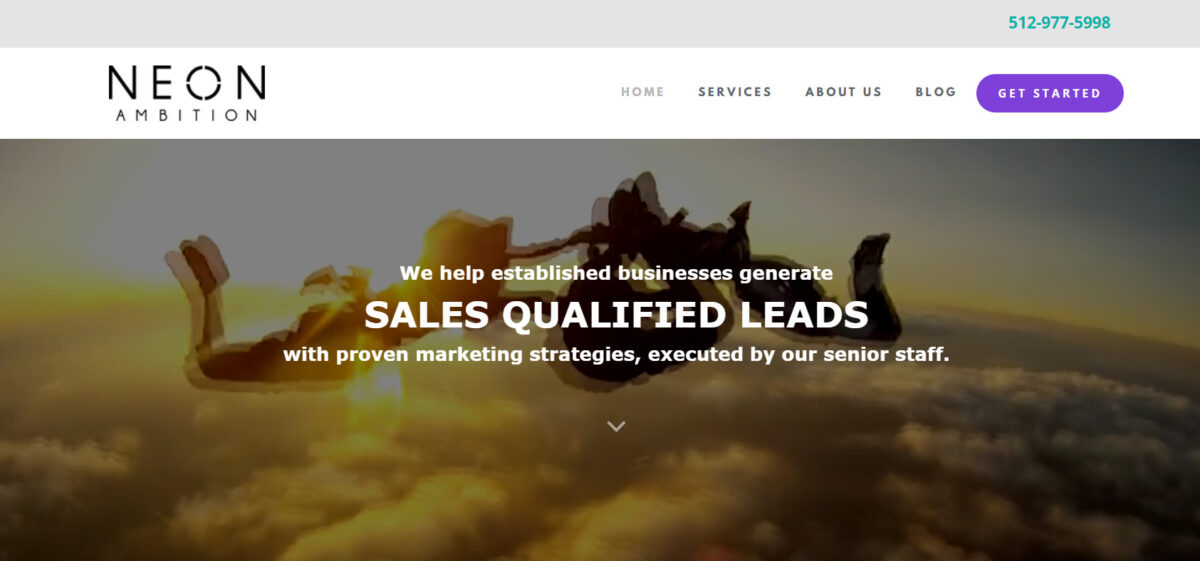 Steering clear of the mundane, Neon Ambition has positioned itself as a foremost PPC agency with its origins in Austin but offices in New York and multiple other cities. Responsible for managing an impressive $35M in AdWords and Bing, as well as $15M in monthly paid Facebook advertising, the agency is a powerhouse of data-driven insights. Their prowess doesn't merely rest on the quantum of ad spend but on the astuteness of campaign optimization, offering a promise of maximum ROI, regardless of budget size. With proficiency in other platforms, such as Gemini (Yahoo ads), Neon Ambition allows its clients to showcase their advertisements when potential customers actively search for relevant keywords.
This agency's global footprint is evident, having executed campaigns in over 150 countries and in more than 10 languages. Their commitment? Treating client campaigns with the same meticulous care as they would their own. Neon Ambition stands apart with its promise of transparency—ensuring clients retain full ownership of their campaigns—and its unwavering focus on performance metrics. Their accolades extend beyond their base, with an active NYC presence, ensuring clients coast-to-coast and internationally benefit from their unparalleled PPC expertise.
---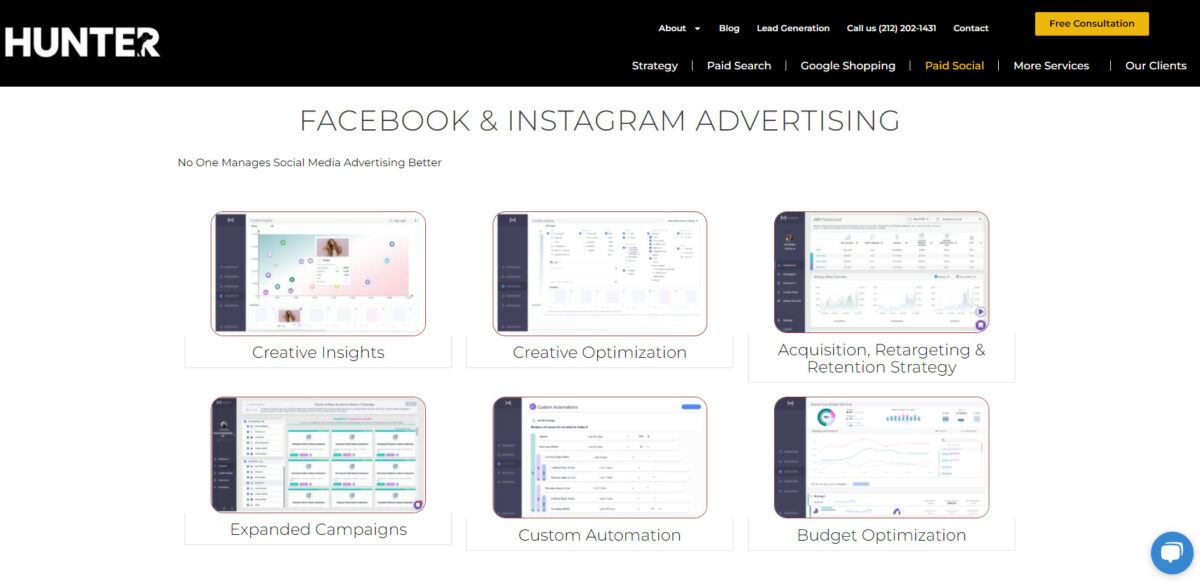 With its inception as one of the first 350 advertisers on Google AdWords, Hunter Digital Marketing has since etched an indelible mark on the New York advertising landscape. Their forte lies in optimizing Pay-Per-Click campaigns to bolster sales, a testament to their longevity and expertise in the ever-evolving digital realm. The agency adopts a multi-faceted approach, beginning with meticulous keyword research and compelling ad copy; it layers these with precision targeting based on geography, demographics, and behavior. Moreover, they've mastered the art of retargeting, ensuring that potential clients are constantly reminded of brands, nudging them back during their purchasing journey.
Hunter's accolades aren't just limited to PPC. Their global influence, however, is grounded in their commitment to producing tangible results, consistently monitoring metrics like spend, conversion rates, and ROAS. With an impressive portfolio that spans sectors from fashion to fitness and accolades from renowned publications such as The Influential and New York Weekly, Hunter Digital stands as an epitome of innovation and results in the digital advertising sphere.
---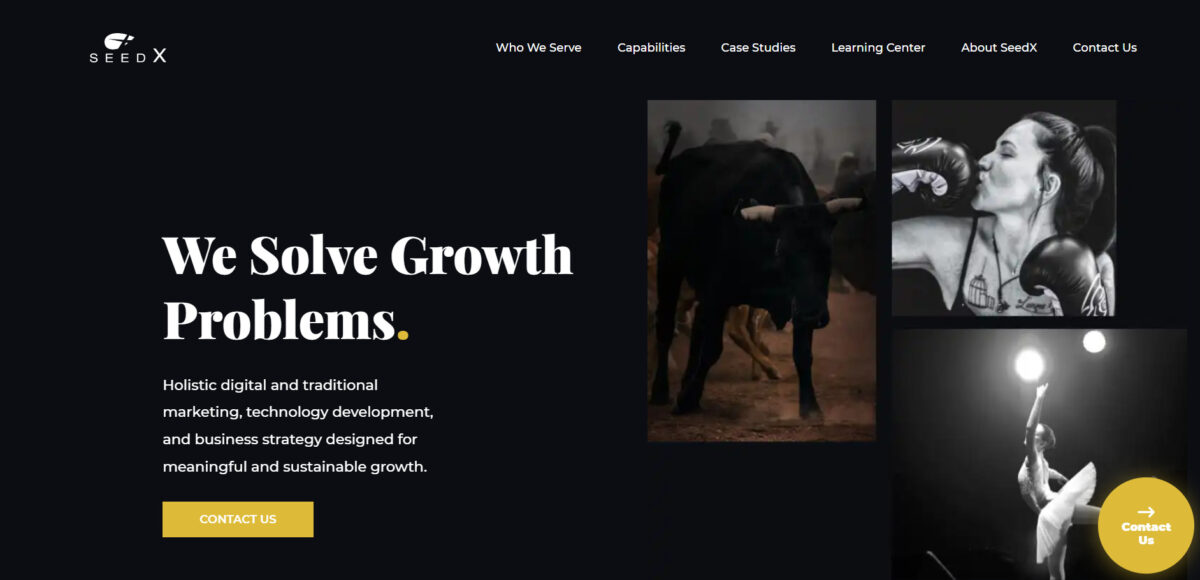 SeedX has cemented its reputation as a comprehensive solution provider in the NYC digital advertising landscape, with a penchant for curating scalable growth channels. Their approach is dual-pronged, intertwining innovative technology with expansive marketing and design strategies. Beyond the typical confines of an advertising agency, SeedX delves into the intricate layers of a company's core business fundamentals, intertwining digital strategy with crucial aspects like pricing structures and budgetary constraints, ensuring a harmonized growth trajectory. 
The agency boasts a vast suite of capabilities. On the creative front, they offer everything from UX/UI design and ad and social media creative development to advanced copywriting. Their prowess in advertising is underscored by services such as paid media buying, lead generation, and astute data analytics that offer visualized insights into revenue-based outcomes. Catering to diverse sectors, including B2B, eCommerce, and SaaS, SeedX emerges as a beacon of holistic digital strategy and execution in the heart of New York.
---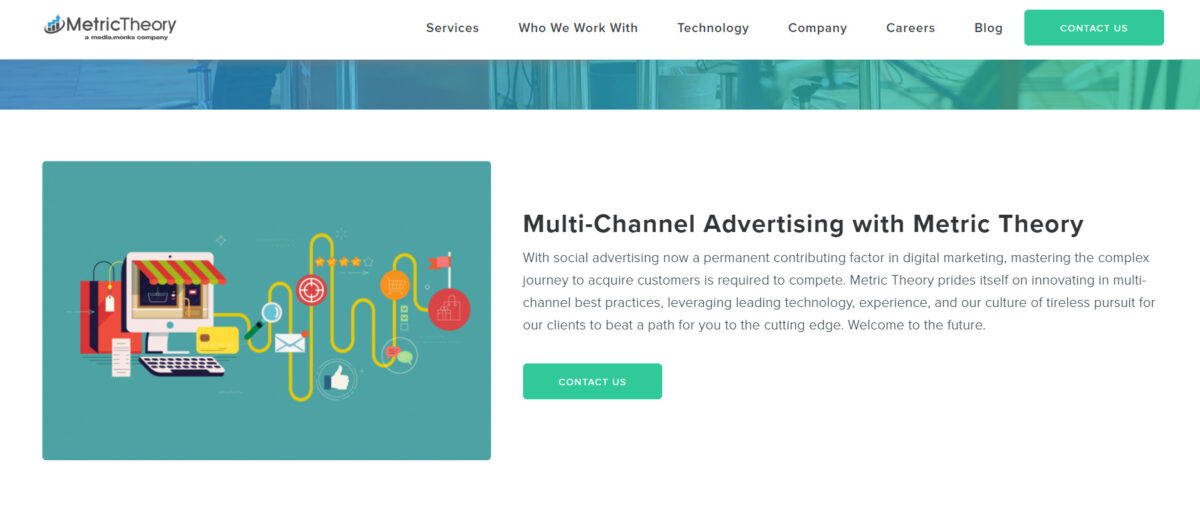 Situated prominently in New York's bustling advertising ecosystem, Metric Theory sets the benchmark with a distinctive blend of services tailor-made for businesses keen on navigating the intricate world of digital advertising. This agency emphasizes the transformative potential of Paid Social, leveraging advanced cross-device insights and audience targeting techniques that stand peerless in acquiring customers. Their prowess spans various channels such as Search, Programmatic, Video, and Mobile. With specific tools like Dynamic Product Ads and specialized strategies for Bid Management, they're equipped to optimize the eCommerce journey and cater to both B2B and retail brands. Their methodical approach to Audience Targeting, using platforms like Facebook for precise consumer data and lookalike modeling, positions them as frontrunners in pinpointing ideal customer bases.
Moreover, their success stories, like the significant growth achieved for Getaround, underscore their mastery in utilizing big data and crafting innovative audience strategies. Metric Theory's multi-channel advertising expertise is further accentuated by their reputation as a preferred LinkedIn Advertising agency, catering to the unique demands of B2B social media marketing. Their emphasis on continuous innovation, technology assimilation, and an unyielding dedication to client success makes Metric Theory an agency of choice for brands keen on defining and achieving their advertising milestones.
---
At the heart of New York City's advertising hub, Power Digital Marketing delineates itself with a keen focus on precision-driven PPC strategies. With a decade of experience servicing over 300 clients across diverse sectors, this agency is adept at crafting campaigns that resonate with customers at every stage of their journey. Their offerings encompass a broad spectrum: from Paid Search (Google Ads), ensuring visibility for high-volume terms, to Programmatic Advertising, providing real-time, targeted ad placements. Their mastery extends to specialized services such as YouTube Advertising, tapping into the platform's vast daily viewership, and Amazon Advertising, positioning brands directly in the consumer's purview. 
But what sets Power Digital Marketing apart is their comprehensive approach. Beginning with an in-depth appraisal, they meticulously analyze a brand's current landscape before devising a holistic PPC advertising strategy. Implementation is an iterative process marked by continual assessment and adjustments. The agency's proprietary technology, 'Nova,' powers their paid media strategies, ensuring data-driven decisions. Their commitment extends beyond mere ad placements; they emphasize strategic optimization, nimble shifts in marketing tactics in response to audience behavior, and an unwavering focus on tangible business growth over mere PPC jargon.
---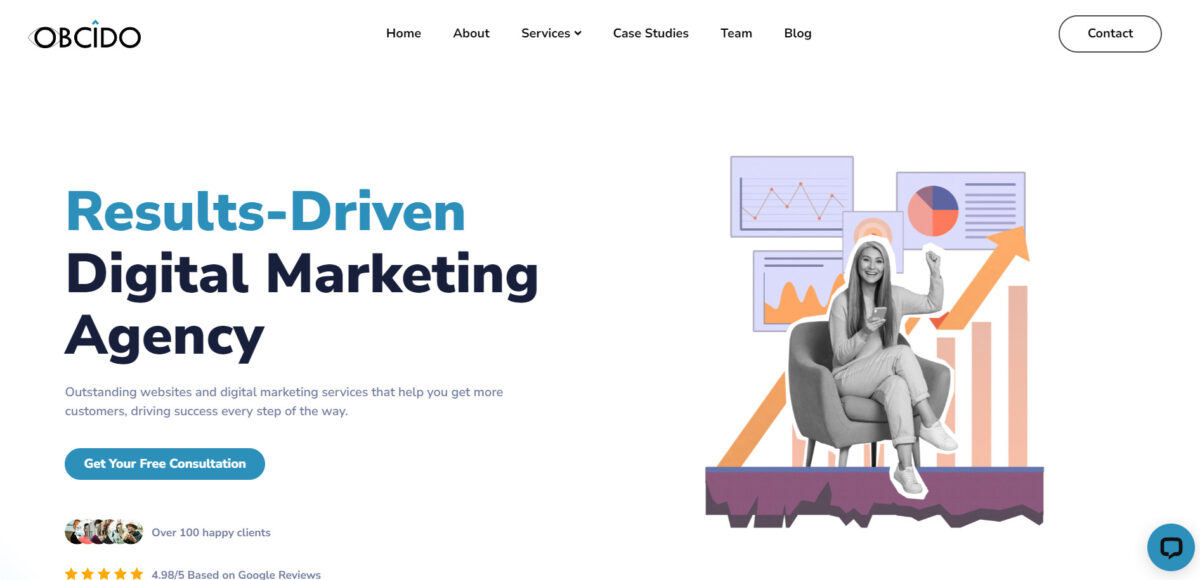 Centrally located in the bustling metropolis of New York City, Obcido emerges as a vanguard in the realm of advertising, particularly specializing in Pay-Per-Click (PPC) marketing. This agency acknowledges the transformative power of PPC, utilizing it to connect businesses with vast global audiences in virtually real-time. They recognize the essence of precision targeting, ensuring that their campaigns cater to individuals actively seeking the services their clients offer, thus optimizing lead generation and ensuring timely conversions.
Diving into Obcido's extensive service suite, one can discern a holistic approach to digital advertising. Beyond their expertise in PPC, they excel in Web Development, ensuring a seamless online user experience primely positioned for conversion. Their proficiency in Social Media strategies cultivates expansive digital footprints across advertising platforms such as Instagram, Facebook, and Twitter. Operating from their strategically positioned office on Wall Street, they stand as a beacon for brands looking to carve a distinct identity in a saturated advertising landscape.
---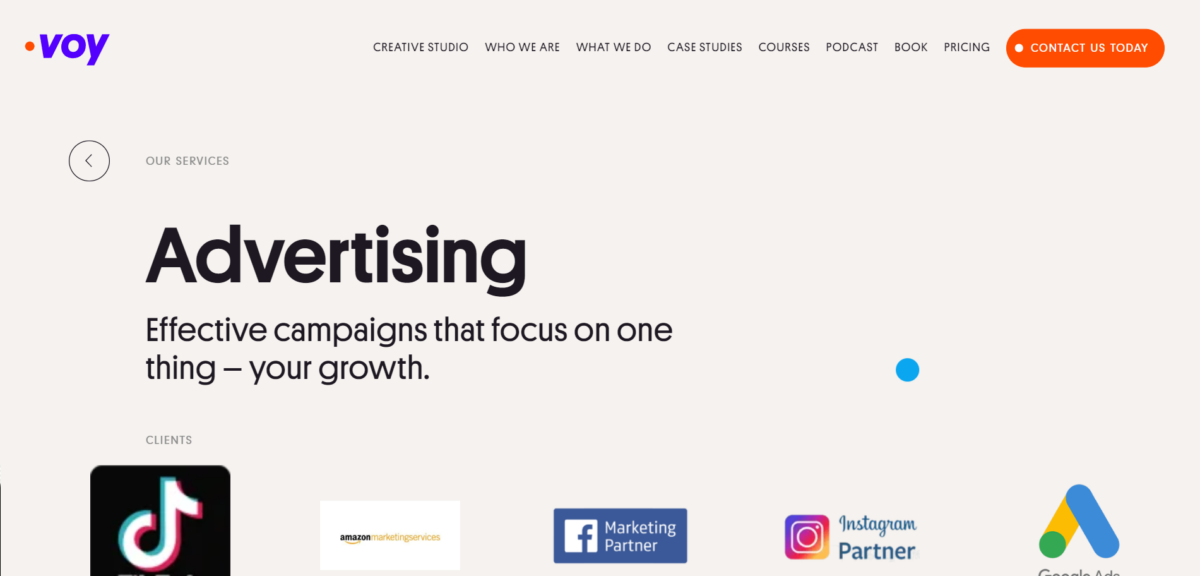 In the heart of New York City, Voymedia emerges as a powerhouse in digital advertising, boasting the title of the city's #1 advertising agency. Recognized for their unparalleled expertise in internet fluency, Voymedia crafts arresting visuals and compelling narratives that command attention in an increasingly crowded digital space. This mastery in creating engaging content isn't merely an art for them but a meticulously honed strategy grounded in performance metrics. Their clientele ranges from Fortune 500 magnates to innovative start-ups, all attesting to the agency's proven track record of escalating businesses from six-figure sales to the coveted eight-figure threshold monthly.
Voymedia's suite of services paints a holistic portrait of their digital prowess: from data analysis to high-volume creative testing. Their offerings span the gamut of Full-Service Facebook & Instagram Ads, Retargeting, Custom Audiences, Dynamic Product Ads, an in-house Creative Studio dedicated to Ad Video Design, and more. As a testament to their effectiveness, Voymedia proudly highlights that 92% of their clients doubled their revenue within their inaugural year of partnership. Merging creativity with concrete results, this agency indeed solidifies its position as a beacon for businesses aspiring to dominate the digital realm.
---
---
How Has the Rise of Digital Marketing Impacted Traditional Advertising Agencies in New York?
The skyline of New York City is not just populated by its iconic skyscrapers but also by the towering achievements of its advertising agencies. Historically, Madison Avenue was the heart of traditional advertising, representing a myriad of brands, constructing narratives, and projecting them through television, radio, and print mediums. But with the digital age storming into the 21st century, the world of advertising in NYC, like elsewhere, faced a seismic shift.
The rise of digital marketing introduced a more direct and measurable way of connecting with audiences. Platforms like Facebook, Instagram, and Twitter enabled businesses to interact with their target demographics in real-time, gather instantaneous feedback, and make agile adjustments to campaigns. With social media platforms collectively absorbing over $207.1 billion in global advertising spend in 2023 alone, the promise of greater ROI became tempting for many brands.
For traditional advertising agencies, this surge in digital marketing was initially a challenge. The vastness of digital channels and the speed at which they evolve required agencies to revamp their skills, tools, and strategies. Many initially faced a dip in revenues as brands allocated substantial portions of their budgets to digital efforts, sometimes at the expense of traditional media. With that said, advertising agencies in New York are projected to reach revenues of $13.5 billion in 2024, according to Statista. 
However, the best of NYC's agencies saw this not as a threat but an opportunity. They embraced the digital age, hiring digital experts, establishing separate digital divisions, and investing in training. Some agencies even formed partnerships with tech firms, while others integrated digital into every aspect of their operations. The result? According to Content Grip, combining digital marketing with traditional advertising allowed agencies to reach wider audiences, eliminating geographical limitations through various channels and mediums. 
In essence, the rise of digital marketing has not diminished the role of traditional advertising agencies in NYC but rather reshaped it. They've adapted, evolved, and now stand at the intersection of the past's creativity and the future's technology.
---
Are There Niche or Specialized Advertising Agencies in NYC That Cater to Specific Industries?
New York City, with its vast diversity and ever-evolving business landscape, has always been a breeding ground for specialization. In advertising, this specialization has led to the birth of niche or industry-specific agencies catering to unique market segments.
Take, for instance, the fashion industry. NYC, being the fashion capital of the world, has advertising agencies that solely focus on fashion brands. These agencies understand the nuances of the fashion world, from seasonal shifts to the ever-changing tastes of fashion-forward consumers. Their expertise ensures campaigns resonate deeply with target audiences. Furthermore, they have strong connections with notable fashion influencers and publications, enabling them to create high-impact campaigns that drive the fashion narrative both locally and globally.
Similarly, the city's burgeoning tech industry has given rise to agencies specializing in tech and startup branding. They're adept at simplifying complex tech jargons into engaging narratives, making tech products more accessible to the masses. Additionally, they often have teams dedicated to understanding the latest technological advancements and market trends, which allows them to craft strategies that place their clients at the forefront of innovation.
The health and wellness sector, another significant industry in NYC, has its set of specialized agencies. These firms are well-versed in FDA regulations, medical terminologies, and the delicate art of communicating health-related messages to the public. With a deep understanding of patient privacy laws and healthcare compliance, these agencies can navigate the complex regulatory landscape, ensuring messages are not only compelling but also compliant.
Another niche includes agencies catering to the luxury market segment. Given NYC's status as a luxury hub, these agencies craft campaigns that resonate with the aspirations and desires of an affluent audience, ensuring that luxury brands maintain their exclusivity while still reaching their desired clientele. Moreover, some agencies have access to a network of high-net-worth individuals and exclusive events, which provides a fertile ground for experiential advertising campaigns that elevate brand prestige.
---
Conclusion
The in-depth analysis of NYC's top advertising agencies underscores the robust digital transformation shaping the advertising sector. The exploration reveals a trend of strategic innovation, with agencies employing precision targeting and data-driven insights to optimize ad spend and drive exceptional campaign performance. The notable emphasis on Pay-Per-Click (PPC) management and Over The Top (OTT) marketing showcases the shift towards real-time, measurable advertising strategies. 
Agencies are leveraging vast data reservoirs, demonstrating remarkable outcomes while reducing acquisition costs. Moreover, the adeptness in managing substantial ad spends across multiple platforms and optimizing Return on Investment (ROI) reflects a mature, competitive digital advertising landscape in NYC, poised for delivering tangible business growth.
Frequently Asked Questions
What factors typically determine the success of an advertising agency in NYC?
A combination of creative innovation, understanding of market trends, client satisfaction, and measurable campaign results often determine the success of an advertising agency in NYC. Strong relationships with both clients and media outlets, adaptability to the ever-evolving digital landscape, and a deep understanding of diverse consumer demographics also play crucial roles. 
How do NYC advertising agencies adapt to the fast-paced changes in consumer behavior and trends?
NYC advertising agencies employ various strategies to stay abreast of swift consumer behavior and trends changes. This includes continuous market research, real-time data analytics utilization, and consumer feedback loop engagement. Agencies also invest in ongoing training, ensuring their teams are equipped with the latest digital tools and techniques. 
How do the advertising budgets for NYC campaigns compare to other major cities globally?
Advertising budgets in NYC are among the highest globally, reflecting the city's status as a major commercial and cultural hub. The vast audience reach, premium media outlets, and the city's influence on global trends often mean brands are willing to invest more in their NYC campaigns.