Recent changes to the Amazon Marketing Cloud (AMC) should have a positive impact on most advertisers on the platform. Although the AMC changes are subtle, rather than groundbreaking, they streamline things for sellers and widen the potential audiences they can reach. Keerat Sharma, director, of Amazon Marketing Cloud, and Ad Tech Solutions, claims the AMC changes were to improve the ease of use of the Amazon Ads platform, including more cohesive integration of its demand-side platform and other offerings.
---
AMC Changes That Will Help Amazon Sellers Win Big in 2023:
---
What Is Amazon Marketing Cloud and How Does it Work?
Amazon introduced the AMC in 2021, initially still in beta, to give Amazon advertisers increased transparency and flexibility across their marketing. It's built on the Amazon Web Services (AWS) cloud platform. It is primarily a measurement and analytics solution to help marketers measure performance across different media channels. AMC uses much of AWS's insights, or "patterns", to help improve data clean-room operations. This makes it comparatively easy to build your own automation and integration using both AMC and AWS.
AMC enables advertisers to create customizable reports based on event-level data, across multiple data sets. This includes both advertiser data and Amazon Advertising data, enabling analytics beyond what traditional reports can provide.
---
Benefits of Using AMC
Amazon Marketing Cloud (AMC) is a secure, privacy-safe, and cloud-based clean-room solution, in which advertisers can easily perform analytics across pseudonymized signals, including Amazon Ads signals as well as their own inputs. Pseudonymization is a technique that replaces or removes information in an event table that identifies individuals.
AMC provides sellers with actionable insights in areas like: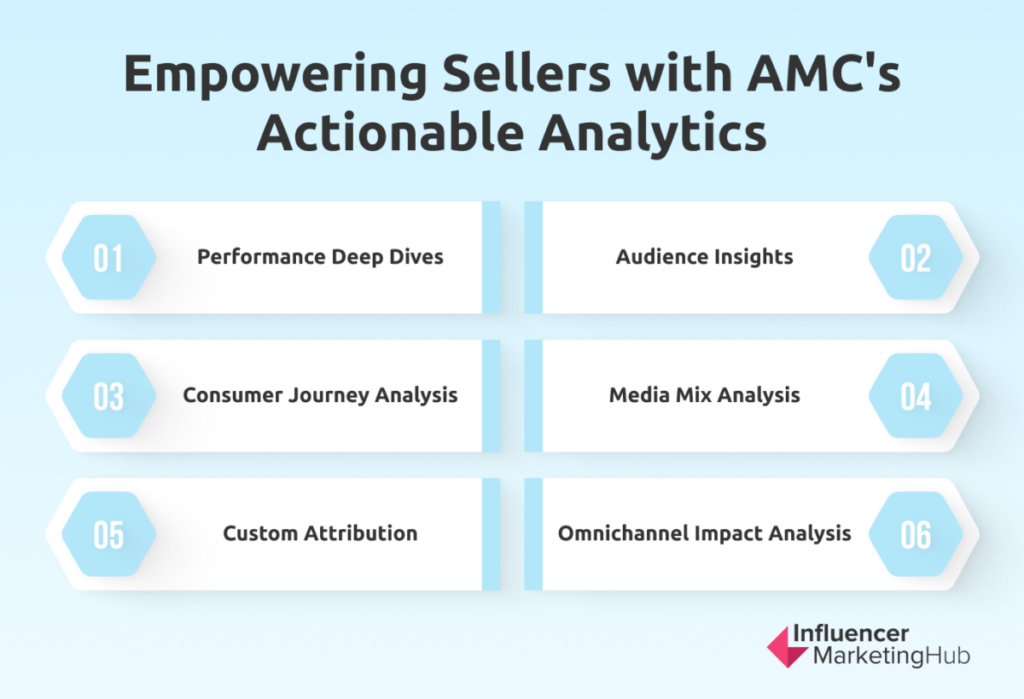 Performance deep dives – inspecting campaign reach, frequency, and total impact across the marketing funnel
Audience insights – learning about the composition of ad-exposed audiences and attributes of engaging audience groups
Consumer journey analysis – analyzing the sequence, frequency, and types of audience interactions on the path to conversion
Media mix analysis – understanding a media channel's incremental value and the effectiveness of different media combinations
Custom attribution – tailoring how you credit different touchpoints to understand the full contribution of different media and campaigns
Omnichannel impact analysis – evaluating how Amazon media campaigns drive engagement and sales on and off Amazon
Amazon advertisers use AMC to answer the following questions:
What customer segment, or combination of audiences, is responding to my ads the most?
What is the total reach and optimal frequency to conversion across a custom grouping of campaigns?
Which combination of ads leads to the best cost per action?
Which exposure paths are most likely to lead to a conversion?
How do my awareness tactics impact my direct response ones?
How effective are my prospecting tactics at bringing new audiences to my digital aisle?
AMC provides the necessary data for sellers to understand their audiences and the successes and failures of their advertising campaigns. It provides in-depth, actionable reporting across multiple channels. AMC can help advertisers with campaign measurement, audience analysis, media optimization, and more. You can use it to conduct analysis with signals across video, audio, display, and search to gain a holistic and in-depth understanding of the customer journey.
AMC is privacy-first by design. It only accepts pseudonymized information. All information in an advertiser's AMC instance is handled in strict accordance with Amazon's privacy policies, and your own signals cannot be exported or accessed by Amazon. Advertisers can only access aggregated, anonymous outputs from AMC.
---
How AMC Can Help Amazon Sellers Go Big
Amazon Ads customers simply need an API key and an AWS account to begin using the AWS Management Console or the AWS Solution Library. There are no licensing costs or fees to deploy the tools.
Those brands utilizing AMC discover more partnering opportunities to connect with experts who can help them scale. Being able to validate Amazon Ads proficiency means they can increase business opportunities with Amazon brands ready to grow. As such, AMC helps Amazon Sellers analyze business and marketing strategies on a much deeper level than they would otherwise be able.
One particularly useful change in 2023 is the integration with Sizmek Ad Suite, increasing the quantity of useful information you can access to expand your brand's presence on Amazon.
---
What Are Amazon's Requirements for AMC Users?
Obviously, you must be an Amazon advertiser to gain access to and value from the AMC. Amazon has set some specific requirements for AMC users, however (and these have not been altered as part of the 2023 AMC changes):
an executed Amazon DSP MSA, which in the future will be a standalone AMC agreement
planned campaigns, or campaigns live in the last 28 days
a technical resource able to work with SQL
DSP advertiser IDs and Sponsored Ads IDS (if applicable) to be included in your AMC instance
an AWS account (optional for use via API and S3)
a nominated UI administrator from your company
---
AMC Changes for 2023
Amazon Ads took the opportunity in October 2022 at the Unboxed 2022 conference, to announce a series of changes it believed would further improve the AMC for Amazon sellers. Some of the most important include: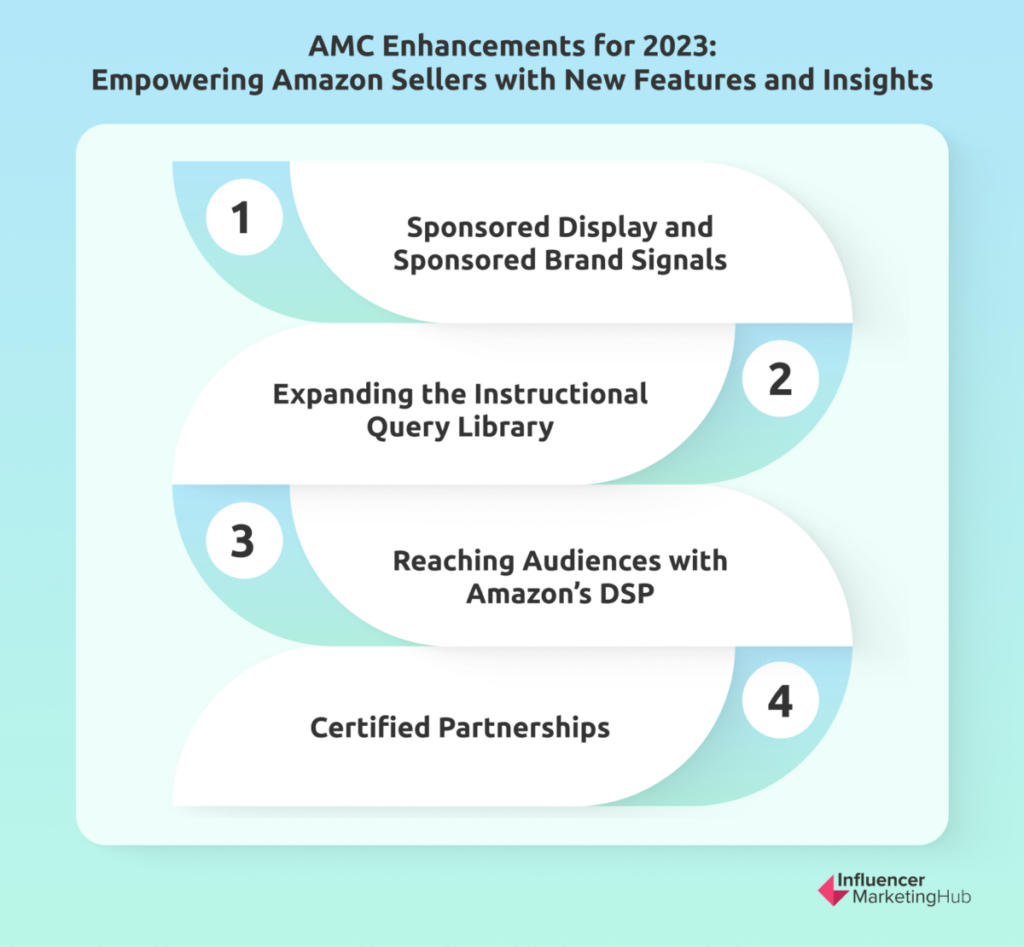 The inclusion of Sponsored Display signals (and signposting and signposting that they would later introduce Sponsored Brand signals, which they since have done)
Reaching new and existing audiences with Amazon's DSP
Certified partnerships
"We are constantly thinking about how we can better help marketers, particularly as they grapple with accurately measuring campaigns and adapting to the changes happening in digital advertising. Offering more actionable insights and increasing interoperability across our ad tech suite are examples of how we're building to help brands operate more efficiently and make more informed business decisions," Keerat Sharma, Director of Amazon Marketing Cloud and Ad Tech Solutions, stated.
---
Sponsored Display and Sponsored Brand Signals
Amazon added Sponsored Display and digital subscription events to the Amazon Marketing Cloud (AMC) to offer advertisers greater visibility into the total and incremental impact of different Amazon Ads formats, more comprehensive cross-media attribution, and a deeper understanding of the customer journey. They also added an integration with Sizmek Ad Suite that allows advertisers to build queries to analyze bidding efficacy, cross-publisher attribution, and total reach.
In addition, Sponsored Brands engagement and conversion signals were signposted at Unboxed 2022 to be added in early 2023 and are now available on Amazon Marketing Cloud (AMC), along with a selection of relevant instructional queries (IQs) to provide query-building instructions and templates for custom analytics.
Some of the additional types of analysis now possible include:
Audience reach analysis: Measuring the total and the incremental reach of different media types in sponsored ads portfolio, including Sponsored Brands
Ad-attributed conversions: Analyzing the total brand purchases and sales made by audiences exposed to or engaged with Sponsored Brands ads
Keyword analysis: Locating high-performing keywords across Sponsored Brands and Sponsored Products
Path to conversion: Understanding customer journeys in terms of media exposure, and the role of Sponsored Brands in journeys.
---
Expanding the Instructional Query Library
Amazon first announced the Instructional Query Library at Unboxed 2021, initially with about 10 queries, and then announced an expansion on it at Unboxed 2022. The library contains SQL queries that can be directly utilized or customized by AMC users for common measurement and analytics use cases. Each contains business context, usage instruction, and query result interpretation guidance.
AMC clients can use Instructional Query Library to start query building, instead of writing them from scratch. As a result, advertisers can onboard AMC more easily and execute measurement tasks faster.
Amazon has now expanded its library of pre-built queries to more than 50. Amazon's Sharma believes, "These queries are really important because they help marketers, who are just getting started with AMC, explore a new-use case and get started with something templatized."
---
Reaching Audiences with Amazon's DSP
Brands can now create and manage Amazon DSP audiences. They can extract data from AMC about the performance of cross-channel media and complement Amazon DSP-reporting abilities. They can use Amazon Ads signals, combined with their own data, for a holistic view across video, audio, display, and search campaign measurement, audience analysis, media optimization, and more. You can create audiences with SQL statements, leading to increased customization based on campaign goals and the ease of pushing these audiences directly into Amazon DSP for campaign activation.
---
Certified Partnerships
Amazon has launched a certification program to help partners work through a curriculum and get upscaled in how they use AMC. They announced 15 third-party companies involved, who will operate Amazon's ad tech and MarTech offerings on behalf of advertisers, in the new program at Unboxed 2022.
Sharma added, "We've launched a certification program this year to help partners work through a curriculum and getting upscaled in how they use AMC."
Certified partners are part of the Amazon Ads Partner Network and are included in the partner directory, which makes it easy for advertisers to find potential partners based on their business needs.
---
The Amazon Ads Technology Suite
The Amazon Marketing Cloud is now one of four products in the Amazon Ads Technology Suite that all interact:
Amazon DSP - Amazon's demand-side platform that enables advertisers to programmatically buy display, video, and audio ads both on and off Amazon.
Amazon Marketing Cloud (AMC) - a secure, privacy-safe, and cloud-based clean room solution, in which advertisers can easily perform analytics across pseudonymized signals.
Sizmek Ad Suite - Amazon's global, multichannel ad server used to create, distribute, customize, measure, and optimize campaigns across a variety of screens.
Amazon Attribution beta - gives marketers insight into how their non-Amazon marketing channels across search, social, video, display, and email impact shopping activity and sales performance on Amazon.
Amazon has created a table explaining how the components work together:
---
Other Changes Faced by Amazon Sellers in 2023
The above changes to the Amazon Marketing Cloud are not the only changes Amazon sellers are having to cope with this year. On January 17, 2023, off-peak FBA fees increased on average by $0.22 for all categories. Removal and Disposal fees increased by $0.45+, depending on size tier.
On February 1, off-peak storage rates increased by $0.04 per cubic foot for standard-sized products and $0.03 per cubic foot for oversized products.
A fortnight later, on February 16, 2023, Amazon changed its apparel size tiers, resulting in a fee increase for some items.
On the plus side, in March 2023, Amazon improved its FBA New Selection benefits, with an increase in storage, liquidation, and rebate benefits of 5-10% on average.
One unannounced change that sellers may need to be aware of is a new Frequently Returned badge that is hitting product detail pages. This badge marks products as "frequently returned" and urges shoppers to check the product detail page and customer reviews to learn more.
---
Wrapping Things Up
The Amazon Marketing Cloud (AMC) offers a vast amount of valuable information to the Amazon advertiser, that would have previously been unavailable. It is, however, only one tool that Amazon makes available for its partners and other stakeholders.
In What is Amazon Advertising?, we saw how valuable Amazon Advertising can be for firms operating on the platform, enabling sellers and businesses to promote their products to a specific audience segment. Amazon's large user base already provides valuable insights on users' purchasing activities, and users of AMC gain considerable additional data, although pseudonymized and at a high level.
Amazon has continued to support AMC, as seen by the 2023 changes. The expansion into data generated by Sponsored Display (and now also Sponsored Brand) signals additional value for AMC users and can provide additional insights into ways your brand can diversify and expand its presence on Amazon's platform.
With AMC, not only can you determine how you went with awareness and conversion, but you can also answer questions like, how do our awareness activations impact your conversion activations?