Advertising Disclosure
Advertising disclosure:
Our partners compensate us. This may influence which products or services we review (also where and how those products appear on the site), this in no way affects our recommendations or the advice we offer. Our reviews are based on years of experience and countless hours of research. Our partners cannot pay us to guarantee favorable reviews of their products or services.
Every brand, from budding startups to established Fortune 500 giants, shares a universal ambition: to elevate their business to unprecedented heights. In the rapidly evolving digital landscape of 2024, aligning with a proficient and innovative advertising partner is not just an advantage—it's a necessity.
To guide your selection, we've exhaustively researched and curated an exclusive list of the top 11 digital advertising agencies. These agencies are at the pinnacle of innovation, each demonstrating a proven track record of driving results, enhancing brand visibility, and optimizing return on investment. Each agency, with its unique approach, is adept at crafting bespoke, impactful, and results-oriented marketing campaigns.
They harness the latest trends, technologies, and insights to propel brands into new realms of recognition and profitability. Journey with us as we unravel the distinct qualities that set these elite agencies apart, ensuring brands not only navigate but thrive in the complex digital advertising ecosystem of 2024.
---
Top Digital Advertising Agencies
Top
digital advertising agencies
2024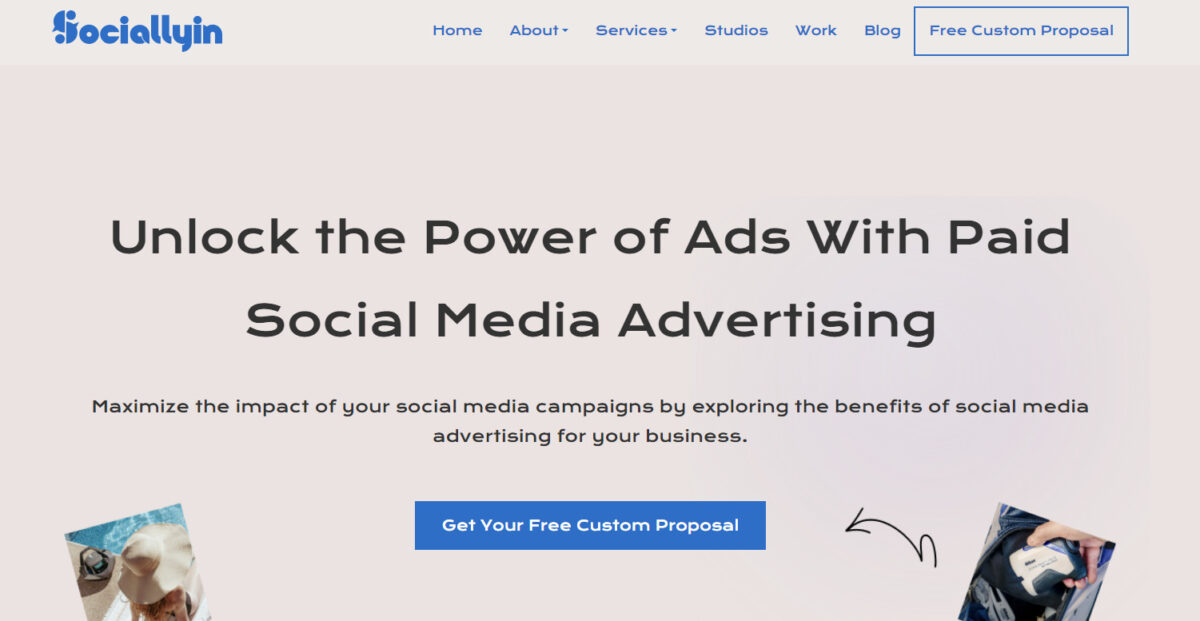 Year Founded: 2011
Location: Atlanta, Georgia
Avg Hourly Rate: $100-$149
At the intersection of creativity and technology, SociallyIn stands as a beacon of innovation for over a decade. This 100% social-focused agency has fine-tuned its expertise around a rich array of services tailored to the ever-evolving digital ecosystem. From cultivating bespoke social media strategies ensuring meticulous social media management to leveraging influencer marketing and harnessing the potential of paid social advertising, they serve as a holistic solution for brands eager to amplify their voice in the social sphere.
Yet, what truly distinguishes SociallyIn from its peers is the synthesis of creativity and data. Their commitment to results-driven marketing translates into strategies built around concrete metrics and continuous optimization. This data-centric approach has not only won them accolades but has also forged partnerships with notable clients, including Dick's Sporting Goods, Lumenis, and ANGI.
Moreover, testimonials from esteemed clients underline the transformative impact SociallyIn delivers, with platforms like Facebook and Instagram witnessing evolved content and enhanced engagement. As a global leader in crafting thumb-stopping content and architecting performance-driven marketing strategies, SociallyIn is more than just an agency – it's a partner dedicated to elevating brands in the digital age.
---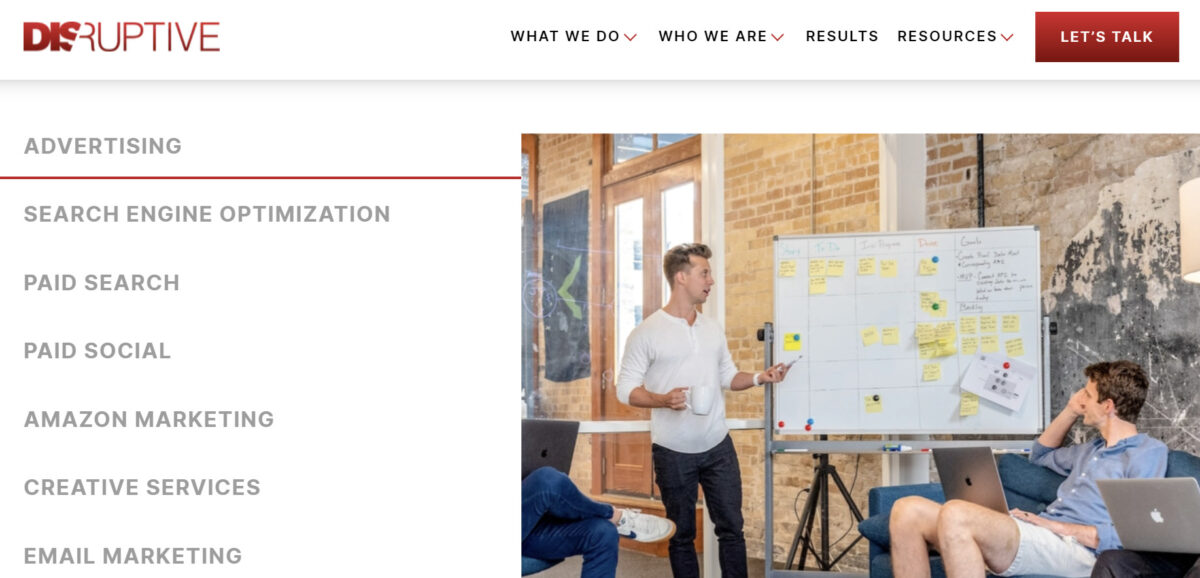 Year Founded: 2011
Location: Pleasant Grove, Utah
Avg Hourly Rate: $100-$149
Disruptive Advertising is pioneering the New Wave of Digital Marketing Excellence. For a decade, Disruptive Advertising has stood tall in the digital marketing realm, offering full-fledged, results-driven expertise. With over 90 clients remaining loyal for four years or more and the trust to manage over $450M annually in client ad spend, their prowess is indisputable.
Beyond just account management, Disruptive offers a holistic marketing strategy, ensuring clients capitalize on the best platforms and services tailored to their specific challenges and objectives. Their comprehensive suite includes SEO, Paid Search, Paid Social, Amazon Marketing, Creative Services, Email Marketing, and Website Optimization, among others.
Their superior performance on renowned platforms like Google, Amazon, Meta, and TikTok only solidifies their dominance in the field. What truly sets them apart, however, are their tangible results. A case in point is the 86.04% increase in revenue they secured for a client by optimizing user information flow. As Bart Pair, COO aptly testifies, "Disruptive Advertising keeps getting better." This agency is not just about marketing; it's about transforming businesses.
---
Year Founded: 2013
Location: New York City, New York
Avg Hourly Rate: $150-$199
Mobile reigns supreme, and Moburst establishes itself as a tough force driving businesses toward unprecedented growth. Recognized for its cutting-edge approach, Moburst is a mobile-first digital media marketing agency dedicated to scaling companies and cementing their status as category leaders. The agency's prowess lies in its relentless commitment to innovation, connecting brands with high-impact audiences, and ensuring a conversion-centric user journey.
Moburst's offerings are underscored by three core tenets: Growth, Results, and Experience. Eschewing empty promises and rhetoric, the agency zeros in on delivering tangible outcomes, constantly tracking real-time data for measurable and transparent results. Their portfolio speaks volumes, with over 600 products under their belt and demonstrable results.
Furthermore, the agency's recognition across various platforms — including accolades such as the Mobile Marketing Association's "Best Brand Awareness Campaign" and being featured among the "Top User Acquisition Companies in 2023" — cements Moburst's status as a digital advertising titan. If exponential growth in the mobile domain is the goal, Moburst is the game-changer businesses need.
---

Year Founded: 2005
Location: Dallas, Texas
Avg Hourly Rate: $100-$149
Positioning itself as a 'Results Driven Digital Marketing Agency,' Thrive seamlessly blends innovation and effectiveness, channeling businesses towards unmatched growth. The agency's outstanding track record speaks volumes about its expertise and commitment to excellence.
Thrive takes a comprehensive approach to digital progress. Their expertise in Search Engine Optimization guarantees that businesses attain prominent positions in search engine results. Their web design and development capabilities prioritize not just aesthetics but also functionality, ensuring visitors transform into loyal customers. Adding depth to their digital toolkit are specialized services like Social Media Marketing, Pay-Per-Click (PPC) campaigns, Video Production, and Amazon Marketing. Every offering is meticulously sculpted to align with individual client objectives, underscoring their dedication to bespoke solutions. Their work with Nationwide Construction, which saw an 800% surge in online leads, exemplifies their strategic finesse.
At its core, Thrive is more than just a service provider; it's a committed ally dedicated to ensuring businesses don't merely navigate the digital realm but genuinely flourish. With a spectrum of services, an unwavering focus on achieving outcomes, and a legacy of excellence, Thrive distinctly sets itself apart.
---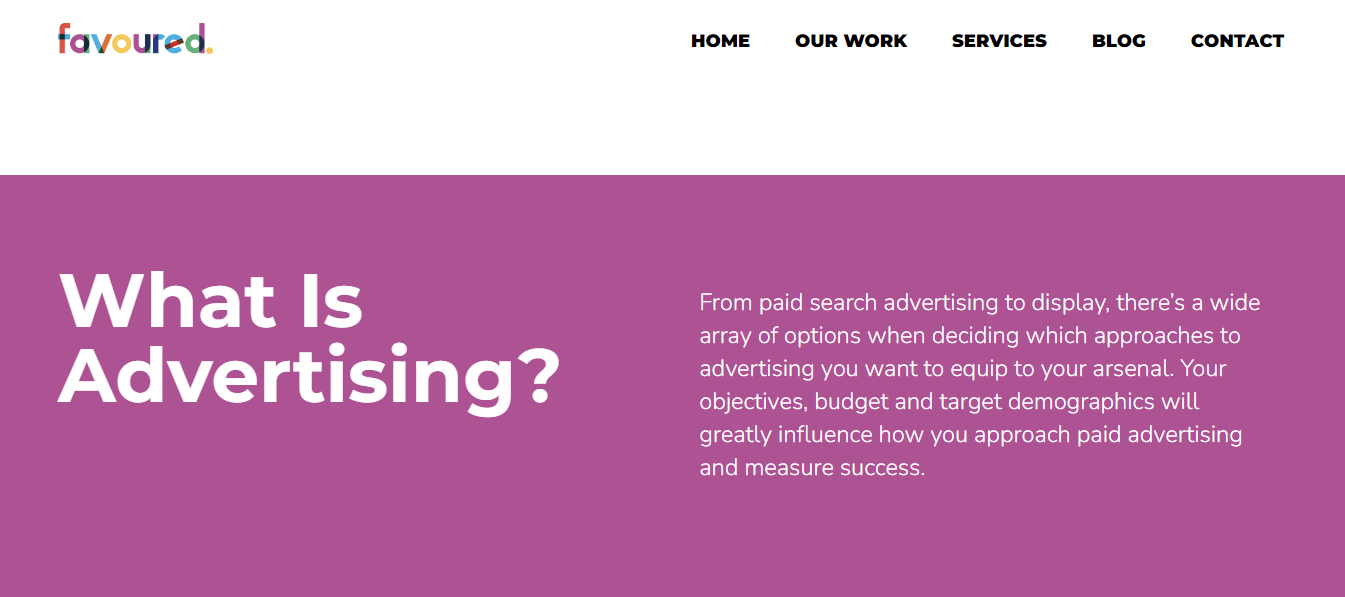 Year Founded: 2017
Location: London, UK
Avg Hourly Rate: $100-$149
Favoured emerges as a strategic forerunner in digital advertising, curating bespoke advertising solutions that resonate with today's consumer. Recognizing the significance of the 8.5 billion daily search queries on platforms like Google, Favoured capitalizes on this through meticulous Paid Search campaigns. They ensure that brands not only appear at the forefront of Search Engine Result Pages (SERPs) but do so with impactful ad copy tailored to specified keyword searches. This approach harnesses the power of immediacy, propelling brand visibility to potential customers in real-time.
However, their expertise doesn't end with searches. Diving into the social media realm, Favoured's Paid Media strategies are a synthesis of demographic insights, behavioral data, and user interests. Leveraging platforms like Facebook, LinkedIn, and Instagram, they craft campaigns aimed at amplifying brand awareness, nurturing leads, and enhancing conversions. Additionally, their prowess in Display advertising combines branded visuals and data-driven placements, ensuring that brands communicate effectively to their target audience.
Lastly, their video advertising solutions are an epitome of relevance and impact. Through concise, engaging video ads tailored for platforms like YouTube and Google Display Network, Favoured ensures brands resonate, not intrude, creating memorable engagements for viewers. In essence, Favoured is more than just a digital agency—it's a partner committed to making every impression count.
---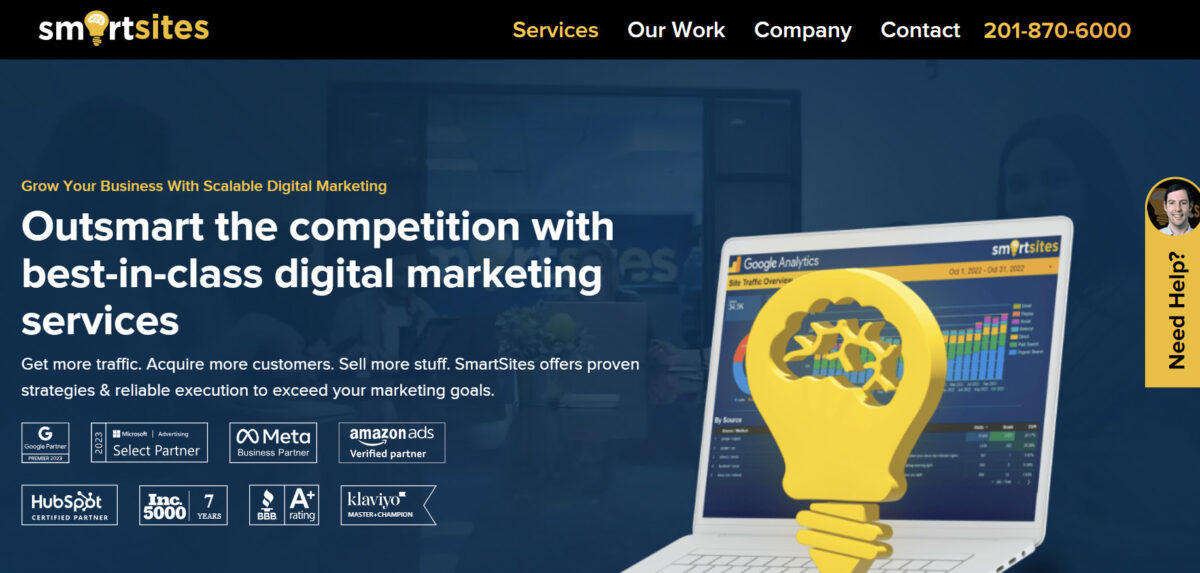 Year Founded: 2011
Location: Paramus, New Jersey
Avg Hourly Rate: $100-$149
Renowned as an "Award-Winning Digital Marketing Agency," SmartSites stands as a beacon of innovation and results in the dynamic digital marketing landscape. Recognized as a Google Premier Partner in 2023 and boasting an impressive A+ rating from the BBB, this agency's credentials are both impeccable and indicative of their professional prowess. With a laudable presence on the Inc. 5000 list and affiliations with tech giants like Meta and Amazon, SmartSites promises unparalleled expertise.
Diving into their service spectrum, SmartSites delivers an array of solutions encompassing Web Design, SEO, PPC, Email & SMS marketing, and Social Media management, ensuring a comprehensive approach to digital growth. Notably, they have a track record of yielding staggering results; from an 11% decrease in CPC for Advanced Chiropractic to a 540% increase in phone calls for Agape Health and Wellness, their portfolio brims with success stories.
Founded by visionary brothers Alex and Michael Melen, SmartSites is an undisputed leader in the industry. As encapsulated by a client's sentiment, "SmartSites is different," and indeed, their decade-long journey is a testament to their unmatched commitment and expertise.
---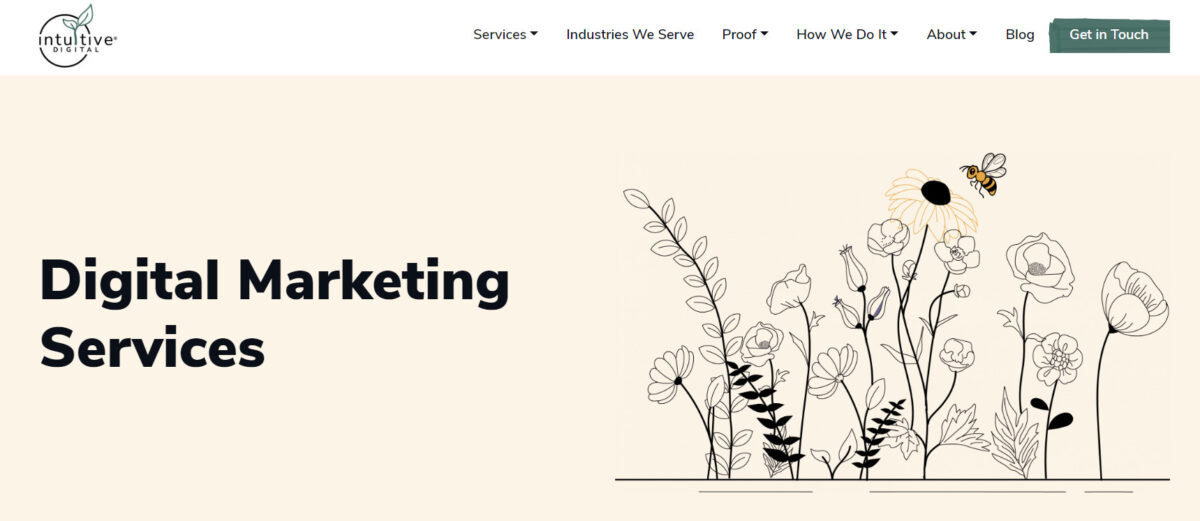 Year Founded: 2012
Location: Portland, Oregon
Avg Hourly Rate: $150-$199
Intuitive Digital is a leading marketing agency known for its ethical and sustainable digital marketing services. Championing the notion that marketing can indeed be a force for good, they envision a shift in market dynamics away from large conglomerates and towards businesses that emphasize quality, ethics, and sustainability.
Central to Intuitive Digital's service palette is a holistic approach that caters to every segment of the digital marketing funnel. Their prowess spans from crafting accessible, user-friendly Web Design and Development to masterful SEO Marketing, ensuring clients maintain dominant online visibility. The agency's commitment to rapid yet sustainable results is evident in their robust Pay-Per-Click Marketing strategies. Furthermore, they specialize in Content Creation that bolsters a brand's authority, Paid Social campaigns that meet audiences where they are, and intuitive Landing Pages designed for optimal user experience. Their approach is grounded in a three-pronged process: Discover & Strategy, Execute, and Evaluate & Accelerate, ensuring a tailored and results-oriented experience for every client.
Committed to fostering ethical business growth, Intuitive Digital is not merely a digital marketing agency but a collaborator in delivering meaningful impact. Drawing upon a consistent record of success, they combine their fervent passion with a commitment to transparency. This, coupled with a strategic approach that prioritizes tangible results, differentiates them and underscores their influential role in the evolving digital domain.
---
Year Founded: 2015
Location: Vancouver Island, British Columbia
Avg Hourly Rate: Not Specified 
Seymour Digital Media, a premier SEO & Google Ads marketing agency, positions businesses directly in the line of sight of their target audiences. Their philosophy hinges on the understanding that a staggering 92.96% of online traffic emerges from Google Search, thus underscoring the vital role of effective digital strategies in securing business success.
Seymour Digital Media is adept at crafting tailored strategies for both local and eCommerce enterprises. With a firm grasp on SEO, they ensure businesses are not just visible but dominate the pivotal top spots in search results. This commitment to organic search seamlessly integrates with their Google Ads offerings, providing an immediate traffic boost and enhanced sales. Their expansive service suite includes SEO audits, Technical SEO, Local SEO, a range of Google Ads services from audits to optimization, as well as performance-driven content creation strategies. This holistic approach ensures a comprehensive digital footprint for clients.
The agency's clientele varies from local service-based entities to B2B and e-commerce operations, all of whom are unified by a track record of positive results. With a dedicated project manager for each client and a focus on real-time reports, Seymour Digital Media stands out for its transparency, cutting-edge strategies, and unwavering commitment to generating tangible business outcomes.
---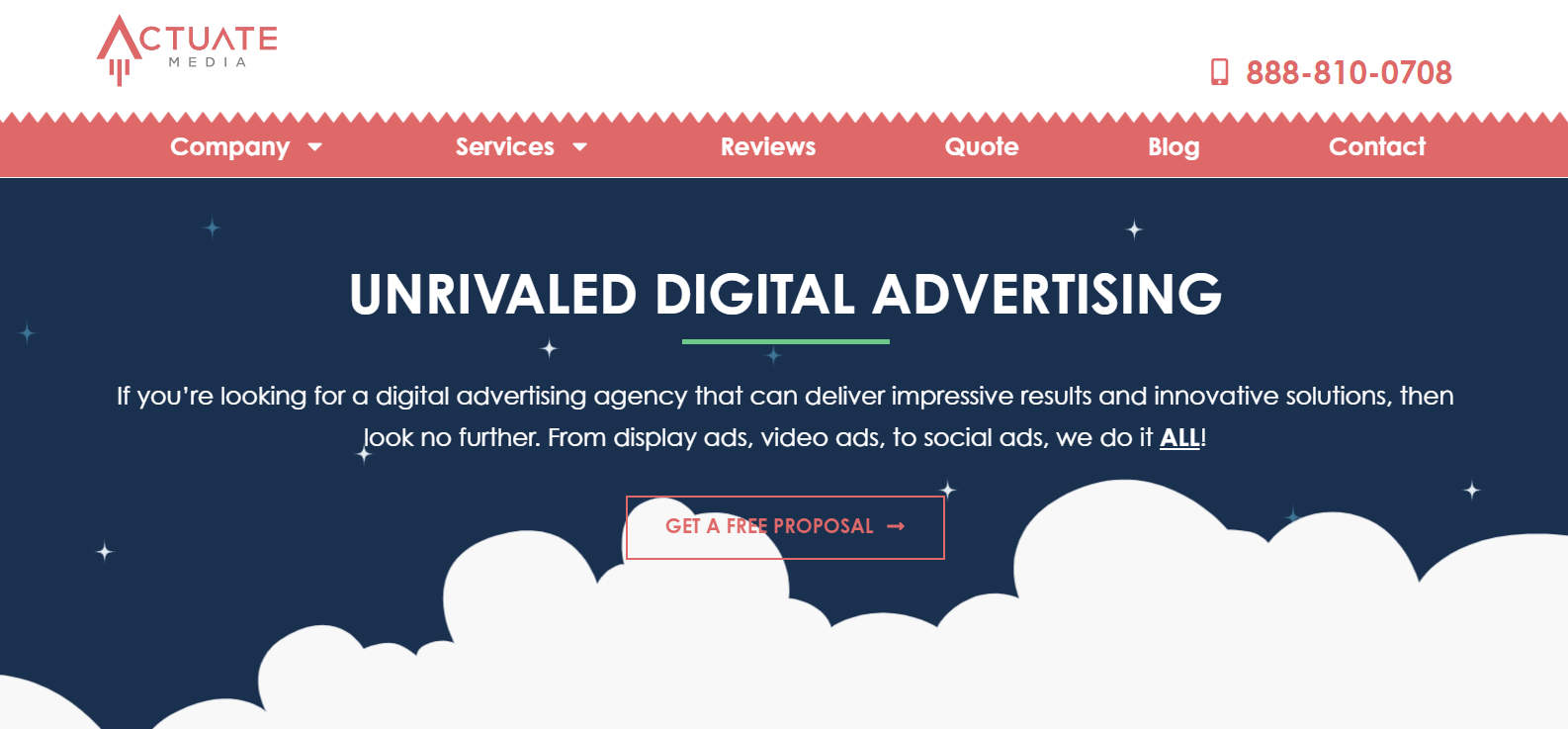 Year Founded: 2016
Location: Seattle, Washington
Avg Hourly Rate: $100-$149
As a data-driven digital marketing frontrunner, Actuate Media champions the symbiotic relationship between potent marketing strategies and robust data analytics. This agency's ethos revolves around powering businesses' potential and perfecting their online performance, offering a full spectrum of services.
What sets Actuate Media apart is their robust emphasis on conversion advertising. As a distinguished Google Premier Partner, the agency boasts over two decades of unparalleled expertise in Google Advertising. Their in-house cadre of certified PPC maestros have deftly orchestrated thousands of triumphant lead-generation campaigns, solidifying Actuate Media's reputation as top 3% in the country. The agency's dedication to transparency, affordability, and result-driven strategies ensures that clients are not just recipients of services but partners in the digital journey.
Actuate Media's methodology centers on a holistic approach, from setting clear digital marketing goals to data-driven optimizations. Clients are equipped with enhanced marketing intelligence, offering them an invaluable competitive edge. With consistently stellar reviews underscoring their efficacy, Actuate Media cements its position as a premier digital agency that truly catalyzes business growth.
---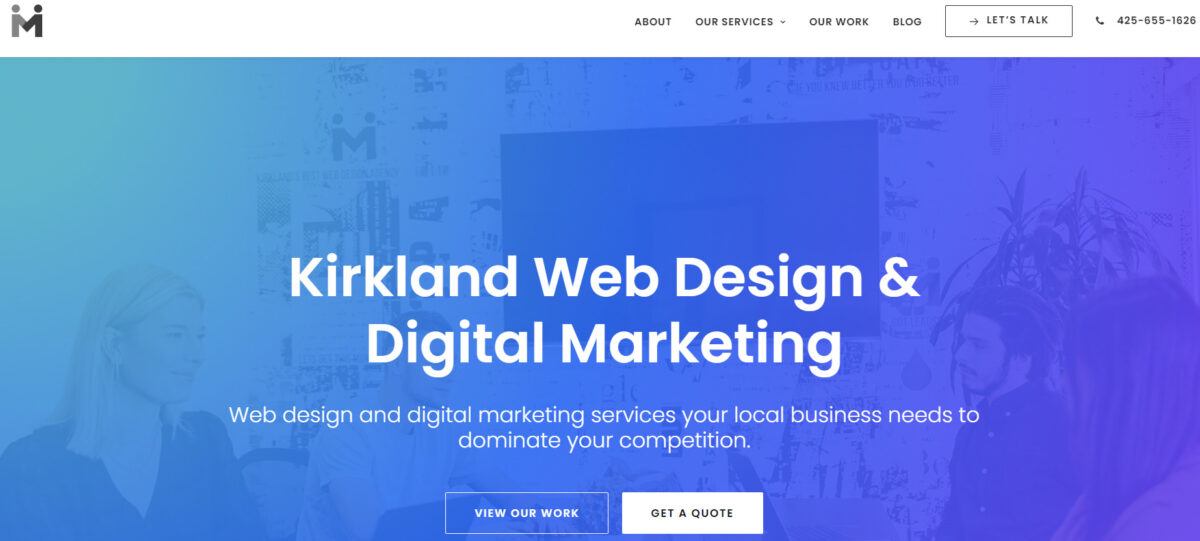 Year Founded: 2019
Location: Kirkland, Washington
Avg Hourly Rate: $100-$149
Integrity Marketing perfectly mixes aesthetic prowess with technological sagacity, forging digital solutions that resonate with local businesses. Landing its offerings in results-driven strategies, the agency meticulously crafts web designs that not only visually fascinate visitors but also ensure optimal conversion rates, propelling businesses ahead of their competitors.
Integrity Marketing's suite of services is a panorama of digital excellence. From the intricate art of Search Engine Optimization, spotlighting organic traffic acceleration through keyword targeting and link building, to the nimble nuances of WordPress development, where they've earned their badge as Seattle's premier developer. Moreover, the agency's foray into Social Media Marketing harnesses the ubiquity of platforms like Facebook, Instagram, and LinkedIn, driving brand awareness with unparalleled efficacy. Their Google Ad Management and avant-garde 3D Virtual Tours using Matterport 3D Photography further amplify the spectrum of their offerings.
Central to Integrity Marketing's core values is the cultivation of genuine, lasting relationships. Beyond the provision of impeccable services, they emphasize a personalized approach, ensuring that local businesses not only embrace the digital realm but dominate it.
---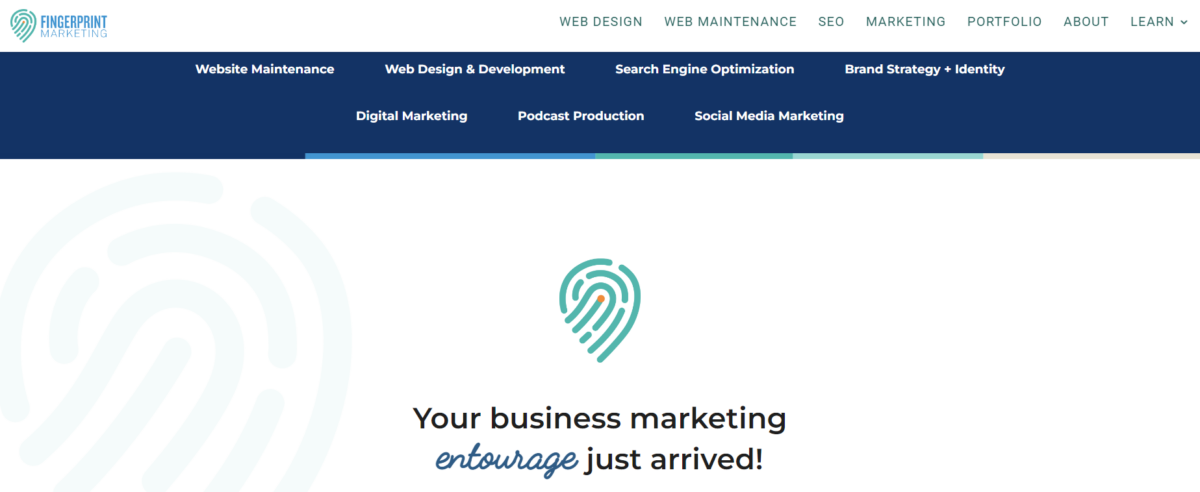 Year Founded: 2007
Location: Bellevue, Washington
Avg Hourly Rate: $150-$199
Fingerprint Marketing isn't merely a web development agency; it's a creator of distinctive digital imprints. Its mission is to sculpt an entire online ambiance that magnetically attracts the right clientele, fosters unwavering brand aficionados, and seamlessly transitions mere site visitors into loyal patrons.
At the heart of their offerings lies an innate understanding of the rapidly evolving digital ecosystem. From crafting responsive, mobile-friendly web designs that retain visitors in mere seconds to leveraging advanced eCommerce platforms designed for optimal user experience and conversions, the agency's multifaceted approach is evident. Their prowess extends to robust Search Engine Optimization strategies, where their finger is perennially on the pulse of search algorithms. Paired with this is their commitment to website maintenance, guaranteeing sites that not only look impeccable but operate with clockwork precision. Beyond the digital architecture, their brand strategy and online marketing endeavors ensure businesses don't just have an online presence but dominate their niche.
Emphasizing functionality integrated with revenue-generating capabilities, Fingerprint Marketing delivers distinctive digital solutions. In a saturated online landscape, this agency prioritizes ensuring that businesses not only achieve visibility but also create lasting impressions on their audience. Their approach goes beyond mere online presence, aiming to create memorable digital footprints for businesses.
---
Is It Worth Hiring Digital Advertising Agencies?
Many ponder the question: Is it worth it to hire a marketing agency? The answer often hinges on a business's specific needs, goals, and the complexity of the marketplace it operates in. Here's a breakdown of the pros and cons to assist in making an informed decision.
Pros:
Expertise: Marketing agencies come equipped with industry experts who have vast experience in their respective fields, ensuring strategies are both innovative and effective.
Cost-Effective: Hiring a full-time in-house team can be expensive. By contracting an agency, businesses typically get access to an entire team of specialists for a fraction of the cost.
Scalability: Marketing demands fluctuate. Agencies offer the flexibility to scale up or down based on a business's requirements, avoiding the fixed costs associated with permanent staff.
Fresh Perspective: An external agency brings an outside-in view, which can provide valuable insights and novel approaches to a brand's challenges.
Access to Advanced Tools: Most agencies invest in the latest

digital marketing tools

and software to deliver optimal results. Partnering with them ensures businesses benefit from these without having to purchase them independently.
Cons:
Less Control: Outsourcing means entrusting a key business function to an external entity, which can lead to feelings of diminished control over brand messaging and strategy.
Communication Challenges: There might be a lag in communication or misunderstandings if expectations aren't clearly set.
Potential for Misalignment: If an agency doesn't understand or isn't fully vested in a brand's vision, there's potential for strategies that don't align with the company's core values.
---
What Are the 5 Types of Digital Advertising Agencies?
The advertising and marketing world houses a variety of agency types, each specializing in different areas to cater to the myriad of business needs. Here's a brief overview of five key types of agencies:
Full-Service Agencies: As the name suggests, these agencies offer a comprehensive range of marketing and advertising services. From strategic planning, content creation, and media buying to digital marketing, they serve as a one-stop-shop for all marketing needs.
Digital/Interactive Agencies: Specializing in online marketing, these agencies focus on SEO, PPC, social media marketing, content marketing, and other digital strategies. They also offer services like web design and development.
Creative Boutiques: These are smaller agencies that emphasize creative design and content. They excel in producing innovative ads, visuals, and graphics but might not offer a comprehensive suite of marketing solutions.
Media Buying Agencies: Their primary role is to purchase and place ads for businesses. They specialize in negotiating costs, optimizing placement, and ensuring ads reach the targeted audience effectively.
Public Relations (PR) Agencies: Focusing on managing a brand's image and communications with the public, these agencies specialize in media relations, crisis management, event coordination, and more.
---
Conclusion
Aligning with a top-tier digital advertising agency is paramount for brands desiring unmatched growth. This comprehensive review of the 11 leading agencies has delved deep into their unique strengths, innovative approaches, and tangible results.
Each agency showcases a mastery of the digital landscape, wielding the latest trends and tools to optimize ROI. The meticulous assessment presented serves as a roadmap for businesses, guiding them to partners that don't just promise but truly deliver. As the digital frontier continues to evolve, ensuring the right agency alliance is the key to success, growth, and tough online presence.
Frequently Asked Questions
What kind of businesses can benefit from hiring a digital advertising agency?
Any business aiming to enhance its online presence can benefit from a digital advertising agency. From startups and SMEs to large corporations, those wanting to boost online sales, improve website traffic, or strengthen brand awareness will find value in specialized digital strategies.
How long does it typically take for a digital advertising agency to show results?
The timeframe for results varies based on strategy and goals. Paid campaigns might yield immediate results, while SEO or content marketing may take months. Generally, most businesses observe noticeable improvements within 3-6 months.
What kind of communication should I expect from a digital advertising agency?
Expect regular updates, monthly reports on performance metrics, and timely responses to queries. Effective agencies prioritize transparent communication, ensuring clients are informed about campaign progress, challenges, and next steps.
What is the difference between a digital advertising agency and a PR agency?
A digital advertising agency focuses on promoting businesses online through paid ads, SEO, and other digital channels. In contrast, a PR agency manages a brand's reputation and communication, handling media relations, crisis management, and public messaging.