You probably already know that email marketing has the best return on investment of any marketing channel—4200%, in fact. That means for every $1 you invest in email marketing, you have the potential of earning back $42. Of course, email marketing requires its fair share of resources to do it right. That's why we've put together this email marketing ROI guide so you can understand what you'll get in return for your time and money. Plus, we'll give you some great ideas to improve your email marketing ROI that you can put to work right away!
As an email marketer, it's important that you're able to measure the effectiveness of your email marketing campaigns. A big part of that is understanding email marketing ROI. Your email marketing ROI isn't just important if you're an eCommerce business, either. If you're in business to make money—any business—you need to know if your email marketing is hitting the mark. With this guide to email marketing ROI, along with other email marketing benchmarks, you'll know!
Completely new to email marketing? Check out this ultimate guide to email marketing to get started.
---
Email Marketing ROI: Everything You Need to Know:
---
What Is Email Marketing ROI?
Return on Investment (ROI) isn't just a term related to email marketing but a common profitability measure used across industries and marketing channels. Email marketing ROI is an indicator of how effective your email marketing is so you can better understand how specific email marketing campaigns are motivating and inspiring your audience to take action and make purchases. Email marketing ROI takes into account any of the funds you spend on email marketing (advertising, creating your email campaigns, growing your email list, etc.). The basic email marketing ROI formula is: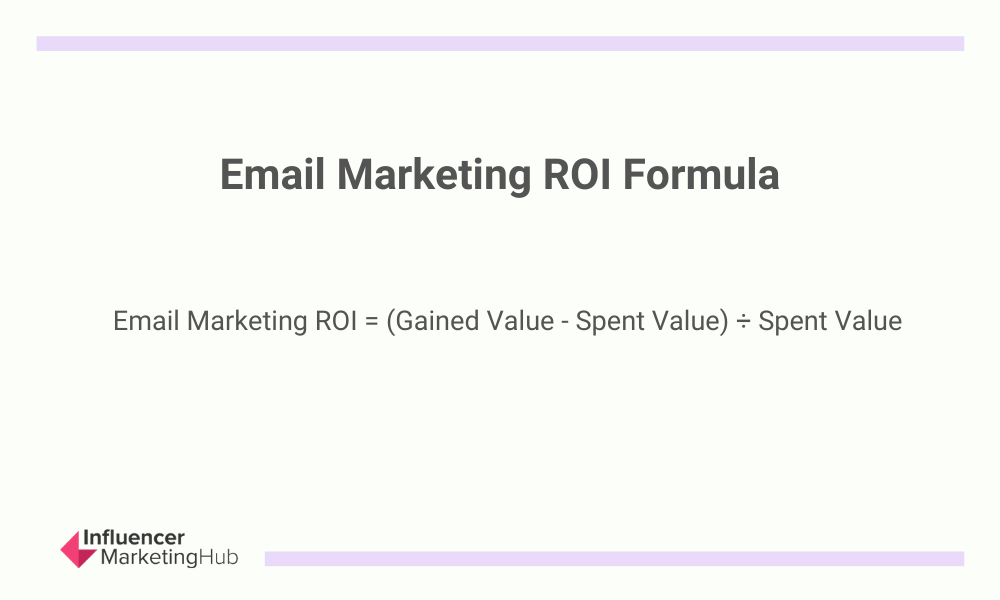 (Gained Value - Spent Value) / Spent Value = ROI
Let's talk a bit more about the return on email marketing formula and what Gained Value and Spent Value are.
---
How to Calculate Email Marketing ROI
To calculate the return on your email marketing investments, you'll need to know two values: Gained Value and Spent Value.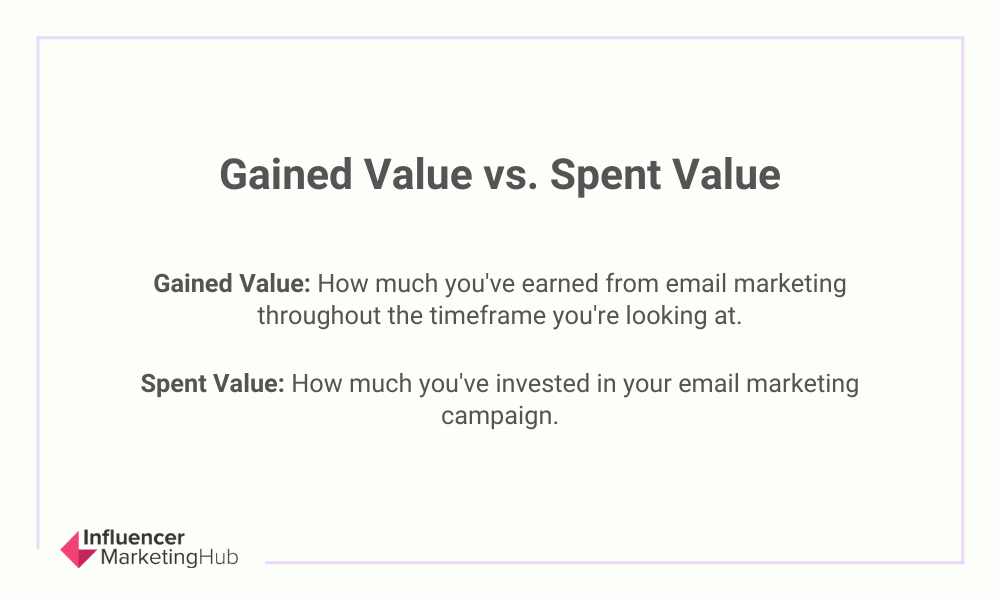 Gained Value: How much you've earned from email marketing throughout the timeframe you're looking at.
Spent Value: How much you've invested in your email marketing campaign. This includes the costs of your email service provider as well as pay for the people involved in creating your email marketing campaigns.
Once you've figured out how much you've earned and spent on email marketing, you have what you need to calculate your email marketing ROI and can simply plug those numbers into the formula. For example, let's say you spent $5,000 on a sales email sequence and from that sequence your business brought in $250,000 in sales. When you put it into the email marketing ROI formula, it looks like this:
($250,000 - $5,000) / $5,000 = $49
If you want to know the percentage increase of your money just multiply your result by 100. In this case, that would give you a 4900% increase from the $5,000 you spent to the $250,000 you earned from your email marketing.
"Okay, great," you say. "I made a lot more money than what I spent. I could have just looked at the two numbers and known that. Why does email marketing ROI matter?"
Glad you asked! Let's walk through why email marketing ROI is important.
---
Why Your Email Marketing ROI Is Important
There are several different marketing channels you can use to connect with customers and potential customers. But how do you figure out how to split your money among those marketing channels? Or maybe you want to know if you should focus your efforts on increasing your reply rate or your click-through rate on your email marketing campaigns? Knowing your email marketing ROI can help you make these important business decisions.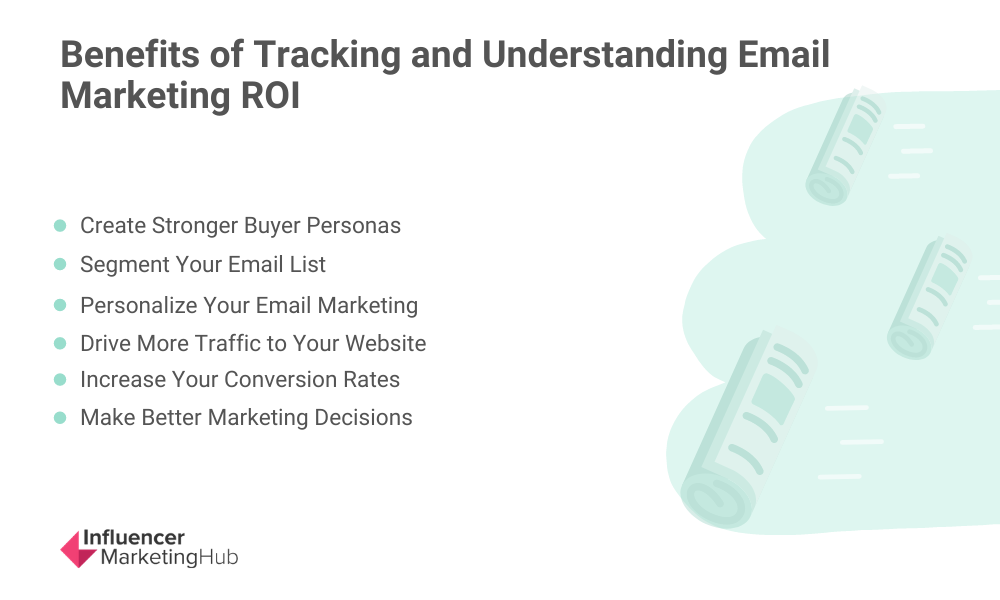 But knowing which of your marketing strategies is profitable isn't the only thing your email marketing ROI can tell you. Here are a few more of the cascading benefits of understanding your email marketing ROI.
Make Better Marketing Decisions
Without data, you're pretty much making marketing decisions on a whim. Accurate data enables you to make well-informed decisions about your email marketing strategies and avoid costly mistakes. Knowing your email marketing ROI helps you make the right decisions to increase your email marketing revenue.
Create Stronger Buyer Personas
When you know how to calculate your email marketing ROI you can use that information to figure out which of your target customers are responding to your email marketing campaigns. In turn, this helps you refine those buyer personas to make them stronger. From there, you can use your buyer personas to better understand the pain points your potential customers experience. You can then address those pain points and how you can solve them in your email marketing. When you have strong buyer personas you can optimize your conversions in several ways. For example, you might create landing pages for certain email promotions.
Segment Your Email List
Once you have stronger buyer personas, you can better segment your email list. This helps you send more targeted marketing messages and content to your subscribers. That degree of targeting will increase the value of your email marketing and will result in higher click-through rates and conversions.
If you've never segmented your email list, start small. Think about your most responsive and engaged customers and create a segment for them. From there, move on to creating a segment for two or three more target customers. You can even create segments for specific email marketing campaigns or promotions.
Personalize Your Email Marketing
So, you were able to create stronger buyer personas and break your email list into better segments. Now you can use that foundation to personalize your emails. Personalization can make the difference between a successful email marketing campaign and a flop. In fact, 72% of consumers say they only engage with personalized messaging and 80% of frequent shoppers only shop with brands that personalize the experience (SmarterHQ).
Drive More Traffic to Your Website
There are several marketing strategies that can help you increase traffic to your website. Social media is a great way to drive traffic as is SEO. However, SEO can take months to get going and social media requires a lot of upkeep. With email, you can send targeted messages to the right people at the right time to push highly-qualified leads to your website.
Increase Your Conversion Rates
Ultimately, understanding your email marketing ROI is going to help you increase your conversion rates, which is exactly what you need to boost your bottom line and grow your business. Your email marketing ROI gives you very important feedback about what's working and what isn't. Given the fact that it's so easy to measure and track, there's no reason not to focus on this email marketing benchmark.
---
How to Improve Your Email Marketing ROI
Understanding your email marketing ROI is important. But you'll probably want to improve your email marketing ROI, too. In this section, we're going to share actionable steps you can take to improve your email marketing campaigns and, by extension, boost the return on your email marketing.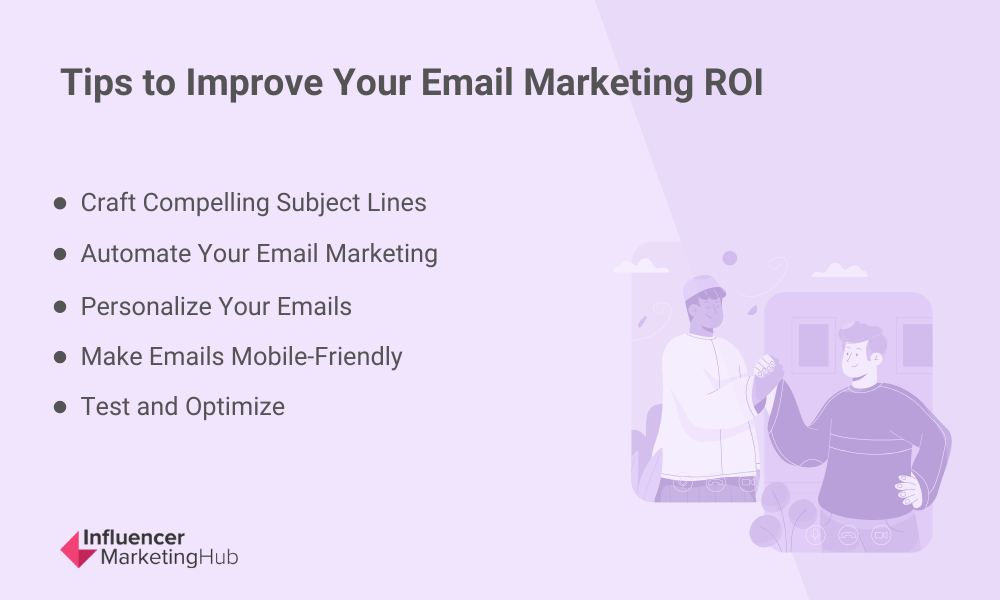 ---
Craft Compelling Subject Lines
Your subject line is what draws the attention of your subscribers and motivates them to click on your email to read it. Two of the highest-performing subject lines are those that include an offer or urgency. Of course, there are only so many promotions and urgent messages you can send before your subscribers just don't care anymore, so you should spread out those types of subject lines. Try throwing in an interesting question to pique subscribers' interest.
Learn more about creating irresistibly clickable subject lines.
---
Automate Your Email Marketing
Automating your email marketing can help you reduce costs and increase your email marketing ROI. Most email marketing services include automation features that you can use to send emails based on specific criteria. This could be anything from their purchase history, behavior on your website, past engagement with your email marketing campaigns, and more. You can also use automation to schedule and send your email newsletters and promotional emails at just the right time. Here are a few email marketing automation workflows you can use to streamline your email marketing:
Welcome emails. Use an automated welcome email series to welcome new subscribers and share more about your brand. You can even include a special offer like Harry's does in this welcome email:
Transactional emails. These are typically things like order confirmations, shipping confirmations, account changes, etc. Here's an example of a transactional email from Nike:
Abandoned cart emails. About 70% of shoppers abandon their carts. You can recapture some of those potentially lost sales by sending an automated abandoned cart recovery email series. Here's a great example of an abandoned cart email from Nomad:
---
Personalize Your Emails
Your email subscribers don't want to feel like just another email address in a list of thousands. Personalization can make your subscribers feel special and make them more receptive to your marketing message because it feels like it's just for them. We recommend not only using your subscribers' names in your subject lines and email copy but using dynamic content to make it easier to reach multiple segments without creating entirely separate emails. Here are some ways you can personalize your emails:
Product recommendations.

Personalized product recommendations are great for showing your customers that you understand them.
Segmentation.

Create different segments based on behavior, interests, and demographics.
Special offers.

Send your subscribers personalized special offers to increase click-through rates and conversions.
Dynamic content.

Dynamic content is content that changes depending on preferences, behavior, and interests.
Here's an example of personalization using location from Temboo:
---
Make Emails Mobile-Friendly
According to Campaign Monitor, more than 50% of users access their email from mobile devices. If your emails aren't optimized for mobile users, you're going to miss out on sales and engagement. Many email marketing services make it easy to preview what your email will look like on desktop and mobile. If you use email marketing templates to create attractive and consistent emails, make sure that your template works for mobile devices, too. Here are some ways you can optimize your email marketing for mobile devices:
Keep your subject lines short and punchy

Use a single-column layout that's less than 600px wide

Use a large, readable font

Include small, compressed images

Make your links easily tappable by spacing them out

Include a call to action that stands out from the rest of the email
---
Test and Optimize
If you want to skyrocket your email marketing ROI (and who doesn't?) you'll want to test and optimize your emails. This might mean testing two different subject lines against one another or testing different CTAs in your email copy to see which performs the best. There are limitless possibilities for split-testing and A/B testing. We recommend testing one change at a time to ensure that you're getting the most accurate performance results. Here are some testing best practices:
Test one element at a time.

It might seem like you're saving time by testing more than one element, but you're not going to be able to confirm which change resulted in increased performance.
Send emails at the same time for each test.

During your testing, be sure to send your emails at the same time so you're not also testing the send time.
Find the right sample size.

You'll need at least 1,000 observations for each test. This doesn't mean an audience of 1,000 subscribers, but a sample size that results in 1,000 observations. So, if you're testing click-through rates you'll need 1,000 click-throughs.
---
Wrapping Up
Email marketing has the best ROI of any marketing channel, period. You can use email marketing to communicate with customers, educate them, and lead them through your marketing funnel to increase your email marketing ROI and boost your revenue. Tracking your email marketing ROI provides you invaluable information that you can use to improve your email marketing success.