Advertising Disclosure
Advertising disclosure:
Our partners compensate us. This may influence which products or services we review (also where and how those products appear on the site), this in no way affects our recommendations or the advice we offer. Our reviews are based on years of experience and countless hours of research. Our partners cannot pay us to guarantee favorable reviews of their products or services.
Google Ads (formerly AdWords) placement is a search marketing strategy that allows your consumers to discover your brand by paying for your chosen keywords to appear above Google's organic search results. Compared to SEO, you can get results—a prominent position in the SERP—almost instantly with these ads, provided you place a strategic bid value on words associated with your target audience's queries.
With the right strategy, Google Ads can help convince more people to contact your business, buy your products, or visit your website due to the search engine's wide reach and trusted performance.
However, managing Google Ad campaigns takes time and effort to learn and do. It combines an in-depth understanding of your customers, strategic keyword selection and bidding, using engaging text, results tracking, and making necessary adjustments. When you need experts to help you, you can hire an AdWords agency to produce high-quality ad copies that can turn "clickers" into qualified leads.
---
Best AdWords Agencies
Hiring paid media agencies to develop and handle your Google Ads strategy can increase conversions and traffic to your site by improving your Google SERP ranking and ad content quality through precise targeting.
Below, we've compiled the ten best agencies you can work with. See which company fits your brand by checking its specialization and strength against your industry, marketing goals, and budget.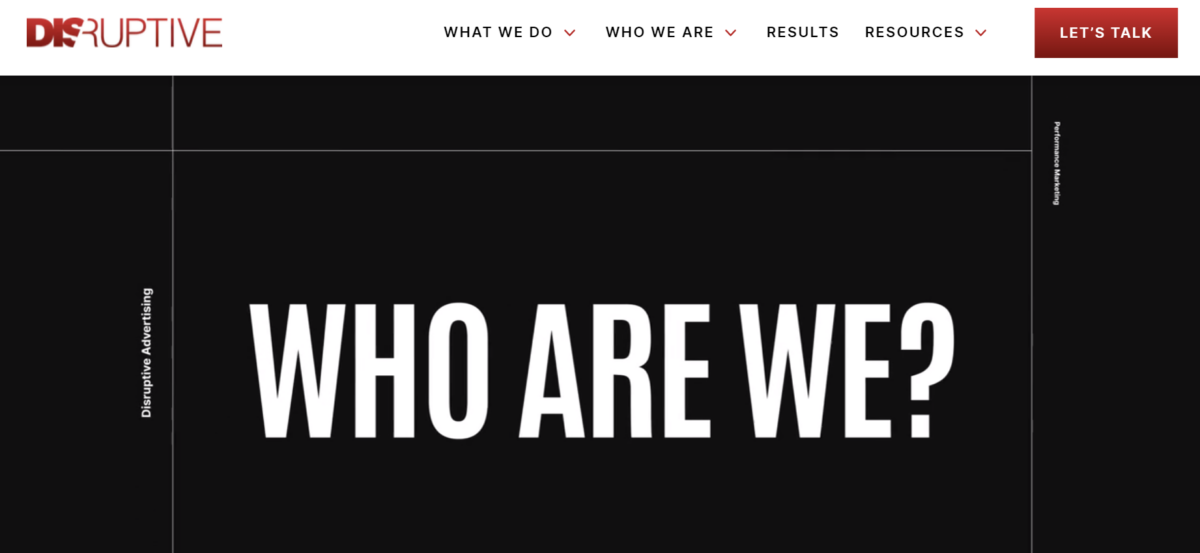 Best for higher PPC budget
Disruptive Advertising is a 2023 Google Premier Partner with 15 certified Google Ads experts within its over 150-strong workforce. The agency manages over $450 million in annual ad-spend for their customers, with over 90 of them being partners for nearly half a decade or more. Its clients achieve an average of 34% growth in profitability metrics.
Disruptive's paid search department is part of its full-funnel digital marketing service and starts client relations with a free audit of the customer's current pay-per-click (PPC) strategy.
The agency doesn't have a pricing page, but its "Who We Work With" section says it works with higher-end companies who spend "tens of thousands" monthly for marketing. Disruptive typically accepts just a tenth of its prospects, particularly those it can positively impact for many years with its skills and resources, although it follows a monthly payment model.
Clients: Adobe, Matterport, homie, Crossover Symmetry, DaVinci Virtual Office Solutions, KPMG Spark, RANLife, Nani Swimwear
---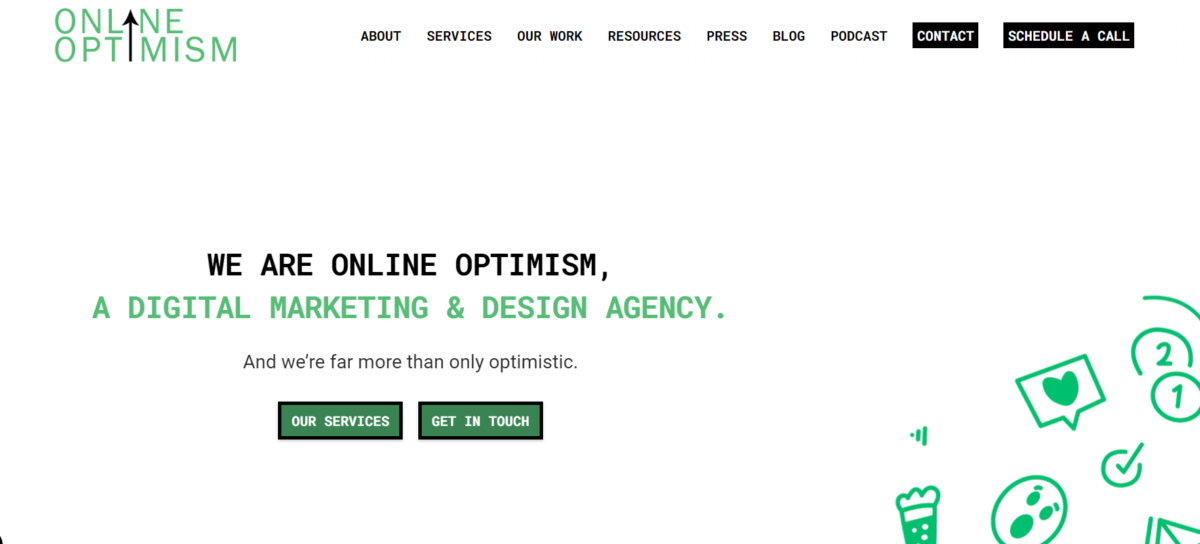 Best for white glove service
Online Optimism's 26-member staff offers personalized services for digital ads. This Google Partner crafts data-driven and budget-efficient campaigns with sustainable outcomes after learning about your bottom-line goals.
Online Optimism charges a monthly flat rate instead of a percentage of your ad spending. It accepts digital ad campaign projects from businesses with a minimum $1,500 monthly ad budget, charging them $1,520 monthly. Fees may exceed $30,000/month as your ad spending rises. The pricing accounts for the Google campaign optimization tools besides the expertise of certified Google Ads team members, who combine their wit, creativity, and math skills to implement a strategy that will yield an ROI that exceeds your expectations.
Clients: Decide DeKalb, Headline Studio, The Data Center, First Bank and Trust, Technology Policy Institute, Regional Planning Commission-Louisiana, VIA LINK, Truck Driver Institute
---
Best for flexible pricing
Another Google Premier Partner, KlientBoost, has around 20 certified Google Ads specialists on its 130-plus-member team. Its Google PPC service covers single keyword ad groups, keyword tapering, copy-testing, negative keyword additions, bidding strategy, and geographic bid adjustments, to name a few. It offers customizable service plans, which can combine one or more of its offerings, including a one-time Google Ads audit, one-time Google Ads setup, ongoing Google Ads consulting, and ongoing Google Ads management.
You can receive a quote from the agency by answering their questions on its pricing page, which says it will send you three pricing options based on your goals, required service, timeline, budget, and preferred team size. KlientBoost invites you to sign-up for a free proposed marketing plan and meet its team before sealing a contract.
Clients: Attendify, Broadly, DailyPay, Mavenlink, Rich Uncles, Segment, Stanford Graduate School of Business, Yoga International
---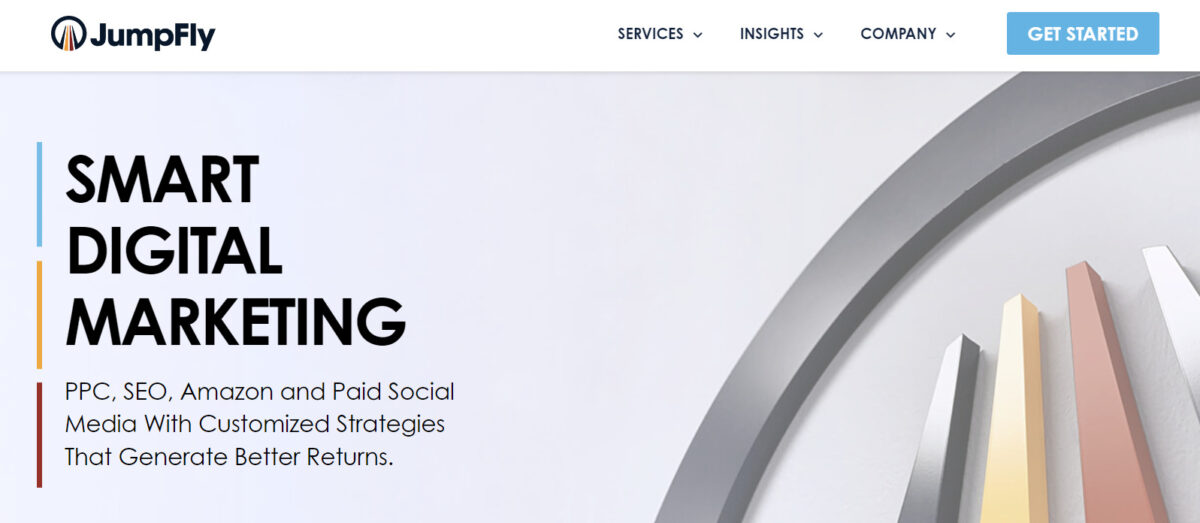 Best for access to Googlers
Jumpfly has 19 years of PPC management experience and 34 certified Google specialists. The company has been a Google agency partner since 2003, helping beta test the first-ever Google Ads certification program six years later. Google assigns at least seven veteran employees—also called Googlers—to this agency, which also gets exclusive access to the search engine's new rollouts.
Jumpfly promises results within three to six weeks, running a six-step process that involves goal definition, "game-planning," campaign construction, launch, daily optimization, and strategic analysis. Before any contract signing, you get an account manager with over ten years of experience and book a meeting with the Jumpfly team. Your discussion can cover details and questions about your campaign particulars, goals, and timelines. The agency offers free PPC audits for brands with over $5K in monthly spending. Moreover, it works with clients monthly instead of tying them up in year-long contracts.
Jumpfly, which has over 40 employees, boasts over $5 million worth of managed ads monthly, tracking its clients' campaign performance 24/7 using proprietary AI software.
Clients: DePalma Studios, Battery Mart, Window Design Group, Wood & Pellet Stove Parts 4 Less
---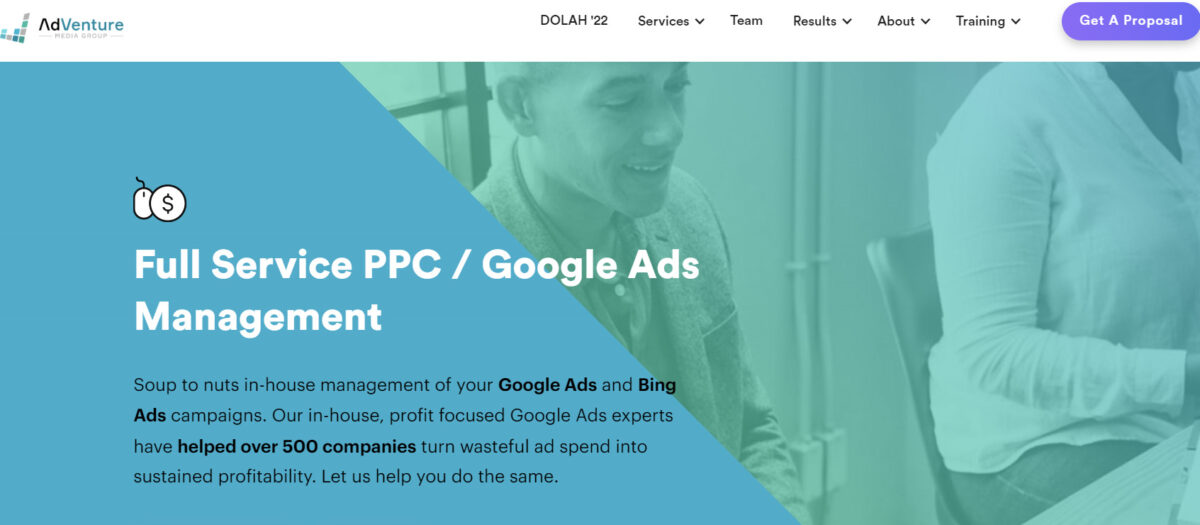 Best for 360-degree statistical campaign analysis
AdVenture Media describes itself as a "100% neurotic" online advertising group hired by demanding brands such as Forbes, Nasdaq, and AMC Networks. Its Google Ads expert team—which has a combined experience of 150 years—ensures it can track and report campaign performance whether you're a mom-and-pop eCommerce shop or a publicly traded enterprise.
AdVenture's five-step approach to Google Ads management begins with a discovery meeting with you and researching more about your target audience, profit margins, and customer lifetime value (CLV). It then conducts brand and competitor analyses using industry-leading software to understand your business history and key players in your field. Using the analysis results, AdVenture builds an ROI- and scalability-focused strategy. The agency uses A/B split testing for new ideas, analytics for conversion tracking, and campaign tweaking for optimization.
Although AdVenture has no pricing page, its "Request a Marketing Proposal" form asks for your estimated monthly ad spend (starting under $1K), saying data will help the agency prepare for their consultation call and audit.
Clients: Leonard Green and Partners, Omers, Sports Unlimited, Asurion, Baketivity
---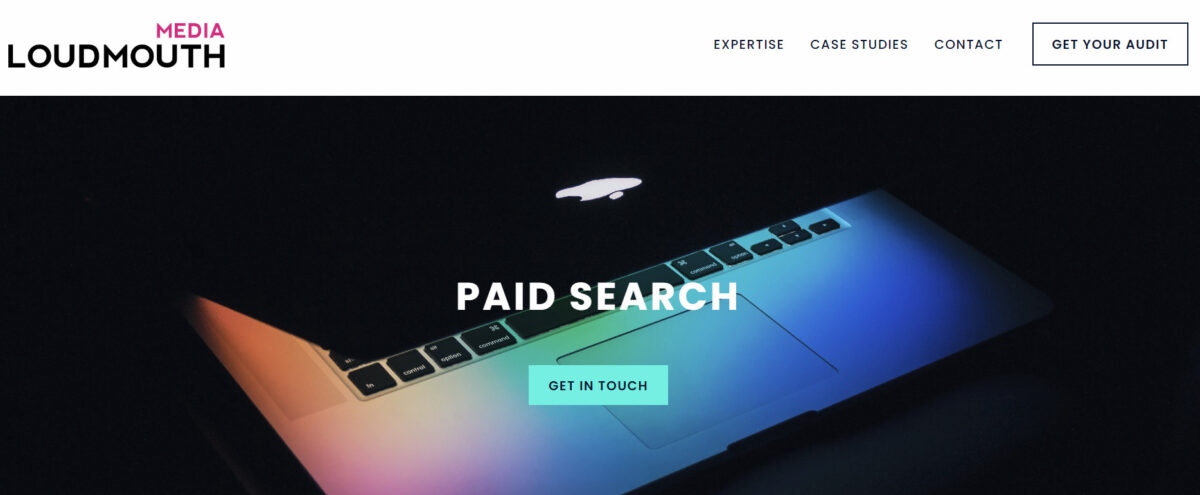 Best for UK and EU-based companies
Loud Mouth Media (LMM) is a multi-awarded UK-based PPC agency with over 30 staff members. LMM starts every project with an in-depth understanding of the client's business and current strategy. Discovery includes product analysis, audience analysis, bidding strategy analysis, keyword analysis, PPC goals, and budget.
LMM's Google Premier Partner status allows it to optimize campaigns for up to six months before rivals lacking such credentials can. Thanks to data, tools, and processes made available by the internet search giant to LMM, you can enjoy a lower cost per click and acquisition.
Clients: BMW, AA Motoring, Liberty Information Technology, Tourism Northern Ireland
---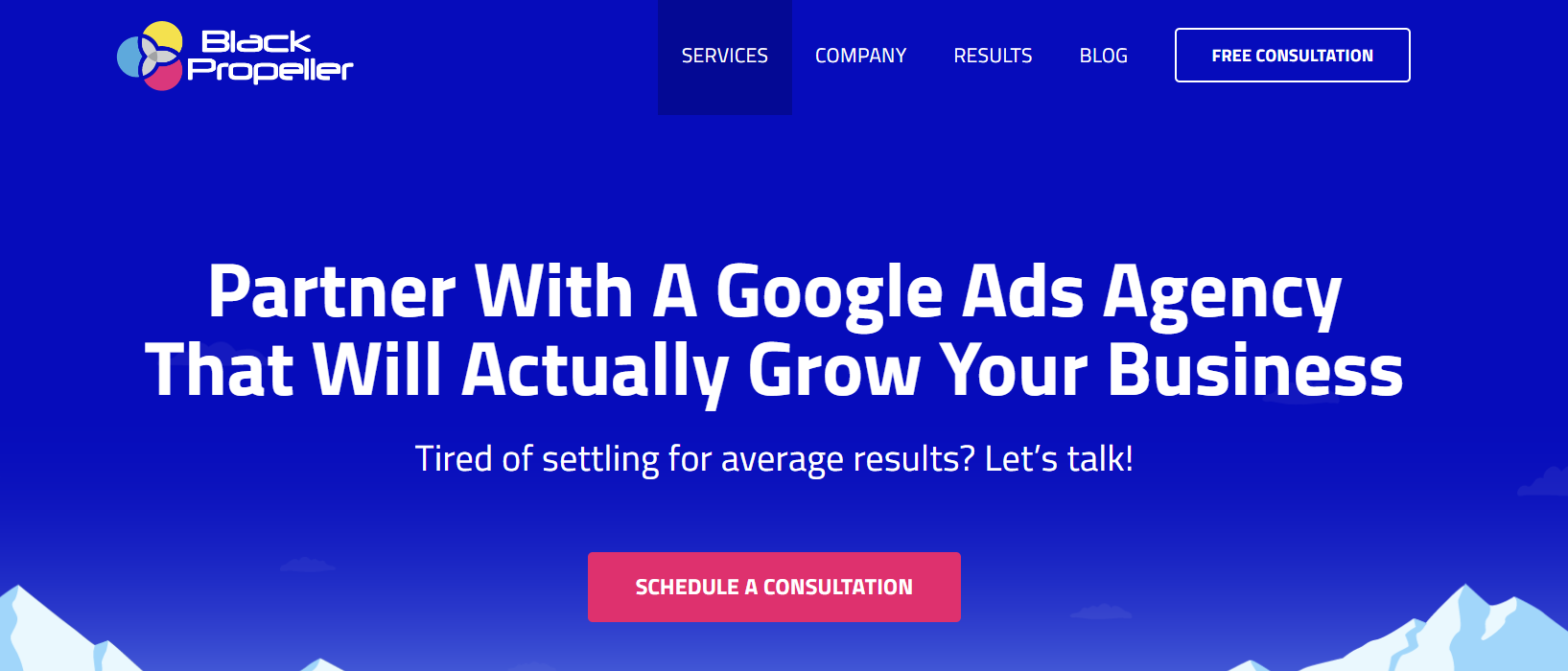 Best for real-time reporting
With a 21-member staff, Black Propeller offers an initial phone-in consultation to learn about your business and goals before doing a deep-dive review of your PPC strategy. After its audit, the agency sends you a proposal with insights and recommendations. After signing up, you get 24/7 access to a custom dashboard, which displays a metrics update every 15 minutes. Its team also typically schedules bi-weekly progress meetings.
Black Propeller's paid search optimization services cover keyword and competitor research, ad copy optimization, SKAGS (single keyword ad groups), negative keyword pruning, manual bid optimization (for keywords, locations, demographics, and so on), landing page creation to optimization, and retargeting. This Google partner manages over $10 million in annual ad spend.
Black Propeller charges a fixed monthly retainer, according to your ad spend. Its website has no service rate information, but when you book a consultation, it asks for your monthly PPC ad budget, with "less than $5K" being the first option.
Clients: US Mortgage Corporation, Microscope Central, Arocon, Next Day Floors
---

Best for tech companies
Directive Consulting boasts over 150 expert tech marketers that have helped over 200 software companies generate over $1 billion in revenue. The agency uses techniques such as LTV:CAC (customer acquisition cost) projection, which shows how much it will cost you for your prospect to convert, n-gram analysis to discover your most profitable keywords, and machine learning-powered bidding (Smart Broad) to expand your markets while lowering your advertising spending and achieving your revenue goals.
Directive's customer approach starts with a meeting to discover your brand and explain its sales process, followed by onboarding that covers strategy recommendation, strategy implementation, and pacing. In the project phase, clients praise the agency for its fluidity as it can pivot with them as new content and products or services come along.
Clients: Betterment, Matillion, Sumo Logic, Cisco, Tencent, Xactly
---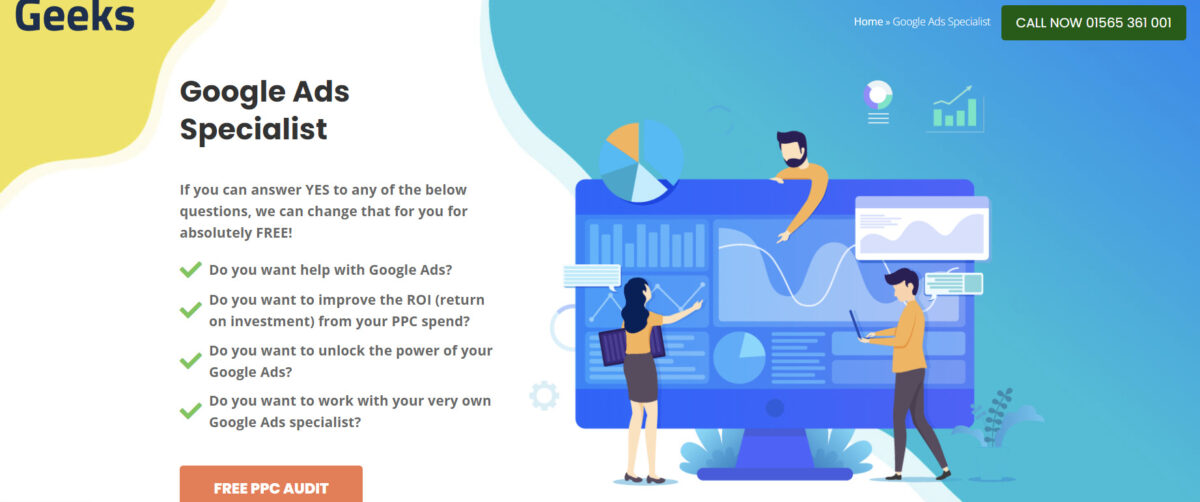 Best for thorough strategy audit
PPC Geeks lets you gauge its capabilities from the start, offering to audit your current Google Ads or paid search strategy for free, under a non-disclosure agreement if required. The report—at least 20 pages long—involves studying your account structure, conversion tracking, target audiences, and highest spending areas. The audit allows PPC Geeks to identify and suggest ways to eliminate unnecessary expenses and act on missed opportunities.
You get your account manager once you sign up for the agency's services. Then its certified Google Ads professionals blend their experience with extensive data tools and testing technology to ensure conversion rate optimization (CRO) for your campaigns.
This UK-based firm, a Google Premier partner, manages over GBP1.5 million ($1.8 million) in AdWords spending monthly. PPC Geeks work on a fixed monthly fee depending on the work scope, which the free audit indicates. Its services include weekly updates summarizing performance, progress, problems, priority actions, and in-depth monthly reports.
Clients: 1st Choice Formations, Pipestock.com, Patrolstore, Books2Door, Magnitude, KLC School of Design, SWUK Ltd, Skypark Secure
---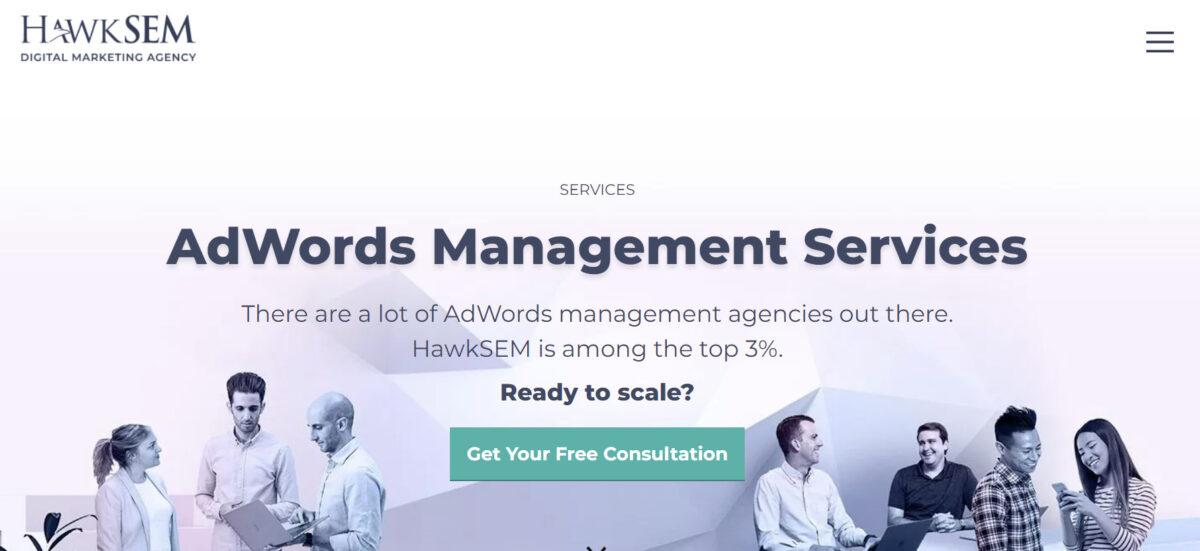 Best for seeing the "bigger picture"
This Google Partner prides itself on running ConversionIQ, a proprietary tool connecting all your marketing channels (Google Analytics, email, and social metrics) under one dashboard and lets you view their performance simultaneously. Any real-time campaign tweaks made and their impact on your overall strategy are available even before you meet your account manager.
This agency's Google Ads service involves four steps. It begins with an audit that includes a review of your existing PPC campaigns, campaign assets, tracking system, competitor analysis, current ranking research, and target audience analysis. Next, the team creates a comprehensive strategy, followed by the "buildout" of conversion tracking, ad copy, landing pages, bidding strategy, A/B testing, and other goals in your audit. The analysis and reporting of your metrics—supported by ConversionIQ—make up the third step. The final step is optimizing your ads—reviewing your bidding strategy, improving your quality score, making CRO on your site, and so on.
HawkSEM claims to help their clients see a ten-fold conversion growth and an ROI 4.5 times higher than their current ones through their Google Ads services. The company website doesn't specify how much its flat fees are, but it says that an average business spends $9k to $10k monthly on PPC marketing.
Clients: Microsoft, Zephyr, DirecTV, Verizon, Datadog, Honda
---
Frequently Asked Questions
What questions should you ask your prospective AdWords agencies partner?
Are you a Google partner?
Do you have experience developing campaigns for my business niche or industry?
Have you worked with any competitor or business similar to mine?
How many projects or clients are you currently working on/with?
Do you have a minimum ad spend monthly? What is your billing structure (flat monthly fee, percentage of a company's ad spend, or performance-based model such as $_ per conversion)?
What services does your fee cover, and can I expect a full report of these services?
Can I see the actual spend within Google Ads?
Who will work on my campaign?
What specific metrics do you track?
Do you need or what kind of help would you need from my internal team?
How often will I receive reports?
How can I contact you if I have questions?
How long does it take before you see the results of your Google Ads strategy?
A Google Ad campaign takes an average of three months to mature. The search engine reviews your ad and approves your account—designating an "eligible" status—in 24 to 48 hours. Google starts "learning" about your business, keywords, and bids compared to your competitors in the first 15 days. Thus, avoid making any changes to your ad during this period.
In two to four weeks, your ad gains momentum in impressions and clicks. Experts typically wait for a month and a half before making any tweaks based on what the metrics show.
What factors does Google check before approving your ad?
Google examines your headline—it should not be misleading or spammy. The internet search giant also reviews your keywords, ensuring they are relevant to your ad and don't contain any prohibited or offensive words or meanings. Finally, the ad must align with the landing page of your website.
How do I know if my Google Ads campaign is "working"?
Your ad should receive at least 15 clicks daily per ad group (not campaign) and at least 200 to 300 clicks on keywords monthly.