Instagram has rapidly flown up the pecking order of social media networks used by marketers. As the platform with the most engagement, it is now an essential medium for promoting your business message.
It's not enough to just show up and share photos; you will want to constantly track your performance—and the performance of any influencers you might be working with. Pay close attention to your list of Instagram followers. Having a vast number of followers may appear to be a sign of success on Instagram, but in reality that is a vanity metric. What you should really concern yourself with is having the right Instagram followers, not the most Instagram followers. The same goes for your influencers.
Instagram provides some analytics. There are also many third-party tools available that give more analytics to help you refine your Instagram followers, and improve the performance of your Instagram postings.
If you are interested in a broad overview of the vast variety of Instagram Analytics, Buffer has covered this in detail in their Ultimate Guide to Instagram Analytics. The software we look at here can be used to help you find your Instagram analytics and track your Instagram followers.
---
Software to Track Your Instagram Followers:
---
Premium Software Aimed at Agencies and Brands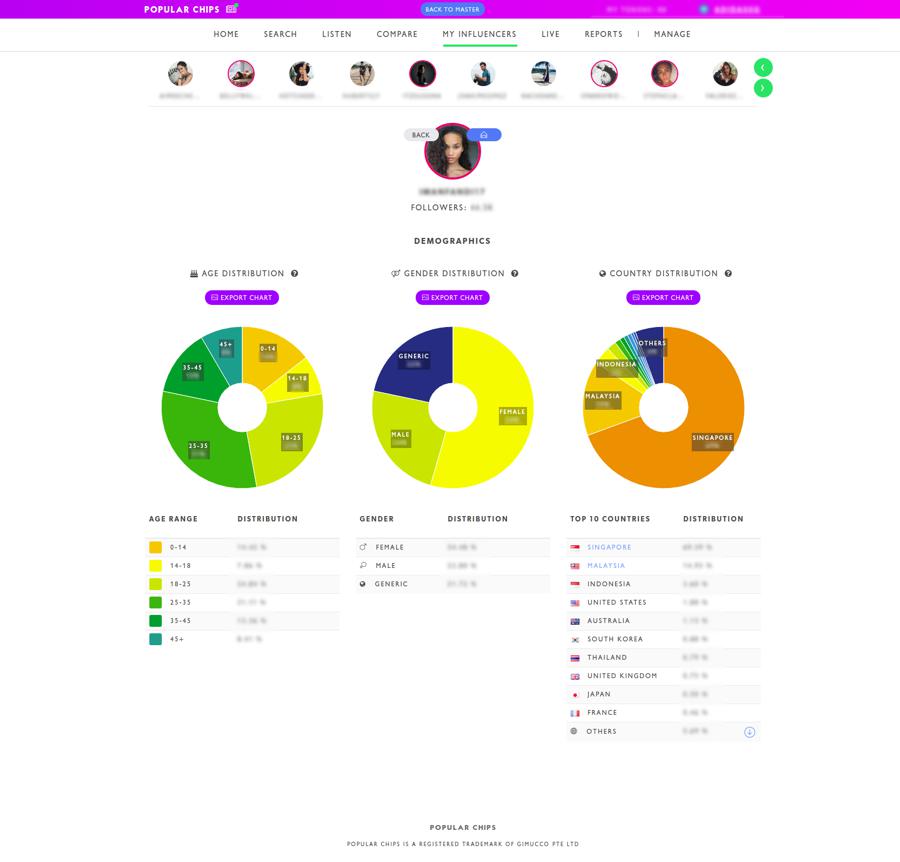 One of the reasons Instagram is so popular with marketers is its natural fit with influencer marketing. And one of influencer marketing's most powerful analytics tools for Instagram is Popular Chips. The platform provides a complete set of analytics for you and your influencers' accounts and content. It offers full audience psycho- and demographics, and gives a geographical breakdown of where these audiences are. Additionally, services like fake follower recognition, performance analysis, and monitoring of content, and hashtags help you to understand the immediate and ripple effects of your influencer campaigns. You can also keep an eye on your competitors' social accounts.
The focus is not only on finding good influencers with right audiences, but on optimising future content to get the most engagement—and results.
---
2.
Instagram Insights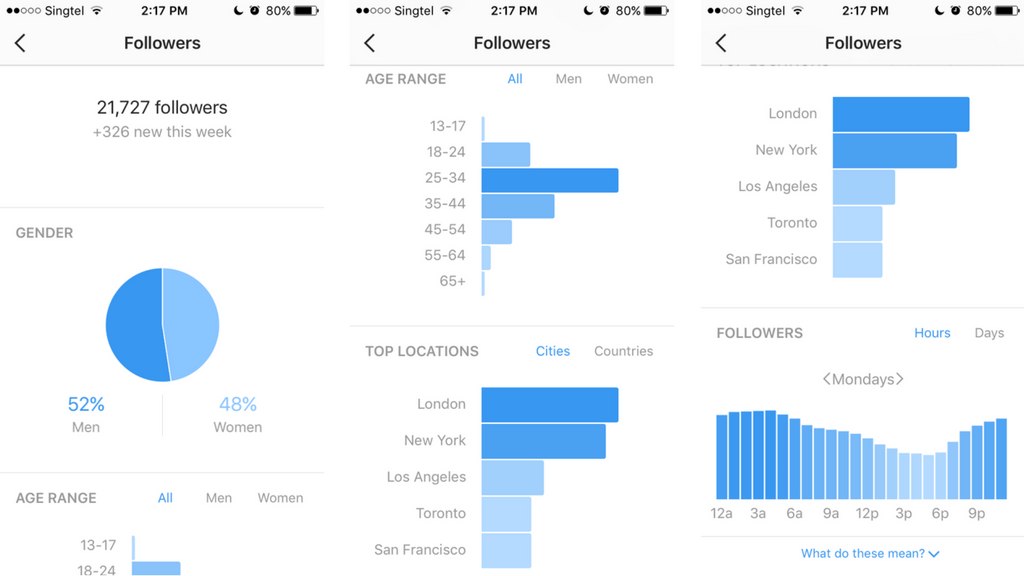 While now as fully featured as the other products in this section, we have included Instagram Insights here because it is the official analytics section of Instagram. It is currently only available to businesses and accounts with high levels of engagement – so check that your Instagram account is set up as a business account if you intend to access it.
If need be, you can convert your personal Instagram profile to a business one. Once you have a business profile, you will see a graph icon in the upper right of your profile screen. If you click on this, you will gain access to your Instagram Insights.
Instagram Insights provides you with a range of analytics relating to your Instagram account. One section refers to your followers. In this area you can see the following information about your followers:
The typical times your followers are on Instagram

Your follower count (along with new followers this week)

The gender distribution of your followers

Their age range distribution

Your followers' locations (cities or countries)

Your followers' activity
---
3.
Deep Social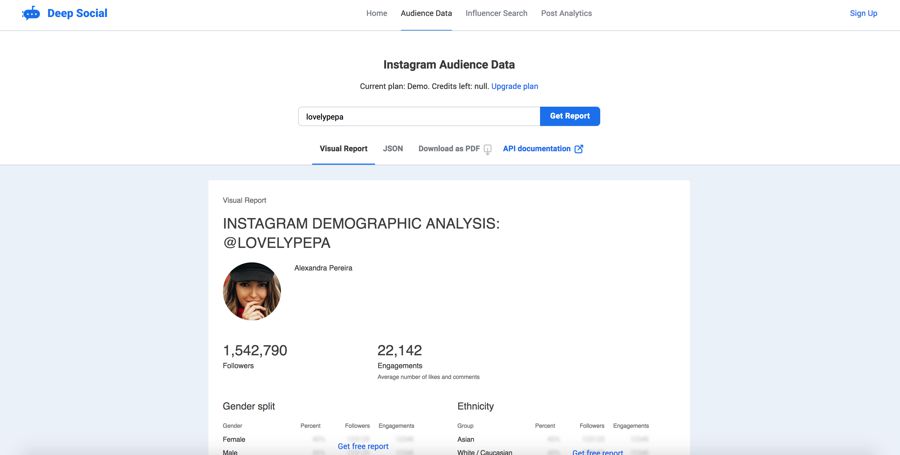 Deep Social provides highly detailed social media analytics reports. They split their services into Audience Data, Influencer Search, and Post Analytics.
It provides you with audience data insights for Instagram influencers. These show information relating to:
Gender

Age groups

Ethnicity

Geography

Languages

Psychographics
Currently, Deep Social offers data connected to 37,446,617 Instagram Influencers, and they gather data and insights from over 1,073,801,595 Instagram profile accounts.
You can order a User List Report which provides relevant data for any list of Instagram users – your followers for instance. You can also request User Monitoring reports, with full and precise details about your chosen account names and their posts.
---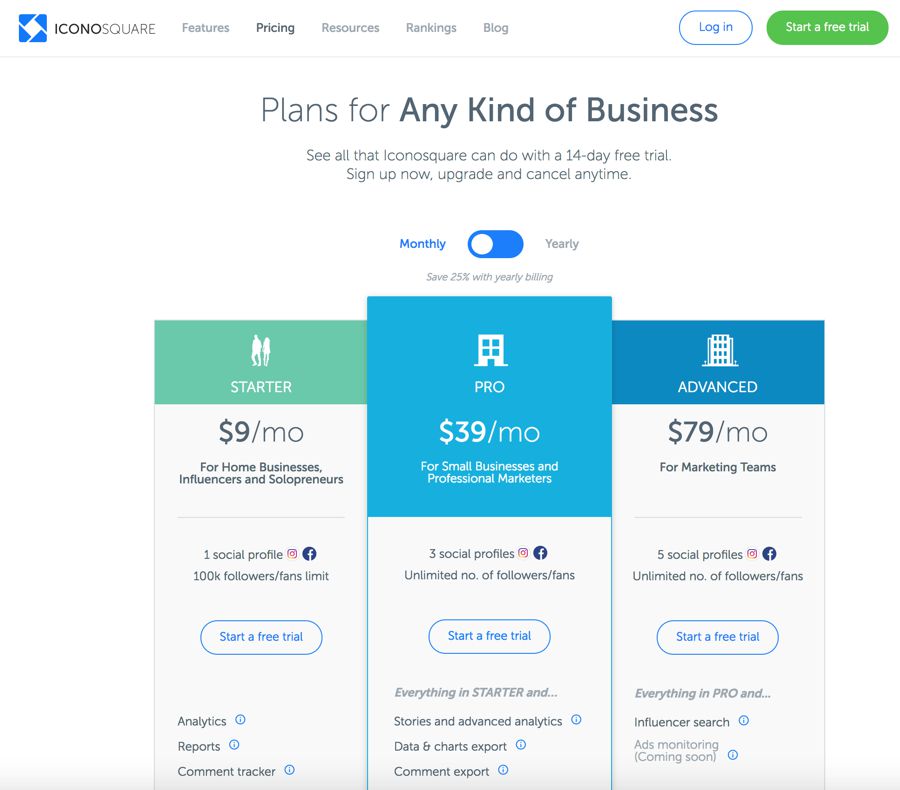 Iconosquare is a paid app that gives you an array of tools to manage your Instagram and Facebook accounts. It provides you with the necessary data to learn as much as possible about your community. You can visualize the followers and fans you gain and lose daily. You can discover your followers' and fans' languages, locations and demographics.
Although there is a Starter plan at $9 per month, the more in-depth follower analytics only become available with the Pro ($39 / month) or Advanced ($79 / month) plans. The Advanced plan also enables influencer search.
---
5. INK361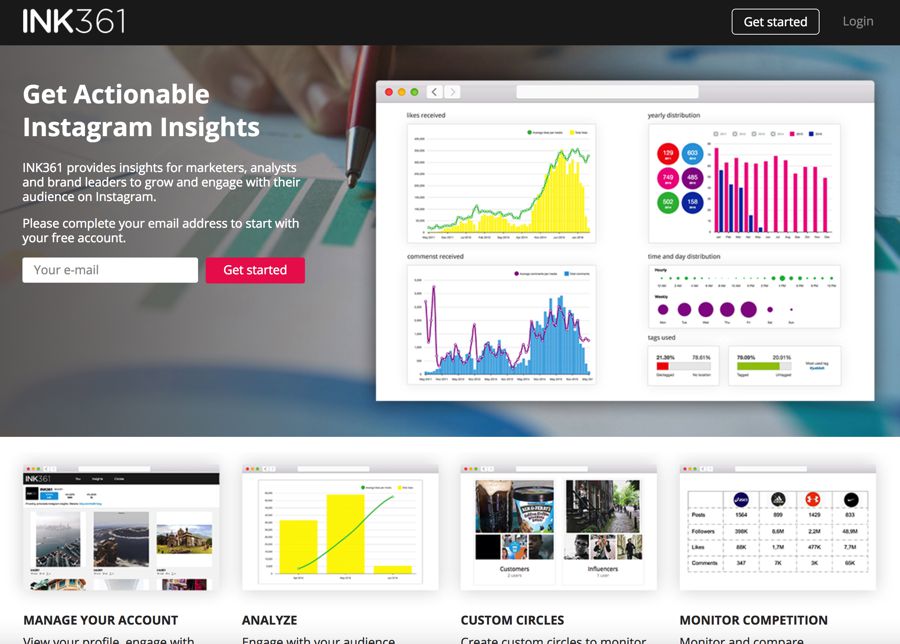 INK361 is a full-scale Instagram management tool for marketers, analysts and brand leaders. It includes a wide-ranging suite of analytics tools. You can track the growth of your followers and followings over time. INK361 also gives you insights into your followers' geographical origin.
You can monitor specific users with custom circles. You can also track your competitors, comparing their follower levels with yours.
---
6. Quintly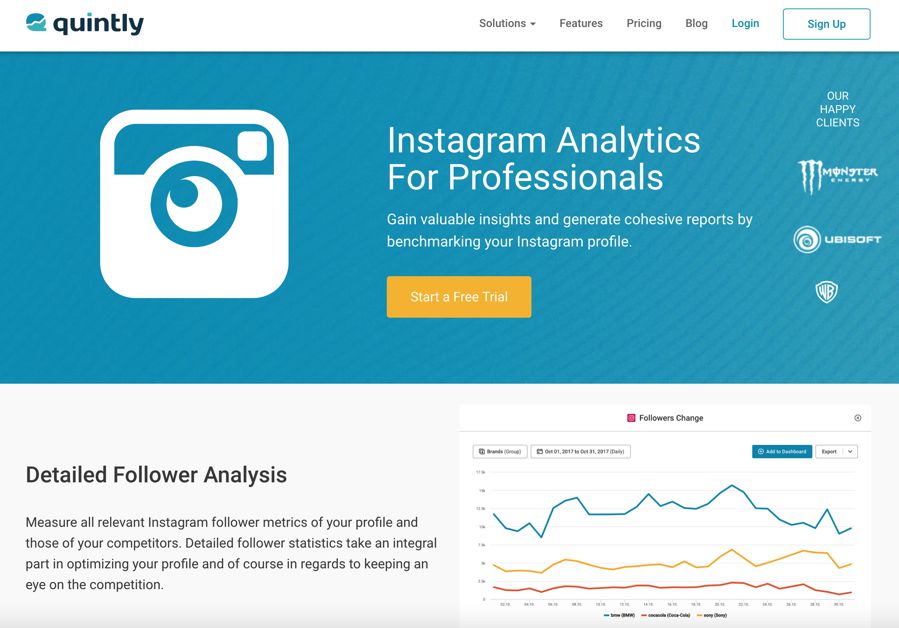 Quintly is a tool that covers a wide range of social networks. It is free for Facebook analytics, but you have to purchase a paid plan if you want to analyze you Instagram (and other) social network accounts.
It provides you with detailed follower statistics, along with an analysis of your competitors' followers.
Quintly also gives details of every type of feedback you receive from your followers. It shows you all of the interactions your followers and others have with your content.
Quintly comes with packages at four pricing points, tailored for Small, Medium, Large, and Enterprise businesses.
---
Software Aimed at Influencers and General Instagram Users
1. Followers for Instagram
Followers for Instagram is a free app for iOS and Android that allows you to check who has followed you and unfollowed you on Instagram. It allows you to:
Track new Instagram followers

Track Instagram unfollowers

Track Instagram followers that don't follow you back

Track Instagram followers you don't follow back

Search Instagram users
If you make an in-app payment, you also get to:
Track users who blocked you

Track deleted likes and comments

Track users you like, but are not following

Track users you follow, but never liked their posts

See the history of users you unfollowed

Track the users who requested to follow you

See a list of your oldest and newest Instagram users

View a range of other statistics relating to your post popularity and engagement statistics
The app does place a limit of 50,000 followers, however.
---
2. Followers Pro for Instagram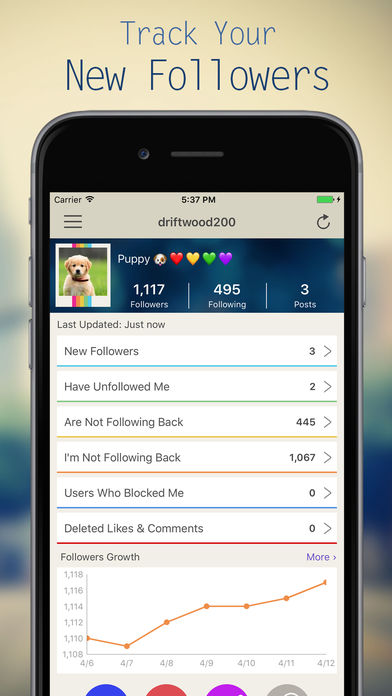 Followers Pro for Instagram appears to be another version of Followers for Instagram (it has the same logo, with the PRO tagged on). The only noticeable difference comes with the method used for charging for premium content. Followers for Instagram sells additional features as add-on packs. Followers Pro for Instagram, on the other hand, offers a monthly or yearly subscription for the premium material.
---
3. Insta Follow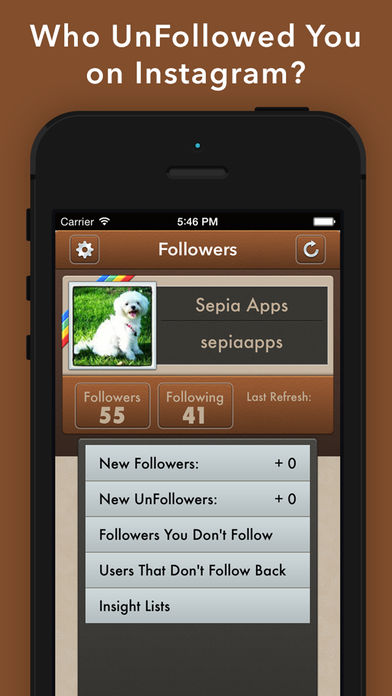 Insta Follow is a free mobile app available for both iOS and Android. Once you have downloaded the app and synced it with your Instagram account, you can tell it to track different types of Instagram users. These include your followers, anybody who unfollows you, people you follow that don't follow you back, and anybody who follows you who you don't follow back.
You can use this data to understand your followers, as well as those who choose to unfollow you. You can distinguish your biggest followers from those who only look at an occasional post.
---
4. Simply Measured
Simply Measured allows you to look at your organization's social analytics – including Instagram. If you have an account with fewer than 25,000 followers, Simply Measured will send you a user report with a wide range of data. From this, you can see who engages with you most. It includes a list of your most active commenters. It also provides demographic data of when people looked at and made comments on your Instagram account.
---
5. Socialbakers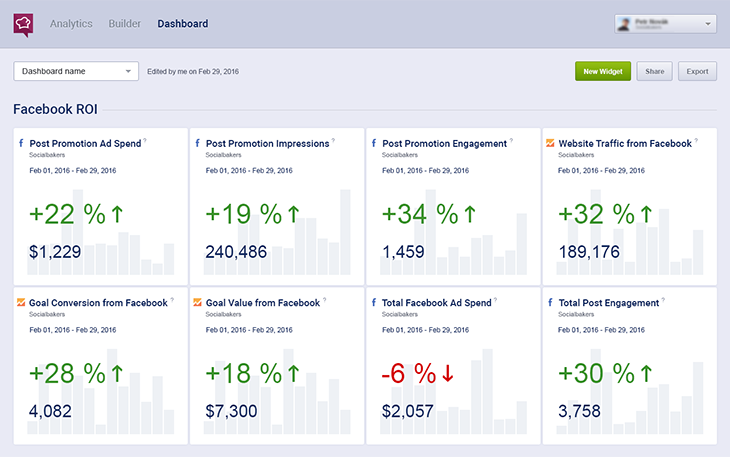 Socialbakers makes a simple free Instagram stats tracker available. Among the stats it provides are:
Most-liked users

Distribution of posts per month

The most tagged users
Socialbakers delivers its reports in a dashboard-style layout.
---
6. Socialinsider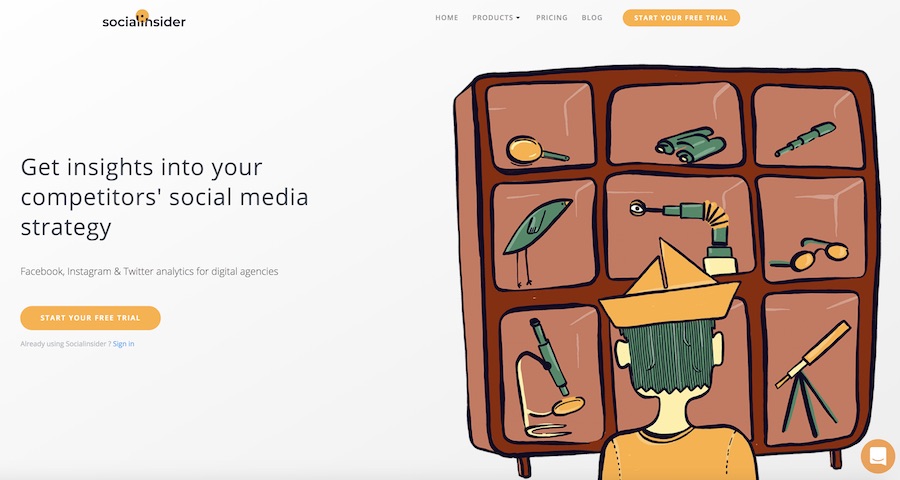 Socialinsider
allows you to measure your Instagram performance against top competitors, compare Instagram profiles side by side, explore content ideas and gives you reports (.pdf and .csv). Among stats it provides:
profile growth over time
historical posts data
engagement reports
top hashtags used by competitors on Instagram
type of content - video, image or carousel
distribution of posts per month
most liked posts
In addition, you can spot your competitors' actions on Facebook and Twitter too.
Socialinsider offers three plans, it starts with an Explorer Plan for $29 for five social profiles, and you can track unlimited social profiles with the Agency plan for $149 per month
---
7. SocialView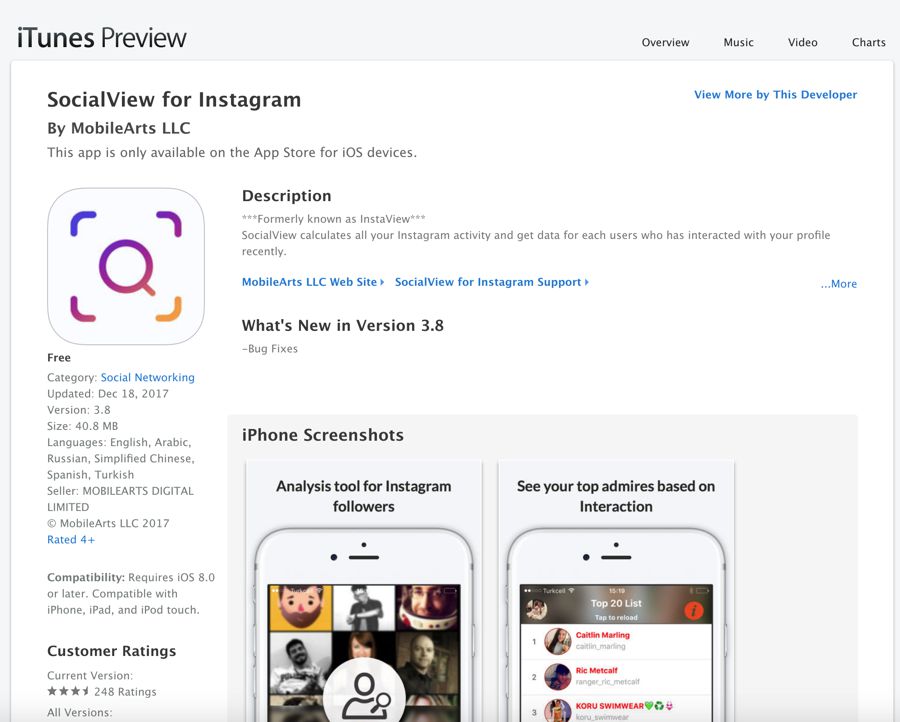 SocialView was until recently called InstaView. It is available in the Apple App Store for iOS devices and on Google Play for Android. It is subscription based, and you can buy 1 month, 6 months, or 1-year subscriptions.
It calculates your Instagram activity and finds data for anybody who has interacted with your Instagram profile recently.
SocialView shows the list of users who like you most, based on interactions which people have had with your Instagram account.
The app provides you with a weekly report on your Instagram usage.
---
8. Square.lovin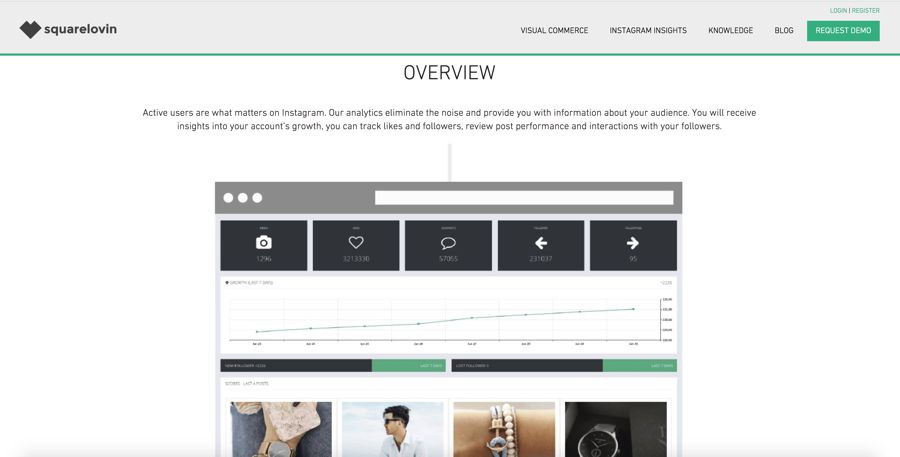 Although Square.lovin is primarily a content platform for Instagram, it does include a free Instagram analytics tool (which confusingly it calls Instagram Insights, the same name as the official Instagram analytics tool). You can connect and manage multiple Instagram accounts from this platform.
The analytics it shows tell you much detail about your posts and engagement, as well as things like your follower growth, and the best times to interact with them.
---
9. Union Metrics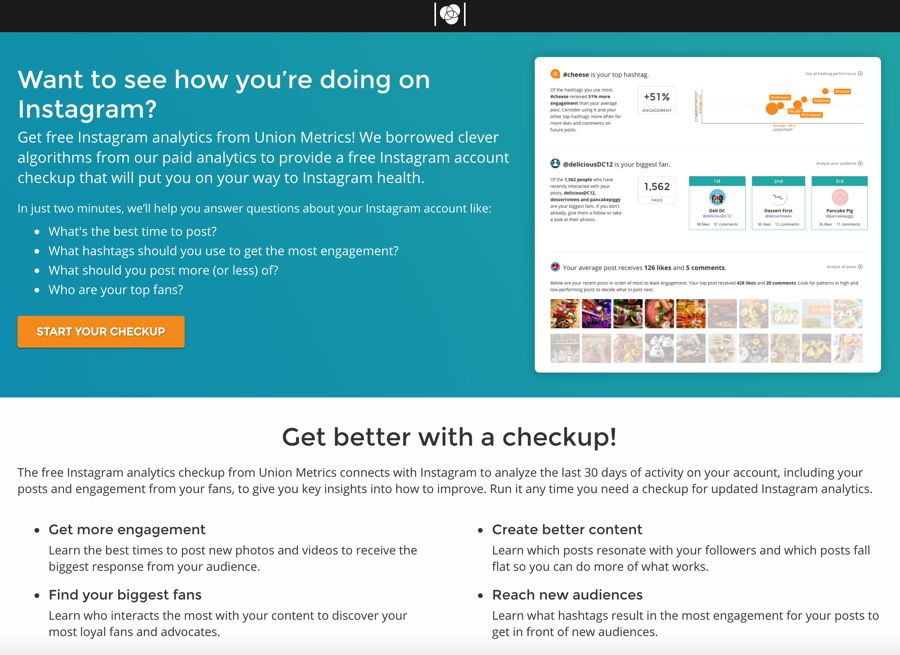 Union Metrics offers you a free Instagram checkup, to see how you are doing on the platform. They provide you with statistics relating to:
What's the best time for you to post to your followers

What hashtags are likely to lead to the most engagement

What types of post do well (or poorly)

Who your top fans are
Union Metrics offer paid plans with more capabilities on Instagram, Twitter, and Facebook. These range from the Lite plan for $23 per month, which provides you with one tracker, monitoring up to 10,000 posts across 20,000 followers. A higher end plan is the Team plan. For $159 you can have 4 trackers, covering 250,000 monthly posts and 200,000 followers.
They also offer Social Suite for large organizations, which can track the most active social media accounts. Notably one of the features of the paid accounts is influencer identification.
---
10. Visual Marketing Index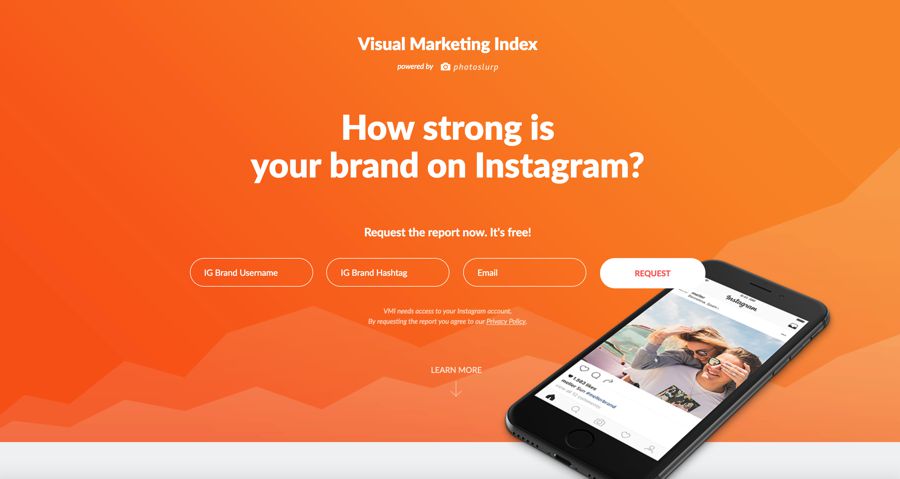 Visual Marketing Index allows you to score your brand's strength on Instagram. They incorporate 10 metrics to come up with a score. They split these into:
Brand Engagement Rate – your overall level of engagement based on the media your brand publishes on Instagram

Hashtag Power – how much your brand's hashtag is used

Quality of Your Audience – just how good are your followers? Do they sing praise for your brand?

Top Photos – which posts perform best for your brand
---
11. Websta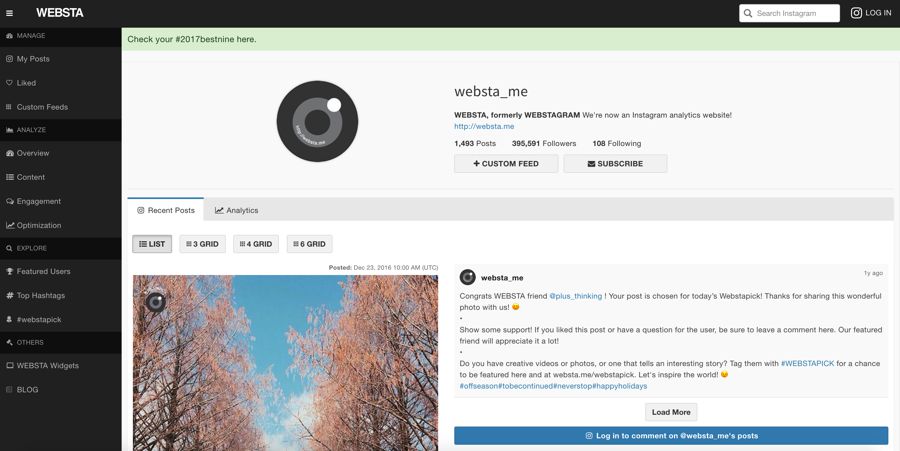 Websta provides a vast array of Instagram analytics, along with custom feeds, the chance to explore hot brands, users, hashtags and influencers, and the ability to manage your Instagram account. It offers all of this for free.
It provides data on your engagement – your followers, likes, most-liked posts, etc. It displays this in a clear graphical interface.
One thing Websta includes is a Featured Users section, which they describe as their Hall of Fame. This consists of the people they consider the Top 500 Instagrammers. They split these people into categories, e.g., male celebrities, female celebrities, athletes, comedians, musicians, social media influencers etc.