Advertising Disclosure
Advertising disclosure:
Our partners compensate us. This may influence which products or services we review (also where and how those products appear on the site), this in no way affects our recommendations or the advice we offer. Our reviews are based on years of experience and countless hours of research. Our partners cannot pay us to guarantee favorable reviews of their products or services.
A company's success is increasingly reliant on its ability to connect, communicate, and captivate its target audience. As the digital age continues its expansive trajectory, businesses need partners who understand this evolution and have the tools and expertise to navigate it. Enter Advertising Agencies – the compass in the maze of market communications. And when it comes to top-tier advertising agencies, Chicago stands as a beacon of excellence and innovation in the USA.
But why Chicago? Known for its bustling urban environment and rich history, the Windy City is an architectural marvel and a hub for creative minds and advertising magnates. Chicago has grown exponentially over the past decade, with several agencies making their mark nationally and globally. Such growth attests to the city's ability to foster innovation and drive results, especially in an age where brand image and digital footprint hold immense sway over business fortunes.
For business owners, aligning with the right advertising agency can be the difference between a brand's resonance and its obscurity. With the stakes so high, understanding the value proposition of each agency becomes paramount. Further, in today's interconnected world, the immediacy and vast reach of digital channels, such as social media, necessitate expertise in harnessing their potential.
Given the plethora of agencies in Chicago, we've embarked on a mission to simplify this selection process for business owners. In this listicle, we will spotlight the top 8 Advertising Agencies in Chicago, evaluating their strengths, service offerings, and the unique value they bring to the table.
---
Top Advertising Agencies in Chicago
Top
advertising agencies chicago
2024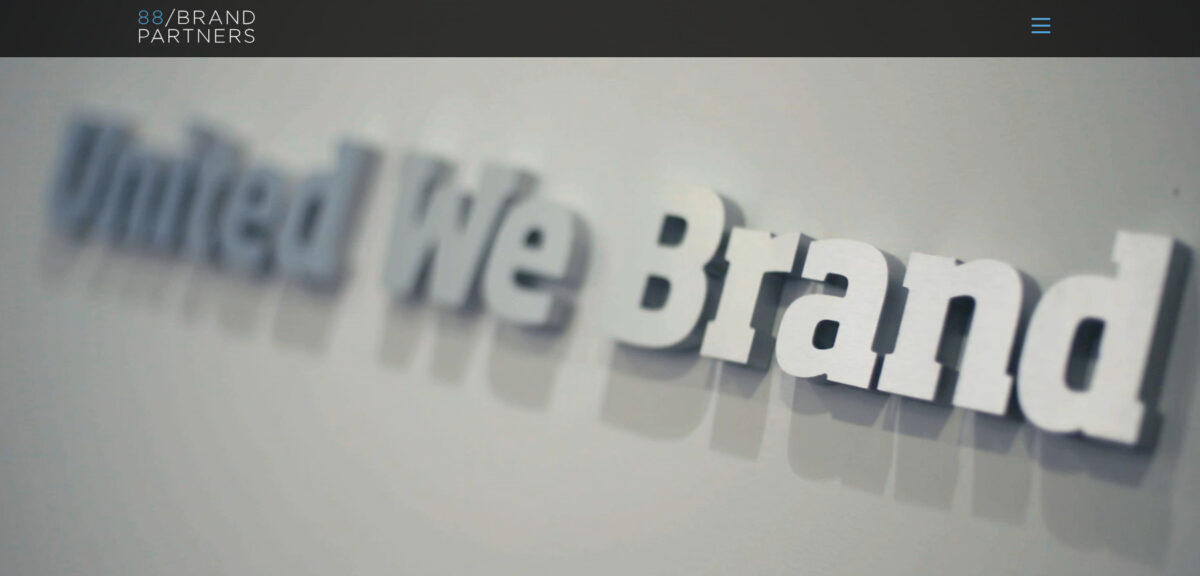 Year Founded: 1988
Employees: 10-49
88 Brand Partners champions a holistic approach to advertising, presenting itself as a pivotal choice for marketers eyeing tangible results. Their primary focus is creative branding bolstered by solid audience engagement strategies and versatile media solutions. Their services are vast, from digital media buying and content creation to experiential campaigns and data analytics.
Each service is uniquely customized to resonate with individual brand requirements, ensuring that client brands reach their target audience and create lasting relationships. This full-service agency seamlessly integrates marketing and research, underscoring its commitment to fostering authentic connections between brands and consumers.
The agency's capabilities extend further to cover various areas of advertising, from broadcast and print to experiential marketing and retail marketing. In the digital realm, they demonstrate proficiency in creating websites, managing social media, and developing mobile platforms and apps. 88 Brand Partners has also amassed a diverse clientele, ranging from healthcare systems and financial institutions to hospitality groups. 
Notable Clients:
Banner Witcoff
Greater Chicago Food Depository
American Veterinary Medical Association
CEFCU
---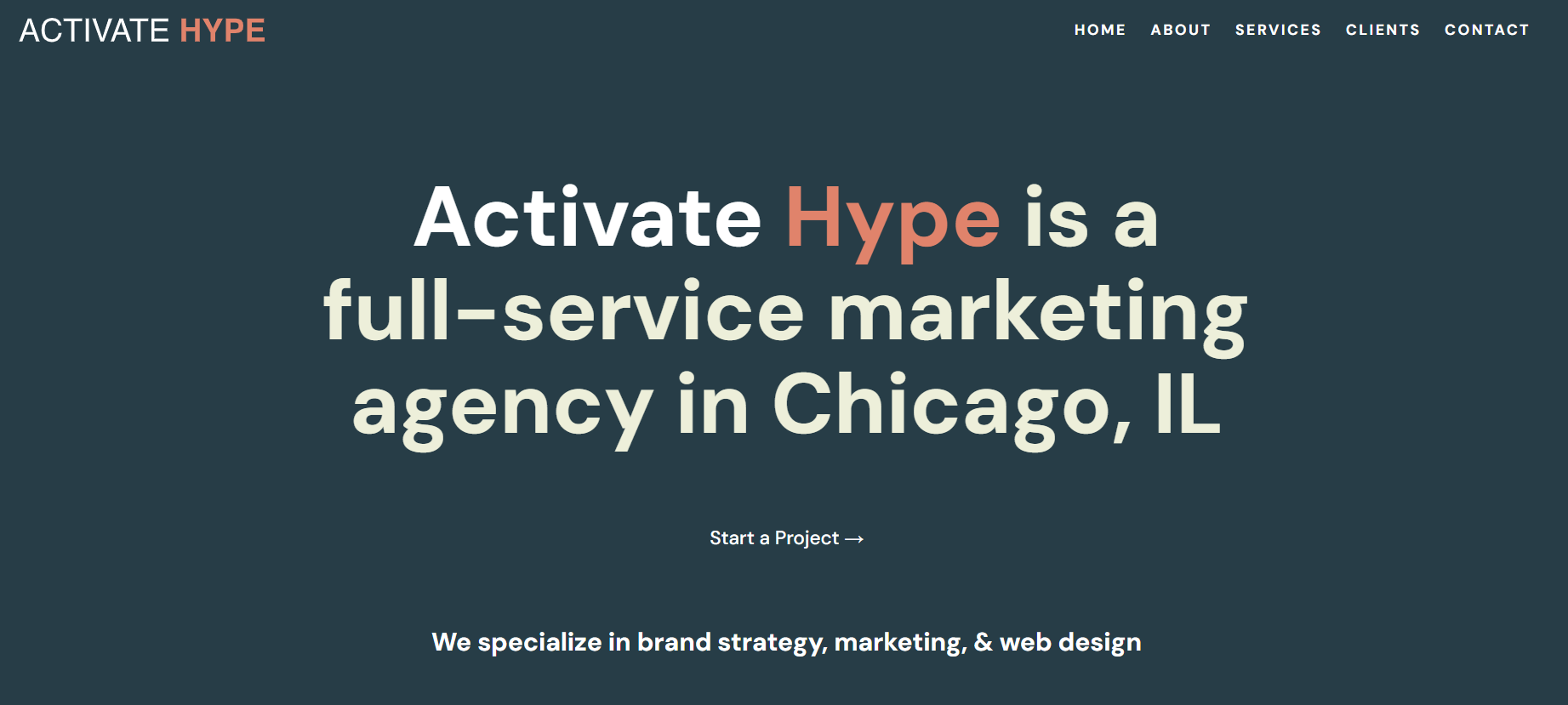 Year Founded: 2018
Employees: 2-9
Emerging as a powerhouse in Chicago's bustling digital landscape, Activate Hype merges data-driven precision with innovative marketing solutions. This performance-centric marketing agency boasts a team of seasoned professionals adept at harnessing today's digital tools. Central to their operations is an unparalleled expertise in SEO, website development, online advertising, and social media management.
Yet, what truly sets Activate Hype apart is its commitment to using cutting-edge data analysis. By delving deep into analytics, they pinpoint the optimal strategies that ensure a rewarding return on investment for their diverse clientele. Activate Hype's sweeping service suite includes everything from stakeholder workshops and content creation to cookieless server-side tracking.
Their website design services, complete with CRM systems, CMS implementations, and user experience enhancements, underline their commitment to creating cohesive online platforms for brands. Catering to startups, mid-sized businesses, and even national brands, their omnichannel marketing expertise has driven profitability, expanded market presence, and boosted online traffic for their partners. 
Notable Clients:
Red Bull
The Matan Group
American Writers Museum
Expo Pass
Avión Tequila / Pernod Ricard
---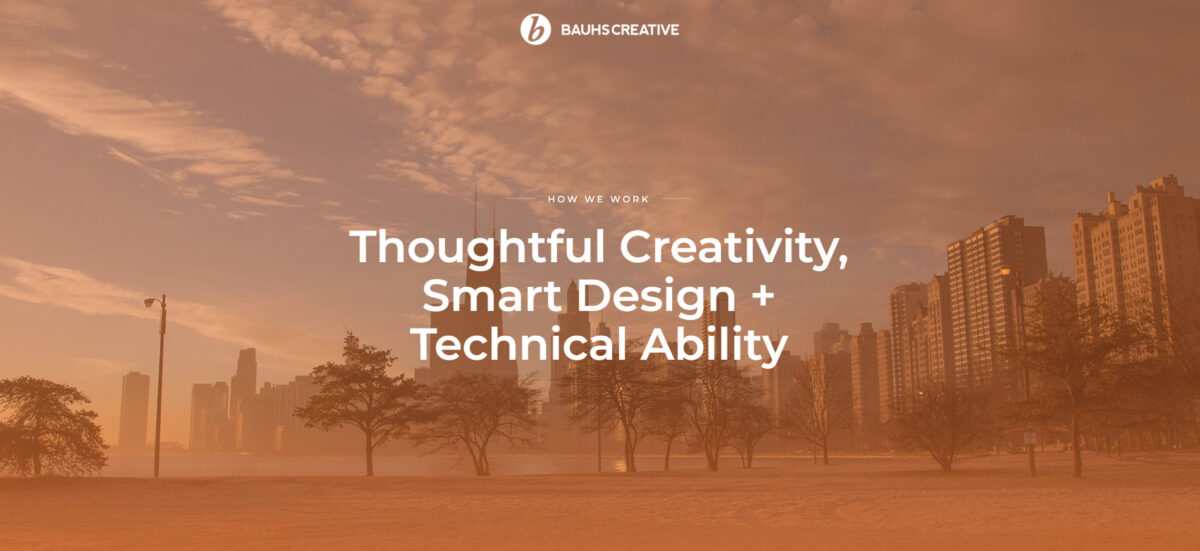 Year Founded: 2001
Employees: 1-5
Bauhs Creative Group stands out as an embodiment of innovation and professionalism in the advertising domain. This full-service creative agency merges the model of traditional marketing with state-of-the-art digital solutions, aiming to catapult brands into the limelight.
Their spectrum of services, spanning from SEO and Pay-Per-Click to dynamic content creation, ensures that businesses enhance their online presence and engage effectively with their target audience. Moreover, the emphasis on blending thoughtful creativity with smart design underscores their commitment to delivering marketing campaigns that resonate and captivate.
The strength and expertise of Bauhs Creative Group lie not just in the diversity of its offerings but also in the tailored approach they adopt for each client. Despite the small team size, they boast a cadre of seasoned professionals uniquely positioned to craft effective and aligned strategies with the specific goals of each brand they collaborate with. Past and present clients laud Bauhs Creative Group for their perfect amalgamation of technical ability with ingenious design—making them a prime choice in Chicago's vibrant advertising ecosystem.
Notable Clients:
American Academy of Physical Medicine and Rehabilitation
Roosevelt University
RecordBoox
MyVault
---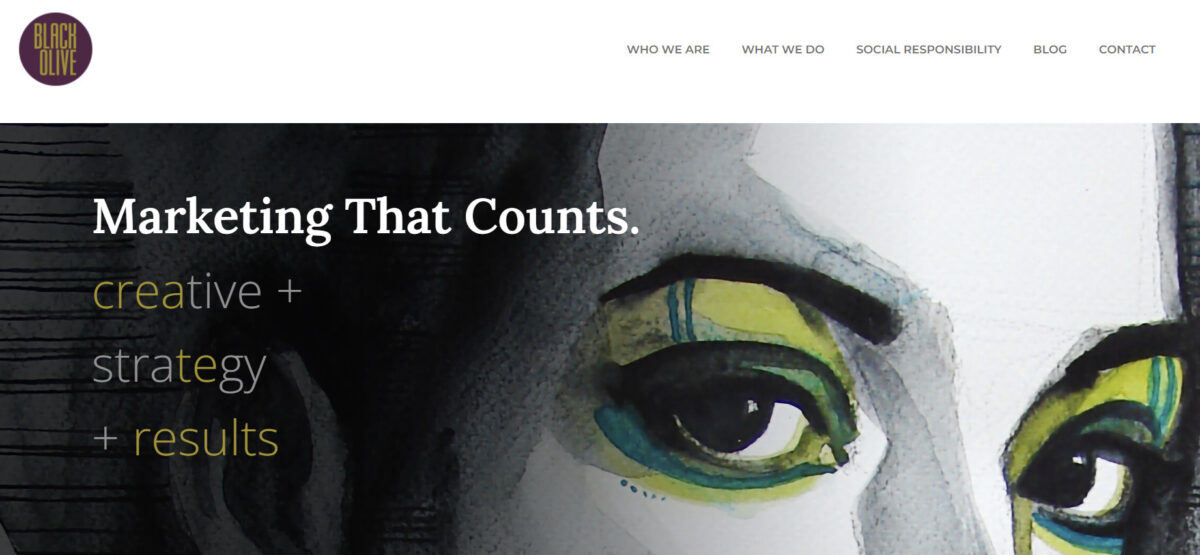 Year Founded: 2003
Employees: 2-9
Black Olive is a top marketing agency based in Chicago, combining contemporary techniques and seasoned industry knowledge. Black Olive's offerings are comprehensive, encompassing everything from web development and search marketing to creative services and intricate analytics.
Their dedication to providing immersive analyses of the digital landscape ensures that each campaign is not only well-informed but also tailored with precision. The underlying mantra of "creative + strategy + results" encapsulates their approach, marrying innovative design with actionable strategies to yield tangible outcomes. Their holistic approach, evident in their services like brand voice formulation, channel development, direct response, and event planning, underscores their versatility. Moreover, they exhibit prowess in areas like storytelling, content development, and lead generation.
Their commitment to fostering collaborative partnerships with clients stands as a testament to their client-centric ethos. Whether catering to sectors like insurance, education, or emerging B2B companies, Black Olive consistently positions itself as a game-changer, demonstrating excellence in marketing and a deep-rooted understanding of business dynamics in the ever-evolving Chicago advertising milieu.
Notable Clients:
HP
Anthem
American Red Cross
Landauer
American BAR Association
---
Year Founded: 2019
Employees: 2-9
BrandAction Agency is uniquely positioned in the marketplace with its hybrid approach, which combines traditional branding principles with modern demand generation strategies. At its core, BrandAction Agency offers a superfluity of essential services, from SEO, PPC, and content creation to intricate web design solutions. Their core philosophy ensures that each marketing campaign is thoughtfully constructed, seamlessly blending creativity with strategic intent to drive tangible results.
Delving deeper into their offerings, BrandAction's comprehensive suite showcases their strategic planning, branding, and demand generation expertise. They provide tailor-made solutions that resonate with each client's unique objectives, emphasizing brand credibility, lead acceleration, and conversions.
Their ability to understand the buyer's journey, coupled with insights derived from extensive customer research, makes their content strategy and creative activations stand out. Additionally, the collective expertise of their core team, ranging from brand strategists to creative directors, underlines the agency's commitment to excellence. Based in Chicago, BrandAction Agency provides tailored services to businesses of all sizes, emphasizing measurable outcomes and industry insights.
Notable Clients:
AgroFresh
AEM
Alera Group
Choice Hotels
Univar Solutions
---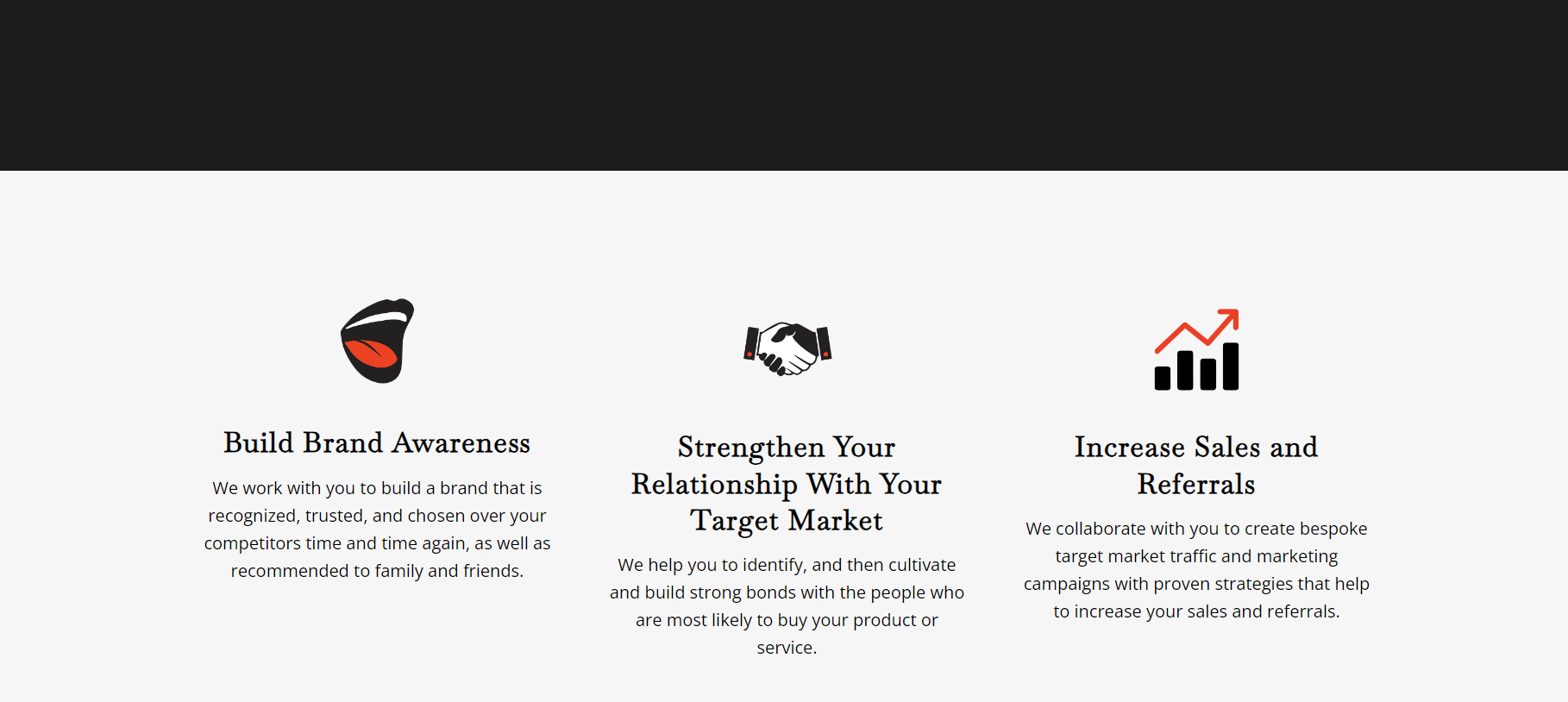 Year Founded: 2015
Employee: 2-9
C.W. Harris Chicago, LLC has firmly established its reputation as a forward-thinking digital marketing agency. By seamlessly merging their expansive expertise in market research with up-to-date technological solutions, the agency offers a tailored approach to help businesses optimize their brand presence.
With an all-round array of services, from responsive website design, content creation, SEO, and PPC to more nuanced areas like sales funnel marketing and online reputation management, the agency ensures that businesses have every tool at their disposal to succeed in today's digital landscape. The philosophy that drives C.W. Harris Chicago is encapsulated in three core objectives: building brand awareness, fortifying relationships with target markets, and amplifying sales and referrals.
The depth of their offerings speaks truly about their holistic approach. Their systematic process, which involves auditing current strategies, setting clear objectives, and constantly refining based on data analytics, ensures that every campaign is rooted in authenticity and aligned with the client's goals.
Notable Clients:
Thomas Legal Counselors at Law
MGAM Scholarship Foundation
Stier Law Offices
---
Year Founded: 1990
Employee: 2-9
Serving the diverse digital marketing needs of businesses in West Chicago, Carol Ann Marketing distinguishes itself through a rich blend of customized strategies and extensive industry knowledge. At its foundation, the agency offers a plethora of indispensable services, allowing brands to present their message clearly and concisely.
They have honed their skills over the years, seamlessly integrating the art of modern digital marketing methods like informed delivery integration and email marketing, ensuring brands communicate effectively with their target audience. A standout feature of Carol Ann Marketing is its dedication to multi-channel marketing, emphasizing connecting brands to their most potential prospects.
Their "direct mail" expertise, informed by in-house list brokerage and advanced mail tracking features, affirms their commitment to tangible results. The agency also boasts a rich portfolio of renowned clients, showcasing their breadth of experience and adaptability to varying business needs. Operating at the nexus of tradition and innovation, Carol Ann Marketing offers businesses both the depth of established marketing techniques and the agility of digital solutions.
Notable Clients:
American BAR Association
DC Comics
Forbes
Motorola
Americal Slide Chart
---

Year Founded: 2022
Employees: 10-49
Concorde New Media is a group of several marketing and creative agencies operating under a single umbrella. This group stands out by mastering the intricate balance between creativity and effectiveness, ensuring clients witness tangible growth. At the core of their offerings is a suite of services encompassing SEO, web design, content creation, and social media marketing.
But what truly distinguishes them is their commitment to crafting custom campaigns that align with each client's unique business needs. This bespoke approach ensures that strategies are not just cookie-cutter solutions but are robust mechanisms tailored for maximum impact.
The collective of creative agencies under the Concorde New Media includes Concorde Print & Media, which has garnered acclaim for its rapid and reliable B2B printing, NAVEO Marketing, a full-service B2B marketing agency, Creative Consulting, an SEO and SMM-centric agency, and SAGE Coach Marketing, a niche marketing agency specializing in industry-specific branding. With such diversity in expertise, Concorde New Media is a holistic solution provider ready to fuel business growth in the digital age.
Notable Clients:
Marlin Technologies Inc
HM Product Solutions LTD
Olsun Electrics
Quintron
TRANR
---
Why Are Advertising Agencies in Chicago Important?
Chicago, a city steeped in a rich history of commerce, culture, and innovation, has long held its position as a premier destination for businesses seeking to make a lasting impact, both on a national and global scale. Yet, in a metropolis bustling with potential and competition, the need to stand out emerges as both a formidable challenge and a compelling necessity. Advertising agencies play a pivotal role within this dynamic urban landscape.
Chicago-based agencies are acutely aware of the city's vibrant tapestry of cultures, trends, and diverse audiences. They have an innate understanding of the ever-evolving market dynamics, enabling them to craft messages that resonate with both local denizens and global consumers alike.
Moreover, many of the city's top agencies have consistently raised the bar in terms of creativity and strategic prowess. Their impressive track record in launching highly successful campaigns has not only left an indelible mark on the marketing landscape within Chicago but has reverberated globally.
Their commitment to delivering integrated solutions also sets Chicago's advertising agencies apart. They blend traditional and digital marketing strategies seamlessly, ensuring that brands maintain a consistent message across all touchpoints and mediums. This holistic approach guarantees that a brand's identity remains steadfast, regardless of the platform it engages with.
Furthermore, a bustling urban hub provides these agencies unparalleled opportunities to cultivate networks and partnerships with industry leaders, influencers, and media houses. These valuable connections serve as a wellspring of additional leverage and visibility for their clients, further solidifying Chicago's reputation as a hub of advertising excellence.
---
Key Factors to Consider When Picking the Right Chicago Advertising Agency
Selecting the ideal advertising agency can feel like a daunting endeavor, particularly within the saturated market of Chicago. There are several critical factors to bear in mind as one navigates this decision.
First and foremost, it's essential to consider the agency's industry experience. Ensuring they have a proven track record within the specific industry or possess substantial experience in handling brands with similar objectives can serve as a valuable indicator of their ability to understand and cater to unique needs.
Taking a closer look at the agency's portfolio and its previous work can provide valuable insights into their creative prowess, execution style, and the tangible results achieved for clients. This exploration offers a glimpse into what one can expect when collaborating with the agency.
The assessment of cultural fit is another crucial aspect. It's important to remember that the chosen agency will essentially become an extension of the team. Therefore, it's of utmost importance that they align with the company's values, ethos, and overarching vision. A harmonious cultural fit can foster a more productive and collaborative partnership.
Delving into discussions about budget and pricing early on is imperative. Fully comprehending the agency's pricing structure and ensuring there are no hidden or unexpected costs down the road is crucial. The cost should be commensurate with the value brought to the table, so transparency in this regard is key.
Proficiency with the latest tools and technologies is also non-negotiable. Agencies must be well-versed in an array of digital tools, ranging from analytics platforms to content management systems. This technological proficiency is essential for crafting effective and data-driven marketing strategies.
Lastly, scalability should be considered as a factor in the decision. As the business grows, its marketing needs may evolve and expand. Therefore, it's wise to select an agency that can adapt and scale its services to accommodate evolving requirements. This foresight can help ensure a long-lasting and mutually beneficial partnership as the business progresses.
---
Conclusion
Chicago is not just a city with a rich history and vibrant culture; it's a dynamic hub for businesses aiming to make their mark in today's competitive landscape. Its advertising agencies play a pivotal role in shaping brand narratives, driving growth, and ensuring companies stay ahead of the curve. 
When selecting an agency, it's crucial to consider not just their expertise and past work, but also their ability to align with your brand's ethos and objectives. In the end, the right partnership can be the catalyst that propels your brand to new heights, ensuring sustained success in an ever-evolving marketplace.
Frequently Asked Questions
What services do advertising agencies in Chicago typically offer?
Most Chicago-based advertising agencies provide comprehensive services, including advertising, media planning and buying, marketing communications, public relations (PR), event organization, and branding. Many also offer digital services like SEO, social media marketing, and web design.
How can an advertising agency help my business stand out in a crowded market?
Agencies leverage their expertise in strategy, creative design, and market insights to craft campaigns that resonate with target audiences, making your brand memorable and differentiating it from competitors.
What should I consider when choosing an advertising agency?
Evaluate their portfolio, understand their industry experience, consider client testimonials, assess their team's expertise, and ensure their services align with your business objectives.
How do agencies determine the success of a campaign?
Success is usually measured using Key Performance Indicators (KPIs) tailored to the campaign's goals, such as increased sales, website traffic, brand awareness, or customer engagement metrics.
Can I hire an agency for a one-off project or is a long-term contract required?
While many agencies offer project-based services, some might prefer longer-term contracts. It's essential to discuss your needs upfront and choose an engagement model that suits both parties.