The communication techniques between businesses and consumers have transformed and multiplied as marketers' tools evolve and advance technologically. The scope of digital marketing—or online marketing—goes beyond running an optimized website. It leverages various digital channels, from search engines and social media to email, text, and multimedia messages.
Digital marketing also covers automation and AI marketing, which can generate insights needed to strategize campaigns and even the content to implement them. Moreover, online marketing considers the devices—from smartphones to smart speakers—and "spaces," such as virtual and augmented reality, where consumers interact with the campaign or marketing content.
The right choice and combination of digital marketing solutions empower you to multiply your ROI for every campaign in which you apply these tools. Let's check out these solutions one by one.
---
11 Best Digital Marketing Solutions to Exceed Your Campaign Targets:
---
Top 11 Digital Marketing Solutions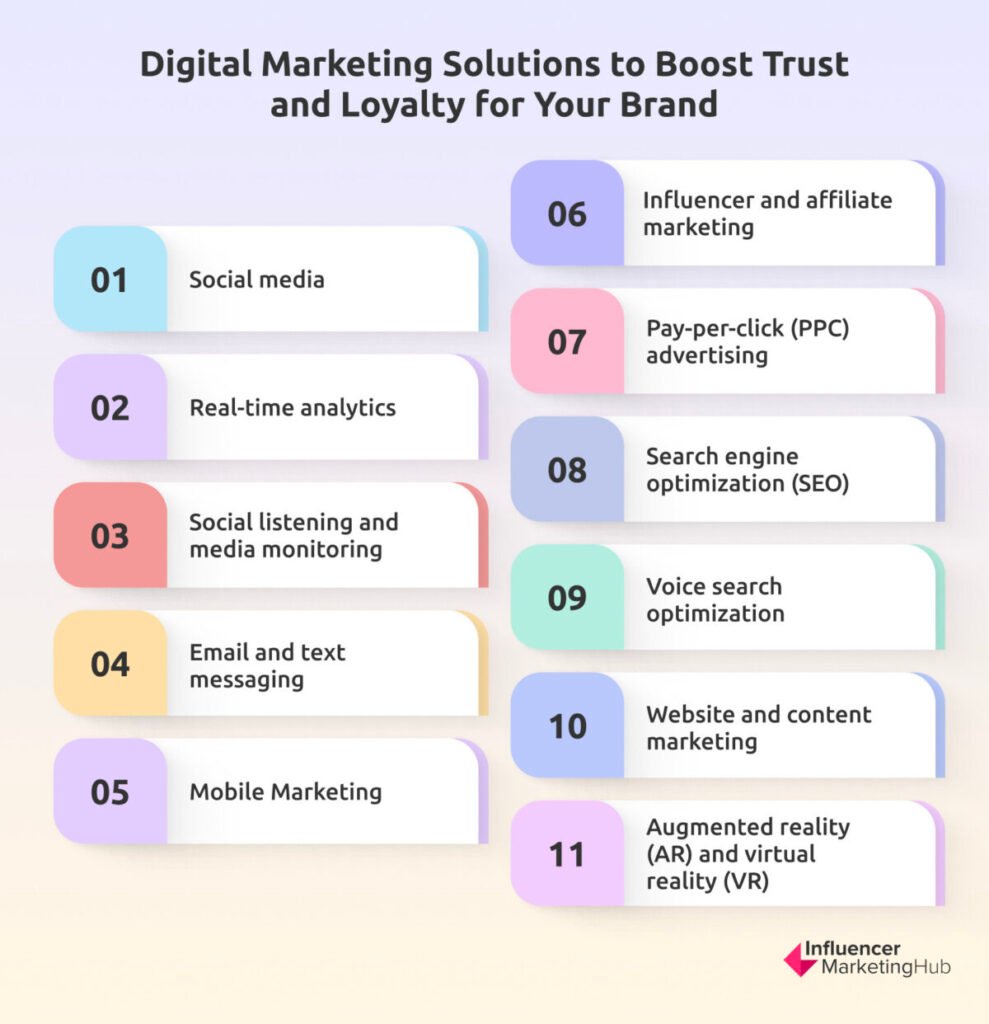 Consumers rely on digital marketing to learn about and communicate with their brands. Startups and large enterprises can use it at every stage of the buyer's journey.
Marketers can use free and paid channels to engage with their audience in the best possible way. Here is a list of solutions to strengthen trust and loyalty for your brand in 2023.
1. Social media
Social media marketing tops Gartner's list of channels to support digital marketing strategy.
Know the strengths and advantages of each one to suit your needs. For example, if you run an e-store, use Facebook Page shops, Pinterest's buyable pins, and Instagram's "Shop Now" button to give your customers alternative ways to buy your products.
You must audit your strategy to identify and launch the most suitable tactics for your brand. Don't wait for over a year to evaluate your performance. Demand and trends shift, so keep your strategy open to change. Audit your approach monthly, quarterly, or annually as much as possible by doing the following: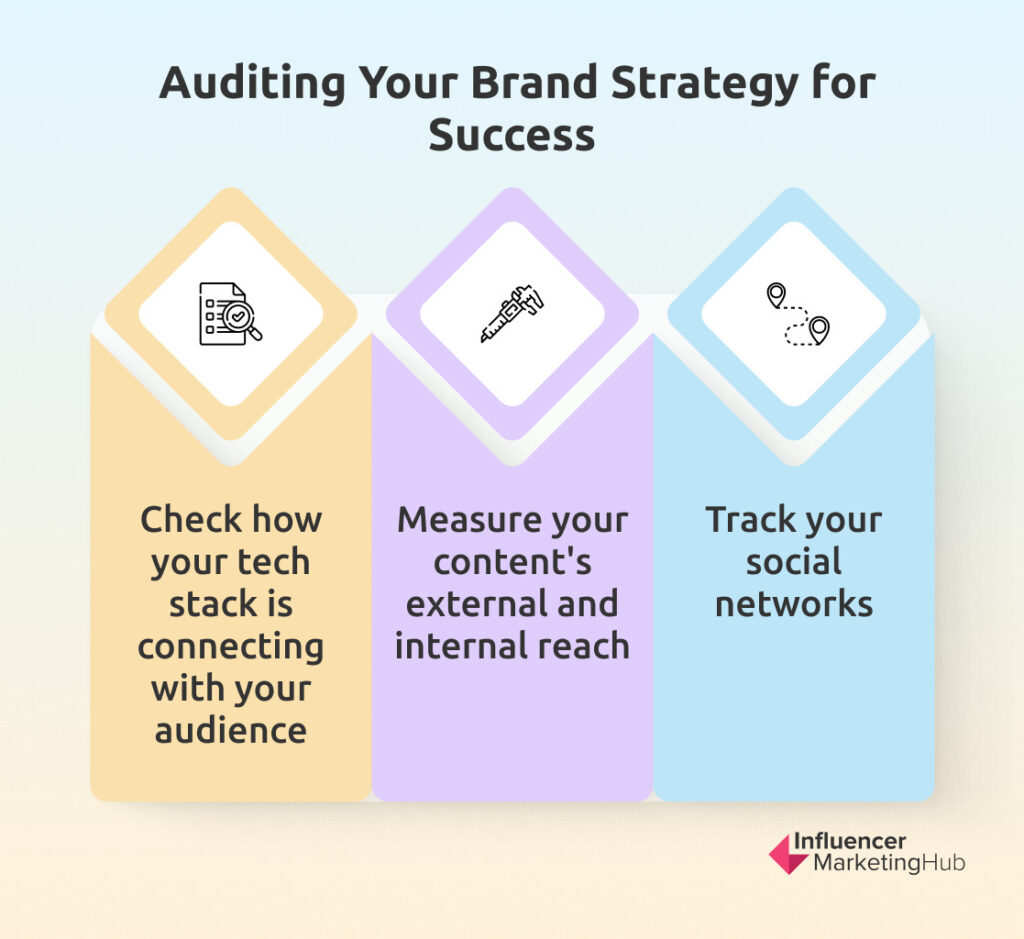 Check how your tech stack is connecting with your audience.
Ask yourself these questions to know if your tech stack is working for you:
"What tone of voice appeals to your customers?" and "Is your message consistent across all these platforms?"
Go to your content management platforms and review your current campaigns for answers.
"Which social channels do your prospects or customers use the most?"
Your customer relationship management systems can help you discover your most engaging platforms.
If you're working with a digital marketing agency, your partner can help you with this process. Or you may consider working with one for your strategy audit.
Measure your content's external and internal reach.
Measure your content reach or the usefulness of your content for clients and your internal team. For external reach, determine the number of engagements you make according to content type, persona, and sales stage. Discover what your ten most shared and engagement-inducing assets are per timeframe.
At the same time, check how your team uses your content to attract leads and customers through its inclusion in email and social media campaigns within the same period.
Track your social networks.
Performance tracking should go beyond clicks and likes. Some channels have analytics tools, such as Facebook Insights, to help you learn your post reach, engagement, and the time of day most of your users are online.
Have an account on the most popular channels if you prefer to limit your online presence to a few platforms. Then prioritize tactics based on what would produce the greatest impactful for your industry and specific business type.
At the same time, stay on the lookout for image and short-form video-sharing platforms besides IG and TikTok that are growing in popularity.
---
2. Real-time and other types of analytics
Real-time analytics uses tools and processes to collect, analyze, and respond to real-time information. You can get insights about your products and customers by submitting a query to your analytics tool (on-demand analytics) or programming the system to alert you or take action during data generation (continuous analytics).
Raw data sources for analytics include website data, digital marketing data (social media interactions, keyword analysis), product data (conversion events, least or most liked features), and internal customer data (transactions, complaints), to name a few. In-the-moment insights allow you to take action faster, from personalizing tests and offers, to developing and refining products (or increasing stocks due to demand) and resolving client problems.
Real-time analytics falls under descriptive analytics, the simplest type used by 90% of organizations to plan for future campaigns. Combined with historical data (such as performance reports, corporate social media profiles, and inventory), this analytics type points to reasons behind past failure and success, so you know what aspects of your campaign to avoid or repeat next time. Business Intelligence platforms can also reveal patterns concerning how consumers and the marketing industry use marketing tools.
On the other hand, predictive analytics uses past trends and patterns for forecasting the future. This analytics type helps with strategic planning, expectations handling, and goal-setting. Meanwhile, prescriptive analytics uses simulations (possible scenarios) and optimization techniques (typically with AI's data analysis) to explore possible actions and find solutions to problems identified through descriptive and predictive analytics. This analytics type enables better project development and management, such as advertising to a specific demographic or pricing and setting product or service discounts.
---
3. Social listening and media monitoring
Closely related to analytics is social listening or tracking the mentions of your brand across social networks. Meanwhile, media monitoring doesn't only spot words, phrases, and taglines associated with your brand but also with your competitors, industry, and topics related to your business. Media monitoring includes websites, blogs, review sites, and forums.
Social listening tools help you find answers to the following questions:
On what platforms do people talk about my brand?
How much exposure is my brand receiving online compared to my competitors?
How do they view my brand? Are their sentiments positive or negative?
What is the public's perception of my brand compared to my competitors?
Who are the top influencers who discuss my brand?
The answers you get can give ideas about what the public needs from your business or industry, which you can incorporate into your next article, campaign, or product innovation.
Meanwhile, media monitoring platforms tools allow you to get involved in conversations that matter to your audience, guiding the discussions about your brand. Thus, platforms such as Brand24 help with brand reputation management, preventing crises (due to negative mentions), and measuring campaign success.
---
4. Email and text messaging
With third-party data on their way out, you will have to rely more and more on the brand's digital marketing assets to grow your customer database. Email and text messaging are valuable first-party data about your customers, which you can use for personalized or targeted content. You can segment your email list by location for location-specific promotions.
Tracking who opens emails and text messages and their reactions to promos, videos, events, and other campaigns can also help you customize future offers and other content.
The best way to optimize email marketing is to use automation, which handles repetitive tasks such as segmentation, scheduled sending, and lead scoring.
---
5. Mobile Marketing
Over 70% of retail website visits—and consequently online orders—worldwide happened via smartphones in 2022. Thus, optimize your web pages, social media images, digital ads, and other digital assets for mobile devices. For instance, shorten mobile-based forms for easy access and fill-outs. You might also need to reduce image sizes and blog lengths.
---
6. Influencer and affiliate marketing
Influencer and affiliate marketing are partnership-based solutions with content creators who can help you connect with new audiences and convince them to try, use, and stick to your brand.
Influencer marketing involves brands partnering with influencers—bloggers and social media personalities. Influencers create content—which usually appears as "sponsored content" on their social accounts—promoting the business or its product and service. They engage with their followers directly via social media. Brands and influencers agree on a payment model (cash, free products, or incentive program) based on the influencer's audience size. Brands would pay influencers for each campaign. Influencer partnerships generally share and promote branded posts on their accounts on a short-term basis.
Affiliates also promote a brand's products or services. However, not all of them have personal relationships with their followers. After applying for a brand's affiliate marketing program, affiliates—most of whom are website owners—receive a link to the product they wish to promote (and which the brand can track), then include it in their content to start promotions. Compared to influencers, affiliates get paid based on the referrals they make. They earn a commission for each sale. Because it takes time for affiliate links to draw sales, affiliate partnerships run longer than influencer ones.
Of the brands we surveyed for our "The State of Influencer Marketing 2023: Benchmark Report," 82% of respondents said they're dedicating an influencer marketing budget in 2023.
We highly recommend integrating your affiliate and influencer programs. The wider following of influencers allows them to support your brand on a larger scale than affiliates can.
---
7. Pay-per-click (PPC) advertising
PPC advertising is another solution that drives your target audience directly to your website. As the name implies, PPC involves paying the publisher for the number of clicks your advertisement obtained for a given period. Advertisers bid for the amount they'll pay for each click.
PPC management requires identifying and selecting keywords and phrases most relevant to your business. You should include these terms in the ads you'll create and send, to say, Google. Once the search engine approves your keywords and phrases, it will display your ad when an internet user includes one of your chosen terms in their search. Paid ads or sponsored links typically appear in the top slots of its search engine results pages.
Meanwhile, you can pay Facebook to post your customized image, video, or slideshow on the news feeds of your specified audience. Twitter also allows you to choose your target viewers when you pay to place profile badges or a series of posts on the platform. LinkedIn can also send ads to users you specify by industry and career specialization.
Segmenting your audiences based on demographic traits (gender or age), interests, or location improves personalization, potentially increasing your ad's click-through rate. You can also use first-party data for personalization, especially when retargeting website visitors who have yet to make a purchase or other desired action on your website.
Choosing the best keywords and deciding on the amount to bid for them can be tedious and complicated to do manually. PPC management software is available to help you automate the process.
You may also hire PPC agencies to manage your entire PPC campaigns.
---
8. Search engine optimization (SEO)
SEO marketing involves optimizing your website, social media, and ads for specific keywords or phrases that prospects use the most when searching for businesses like yours. Your goal is to rank high in search engine results pages to increase organic or free traffic or visits to your website. The three ways to do this are through on-page SEO, (including keywords on titles, Meta tags, and body content), off-page SEO (backlinks and social media engagement), and technical SEO (coding and other file optimization to increase your website's loading speed).
---
9. Voice search optimization
A growing majority of people use voice search instead of text-based search amid its accessibility on smartphones and smart speakers. Moreover, more consumers find it faster and easier to speak to their devices than typing a search.
An UpCity survey showed that the daily use of voice search among consumers aged 25 to 34 is 58%. Meanwhile, 43% of people aged 55 and up use voice search weekly. Statista predicts that voice-assisted e-commerce shopping will reach USD19.4 billion in 2023, up from USD4.6 billion in 2021.
Because people speak instead of typing words in voice search, your SEO strategy must also consider the structure of spoken queries. Your written content should be conversational and include keywords that people will likely type when searching for anything related to your brand. We offer a five-point strategy for optimizing your content for voice search. Insider Intelligenceforecasts that 45.4% of the American population will use voice assistants by 2026, led by Google, Amazon, and Siri.
---
10. Website and content marketing
Your website serves as the centerpiece of your digital marketing activities. It's your customers' go-to for more in-depth information about your brand, products, services, and thought leadership. At the same time, you execute various marketing campaigns here. It's your website's content—blogs, white papers, e-books, online courses, videos, and podcasts—that your brand promotes via email, social media, and pay-per-click campaigns.
Give your website visitors a great user experience through fast page loading speeds, mobile-ready format, visual appeal, and intuitive navigation to drive conversions and sustain high visitor numbers.
---
11. Augmented reality (AR) and virtual reality (VR)
Video remains the most in-demand digital marketing content type, with 91% of consumers expecting more of this content from brands in 2023. Sprout Social says that 66% of them find short-form content in social media as the most engaging.
However, more exciting than video are AR and VR, both of which fall under extended or mixed reality. From AR filters and virtual try-ons to virtual tours and in-store gamification, these solutions can raise engagement by 200%, according to visual commerce platform Threekit.
Six out of 10 consumers say shopping is their main reason for using AR.
Meanwhile, Pew Research says that 32% of shoppers who browse or test products and stores in VR eventually buy items from that business.
You can create your own Instagram filters to engage with your audiences in fresh ways. Or you can work with VR agencies and similar companies to provide more satisfying and immersive customer experiences.
---
How to Make Your Digital Marketing Mix Work
Determining the solutions to include in your digital marketing mix involves reviewing your 4Ps (product, price, place, and promotion) besides auditing your current marketing stack.
In this fast-moving industry, it's also necessary for your marketing team to be on the same page when working on projects. Project management tools and cloud-based software will give you and your colleagues access to your brand's style guide and critical marketing assets. This information-sharing will ensure everyone in the team aligns with your strategy.
You can find team collaboration tools and more campaign management solutions on our Influencer Marketing Platforms page.
Meanwhile, if you prefer getting the services of marketing experts to audit and advise on your marketing mix, visit our Influencer Marketing Agencies page.