Best for:
Small & medium brands
It's not an overstatement to say that social media has transformed the marketing landscape. It didn't take long for brands to figure out banner ads, pop-ups, and overlays—the digital versions of old school advertising techniques—just weren't very effective ways to reach consumers. The new "social" aspect of media meant that marketers couldn't just deliver one-way content; they needed to start a dialogue. It didn't take much longer for Brand24 to appear on the scene with software that gave these businesses a way to listen for and manage the thousands of conversations that were happening on the daily.
Founded in Poland in 2011, Brand24 was one of the earlier entries into a still-growing space, and they quickly established a name for themselves. This article from 2013 announcing their entry into Indonesia also casually mentions the fact that the two year old software had already been adopted by companies like Intel, Panasonic, and AirFrance. Back then it might have been easy to explain their rapid rise with the nascent social listening market still relatively uncluttered. But six years and 2.4 million Polish zloty in funding later, Brand24 is still going strong.
They're still attracting big brands—ever heard of Uber?—and inspire a lot of glowing testimonials from their customers. The reason behind this is the software's ever expanding list of features that make it more than just a simple monitoring tool. You don't just get a way to see who's talking about you, or what they're saying. You'll also get top notch analytics that can provide you with the kinds of insights to improve your brand image and marketing strategy.
---
Brand24 Review:
---
Pricing
Brand24's four tiers of pricing are designed to appeal to businesses of all sizes so you won't be overpaying for what you do get. With quality data and affordable pricing Brand24 makes social media monitoring reachable and valuable for everyone.
Plus, they offer a 14 free trial so you can check it out for yourself with just a simple sign up!
Individual, $79/month

-

1 user can track up to 3 different keywords and see up to 2k of these mentions per month. The data you'll get is updated every 12 hours, and you'll get both data and sentiment analysis, all of which you can track using their mobile app, as well as Newsletter and Podcast monitoring.

Team, $149/mo

— Unlimited users, 7 keywords, 5k mentions per month, updated every hour. In addition to the analytics and monitoring you get with Team, you'll also see your total social media reach and get a view into your "opinion leaders" the people who mention you the most. Data can be exported to an Excel file, and reports can be turned into easy-to-read PDFs. Live help is also available at this level, 24/7, by chat, email, or phone.

Pro, $199/mo

- Unlimited users, 12 keywords, 25k mentions per month, updated in real time. All of the above, as well as tracking interaction with those mentions and access to a consultant who'll help you set everything up and provide analysis for the mountains of data you'll be sifting through.

Enterprise, $399/mo

— All of the above, including unlimited users but with this package you will also get 25 keywords, 100k mentions per month, updated in real time.
---
The Features
Back in the day, media monitoring required manually sifting through newspapers and looking for mentions about a brand, product, or service. Nowadays, media monitoring is much easier to implement and can bring actionable insights into your business strategy. Thanks to online media monitoring, you will be able to protect your brand reputation, measure and increase brand awareness, measure the results of marketing campaigns, and improve customer service, just to name a few. An AI-driven media monitoring tool, for example, Brand24, will drive your branding and marketing efforts to the next level.
Brand24 is also a powerful social media analytics platform. The tool tracks keywords across different social media platforms, including Facebook, Instagram, Twitter, TikTok, YouTube, and Twitch. Based on the mentions, Brand24 calculates social media reach, the share of voice, and monitors hashtag performance. Moreover, the AI-driven sentiment analysis will help you protect your brand reputation, find marketing insights, and improve your customer service.

Getting started with Brand24 is easy enough: you create a "Project," which is essentially the umbrella name for the social presence you'll be tracking mentions for. You can, especially at the higher levels of service, track for more than one brand, or you can track specific campaigns as well. It's a pretty flexible setup, allowing you to search for things by either just typing in a list of keywords or by doing it in a more advanced way, specifying keywords to include and exclude to make sure you're not pulling in mentions that weren't what you were looking for.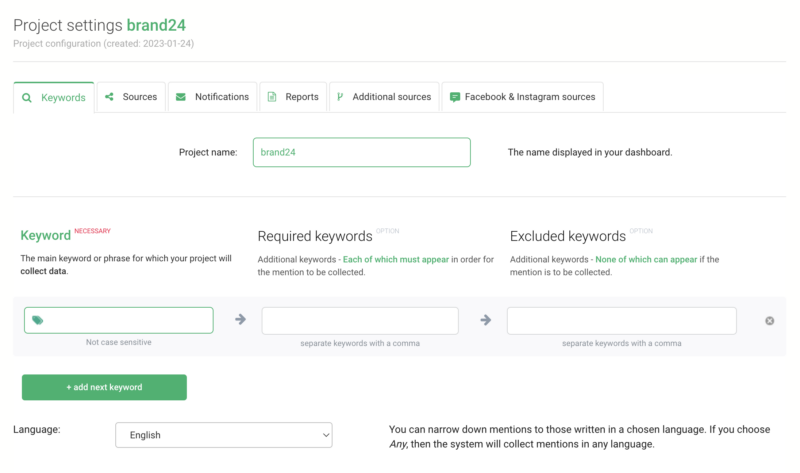 It's a hair confusing here, because the "Keyword" field is described as the main keyword you're searching for, which is then followed by a field for "Required Keywords." But wouldn't the main one you want be the required one? To be sure, this is a semantic issue and not a technical one—and the matter is pretty much cleared up once you watch the 20 minute instructional video linked from within the software. Still, this part could be a little clearer.
Once you're all set up, there's really not much more the software requires of you other than to check in and look at your data—although given what you can see that statement sounds a little reductive. Because of the flexibility of the keyword search, Brand24 doesn't just pull in mentions from social media so much as it crawls through the entire web looking for every occurrence of your keywords. You can search for @mentions to get at the social shout-outs, along with hashtags and plain language text. It's that last one that really gets you insight into what's happening outside social channels. And when you look at the summary of all the chatter you'll start to realise just how much information you're getting.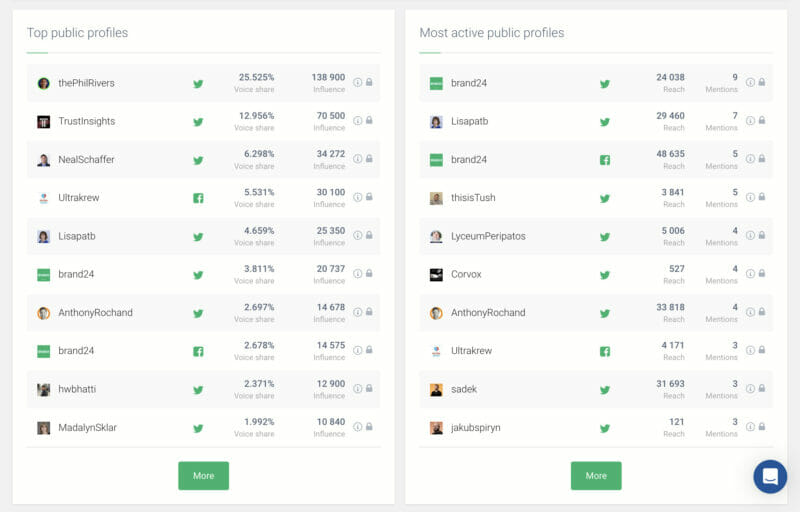 There's more to see here than just numbers. You can drill down to any day (or week or month or really any span of time) and you'll get to read everything that's been said about your brand for that time period. You can filter all this by the source as well as by several other criteria to help you pinpoint who your biggest (and most influential) champions are. Or filter by sentiment to see who's been trash talking you to the world.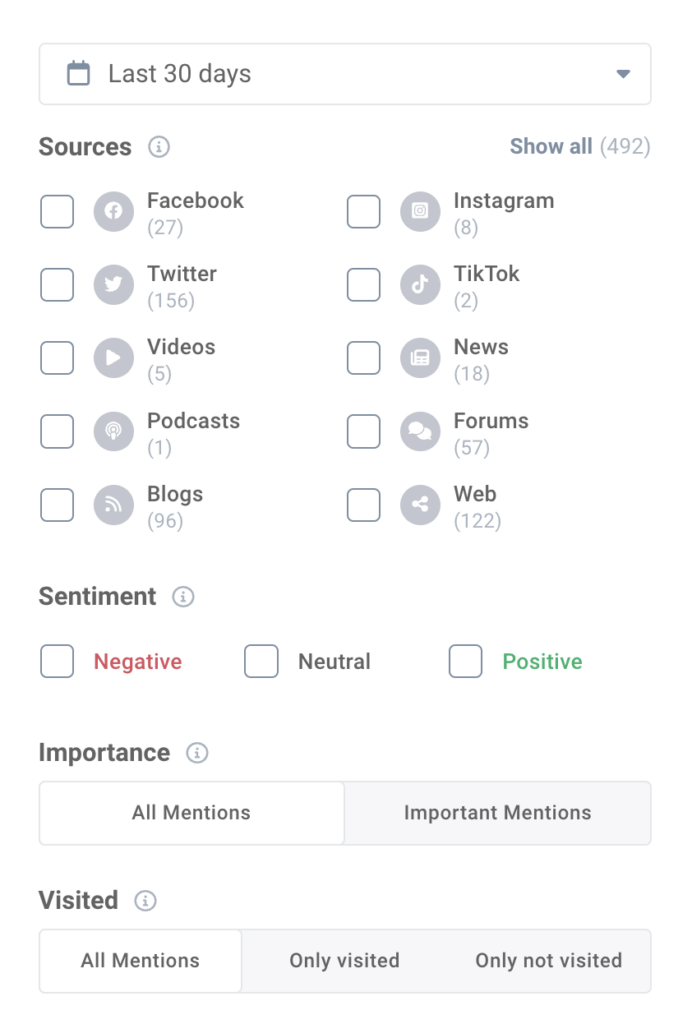 Further, the Analysis section goes deeper into your social mentions, a very welcome addition to Brand24. It's great to know that, say, 100 people said nice things about you on social. But that information is a little bit useless if you don't understand the impact of those mentions. Here, you can see what the reach of those mentions was, as well as engagement stats on likes, comments, and shares. You can also see which specific posts were the most popular, and which had the biggest reach—both great ways of finding and connecting with influential voices.
Brand24's other big-deal feature is its comparison tool, where you can compare the results of all your projects side by side. There are obvious uses for this—you could be running several campaigns and want a way to see how they stack up against one another. More interesting, though, is the comparison tool's potential as an "opposition research" mechanism. Create a project that listens for mentions of your competition, and you'll be able to compare their results to yours and gain some serious insights.
Brand24 also allows you to export data from your projects and make use of it outside the tool. You can export a customized PDF report, and while creating it, we have 100% control over what's in it.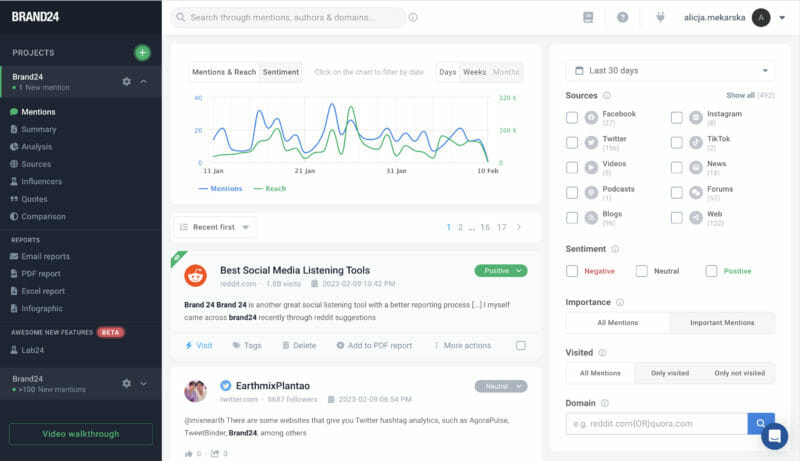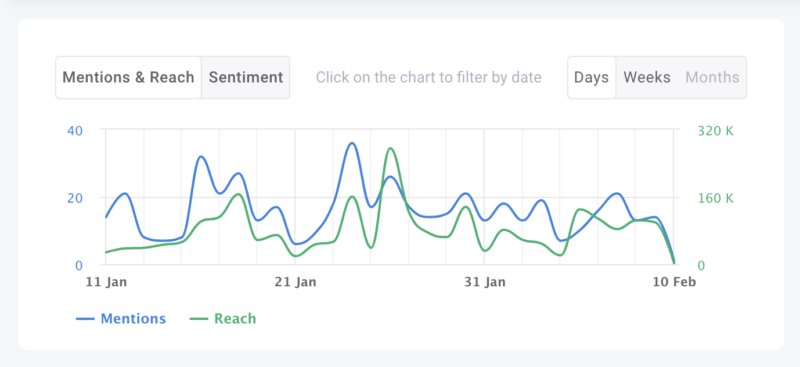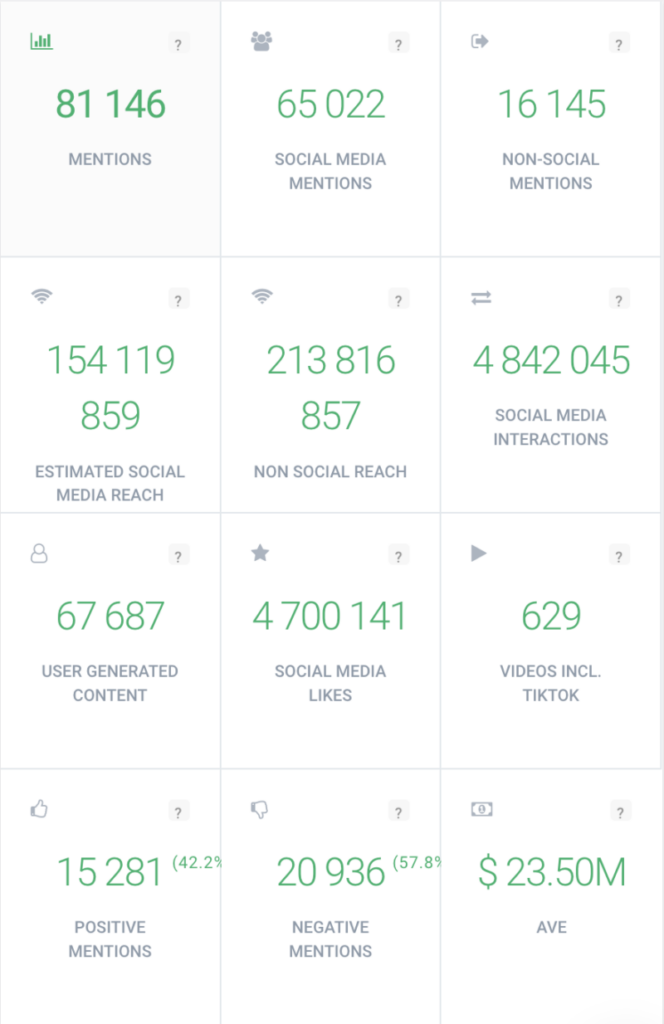 ---
Integrations
As it's primarily an analytics tool, Brand24 doesn't have the need for too many integrations. And, they don't have many. They have one, in fact, but it's a good one, and—more important—it makes all the sense in the world: Slack.
Slack is so widely used I don't need to explain to you what it is. Instead, I'll just point out that for Brand24 to be able to support large brands it would have needed some collaboration features built in to it. When you have a team of people who are all responsible for monitoring and responding to mentions, there needs to be some way for the whole process to be transparent. Once you've connected it to Brand24, you can select which projects to connect, and new mentions will be posted to that project's Slack channel in real time (real time from when the mentions appear in Brand24; the Plus and Premium accounts still will only update themselves every 12 hours and 1 hour, respectively).
With the channel acting as a feed that everyone sees simultaneously, your team can collaboratively react and assign people to handle them without fear of any overlap or conflicting responses.
---
TL;DR (aka the Conclusion)
With its flexible listening parameters and ability to scour the web for nearly any mention of a brand, Brand24 goes above and beyond being a mere social monitoring tool. The comprehensive data and analysis you can get out of it work together to paint a thorough picture of how the world perceives your brand. The only real downside to Brand24 is its lack of collaborative tools—it would be a great addition if team members could leave notes for each other around comments or stats and keep the discussions to the platform itself. The Slack integration is an excellent workaround, but that only helps companies that are already using it. Still, it's a testimony to the quality of Brand24 that any Slackless marketing team would still be better off using the software in silos than some other social listening solution with more advance collaboration tools. And that's advice you'd be wise to listen to.
Frequently Asked Questions
What is Brand24?
Brand24 describes itself as a "media monitoring tool with powerful analytics." This gives it a wider remit than many of the other products reviewed here. As well as monitoring your brand's performance on social media channels, it also examines websites, blogs, news sites, review sites, video descriptions, and podcasts. It offers a mix of sentiment analysis, hashtag monitoring, and much more. Brand24 is also a powerful social media analytics platform. The tool tracks keywords across major social media platforms, calculating how you're performing.
How does social media listening work?
Social media listening involves tracking mentions of certain words, phrases, and even complex queries across social media and the web. Brand24 goes broader than that, though, and listens to other media types, such as blogs, news sites, reviews, video descriptions, and podcasts. Brand24 crawls through the entire web, looking for every occurrence of your selected keywords. You can drill down to any set time span to find everything that people have said about your brand during that period.
What does Brand24 cost?
You can begin using Brand24 with a 14-day free trial. After that, you will need to select from one of three plans to continue using the product:
Individual - $79 per month
Team - $149 per month
Pro - $199 per month
Enterprise - $399 per month
The Individual plan gives basic data for individuals tracking a single brand. The Team plan is good for professionals to engage and analyze mentions. Whereas the Pro plan is great for teams and agencies to engage, analyze, and report.
What are the benefits of social listening?
The main benefit of social listening is that it provides you with a considerable quantity of data. You can use this data for:
Reputation management – by tracking mentions of your brand, you know whether you have to go into damage control
Competitor analysis – it helps you know what your competitor is doing
Product feedback
Customer service
Lead generation – you can gain considerable information using the product's search engine
Public relations
Influencer marketing
Research – you can monitor what people are saying about any selected keyword
What do social media analytics do?
Social media analytics helps teach you about how successful your social media marketing is. It helps to compare your social media analytics with those of your competitors. You can use social media analytics to:
Analyze your followers so you can understand them better
Analyze the reach and performance of your posts – check to see they have the impact you want
Identify influencers
Compare the various social platforms to ensure that you are focusing on the right ones for your target audience
What is sentiment analysis used for?
Sentiment analysis helps understand people's emotions regarding specific keywords, for example, your brand's name. Businesses find it particularly useful to examine the sentiment analysis of their customers. What do these people really think about your brand? Would they recommend you to their friends? Will they return for another purchase? Are they so unhappy about something your brand has done that they are "poisoning" all their social friends' views about you? Sentiment analysis helps you act early before a small problem becomes a major crisis.
Features

Ease of Use

Support

Best for:
Small & medium brands