If you're looking to engage your audience on social media, user-generated content is a great form of content to add into your marketing strategy.
Because user-generated content gives your customers an idea of how your product or service will actually fit into their lifestyle, it provides a great way to resonate with your audience through authentic content.
However, gathering all of that content yourself can be tedious, which is where UGC platforms come in. We've put together a list of the top user-generated content platforms to help you find the best one for your content strategy.
---
Top UGC Platforms for Brands:
---
Leading UGC Platforms to Try
Before we delve into the general benefits that UGC platforms can offer your marketing team, let's go over the top tools you might want to explore. Each tool has its own features and offerings, so pay attention to each one so you can find the best platform for your brand.
---
---
---
---
---
---
---
---
---
---
---
---
---
---
---
---
---
---
---
---
---
---
---
---
---
What is User-Generated Content?
User-generated content (UGC) is any form of content—photos, videos, text, reviews—that was created by real people rather than brands.
In turn, this provides a great opportunity for brands to then re-share that content on their own social networks to engage their audiences and provide a real-life look into their products/services.
Bringing UGC into your social media content strategy is a great way to make your feed feel more realistic, rather than including only staged photos or photos of models.
They've added their own caption and then tagged the original account beneath it. If you head over to the original account, you can see that she tagged Hollister Co. in her original post as the dress she's wearing is from that store.
Having content like this helps give each marketing channel a more authentic feel. But again, it can take time compiling all of this content for your strategy.
This is where UGC platforms come in.
---
Benefits of UGC Platforms
Because many of these are paid tools, we want to give you all the information you need to decide if it's worth adding one of these platforms into your marketing budget.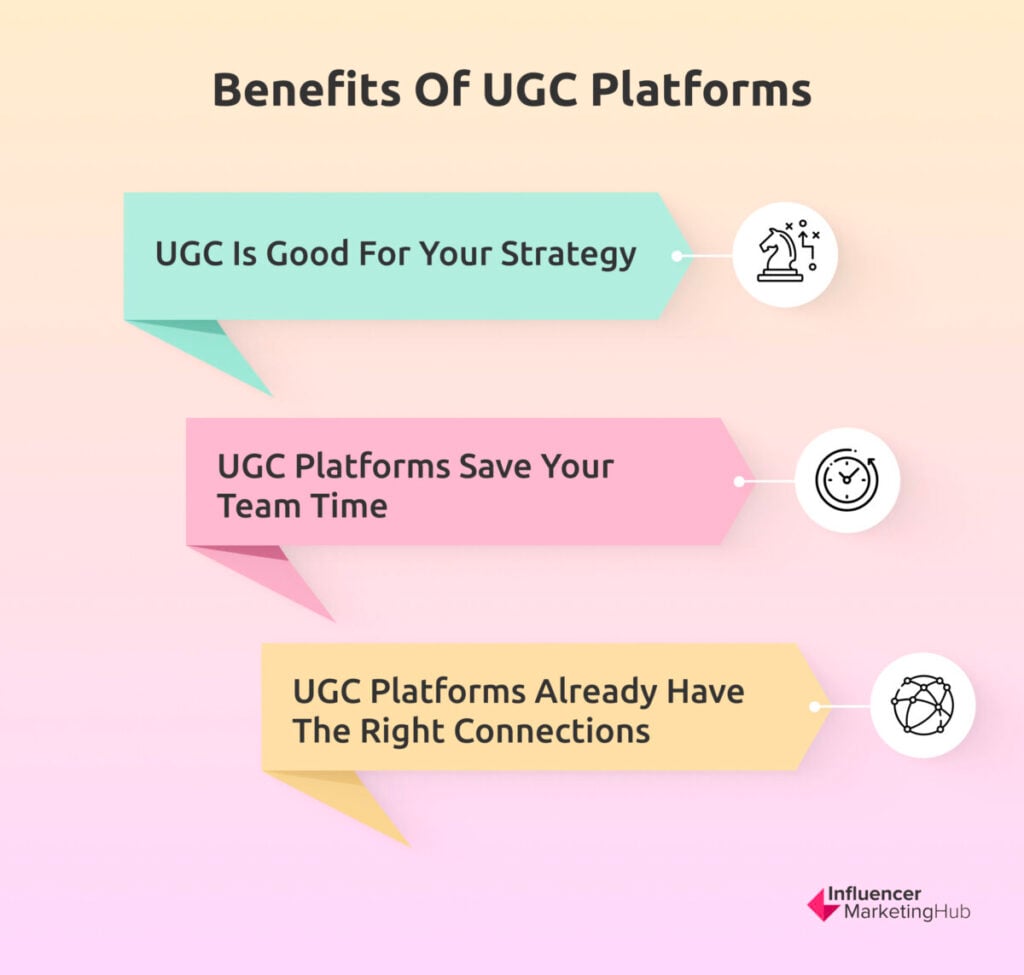 UGC is good for your strategy.
User-generated content is proven to help boost conversions, make customers feel better about making a purchase, and increase customer engagement. In fact, Millennials trust UGC 50% more than content that was created by the brand itself.
This is because authentic user-generated content is created by real people who actually purchased—and loved—a product or service. It's word-of-mouth marketing at its finest.
Furthermore, UGC is relatable content. It's not all styled shoots and professional models. UGC is about real people and content creators sharing customer photos of a product out in the real world, not in a studio.
So working with a user-generated content platform is a no-brainer for brands who really want to ramp up their customer-created content.
UGC platforms save your team time.
Furthermore, UGC platforms save your team so much time. No more digging through all of your tagged photos and customer reviews to find the right ones. With a platform dedicated to pulling all of the best UGC for your team to choose from, they're able to spend more time on other aspects of your social media strategy.
UGC platforms already have the right connections.
Many UGC platforms have their own creator network for getting UGC created specifically for your brand. So if you're struggling to get customer content, working with a platform's creator network is a great place to start as they already have the right connections in place.
---
Increase Social Media Conversions With a UGC Platform
Start taking social selling more seriously with user-generated content. Find a UGC platform from the list above and test it out or request a demo to discover if it makes sense for your business and your marketing team. Then start gathering and promoting your UGC to ramp up conversions and engage your audience.