In its early stages of becoming "a thing," influencer marketing was often touted as a marketing equalizer. Influencers weren't really celebrities, so they didn't cost a lot to hire for sponsored posts and ads—they were real people, readily accessible to their followers without any layer of pretense or self-importance. But influencers also often had reaches that could outperform a traditional marketing channel like print, radio, and local television; an endorsement from an influencer was like word-of-mouth on steroids. But, in the words of George Harrison stealing from Geoffrey Chaucer, "All good things must pass."
Influencer marketing went from being digital marketing's next big thing to digital marketing's current big thing. Marketers and advertisers began coveting influencers as prizes to be won or, rather, products for which they were willing to pay top dollar. Software platforms designed to discover and manage influencers and campaigns became more sophisticated and, in so doing, more expensive. And this essentially left small businesses out in the cold once again. While there were (and still are) platforms that target small businesses as their customers, these solutions often seem like no-frills knock-offs of better made products, like when you get store brand cola instead of a Coke.
We've featured a few platforms that have successfully hit the mark for small businesses, and now we get to add another one: Intellifluence. Founded in 2016, the platform was created with the promise of appealing to small and large businesses alike, though their pricing is aimed squarely at small businesses. And that's a good thing: large brands, the kinds that are household names, don't need anyone else making software for them. Small businesses, on the other hand, don't have much choice when it comes to influencer marketing platforms. There are few that are in their budget, and even fewer that are worth looking at.
A good reason that Intellifluence has been able to create something of quality can be found in the backgrounds of its founders, Joe Sinkwitz and Terry Godier. Between them, they have a wealth of experience in marketing (Sinkwitz) and web development (Godier), a combination that can best be described as the Reese's Peanut Butter Cup of influencer marketing platforms. We've seen this combo work well for other companies, and it works quite well here, too.
It's also worth mentioning that, for a company that sells the ability to create authentic and organic marketing campaigns, they can certainly walk the walk. If you look at the "Recent News and Activity" section of their Crunchbase profile, you'll immediately notice how few news items there are. There are zero, in fact—no press releases, no outside press coverage. This would, at the least, make it difficult to recruit influencers to join up, kind of necessary thing for an opt-in platform. And yet, with no traditional marketing or media push to get noticed, they currently have over 91,000 influencers that are signed on and hungry for opportunities from the 12,000 brands running campaigns there. Obviously, they used other, more fitting methods to reach these folks; 103k people don't just show up at the same website by accident.
Clearly, they've gotten the word out. Now the question is: how good is their word? A platform focused on small businesses isn't going to be as feature-rich as the more elite enterprise solutions. But small businesses don't need many advanced features, they just need a cost effective way to get into the IM game without spending a fortune, and Intellifluence has them covered.
---
Summary:
---
Pricing
Subscriptions to Intellifluence operate on a month-to-month basis and don't require any commitment beyond that. Customers are also able to prepay for a year and get a 20% discount.
Starter, $99/mo —

1 user can run up to 3 simultaneous campaigns. They can receive up to 50 applications from influencers per campaign, as well as pitch directly to another 50.



Regular, $249/mo —

3 users, 10 campaigns, 100 applications, 500 pitches. Also: you can keep campaigns private to avoid a flood of applications



Advanced, $599/mo —

Unlimited everything, private campaigns, dedicated account manager, and managed services



---
The Details
Logging into Intellifluence for the first time redirects the user to Campaign module, where they can immediately begin to create a brief. As this is a platform geared towards smaller businesses there is a decent (and appropriate) amount of hand holding available. First you'll notice that there are several types of campaigns that are available depending on the goal—you can drive engagement, push content, or build a campaign around product reviews. Intellifluence's public-facing website also has a ton of information for helping brands in just about any category understand what's possible. There's an entire page full of categories—fashion, health, art, automotive, food and drink, etc. Click your way into the one that best covers your business, and you'll see the top influencers for that category, a short video demonstrating a use case for the category, and some statistics that should inspire you to follow through on your marketing goals.
Product reviews are one of the ways in which Intellifluence differentiates itself. In addition to finding influencers who'll be able to feature your product on their social channels, you can also build campaigns around getting reviews on Amazon and Soundcloud, as well as blogs and podcasts. Once you've selected the campaign type, you're off to selecting which channel(s) you want your campaign to appear on, and then it's off to fill out the brief in its entirety.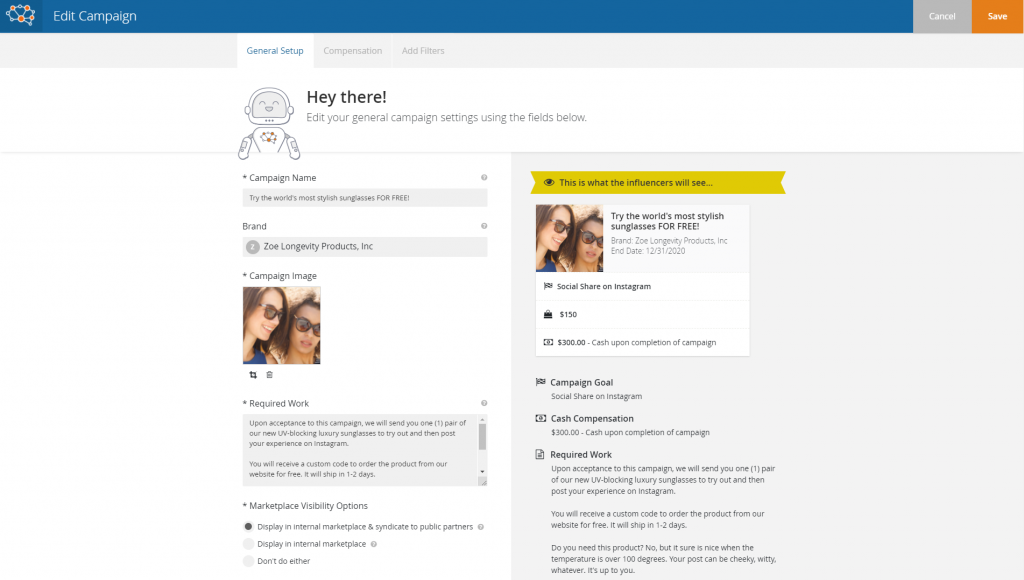 The brief is where you define all the parameters of your campaign, such as what the deliverables will be, the timeline, and the type of compensation. Note that, while you send free products to influencers as payment, you must also pay them with money, as well. Your only options for payment are Cash, or Cash & Products. The stated reasoning here is that they want to keep their influencers happy, since without them there's no Intellifluence. More likely, though, it's because Intellifluence charges a 10% processing fee for cash payments, but doesn't take anything on products. Still, the platform doesn't enforce minimums while featuring a lot of micro-influencers so staying on budget won't be difficult.
A campaign can be public or private (except at the Starter level of plan, which is always public). With a public campaign, briefs get published to the Intellifluence Marketplace, where it will be seen by influencers who match the criteria you set. Alternatively (or simultaneously), you can pitch directly to influencers that you find using the discovery tool.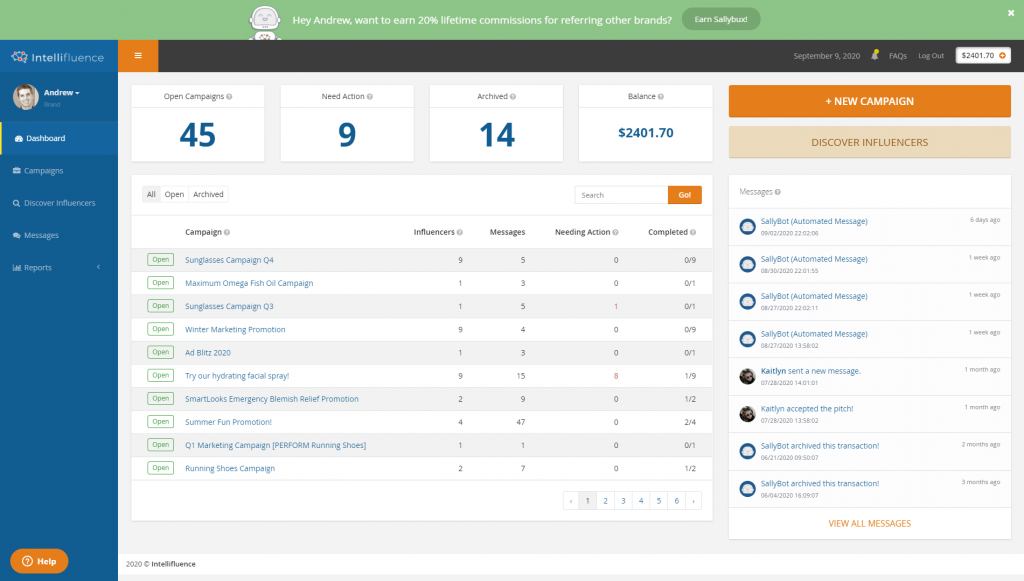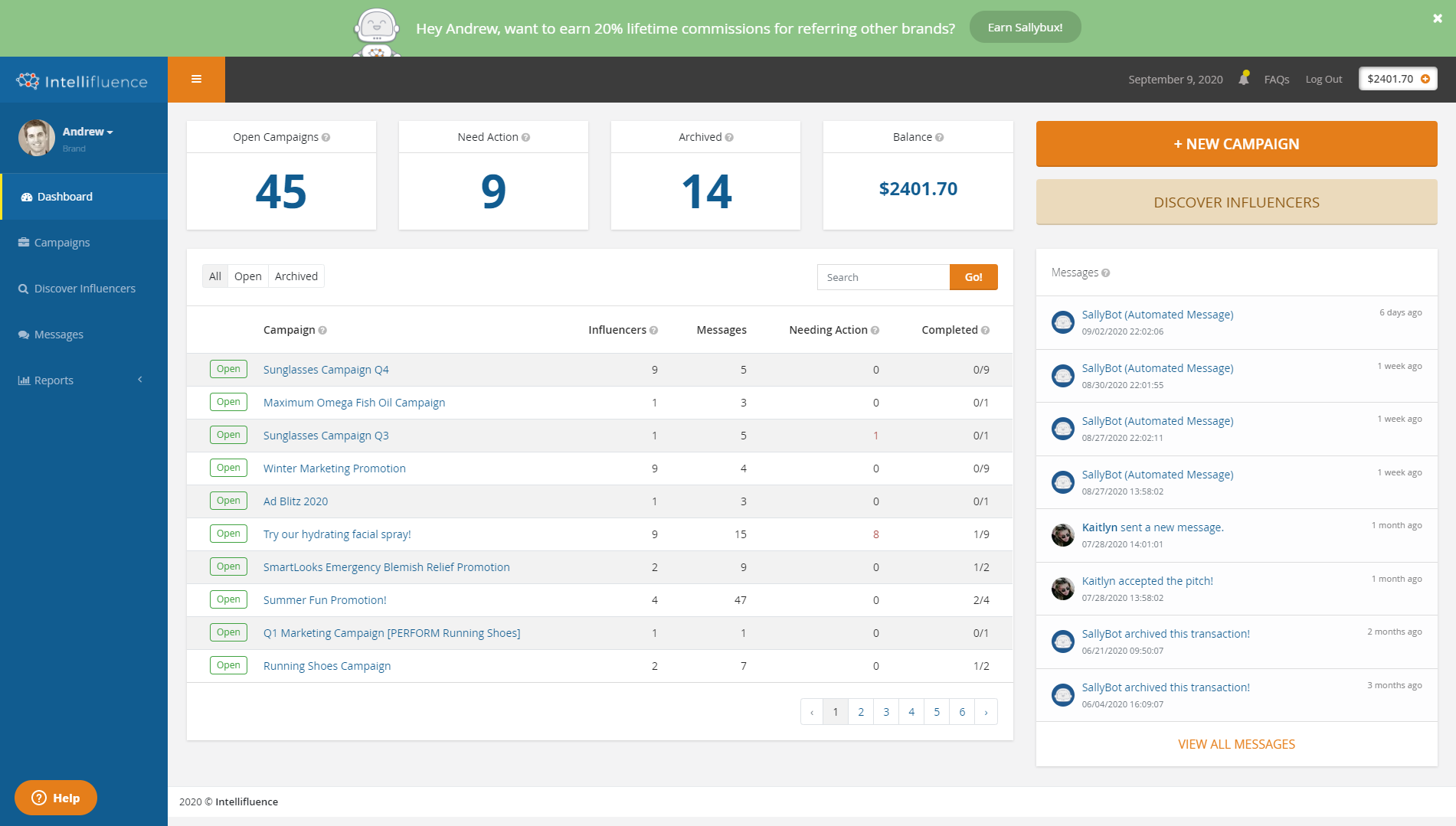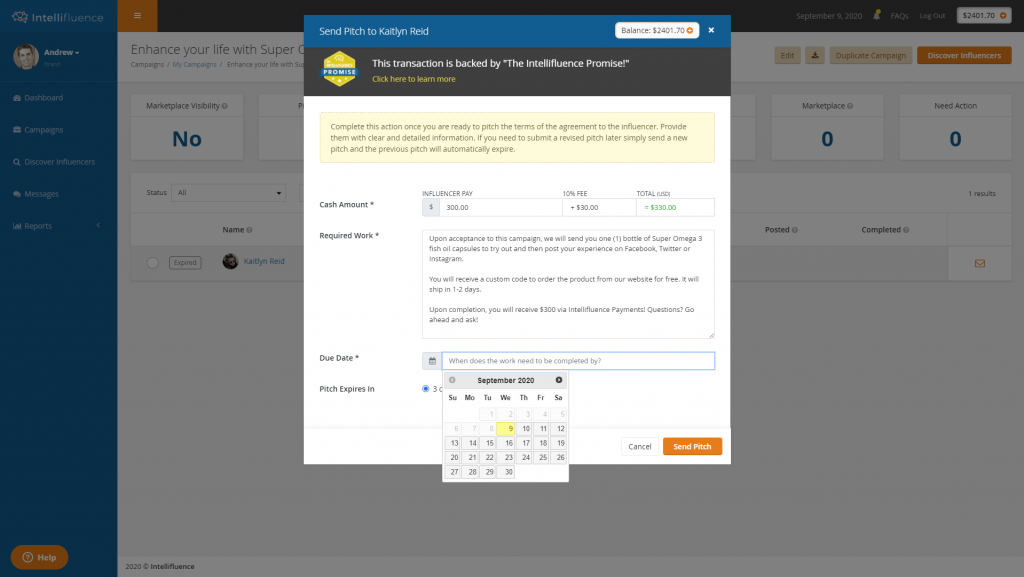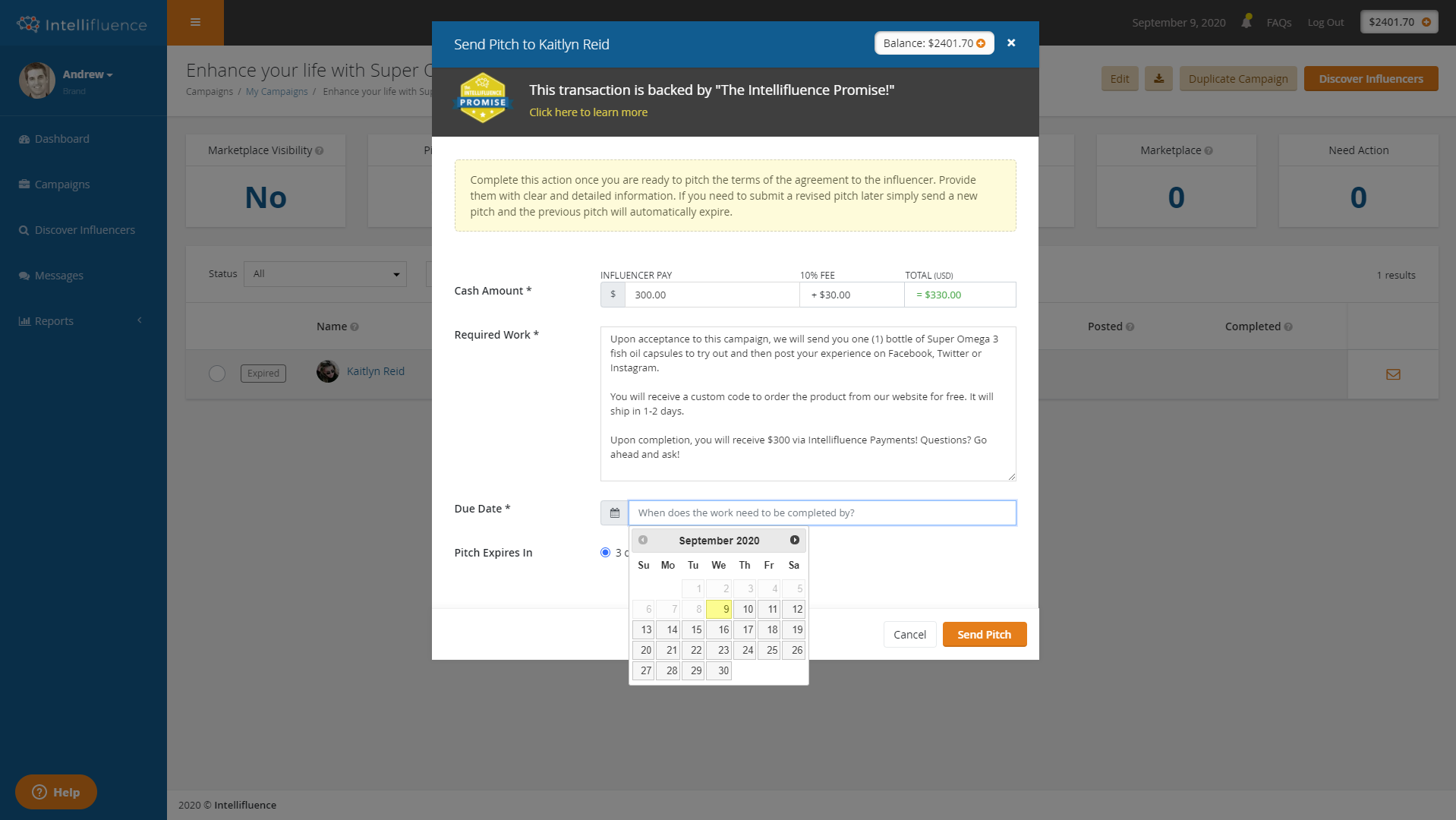 Another standout feature for Intellifluence is its messaging, which makes all your correspondences so much easier to sift through. Look at it this way: at minimum you're going to run one campaign that can have you talking to as many as 100 people during the activation stage. That's a lot of conversations to manage all at once, and the platform's interface excels at keeping your conversations (and thoughts) organized. This is especially true of each message thread, which is broken down into discrete sections based on where you're at in the process with each person. This makes it incredibly easy to answer questions like "How long have I been waiting for my content?"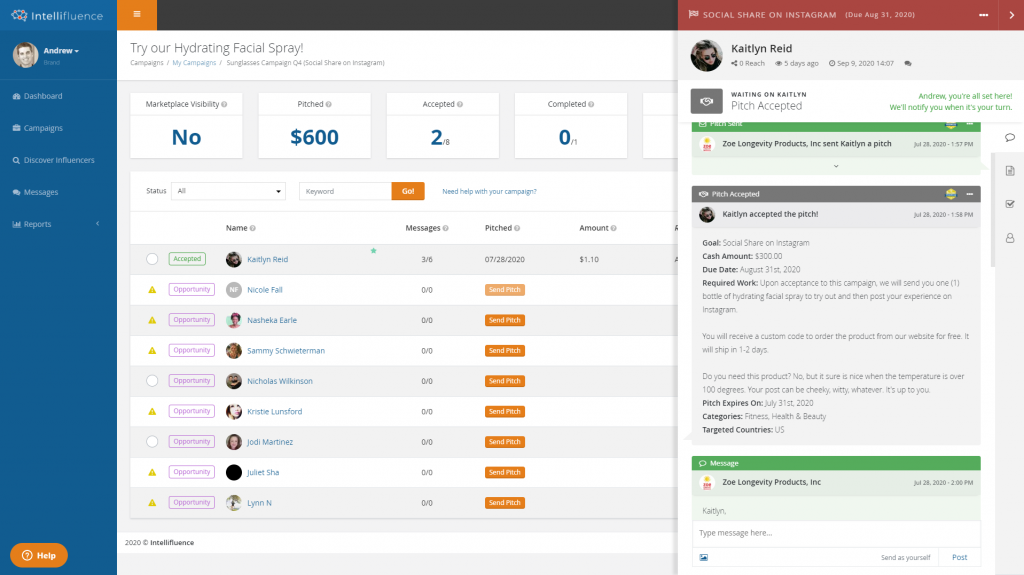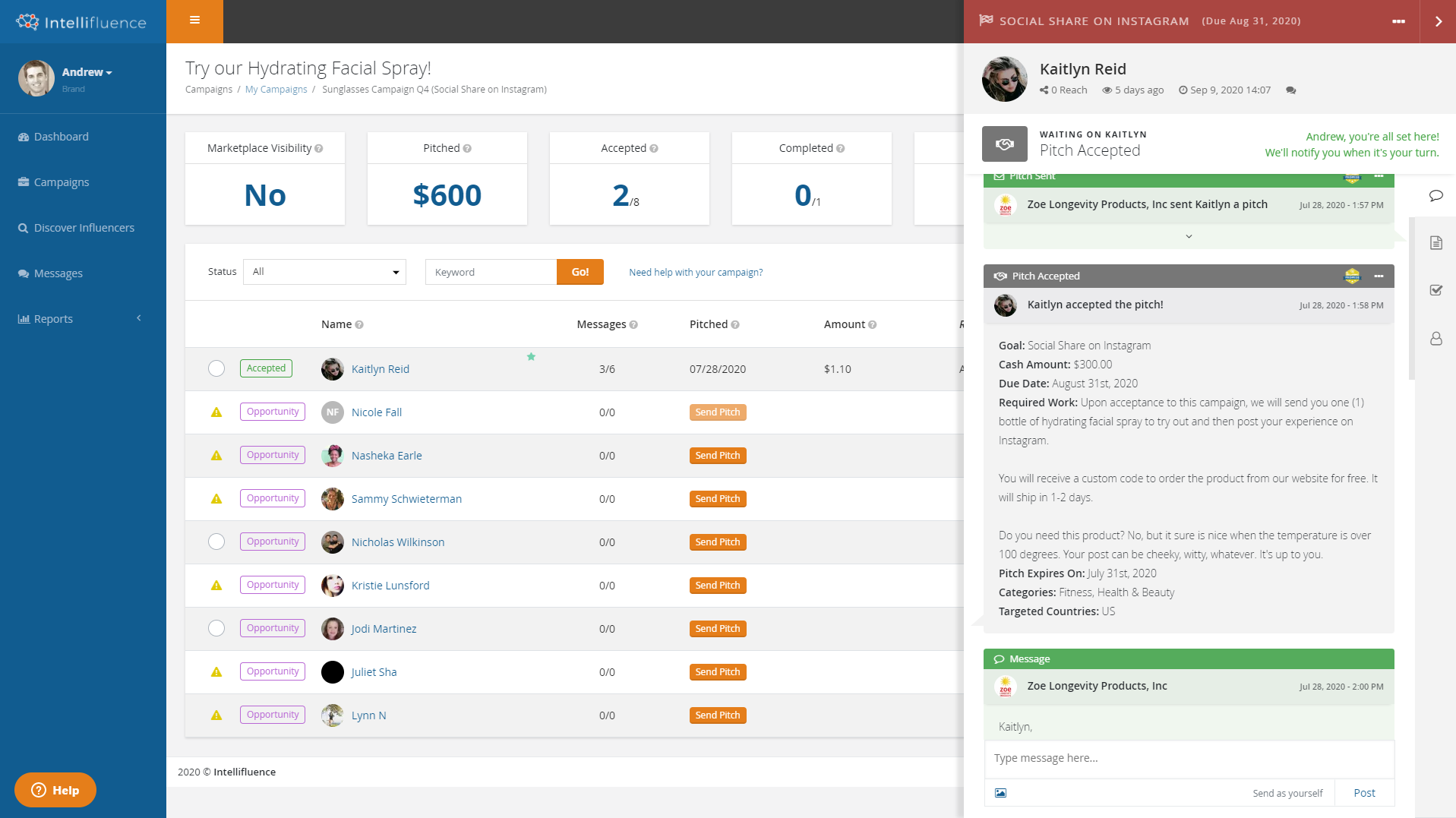 The Influencer Discovery tool works well enough, but its lack of search criteria exposes Intellifluence's one flaw: data. Or, rather, the lack of it. Even with 91,000 influencers opting in to their network, they don't have a mechanism to pull all their first party data down from social platforms. And so, your search refinements are limited to a handful of items, like location, reach, price range, work history, last logged on, and a few other data points that definitely don't give you an idea about their audience. Likes, Comments, and Shares are also not included here, which means that there isn't a way to quickly gauge an influencer's engagement during discovery, nor is there a way to measure performance as part of a campaign. Influencer profiles are similarly limited, including basic bio information, a portfolio of work, and a breakdown reach across platforms (individually, and as a whole).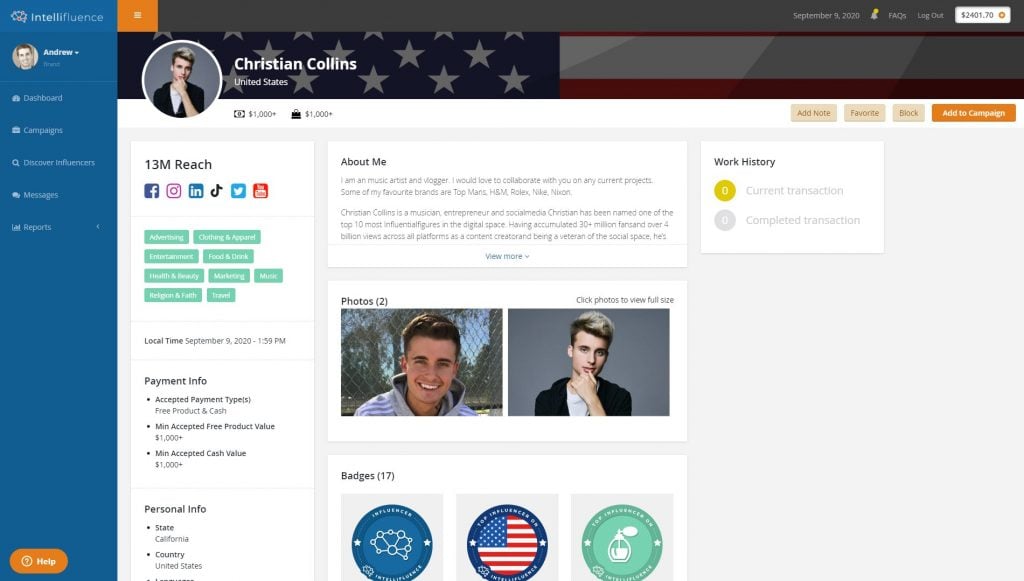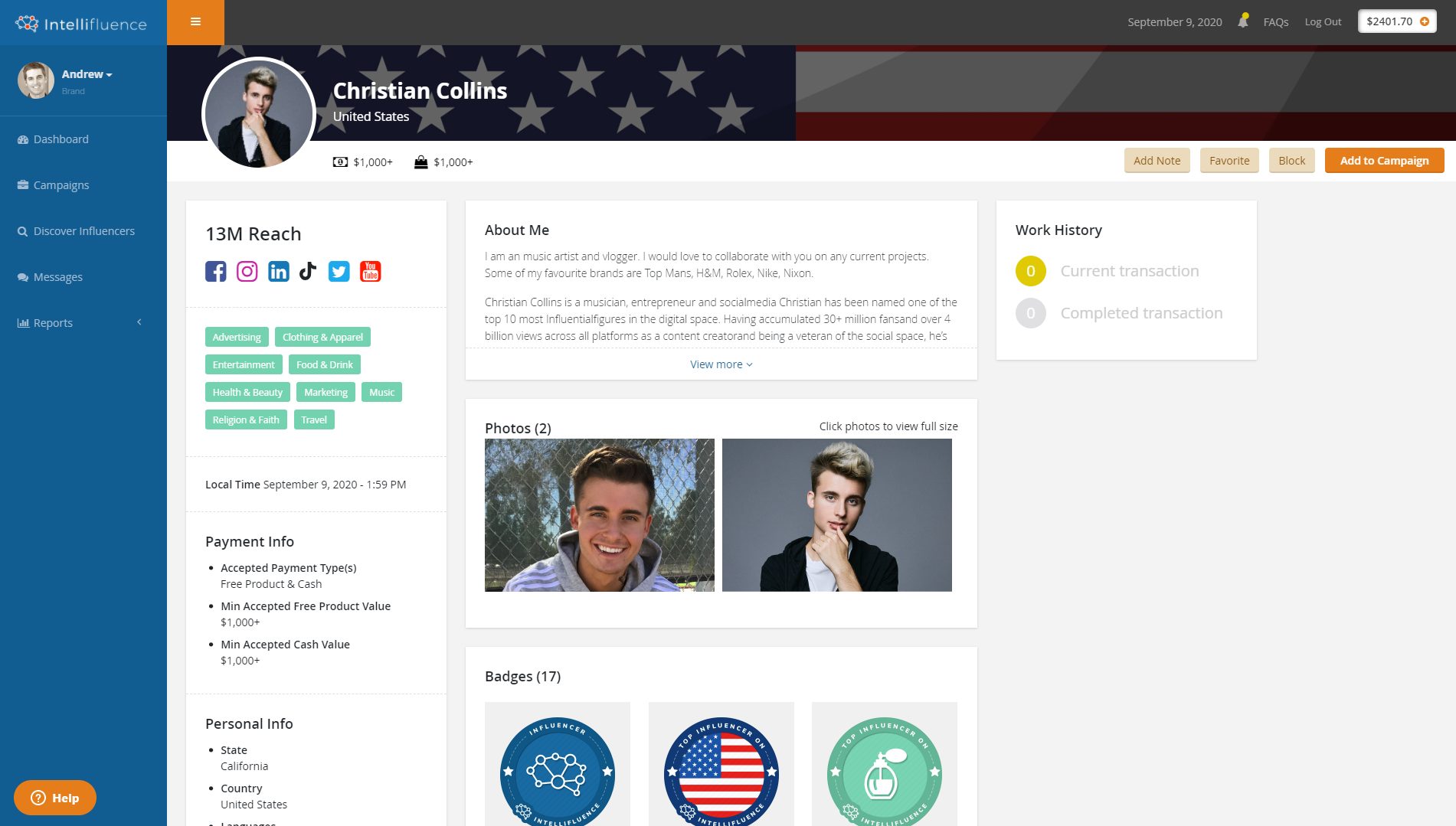 ---
Conclusion
With any software package doing enterprise tasks for smaller companies, there are going to be some sacrifices of features in service of the overall mission. Here, the overall mission is to give small businesses a fighting chance within the much larger world of influencer marketing. With an affordable price point—even at the Managed Service level—and a huge selection of quality influencers, Intellifluence already achieves its mission. Add to those selling points: easy to use interface, built-in guidance for newbies, support for multiple channels and campaign types, an excellent messaging system, and secure payments, and suddenly the limited data doesn't seem like that big of a deal. This is still more than a small business can otherwise get at this price point, and it's well worth checking out.
Intellifluence
Features

Ease of Use

Reporting