Best for:
Small and Medium businesses
Creator.co has demonstrated a keen understanding of the market they're trying to serve, pretty much since the company incorporated in 2016. Back then, and when they launched their platform in 2018, it was called Shop and Shout; it launched as an Influencer Marketplace, at a time when influencer marketplaces were overloading the industry. But Shop and Shout was unique, focusing on small businesses and micro influencers—but giving them the kind of insights and business intelligence usually reserved for much bigger brands.
Flip the calendar ahead to today, and the company's very recent rebrand to Creator.co seems like it might be an attempt to jump onto the latest trend—everyone's talking about the creator economy, after all. Having seen what's behind the success of the platform, though, the rebranding feels more like an attempt to reclaim what's rightfully theirs. Regardless of what it's called, the platform's focus is as much on the creation of content as it is on the dissemination of that content. And because the creators themselves generally fall into the microinfluencer category, the quality of their content is more important to the platform (and its users) than it would be with others. Marketplaces tend to be more about marketing quickly on a large scale. Creator.co can do that, but if that were all then it wouldn't be unique.
If you're just concerned with reach, you could use the Discovery tool to search through their database of 500 million influencers to find those that might fit with your brand. And, as you'll see in The Details section of this review, you'll get a metric tonne of data on these influencers and their audiences, more so than you'd expect from a platform that's designed and priced to appeal to small and medium businesses.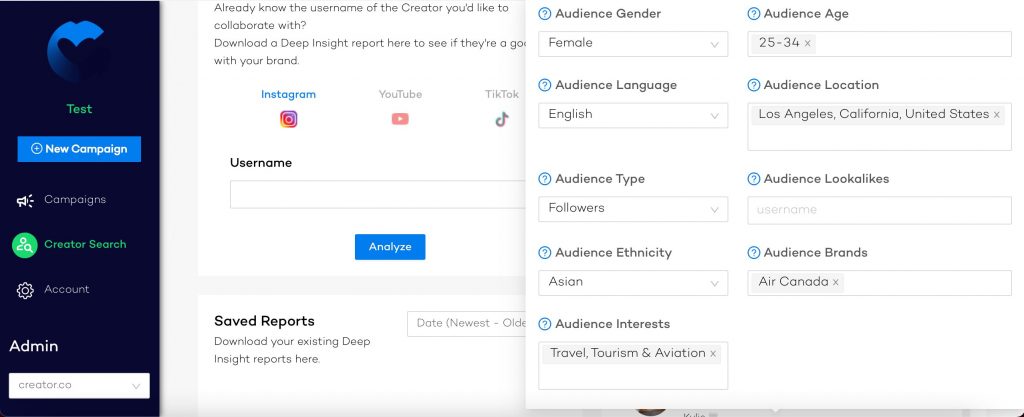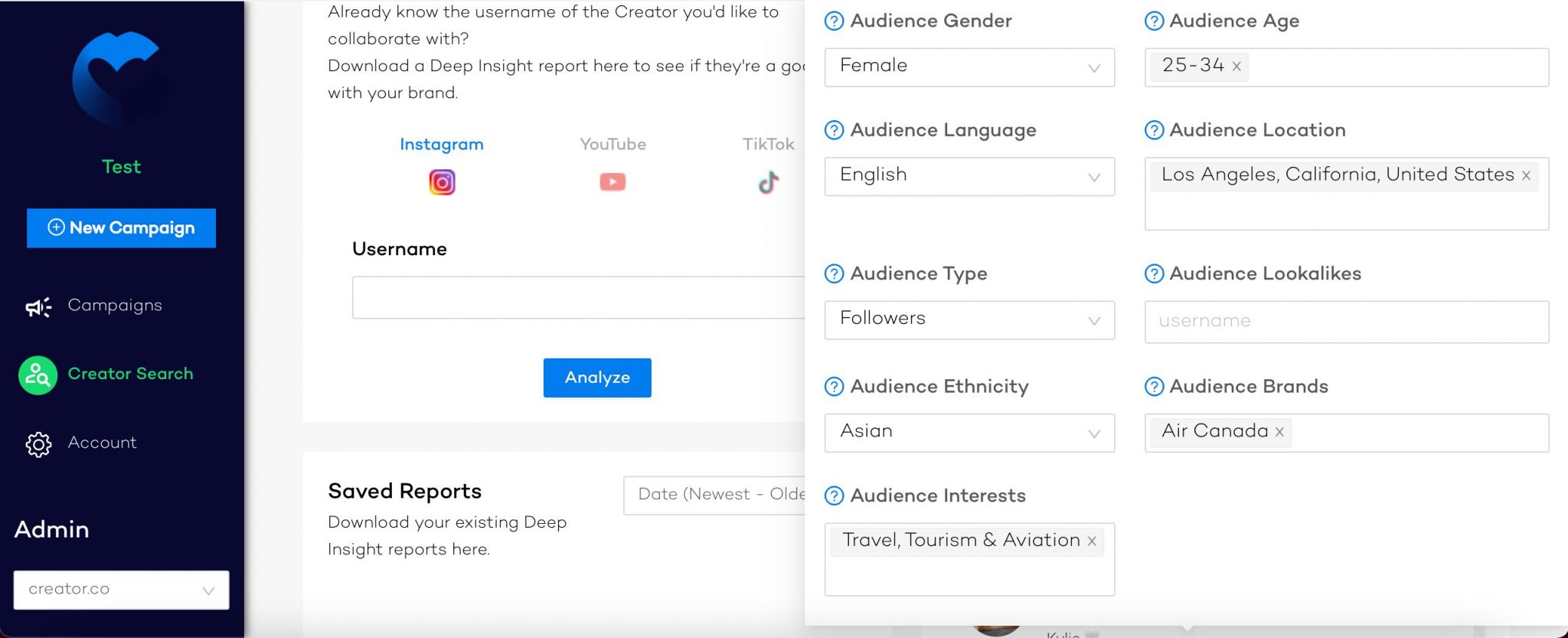 Creator.co also offers a kind of "hands free" version of the marketplace experience that is both more efficient and, counterintuitively, more focused on quality than reach. Brands need only create and define their campaign and ideal influencer, and the system plays matchmaker that chooses from a much smaller, but thoroughly vetted, talent pool of around 80,000. In between creating the campaign and monitoring its performance when it's live, the only thing a brand needs to do is choose whether or not to activate the influencers who want to participate.
For the kinds of customers Creator.co wants to attract, this approach is ideal. Small companies don't necessarily have marketing departments, so much as they have marketing obligations, and whoever is free to handle them gets the honors. To run campaigns on autopilot like this amounts to more than just a time saver. But a funny thing happened on the way to creating a product for the SME sector: large companies like Walmart and Colgate jumped onboard, too. Clearly, Creator created something good.
---
Summary:
---
Pricing
Just as with any other SaaS platform, Creator.co offers multiple tiers of access that give you more capabilities as the price goes up. Unlike other platforms, though, the more you spend on your subscription, the less you have to actually do. That's because the basic self-service plan gets you access to nearly all the platform's features, and the higher levels of service get you increasing levels of assistance from the experts at Creator.co.
Startup, $460/mo —

Creator Discovery, Content-only campaigns (gifted and paid), Giveaway/Contest campaigns, Advanced Creator Insights, Social Listening, Email Support

Start-Up, $1795/mo —

All of the above, plus an Account Manager, Campaign Strategy, Monthly health checks, Basic Recruiting, Newsletter Feature

Trailblazer, $2695/mo —

All of the above, plus creator management, 2x recruiting, bi-weekly health checks, dedicated Slack channel. This plan is essentially completely hands off for the customer, with the account manager running the show.

Bespoke, $3495/mo —

All of the above, plus: A-List talent, experiential campaign management, hyper-targeted recruiting, weekly strategy calls

In addition to the these plans, there are a handful of add-ons available:
Affiliate Marketing, $95/mo —

Creator.co has partnerships with some of the biggest affiliate networks (Rakuten, Impact, Shopify, and more). Customers can manage one or more of these networks from the Creator.co dashboard, and recruit from Creator's own network of influencers.

Social Media Ads Management, $1495/mo —

You'll own all the content influencers make for your campaigns. Let Creator.co's team manage the repurposing of this content into an effective paid ad strategy.

Social Media Content Management, $1995/mo —

Creator.co's team will build you a social content strategy across all major social media channels
---
The Details
Creator.co's workflow starts with campaigns. Whether you're working with the self-service option or the automated one, the first thing to do is create and define the campaign. This part is very important to get right—you'll want to be as specific and detailed as possible. If you're going self-serve, you won't want to spend much time answering a lot of questions; your plate will be full of negotiations and activations. And if you're going automated—well, successful automation requires you to cover every detail up front, so everything runs smoothly.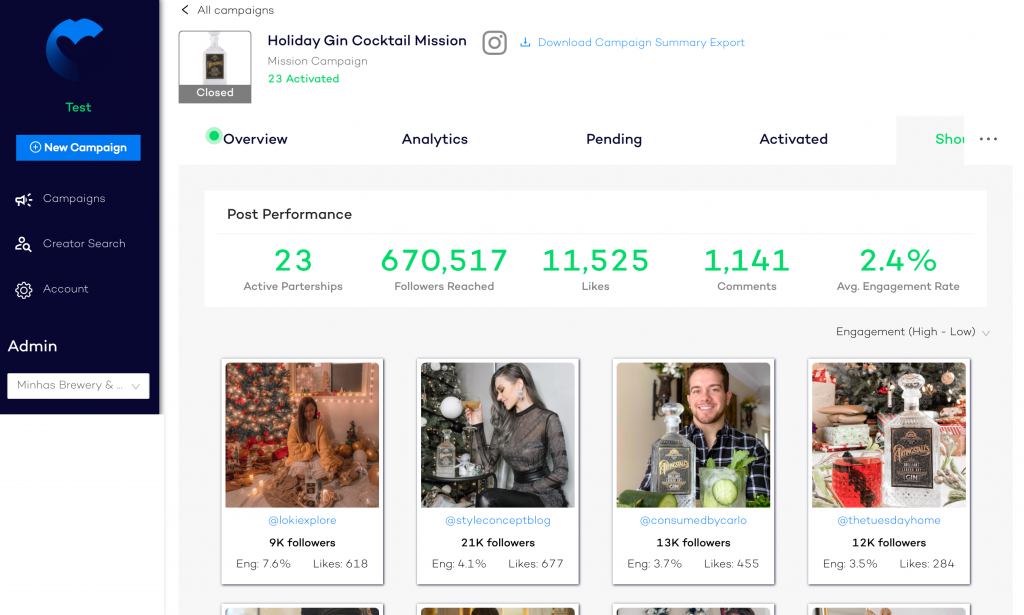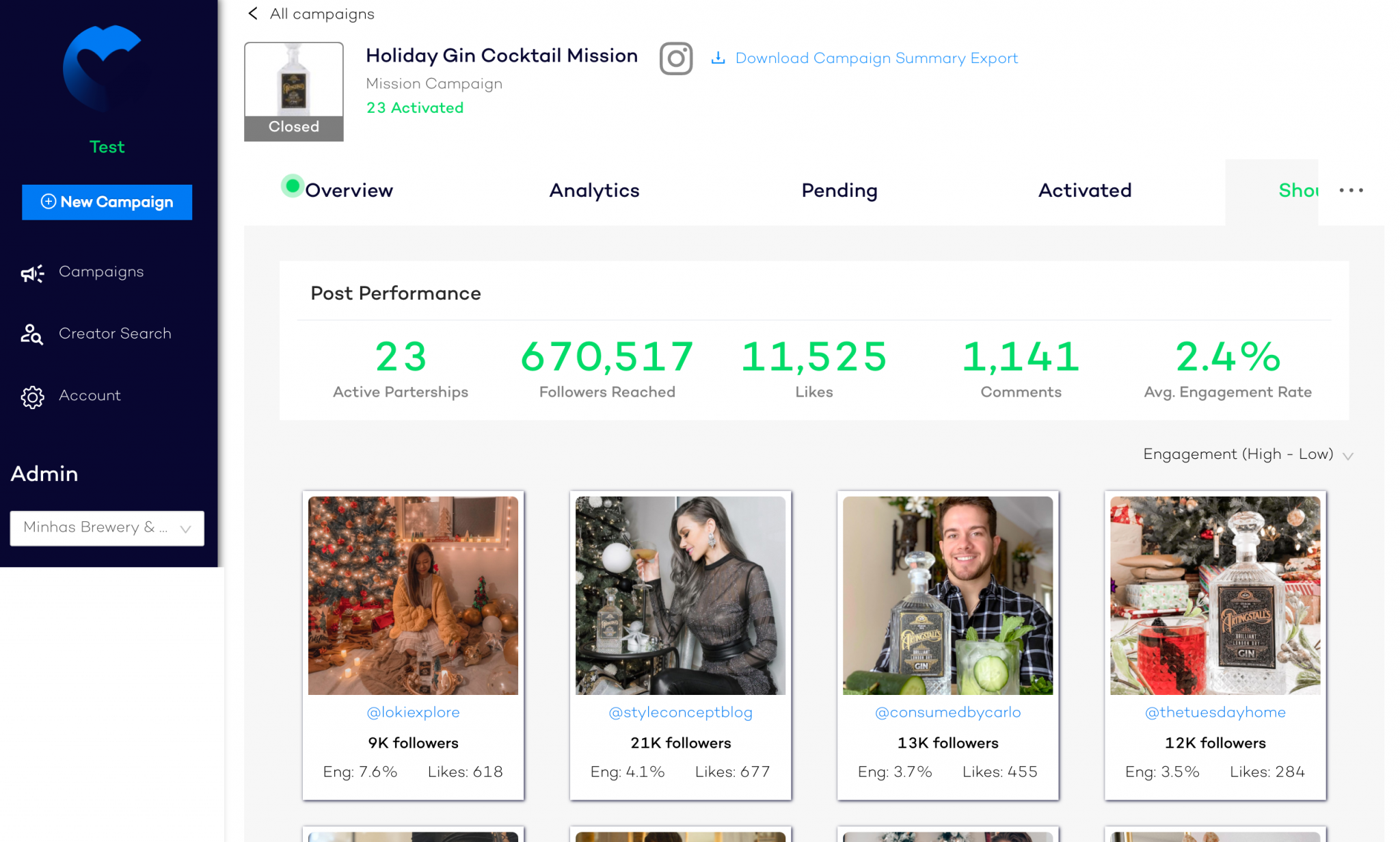 Campaigns can be fully customized, but there are also two pre-fabricated types. There's a ShoutOut campaign, which is essentially an exchange of free products for exposure. You can also add cash payments to sweeten the deal, if necessary. And then there are Giveaways, where you work with influencers to drive followers to your profile by running contests for free stuff. Once your campaign has been created, finding influencers is your next step. For self-service, the search runs very much like any other influencer marketplace, so there's no need to go in-depth about it here. Instead, we'll focus on the process for the Community Driven campaign. Here's what you do next:
Not much! Relax. Read a book. Visit a dairy farm and see how milk is produced, handled, and distributed. Everything's happening behind the scenes with a mix of algorithmic and human intervention. As influencers opt-in to your campaign, they'll show up in your dashboard for your review. Clicking through to any influencer profile gives you a nice overview of what they're about: their bio areas of expertise, stats, basic audience demographics. There's also information on any other paid work they've done on the platform, so you can see who they've worked with, as well as a rating by each company they've worked with.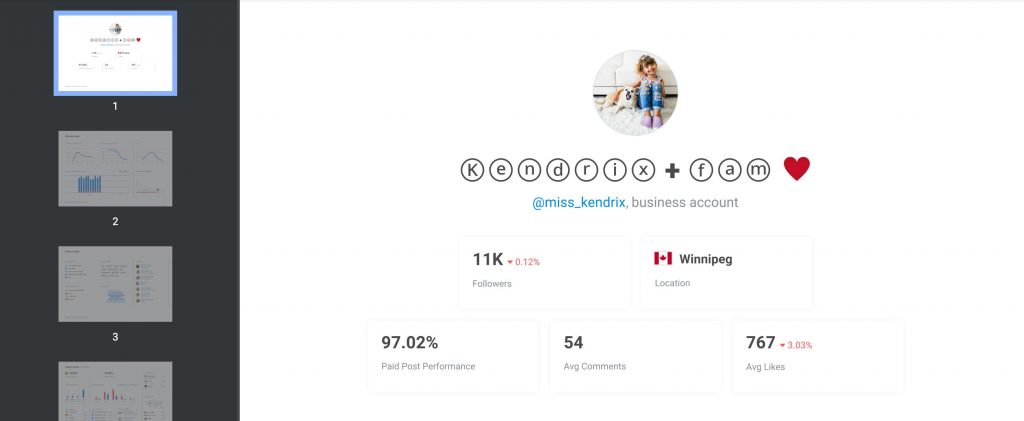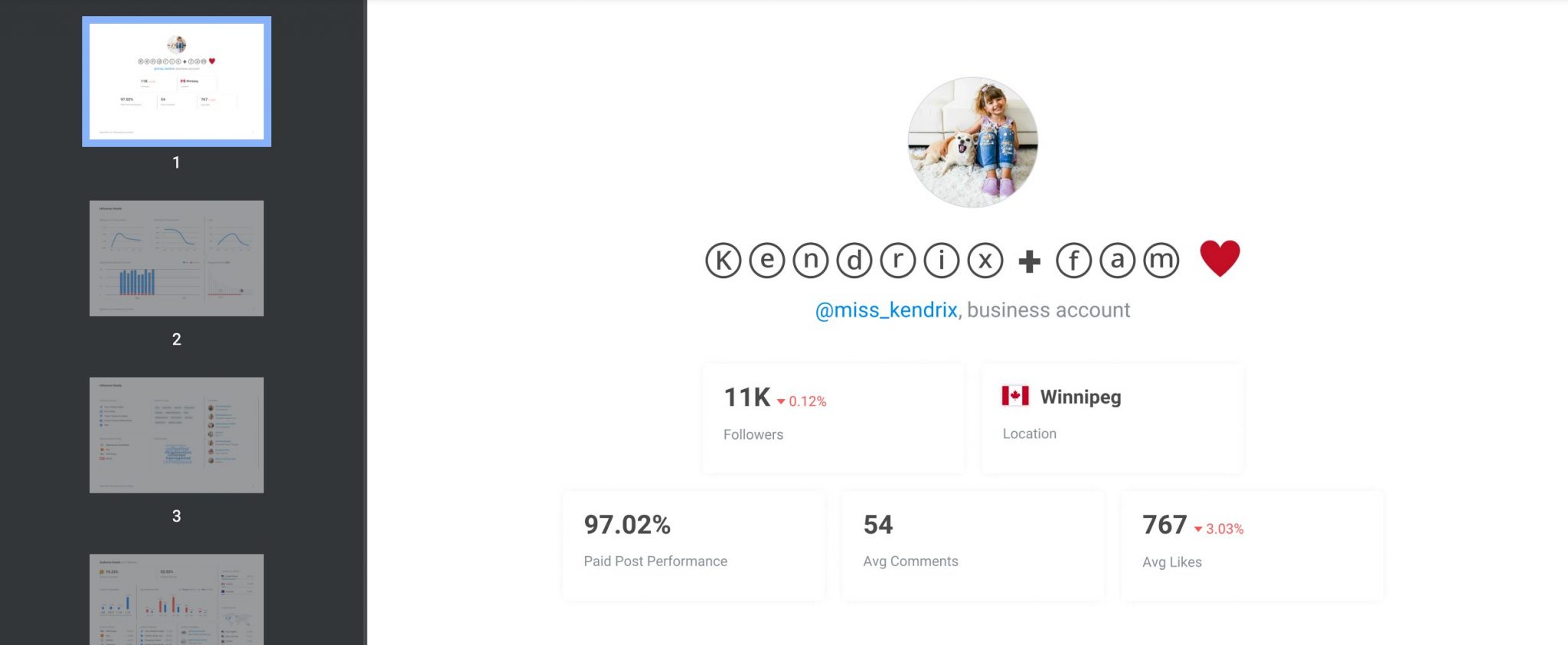 Where Creator.co really sets itself apart is in the "Deep Insights" reports available for any influencer. The name is not an exaggeration. You'll get all the data that you've come to expect, but you'll also see it presented with greater context. Engagement rate is a good thing to know, but that engagement rate as compared to a media value of the greater community is even better. Knowing the various topics they cover is a good thing, but knowing which of those topics is the most important to that influencer is even better. Knowing how many followers an influencer has is a good thing, but knowing how many other people those followers are following is even better. Knowing their audience's locations, languages, interests, and brand affinities is a good thing, but knowing that same info only about audience members who like and comment is even better.
You get the idea.
Actually, you don't, because there's even more. You'll find out which of their followers are notable for their own level of influence. Ditto for the people who've engaged with their content. There's also a list of other influencers with similar audiences. These Insight reports are exported as PDFs in excess of 15 pages. It's an incredible amount of data and analysis, made even more notable by the fact that it's on a platform built for small and medium-sized businesses.
In any case, when it comes time to click on the "Activate" or "Decline" buttons, you will be plenty equipped to make an informed decision as to which one. You will have an easy time of watching everything happen as it goes live, as well. The campaign dashboards are very cleanly laid out, easy to navigate between pending opt-ins, campaign performance metrics, and the collection of content that's already been posted. The campaign reporting is surprisingly limited, though. More narrowly focused than what you get during research and discovery, you'll get some basic performance metrics (reach, impressions, and engagement), your Earned Media Value, and basic audience demographics (age, gender, and location). There are no psychographic insights into the audience that's viewing and engaging with the content, which would be a nice thing: every post made on your behalf for a campaign is an asset you own and can repurpose. Knowing more about who in the audience liked your content would make it easier to target similar audiences. Creator.co's built-in Amplification feature moves an asset directly into Facebook Ads Manager—which is great!—but you won't be able to take full advantage of the audience targeting they offer. This is a relatively small quibble, given how much else the platform is capable of, but it's worth mentioning.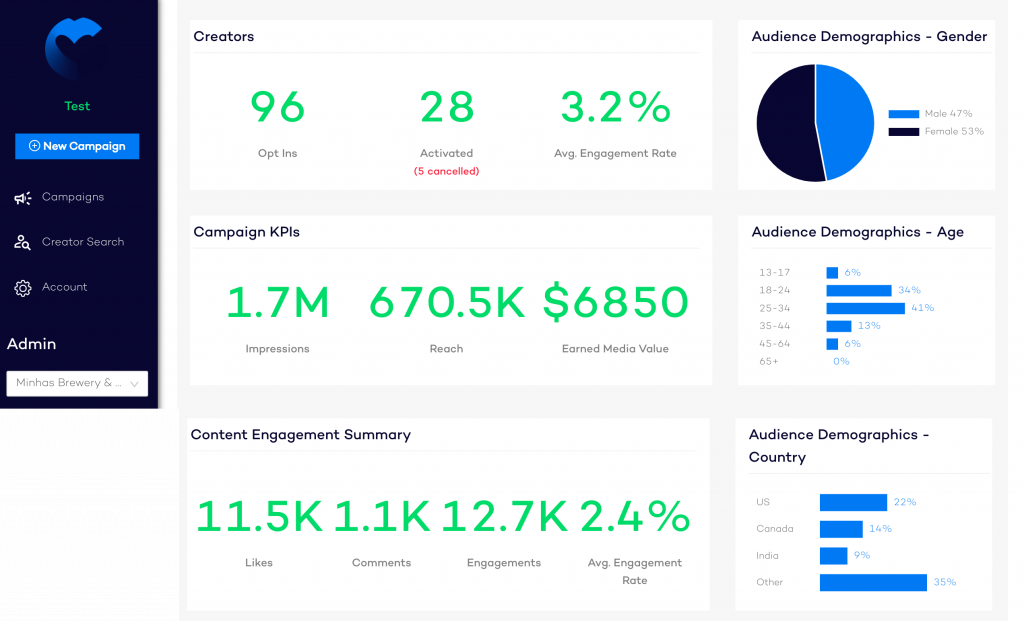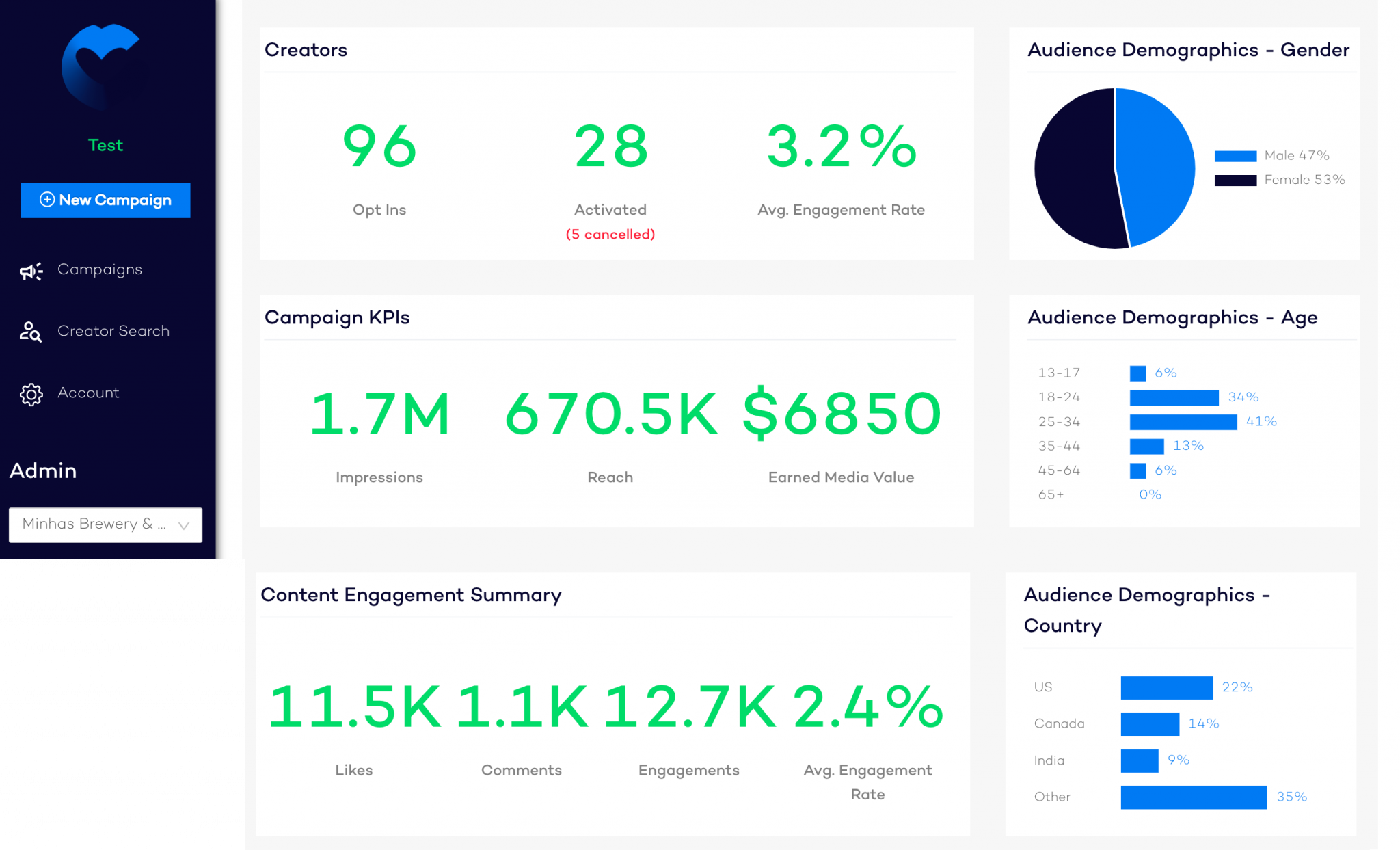 ---
Conclusion
Creator.co isn't the first influencer marketplace to serve brands. It isn't the first platform to offer deep data analysis of the influencers you find. And it isn't the first to launch with affordable subscription prices aimed at serving the SME sector.
It is the first platform to all three of those things simultaneously, and they've done quite well at it. There's a reason why a software tool built for smaller businesses on a budget is used by a multibillion dollar company like Walmart, and it isn't the affordable pricing. Its one downside is the limited campaign reporting, but that same reporting still tells you enough to know that what you're doing on the platform is effective. And with the Community Driven plan, it's effective while also not asking a lot of its users. You can't really ask for anything more.
Creator.co
Features

Ease of Use

Reporting

Best for:
Small and Medium businesses