Best for:
Businesses of all sizes. Pick and choose the add-ons according to your needs and budget
Overview
While we've chosen to place our Birdeye review alongside social media marketing platforms, Birdeye actually offers much more. Indeed, you have to select the highest level Dominate plan if you want to use Birdeye to manage your social accounts and offers many other capabilities on the lower pricing tiers.
On the surface you may notice Birdeye offering services typically favored by enterprises – and they certainly cater to small and medium sized businesses with a focus on generating positive reviews, creating and monitoring accurate business listings, and engaging with leads and customers over text, email, social, and webchat. Birdeye's modular nature makes it easy for businesses of all sizes to find a combination of features that interest them.
No matter what plan you select, Birdeye includes:
Campaigns – you can automate and scale requests for reviews, referrals, and more

Team Chat – the ability to collaborate with teammates through the Birdeye Inbox

Payments – the ability to collect digital payments with low transaction fees

Integrations with popular apps

A mobile app on iOS and Android

Access for unlimited users

Unlimited contacts, so you can manage your entire database of customers

24/7 support, with weekly check-ins to help reach your goals
Birdeye claims to be the most trusted reputation and customer experience platform for local businesses. While we can't speculate on whether it deserves the "most trusted" tag, the major review sites definitely place it near the top. And that must be the best ad for a platform that focuses on improving your reviews and referrals.
---
Birdeye Review:
---
Pricing
As a SaaS platform, access to Birdeye is sold on a monthly basis. Birdeye offers 3 paid plans, as well as various add-ons. The platform asks you for details about your company before showing you prices, so you may receive a different price quote from those shown here. They offer a discount for annual payments; the amount varies depending on the plan. The prices quoted below are for monthly plans.
Starter, $299/mo.

– Reviews, Listings, and Messaging
The Standard plan is designed to help your organization improve its online reputation and get found online. It includes Birdeye's Reviews, Listings, and Messaging products.
Growth, $399/mo.

– Reviews, Listings, Messaging, and Webchat
The Growth (aka Professional) plan includes everything in the Standard plan plus Webchat, making it easy for companies to improve their reputation and convert website visitors into customers
Dominate, $449/mo.

– Reviews, Listings, Messaging, Webchat, and Social
The Dominate (aka Premium) plan is a configurable plan that allows you to build a package with the Birdeye products that meet your exact needs.
In addition, Birdeye offers the following add-ons:
Referrals - $100/mo.

Mass Texting - $100/mo.

Google Seller Ratings - $150/mo.

Surveys - $100/mo.

Insights - $50/mo.

Benchmarking - $50/mo.
---
The Details
With Birdeye offering different features from most of the more social media-targeted platforms we've covered in this section, we will look at things in terms of what features you receive for your plan. Remember that the Growth Plan includes everything in the Starter Plan, and the Dominate Plan includes everything in both the Growth and Starter Plans. We will then focus on the optional add-ons which further expand the features of Birdeye.
Reviews (all plans)
One of Birdeye's most important features is as a reputation management platform for local businesses. You can use it to request and collect reviews in real time. You can ask your customers for reviews, while you are fresh in their memory.
It includes automation tools to help you regularly create reviews across Google, Facebook, and other leading sites. It includes integrations with leading CRM platforms to assist with automating your review requests.
Of course, it's unlikely that you will initiate all the reviews for your business. You will have many customers who make their own choice to leave reviews somewhere online about your business. And unfortunately, not all of these unsolicited reviews will be glowing. Birdeye monitors reviews on more than 200 sites, allowing you to highlight the best reviews, and carry out damage control concerning any critical reviews.
Birdeye also allows you to automate your review responses, without sounding artificial.
One handy feature of Birdeye's Review platform (if you also have the Social module) is that it includes templates that turn highlights from your good reviews into social media posts.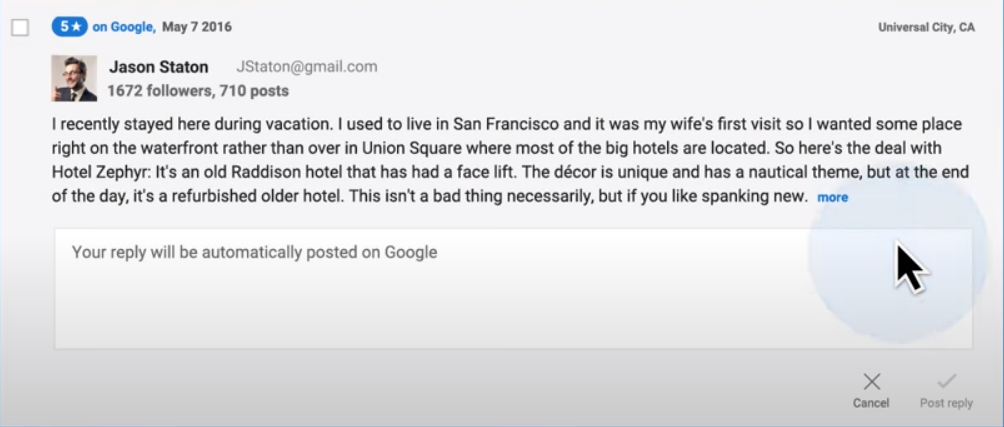 ---
Listings (all plans)
The second major feature of Birdeye, available in all plans, focuses on Local Business Listing Management. You can use it consistently to create, update, and manage business listings, no matter where they are.
It's easy to underestimate the power of online listings – you don't ask for or create them and many may contain out-of-date and faulty information. But despite this, Google and the other search engines still tend to place directories high in their search results listings. Therefore, it makes sense that you take control of what the directories say about you, rather than leaving it to chance.
Your business listings must be correct and complete and ideally sound enticing enough that people will continue their search for you on your more official channels.
The problem is that there are many directories out there, and they include some big names like Google and Facebook. And it can take a considerable amount of time to create your listings as you'd like them and then keep them up to date.
Birdeye provides the tools for you to build attractive and complete business listings on more than 60 sites. You can use the platform to update all your listings with ease and message customers in a single click all from one dashboard.
Perhaps most importantly, you can use Birdeye to build attractive Google Business Profiles for each of your locations.
---
Messaging (all plans)
The third module available on all plans is Messaging. Birdeye recognizes that our customers reach us on a steadily increasing number of channels nowadays. The days when all customers communicated by phone or snail mail are long gone, and even email is considered "old school" by many consumers. However, there is often a disconnect of preferred communications channels between a business and its customers and leads, particularly if business management is of a different age group to most of the client base.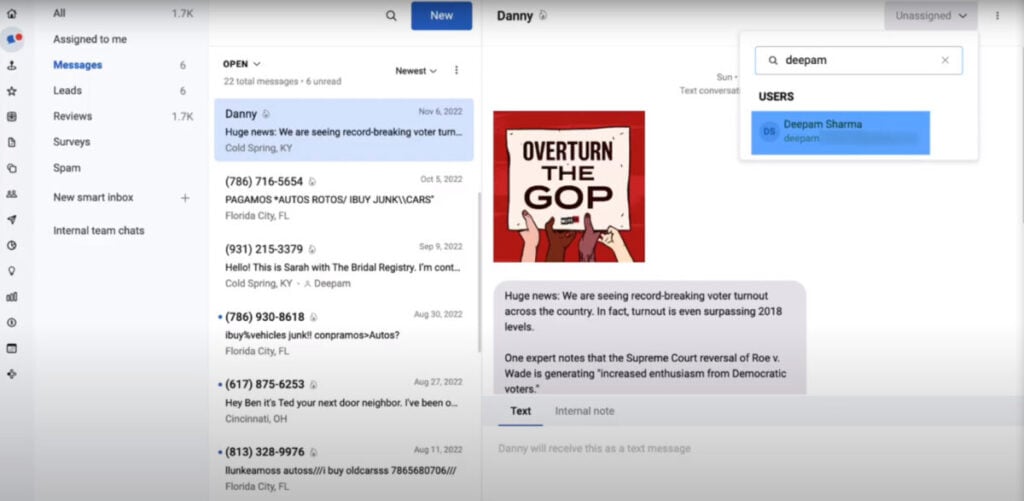 Birdeye incorporates a unified inbox and promises to provide a complete customer messaging platform for local businesses. You can use it to reach your customers across text, social, web chat, and email, as well as collaborate with your teammates. It can be really handy to view all your customer conversations in one place to get the full picture of your interactions. You can even auto-filter negative reviews to address them faster.
You can also set up instant alerts on the Birdeye Mobile App to engage new leads and respond to customer messages on the go.
---
Webchat (Growth and Dominate plans)
Allied with its messaging capabilities, Birdeye offers webchat, so you can communicate with live chat visitors, automate FAQ answers for quick responses, and text leads (1:1 or in bulk) even after they leave. You can set Birdeye to funnel all your webchat leads into your centralized inbox, making it easy to convert them over text, social, and email at a convenient time. It makes things easy for your team by starting each conversation in your inbox with the name and phone number of the person contacting you.
Birdeye offers Robin AI to help you create auto-response templates to scale your customer support and engagement. This makes it easy to engage leads in real-time and auto-respond to common questions, no matter what time of the day somebody approaches you. This, in turn, frees up your (human) team to answer more complex customer inquiries. Birdeye includes a mobile app to assist with this when your team's outside the office.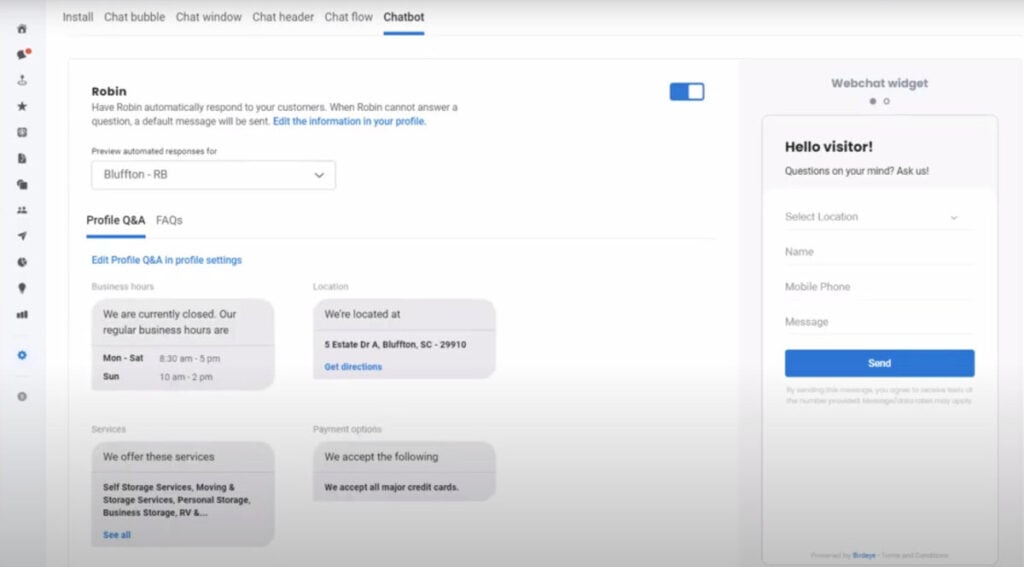 You can also use Birdeye webchat to assign messages to specific team members for quick resolution, knowing that the right person is following up on a customer or lead's issues.
---
Social (Dominate plan)
Our reviews in this section normally highlight a platform's social features, however, in Birdeye's case, this is only available to clients who select the highest pricing tier. As such, we will take a more superficial look at Birdeye's social capabilities than we usually would.
Birdeye offers all the social tools you would expect of a premier-level reputation and customer experience platform for local businesses. You can use it to manage and scale your social media. It includes tools for bulk publishing, brand monitoring, reporting, and more across Facebook, Instagram, LinkedIn, YouTube, Twitter, and Google, using a centralized dashboard.
You can easily create a generic post, and then adapt and schedule it for each of your social accounts.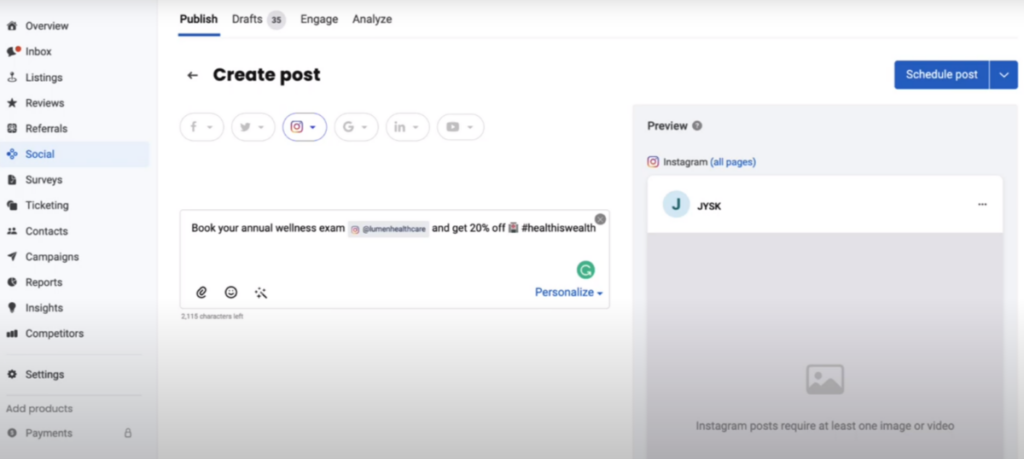 Even though Birdeye consistently refers to "local businesses" in its marketing, it could also be useful for larger businesses operating in multiple locations. For example, if you have separate Facebook pages for different branches, you can separately select the regions and pages when you customize and schedule posts, making it easy to create a post and then localize it for each page.
Birdeye makes post creation even easier by including a built-in visual editor so you can customize your design with ease; no need to pay for an Adobe license or even a cheaper app like Canva. Alongside this, Birdeye comes with a free library of images and layouts they have already optimized for every social platform. It also incorporates a link shortener, so you don't use up precious screen real estate and word counts with long, cumbersome links.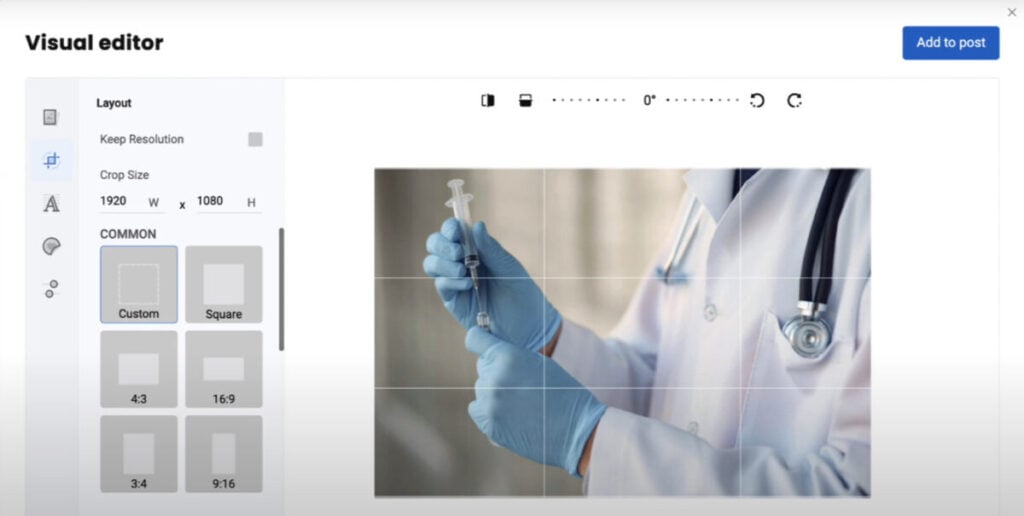 Birdeye includes a calendar view, making it easy to see what, where, and when you've scheduled posts.
Of course, there is little point in having multiple modules if you don't let them interlink. One of Birdeye's best features is the way you can use your social accounts to amplify some of the things you've generated elsewhere on the platform. For example, if you've managed to encourage some of your customers to write great reviews, you can then easily turn these reviews into social posts. Indeed, you can even set rules to auto-share reviews to selected corporate and local pages.
Similarly, just as you have a centralized inbox in the Messaging module, you have a combined dashboard in the Social module, where you can view all your social engagement and take any necessary communications and engagement steps with your posts.
It always helps to understand how your social accounts are performing. Birdeye features powerful tools for measuring, understanding, and optimizing your social strategy, again all from one centralized dashboard. You can create custom reports that compare social performance across locations and regions. Track impressions, reach, and engagement for each of your posts on Facebook, Instagram, Twitter, and LinkedIn to fine-tune your performance.
---
Add-ons
We've highlighted the main modules that come with the various plan tiers. However, depending on your interests, Birdeye offers a variety of smaller modules you can add on for additional cost. We highlight a selection of them in this section.
Referrals
You can use Birdeye to automate your referral program. Collect referrals on any channel, email, text, and social. You can use the platform to set up automated referral campaigns and trigger-based requests. Birdeye makes it easy to create and customize referral templates, from messaging and design, to forms and rewards. You can even offer reward strategies like cash discounts, gifts, and coupons to maximize referral conversion.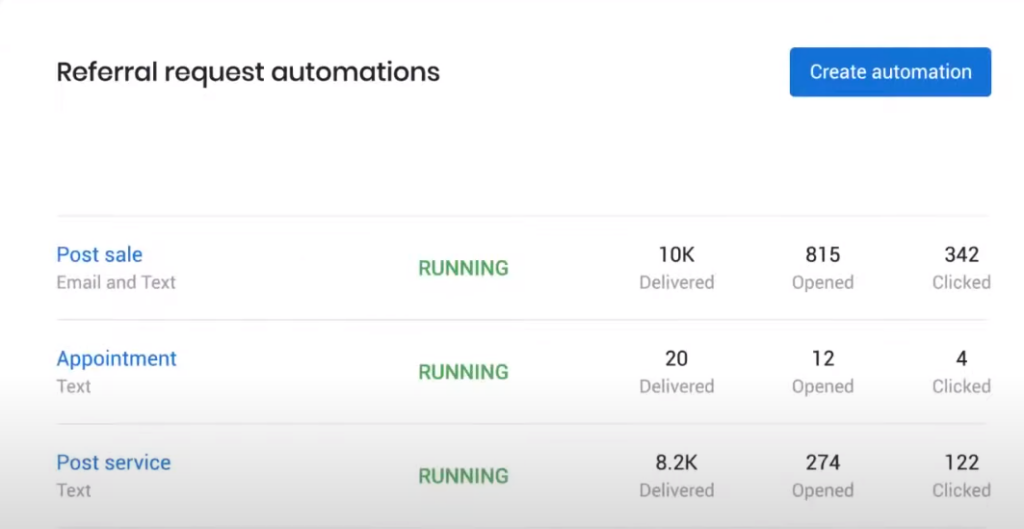 Mass Texting
An add-on to Birdeye's communications offerings is its Mass Texting module. You can use it to create and send personalized, high-converting text messages at scale. And you can combine this with Birdeye's other modules – request reviews, referrals, and surveys via text – all from one centralized dashboard.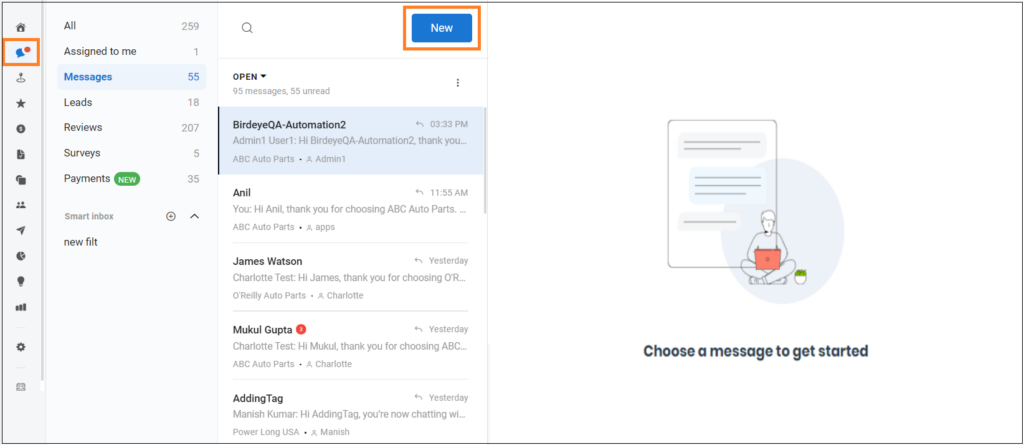 Birdeye ensures that your messages don't come across as spam. You send and receive text messages using your official business phone number.
As with many of Birdeye's tools, you can automate your text marketing, with your automated messages being based on various triggers. Usefully, you can segment your audience by location, products purchased, and other criteria, and then tailor your texts to boost response rates.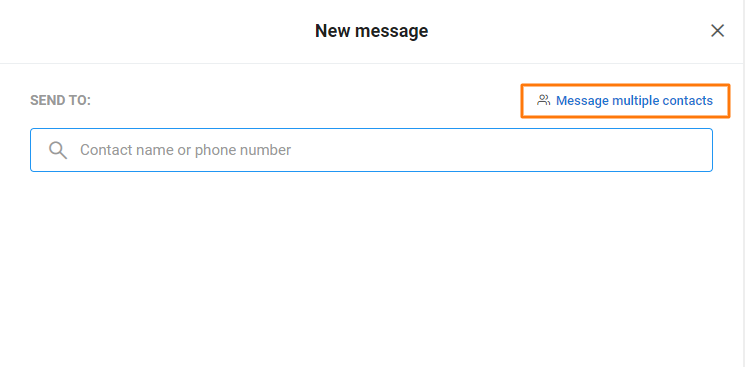 Google Seller Ratings
Birdeye is a Certified Google Seller Ratings Partner and directly integrates with Google. You can add Google Seller Ratings if you have at least 100 qualified reviews with an average rating of 3.5 stars in the last 12 months. Birdeye Reviews can help generate the reviews you need.
Once you qualify for Google Seller Ratings, you can easily manage your online reputation, boost SEO, and improve your SEM performance by pairing Google Seller Ratings with Birdeye Reviews.
Surveys
With Birdeye's Survey module, you can collect feedback and analyze data from the results. You can send AI-driven analysis to understand feedback and find ways to improve customer experiences.
Setting up your surveys is easy, with no coding necessary. Create, test, and modify surveys in just a few clicks. Birdeye offers a selection of templates as a starting point for when you're setting up your survey, and then you can save your final survey layout as a template for the next time you need it. You can even create simple pulse surveys - conversational, text-friendly survey requests, where you ask respondents to make a 1-10 rating about something of interest to you.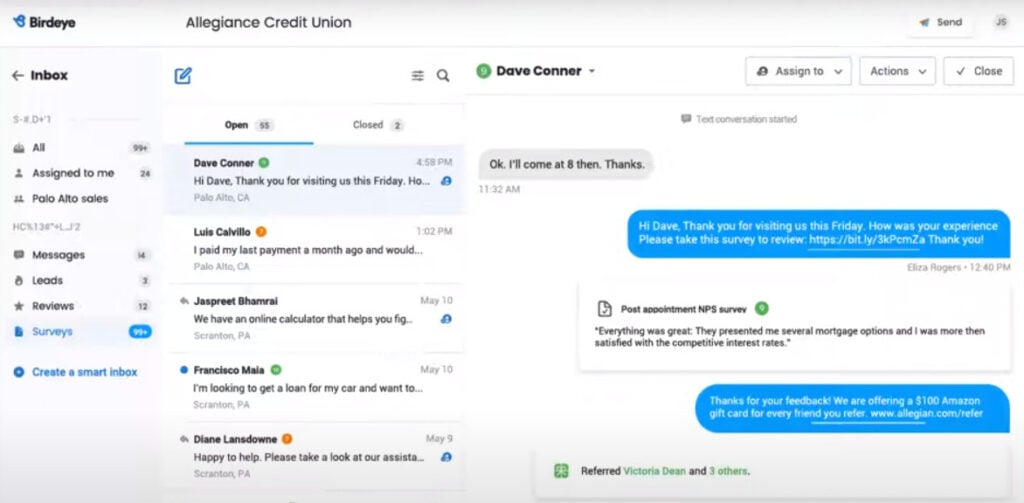 Once you've designed your surveys you can automate your survey requests, based on various triggers and conditions. You can then analyze collected data within Birdeye, using charts, tables, and other formats to make sense of the survey response data. You can even analyze sentiment from short answer questions using Athena, Birdeye's NLP engine.
Insights
We've mentioned various places in Birdeye where you can collect and analyze data. With the Insights add-on, you can use Athena to analyze insights from reviews, social media, and surveys to find the root cause of a problem. Athena helps you understand the sentiments expressed in feedback. Its sentiment analysis can alert you to your customers' greatest concerns at the moment and any consistent patterns coming through in feedback.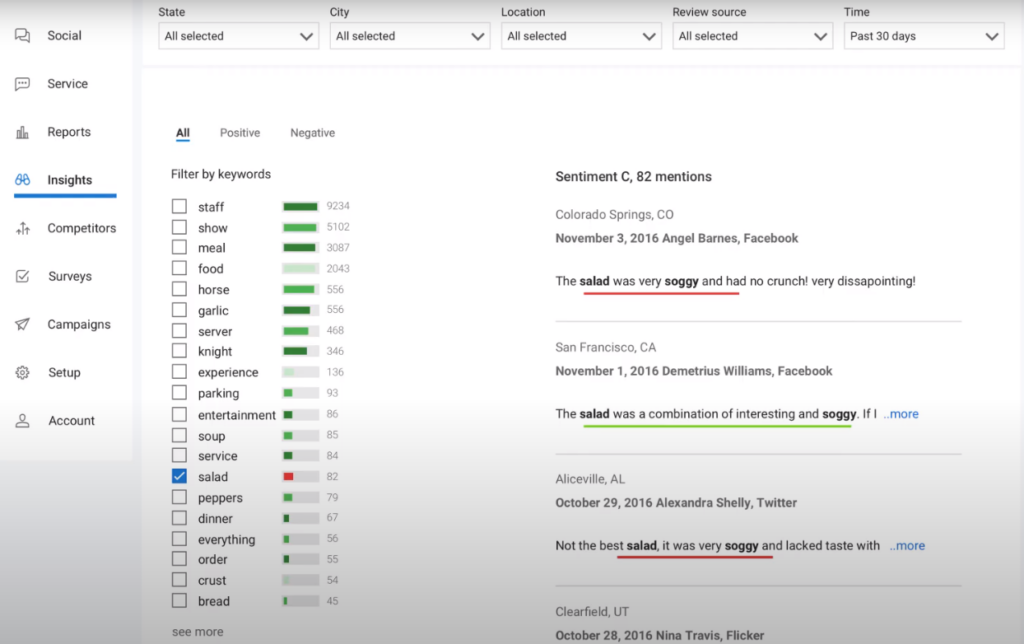 Benchmarking
Unlike most of Birdeye, which focuses on your business and its customers, Benchmarking is more interested in your competitors. It gives you access to your competitors' public data from 150+ review sites, 300 million websites, forums, blogs, and social channels. It can even estimate sentiment for your industry leaders across a range of categories.
---
Conclusion
Birdeye is a heavy-duty platform for companies serious about automating many of their customer interaction processes, including social media management.
That's not to say that Birdeye isn't useful for small and medium sized businesses, however. Far from it. Birdeye built their platform around SMBs and they understand that market well. However, to gain the most benefit from Birdeye, you will need to ensure that you make the most of its Reviews, Listings, Messaging, and (possibly) Webchat modules. They are the heart of Birdeye, and can markedly improve any sized firm's reputation management and communication.
If you're looking for a tool with wide-ranging capabilities to help you collect reviews, engage with customers, and grow sales, with social media management merely being a handy optional (albeit high-quality) module, then Birdeye could be ideal for you.
As you would expect for an all-in-one platform, Birdeye integrates with over 3000 apps and software systems. It has also integrated AI to become an essential component of its offerings. It even offers a few unexpected services, such as including payments software that enables an effortless payment experience across text, scan, card readers, your website, and more, and online scheduling capabilities, where customers can book appointments 24/7 on your website, Google, social media, webchat, text, or wherever you choose.
The more you use it, the more Birdeye looks like the Swiss Army knife of online business support platforms.
Birdeye
Features

Ease of Use

Reporting

Best for:
Businesses of all sizes. Pick and choose the add-ons according to your needs and budget