Amid evolving trends and social media algorithms, one thing has remained a constant–the need for content to market your brand. Every marketing strategy across every marketing channel needs some form of content or the other for proper execution. So even if the strategies and channels change, you will still need content to make them work.
At the same time, content marketing trends also evolve with time, along with changes in consumer behavior and preferences as well as market changes. If you're going to make the most of content marketing to promote your brand, it's crucial to stay on top of those trends so that you're always catching up to or staying ahead of the competition. For 2023, we expect to see the following content marketing trends dominating.
---
8 Content Marketing Trends You Need to Know in 2023:
---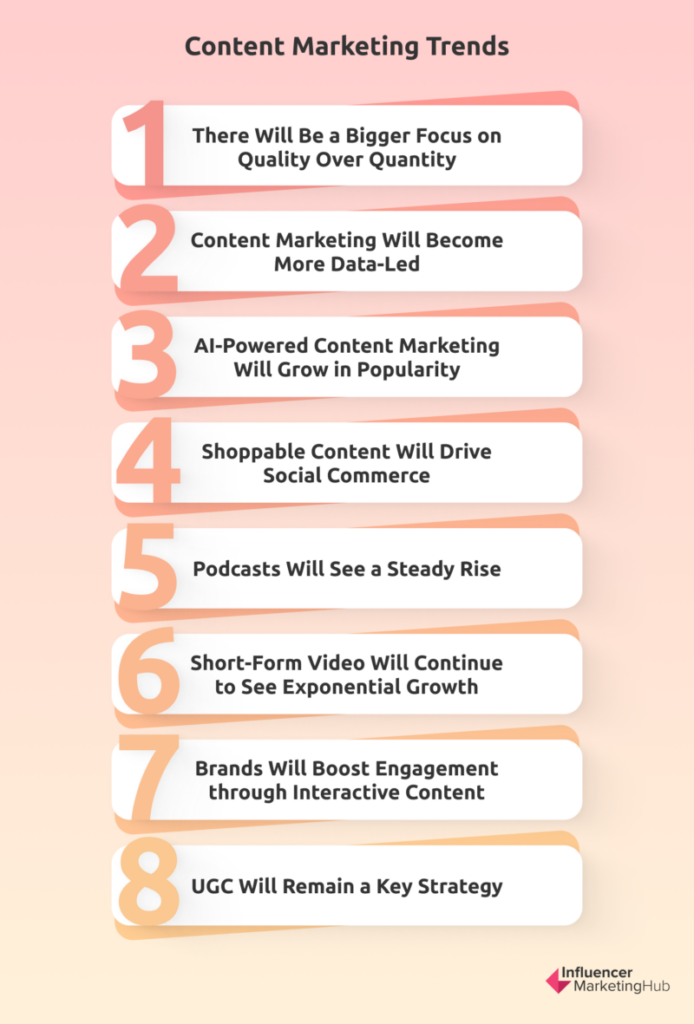 1. There Will Be a Bigger Focus on Quality Over Quantity
At some point, publishing frequency was an important factor that had some impact on social media algorithms and search engine rankings. This compelled brands to push out lots of content consistently to ensure better visibility across social media and search engines. Many of them may have felt forced to keep creating content even if they couldn't keep up with it due to limited time or resources. As a result, the quality of their content also likely suffered, which really didn't do them any favors.
Now in 2023, there will be a greater focus on targeting the content production process so that it's of higher quality and, therefore, more effective. Instead of striving to produce a high quantity of subpar or mediocre content at a frequency they can't keep up with, brands will realign their efforts to improve their content quality.
---
2. Content Marketing Will Become More Data-Led
As the need to create more targeted, high-quality content increases, brands will have a renewed interest in data. However, this may prove to be a bit more difficult with cross-app tracking getting banned by Google and Apple now requiring brands to ask users for permission to track their IDFA identifier. Fortunately for content marketers, first-party data can reveal high-quality insights to inform your content strategy.
A data-led content marketing strategy will allow you to deliver content based on the unique needs of different audience groups. As a result, you can more effectively address their pain points and drive them closer to a purchase decision.
To keep up with the increased need for first-party data, content marketing teams will also spend more time creating measurement plans that make sense. This may call for a complete shift in how performance is currently measured, especially with GA4 (Google Analytics 4) slated to replace Universal Analytics in July 2023 to offer enhanced measurement capabilities.
---
3. AI-Powered Content Marketing Will Grow in Popularity
AI technology is evolving at a rapid pace and is making waves in the content marketing landscape as well. For instance, Google's RankBrain algorithm uses AI to sort search results and deliver better matches to searchers.
Now there are also AI tools that can automatically write articles or even develop intricate visuals. While AI-generated copy might be able to help marketers create content at scale, there's much debate about the ethicality and sustainability of this practice.
In fact, Google's John Mueller has been reportedly calling AI-created content "spam." It's even against the company's webmaster guidelines, which means that even if they're not doing it now, Google will soon come up with a strategy to crack down on AI-generated copy. So cautious content marketers are still hesitant about leveraging these tools to aid content creation.
However, this doesn't negate the rising popularity of AI-powered tools to aid other aspects of content marketing. Tools like Grammarly and Wordtune can help you fine-tune your copy more easily, for example. You can also find tools like MarketMuse, which uses AI to help with content planning, keyword research, competitor analysis, and content briefing. It even analyzes your content and provides you with suggestions to optimize it and improve your overall authority.
---
4. Shoppable Content Will Drive Social Commerce
Over the past few years, social media platforms have been putting a significant focus on social commerce. This has led to the introduction of tools and features that allow for a more seamless buying experience. Now businesses can set up social media storefronts and create shoppable content, making it easier for users to buy products without ever leaving the app.
With shoppable content seeing more widespread adoption, it will significantly drive social commerce come 2023. More and more brands will be adding product tags to their social media posts, which will enable customers to either find out more about the featured product or buy it directly on the platform. This not only shortens the buying journey, but it also improves the brand experience.
Even for brands that don't have the option to add checkout buttons within social media, the shoppable content feature still offers massive benefits. It helps them drive more traffic to their websites, which can lead to higher conversions. Brands like Barbour, for instance, saw their site traffic from Instagram increase by 98% and their sales grow by 42% after creating shoppable posts.
Beyond organic shoppable posts, brands will also get more used to leveraging shoppable content in their paid promotions. This would involve delivering shoppable posts as paid advertisements so brands can target relevant users who aren't yet following their brand on social. In other words, these ads will be able to take people directly from the discovery stage to conversion.
---
5. Podcasts Will See a Steady Rise
With podcasts offering a convenient way for people to consume content while multitasking, their popularity will continue well into 2023. According to the latest podcast statistics, there are more than 2 million podcasts and 420 million people listening to them.
And as their popularity sees a steady increase, brands are starting to realize the invaluable advertising opportunity they offer. In fact, marketers in the U.S. are expected to spend more than $2 billion on podcast ads this year. Further, the industry is predicted to be worth $4 billion by 2024.
So if your brand isn't already leveraging podcasts in your content marketing strategy, 2023 could be your year. Whether this involves creating your own podcast content, getting featured in some other podcast, or promoting your products through podcast ads–make the most of their popularity to expand your reach.
If you have an existing podcast strategy, it's time to ramp it up to get ahead of the competition. Consider experimenting with different styles (interviews, Q&A sessions, etc.) to see what works and make sure to test different durations to fine-tune your strategy. Invite influential guests to get your podcast in front of even more people and expand your reach. The goal is to ensure that your podcast investment yields high returns, so you should constantly revamp and realign your strategy for a bigger impact.
---
6. Short-Form Video Will Continue to See Exponential Growth
There's no denying that short-form video has taken over social media in the past couple of years, mostly owing to the advent of platforms like TikTok. In fact, in Q2 of 2022, TikTok had already surpassed 1 billion active users on a monthly basis. And TikTok users were spending 1.5 hours a day on the platform, which speaks volumes about how much people use the app.
Further, with Instagram introducing Reels, the popularity of short-form videos only continued to grow. The platform went so far as to push this content format so that more users would choose to create short videos. Reels got more visibility with the Instagram algorithm prioritizing them over other content types, which even made it easier for users to gain virality for their Reels.
So we can expect to see the trend continue into 2023. Social media users will consume more short-form video content while also continuing the trend of creating Reels and TikTok videos. Brands can take advantage of this video format when creating owned content while also working with more short-form video creators in their influencer partnerships.
Diversify your 2023 content marketing strategy to ensure that short-form videos are strategically used to drive engagement across various social media channels. You may consider creating more Reels with a sprinkle of regular Instagram posts or even repurposing your TikTok content for other platforms.
---
7. Brands Will Boost Engagement through Interactive Content
As attention spans become shorter, brands are struggling to actively engage their audience at various touchpoints. However, the rise of interactive content has helped to combat this major pain point by enabling brands to leave a lasting impression on their audience. Since interactive content allows the audience to participate actively instead of consuming it passively, it's highly effective to capture and retain their attention.
Content such as polls, quizzes, surveys, and calculators are perfect for getting the audience involved. Many brands have started to add interactive elements to their website to create custom experiences for their customers. For example, Maison 21G has a scent personality quiz that would allow customers to create a personalized perfume.
Additionally, augmented reality technology has been popularly utilized in recent years to better engage shoppers. With this technology, brands have been able to create immersive experiences so customers can simultaneously interact with the brand and their surroundings. This may involve using AR filters to place the brand's products in their space or to virtually explore the brand's stores and factories.
For example, the Ikea Place app allows shoppers to "place" Ikea products into their homes to see how they would look in the space before they finalize the purchase. This saves them the hassle of having to first bring home and assemble the product only to realize that it doesn't really fit with the rest of the space.
---
8. UGC Will Remain a Key Strategy
Amid all the new tactics and changes, the role of user-generated content remains a constant. Even though consumer trust in influencers may have gradually shifted, their trust in fellow consumers continues to stay the same. That means brands will keep leveraging UGC to boost engagement and win the trust of their audience.
In fact, according to the latest UGC stats, content created by consumers is considered the most authentic over brand-created content and stock imagery. About 90% of consumers feel that UGC is useful and believe what other customers are saying about a brand. Additionally, 72% of brands also believe that UGC helps them to engage their customers and build trust in their brand.
So UGC isn't going away soon and will continue to play a vital role in content marketing strategies for major brands and small businesses alike. User-generated content has been particularly strategic for industries such as skincare and beauty, where it's crucial to show proof of how the product works. Ulta Beauty, for instance, regularly shares posts and Reels from influential and regular customers alike to put a focus on some of the products they sell.
---
Bonus: Team Structures Will Evolve
Emerging technologies and current market landscapes have a distinct impact on how content marketing teams will function. As companies experience layoffs and hiring freezes, we may yet see various roles merging into one. In many cases, marketers will take over content creation as the need for subject matter expertise becomes crucial for establishing authority and improving content quality.
Organizations are starting to realize that content marketing teams work better when every member stays up to date on the latest trends and can quickly adapt to changes. These changes may be in the form of the tools used, the technologies being implemented industry-wide, and the way consumers behave. For starters, teams will need to prepare for evolving AI tools and learn to better utilize first-party data to keep up with the upcoming changes.
---
Gear Up for a Winning Content Strategy in 2023
When you know what trends are dominating and which ones you need to focus on, you can realign your content marketing efforts to focus on tactics that deliver results. In 2023, there will be a major focus on data-led content that's more targeted and high-quality, while short-form videos, interactive content, and user-generated content continue to rule the landscape. Brands can use AI tools to streamline and optimize various aspects of their content marketing and ensure that they're keeping up with the latest trends.