Social media is now a huge part of our lives, giving us a way to connect with friends and like-minded folks while influencing our decisions and behaviors. In fact, social is so deeply ingrained into our lives that it's where most people get their purchase inspiration, research brands and products, and even buy stuff.
For brands that want to take advantage of this, it's time to step up with strategic social commerce. In this post, we provide you with some of the best social commerce strategies that will help you boost sales. Let's get started.
---
Social Commerce Strategies that Will Boost Sales:
---
What is Social Commerce?
Before diving deeper into the practical aspects, let's first get a better understanding of what exactly is social commerce. Remember that it's more than just marketing your products and services via social media. Rather, it's the use of social media platforms to directly buy and sell goods and services.
With the rise of social media storefronts and social checkout features, social commerce has evolved to support the entire selling process–from awareness to conversion. The current social commerce landscape now allows customers to quickly go from discovering the product to buying it without ever having to leave the platform.
---
Why You Need Social Commerce
There's no denying social media's role in consumer buying behavior today. People are finding tons of purchase inspiration–from influencer recommendations to reviews from other consumers. Even a brand's social media post can directly influence purchase decisions, with Curalate finding that 76% of consumers in the U.S have bought something after seeing it in a brand's social post.
Sprout Social's Social Shopping in 2022 study also found that 40% of consumers have found the perfect product from a brand's organic post. Moreover, 98% of consumers intend to buy something through influencer commerce or social shopping this year.
This speaks volumes about the power of social commerce and the need for brands to leverage it. It's clear from these numbers that people are using social media to discover and buy products and services. Brands need to step up their game to optimize their social media strategies so they can drive more sales.
---
7 Social Commerce Strategies
Now the question is–what can you do to get more out of social commerce? Here are a few practical and effective social commerce strategies that will help you drive more sales in 2022.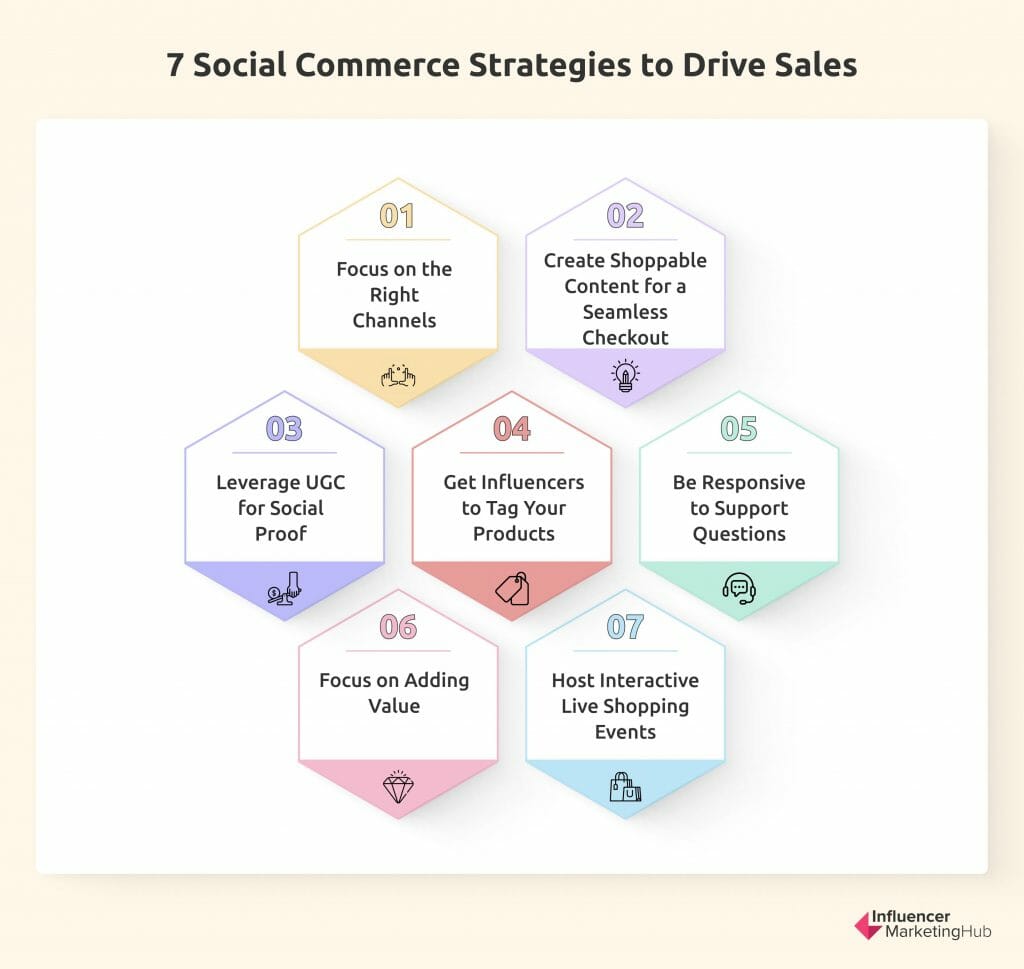 1. Focus on the Right Channels
Your choice of channels is the first thing to reconsider because people may prefer certain social platforms over others to discover and buy products. So, focusing your efforts on the right social commerce channels will help you get more out of your investment.
According to the Sprout Social survey from earlier, the platform preferences vary depending on age group. People aged between 18- and 24 years planned on using Instagram, TikTok, and Snapchat for making online purchases in 2022. Meanwhile, Reddit and WhatsApp were more popular among those aged between 24 and 40.
For people between 41 and 56 years of age, Pinterest was the top platform for making online purchases. Additionally, 57-75-year-olds intended to use Facebook to make their online purchases.
Keep in mind that not all audiences are the same, which means you need to find the best platforms for reaching your audience specifically. You can't rely on age groups alone to decide on which social media channels you should be using. You may even be targeting people across multiple demographics and interests, so make sure to find out where your target audience is most active and how they use the platform.
---
2. Create Shoppable Content for a Seamless Checkout
Convenience is the key to winning over the modern-day customer. This means eliminating unnecessary steps in the purchase process, which essentially helps remove some barriers to purchase. Similarly, with social commerce, it's crucial to make the purchase path as seamless and as short as possible. People should be able to quickly go from product discovery to conversion in a matter of seconds.
As such, it helps to create shoppable social media content that will allow shoppers to complete the entire transaction without leaving the platform. A shoppable post features product tags that shoppers can click on to access the product page on your social media shop.
Here, they'll be able to learn more about the product such as pricing and description. That means they can get all the information they need about a specific product without having to visit the product page on your website.
When they're ready to buy, they can simply click on the "View on Website" button and complete the purchase on the coordinating product page. Alternatively, some merchants can also enable social media checkouts that would allow shoppers to complete their purchases within the platform itself. This further simplifies and shortens the buying journey. The easier it is to buy the product; the more likely people are to buy it.
In fact, the Curalate survey found that 36% of respondents would be more likely to buy something on social if they had the ability to buy it directly within the platform. This proves how much people value a simplified buying journey.
---
3. Leverage UGC for Social Proof
Social media inspires purchase decisions mainly because people trust the opinions and experiences of other customers. They look for social proof such as reviews, photos, videos, and social media posts to decide whether the product is worth purchasing. This serves as an unbiased source to understand if the product really lives up to the brand's claims.
In fact, the Sprout Social survey found that recommendations from friends were the top reason people buy stuff on social. Following this, comments or product reviews were the second most impactful factor. As such, user-generated content (UGC) can serve as the social proof you need to take your social commerce to another level.
The Curalate study from earlier also found that 50% of respondents would be more likely to buy products on social if they saw user-generated content such as images of customers who previously bought the product. This gives them an idea of what the product looks like in real life, whether it really does what the brand says, how it might look on them, and so on.
Bark regularly reposts content from pet parents who share pictures of their dogs posing with the brand's products. The brand accompanies these images with hilarious and relatable captions that entertain their followers. This is a great way to show other pet parents how much dogs love their products. It also gives some context as to how the product looks in real life, what the size is in comparison to certain dog breeds, and so on.
Similarly, GoPro relies heavily on user-generated content for their social media marketing. The brand regularly shares customer photos and videos taken using a GoPro. These high-quality visuals help to showcase the potential of the GoPro camera and could convince many people to finally invest in the product.
---
4. Get Influencers to Tag Your Products
On some platforms such as Instagram, product tagging is no longer just limited to brands. That means influencers can also tag your product in their posts, which would allow their followers to instantly buy the item from the post.
In other words, customers won't have to go through a lengthy process of going to the influencer's bio, clicking on a link, visiting a different website, and trying to find the item in question. This simplified buyer's journey can lead to significant sales coming from your influencer partnerships.
So, if you plan on boosting your social commerce impact, make sure you leverage this feature in your influencer marketing campaigns. You just need to find the right influencers to work with and approve those selected influencers for product tagging. This will give them access to your product catalog from where they can choose and tag the product featured in their post.
For example, see how the following influencer tagged products from Sephora in her post. The post is labeled as "Eligible for Commission," which means that the influencer can make money from it. If you click on one of the products, it opens up the Instagram Shop page for Sephora where you can get more info about it.
---
5. Be Responsive to Support Questions
One of the ways brands fail at social commerce is by failing to follow up when people come to them with questions. You may generate lots of interest from your social media marketing efforts. But if you're not nurturing that interest, you could miss out on valuable sales opportunities.
Perhaps people want to know if your skincare product is suitable for sensitive skin. Or maybe they want to see if you use vegan leather for making your shoes. These seemingly generic questions could turn into purchases if you know how to nurture those prospects the right way. For example, if the specific product you're promoting isn't suitable for sensitive skin, you could recommend something else that's made specifically for people with sensitive skin.
A 2021 Sprout Social study even found that this is the biggest mistake brands make with social commerce. According to the study, 44% of respondents say that failing to respond to customer questions or comments is the biggest mistake for brands.
So, monitor the comments and messages on your social media and respond to them proactively. Pay closer attention to purchase-related questions–whether it's about ingredients, compatibilities, shipping, and so on. Here's an example of Honest answering a question about shipping to Germany.
Thanks for your interest in Honest! We recently partnered with @DM_Deutschland to have select products available in Germany. We suggest checking with them to see if our products are available near you. Thank you! ✨

— HONEST (@Honest) July 14, 2022
With time zone restrictions and workforce limitations, you may not always be present to respond to those queries. Consider incorporating a social chatbot to attend to customer support messages when you're unavailable. Set it up so that the chatbot can address common and simple questions while giving customers the option to schedule a callback if they'd like to speak to a representative.
---
6. Focus on Adding Value
The goal of social commerce is to drive sales. That said, avoid creating content that sounds too salesy. While this type of content will still have some impact, it may not always be effective at establishing the value of your product. Plus, it may not necessarily resonate with the social media audience you want to reach.
Instead, focus on pushing content that's practical and informative to inspire purchase decisions. This type of content can add value to your audience since it helps them understand how the product works, how it can benefit them, or how they can use it in their lives. For example, how-to posts combined with product tags are a great way to help your audience learn something while nudging them toward a purchase.
---
7. Host Interactive Live Shopping Events
With live streams gaining more popularity among social media users, you should consider leveraging them in your social commerce efforts. According to the Sprout Social survey, live streams were the most popularly used social feature among consumers.
And many social media platforms now offer the option to add product tags in your live broadcasts, which gives you the opportunity to fully take advantage of livestreaming. With this feature, you could host live shopping events where you showcase products that people can instantly buy. This is a great way to combine the interactive aspect of in-person shopping with the convenience of online shopping.
To make the most of this feature, host regular live shopping events and announce them ahead of time. You could host question-and-answer sessions, provide tutorials and demos, or even introduce new products. During the broadcast, respond to customer queries in real-time to remove barriers to purchase and get them closer to a purchase.
---
Get Ready to Grow Your Sales
With the right social commerce strategies, you could fully take advantage of social media features to boost your sales. Put the above strategies into practice and watch your social media sales grow exponentially.
Frequently Asked Questions
What is a social commerce strategy?
A social commerce strategy is an approach to using social media platforms for buying and selling products or services.
What are the benefits of social commerce?
Social commerce helps you grow your audience engagement while boosting sales. It lets you tap into the popularity of social media, where you can offer a convenient way for people to discover and buy your products.
What is an example of social commerce?
Shoppable posts that allow people to click on product tags and checkout right within the app are an example of social commerce.
What is the biggest social commerce site?
Instagram, Facebook, and Pinterest are some of the biggest social commerce sites.
What is the difference between social commerce and ecommerce?
Ecommerce involves the buying and selling of products and services through online channels–whether it's through a brand's website or an online marketplace. Social commerce is a subset of ecommerce where the transactions take place within social media platforms.