Every business aims to deliver a seamless shopping experience for their customers, not only to drive conversions but also to win repeat customers. This extends to all the other channels through which you're maintaining brand presence such as Instagram. Fortunately, the ability to tag products on Instagram makes it much easier for brands to deliver the kind of seamless experience that their customers expect.
In this post, we give you a breakdown of what Instagram product tagging is, how it works, who is eligible, and how to start using the feature. Let's get started.
---
What Instagram Product Tagging Means and How to Use It for Your Brand:
---
What Is Instagram Product Tagging?
Instagram product tagging is a feature that allows users to buy products directly on Instagram without ever leaving the platform. Brands can tag the products in an image so when people click on the tag, they can find additional information about the product such as the price and product description.
They'll also have the option to buy the product right there on the platform without having to leave the app and complete their purchase on the brand website. In some regions, however, the native checkout option is still unavailable, which means tagged products will only provide easier access to the product page via Instagram.
In both cases, the product tagging feature creates a seamless shopping experience that takes customers directly from the discovery stage to the conversion stage. The shortened customer journey improves the likelihood of driving conversions.
---
Who Can Tag Products on Instagram?
The ability to tag products on Instagram was originally available only for businesses as a part of the Instagram Shopping rollout. As it evolved, the feature became available to creator accounts and will shortly be available to all users provided that users tag the relevant brand before tagging a product in their post. This is sure to create more opportunities for affiliate marketing and enhance the influencer marketing capabilities of the platform.
When creators use the product tagging feature, you'll see a disclaimer at the top of the post saying the post is "eligible for commission." This allows them to maintain transparency with their audience about the products they promote that earn them a commission.
---
Why Use the Product Tagging Feature?
Now the pressing question may be–why is the product tagging feature so important? Why should you tag products on Instagram in the first place? Let's take a closer look at some of the top benefits of using the product tagging feature for brands.
Shortened Customer Buying Journey
With product tags, customers can quickly move from discovering the product on Instagram and buying it in just a few clicks. This significantly shortens the buying journey and minimizes the risk of losing customers in the middle of the funnel.
Improved Conversion Rates
As a result of the shortened buying journey, you're also likely to see more conversions coming from Instagram. You're leaving smaller room for second thoughts and reaching customers who are ripe for purchase, which naturally translates to increased conversions.
Enhanced Customer Experience
With customers seamlessly moving through the purchase funnel, product tagging allows you to enhance the overall shopping experience. This enhanced customer experience not only reflects positively on your brand but it also sets the stage for repeat purchases, thus improving brand loyalty as well.
---
How to Get Started with Instagram Product Tagging for Brands
The process of adding product tags on Instagram is pretty straightforward. But first, make sure you have Instagram Shopping set up. Once that's done, follow the steps below to start tagging products on your Instagram posts:
Step 1: Tap on the "+" button to create a new post.
Step 2: Follow the usual process of creating a new post. This involves selecting the photo or video you want to upload and then adding the necessary captions and filters. Then tap on the "Next" button.
Step 3: Tap the "Tag Products" button.
Step 4: Tap on the product in the photo or video that you want to add a product tag to.
Step 5: Use the search box to look for the product you want to tag and select it.
Step 6: Tap on "Done" and then "Share," and that's it. You've created your first shoppable post on Instagram and people can start shopping for your products from the post.
---
Tagging Products in Stories
Step 1: Tap on the "+" button to create a new Instagram Story.
Step 2: Follow the usual process of creating a new Story. This involves selecting the photo or video you want to upload and then adding text, filters, music, hashtags, and effects.
Step 3: Tap on the sticker icon and select the Product link sticker.
Step 4: Select the product you want to tag in your Story.
Step 5: Publish it to your Story and you're done!
---
Tagging Products in Reels
Step 1: Tap on the "+" button to create a new Reel.
Step 2: Follow the usual process of creating your Reel–whether it involves recording an original video, adding music, or adding images from your camera roll.
Step 3: Once everything is ready, tap on the "Tag Products" button.
Step 4: Select the products or collections you want to feature in your Reel and hit "Done."
Step 5: Publish your shoppable Reel and that's it!
---
Letting Creators Tag Your Products
If you have an affiliate program set up or if you're working with influencers for a campaign, you can have content creators tag your products in their posts. To have this set up, go to your profile settings and under the "Shopping" tab, select the creators you want to approve for product tagging. This will give selected creators access to your collections so they can tag your products in their content.
Once creators tag your products in their content, you'll be able to gain access to the performance insights for each of the posts. This will allow you to view details like post impressions and clicks so you can analyze how effective the influencer's content is in driving conversions.
---
Best Practices and Tips for Product Tagging
While product tagging is an extremely convenient feature, it doesn't automatically guarantee sales for your brand. To improve your chances of getting people to click on your product tags and convert, follow the best practices and tips below: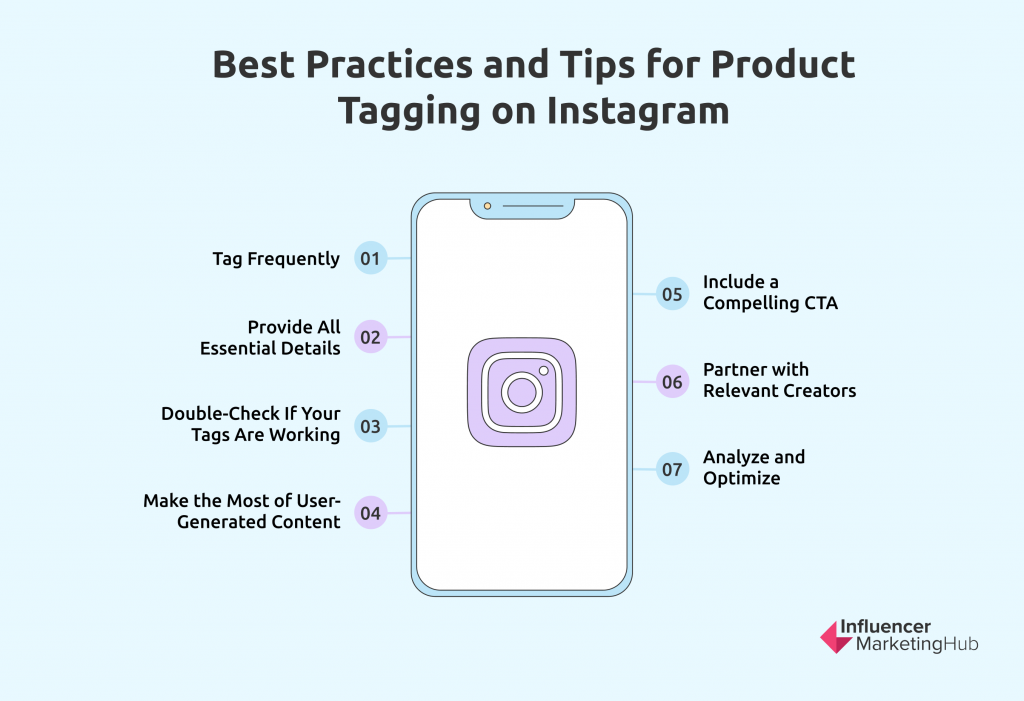 Tag Frequently
When it comes to a platform like Instagram, consistency is key. Just like you should post regularly and consistently to gain visibility on the platform, you should also use the product tagging feature regularly. This will improve the chances of your shoppable posts showing up in the Explore pages of relevant users.
---
Provide All Essential Details
Since you ultimately want customers to convert directly on Instagram, you should also make all the necessary product details available natively on the platform. The idea is to ensure that shoppers can easily gain access to all the information they need to make a final purchase decision. This may include details like pricing, material, key ingredients, benefits, features, etc.
For example, look at the following shoppable post for high-waist shaping leggings from H&M. You can see that in addition to the price, the description clearly highlights all the key features that could convince many customers to make a purchase. For those who need more info before finalizing their purchase, there's a button to easily message the brand.
---
Double-Check If Your Tags Are Working
The reason you're using product tagging in the first place is to create a seamless shopping experience for your customers. So the last thing you'd want is for them to encounter hiccups after clicking on the product tag. For example, a product tag that's linking to the wrong product or a 404 error page if they decide to visit the product page might not leave a positive impression.
This makes it crucial to double-check if everything is working as it should. Ideally, you should use your personal accounts to check your product tags and ensure that the right products are tagged, all the information is showing up, and all the links are working.
---
Make the Most of User-Generated Content
User-generated content acts as social proof for your products. It shows potential customers how the product looks in real life on real people or that it really works. UGC could also provide inspiration for how to use the product, which could drive the purchase decision of many customers. This is why you have spaces for social posts, reviews, or customer photos on your product pages.
On Instagram, you can tag products on user-generated photos to combine the two elements of social proof and shopping convenience. This is a great way to earn the trust of potential customers while giving them an option to instantly make a purchase. An added benefit is showing your appreciation for your existing customers by featuring their content, which could further drive brand loyalty.
For example, Pottery Barn regularly features photos from customers who have incorporated the brand's products into their homes. This not only provides décor inspiration to potential customers but also shows them how the product looks inside a real home setting, serving as social proof.
---
Include a Compelling CTA
Since you want people to take action (i.e. buying the product) from your post, you should specifically express that in your caption. Include a compelling call-to-action in your shoppable posts so people know exactly what you want them to do next. You can be as literal as you want with your CTA–as long as you're getting the message across.
In some cases, it may be the first time a user is coming across a shoppable post. So having an explicit CTA in your caption helps them understand that they can tap on the tag to get the product.
Cocokind makes the most of their caption space to inform the audience about what antioxidants do. They then add a CTA encouraging people to add the product to their skincare routine for improved radiance. This is an excellent example because they're reiterating the benefits of the CTA right after providing educational information.
---
Partner with Relevant Creators
Content creators have an established fan base in their chosen niche–a fan base that looks to them for purchase inspiration and trusts their opinions. Their content and opinions are perceived as more authentic and trustworthy since they've already showcased their interest and expertise in the niche. So combining the power of influential content creators with shoppable product tags is a great way to drive purchases through Instagram.
Work with highly relevant content creators in your niche who will create content about your product and drive customers to your store. These creators can get your product in front of people who are likely to be interested in and benefit from the product. And by getting your product in front of a bigger audience, you could significantly increase sales through the platform.
Revolve does an excellent job of this, solely creating shoppable content through influential and relevant Instagram creators. Here, you can see fashion and lifestyle creator Jackie Madsen featuring cowboy boots from the store in an authentic and natural setting.
The picture makes the boots look enticing, which could inspire many of her followers to check them out and even buy them from the Revolve store. In fact, check out all these positive comments specifically pointing out the boots.
---
Analyze and Optimize
Last but not the least; make sure you're constantly tracking the performance of your shoppable Instagram posts. This will allow you to see what's working with your audience and what's effective at getting people to convert. You may be able to notice patterns that you can use to optimize your existing strategy. For example, if you notice higher conversion and engagement rates for your UGC posts, you might want to shift your focus to those types of content.
---
Happy Converting!
Now that you have all the information you need to get started with Instagram product tagging, it's time to leverage the knowledge for improved conversions. Make the most of the tips and best practices above to make product tags work for you.
Frequently Asked Questions
Does tagging products on Instagram work?
Yes, businesses and content creators can tag products in their posts, Stories, and Reels, allowing users to click and learn more about or even buy the product.
Does tagging products on Instagram reduce reach?
Tagging products on Instagram does not reduce reach, as long as you're following the usual process of optimizing your posts for Instagram SEO.
How do you tag items on Instagram?
You can tag items on Instagram by tapping on the "Tap Product" option before publishing your post and then selecting the items you want to tag.
How do I get my products noticed on Instagram?
You can get your products noticed on Instagram in a number of ways. First, make sure that the product is framed properly in your photo and showcased in the most flattering way possible. You can also have influencers feature your products and tag them in their posts.
Can you promote a post with tags?
Yes, you can promote a post with tags. You can use the Ads Manager to create Instagram ads that feature product tags.