Long gone are the days that Instagram can be labeled as merely a photo-sharing app. Over the years, it has introduced a number of features that have made it more accessible. Not only has it become one of the most popular channels for brands to partner with influencers, but it has also become a platform where content creators can show off their work.
And, if you've thought that it's only a place for lifestyle photos and video clips, you would be very much mistaken. Even comedy and visual effects have found its place on Instagram. So, it doesn't really matter what your niche is, you're guaranteed to find a creator whose content will leave you feeling inspired. From beauty influencers to animators to comedians, here are 15 of the top content creators on Instagram.

| # | | @username | Followers | Engagement Rate | Avg. Views | Growth Rate |
| --- | --- | --- | --- | --- | --- | --- |
| 1. | | | 370M | 1.38% | 5.2M | 40% |
| 2. | | | 370M | 1.38% | 5.2M | 40% |
---
15 of the Top Content Creators on Instagram to Follow:
---

Karen X Cheng is an award-winning director who has more than 500 million views. Adweek has described her work as irresistible clips and has included her in their The Creative 100, an annual celebration of the most interesting agency leaders, marketers, agency leaders, and other game-changers in the creative field. She's also been included in Inc. Africa's 12th annual 30 Under 30 list.
Her one-woman boutique creative and marketing agency has created some of the best viral videos for brands like Beats, PUMA, and LEGO. She even starred in the campaign that she created for Beats next to the likes of Nicki Minaj and Kylie Jenner.
If you would like to get a sneak peak into her latest work, you can head over to her Instagram page where she has just over one million followers. In fact, managed to gain more than 100,000 followers in just one day. She explains that some of her success with the platform is because she treats it as a video app instead of a photo-sharing platform.
---
Julian Bass is a viral visual effects star who has caught the attention of the likes of the executive chairman of Disney and Hollywood actors like Matthew Cherry, Casey Neistat, and Zach Braff. In addition to sharing funny videos with impressive visual effects, he also shares editing tutorials.
Most recently he has also landed a new Facebook show, Behind the Screens, that will take a look at visual effects and filmmaking. This new show is part of an initiative by Instagram that's funding productions from some of the biggest TikTok names such as Michael Le.
What's even more impressive about Julian's success story so far is that most of the things that he knows about visual effects and filmmaking are self-taught. In an interview with TIME, he revealed that he has never completed a film class.
---

Kevin Parry is a Toronto-based video creator and stop-motion animator with about 1.3 million Instagram followers. His Instagram Reels is a great example of how you can use informational content to grow your following. While his goal is to promote and sell his animation skills, it's not at the expense of his viewers and has no issue to share his skills and secrets with his followers. For example, in one of his how-to videos, he reveals how he created one of his previous videos in which he turned himself into red balloons. And, it's not just red balloons that he can turn into.
He has a collection of videos in which he turns into a number of everyday objects. From a banana to a pile of snow to a pumpkin, his transformations have audiences mesmerized. This particular clip that's titled "A collection of me turning into random objects" has received more than 415,000 likes to date.
---

If you like the type of content that Kevin Parry posts, you should also check out Zach King's Instagram account, an illusionist and digital creator. While he is one of the biggest social media stars on TikTok, he has also managed to create a huge following on Instagram where he has nearly 25 million followers.
On top of millions of followers on Instagram, his creative work has also landed him a few awards which includes the Hewlett-Packard commercial contest, YouTube's NextUp Creators Contest, and a Streamy Award for Best Visual and Special Effects.
---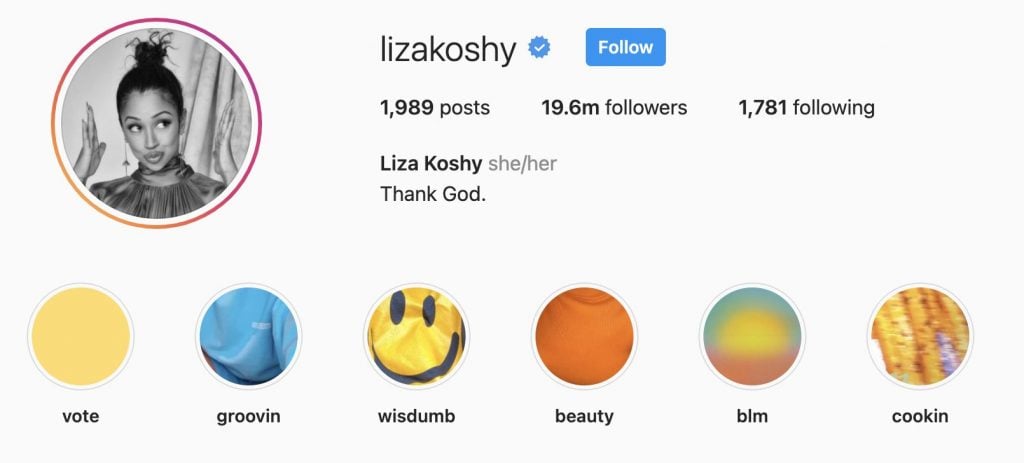 Liza Koshy's online career started on Vine where she shared short comedic videos. When Vine closed down, she turned to YouTube where she had huge success (she even interviewed Barack Obama on her YouTube channel).
YouTube might have played a huge role in launching a career as an actress and TV host, but at the time of writing this article her audience on Instagram where she has nearly 20 million followers is even bigger. However, that's not the social media platform with the most followers. On TikTok, she has just shy of 30 million followers making her one of the top female influencers on TikTok to follow.
As for her Instagram page, we love her bold use of color. After all, what else would you expect of a creator with such a loud personality?
---

Hermon and Heroda are two identical twins with a hearing disability who have taken to social media to help create better representation for and more awareness about the deaf community (and black women). In an interview with Vogue, they've shared that being black and deaf is a "double struggle". That said, they add that to them the problem is not being black and deaf, but the perception that it should be an issue.
In addition to running a very successful Instagram, they also have their own blog, Being Her, which they started in 2016. Here they share their passion for fashion, travel, beauty, lifestyle, and diversity. They also cleverly link their blog back to their shoppable posts on Instagram. So, if you need inspiration for how to make Instagram and fashion merge seamless, be sure to check out their account. In fact, everything about their Instagram account is great examples of how to use the platform. From well-thought-out Instagram highlight covers to well-written captions, there are many best practices that will leave you feeling inspired.
---

For beauty-related content, be sure to check out the Instagram account of James Charles who's regarded as one of the top beauty influencers on social media. Similarly to other creators, it all started for him on YouTube where he shared makeup tutorials. About a year after he started his YouTube channel, he celebrated another major milestone in his career when he became the first male brand ambassador for Cover Girl.
On top of being named as a brand ambassador, he's work has also received a number of awards and nominations. Most recently he won the Kids' Choice Awards for the Favorite Male Social Star and was nominated for a Streamy in the Creator of the Year category.
In addition to creating viral online content, he has also launched a makeup line in partnership with Morphe Cosmetics. His story just shows that content creators can successfully straddle both worlds.
---

While her content is a lot less colorful than that of James Charles, Nikkie de Jager's make-up tutorials that she shares on Instagram have also attracted a huge following. Her career also started on YouTube where she's been sharing make-up tutorials since 2008, though things only really started to happen in 2015.
Apart from her millions of followers on YouTube and Instagram, Nikkie's work has also caught the attention of a number of beauty brands. After collaborating with names like Maybelline, OFRA Cosmetics, and even Lady Gaga, she also launched her own range in partnership with Beauty Bay.
---

Oliver Wong is a photographer and content creator who's currently based in Paris, France. He specializes in travel, landscape, and urban photography and tries to document his travels by means of his photos. His fine eye for detail and perspective has caught the eye of a number of leading brands in the travel, fashion, and tech industries and he has collaborated with a number of leading brands including the likes of L'Oréal Paris, Apple, Club Med, and Air France.
More recently, he has also released his first NFT collection. His "The Shades of Paris" Collection is currently available on OpenSea.
---

For fashion content ideas, Negin Mirsalehi's Instagram page and fashion blog will leave you feeling inspired. As you would expect from one of the most inspirational female Instagram influencers, she also has a brain for business. A few years ago she actually turned down a six-figure offer for a brand ambassadorship with one of the leading haircare brands because she planned to start her own brand.
And the risk paid off. Not only has her brand Gisou generated millions in sales, but she's also been featured in Forbes 30 Under 30 list. In addition to her own line that's available at Sephora, she also generates a pretty sum for her Instagram content. According to Forbes, she makes about $20,000 per sponsored Instagram post.
---

Julie is another fashion blogger who's enjoying huge success on Instagram. On her blog, Sincerely Jules, that she launched more than 10 years ago she posts about her outfits, travels, and favorite products. She also shares beauty tips and tricks, like how to pull off tie dye and what to wear to a museum. So, you don't need to be an influencer to find her blog posts valuable.
She's equally busy on Instagram where she has shared more than 7,600 posts already. And, on top of that, she has her own clothing line and works as an influencer for some of the leading international fashion brands. She, for example, started a collaboration with Billabong which turned out to be one of the biggest and most successful partnerships in the brand's history.
---

According to its Instagram bio, VladTV is the "world's leading source of celebrity interviews and news". While it might not have as many followers compared to many of the other content creators on our list, VladTV probably has the biggest collection of posts – more than 57,5000 posts at the time of writing this article.
The video creator behind the account is DJ Vlad (formally known as Vlad Lyubovny). In addition to the Instagram account, he also runs a YouTube channel with nearly five millions subscribers, djvlad, where you can find more interviews with musicians and entertainers.
---

Tina describes herself as a lifestyle content creator and blogger. She mainly shares in-depth reviews, tips, and suggestions based on her own experiences. What we love about her content is that it shows that the only place where size counts is when it comes to your following. On Instagram, she has nearly 630,000 followers as of March 2022.
In addition to Instagram, she also shares more content on OnlyFans, if you're searching for a different kind of content. Alternatively, you can also support her work via Patreon.
---

Comedic content isn't usually associated with Instagram. Though, Rickey Thompson proves that comedy content creators can also have success via Instagram. At the time of writing this article, he has uploaded more than 2,500 posts and has over five million followers.
On top of Instagram, he also starred in a YouTube Red series, Foursome, as Dakota Green along with other well-known names like Logan Paul. Most recently, he was also chosen to be the face in the latest campaign of Benefit Cosmetics. He described this collaboration as a "modern fairy tale that encourages self-love and confidence".
---

Like so many of the other creators who have built a substantial following on Instagram, Casper Lee's career started on YouTube. On his YouTube channel he shared a wide range of videos that included interviews with celebs, sketches, and simply musings from his own life.
The success that he has enjoyed as an entertainer has helped him to co-found a number of companies. He, for example, co-foundedCreator Collective Capital, a VC fund that invests in startups.
All his hard work has paid off and has landed him a spot in the Forbes 30 Under 30 list and 2.4 million followers on Instagram.