Marketing is all about psychology—finding out what resonates with people and why, and then using that to your brand's advantage.
And one type of marketing psychology is social proof.
Social proof is a great marketing technique for increasing trust in your potential customers. Let's take a look at an example.
Let's say a customer is looking at two different products. One has pages of reviews while the other only has a couple. The product with more reviews is automatically more trustworthy and is likely to be purchased over the product with fewer reviews.
However, social proof can also present in a number of other ways throughout your marketing strategy. Let's dive into what exactly social proof is, the psychology behind it, and how to use social proof in marketing.
---
The Psychology of Social Proof Marketing:
---
What is Social Proof?
Social proof is a type of psychology where people have the tendency to copy the actions of others. When pertaining to marketing, it's the idea that people tend to purchase products that others have purchased.
You'll see social proof everywhere—and your brand has likely used it before, even if you didn't realize.
Social proof comes in the form of reviews, ratings, testimonials, case studies, and so much more. To show you just how you can use social proof in your marketing strategy, let's dig a little deeper into the different types.
---
12 Types of Social Proof in Marketing
91% of consumers read reviews before making a purchase or signing up for a service. And reviews are just one type of social proof. So it just goes to show how important having some type of social proof for future customers is.
There are a number of different types of social proof, each of which can be used in different ways and for different industries.
For example, a B2B organization is going to benefit from case studies much more than an ecommerce company. But that doesn't mean they're any less important.
We're going to cover 12 popular types of social proof that you can use within your marketing strategy.
1. Testimonials and Reviews
One of the most basic types of social proof includes the testimonials and reviews that your customers leave you. These can be aggregated on your product pages, review sites, or social media.
For example, we see a list of over 100 product reviews on boutique furniture retailer Edloe Finch's product pages, helping customers to feel more confident in their purchases.
As another example, we see how marketing agency LYFE Marketing includes testimonials from clients right on their website's home page.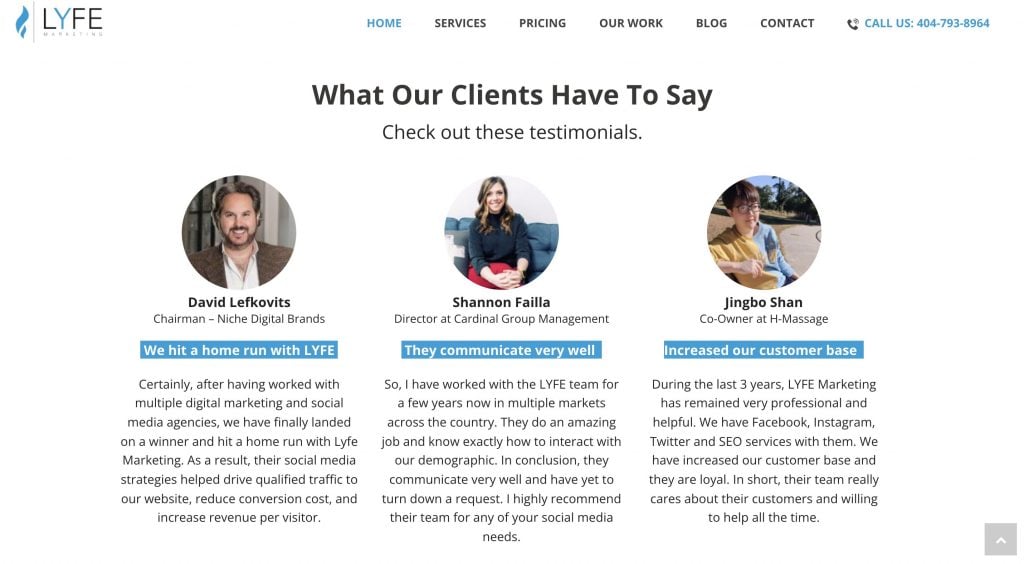 This is a great way to be upfront with potential new customers on how well your business has done with past clientele. Having this information right on your home page, landing pages, or product pages can put potential customers at ease about working with your business.
---
2. Case Studies
As mentioned, case studies are a big selling point for B2B organizations—but not so much B2C or ecommerce brands.
So if you're marketing for a B2B brand, keep case studies top of mind. They're a fantastic piece of sales enablement content that can showcase your biggest success stories and get potential clients excited about working with you.
Case studies or customer stories share narratives about a client's pain points before they came to a brand for a solution, helping similar companies see their potential results before ever signing a contract.
Here, we see Help Scout's customer success stories, each with its own main point. One company achieved a 95% CSAT score while another reduced its workload by 50%.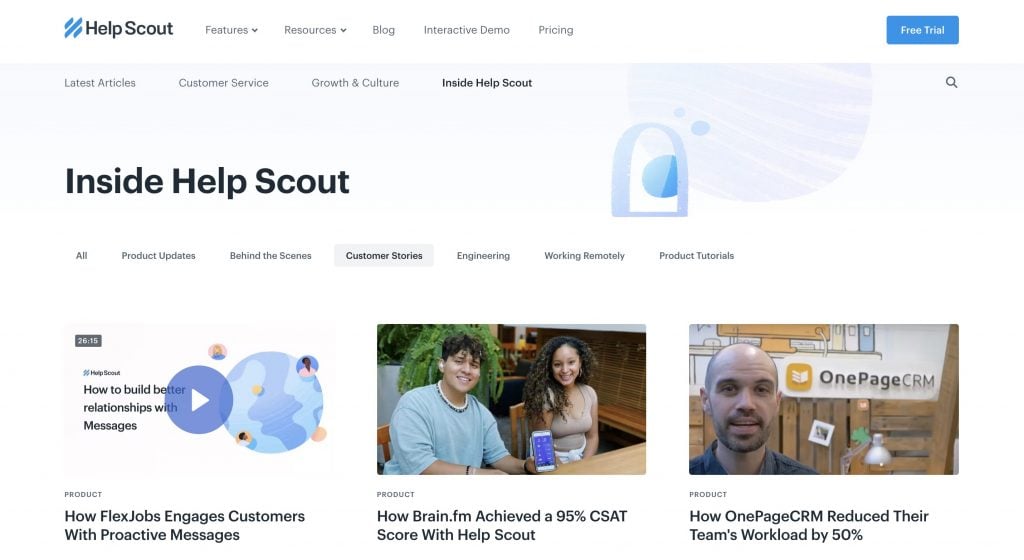 Case studies help potential clients learn if your company can resolve its main problems or not. These can be published as a blog post, PDF document, or one-sheeter, depending on how much information you want to share.
---
3. Well-Known Clients/Customers
Another great type of social proof is putting your well-known clients/customers front and center. Get permission from some of the bigger brands who've bought from or worked with your company to help others feel more confident.
In this example, we see Iron Roots sharing the big-name brands that trust them right on their home page.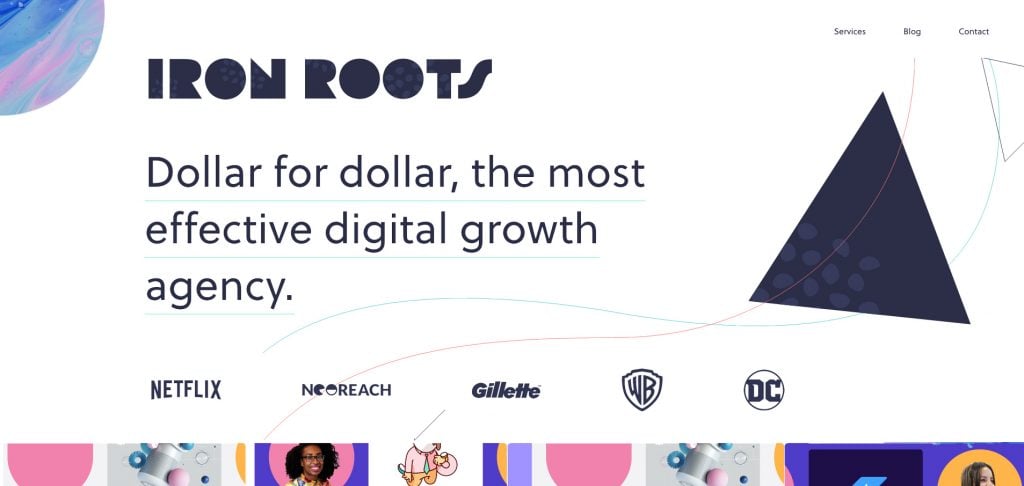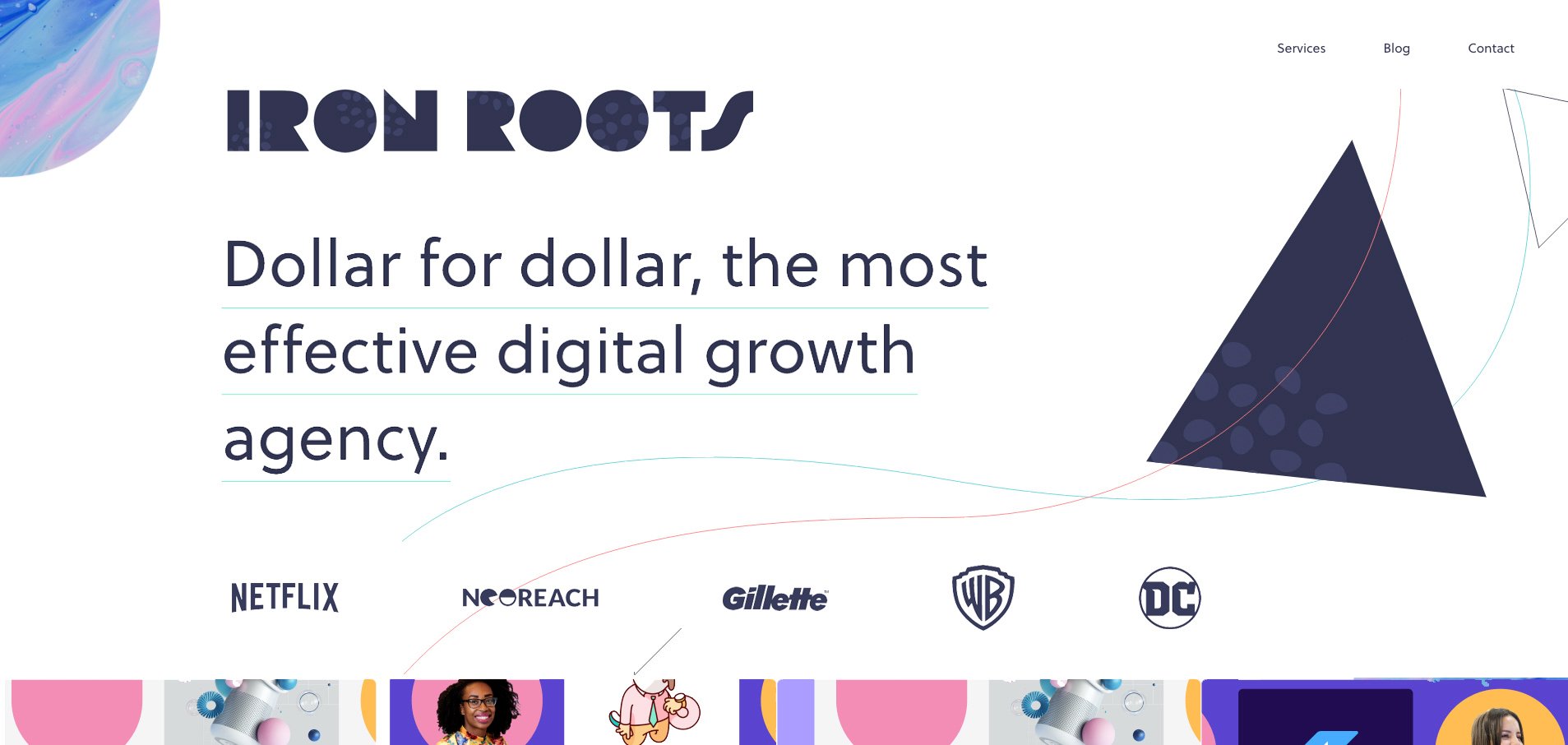 Including this information on your main pages is a great form of social proof. After all, if a brand like Netflix trusts you, who shouldn't?
---
4. Milestones
Another great example of social proof is sharing your company's major milestones. Not only is this the perfect strategy for showing potential customers how many other people buy from or follow you, but it's also a fun piece of social content to celebrate.
This could be something like:
Making it to X social media followers

Growing to X YouTube subscribers

Reaching X users or customers

Hitting X app downloads

Selling X products
Another option is to display the number of customers or users you have right on your website. ConvertKit shares how many users they have, while also taking it a step further and sharing how many email subscribers their users have.

---
5. Influencer Marketing
Influencer marketing is a great way for businesses to demonstrate social proof. Influencers on Instagram and TikTok tend to have large followings—or at least, even if they're micro-influencers, they have dedicated and engaged followings.
In this case, we see a #sakspartner post from Instagram influencer Julia Berolzheimer:
When social media users see their favorite influencers buying and using products and services, they become more interested in those products and services.
Not only are these brands increasing their reach to wider audiences, but they're reaching audiences that are likely their exact target market.
---
6. User-Generated Content
User-generated content (UGC) is beneficial for creating a robust content calendar and for improving your overall social proof. UGC is content that you're able to share online that has been originally created by your customers.
This is more of a B2C social proof benefit, but it can be a great way to pique your followers' interest. When they see you share content that your customers have posted about their purchases, it increases the likelihood that they'll make their own purchase.
Take a look at this example from The Sill.
By sharing a photo of a product that one of their own customers has styled and shared, they're improving the odds that a follower will see it and decide to buy.
---
7. Customer Recognition
If your brand receives a lot of accolades, recognition, or shout-outs online, consider re-sharing them onto your own page as a form of social proof. This shows followers—and potential customers—that your brand has happy customers, making them more likely to buy or sign up.
Here's an example from Asana. One of their users tweeted out a positive experience with the project management tool, and they retweeted it so their followers could see for themselves.
One of my fave things about @asana is the little animations and illustrations when you complete something. I enjoy sending them for a job well done and seeing this one in particular! #FridayGoals pic.twitter.com/wpTukxYfLl

— Scott Gillard (@scoalegil) January 21, 2022
Slack provides us with another tactic for showcasing love for your brand. Instead of cluttering their main feed with all of the shout-outs their brand receives, they've created a separate @SlackLove Twitter account that houses all of their customer recognition retweets.
---
8. Social Media Verification
Another way to show that your business is legit is by getting that big blue check. Brands can get verified on nearly every platform: Facebook, Twitter, Instagram, TikTok, LinkedIn, and YouTube.
Having that additional verification helps potential customers trust you more and see you as a more legitimate brand.
Take a look at Anthropologie on Twitter:
The verification check appears next to your brand name at all times, adding that extra comfort to anyone considering buying from your business.
---
9. Awards and Accolades
Showcasing awards and accolades that your business has earned can also provide you with social proof. There are a number of different business awards you can earn or top business roundups you can get into, often with badges to place on your company website.
Take a look at how Visme shows off their awards and accolades right on their home page.
Other brands will choose to show these off in their website footer. It's a great way to let website visitors know right off the bat that you're a trustworthy brand to work with.
---
10. Integrations
Integrations are a slightly less obvious form of social proof, but they can still work wonders for your business. This is because the more businesses that work with your brand, the more robust and trustworthy your brand seems. (Not to mention that it becomes even easier to work with you if your service is compatible with software a team is already using.)
Leadpages (and many other SaaS tools) has an entire database dedicated to its available integrations, making it easy for potential customers to sift through the many available options.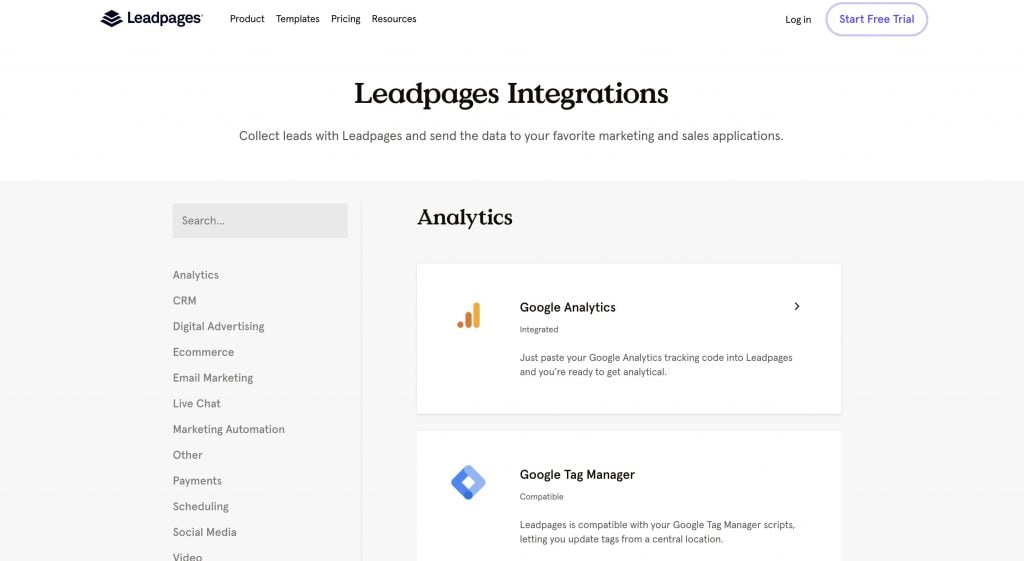 Another great way to get more out of your integrations is by sharing them on social media.
Here's an example of a design app announcing a brand new integration available with its service:
Fantastic news! 📢
Now you can extract actionable and valuable insights from your prototypes with remote user testing, using @useberryhq new integration with ProtoPie.
Find more 👉 https://t.co/0oxNpsiPOr pic.twitter.com/4wYIiYbtce

— ProtoPie 🥧 (@ProtoPieApp) January 17, 2022
But you can also share quick how-to's on how your various integrations work, ways to get the most out of the integrations, or just highlighting available integrations—even when they're not new.
---
11. Press Coverage
Has your business been mentioned in the news? That in itself is major social proof. Sharing it on your website and social media profiles is a great way to let people know that you're a "big deal."
Take a look at how Casper shares their press coverage on their website: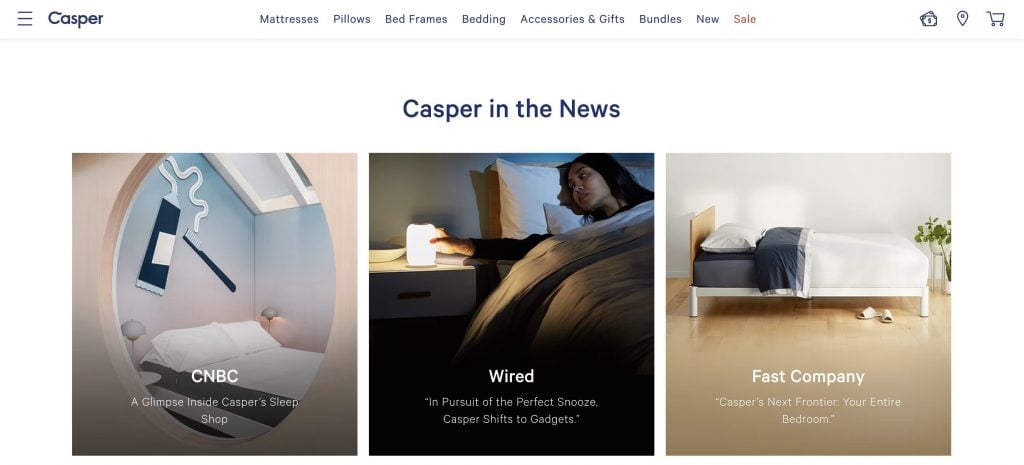 Their press page includes a few top articles, online reviews, and a roundup of all press mentions they've received. Seeing people talk about your brand is a great way to entice more people to become paying customers.
When you're first starting out, you may need to solicit press coverage by pitching publications and sending out press releases. But after your business grows, you may realize that you're being mentioned in more and more articles, giving yourself a healthy list of press coverage to showcase.
---
12. Collaborations
Collaborations and partnerships are another way to get social proof for your brand. When potential customers see you working with another business, an influencer or thought leader in the industry, or a popular expert, they start to trust your brand more.
CoSchedule has a podcast called the Actionable Marketing Podcast. In it, they interview different experts to provide insights for their audience.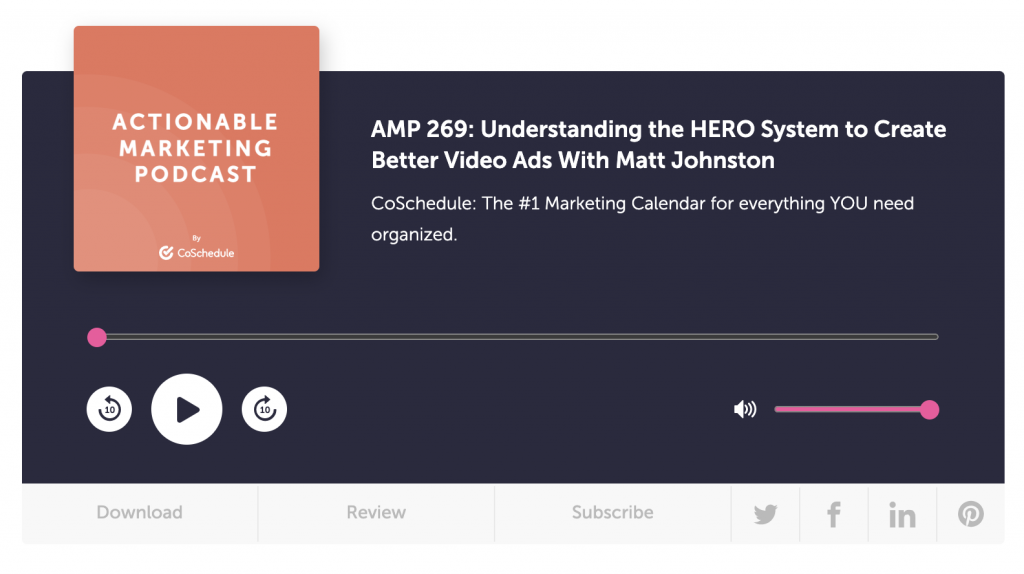 Doing so helps solidify them as a trustworthy resource in their industry, helping potential customers to feel better about signing up for their service.
---
How to Get Social Proof
If you've already got at least one of these 12 types of social proof, it's time to put it to good use. But if not, you might be wondering how to get social proof. You know you have some happy customers; you just need a few testimonials or case studies to really back you up.
Here are a few ways to start generating social proof.
---
Ask
Again, if you know you have happy customers, why not just ask them for a testimonial or an interview? Not everyone will say yes, but you'll likely find someone who'd be thrilled to help out.
---
Give away your product or service for free
When you're just starting it, giving out free product can be a great way to get feedback, even before you've made your first sale.
---
Provide incentives for reviews
Run promotions that get your customers entry into a contest or giveaway if they review your business. Or offer a gift card to the first X people who review your business or product.
---
Send out press releases
Have a big launch coming up? Send out press releases to see if you can get any publications to write up a piece about it. Boom, press coverage.
---
Work with influencers
As mentioned, influencer marketing is a great way to get social proof. Start reaching out to micro-influencers who might be interested in promoting your brand for a small fee or even a free product.
---
Showcase your best numbers
Sold X products? Reached X users or $X in revenue? Share that! That information in itself can be great social proof for your brand.
Put together any social proof you can get to publish on your website or on social media. This way, it can reach your audience and help anyone on the fence about your business to bite the bullet and click that "check out" or "sign up" button.
---
Conclusion
Social proof is an essential part of any marketing strategy. Whether you work to increase your review and testimonials or you showcase success stories and major milestones, promoting happy customers can help to increase trust and confidence in your business. And in turn, that can lead to a wider customer base and increased revenue.
Incorporate different forms of social proof into your marketing strategy. Share it on your website, in email newsletters, and on social media to make sure that every audience becomes more comfortable with your business.