Social commerce occurs when you use social platforms, such as Facebook, Instagram, Twitter, or perhaps most commonly WeChat, to buy and sell goods and services. Social commerce seeks to engage online shoppers by offering expert product advice and support.
Social commerce has grown dramatically over the last few years but is particularly strong in China. It has been helped by the popular Chinese messaging app, WeChat, encouraging the activity. Also, social commerce's success in China shouldn't surprise, when according to 2020 estimates, over 46 percent of internet users in China were expected to make at least one purchase through social networks in 2021. The United States has the second largest social eCommerce adoption rate, at 36 percent of internet users. WeChat Pay is China's most popular payment platform, with nearly 1.25 billion active monthly users.
Social commerce recognizes that social media is inherently social, so you can use groups, forums, and communities to research products and compare notes about online shopping experiences. Related to this is "conversational commerce," as coined by Uber's Chris Messina. In 2015, Messina predicted that messaging apps like Facebook Messenger and WhatsApp would facilitate online sales in a more convenient, conversational manner. This enables consumers to interact with brands in real-time.
Although it is still relatively early days for social commerce (and conversational commerce), we have collected some stats relating to the activity.
---
30 Social Commerce Statistics - Users, Revenue & Usage Stats :
---
1. Retail Social Commerce Sales in the USA Were $26.97 Billion in 2020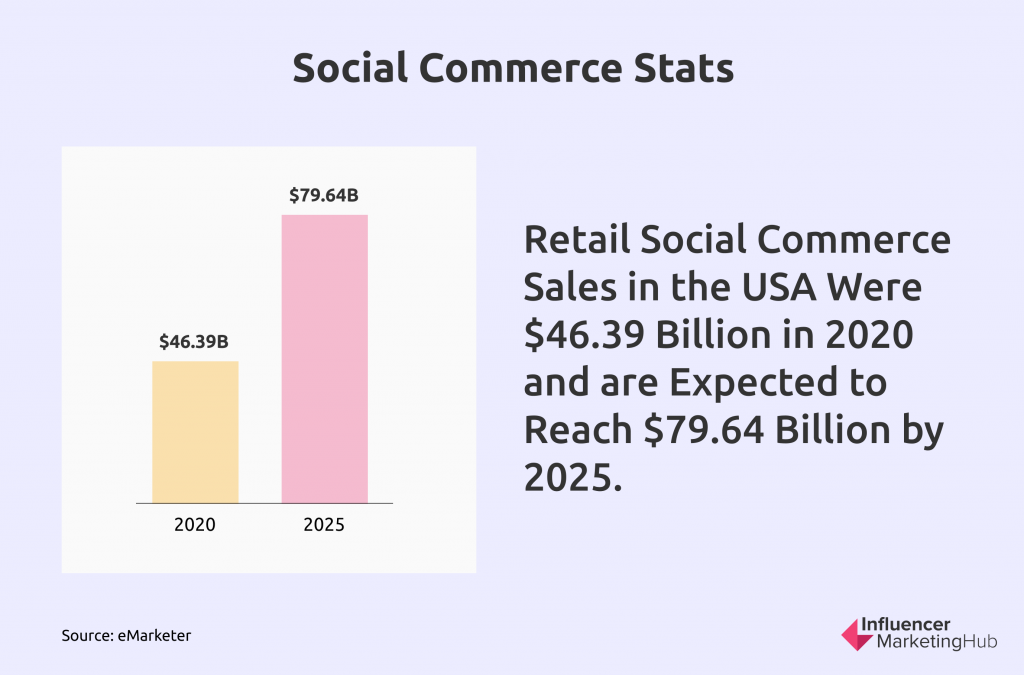 In May 2021, eMarketer released figures indicating how they expected retail social commerce sales in the USA to move over the next few years. They included 2019 figures as a benchmark. At this stage, total retail social commerce sales in the United States were $19.42 billion. They rose 38.9% throughout 2020, probably a sign of changed shopping habits brought on by Covid.
eMarketer expects the rate of growth in social commerce use to drop back from that 2020 peak. However, they nonetheless expect solid growth over the next five years, reaching $79.64 billion by 2025.
---
2. More Than Half of US Social Media Users Aged 18 to 24 Have Made Purchases Via a Social Channel
Statista collected data on US social network users (14+) who have made at least one purchase via any social channel. They found that it is particularly prevalent among users aged 18-24 (55.5%). The next most active users of social commerce are 25–34-year-olds (48.7%), 14–17-year-olds (47.5%), 35–44-year-olds (44.3%), 45-54 year-olds (39.2%), 55-64 year-olds (37.5%), and 65+ year-olds (34.3%). While older people use social commerce least, the fact that more than 1/3 of all over 65-year-olds made social commerce transactions last year is notable.
---
3. Retail Social Commerce Sales in China Expected to Rise to $351.65 Billion in 2021
eMarketer also reported that retail social commerce sales in China in 2019 were $186.04 billion, rising to $251.76 billion in 2020. They expect substantial growth in retail social eCommerce sales to continue in China, even despite the effects of COVID. eMarketer sees social eCommerce sales in China rising consistently each year. Their prediction for 2021 is that social eCommerce sales in China will be $351.65 billion (compared to $36.62 billion for the US).
---
4. Social Commerce Made Up 11.7% of Total Chinese Retail eCommerce Sales in 2020
Social commerce penetration is growing each year, and it is particularly strong in China. Back in 2017 social commerce made up 6.0% of total retail eCommerce sales in China, rising to 7.7% in 2018, 10.3% in 2019, and 11.7% in 2020. eMarketer expects it to increase to 13.1% in 2021, 13.9% in 2022, and 14.3% in 2023.
US social commerce sales make a considerably smaller percentage of total eCommerce sales but still show an upwards trend. Statistics for the US are: 2.7% in 2017, 3.0% in 2018, 3.2% in 2019, 3.4% in 2020, 4.3% in 2021, 4.6% in 2022, and 4.9% in 2023.
---
5. 446.8 Million Social Buyers Predicted For China in 2023
eMarketer expects relatively rapid growth in social commerce in China. They expect the number of social buyers in China to increase by 30.6% in 2020, 33.5% in 2021, 35.7% in 2022, and 37.9% in 2023. This will bring the total number of social buyers in China in 2023 to 446.8 million.
---
6. Facebook Top Social Commerce Platform in the US
eMarketer also found that Facebook is the top social commerce platform in the US, with a forecast of 56.1 million buyers in 2021. Facebook launched Facebook Shops in 2020 to help small- and medium-sized businesses bring their storefronts online.
eMarketer also forecasts that Instagram will have 32.4 million social commerce buyers in 2021, and Pinterest will have 13.9 million.
---
7. Total Number of WeChat Mini Programs is 3.2 Million
Much of the boost in social commerce in China is due to the development of WeChat Mini Program stores. WeChat Mini Programs are "sub-applications" within WeChat, China's most popular messaging app with 1.24 billion monthly users.
WeChat Mini Programs offer users advanced features, such as eCommerce, task management, coupons, etc.
There are now 3.2 million WeChat Mini Programs
---
8. 6 out of 10 WeChat users use Mini-programs
Daxue Consulting data shows that there were 1.20 billion monthly active users of WeChat in June 2020, and 6 out of 10 WeChat users use mini-programs. More recent Tencent data shows that the number of WeChat users has risen to 1.24 billion in 2021.
---
9. Total Transaction Value Generated by Tencent's WeChat Mini Program in 2020 Was More Than $250 Billion
The owner of WeChat is Tencent, a Chinese multinational technology conglomerate holding company. Tencent reported in its annual report that the total transaction value generated by its Mini Programs in 2020 was 1.6 trillion yuan (close to $US250 billion).
---
10. eCommerce Mini Program Store, Pinduoduo has 738.5 Million Users in 2021
One successful store with a WeChat Mini Program store is Pinduoduo. They are even more "social" than just a store on a social app. They use a group buying model, and the more friends somebody brings in, the higher the discount Pinduoduo gives them.
Pinduoduo is the largest agriculture-focused technology platform in China, and its platform connects farmers and distributors with consumers directly through its interactive shopping experience. In 2019, nearly 12 million farmers supplied their fruits and vegetables to Pinduoduo users. This is despite Pinduoduo changing its model in 2017 to provide online marketplace services to third-party merchants across more categories.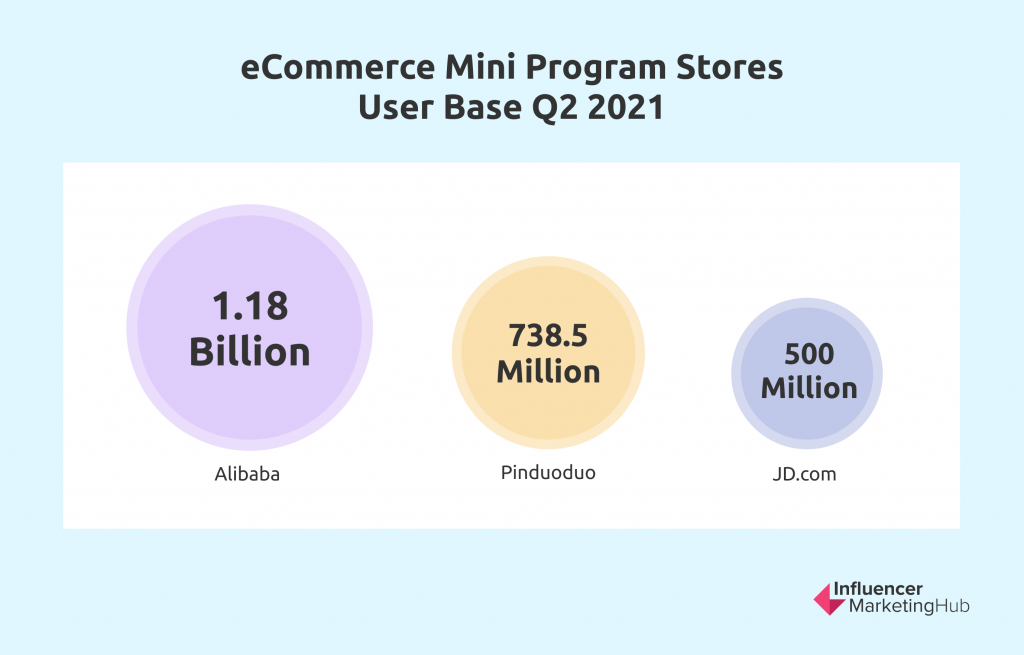 Pinduoduo has experienced tremendous growth, in large part due to its social commerce business model. Its market share has grown noticeably since 2018, from a 2.5% market share of total Chinese eCommerce in 2017 to 13.2% in 2021. Their user base has risen alongside this, reaching 738.5 million in Q2 2021, up 30% in a year from Q2 2020s 568.8 million. By comparison, JD.com has a user base of 500 million, and Alibaba has a user base of 1.18 billion.
---
11. Pinduoduo Saw Revenues Nearly Double During 2020
Pinduoduo has grown to become China's third-largest eCommerce player less than five years since its founding. It earns money from "online marketplace services," which are effectively commissions from sales made through its Mini Program store. Revenues reached CNY 59.492 billion in the year ending Dec 21, 2020. This compares with annual revenues of CNY 30.141 billion in 2019, itself a 129.7% increase from 2018's CNY 13.119 billion.
Despite its high levels of revenue, Pinduoduo only became profitable in 2021. In the three months to June 30, 2021, it reported a net income of 2.41 billion yuan compared with a net loss of 899.3 million yuan a year previously. Total revenue for that quarter was CNY 23.046 billion (compared to CNY 12.193 billion in Q2 2020).
---
12. 60% of People Say They Discover New Products on Instagram
Instagram has released a few statistics supporting why people should consider Instagram for social commerce and eCommerce. An Instagram user survey discovered that 60% of people say they find out about new products on Instagram.
---
13. 62% of People Say They Become More Interested in Products They See in Stories
Facebook and Instagram Stories are clearly valuable ways to build brand awareness. A Facebook survey showed that 62% of the respondents surveyed said they have become more interested in a brand or product after seeing it in Stories.
---
14. 130 Million Instagrammers Tap on Shopping Posts Every Month
Instagram internal data from 2019 shows that 130 million accounts tap on shopping posts to learn more about products every month. So, shopping posts have clearly proved popular on Instagram.
---
15. 200 Million+ Instagrammers Visit at Least One Business Profile Daily
Instagram internal data also shows that more than 200 million Instagrammers visit at least one business profile daily.
---
16. 30% of Online Shoppers Say They Would be Likely to Make a Purchase Through Social Media
BigCommerce is a major eCommerce platform. They recently wrote about how social commerce is likely to be an important way to increase your eCommerce channel. This article observed that 30% of online shoppers say they would likely purchase from a social media network like Facebook, Pinterest, Instagram, Twitter, or Snapchat. Clearly, social commerce is now becoming much more acceptable.
---
17. 400,000 Active Chatbots on Facebook Messenger
Larry Kim has written about how chatbots offer immense potential for businesses. Kim's article on MobileMonkey stated there were 400,000 active chatbots on Facebook's Messenger. A Facebook survey indicated that more than half (53%) of customers say they're more likely to shop with a business they can connect with via chat.
---
18. Internet Users Spent an Average of 147 Minutes Per Day on Social Networking in 2021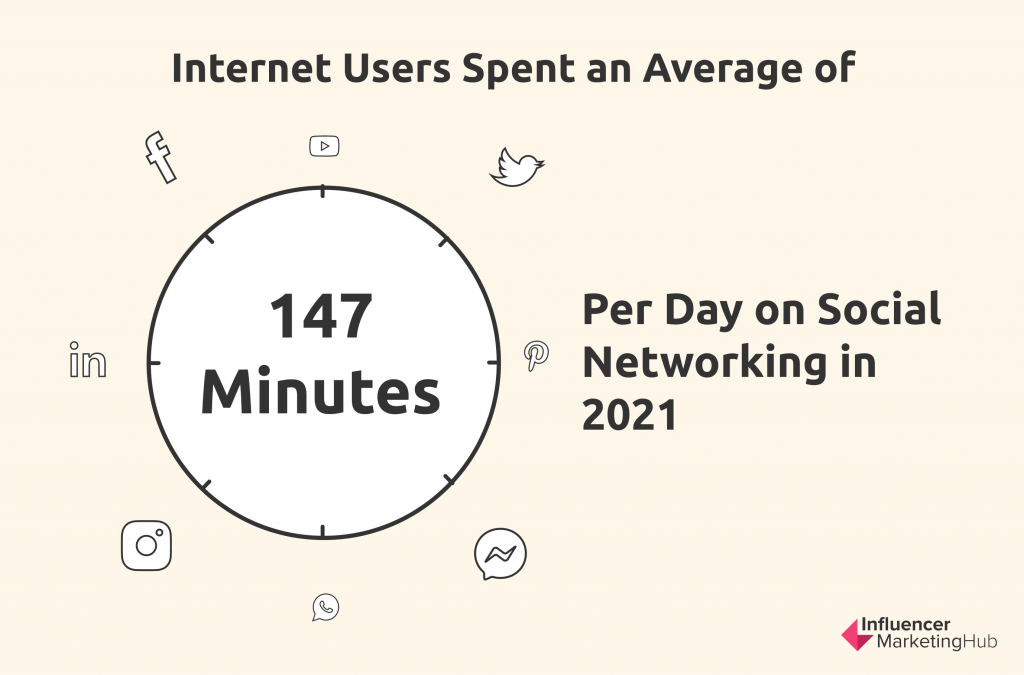 Although up slightly on 2019 figures (when internet users spent an average of 144 minutes per day on social networking, 2021's 147 minutes per day is surprisingly close, considering all the time spent at home in lockdown for many. As the world has reopened, it appears that we are moving back to our pre-Covid social use.
---
19. US Users Average 33 Minutes Per Day on Facebook
eMarketer updated their forecasts in Q1 2021 on how much time US social network users will spend on social platforms, based on their activity in 2020. They forecast that US social network users will spend slightly less time on social platforms in 2021 than in 2020.
Studies show that the daily time an average person in the USA spends on Facebook is 33 minutes. They believe that except for Snapchat, daily time spent among US adult users on every social network will dip in 2021 but remain higher than in 2019, pre-Covid.
All the numbers in this section of this post are different from previous editions, where the data came from a different source and looked at global usage rather than the US.
According to eMarketer, people's time on Facebook fell from an average of 39 minutes per day in 2017 to 33% in 2019. Thanks to the pandemic, it rose to 35 minutes in 2020, but eMarketer believes it will return to 33 minutes in 2021 and 2022.
---
20. US Users Average 33 Minutes Per Day on Twitter
Although actual US usage figures for 2020 are the same for Twitter and Facebook, at 33 minutes per day, the two social apps show a very different usage pattern. People spent just 23 minutes per day on Twitter in 2017 and 2018 before rising to 26 minutes in 2019. Covid clearly gave people extra time to read and compose tweets, increasing usage to an average of 33 minutes in 2020. eMarketer predicts a slight drop in 2021 (31%), where it will remain for 2022.
This statistic is notably different from the SimilarWeb data we quoted in previous versions of this article. SimilarWeb stated that the average Twitter user only spent one-minute tweeting and reading others' tweets.
---
21. US Users Average 33 Minutes Per Day on TikTok
TikTok usage in the US follows a surprisingly similar pattern to Twitter, although the audiences for the two networks are very different. With TikTok being newer, it only comes into eMarketer's data in 2018, when the average US user spent 22 minutes on the platform. This increased to 25 minutes in 2019 and then 33 minutes in 2020. With the world gradually returning to pre-Covid times, with fewer lockdowns, eMarketer expects daily TikTok usage to fall slightly to 32 minutes in 2021 and 31 in 2022.
---
22. US Users Average 30 Minutes Per Day on Instagram
Instagram usage in the US also follows a similar pattern to Twitter and TikTok. US Instagram users average 25 minutes per day in 2017, increasing slightly to 26 minutes in 2018 and 2019. Locked down Instagrammers then increased their usage of the app to 30 minutes per day in 2020. eMarketer expects daily Instagram usage to fall slightly to 29 minutes in both 2021 and 2022.
---
23. US Users Average 30 Minutes Per Day on Snapchat
Snapchat users are closer to those using TikTok, being much younger on average than the users of Facebook and Twitter. Of course, many will also use Instagram, but that app also appeals to older age groups nowadays.
The typical US Snapchat user (at least those aged 18+ as surveyed by eMarketer) used their Snapchat accounts on average for 16 minutes per day during 2017, 2018, and 2019. However, like all social networks, Snapchat usage rose slightly in 2020 to 28 minutes per day. Despite the world freeing up somewhat now, eMarketer expects Snapchat users to continue that 28 minutes per day pattern through 2021 and 2022.
---
24. Most People Use the Internet for Social Purposes
We Are Social reported GWI data on the types of websites visited and apps used. The most common types in Q2 2021 were social networks (95.8%) and chat and messaging platforms (95.5%). Search engines come in the third position, used by 83.4% of the respondents, followed by shopping, auction, or classifieds (58.2%).
---
25. Nearly 1/3 of Internet Users in China Use Voice Assistants
According to GWI data, 32% of Chinese internet users aged 16 to 64 used a voice assistant to find information in the week before they were surveyed. This compares to a global average of 23.9%.
Indians are also comparatively high users of voice assistants, with 31.8% using them.
---
26. More Than 1 in 4 Internet Users Use Social Media to Find Products to Purchase
GWI asked global internet users about their reasons for using social media. Staying in touch with friends and family predictably topped this, being the main reason for 48% of the respondents. However, notably, 26.2% stated they used social media to find products to purchase. In addition, 27.7% use it to find inspiration for things to do and buy, and 22.7% like to see content from their favorite brands. Unfortunately, we don't yet have figures for those who choose to come on social media to purchase products.
---
27. 22.9% Follow Companies and Brands Whom They Have Purchased From
GWI then asked about the types of social media accounts their respondents followed. Unsurprisingly the most popular category was friends, family, or other people you know (45.3%). However, there was quite an interest shown for brands, with 22.9% following companies and brands they had purchased from and 21.3% following companies that they were considering purchasing from.
---
28. 72% Use a Social Media Platform to Research Brands
If you widen the definition of "social media platform," a massive 72% claim to use some kind of social media platform for research.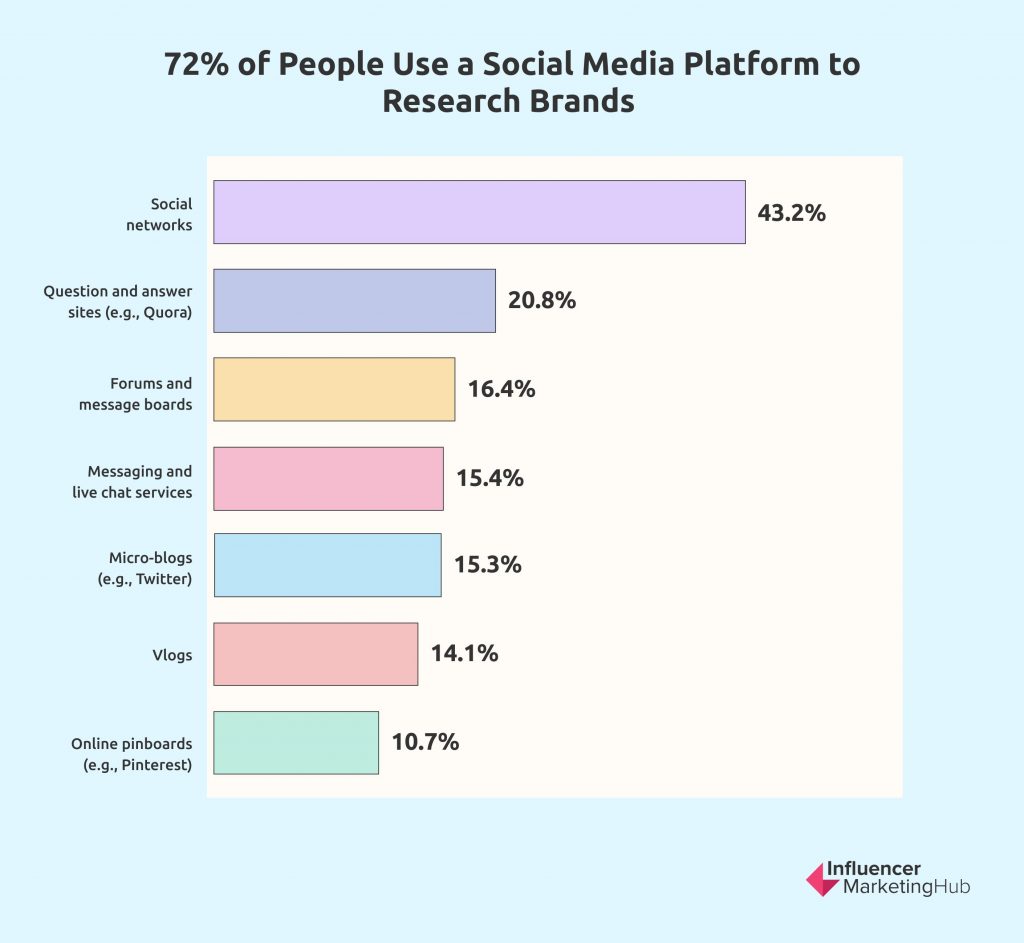 If we split this down by types of social platform, we find the percentage of global internet users who use the different types of social media to research brands are:
Social networks 43.2%

Question and answer sites (e.g., Quora) 20.8%

Forums and message boards 16.4%

Messaging and live chat services 15.4%

Micro-blogs (e.g., Twitter) 15.3%

Vlogs 14.1%

Online pinboards (e.g., Pinterest) 10.7%
---
29. An Additional 12% of eCommerce Companies Planned to Sell on Social Media in 2021
A global October 2020 survey of eCommerce decision-makers revealed that 12% of eCommerce companies planned on selling directly through social media platforms in 2021. Additionally, 30% of eCommerce companies reported that they were already selling on social media.
---
30. Usage of Pinterest Shopping Tools Surged by 350% in 2020
Pinterest was one of the first social platforms to recognize the potential of social commerce. Creators can now disclose paid partnerships and add tags to featured products in the platform's product catalog. When a user clicks on a tag, they will go to the product listing page on Pinterest and find a link to purchase on the original brand or retailer's site. 87% of users searching for beauty terms actively consider beauty and personal care products to purchase.
There was a massive 350% increase in the usage of Pinterest shopping tools in 2020.
Sources
Note: Where we have used statistics found on multiple pages of a site, we have linked to just one.
Frequently Asked Questions
What is social commerce?
Social commerce happens when you use social network platforms such as Facebook, Twitter, Instagram and, perhaps even, WeChat (a popular Chinese messaging app) to buy and sell services and goods. It aims to engage online shoppers by offering expert product advice and support. It has grown a lot over the last couple of years and is particularly strong in China where the retail social commerce sales added up to $186.04 billion. In the US, retail social commerce sales were only $19.42 billion.
What is Pinduoduo?
Pinduoduo is a successful store with a WeChat Mini Program store. What makes them unique is that they use a group buying model. The more friends you bring in, the more discount Pinduoduo will give you. The store has experienced significant growth to become the third biggest e-commerce player in China. In 2019, it had more than 585 million users.
How much time do people spend on average on social networking?
In total, the average person spent 144 minutes per day on social networking in 2019. This was an increase of an hour per day (62.5%) in seven years. That being said, the time spent differs significantly from country to county. Though, surprisingly, people from poorer parts of the world like Africa and South America spent the most time on social networking (averaging more than three hours per day).
On which social network do people spend the most time?
According to studies, on average, people spend the most time on Facebook. SimilarWeb studies show that the time an average person spends on Facebook per day is 58 minutes. This is followed by Instagram with people spending an average of 53 minutes per day on this platform. YouTube is in third place with users averaging 40 minutes per day.
What are the most important social channels for B2B research?
According to a work survey completed by We Are Social / GlobalWebIndex, YouTube and Facebook are used the most by B2B decision makers when researching new services or products to buy. Other important social media networks for B2B research are WhatsApp, Instagram and LinkedIn. While B2B decision makers still prefer to contact suppliers via email, 23.3% prefer to reach out to them by means of social media.