You're scrolling through Instagram, liking photos of your loved ones, and enjoying content from celebrities and influencers you follow. Somewhere along the way, you come across a sponsored post from a tech brand showcasing a desk set-up with a stunning, multicolored keyboard that you know would be perfect for your home office.
Thankfully, the image includes a "View Products" tag that directs you to the keyboard's product page. You choose the color you want, press "Buy Now," and you've completed a transaction through the app in minutes. Without batting an eye, you go back to scrolling through your Instagram feed.
You may or may not realize it, but you have just completed social shopping.
---
Social Shopping An Amalgam of Social Media and eCommerce:
---
Social Shopping in a Nutshell
The simplest way to describe social shopping is this: social media + eCommerce = social shopping. Like the example above, social shopping is a retail experience shared on a social platform with a network of friends and contacts. The premise is that the customer is influenced by their friends' and followers' purchases and recommendations on social media.
With strategies like group buying, messaging, and interactive content, social platforms simulate the in-person experience of shopping in brick-and-mortar shops. Social shopping unifies a consumer's interactions with a brand from discovery to engagement to actual purchase. It's a clever way to meet potential customers and turn browsers into buyers.
Since social buying directs commerce to social media, it negates the need for a middleman, which is common on eCommerce sites. But social shopping is not only about buying—it's also about immersing products and services in the social media experience by inspiring users to share, like, and promote them on various online channels.
---
Social Shopping Marketing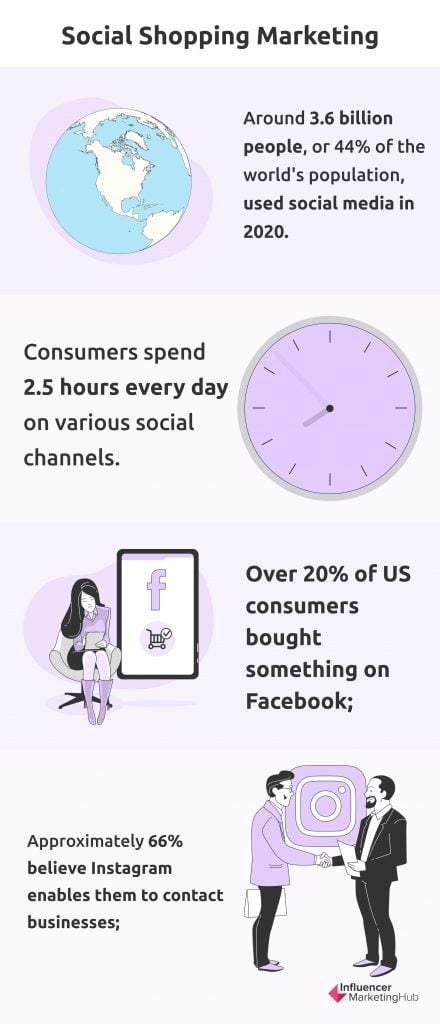 Our world is now a social planet. Around 3.6 billion people, or 44% of the world's population, used social media in 2020. Consumers spend 2.5 hours every day on various social channels. According to this report, over 20% of US consumers bought something on Facebook; approximately 66% believe Instagram enables them to contact businesses; and Twitter's annual revenue is derived mainly from advertising. Considering these figures, brands that misuse social media are squandering tremendous opportunities.
Many individuals use social networking sites for information, entertainment, and conversation. Now, add commerce to the mix. People want to obtain products and services based on trusted recommendations. This may include family, friends, communities, and social media influencers. They want to be well-informed, engaged, confident, and satisfied in their buying decision. Social shopping satisfies these needs by enriching the buying experience that encourages exploration, allows personalization, and builds trust by harnessing users' expertise and authenticity.
---
Social Shopping Insights
Here are some keynotes on how companies can use social shopping to expand their business.
Social and Complementary
Your business can utilize social shopping as a secondary channel to complement your corporate website or Shopify store. But that's not the end of it. Successful social shopping networks have embraced an authentic approach to this marketing service: being social in all ways. That means communicating with their audience, promoting in real-time, helping leads and customers with their problems, and more.
Instant and Direct
Direct marketing using social media helps you communicate with consumers and leads more immediately and directly than traditional online review-and-response exchanges. If you put your products on social media and share links to your shoppable items, you will get more response and engagement. Through these interactions, you obtain valuable data in real-time.
Younger Demographics
Millennials and Generation Z use social media the most. Millennials use social media to make smart purchases and support brands they like. Gen Z relies on social media to buy products and services handily. Since the oldest millennials are almost 40 years old today, they are part of the working-age population. This means they have the financial freedom to purchase online. On the other hand, Gen Z influencers have solid persuading powers. As such, brands look into these demographics as their critical consumers who they need to move down the sales funnel as quickly and effectively as possible.
Mobile Powered
Having a mobile-friendly company becomes particularly crucial, particularly with the rise of the creator economy. Mobile retail eCommerce sales in the US are expected to reach $430 billion by 2022. In response, businesses have created native apps or third-party mobile storefronts to make their products available on mobile. The next logical step to this is social commerce.
---
Social Shopping Benefits
Both businesses and customers benefit from social shopping. It is a liberating force that opens up new possibilities for entrepreneurs and small businesses. Among the wonderful benefits of social shopping are as follows: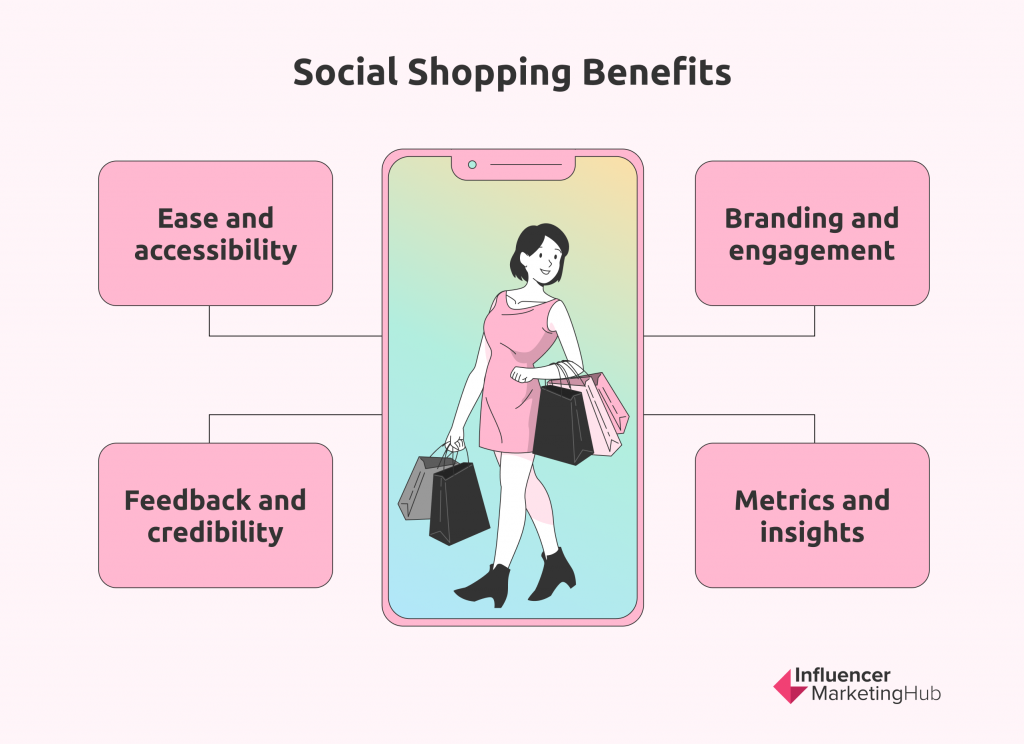 Ease and accessibility
As long as they have an internet connection, shoppers can buy on social sites anywhere, anytime. Your potential customers can be in the comfort of their homes, enjoying a grand vacation, or in the middle of a meeting, and can still buy something online in a snap. And they don't have to speak with you or your staff. If you use social media networks accurately, they'll get all the information about the product they like and buy it with just a few clicks.
Branding and engagement
Regularly showing up in your follower's social feeds is a great way to leverage the power of branding. People who interact with a brand regularly are more likely to recommend it. Word of mouth on social media (sharing or reposting content) helps in market development to better increase engagement and website traffic.
Metrics and insights
Social shopping makes it easier to monitor and evaluate your social media marketing efforts. Facebook pages, Instagram business accounts, and Twitter profiles provide metrics for impressions, interactions, and reach. Most social media platforms include a click counter that allows you to measure visitors to your website. Additionally, you can learn a lot about your target audience by spending more time on social media. You can instantly gather actionable insights to serve your customers better using the right tool.
Feedback and credibility
Obtaining consumer feedback is one of the most valuable assets in any business. Feedback has the power to make or break a brand. And through social shopping, clients can share genuine reviews about your brand, product, and services in one place. Integrating social proof into your brand establishes credibility. When your brand is perceived as reputable, you can position your business as a niche authority in your field.
---
Social Shopping Trends
Take note of the following social shopping trends to optimize your social marketing campaigns fully.
Customizing Facebook Shops for a unique shopping experience
Customization is an excellent feature of Facebook Shops. This allows you to give your customers an experience that reflects your brand and sets you apart from your competition. You can choose fonts and colors to complement your brand's overall design. This helps visitors from other websites or platforms find you on Facebook quicker. You can also import photos and product catalogs from your website to your Facebook Shops, making the well-established platform an extension of your eCommerce site.
Using Instagram Drops to launch a product successfully
Through Instagram Shopping, business accounts can continue to upload photos or videos of their products, but now, they can also tag them as shoppable. Users can obtain product details from the tags. And with just a few clicks, they can buy a product without leaving the app.
Instagram introduces new features regularly to boost the platform's social commerce. The latest is Instagram Drops, which creates a buzz for a new product launch by adding new details atop the Shop page. Brands can use product tags to promote Drops in posts, Stories, and Reels. Anyone interested in a new product may set up a reminder 15 minutes before it goes live and is available for purchase.
Exploring chat commerce
Customers want individualized shopping experiences, which may be challenging for brands since they're limited to the framework of the platform they're using. Chatbots can help circumvent this obstacle. Chatting with a bot in the past was tedious and annoying, but chat commerce today is advanced and sophisticated. While chatbots can't be as thorough as humans, they can provide quick and specific answers to inquiries. In some industries like fashion, chatbots can guide prospects in choosing the best product that suits them.
Partnering with micro-influencers
Working with influencers offers several benefits. But partnering with influencers with millions of followers can be challenging. They may also not be aligned with your product or service. The next best thing is to work with micro-influencers with 1,000 to 100,000 followers. Working with micro-influencers in your niche generates association, reach, and affinity.
The partnership with micro-influencers has a more authentic feel and promotion is not quite so blatant. Furthermore, because micro-influencers are generally niche-based, your product or service will not get lost in a sea of social feeds and streams.
Emerging social media platforms that incorporate social shopping
Facebook, Instagram, and Pinterest have all enhanced their capabilities to match social commerce with Facebook Shops, Instagram Shopping, and Pinterest shoppable pins. Other major social platforms are following suit, such as Snapchat and TikTok Shopping. Furthermore, social shopping is becoming more popular in other areas of the world, most notably in China, owing to the WeChat mini platform.
Social Shopping Optimization
Besides using the built-in tools and templates provided by the social media networks, you can optimize your brand's social shopping potential by: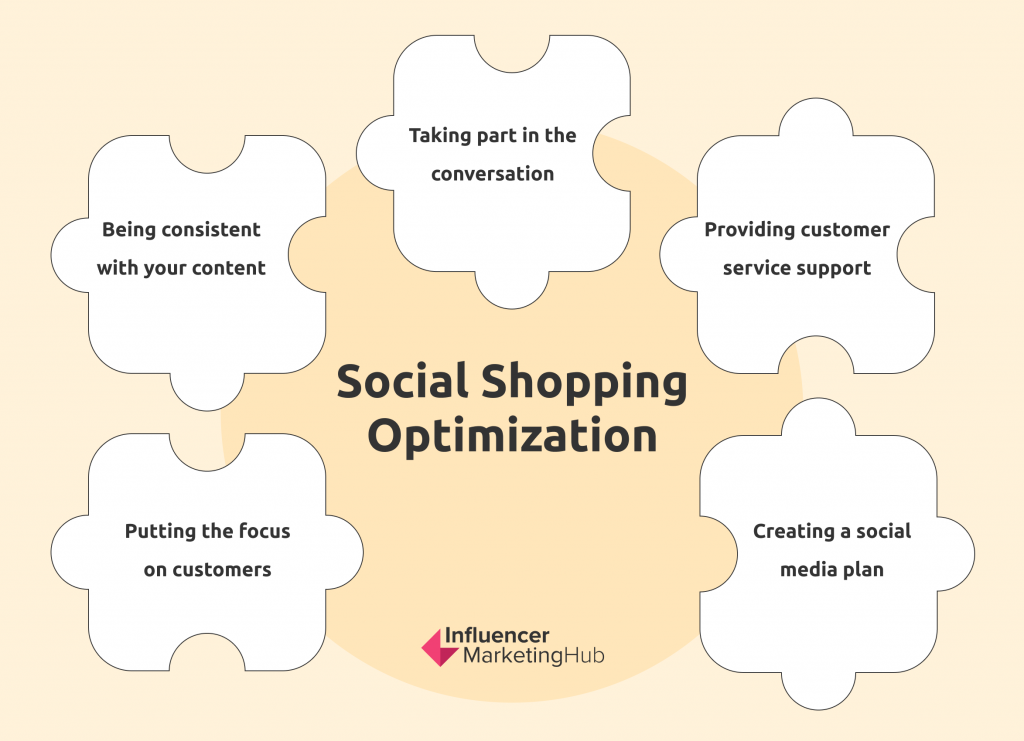 Taking part in the conversation
The first step is to research what others are saying about your brand. You can do this in two ways: use the hashtag # (insert your brand) to search on social media, or perform a Google search with the company name. You may use the social search to see if any customers have hashtagged your brand rather than tagging your account. In contrast, a Google search might show what previous clients thought of your product or service. Having access to these key variables will provide you with a better understanding of how to improve your marketing strategy.
Being consistent with your content
"Content is king" has become a cliché for a reason. Creating high-quality content is still the most effective approach to increasing your brand's reach, visibility, reputation, and engagement. Consistency in content will attract new followers and keep the existing ones engaged. This is how you'll get the most traffic to your social media shopping pages or shoppable content feeds.
Providing customer service support
Offering customer service via social media is one of the simplest and most effective ways to engage with your target market. Facebook live chat is a popular option, but many larger companies are now creating separate social media profiles solely for responding to customer inquiries.
Putting the focus on customers
Your shopping profile is primarily for your customers. And the most effective approach to advertising your product is to allow your buyers to produce your content. This is what user-generated content (UGC) is, which is 50% more trustworthy than any other medium. Dove's Instagram page has great examples of UGC.
Implementing UGC is an efficient technique to integrate creative outlets with points of sale. Users' content acts as a trust-building element, displaying social validation, boosting credibility, and driving more purchases.
Creating a social media plan
Being active on social media isn't enough. Excellent outcomes require a well-defined plan. Determine your target market. Engage with your audience on the most relevant social media sites. Set a clear objective, like five comments every post, to encourage participation. Make a plan to achieve that objective by asking customers what they want to see from your feed.
---
Social Shopping Types
The following are the most popular types of social shopping. More are in the pipeline as technology advances.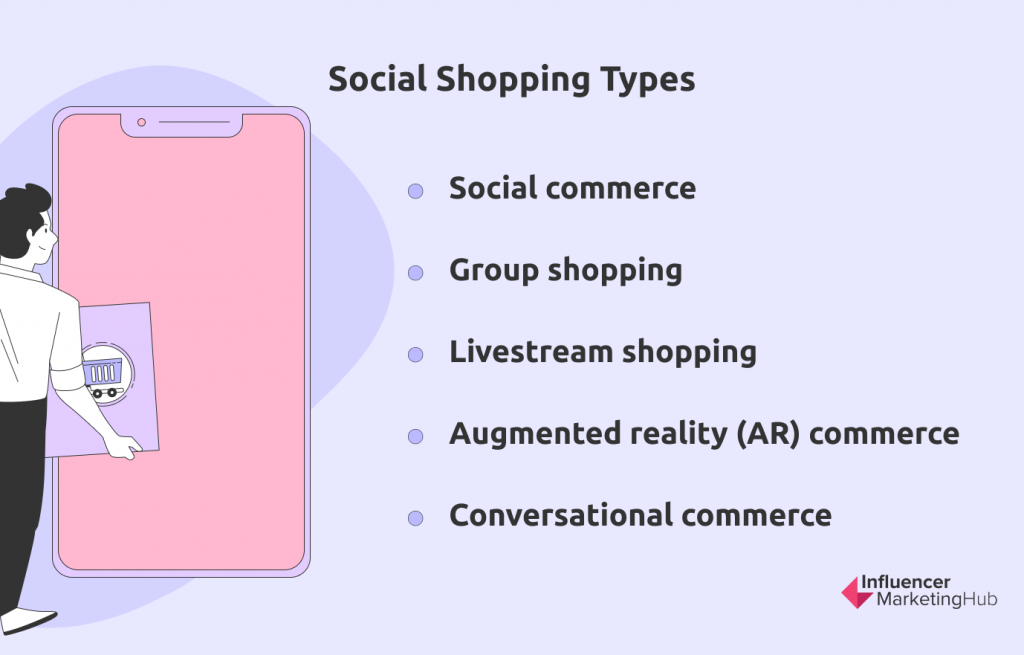 Social commerce
Social commerce is the buying and selling of products through social media networks. By 2024, eight out of 10 businesses will use social media to sell their goods or services. Eureka, a prominent street furniture store in Australia, uses social commerce. Shoppable UGC galleries and shoppable Instagram have been added to the company's website.
Group shopping
Group shopping is a peer-to-peer purchasing experience. It happens when a group of people exhibits interest in or purchases a product together. Group social shopping is new in the US, but it is well-established in Eastern Europe. Squadded is a wonderful example of a store that offers this service. Squadded Shopping Party enables people to make online purchases with their friends and family.
Livestream shopping
Livestream shopping allows brands to reach new audiences and show their products in action. A good example is Nordstrom, which announced the launch of a dedicated live shopping channel in March 2021. Since then, the channel has hosted hundreds of live shopping events with themes ranging from spring beauty trends to the best of fall fashion.
Augmented reality (AR) commerce
AR commerce uses 3D mapping technology to let customers try on or play with a product before buying it. Ikea's Place app has been a forerunner in AR commerce where buyers can arrange furniture virtually before making a purchase.
Conversational commerce
Conversational commerce is when vendors and buyers interact in real time using a chatbot or a messaging app. This form of social shopping enables brands to provide a more tailored digital experience to their customers. H&M was among the first to use conversational commerce via Kik, the chatbot.
---
Social Shopping Platforms
These are the top social media platforms that are making waves in social shopping.
Facebook Shops
Facebook Shops is the most extensively used social shopping platform. Every month, almost 250 million individuals shop on Facebook. Businesses can use the platform to create personalized and branded storefronts. Facebook also provides valuable data to businesses to better understand their consumers' purchasing habits. Other Meta apps like WhatsApp and Messenger help customers get answers about a product or service promptly.
Pinterest Shoppable Pins
Pinterest is the social media platform for visuals. And to further enhance its value, the platform has recently launched Pinterest shoppable pins. Consumers are drawn in because they get inspired by a visual, and they can actually buy it. The site also features Pinterest TV shoppable livestreams and AR capabilities on beauty Pins.
TaggShop
TaggShop is quickly becoming the "it" platform for social commerce as it improves online stores by providing shoppable galleries. These visual catalogs include shoppable UGC, shoppable Instagram feeds, and shoppable social feeds.
TikTok Shopping
TikTok Shopping was previously only available to US, UK, and Canadian Shopify stores. In September 2021, TikTok rolled out its social shopping channel to most countries. It has also created apps for vendors on other platforms besides Shopify.
Closing Thoughts
Social shopping is a critical component of eCommerce today and more so in the future. If your business doesn't embrace it, keeping up with the competition will be challenging. Social shopping connects key demographics in ways other digital channels fail, and customers gradually get more comfortable with the idea of purchasing items and being referred via social media sites. Soon, social shopping will be a keystone of digital marketing efforts.
Frequently Asked Questions
What are the latest trends in shopping?
The retail trends shaping how we shop in 2022 include:
Digital ecommerce rises

Social selling

In-store shopping holds steady

Omnichannel retail

Curbside pick-up

Rapid delivery
What is Social Shopping also known as?
Social commerce is a type of eCommerce. Social commerce refers to shoppers making their purchasing decisions and purchasing on social media platforms. That includes product research to checkout, all on social media platforms.
What is the most popular social commerce?
The most popular social commerce channel with younger audiences is Facebook. Digital shoppers across all age groups picked Facebook. Almost 1 of 5 US digital shoppers use Facebook for shopping, compared to 12% with Instagram and 9% with YouTube.
What are benefits of social shopping?
The benefits of social shopping include simplifying efforts to measure and evaluate business insights. All your channels will come with ready metrics for impressions, engagement and reach. You will be able to grow your audiences appropriately and share the right content with your audience.