This handy guide on the biggest eCommerce companies in the world will serve as a useful blueprint for brands wanting to invest in the eCommerce and DTC space.
You'll get insights into:
Which eCommerce brands are nailing it and why they have the biggest market share

What kind of strategies are helping brands to lead the way to success

What do the growth trends of the biggest eCommerce companies look like
---
A Complete Breakdown of the Top eCommerce Companies in the World:
---
A Breakdown of the Biggest eCommerce Companies in the World
Before we start looking at what are some of the biggest eCommerce companies in the world, let's look at the global retail eCommerce sales from 2014 to 2025:
In 2022, global retail sales are predicted to reach $5,542 billion. This figure will reach $7,391 billion by 2025. Other quick facts to make a note of include:
Country-wise eCommerce sales

: Nearly

50%

of retail sales are conducted over the internet in China, making it the world's most penetrated eCommerce market in 2022. In the second and third places respectively, we have the UK and South Korea, with over 36% and 32% of their retail sales expected to take place online.

Fastest-growing markets

: With digital development exploding in the Asia Pacific region, unsurprisingly, the

fastest growing

online retail markets are the Philippines, India, and Indonesia:
Clearly, eCommerce sales are demonstrating an upward trend and will continue to rise due to the changing customer expectations and advancements in technology.
---
Market Share of the Biggest eCommerce Companies in the World
According to research by Statista, the market cap of leading consumer internet and online service companies worldwide (as of June 2021) is as follows:
Key takeaways: As of June 2021:
Amazon

takes the number one spot as the biggest consumer internet and online service company globally, with a market cap of approximately $1,735 billion. Amazon also ranked first among the assorted online companies related to the retail, real estate, mobility, travel, and hospitality sectors.

The digital commerce platform,

Alibaba.com,

ranked second with a market cap of $614.8 billion.
Speaking with respect to eCommerce companies in the United States, according to recent research by Statista, here's a snapshot of the market share of the biggest eCommerce companies in the US (as of October 2021):
Key takeaways: As of October 2021:
Amazon

accounts for 41% of the US eCommerce market, making it the leading online retailer

Walmart

takes the second spot, with a 6.6% market share

In the third place, we have

eBay,

with 4.2% of the market share
---
A Deeper Dive into the Top 5 eCommerce Companies in the World
According to recent data, here are the top 10 eCommerce companies by market value:
In this section, we'll examine certain aspects to understand what these five brands are doing right.
1. Amazon: The Trailblazer in the eCommerce World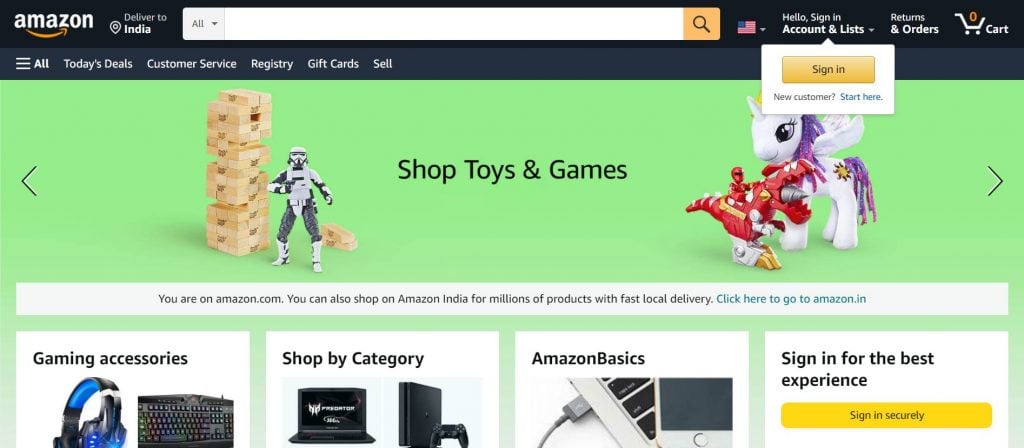 Founded in 1994, Amazon leads the way with innovative offerings, continued expansion, and a customer-obsessed culture. Considering the fact that Amazon boasts of the highest market share and retail sales, its monthly footfall surpasses its competitors—no surprises there:
Amazon.com's monthly traffic averaged at 3.68 billion visitors in 2020, followed by eBay.com's 1.01 billion visits on average each month.
A critical factor that has contributed to Amazon's dominance over eCommerce sales includes an increased focus on agility and expansion.
To cater to the growing demands of online shopping, particularly during COVID-19, the brand added over 500,000 workers in 2020:
Today, the brand employs 1.1 million employees in the US alone, whereas it employed 1.6 million employees globally by the end of 2021, going up by 24% year-over-year.
Data further suggests that the United States was Amazon's biggest market in 2021, followed by Germany ($37.3 billion) and the UK ($31.9 billion):
In terms of the rising online sales, Amazon's Prime membership is playing a critical role in building a customer base of highly-engaged customers. As per research, in 2021, members in the US received more than 6 billion free deliveries, and over 200 million Prime members worldwide streamed shows and movies.
In other words, Amazon prime members routinely benefit from VIPish benefits such as free 2-day shipping, music and video streaming, and other exclusive offers and deals.
According to a June 2021 survey, over four in ten Amazon Prime members were likely to shop during Prime days and other retail events, including Cyber Monday.
The company's website further suggests that it witnessed the biggest-ever Black Friday to Cyber Monday holiday shopping weekend, with apparel, beauty, home, and toys among the top-selling categories.
During the holiday season:
Third-party sellers achieved record worldwide sales on Amazon's store with more than 130,000 third-party sellers worldwide surpassing $100,000 in sales on Amazon

Between Black Friday and Christmas, US-based third-party sellers sold an average of 11,500 products per minute.

In addition, Amazon India's month-long Great Indian Festival sales event was the biggest shopping celebration ever for sellers and brand partners on Amazon.in, with nearly 30,000 sellers surpassing $100,000 in sales.
Finally, the brand enjoys a positive image, with the Retailer Preference Index ranking Amazon as the best overall grocery retailer.
The brand was recognized for offering customers consistently low prices, convenience, and a great selection of a wide variety of grocery items on the website. Additionally, Forbes has ranked Amazon as the second-most admired company in the world.
---
2. Home Depot: The Fastest-Growing eCommerce Brand
Founded in 1978 by Craig Menear, Home Depot is an online platform for all home improvement needs: appliances, bathroom decorating ideas, kitchen remodeling, patio furniture, and so on. It currently employs over 500,000 employees and is headquartered in Atlanta.
According to the company's website, sales for the fourth quarter of fiscal 2021 were at $35.7 billion, an increase of $3.5 billion, or 10.7% from the fourth quarter of fiscal 2020.
Moreover, the brand reached a milestone of over $150 billion in sales in FY 2021. The brand has been able to successfully grow its business by over $40 billion in the last two years—its ability to execute with agility and the brand's relentless focus on customers has contributed to this growth.
Plus, the brand pays special attention to creating a personalized omnichannel strategy, which integrates digital and in-store shopping for products that are unfriendly for eCommerce. It has also ramped up investments in digital technology such as Augmented Reality to help consumers visualize unfriendly products by blending the physical and digital world:
The brand is solving the challenges of home improvement with digital tools: knowledge, know-how, buying guides, and expertise to ultimately build a more confident and knowledgeable consumer.
---
3. Walmart: The Reigning Invite-Only eCommerce Marketplace
Walmart is an American retail chain that operates hypermarkets, discount department stores, and grocery stores in the United States. It is headquartered in Bentonville, Arkansas.
The brand's eCommerce marketplace is invite-only and provides access to over 240 million-plus customers monthly:
Moreover, according to estimates, the retail giant's US eCommerce sales grew 1% and 70% on a two-year stack, and its eCommerce sales grew 11.0% and 90% on a two-year stack. It boasted total revenues of $572.8 billion. The natural question to wonder is what's working in the company's favor?
One, the brand's stores are strategically positioned, with over 90% of the population being located within 10 miles of a Walmart store. This means that the brand is uniquely positioned to provide affordable, convenient, and personalized eCommerce offerings to customers.
Two, the brand remains aggressive on planning and strategy, pivoting as the situation changes.
Three, its one-stop-shop approach is a big win for customers as they seek to shop everything under one roof, particularly in times of a global pandemic.
Four, its value-based merchandising strategy is encouraging customers to shop from the brand.
---
4. Alibaba: The Dark Horse in the eCommerce Domain
Alibaba is a Chinese MNC and is one of the world's largest eCommerce retailers. It provides digital marketplaces for merchants and consumers, and most of its business comes from core eCommerce operations. Its offerings are divided into seven segments:
The brand posted sales amounting to $84.5 billion on Singles Day in 2021. As of December 31, 2021, the brand boasts approximately 882 million annual active consumers—an increase of 20 million customers.
Its Consumer-to-Business model works on multiple levels as supply chain costs get reduced, product prices get lowered, and the order process accelerates.
Another critical factor that has led to the brand's skyrocketing success is its Online-to-Offline strategy (O2O), which empowers customers to buy a product by scanning a two-dimensional code:
Finally, the brand's mobile eWallet app enables users to make online and in-store purchases using their smartphones, paving the way for an ultra-convenient eCommerce shopping experience:
---
5. Prosus: The Underdog of the eCommerce Space
Naspers-controlled, Prosus invests in food delivery businesses (among other things) such as Delivery Hero in Europe, India's Swiggy, and iFood in Latin America. The revenues from these companies have doubled, boasting a collective growth of 127% to $1.5 billion.
According to data, Prosus' eCommerce business revenues grew by 54% to $6.2 billion. As per Bob van Dijk, chief executive officer at global internet giant Prosus NV, around 60% of the brand's eCommerce businesses are now profitable.
So what's driving this unparalleled growth? Numerous factors are at play.
In an increasingly online world, the brand is redirecting its efforts to embrace newer forms of online adoption. The brand is adding more value-added services to its existing competencies to drive user adoption.
For instance, in India, payment platforms are now extending credit to users. Food delivery apps are providing grocery deliveries. The brand is focusing on "expanding reach and impact" to build ecosystems in diverse verticals—from used car transactions to food and grocery delivery. The leadership team's focus is on allocating capital into these growth sectors, which is boosting sales and driving growth.
---
Top 4 Growth Trends of the Biggest eCommerce Companies to Watch Out for in 2022
There's an increasing need for supply chain resilience, with

experts predicting

things to settle down by 2023. This has also driven supply chain disruptions, with

McKinsey

reporting that significant changes to manufacturing production will occur every 3.7 years on an average. To tackle these changes, retailers are investing in supply chain companies. There's a shift in the supply value chain with brands bringing logistics operations in-house.

Mobile shopping (mCommerce) and social commerce are here to stay. As per estimates, in 2021, 71% of BFCM (Black Friday Cyber Monday) purchases were made from

mobile devices

, compared to 29% on desktops. According to a recent

report by IBM

, COVID-19 has accelerated the shift to online by at least five years. Moreover, data suggests that

social commerce

sales will triple by 2025. Plus, technological advancements like 5G wireless, the advent of shopping apps, etc. are driving greater adoption of mCommerce and social commerce. With 49% of brands investing in social media content, consumers can expect more SMS and Facebook Messenger marketing campaigns as well as TikTok and Instagram content.

The buy now, pay later model is not slowing down. eCommerce brands are increasingly investing in global marketplaces as more and more customers are adopting newer shipping and payment models. This is why the need of the hour is for eCommerce brands to partner with digital wallets and banks to enable a buy now, pay later checkout.

The metaverse and interactive shopping are on the rise. eCommerce brands are no longer shying away from embracing virtual technologies and online shopping. In a 3D metaverse world, consumers can experience products in a metaverse, irrespective of where they are living in.
The eCommerce space is constantly evolving. Brands need to keep pace with emerging trends and statistics to stay ahead of the curve.