Over the past years, we've seen the steady rise of the ecommerce industry. Propelled by the global pandemic, global ecommerce sales increased to 140% from 2015 to 2020, with Mainland China and the US being two of the biggest ecommerce markets worldwide. Moreover, global ecommerce retail sales are estimated to reach $7.3 Trillion by 2025.
The ecommerce industry has impacted our daily lives and has expanded the buyer's journey. The path to purchase no longer necessarily follows a linear, clear-cut path. Instead, the buyer's journey has become a cycle or a web, where consumers move toward or back from certain points. Throughout the entire journey, their decisions—and consequently, the actions they make— are influenced by a variety of offline and online factors.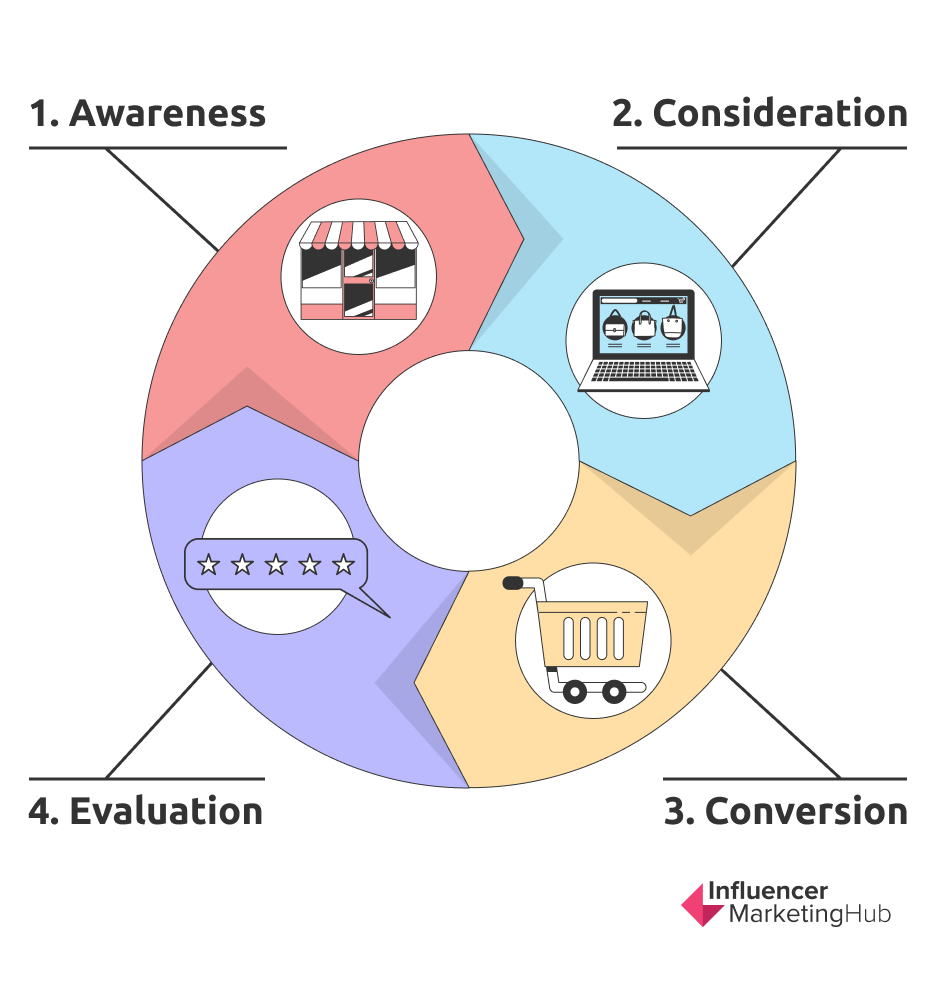 Moreover, today's consumers have more avenues through which they can do their online shopping, from searching for inspiration and product research to comparing products or prices and making a purchase.
While social media platforms are an integral part of the online shopping experience, retailers' websites and traditional search engines like Google and Bing are still important components in the consumer's quest for convenience and product or service discovery.
As consumer expectations continue to evolve, you can expect ecommerce companies to rise up to the challenge and come up with new strategies. Our list of the top 50 ecommerce companies gives you a glimpse of industry leaders that have adapted to and succeeded with technological innovations, challenges, and changing consumer behaviors.
We're also including a list of trends that continue to shape the ecommerce industry, as well as features that these ecommerce giants share. We hope that with this article, you'd be able to enhance your knowledge of the ecommerce industry and perhaps adopt some of these tactics to fuel your business's growth.
Build a list of eCommerce & D2C companies based on attributes made possible for the first time with Commercepedia
---
A Comprehensive Guide to the World's Top 50 Ecommerce Companies:
---
Factors Contributing to the Growth of Ecommerce
There are six key factors driving the growth of ecommerce. These are:
Population density (referring to the urban population)

The population's digital skills

Internet usage and the sales share from mobile internet use

Preferred payment modes (the use of debit and/or credit cards)

Access to the internet or broadband services, infrastructure

Dominant ecommerce entities
But what catalyzed online shopping's popularity?
Aside from the abovementioned factors, ecommerce is largely impacted by customer expectations and evolving media consumption habits. Customers, who now have increased reliance on digital channels, want easy-to-use websites. They also want seamless transactions, and checkout or payment processes, along with competitive pricing and product availability. Ecommerce companies leverage technology to deliver heightened convenience and better online shopping experiences for their customers. They also
The rapid growth of ecommerce can also be attributed not just to internet accessibility but also to lower barriers to entry. The COVID-19 pandemic prompted businesses and consumers to go digital, increasingly accessing goods and services available on online platforms. The United Nations Conference on Trade and Development notes that in 2020, the share of ecommerce in global retail trade increased from 14% in 2019 to 17% in 2020.
---
The World's Largest Ecommerce Markets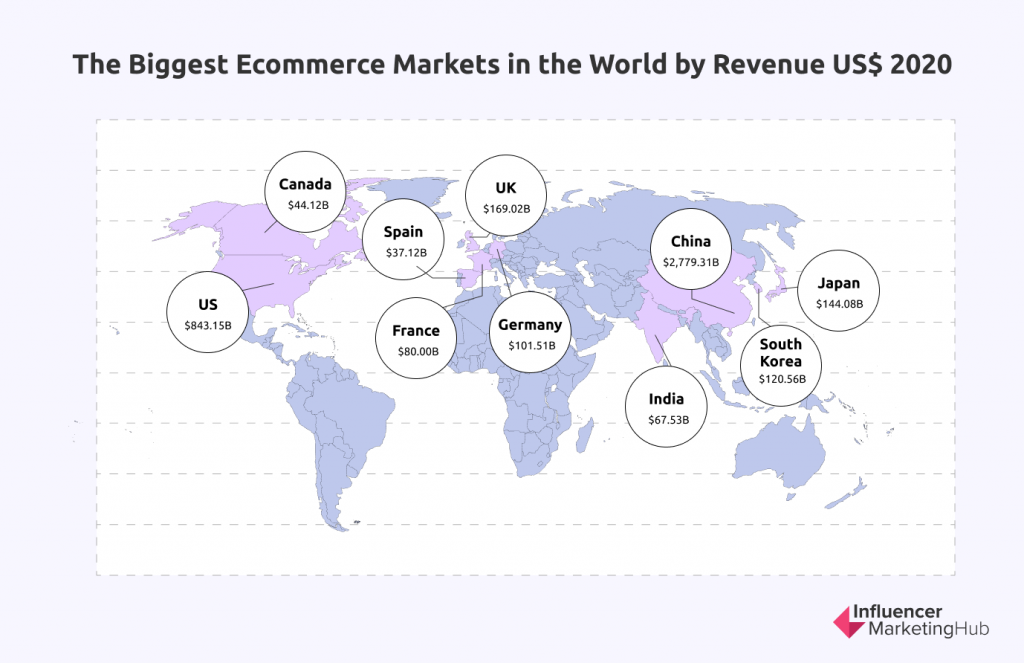 In 2020, China emerged as the world's biggest ecommerce market, which was valued at USD 2,779.31 billion. It's expected that the Chinese market will retain the lead through 2025, with its CAGR predicted to increase to 8.2% in 2025.
The US ecommerce market follows China, with a 2020 revenue of USD 843.15 billion. Europe is the world's third largest ecommerce market, with a collective revenue of USD 387.65 billion in 2020 generated from the UK, Spain, France and Germany.
---
Common Features That Play a Role in Making Ecommerce Companies Successful
What makes an ecommerce company a huge success, not only in its home country but also in other regions across the globe?
A majority of the ecommerce companies on our list share the following common features, which help drive their GMV:
Marketplace functionality that's geared toward third-party entities, enabling ecommerce companies to provide value-added services and a more comprehensive product range

Seamless ordering and shipping process, enabling greater convenience and better shopping experiences

Membership programs, which incentivizes consumer shopping behavior

Mobile-friendly interface, which allows consumers to access ecommerce websites from their mobile devices

Personalization, which enables ecommerce companies to showcase recommendations, offers, and experiences that are optimized for and relevant to their customers
---
Criteria for Selecting the Top Ecommerce Companies
We've selected the top ecommerce companies based on several factors, which include:
Market cap

Revenue (annual and quarterly)

Gross merchandise value (GMV)

Influence

Traffic (local and international)
Our list covers business-to-business (B2B) and business-to-consumer (B2C) ecommerce companies. These companies are not listed in any particular order. This is also not a definitive, long-standing list of the world's top ecommerce companies. Factors like market cap, revenue, influence, and traffic can change at any given time.
---
The World's Top 50 Ecommerce Companies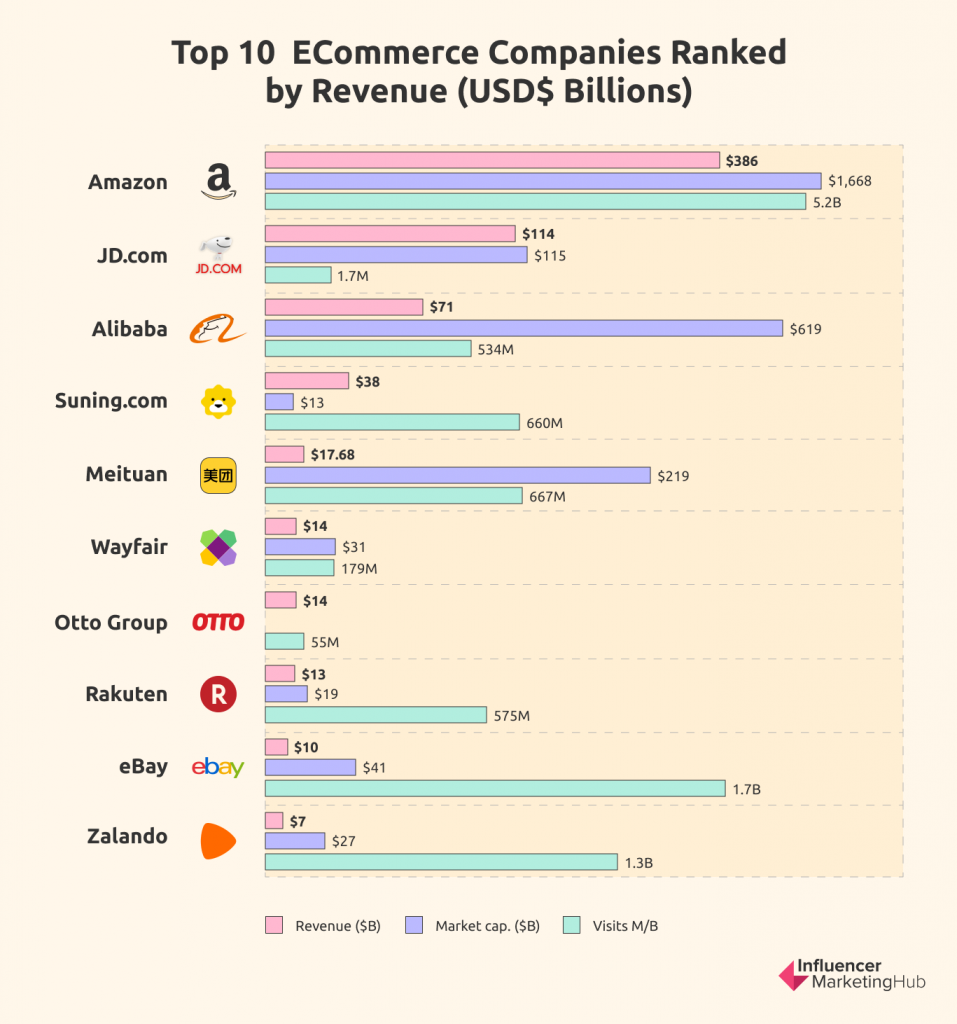 1. Amazon
Amazon dominates the industry as its revenue continues to grow year after year. In January 2022, it had a market value amounting to USD 1.649 trillion. Compare that to 2020's market value of USD 941 billion and 2021's USD 1.634 trillion.
Aside from Amazon's consistent YoY annual revenue growth, which hit approximately USD 111 billion in 2021, it has also enjoyed a steady increase in monthly site visits. In 2021, it raked in an average of 5.2 billion visits every month from both mobile and desktop sources.
Visitors spent an average of 6 minutes on Amazon, browsing through 8.58 pages with each visit. What's even more amazing is that, on average, customers complete 28% of their purchases within a span of 3 minutes or less. Amazon founder Jeff Bezos noted that half of all the purchases on Amazon are completed in less than 15 minutes.
Over the years, Amazon has grown to become one of the world's most influential ecommerce companies. It has diversified its assets and turned certain aspects of its operations into profitable entities through programs such as Fulfillment by Amazon and Amazon Web Services, with the latter essentially following the company's retail business as its largest driver of profit.
Amazon Prime Day also generates a sizable revenue for the company. In 2021, more than 250 million items were purchased by Prime members worldwide.
Another factor that contributed to Amazon's growth is its investment in making the online shopping experience more convenient by speeding up deliveries. In early 2020, Amazon effectively reduced the delivery time from 3.4 days to only 2.2 days.
2021 was a great year for Amazon, particularly during the Cyber 5 shopping weekend. While other retailers faced disruptions in their supply chains and had issues with their inventories, Amazon enjoyed increased website traffic. On Thanksgiving, website visits jumped to 23.9% in 2021, pointing to an almost 2% increase to 2020's 22.1%. In 2021, Amazon's web traffic also increased during Black Friday, Saturday, Sunday, and Cyber Monday.
---
2. eBay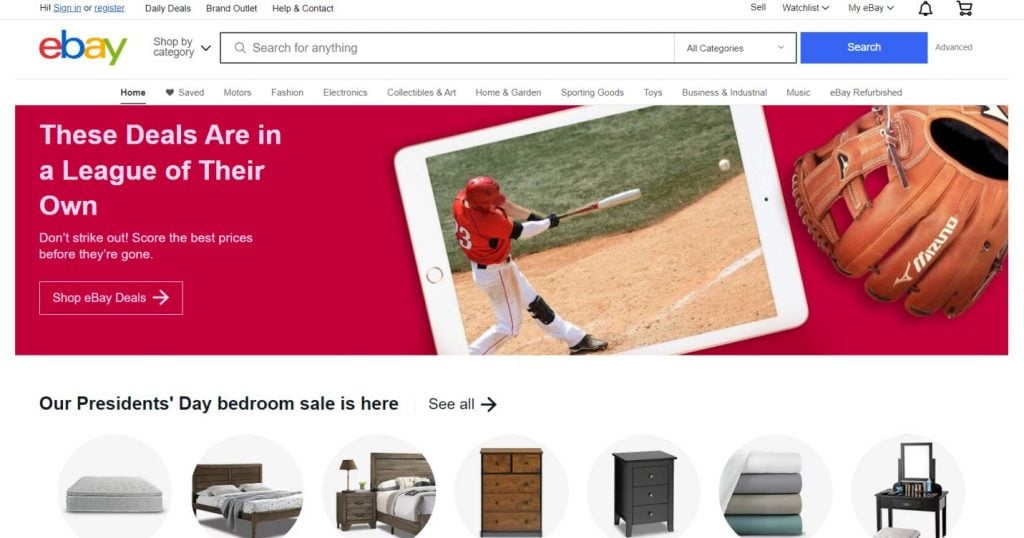 In 2021, eBay garnered 1.7 billion visits per month (mobile and desktop), making it one of the most visited ecommerce sites in the world. While eBay lets users buy and sell new products, this online retail marketplace is still considered as one of the world's largest P2P online marketplace.
During the first quarter of 2021, eBay stock dropped but it managed to generate a revenue of USD 3 billion. In January 2022, the company had a market value of USD 41.517 billion, a huge leap from 2021's USD 34.64 billion and 2020's USD 29.61 billion. As of writing, eBay currently ranks 9th in terms of market cap, with USD 37.39 billion.
In recent years, eBay made changes to its platform, which now makes it resemble the way Amazon operates. It implemented a group listing scheme using structured data, which requires sellers to include product identifiers in their listings. This helps visitors find the best price for a certain product easily.
Furthermore, eBay's Best Price Guarantee offers consumers a generous 110% rebate to make up for the price difference between a product they bought on eBay and an identical listing on a competing website. It also introduced the Guaranteed Delivery scheme in 2018, which offers consumers guaranteed shipping (currently only available in the US) within a period of three days or less.
eBay has also enhanced its ad sales, encouraging sellers to use promoted listings to advertise their products. These first-party ads enable eBay to collect ad revenue, while helping users stay on the site instead of getting redirected to a different website.
In a bid to increase the company's profit margin, eBay has severed ties with PayPal, an eBay company, in 2021. This move allowed eBay to handle payments in-house, enabling the company to offer more value to their sellers.
Altogether, eBay's strategic actions could help increase not only its profit margins but also its gross merchandise value.
---
3. Alibaba Group Holding Limited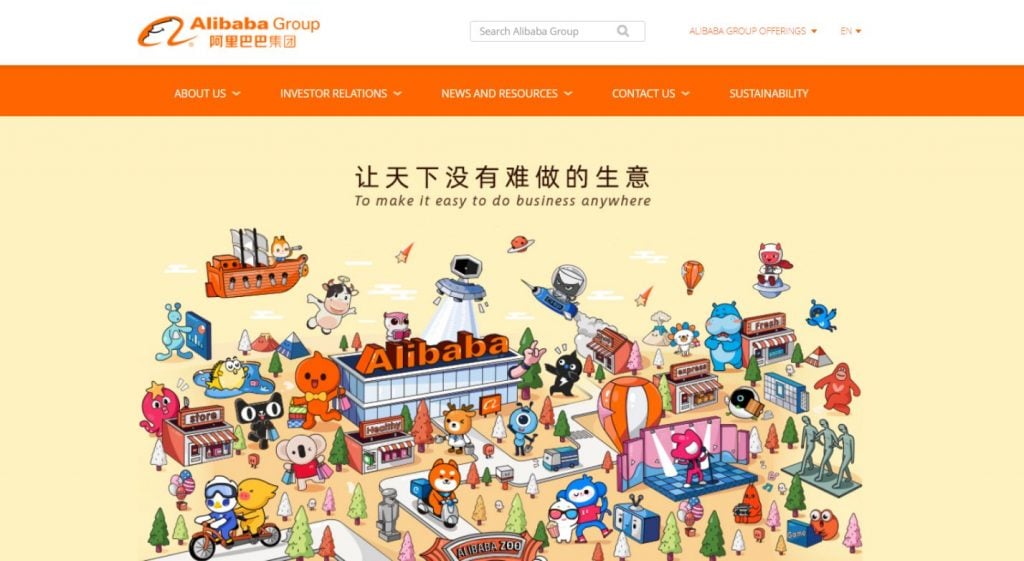 Alibaba Group operates several businesses, with the major ones being:
Taobao

Alibaba Cloud

TMall

AliExpress

Lazada

Alibaba.com

Youku

DingTalk

Cainiao Network
These subsidiaries span a range of services, from logistics networks and self-operated retail chains to ecommerce platforms and cloud services.
Businesses like Alibaba.com, AliExpress, and TMall have enabled the Alibaba Group to penetrate the global market. AliExpress, for example, is a global retail marketplace that has grown in popularity thanks to the dropshipping model. It enables consumers to purchase products directly from their manufacturers and distributors based in China. Alibaba.com, a wholesale marketplace, bridges the gap between Chinese and overseas suppliers and international wholesale buyers. In 2021, Alibaba.com served more than 34 million buyers from 190 countries.
According to the Alibaba Group's press release for its September Quarter 2021 Results, the company's revenue was at USD 31,147 million, indicating a 29% year-over-year increase. Furthermore, by the end of September 2021, the Alibaba Ecosystem reached approximately 1.24 billion consumers worldwide—a 62 million increase from June 2021 figures.
From the 1.24 billion consumers, 953 million are in China and 285 million are overseas. These numbers represent a quarterly net increase of 41 million and 20 million, respectively, when it comes to the Alibaba Group's annual active consumers.
---
4. Rakuten
Rakuten Ichiba is Japan's largest ecommerce marketplace.
It has more than 100 million shoppers and is frequented by 87% of the country's population. That's 111.4 million members when you consider Japan's population of approximately 126 million individuals (2020). In 2021, Rakuten had an average of 544.3 million visits per month.
Rakuten also commanded 26.8% of the market share in 2019. In the same year, it generated USD 37 billion in domestic ecommerce gross merchandise value. In Japan, Rakuten Ichiba is recognized as the most trusted ecommerce marketplace, even outperforming the global ecommerce juggernaut Amazon. Moreover, it holds more than 25% of Japan's online B2C market and more than 30% in segments like apparel, food, and household.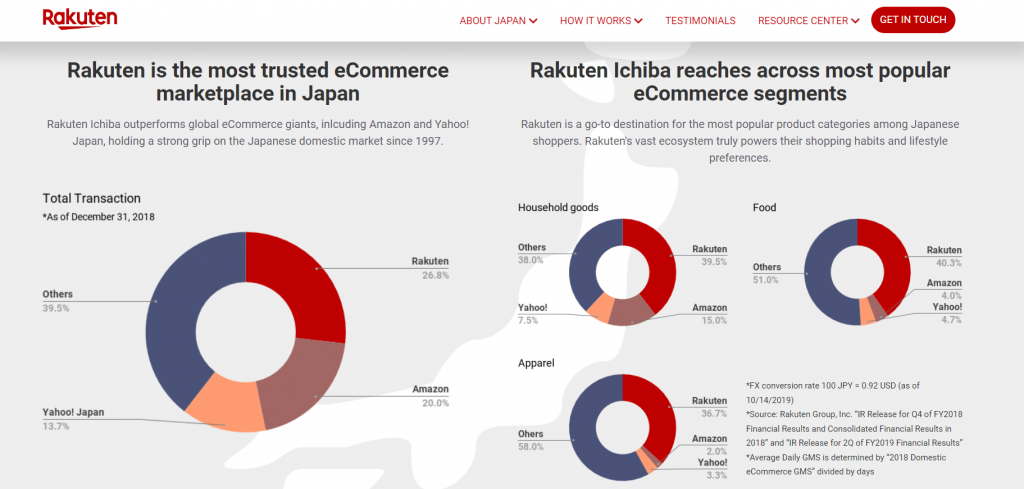 Aside from ecommerce, the company operates several diverse services, which include banking, credit cards, digital content, and FinTech.
---
5. Walmart
While primarily a brick-and-mortar retailer—and the world's largest at that—Walmart has been investing in ecommerce in recent years through acquisitions and expanding the scale of its grocery pickup and delivery services.
In 2021, its website had an average of 410.3 million visits per month. On average, visitors spent approximately 4 minutes and went through 5.20 pages per visit. That same year, Walmart generated a total of USD 67.39 billion in ecommerce sales.
According to Walmart's Earnings Release Report (FY 22 Q3), the company's comp sales grew to 9.2% and its ecommerce sales grew to 8% for the given quarter. In 2021, its online marketplace experienced a sharp increase in the number of third-party sellers. The number of sellers in 2021 reached 129,752—almost double that of 2020's 69,351.
Walmart currently operates around 10,500 stores and clubs in 24 countries and ecommerce websites. It's one of the world's biggest employers, with a total of 2.2 million associates worldwide. Approximately 1.6 million associates are employed within the US alone. The retail giant also boasts an impressive supply chain that consists of 210 distribution centers and a fleet of 9,000 tractors and 80,000 trailers.
It also has an expansive and highly efficient ecommerce fulfillment network that enables it to ship and handle millions of items. Each fulfillment center is strategically established across different locations within the country, allowing for optimal efficiency in ground shipping.
---
6. MercadoLibre
MercadoLibre hosts Latin America's largest ecommerce and online payments ecosystem. It's present in 18 countries including Argentina, Brazil, Colombia, and Peru. Given its size and presence in Latin America, the ecommerce company enjoys close to 684 million visits per month.
It offers the following services to its users:
Mercado Libre marketplace

Mercado Envios shipping service (featuring four picking types: Dropshipping, Cross-docking, Fulfilled by MELI, and Flex)

Classifieds service

Advertising service

Mercado Pago payments solution

Mobile Point of Sale

Digital wallet

Merchant services

Prepaid card

Mercado Credito
During the third quarter of 2021, MercadoLibre, Inc. had 78.7 million unique active users across its entire ecosystem. Its gross merchandise value (GMV) increased by 23.9%, raking in a total of USD 7.3 billion, which is significantly higher compared to 2020's USD 5.9 billion. Its sales increased by 26.3% YoY, with the company being able to sell close to 260 million items.
During this period, the MercadoLibre's net revenue was at USD 1.9 billion, indicating a 66.5% YoY increase.
---
7. The Home Depot Inc.
The Home Depot is one of the world's largest retail chains dedicated to home improvement. In the 3rd quarter of 2021, the company reported sales amounting to $36.8 billion. That's a 9.8% ($3.3 billion) growth, coming from sales recorded under the same period in 2020.
For the 3rd quarter of the 2021 fiscal year, the Home Depot also reported the increase of its comparable sales and comparable sales in the US by 6.1% and 5.5$ respectively. The company's net earnings also jumped from 2020's $3.4 billion to $4.1 billion in the 3rd quarter.
The home improvement giant currently has approximately 500,000 associates and operates more than 2,000 retail stores within the US, 10 Canadian provinces, and Mexico.
In recent years, The Home Depot embraced digital technology and has taken measures to improve its customers' overall digital experience. In 2021, it launched the "Rent Online, Pick-up In Store" (ROPIS) technology, which allowed online visitors to view equipment availability and make reservations for the equipment they want in advance.
It also launched a mixed cart selling scheme that allows users to add products from both The Home Depot's website and its physical stores to a single transaction. Furthermore, the company also extended its partnership with Google Cloud to boost its digital transformation measures.
---
8. Prosus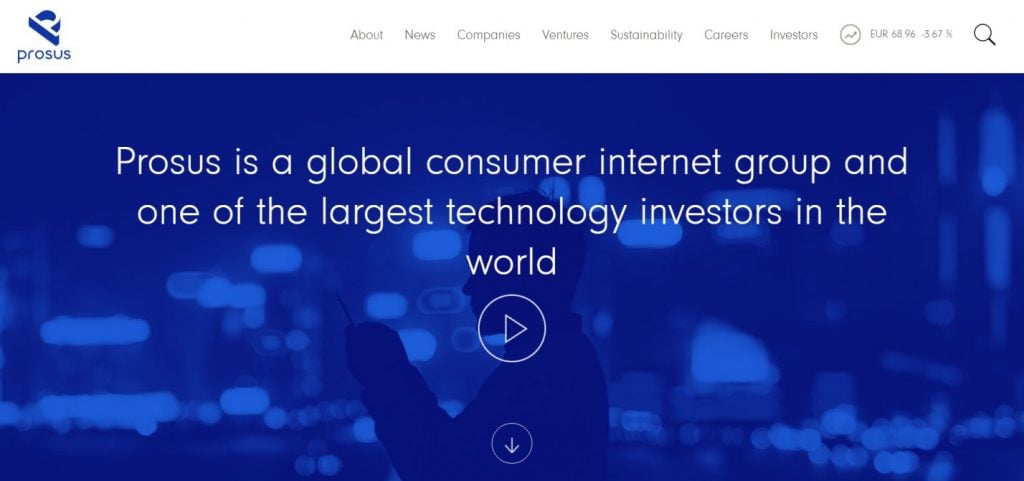 Branded as a "global consumer internet group," Prosus isn't just an investment group. It's also Europe's largest consumer Internet company and one of the world's largest tech investors.
It operates and invests in a wide array of countries and markets like food delivery, e-tail (electronic retailing), and payments and fintech.
In 2021, the company's revenue from its ecommerce ventures increased by 46% or $6.2 billion. According to Prosus Group CFO Basil Sgourdos, the value of its ecommerce business, which was pegged at $39 billion, takes up 17% of the company's total value. To expand its ecommerce reach, the company has also adopted a "buy now, pay later" business model to attract users.
By the end of September 2021, the company reported a revenue growth of 31% or USD 16.6 billion. Its ecommerce revenue also accelerated to 60% ($4.2 billion).
---
9. Reliance Industries
The Indian ecommerce market is predicted to grow from $38.5 billion to a whopping $200 billion industry in 2026. In the last quarter of 2020 alone, the country's ecommerce order volume jumped to 36%. Given its $50 billion turnover in 2020, India was recognized as one of the world's largest markets for ecommerce. By 2030, it's expected that the country's ecommerce market will grow to a USD 350 billion industry. This growth is attributed to the rise of internet and smartphone penetration in the country.
With that in mind, many big-name retailers, such as Amazon and Walmart, are scrambling to gain access to India's ecommerce market. India's homegrown Reliance Industries Limited (RIL) has jumped on this opportunity and has launched its own digital commerce initiative called JioMart under its subsidiaries, Reliance Retail and Reliance Jio.
RIL's Reliance Retail is India's largest retailer, based on revenue and number of stores. The launch of its ecommerce platform, along with its merchant partnerships, made up 10% of its parent company's total revenue in the 2021 fiscal year.
---
10. Meituan Dianping
Meituan, formerly Meituan- Dianping, currently has a reported market cap of $176.66 billion and a 2021 revenue of $17.68 billion, making it one of the world's largest ecommerce companies. The ecommerce platform is known as China's "Amazon of Services" and offers a variety of services that resemble different ecommerce platforms like Yelp, Booking.com, and Grubhub.
Through the app, users can do practically everything, from searching for products available in physical retail locations to purchasing tickets, making it a "one-stop shop" app.
In 2020, MD had a market cap of more than $60 billion and experienced significant increases in its gross transaction volume (44%), annual active merchants (32%), and annual transacting users (29%).
In the 2nd quarter of 2021, the company cemented its reputation as China's leading ecommerce platform for services. This is due in part to its 77% increase in revenue for the said period. For the 3rd quarter of 2021, the company's total revenues increased by 37.9%, bringing it to RMB 48.8 billion from RMB 35.4 billion in 2020.
Certain segments, particularly its food delivery and in-store, hotel, and travel segments, enjoyed significant growth, with a total aggregate profit of RMB 4.7 billion. In addition to these, Meituan's new initiative and other segments also experienced a 66.7% YoY increase.
---
11. Costco Wholesale Corporation
Costco is one of the largest retailers in the US, generating a total revenue of $141.4 billion in 2021 from its US operations alone. The company's net sales worldwide (2021) totaled $192.1 billion, which is heavily driven by its Foods and Sundries segment.
For the 2021 fiscal year, Costco's net sales amounted to $192 billion, indicating an 18% increase. It also opened several new warehouses in the US, Canada, Japan, and Taiwan. According to the company's 2021 annual report, its trademark private-label brand, Kirkland Signature, enjoyed global growth, generating sales exceeding $59 billion. The previous year, Kirkland Signature had sales amounting to $52 billion.
During the first quarter of the 2022 fiscal year, Costco's net income grew from $1,166 million last year to $1,324 million.
---
12. Shopify
Shopify's latest market cap, which is currently valued at $109.41 billion, makes it one of the largest ecommerce companies in the world.
The Canadian ecommerce company has enjoyed steady growth in 2021. Its 2nd quarter financial results for 2021 showed a 57% YoY growth, with a total revenue of $1,119.4 million. Its Monthly Recurring Revenue (MRR) for the same period was at $95.1 million, with a YoY growth of 67%. Its GMV increased to 40% or $12.1 billion, bringing its 2nd quarter GMV to a total of $42.2 billion.
Shopify's 3rd quarter revenue was at $1.12 billion, indicating a 46% YoY growth. Its MRR as of September 2021 was at $98.8 million, which marked a 33% YoY increase. Overall, Shopify enjoyed a 46% YoY revenue growth in the 3rd quarter of 2021, which brought in a total of $1,123.7 million in revenue for the company.
---
13. Sea Limited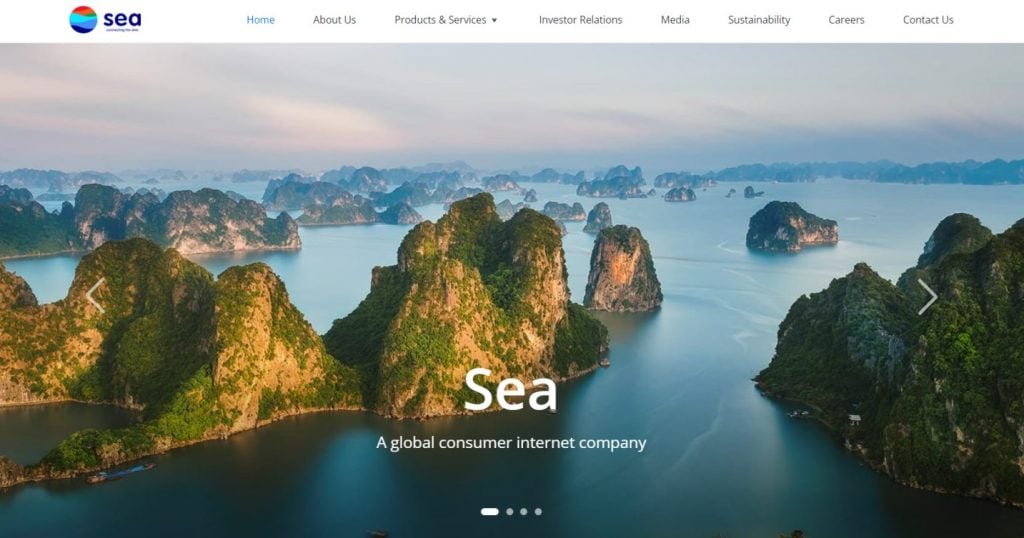 Singapore's Sea Limited currently has a reported market cap of $90.63 billion. Its subsidiaries include some of Asia's (Southeast Asia and Taiwan) biggest brands in digital entertainment, ecommerce, and digital payments and financial services: Garena, Shopee, and SeaMoney.
For the 3rd quarter of the 2021 fiscal year, it had a 121.8% YoY growth, with a total GAAP revenue amounting to USD 2.7 billion. The company's total gross profit was up 147.5% YoY at USD 1.0 billion. Sea Limited's ecommerce arm had a GAAP revenue of $1.5 billion, which points to a 134.4% YoY growth. Its GMV reached a total of $16.8 billion, indicating an 80.6% YoY growth.
---
14. Allegro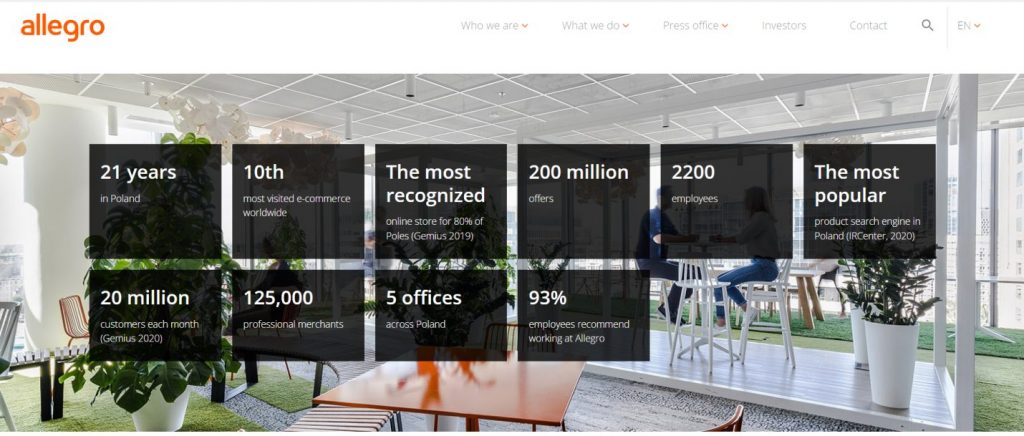 One of Europe's most popular online marketplaces and Poland's most popular shopping platform, Allegro had an average of 190.2 million visits per month in 2021, worldwide. In Europe, it had 185.5 million visits per month. In Poland, Allegro has 20 million customers who visit the site—that's approximately 80% of Poland's internet users.
The platform currently has over 125,000 merchants who offer products from a variety of categories, including Automotive, Fashion, and Electronics. Allegro is one of the go-to sites for Poles who search for products online, making it more popular than conventional search engines. On average, visitors spent around 9 minutes on the platform and visited 11.43 pages.
The company also has a market cap of $8.65 billion, making it one of the world's largest ecommerce companies. In Q3 2021, Allegro's GMV growth accelerated to 19.9%. Its active buyers also grew to 13.3 million, pointing to a 5.6% YoY growth.
One of the key factors contributing to its steady growth is its consumer-centric approach, with the goal of providing customers with the best when it comes to selection, price, and convenience. It also bolstered its delivery services, including speed, with its next day delivery feature, Fulfillment, and Last Mile delivery.
---
15. Flipkart
India's homegrown ecommerce company Flipkart had 176.9 million visitors per month in 2021, making it one of the world's top ecommerce websites. Now owned by retail giant Walmart, the ecommerce company's revenue grew by 25% in FY21.
The company's revenue was mainly generated from a variety of services, including ecommerce, IT, and its marketplace. Its operations revenue also enjoyed a 25.7% YoY growth, with its overall revenue jumping to 25.3% YoY.
---
16. Pinduoduo
Pinduoduo is one of China's most popular ecommerce websites. It focuses on connecting consumers with businesses that provide fresh produce, electronics, and household essentials.
It had an average of 241.5 million visitors per month in 2021 alone. In the same year, this mobile-only platform had a market cap of $159.19 billion. In 2018, it had a GMV of $72.75 billion. In 2020, this grew to $255.6 billion. In the 3rd quarter of 2021, the Chinese ecommerce company saw an increase of 51% in its total revenues, which was at USD 3,337.6 million.
The number of Pinduoduo's active buyers also jumped from 731.3 million to 867.3 million, indicating a 19% increase. In 2020, it was able to surpass Alibaba in terms of the number of annual active buyers.
What sets Pinduoduo apart from other ecommerce platforms? It provides a direct link between consumers and rural farmers. This link allows the latter to directly interact with the former.
---
17. JD.com (Jingdong Mall)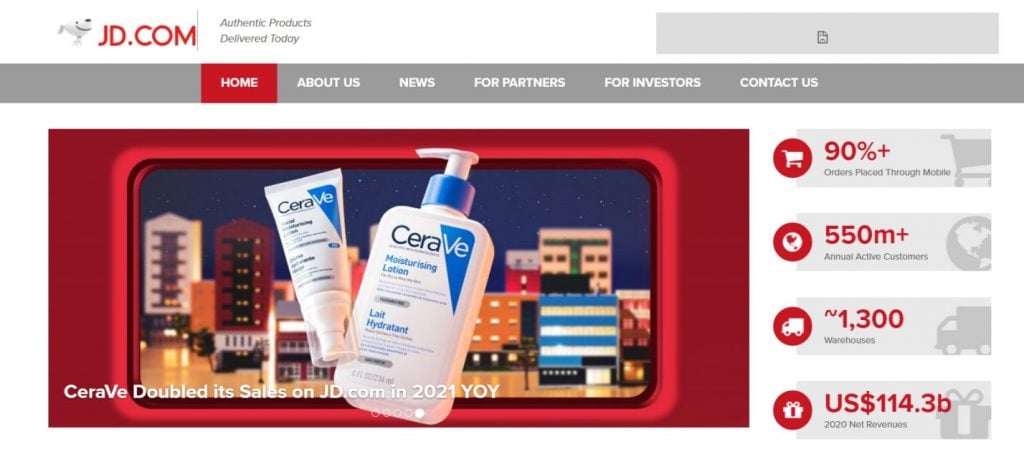 JD.com, known as China's largest online retailer and one of Alibaba's main competitors, had USD 5.1 billion in net revenues in Q3 2020. In 2021, it had 178.8 million visitors per month and had net revenues of $33.9 billion, showing a 43.3% increase. Since 2014, JD.com's revenue has been steadily on the rise, with its 2021 revenue reaching $141.50 billion and its market cap hitting $120.58 billion.
Unlike other ecommerce companies that leverage third-party entities, Jingdong takes care of all logistics operations. This, in turn, enables the company to offer next-day and even same-day delivery for almost all of its orders.
Furthermore, JD.com had 25% more annual active customer accounts in Q3 2021, with 552.2 million, compared to 2020's 441.6 million.
---
18. Target Corporation
In 2021, Target, one of the largest retail chains in the US, had an average of 182.2 million visits per month, making it one of the top ecommerce websites. The company's Q1 2021 digital sales grew by 50% because it leveraged its physical locations and used them as physical hubs for their ecommerce arm.
Other factors that played a role in Target's digital growth include same-day services, such as order pickup, Shipt, and its curbside pickup service called Drive Up. In Q3 2021, these same-day services increased to nearly 60%.
Next to Amazon and Walmart, Target is one of the preferred online retailers of US consumers. According to 3% of retailers, Target remains one of their top competitors.
The retailer's Q3 2021 sales grew by 12.7%, with digital comparable sales growing by 29%, on top of last year's 155% growth. The company's total revenue in 2021 increased by 13% ($25.6 billion), which exceeded figures predicted by some analysts. It also enjoyed brisk comparable sales (up 12.7%) during the 3rd quarter, as more shoppers made their way to Target's physical stores and visited the retailer's website.
---
19. SoftBank Group
While the Japanese tech conglomerate SoftBank Group isn't an ecommerce company per se, it does invest heavily in ecommerce companies like the Turkish ecommerce company Trendyol and South Korea's Coupang. It was also an early investor in Alibaba, which has now become one of the largest ecommerce companies in the world.
Just last year, SoftBank invested $1.6 billion in British ecommerce startup THG's new influencer platform.
In FY2021 Q2, SoftBank Group's revenue in all of its segments, Yahoo! Japan/Line, distribution, enterprise, and consumer, increased by 35%, 4%, 5%, and 6%, respectively. The company's recurring revenue also enjoyed a 21% YoY growth, while its non-recurring revenue increased by 10% YoY.
---
20. Alphabet
Alphabet Inc. is another tech conglomerate. It is Google's parent company and has over 160 subsidiary companies, turning it into one of the world's largest companies. Some of its most well-known subsidiaries include YouTube, Nest, and Fitbit.
In the Q4 FY 2021, Alphabet had revenues of $75 billion, showing a 32% YoY growth. Alphabet's influence also expands to retail, thanks to its collaboration with Walmart for voice searches with Google Assistant.
---
21. Facebook
In 2021, the social media platform Facebook (now Meta) launched Facebook Shops, with the goal of supporting small businesses during the pandemic. This feature allows businesses to list their products on Facebook and Instagram, as well as on other Facebook platforms like Messenger, Instagram Direct, and Whatsapp. Similar to other ecommerce platforms, Facebook Shops also has live shopping features and it enables you to connect your loyalty programs to your Facebook account.
Aside from Facebook Shops, the platform also has Facebook Marketplace, which is used by 1 in 3 people in the US to buy and sell products. Moreover, Facebook continues to work toward fortifying its ecommerce programs for a range of business types, from small businesses to startups. In fact, one of Facebook's advantages as an ecommerce platform is its capacity to target audiences.
In 2021, the company's revenue was approximately $117 billion, compared to FY2020's $86 billion. This huge jump in revenue is largely because of digital advertising.
---
22. Baidu
Baidu is a Chinese tech company that runs the country's dominant search engine. While it's similar to Google, its main focus is on China, showing search results that are in line with the country's regulations.
Baidu (the search engine) is one of the largest search engines in the world and commands a major share of China's search market. Like its counterparts, it also has features like maps, video, and news, all of which are geared toward its consumers. In Q3 2021FY, the company's total revenues were RMB 31.9 billion or USD 4.95 billion, which shows a 13% YoY increase.
---
23. Suning Commerce Group Co. Ltd.
Suning is another Chinese company that's also one of the country's biggest retailers, with around 1,600 outlets and 13,000 employees in China. The company operates various businesses under commerce, real estate development, and entertainment, among others.
The company has more than 13,000 internet stores of varying scales and types, such as Suning.com Plaza and Suning Retail Cloud Store. In 2019, Suning.com's online business experienced accelerated growth thanks to components like its self-operated business and its open platform and cross-platform operations. In 2020, its total revenues were reported to be at $36,411.81 million. In 2021, the company had total revenues of $36,564.5 million, a market value of $8,618 million, and 69,398 employees.
---
24. Stichting INGKA Foundation
INGKA Foundation owns INGKA Group, which is the largest IKEA retailer in the world. It has more than 390 stores present in 32 countries. Unlike the other ecommerce companies on our list, INGKA is different because it's primarily a foundation.
Over the years, IKEA has expanded its operations and has acquired Task Rabbit, which is now being run by the company as its subsidiary. Another contributor to IKEA's ecommerce growth is its adoption of augmented reality technologies, allowing customers to get a glimpse of how a piece of furniture from IKEA would look like in their homes.
Compared to FY20, Ingka Group's revenue grew by 6.5%, amounting to a total of EUR 39.8 billion. Its operating income also increased by 31% (EUR 1.9 billion). The new IKEA app reached 33.5 million users in 2021, and app downloads more than doubled during that period.
---
25. Microsoft
While Microsoft isn't exactly an ecommerce company, it has been paving the way for ecommerce solutions since 1998. It continues to play a major role in tech solutions, such as the cloud and artificial intelligence, and it also continues to offer reliable business applications.
In FY21, Microsoft's revenue increased by 22%, bringing it to a total of $45.3 billion. Its operating income also grew by 27% for a total of $20.2 billion. As of January 2022, the company's reported earnings increased by 20% ($51.73 billion). Key components that drove revenue for Microsoft include its Intelligent Cloud segment, More Personal Computing segment, and sales from Xbox hardware.
---
26. Apple Inc.
Apple Inc. proves to be a formidable business entity, whether it's in the online space or in its physical locations. The consumer electronics company's global revenue jumped from USD 274.52 billion in FY20 to USD 365.92 billion in the 2021 financial year.
The company's profit jumped to $34.6 billion, with revenues totaling $123.9 billion, by the end of 2021. This huge leap is due in part to iPhone sales, which totaled $71.6 billion (up 9%).
---
27. Liberty Interactive Corporation
Liberty Interactive (now Qurate Retail, Inc.) is a powerful retail force, with it being the parent company of a number of home shopping TV channels like QVC and HSN. In addition to TV retail, the company owns Zulily, an ecommerce website geared toward mothers.
The company's retail brands are able to reach approximately 218 million homes worldwide through channels like TV networks, streaming services, social media pages, mobile apps, and websites, among other avenues. Its annual sales are projected to be at $11.80 billion.
---
28. Chewy
Chewy is an ecommerce company dedicated to providing pet supplies. With a market cap of $19.63 billion, it's one of the world's top ecommerce companies. For the fiscal Q3 2021, the company's net sales amounted to $2.21 billion, showing a 24.1% YoY increase. Its gross margin also expanded by 90 basis points, bringing the total to 26.4%.
The company's success is largely because of strong demand and engagement from consumers. Based on a two-year period, the company experienced an 86% growth.
---
29. Zalando
European fashion ecommerce company Zalando had an average of 134.8 million visits per month in 2021. It currently has a market cap of $18.39 billion. Its online services are available in 23 European countries, including Austria, Belgium, France, Germany, the Netherlands. Spain, Sweden, Switzerland, and the UK.
In the Q2 2021, the company's revenue reached over 2.7 billion euros, which points to a significant 34% increase compared to the same period in 2020. In Q3 2021, the company reported that it launched six new markets and increased the frequency of its brand collaborations. Furthermore, it presented a solid financial performance, showcasing a GMV growth of 25.3% and revenue growth of 23.4%.
---
30. Etsy
Etsy, an ecommerce website that specializes in showcasing handmade and craft items, continues to be one of the most popular online marketplaces in the world. It raked in 238.4 million site visits per month in the US and 36 million visits per month in the UK. In Europe, it had 59.1 million visits per month in 2021.
On average, visitors spend around 6 minutes on the site and go through 6.53 pages per visit. As of writing, its market cap is pegged at $17.90 billion.
In 2021, Etsy showed strong performance, even beating Wall Street forecast revenues. It had a quarterly revenue of $532 million on GMS. By Q3 2021, its consolidated GMS was $3.1 billion (17.9% YoY increase) and its marketplace GMS had a 12.4% YoY increase, bringing it to a total of $2.7 billion. During this period, the ecommerce company had acquired approximately 11.1 million new and reactivated buyers, with the number of habitual buyers showing a 65% YoY growth.
---
31. Samsung
When you think of ecommerce companies, Samsung may not always be the first on that list. However, the South Korean electronics and appliance manufacturer commands sizable website traffic. It raked in 821.3 million total visits worldwide in 2021 from both desktop and mobile web sources.
Top countries that visited Samsung's website include the US, Germany, India, the UK, and South Korea. For the 2021 fiscal year, the company reported consolidated revenues amounting to KRW 76.57 trillion.
---
32. Trendyol
Trendyol is Turkey's largest ecommerce platform that's run by a Turkish tech company. The company employs an array of technologies like Content Delivery Network, Google Analytics, and LetsEncrypt to ensure that it's able to deliver a seamless UX for visitors.
The site is immensely popular in Turkey, which accounts for 99% of visits. It regularly has a large volume of visits, ranging from 206 million to almost 220 million visitors. On average, visitors spend around 6 minutes on the site and go through 7.54 pages per visit. The company is backed by another ecommerce giant, Alibaba.
---
33. Best Buy
Best Buy is the largest electronics retailer in the US. The company has already been well-equipped to embrace digital transformation, having invested in its supply chain to meet large demand volumes.
Sales generated online are also at an all-time high, compared to pre-pandemic rates. In Q1 2022, its domestic sales grew by 33%, compared to the 15% growth in Q1 2020. As of January 2022, the site had a total of 138.4 million visits, with visitors spending an average duration of 4 minutes on the site. Its Q4 FY22 results showed revenue of $16.4 billion to $16.9 billion, while the total revenue for FY22 is between $51.8 billion to $52.3 billion.
---
34. Otto Group
The Otto Group primarily operates as a retail ecommerce company headquartered in Hamburg, Germany. Being one of the world's top online marketplaces, it had an average of 55.9 million visits per month. In Europe, OTTO had 55 million monthly visits.
Otto runs in more than 20 countries worldwide. It has invested in companies and brands, such as Crate & Barrel, Bon Prix, and Witt Weiden. Through its investments in these brands, the group aims to achieve annual revenues of 17 billion euros by 2023.
Online retail remains the group's main growth driver. The company's global ecommerce revenues grew by almost 10%. In Germany, revenues increased by almost 9%.
---
35. Wayfair
Wayfair, which specializes in housewares, garnered an average of 179.1 million visits per month in 2021. It's one of the most popular online marketplaces for housewares and has a current market cap of $15.36 billion. While it is immensely popular in the US and Canada, Wayfair is also popular in Europe. In the UK and Germany, raking in a total of 32.6 million visits from the region.
Visitors to the Wayfair website have an average visit duration of around 5 minutes and go through 5.93 pages with each visit. Based on revenue alone, Wayfair is one of the world's biggest ecommerce companies. In Q3 2021, it had total net revenues of $3.1 billion.
---
36. Coupang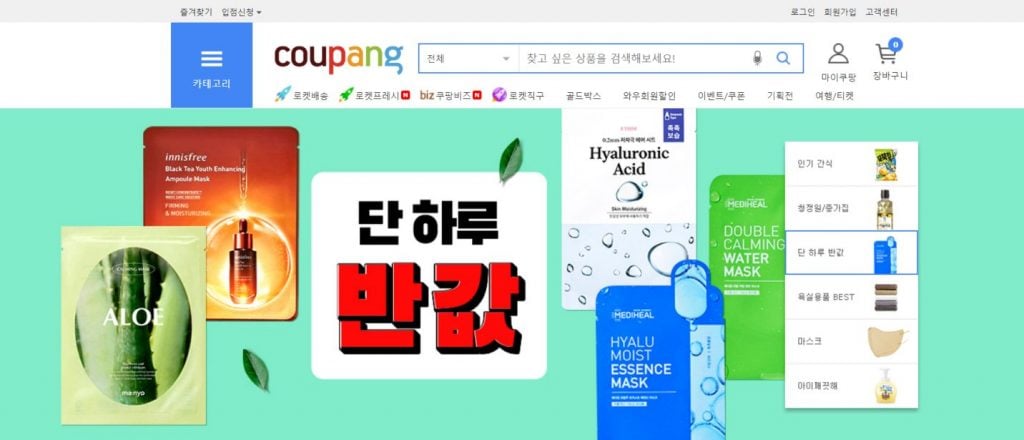 Coupang, dubbed as "South Korea's Amazon," plays a major role in the South Korean economy, accounting for 4% of its consumer commerce. In 2021, the company had approximately 50,000 employees and is looking to increase its workforce by another 50,000 by 2025.
In 2021, it had an average of 65.5 million visits per month. Its current market cap is at $36.60 billion. Its 2020 revenue was $12 billion, indicating a 91% increase. Its Q3 2021 performance showed a 48% growth in revenue, with total net revenues totaling $4.6 billion. This shows a 48% YoY growth. The number of active customers also increased by at least 20% YoY.
What drives Coupang's quick growth? One of the key factors for the company's steady growth is its speedy delivery service. Coupang has Dawn Delivery, which lets customers receive their packages by 7 a.m. the next day, provided they place an order before midnight.
---
37. B2W Digital
B2W is a Brazilian ecommerce company and is considered as the largest online retailer in Latin America. It came out as a result of the merger between Americanas.com and Submarino in 2006.
It operates through a digital platform and its portfolio includes brands like SouBarato, B2W Viagens, Submarino Finance, and BLOCKBUSTER Online. In 2020, the company generated net revenues of 10.12 billion Brazilian reals, showing an increase from 2019's 6.66 billion reals.
---
38. Groupon
Groupon, an ecommerce marketplace that bridges users with local merchants, still remains as one of the world's largest ecommerce companies. It currently has a market cap of $073 billion. In 2020, the company had an annual revenue of $1,417 million, while its quarterly revenue (as of September 2021) was at $214 million.
In June 2021, Groupon.com had 30.9 million monthly visits, a significant increase compared to January 2021's 24.3 million visits per month.
---
39. Tencent
Tencent is a Chinese internet and tech company that publishes some of the world's most popular video games. Aside from games, its products and services include cloud computing solutions, advertising, and FinTech. Its portfolio includes WeChat, which has more than a billion users, and stakes in games (Fortnite and PubG) and Entertainment (Universal Music).
For Q3 2021, Tencent had total revenues amounting to USD 22.0 billion, which showed a 13% increase compared to Q3 2020. Its operating profit showed a 7% YoY increase, amounting to USD 6.3 billion.
---
40. Lojas Americanas (Americanas.com)
Americanas currently has a market cap of $5.70 billion. In 2021, it had an average of 130.6 million visits per month. In Latin America, the Americanas site is one of the most visited, with 129.6 million visits per month.
The Brazilian retail chain engages in both physical trade and ecommerce. It operates around 200 discount department stores and showcases more than 80,000 products. Its reported revenue for 2021 was $4.93 billion, showing an increase from 2020's $4.05 billion.
---
41. Mercari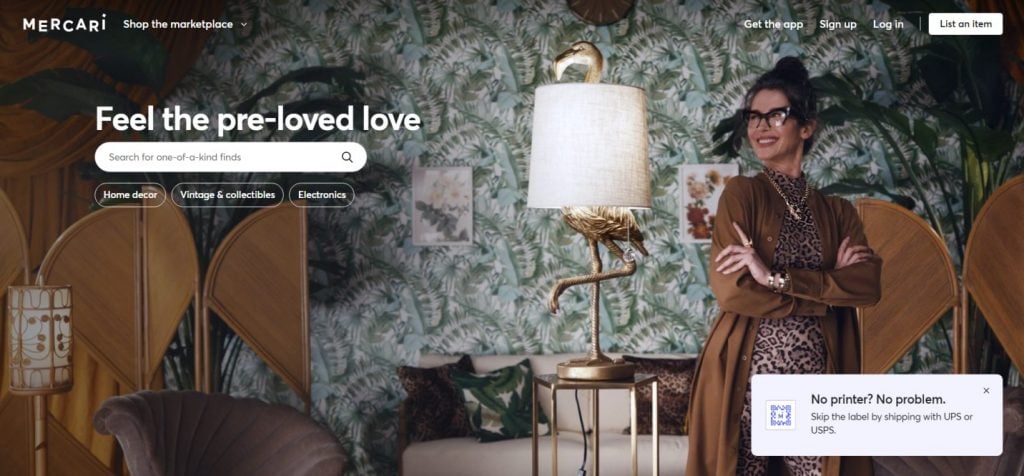 Mercari is an online buy and sell platform that's one of the most popular online marketplaces in Japan, with 75.2 million visits per month.
It follows Amazon and Rakuten in terms of the number of monthly website visits. On average, visitors spend approximately 6 minutes on the ecommerce and shopping marketplace, going through 7.50 pages per visit. Its current market cap is reported to be $5.10 billion.
Mercari was launched in 2013 in Japan. Since then, it has become the country's largest mobile marketplace. It's rapidly growing in the US, with 45 million downloads.
Mercari's FY2022 Q2 consolidated results show that its net sales had a 44% YoY growth, amounting to 37.5 billion JPY. Both Mercari JP and Mercari US enjoyed increased GMV rates, with the former having a 15% YoY GMV growth, while the latter with a 17% YoY GMV growth.
---
42. Ozon
Russian ecommerce platform Ozon, with a reported market cap of $4.61 billion, is one of the most visited online marketplaces in the world. It has an average of 88.9 million visits per month. In Europe alone, the platform had 86.2 million monthly visits in 2021. On average, visitors spend close to 8 minutes on the site and go through 10.28 pages per visit.
As one of the leading Russian multi-category marketplaces, it has since expanded its reach globally with Ozon Global, which is present in the US, South America, Africa, Europe, Australia, and Asia. Ozon Global currently has 25 million regular customers, with approximately 90 million monthly active users and around 90,000 users.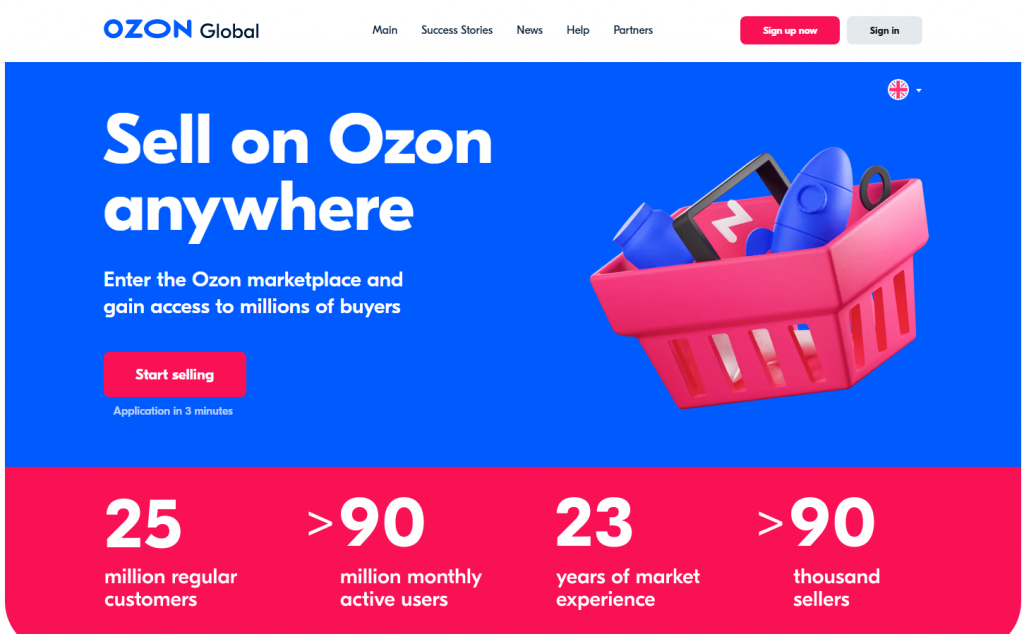 In 2021, Ozon's GMV expanded by 125% and its revenue jumped to $569.5 million in the third quarter of 2021, pointing to an 85% YoY increase.
---
43. ASOS
Fashion and cosmetic retailer ASOS is one of the most popular online marketplaces for fashion, garnering an average of 79.2 million visits per month in 2021. In its 2021 Annual Report and Accounts, it shows that the company's revenue increased from £3,263.5 million in 2020 to £3,910.5 million in 2021.
Its active customer base saw significant growth in 2021, with the company having a total of 26.4 million, compared to 23.4 million in 2020. Furthermore, it added 118 brands in 2021, bringing the total to over 850 brands.
---
44. Newegg
A popular online marketplace specializing in electronics, Newegg had 32.6 million visits per month in 2021. Its current market cap is reported to be at $2.37 billion. In 2020, Newegg's AOV was at $301. During the same year, it had more than 4 million unique active customers and a total of more than 328 million visits. As of June 2021, it had 4.2 million unique active customers and an AOV of $359.
For the first half of 2021, Newegg showed increased net sales amounting to $1,206.9 million (up 39.9%) from $862.7 million in 2020. The company's gross profit also grew by 33.9%, from $124.6 million in 2020 to $166.9 million in 2021.
---
45. Overstock
Overstock.com is a US-based online retailer that primarily sells furniture. The company specializes not only in online retail, but also in ecommerce, technology, and internet marketing, among other ventures.
In the US, Overstock had 37.9 million monthly visits. Worldwide, the website had 40.0 million visits per month. Its market cap is currently at $2.27 billion.
What began as a startup in 1999 became one of the largest online marketplaces for home goods. Overstock.com had a total net revenue of $689 million for Q3 2021, which decreased by 4% YoY. Operational highlights for the third quarter include:
An increase of active customers by 5% YoY, bringing the total to 8.7 million

A 23% increase ($325) of its Last Twelve Months (LTM) revenue per active customer

AOV was $214, indicating a 24% YoY growth
---
46. Wildberries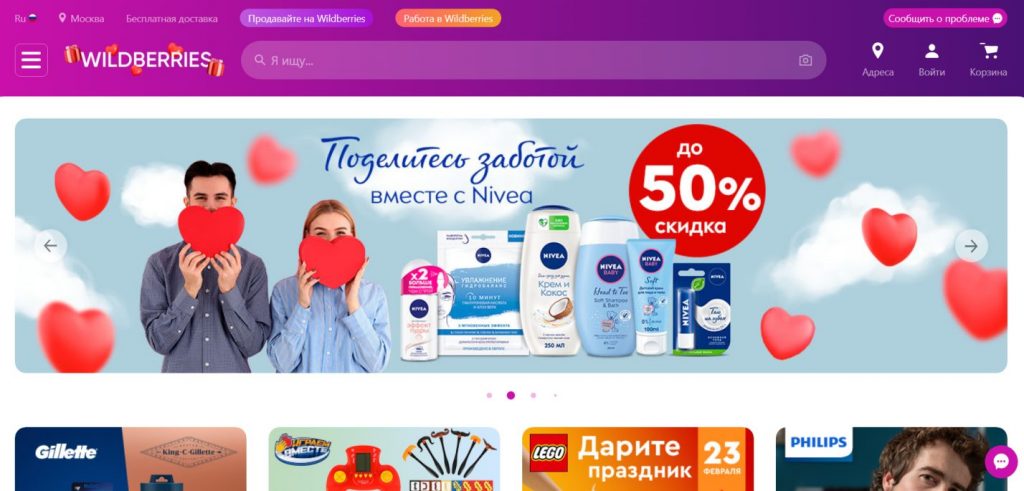 Wildberries is one of Russia's largest online retailers. It's currently available in 18 countries, including Belarus, Ukraine, Germany, France, Israel, and the US. Its rapid growth is due to its unique business model, which allows customers to try out their orders at designated pick-up points and pay for whatever items they decide to take home.
The pandemic further contributed to its growth, with sales surging to 74% and orders reaching nearly 324 million in 2020. In 2021, Wildberries had 154.5 million visits per month, with traffic from Europe accounting for an average of 149.9 million monthly visits. On average, visitors spend approximately 11 minutes on the site, browsing through 14.15 pages per visit.
The ecommerce company has come a long way from its humble beginnings in 2004. Within the last 10 years, its profits have multiplied by approximately 107 times, amounting to 4.4. billion Russian rubles. As of 2021, it had global net sales of USD 6,699.9 million.
---
47. ZozoTown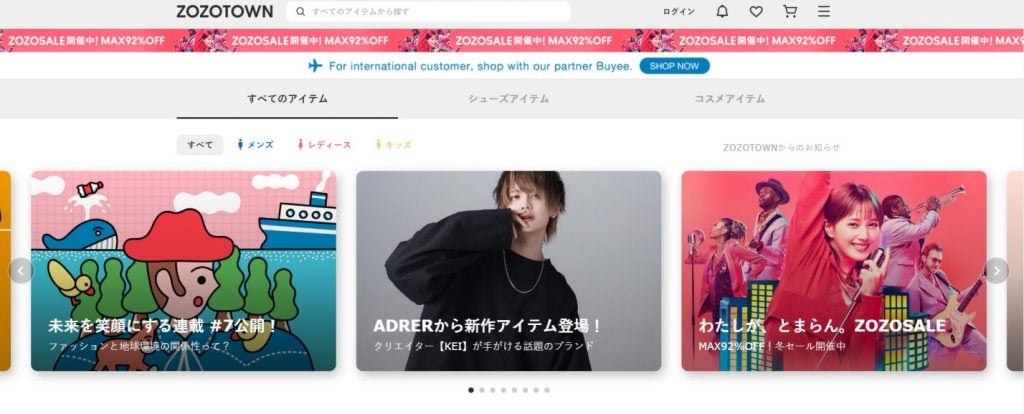 Japan's ZOZOTOWN, or ZOZO, is one of the country's most famous fashion retailers, with 43 million visits per month in Japan alone. That makes up 97% of the site's traffic. As of December 2021, it had over 1,500 stores featuring more than 8,400 brands. As many as 2,300 new items are added daily.
As of March 2021, its reported revenue is USD 1,389.53 million.
---
48. Vipshop
China's Vipshop, while not as big as Alibaba, Taobao, and Pinduoduo, still commands a sizable audience with 11.4 million visits per month. Its reported market cap is currently at $6.35 billion.
The Chinese online discount retailer reported a total net revenue of RMB24.9 billion (USD 3.9 billion) for Q3 2021, a 7.5% YoY increase from the previous year's RMB23.2 billion. Its GMV also grew by 5% YoY for the third quarter, enabling the company to rake in RMB40.2 billion, up from the prior year's RMB38.3 billion. Its active customers also increased from 43.4 million to 43.9 million.
---
49. Shopee
Shopee is one of the largest ecommerce companies not only in Southeast Asia, but also in China, the US, and Latin America. It had a total of 457.9 million visits per month in 2021 alone. Its Q3 2021 revenue was up 134% compared to its Q3 2020 performance.
---
50. Casas Bahia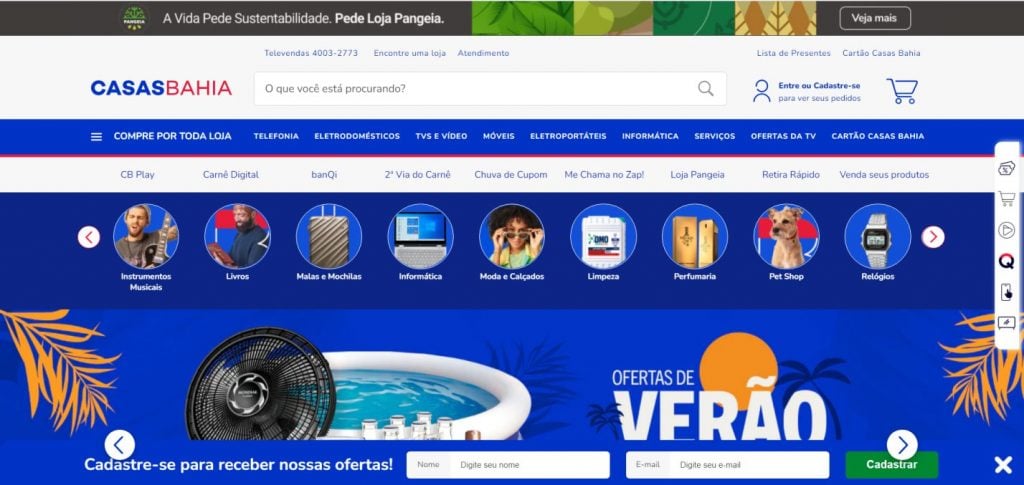 Brazil's Casas Bahia, a retail chain that specializes in home goods and appliances, is one of Latin America's top ecommerce companies, alongside Magazine Luiza and Americanas. Its website received 83.6 million visits per month from Latin American traffic. Worldwide, it had 84.2 million monthly visits in 2021. Its reported global net sales in 2021 amounted to $2,404.2 million.
---
Trends That Will Shape the Ecommerce Industry in 2022
As technology and consumer demands continue to evolve, so too does the entire ecommerce industry. Below are some of the trends that will impact ecommerce in 2022:
The use of third-party cookies to collect user data is coming to an end. To keep up with the times and to ensure that your ads remain effective, there is a pressing need to leverage zero-party data, or data that's collected directly from your users.
Sustainability isn't just a buzzword—it's among the trends that will change the way companies do their business. Consumers are expecting companies to become more sustainable. Not being able to embrace sustainability in practices may adversely affect a company's growth.
Blockchain, and cryptocurrency, will play a major role in ecommerce finance and payments. As more banks and payment platforms are beginning to include crypto in their offerings, it's expected that it will become a more mainstream mode of payment not only in 2022, but also in the years to come.
Direct-to-the-consumer or D2C trade, where businesses can sell directly to consumers, is expected to make waves in 2022. Many big brands have cut ties with trading platforms, which serve as middlemen between businesses and buyers, and are instead focusing on building or improving their own online stores.
D2C sales also help customers get access to lower prices because they're buying directly from the businesses. For businesses, the D2C model will enable them to earn more profit.
---
Fueling the Future with Ecommerce
Ecommerce is here to stay and it's expected to become even bigger in the years to come. As online retailers open up more channels and leverage technology to improve their scale and accessibility, more people are embracing the convenience and other benefits that such companies can offer. In fact, it's predicted that by 2040, a whopping 95% of purchases will be made via ecommerce channels.
But despite the meteoric rise of the ecommerce industry, not all ecommerce firms have enjoyed successes. Travel and ride-hailing platform companies, like Expedia and Airbnb, have been adversely affected by a reduction in their gross merchandise value (GMV).
However, it's not all bad news. Expect to see the continued growth of global B2B and B2C sales, including cross-border B2C ecommerce. B2B ecommerce, in particular, represents 82% of ecommerce. This figure includes sales from online market platforms and electronic data interchange transactions. Furthermore, B2C ecommerce increased by 11%, while cross-border purchases jumped to 25% in 2019 alone.