The internet has been functioning long enough to have a good idea of what you want from any eCommerce platform you may be considering. You might know how your physical store operates, and in many ways, would like your online store to replicate that. You want to display your products in a clear way, making it easy for potential customers to search for and find what they are looking for. Customers can't feel and touch your products, however, so you need your online store to make up for that. You need to make a pleasant customer experience, or potential customers will click on another site.
In the past, you would have had to have paid considerable money for a software developer (or even a full development team) to come up with some bespoke website for you. However, technology has improved, and you can quickly build eCommerce websites, almost in a kitset way, using an eCommerce platform. In some cases, these are built on top of an existing content management system (CMS), like WordPress. In other instances, developers have created standard-alone eCommerce platforms that are effectively CMSs in themselves.
You can use these eCommerce platforms to build your online store from scratch. Most also operate app stores (or plug-in stores), giving additional capabilities over and above the core platforms.
We have taken a look at some of the better-known eCommerce platforms that will be around in 2021 for you to build your online store.
---
Looking for the Best eCommerce Platform in 2021?
---
1. Shopify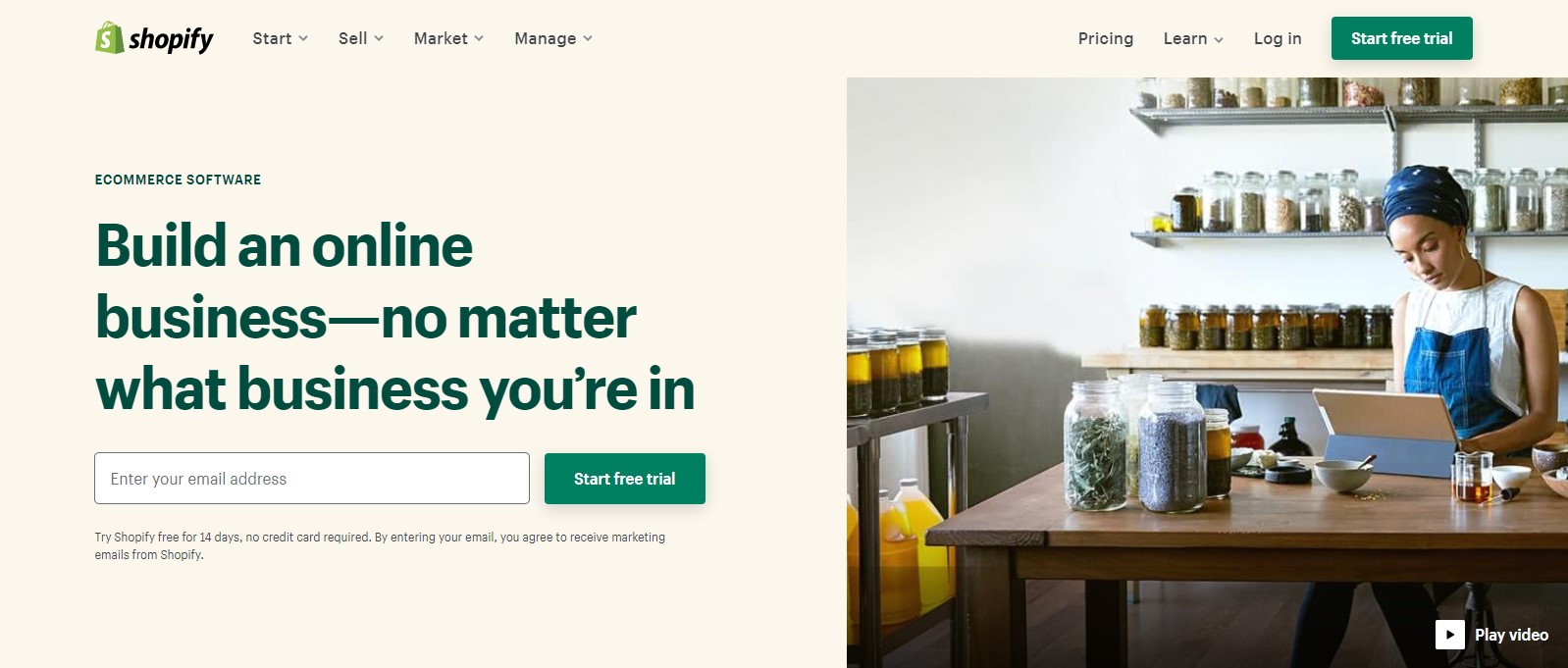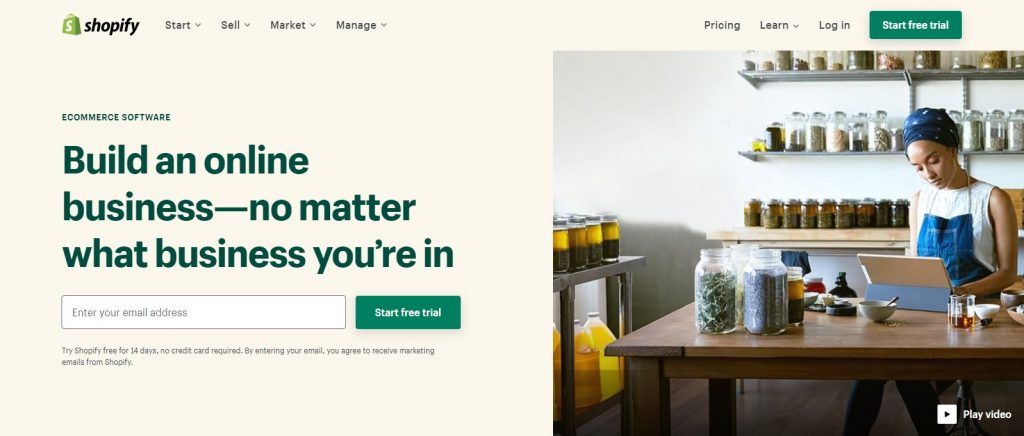 Shopify is the "biggie" of eCommerce platforms. It is the most popular in the English-speaking world. It caters to businesses of all sizes. More than 1 million merchants use Spotify's platform, across nearly 1.5 million websites. Shopify has a market share of 31% in the United States for websites using eCommerce. One of the most crucial reasons for Shopify's success is its flexibility. There are more than 2,400 apps in the Shopify App Store.
As well as standard Shopify, Shopify Lite is for those with an existing website that merely needs a way to take payments. Shopify Plus is for companies so large they can easily spend $2,000 a month on their eCommerce platform.
Shopify is a way to quickly and easily deploy an e-commerce back-end for businesses that would otherwise not have had the resources to do it. It includes a built-in CMS, multiple themes for your site (and a third-party marketplace offering more), and capability for a blog for your online store.
Shopify's most notable feature is its ease of use. The smallest business can set up an attractive, capable Shopify store, and large enterprises will benefit from the additional features of Shopify Plus.
---
2. Magento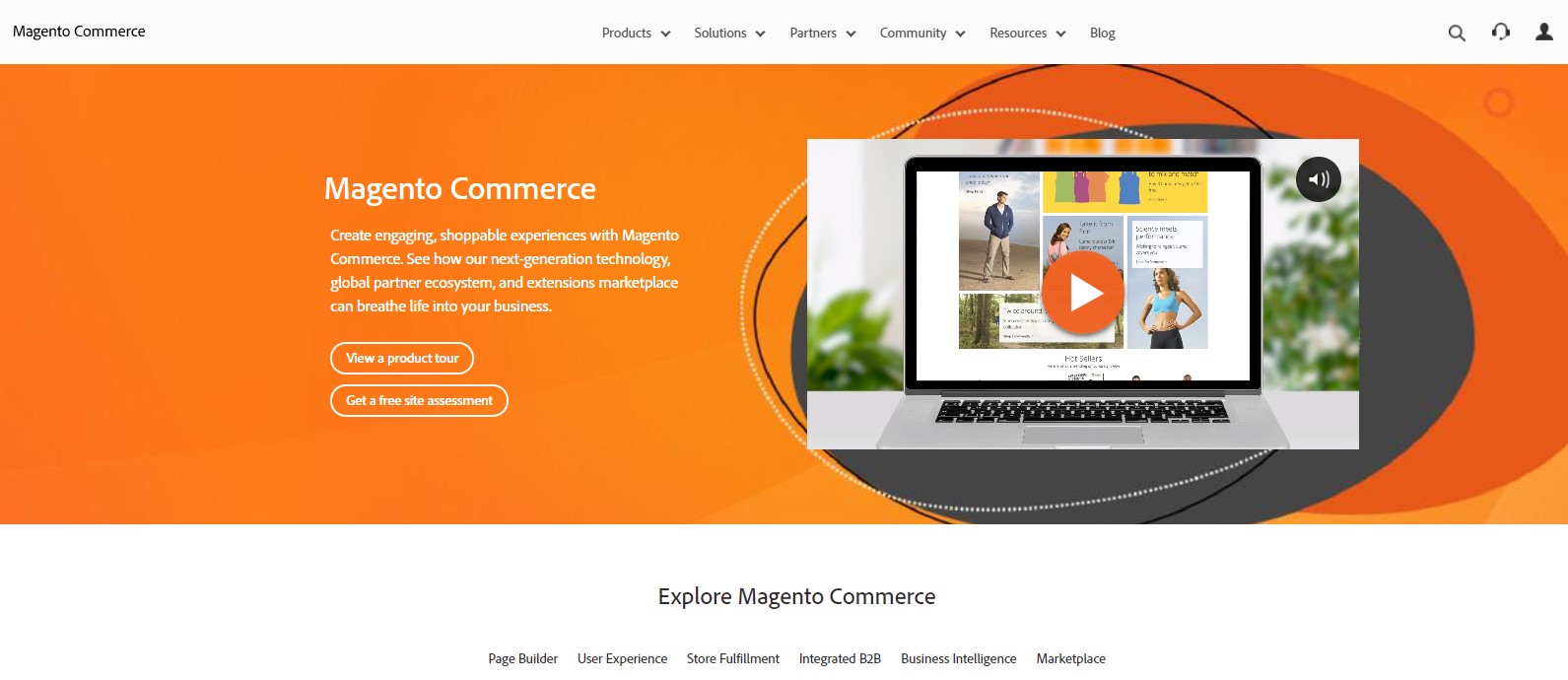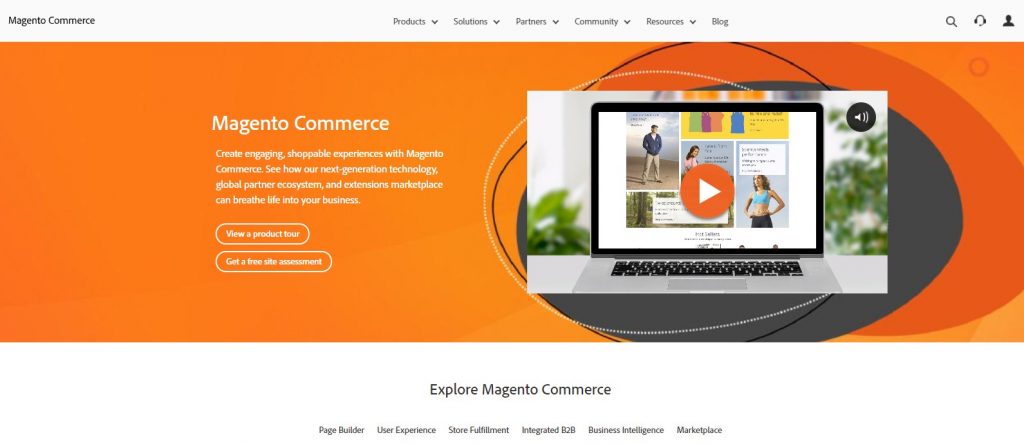 Another highly popular eCommerce solution is Magento. Being open source, it targets people with professional web development experience, so not as suitable for do-it-yourself website developers as some of the other platforms. It's generally used on medium to large eCommerce sites that can afford a web person or department.
Magento has an expansive back-end interface and an in-depth feature list. You can expand and customize however you desire. Your developer should be able to adapt Magento to meet virtually any eCommerce need.
A beginner will probably find Magento daunting, but experienced users should learn to use the most relevant features easily enough.
As its name suggests, Magento Open Source is available for free. You might choose Magento Commerce if you need more assistance on an eCommerce platform. This is a paid plan with customized pricing, targeting large businesses and enterprises.
---
3. WooCommerce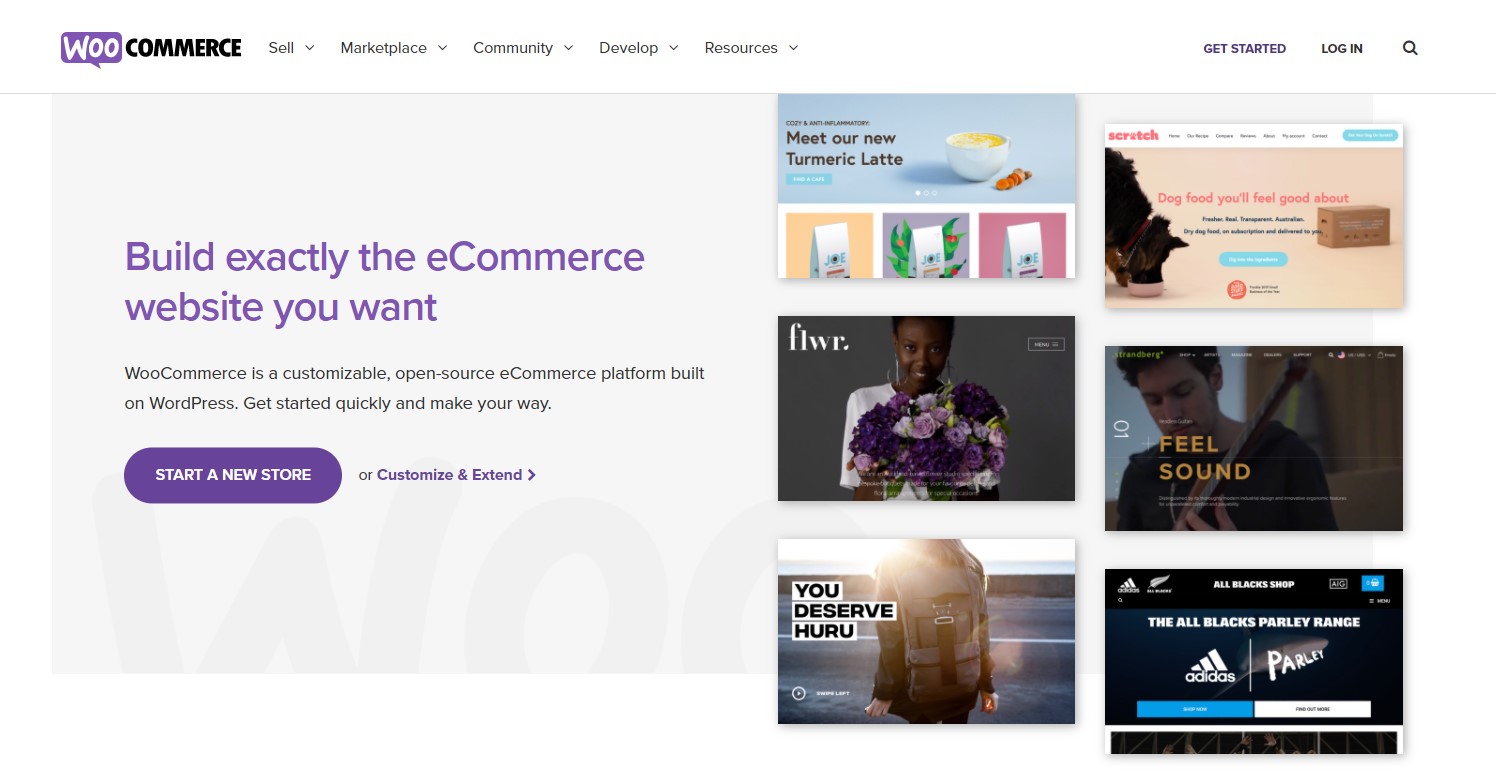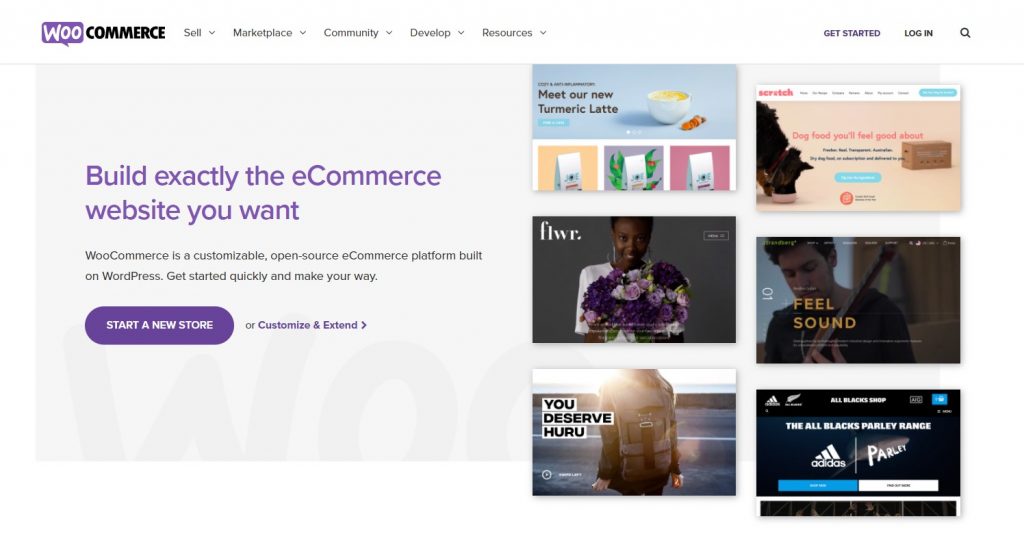 WooCommerce is an open-source, customizable eCommerce platform for entrepreneurs. It is built on WordPress, and you run it behind your existing WordPress site. It also means that you can benefit from WordPress's SEO capabilities. However, being on WordPress means that you have to separately buy hosting, a domain name, and an SSL certificate, all of which are catered for by many of the stand-alone eCommerce platforms.
You will need many extensions if you are to create a usable WooCommerce site. This includes payment gateways, like Stripe, PayPal, Square, Amazon Pay, and Authorize.Net, as well as plug-ins for your shipping and email tracking.
WooCommerce allows unlimited products and product variants, including digital products.
---
4. Square Online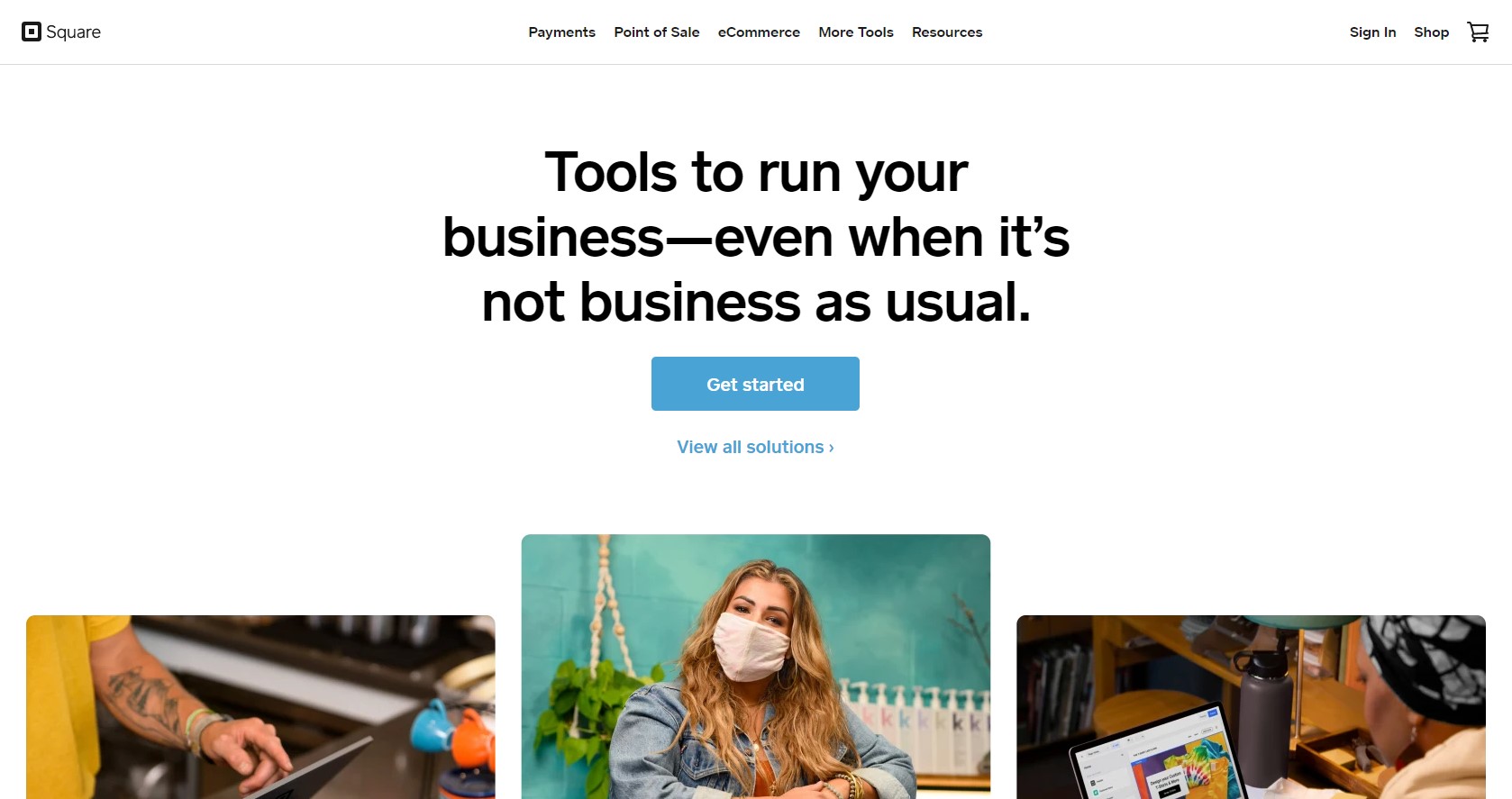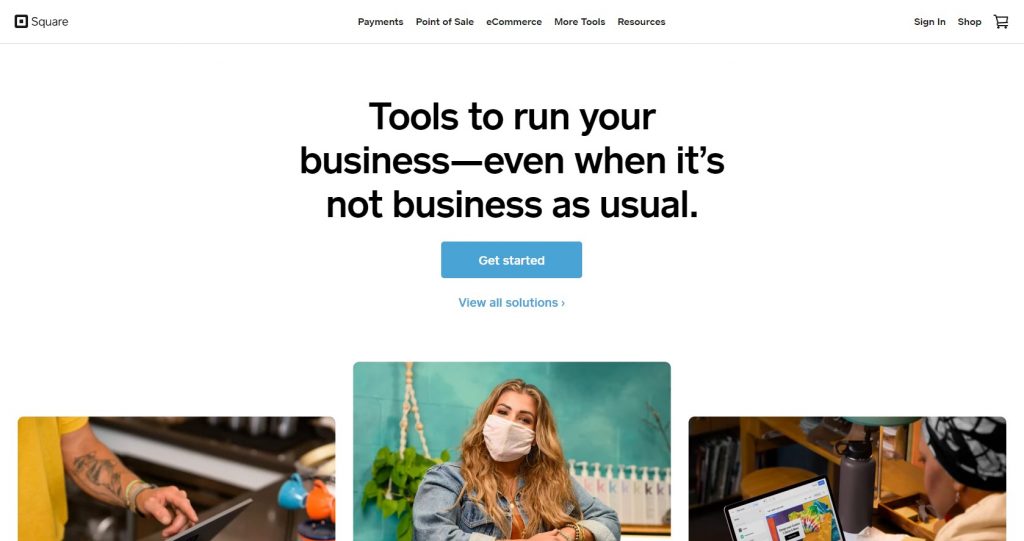 Square has been facilitating credit card payments since 2009. From the beginning, anybody could use Square to accept payments with credit cards using a smartphone app and a device plugged into the headphone jack. Although Square began as a solution for in-person transactions, over time it expanded into the online sphere.
You probably wouldn't pick Square if you only have an eCommerce site – other platforms cater better for online transactions. You have fewer options when building a Square website – there are no themes or anything like that. Pick a font, choose the color closest to your existing branding, upload a banner image, and you will have a website in about 30 seconds.
You then add stock items to your database. Square creates two separate databases of your products, one for your online store and one tied to your back-end Square payments system. Everything syncs between the two databases automatically. However, it isn't designed for products with huge numbers of variants.
Square Online is most suited to small, independent businesses with small catalogs with little variation, such as artisans, crafters, thrift shops, smaller service businesses, subscriptions, and artists.
---
5. BigCommerce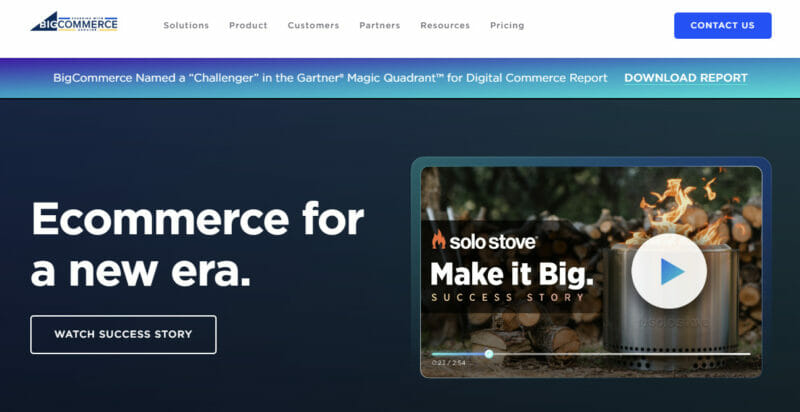 BigCommerce is one of the better-known eCommerce platforms. It has two offerings: BigCommerce Essentials (a DIY SaaS platform) and BigCommerce Enterprise (a customized experience for larger customers).
BigCommerce walks you through the steps needed to set up your eCommerce store. You begin by adding your products and only build your website further through the setting-up process. BigCommerce really keeps you organized. There are clear instructions about what information is needed and links to help files related to what you're filling out. If there's a third-party app that can help you more than what BigCommerce provides, you'll have the opportunity to install that app right from the admin console.
More than 800 apps in the BigCommerce app store allow you to add numerous additional capabilities to your store, depending on your needs.
---
6. Ecwid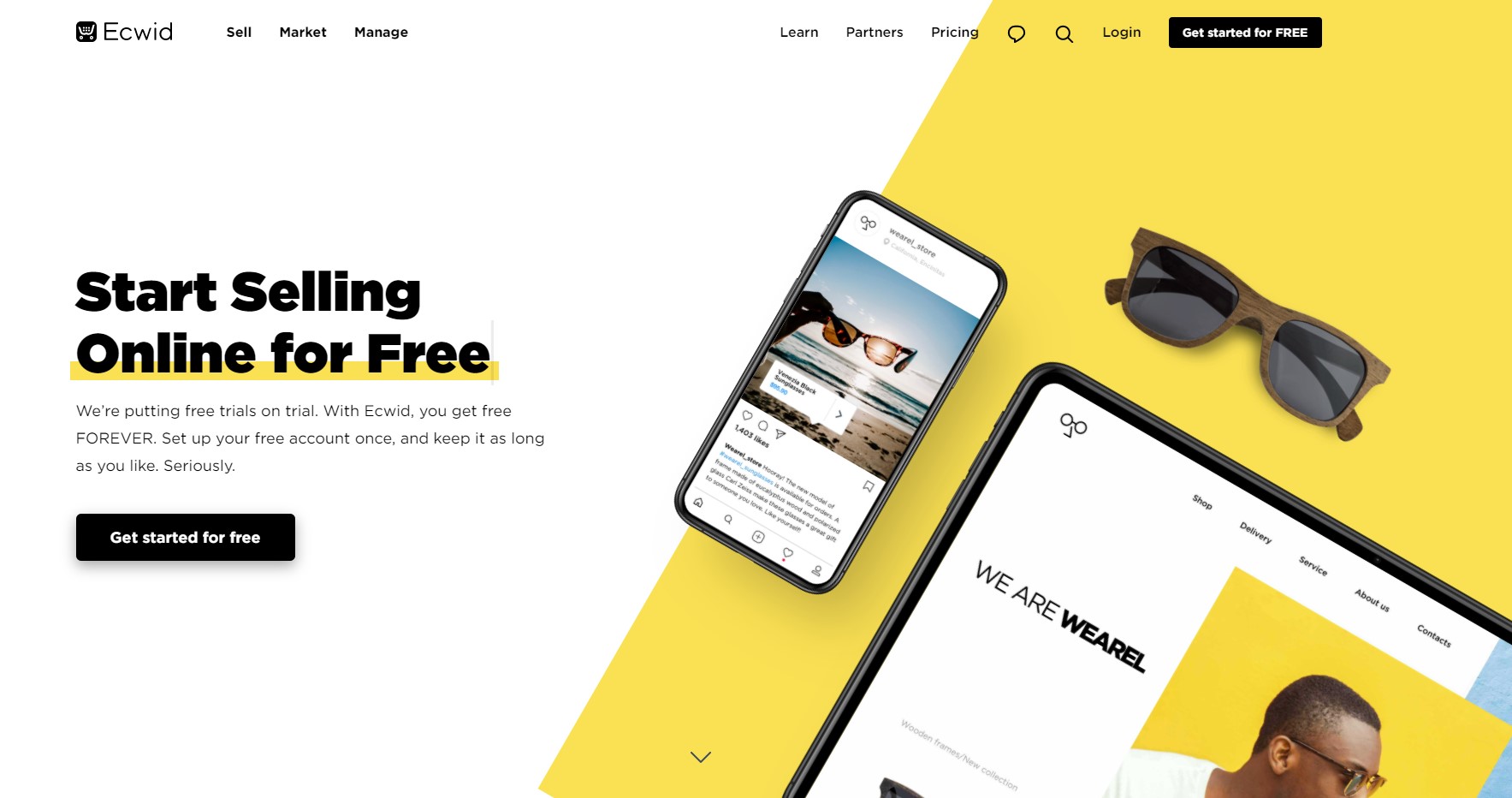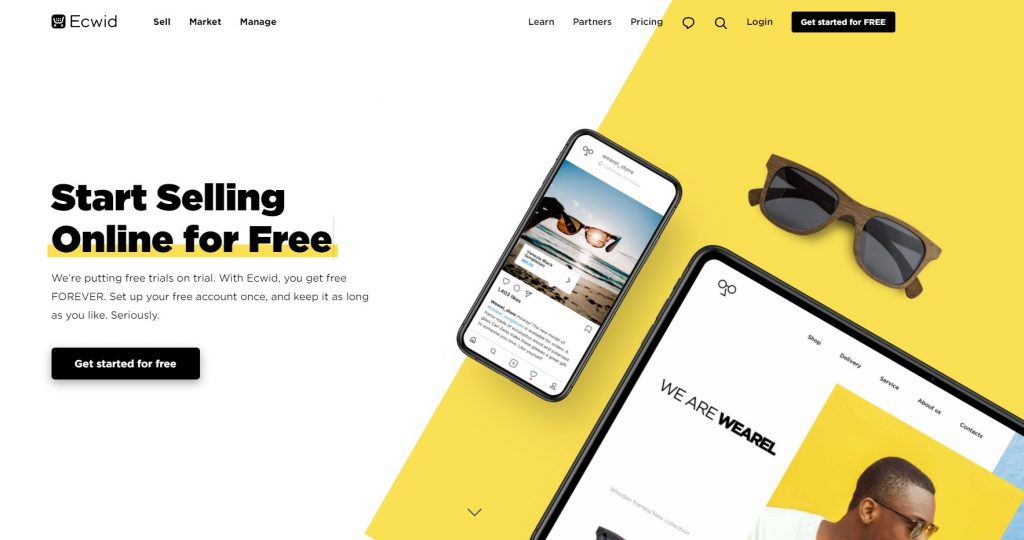 Ecwid differs from many of the other platforms here, in that rather than using it to build a stand-alone eCommerce platform, you use it to add an online store to your existing website. Indeed, you can use Ecwid to easily sync and sell across your website, social media, marketplaces like Amazon, and even live in-person. Recently, however, Ecwid has added some capability to create a basic one-page "Instant Site."
At its core, Ecwid generates an electronic widget that you place on sites where you want eCommerce functionality – Ecwid stands for "eCommerce widget."
If you only want to sell a small number of products (fewer than 10), you can use Ecwid for free. For higher volumes of products, Ecwid offers three pricing plans, ranging from $15 to $99 per month.
---
7. Salesforce Commerce Cloud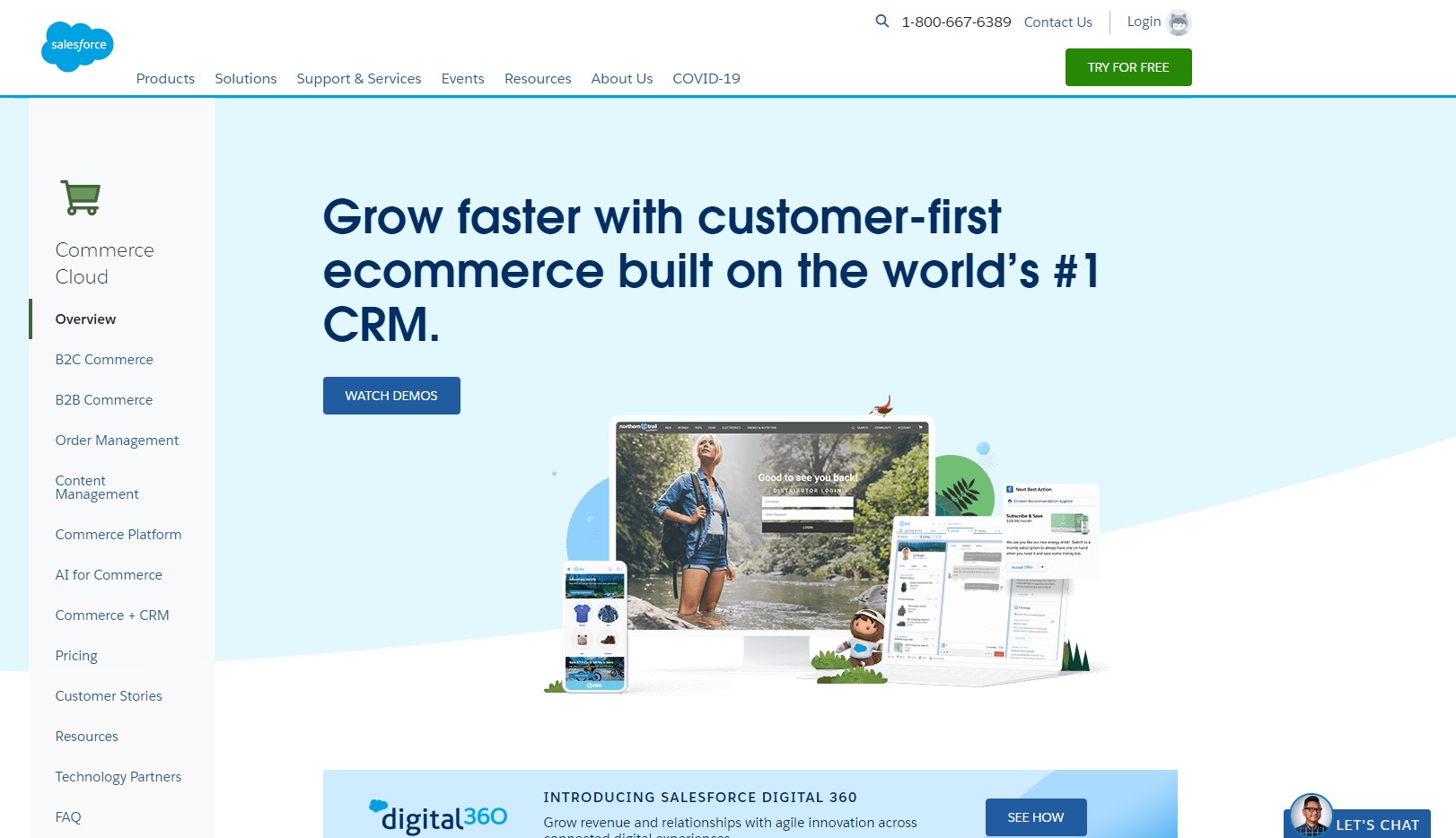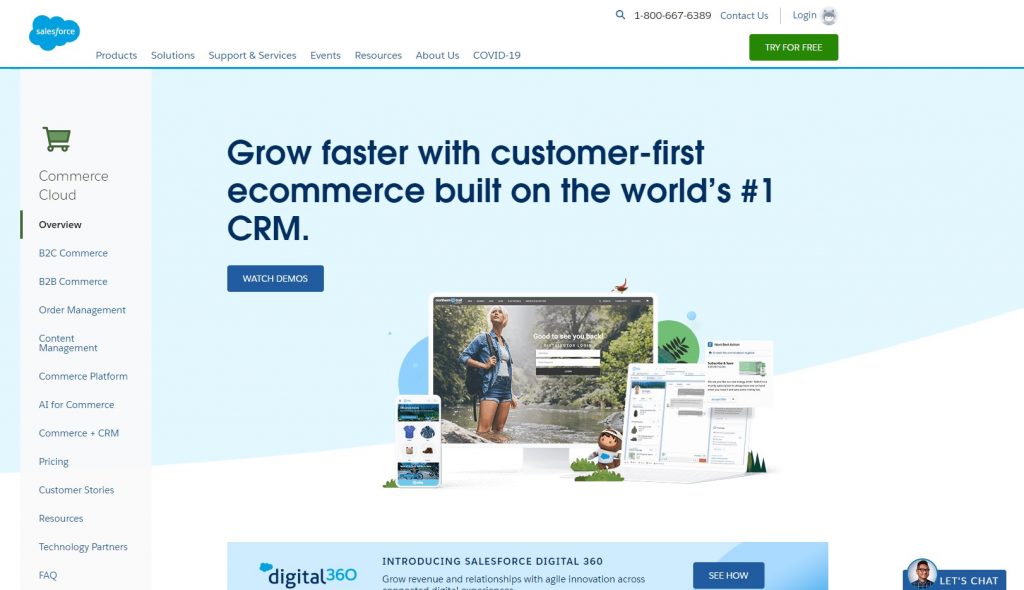 Salesforce Commerce Cloud is a cloud-based platform for businesses. Salesforce offers different products targeting B2C and B2B firms. Salesforce B2C Commerce was previously called Commerce Cloud Digital. You can integrate all your sales channels, both digital and physical, into Salesforce Commerce Cloud: mobile, social media platforms, your web store, your brick and mortar shop, and more.
The platform is exceptionally comprehensive. You can use it to launch your eCommerce business, and it includes all the tools you need to run your business daily. It contains tools relating to sales, customer service, marketing, developing your community, and order fulfillment, amongst others. In addition to its core functionality, Salesforce Commerce Cloud offers over 4,000 pre-integrated apps in its app store.
---
8. FastSpring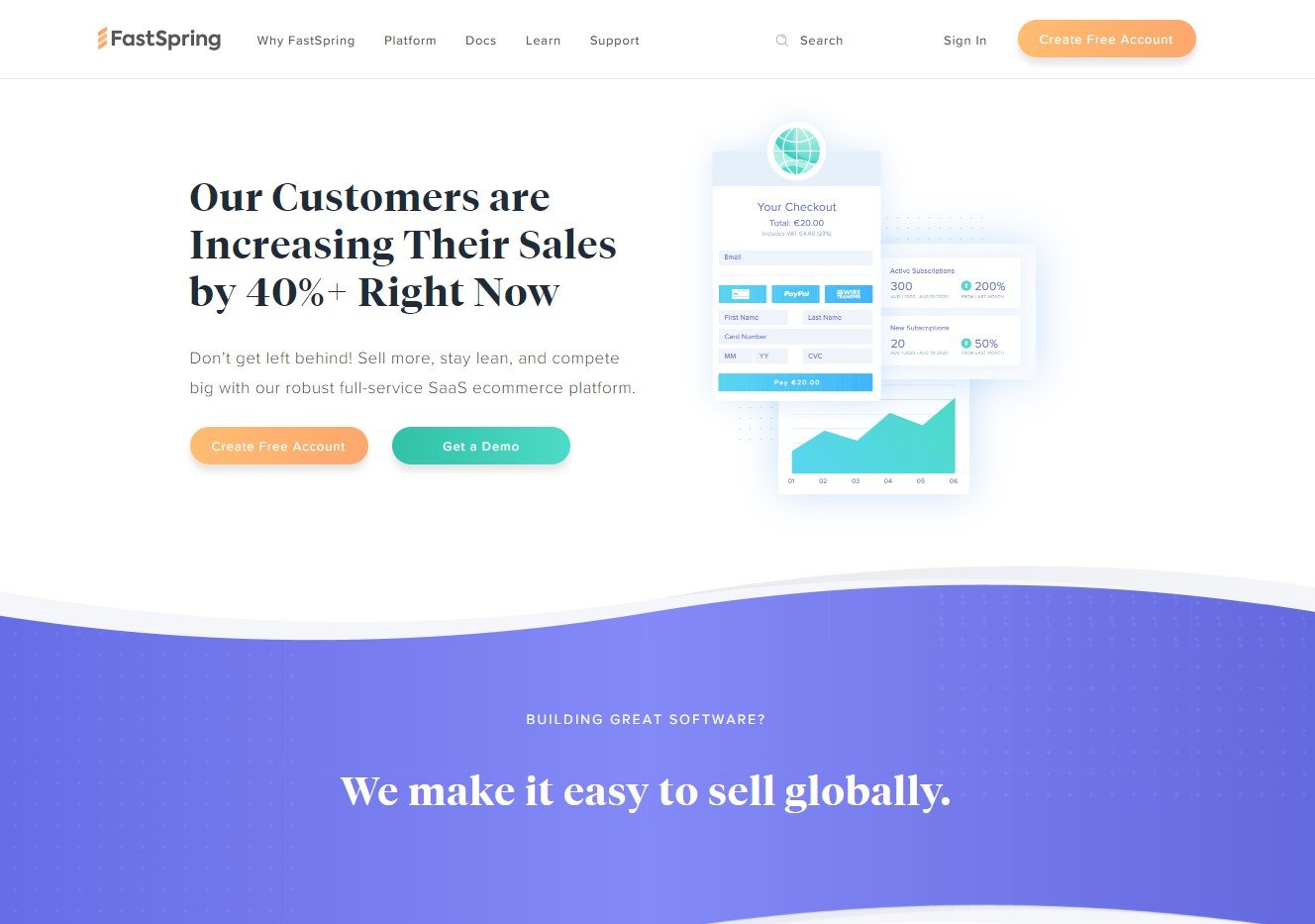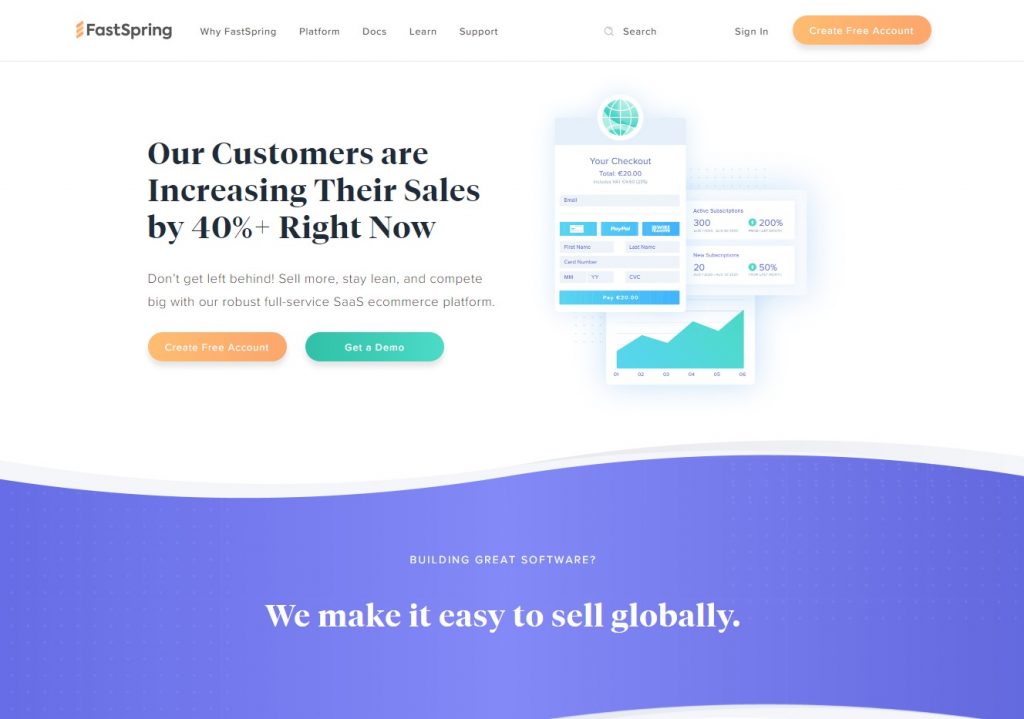 FastSpring is a fully featured eCommerce platform that primarily caters to digital goods sellers and SASS companies. It was initially built in 2005 as an eCommerce solution for the software industry. It is still the leading eCommerce platform for Apple Mac software publishers.
FastSpring offers numerous payment features built-in. In particular, it has recurring payments and subscription billing built-in. It is particularly suitable for SASS sites with month-to-month billing. You can set up free or paid trials, offer discounts, set promotional pricing, and create on-demand subscription services that charge customers as they use your product. It also caters to embedded, in-app purchases.
---
9. Miva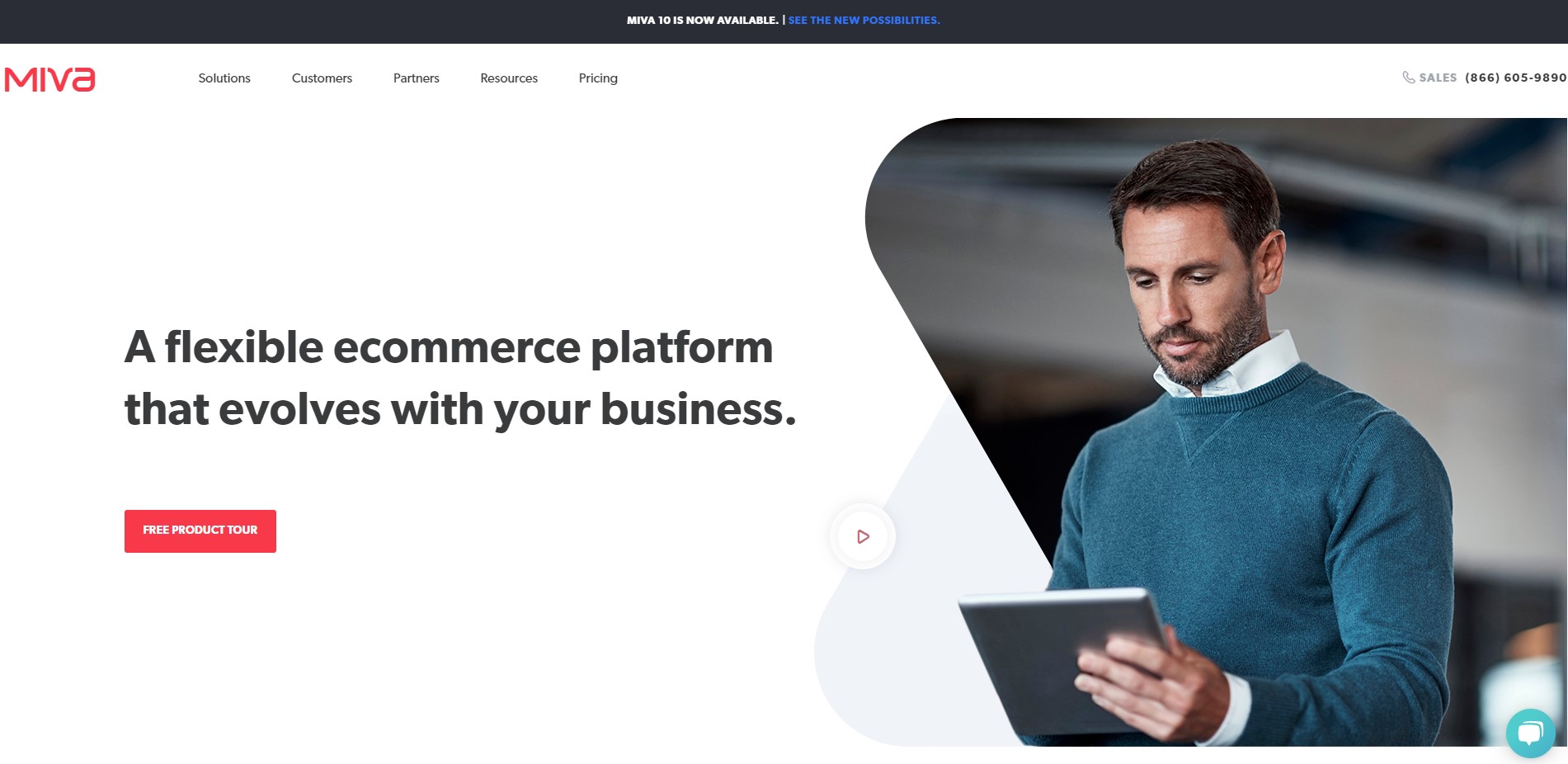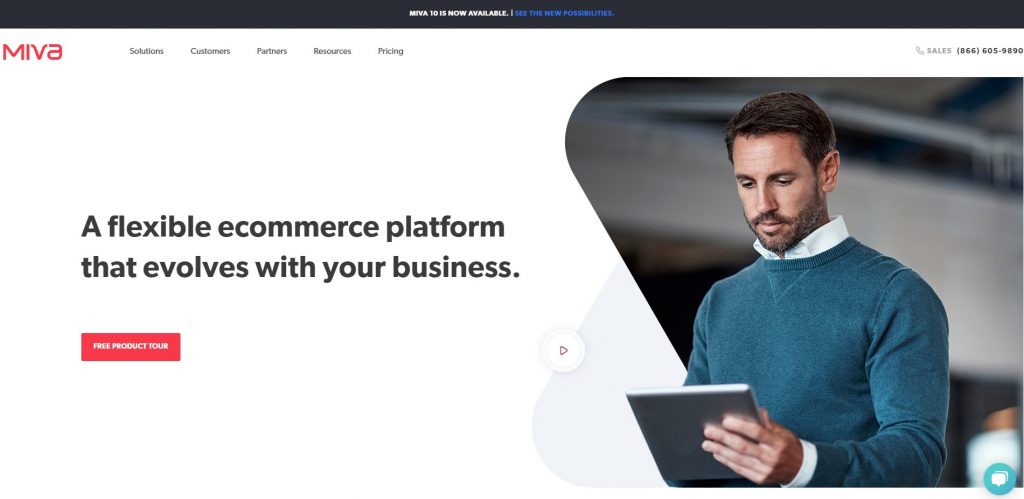 Miva is an enterprise-level SAAS eCommerce platform. There are currently over 500,000 stores using the platform. It markets itself to B2C retailers, DTC manufacturers, and B2B wholesalers. You can handle all your sales, regardless of the type of customer to whom you sell, with a single Miva site. You can easily combine the specialized functionality of a B2B site with the appeal of a B2C store to offer each customer an optimized purchasing experience.
You can build your site using template-layer editing. This means your team can make changes to your site, react to trends, and bring new ideas to life...all without ever having to touch source code. Your site will feature all the essential requirements for an eCommerce site, including complex and large SKU-count inventory management and high-volume order processing. There is native support for merchandising, inventory, and checkout.
Miva offers all its clients an in-house team to guide you through the design, build, migration, and launch of your site. Security on your site includes built-in PCI compliance and patch free protection. Payment options include MivaPay, a native credit card wallet, plus major payment gateways.
---
10. HCL Commerce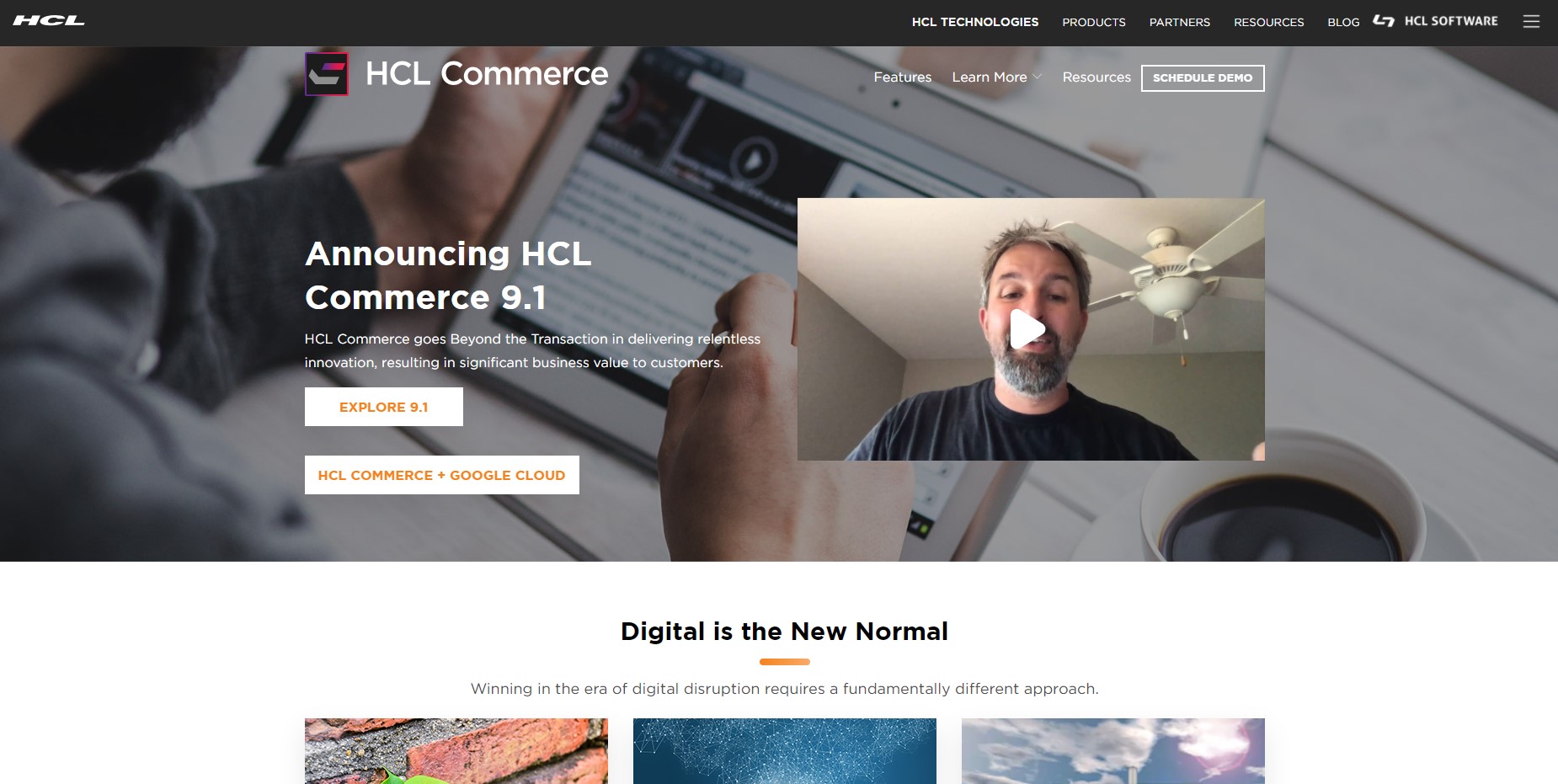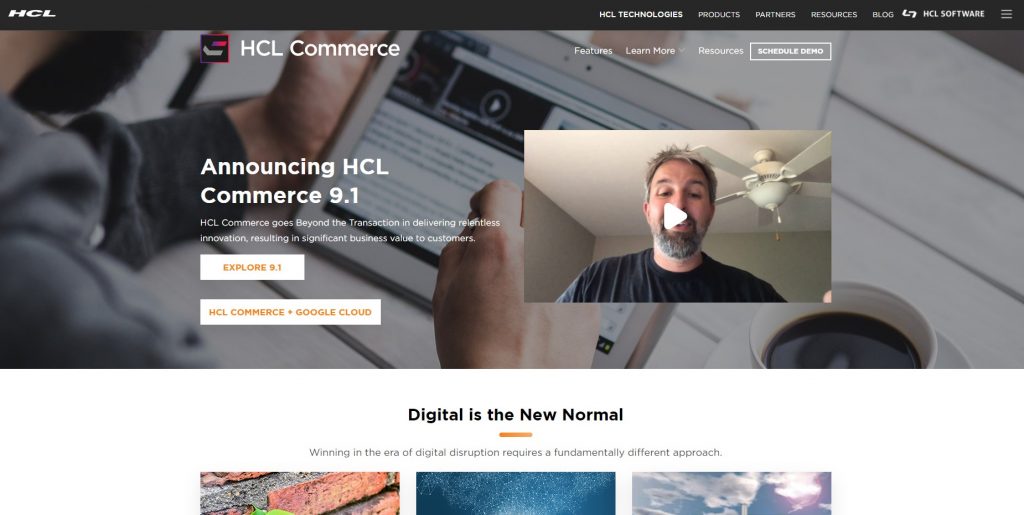 HCL Commerce is a modern commerce platform designed to grow with your business. It also offers a version that integrates with Google Cloud. It is one of a range of software products from HCL Technologies.
It is suitable for all eCommerce models, and you can easily make B2C and B2B sales on one site. You can build a site with blazingly fast performance and the intuitive tools your merchandisers need to accelerate time to market for new products and stores. Your site will include advanced search capabilities, providing highly relevant search results your customers want.
HCL Commerce allows you to deploy on any cloud or on-premise in minutes. You can have the confidence that your commerce platform can scale to meet any demand.
---
11. nopCommerce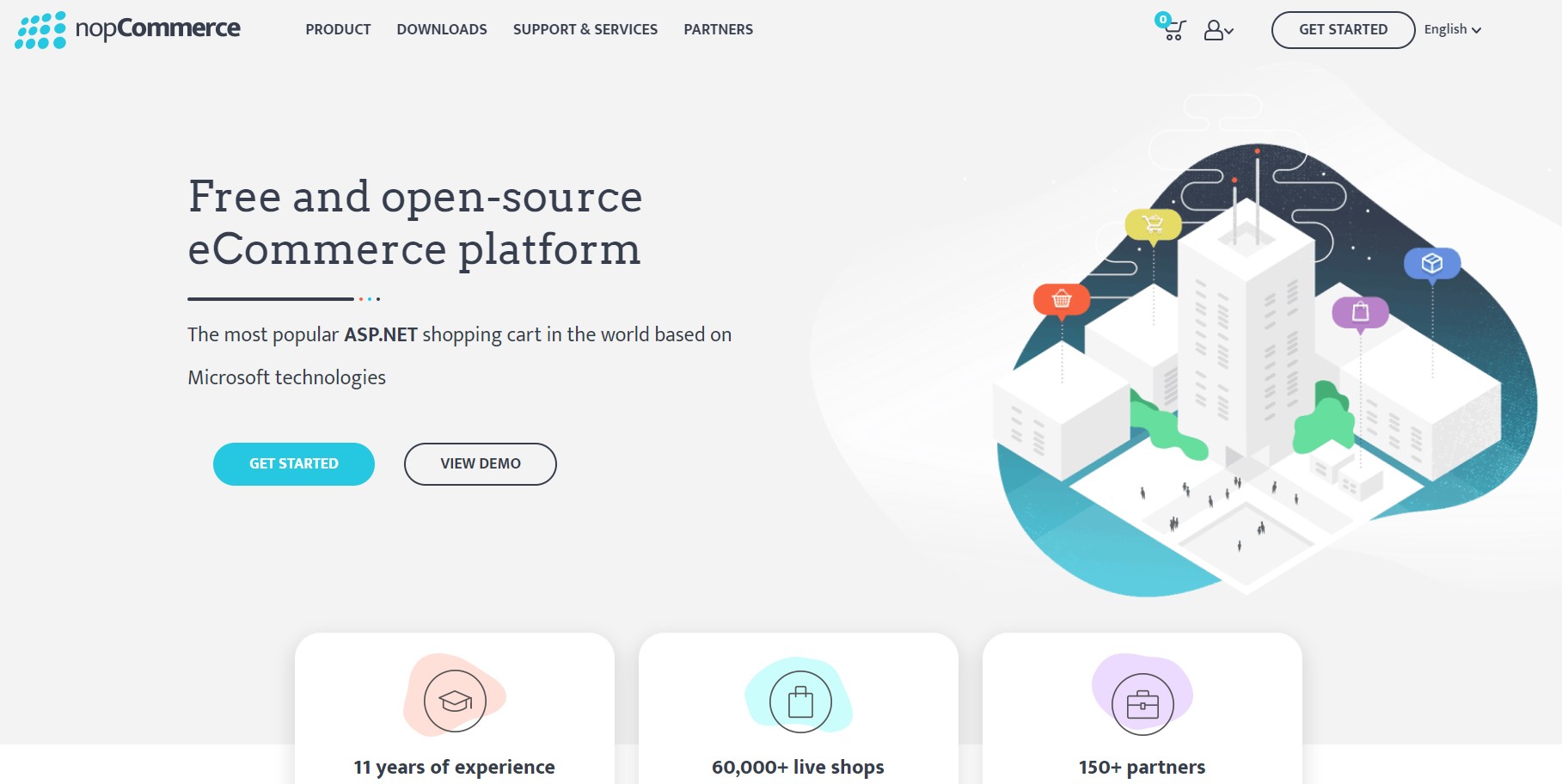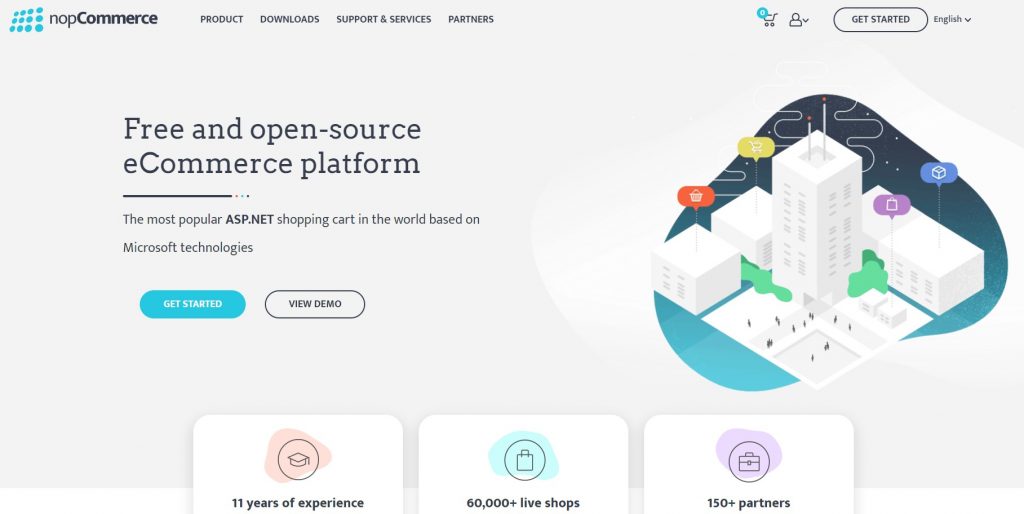 nopCommerce is an open-source eCommerce shopping cart solution that allows you to upload an unlimited number of products, manage several stores from one admin panel, and increase your sales with built-in marketing tools. Every 6-7 months, the developers release a new version of their eCommerce software to keep up with the latest technologies and development trends.
nopCommerce offers powerful out-of-the-box features for effective B2C and B2B sales, without any restrictions and is free. It includes a variety of tools for professional marketing and sales growth. The platform caters to all popular payment methods and gateways, and multiple shipping features. It also caters to multi-vendor and multi-store functionality.
---
12. Oracle CX Commerce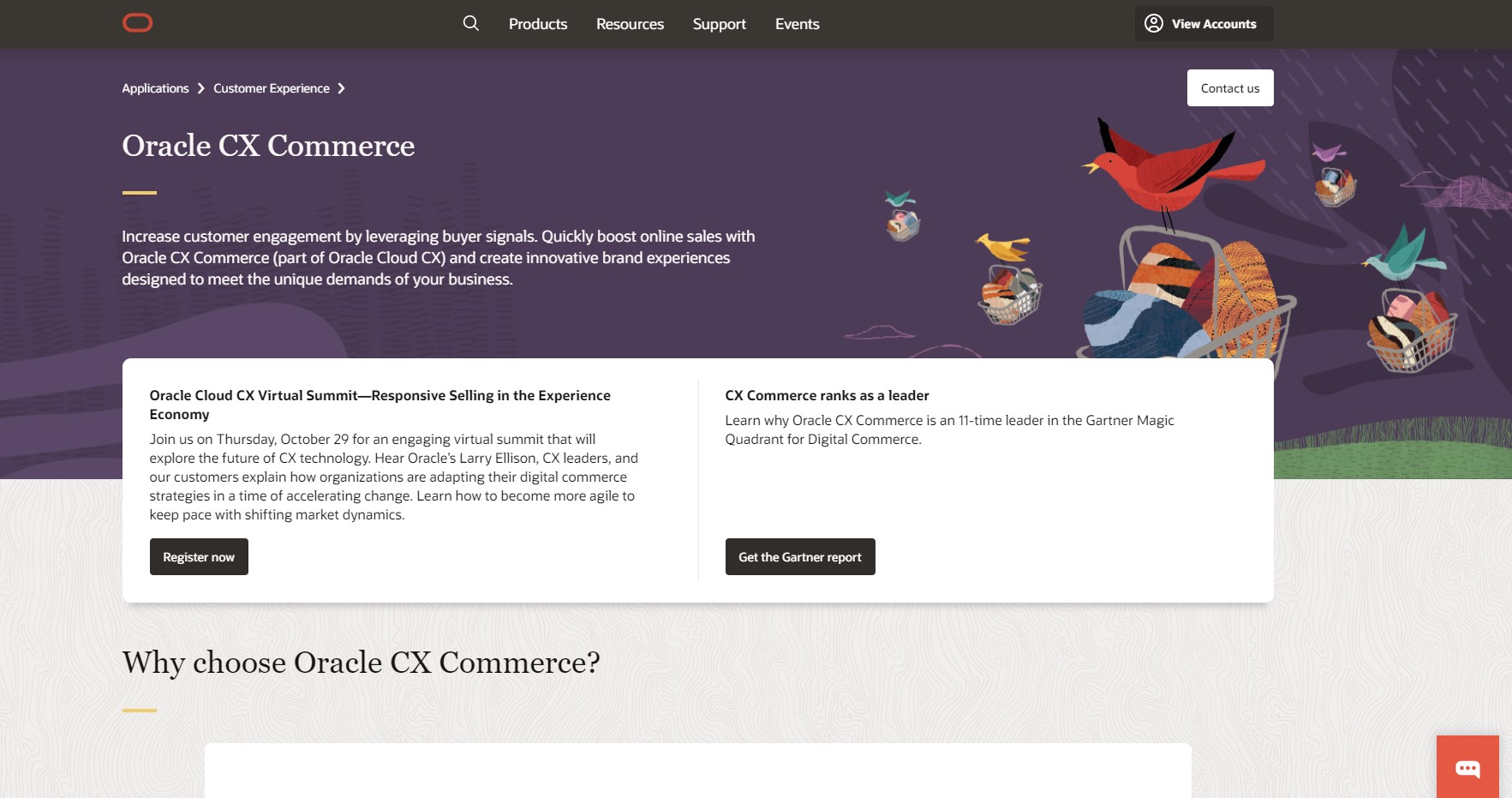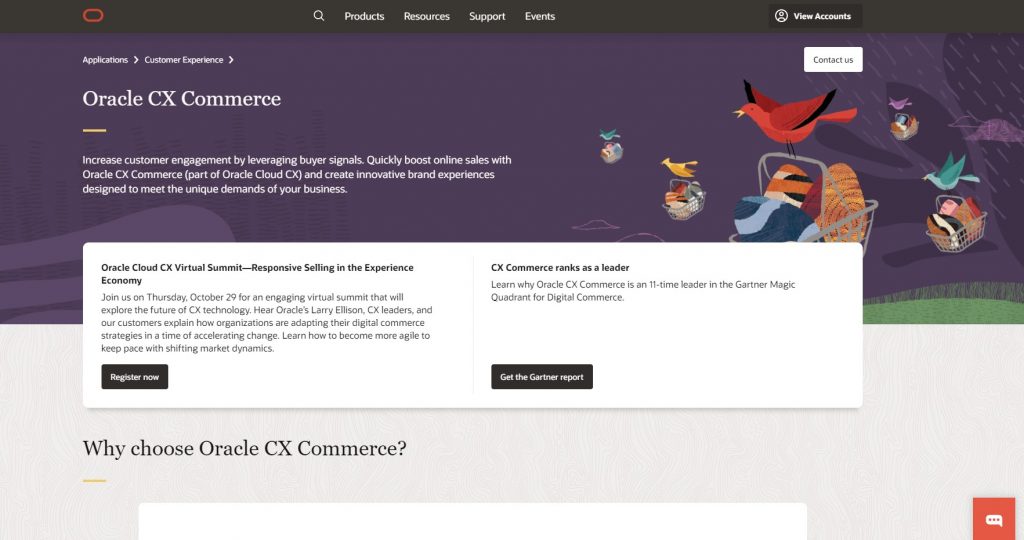 Oracle CX Commerce is a cloud-native, fully-featured, extensible SaaS commerce solution, delivered in the Oracle Cloud, supporting B2C and B2B models in a single platform. With it, you can create innovative brand experiences designed to meet the unique demands of your business.
Oracle CX Commerce enables you to provide fantastic buying experiences to your customers anytime, anywhere they engage. It offers unified SaaS solutions that allow you to innovate quickly, deliver seamless, personalized experiences, and drive customer engagement, sales, and loyalty across channels.
If you're a B2B firm, Oracle CX Commerce delivers all of the native B2C eCommerce capabilities buyers expect, paired with B2B-specific functionality, meeting the unique needs of you and your customers' businesses.
Oracle CX Commerce unifies all admin tools in a single interface to simplify management and consolidate activities in a single location. CX Commerce features different "studios" for developers and business users, with drag-and-drop UIs that streamline daily tasks.
---
13. 2Checkout / Avangate Monetization Platform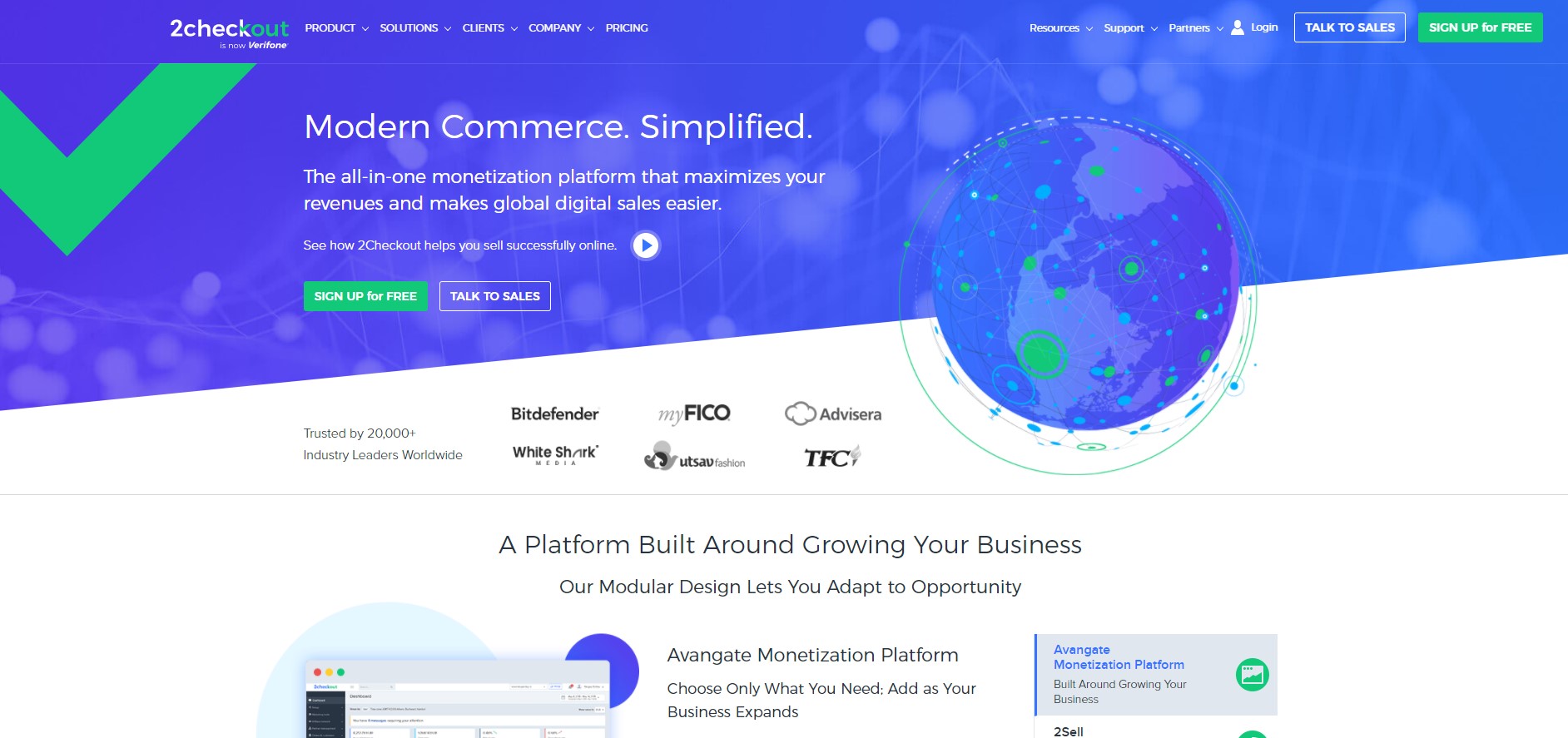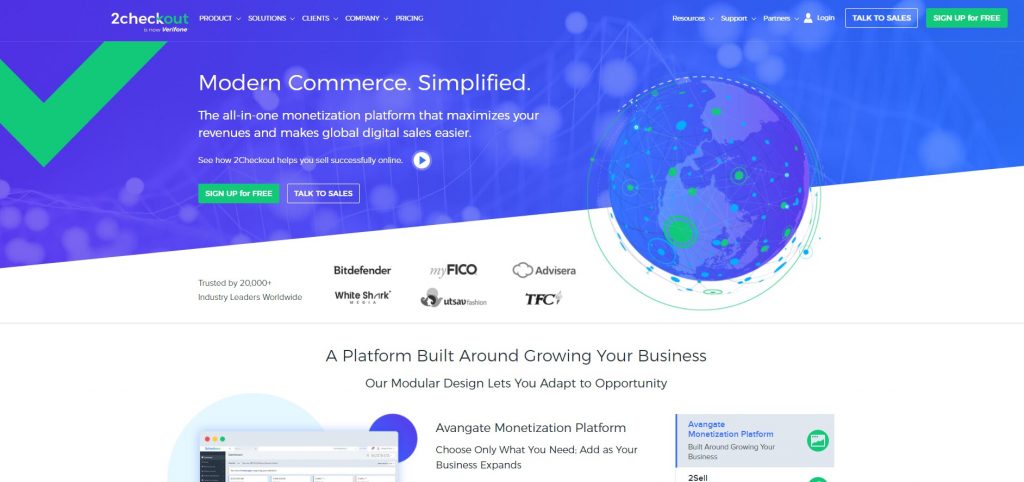 2Checkout describes itself as the all-in-one monetization platform that maximizes your revenues and makes global digital sales easier. It uses a modular design to let you adapt to opportunity. The company's main product is the Avangate Monetization Platform. They have packaged their Monetization Platform, so you pay only for what you need, and add or subtract as your business demands. Specific products are 2Sell, 2Subscribe, and 2Monetize. You can switch between them or use flexible add-ons depending on your needs.
Whether you're tapping into international markets, looking to boost conversion rates, or running a subscription-based business, 2Checkout can help you tackle the complexities of digital commerce globally. The platform's modular design was created to meet these dynamic needs. Modules include global payments, digital commerce, subscription billing, global tax & financial services, partner sales, merchant & shopper services, risk management & compliance, and reporting & analytics.
---
14. PrestaShop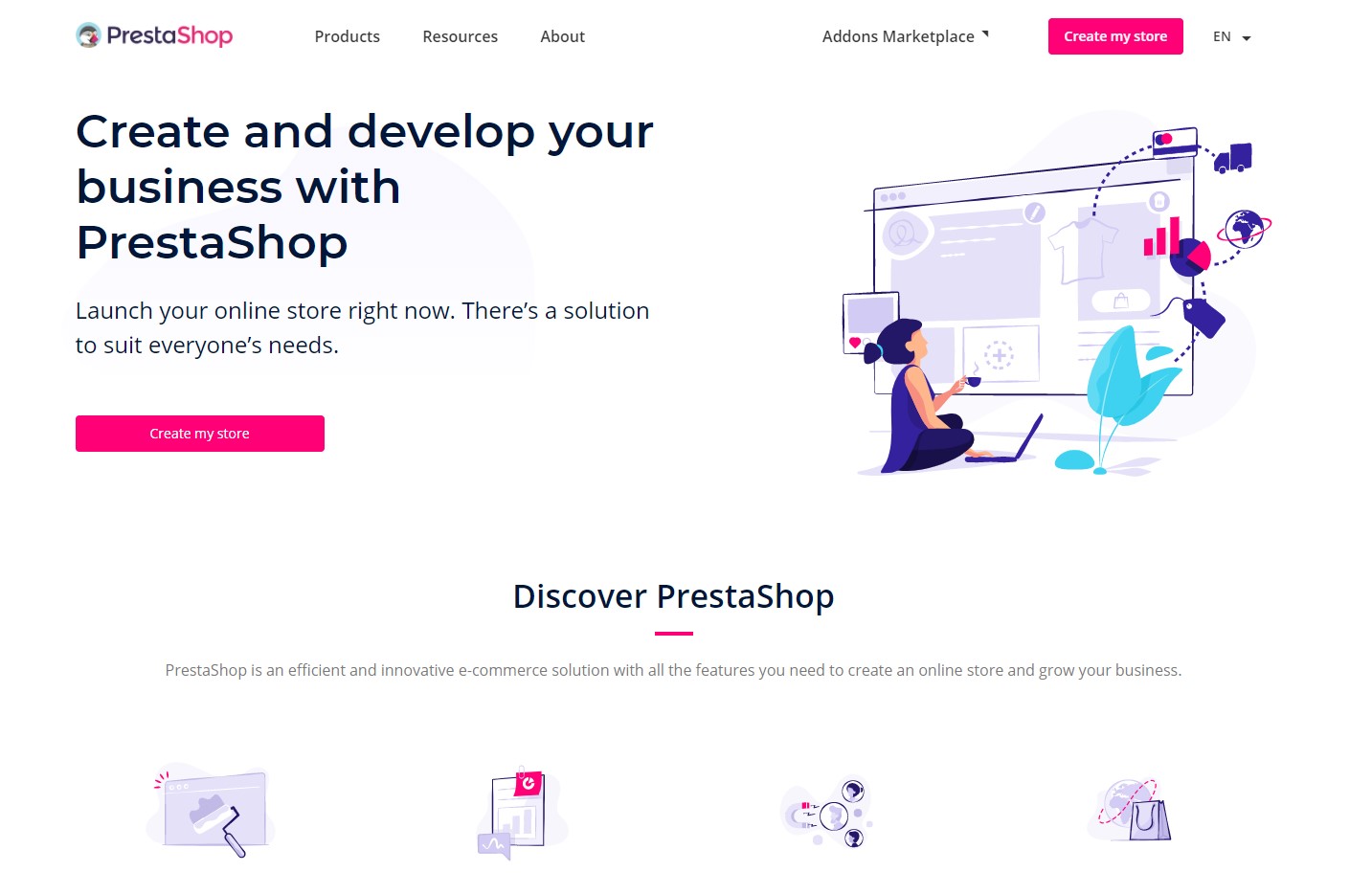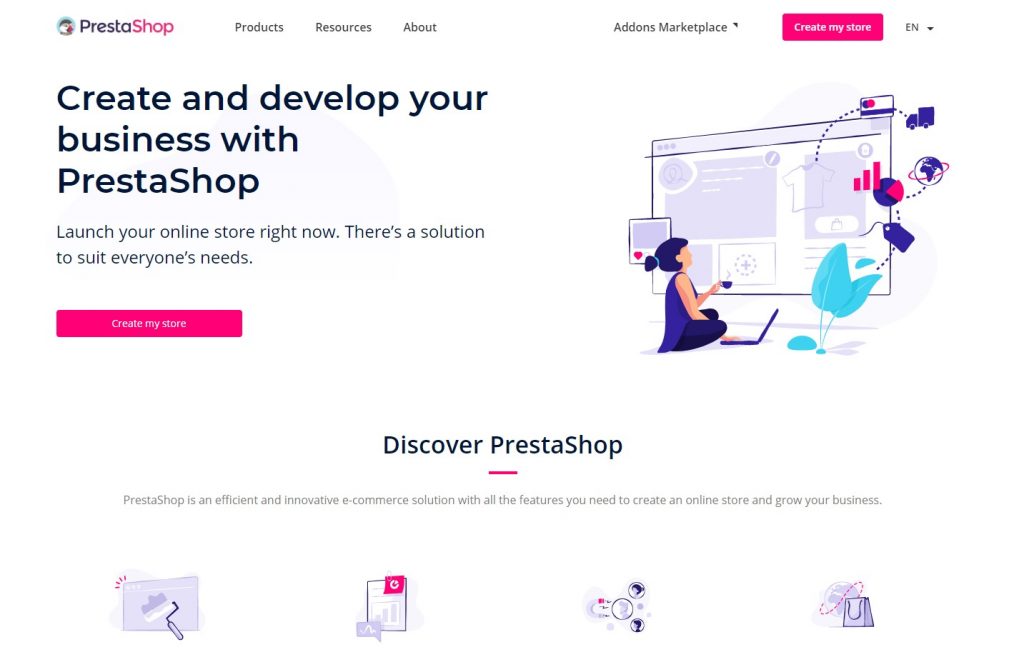 PrestaShop is an open-source cloud-hosted eCommerce platform. It currently boasts over 300,000 merchants using the platform.
PrestaShop is based on the Symfony framework. It includes more than 600 features, and more than 5,000 modules and themes are available in the marketplace. Being open-source, users and developers are guaranteed a secure, scalable, flexible, and sustainable solution for all their eCommerce projects.
PrestaShop Add-ons is PrestaShop's official marketplace. PrestaShop and its developer community have developed these products. While PrestaShop's core functionality is free, you will have to pay for add-ons to make your site functional.
Of course, all eCommerce shops need a payment solution. You can easily and securely manage all payment types, directly from your back-end interface using PrestaShop Checkout, built with PayPal.
Frequently Asked Questions
What are the best eCommerce platforms?
While views on the best eCommerce platforms will necessarily be subjective, we have covered 14 in this article. In no particular order, these are:
Shopify
Magento
WooCommerce
Square Online
BigCommerce
Ecwid
Salesforce Commerce Cloud
FastSpring
Miva
HCL Commerce
nopCommerce
Oracle CX Commerce
2Checkout / Avangate Monetization Platform
PrestaShop
You will notice significant variation between these sites. Some focus on small businesses, others on medium to large companies. And some stress that they are enterprise-level platforms with an appropriately sized price.
What are the top eCommerce platforms?
All the eCommerce platforms that we have covered in this post can be considered top eCommerce platforms. It very much depends on your needs. Shopify is probably the best-known platform and has a comprehensive feature set. It is quick to load and easy to set up. BigCommerce is most suited for larger eCommerce stores and excels for multi-channel selling. WooCommerce is excellent if you still want to use an existing WordPress site. Likewise, Magento is robust and feature-rich with excellent SEO.
What is the best free eCommerce platform?
We haven't really covered the easiest eCommerce platforms in this article, although it is relatively straightforward to build a Shopify site, and you will find many tutorials online. Probably the easiest type of eCommerce platform for a beginner is one that lets you create your site modularly, like Wix. If you also run a traditional offline store, you might find Square of value to you. It is relatively simple, without themes, and caters best to stores with few products without many variants.
Is Shopify free to use?
Shopify isn't free to use, although it does offer a 14-day free trial. Also, Basic Shopify only costs you $29 per month (along with additional 2% fees if you don't subscribe to Shopify Payments.) Regardless, you will have to pay more if customers use credit cards. Of course, the higher tiers (Shopify and Advanced Shopify) cost more, but you will usually only need these once you are taking sufficient income to pay for them. In the meantime, you might as well use the basic version.
Is Shopify the next Amazon?
Technically, Amazon and Shopify offer different services. The only way that Shopify could become the next Amazon is on the stock market if Shopify's shares take off in the same way as the eCommerce giant. Shopify is a tool you can use to make an eCommerce site. Although Shopify does host stores, you still run your own website. Stores on the Amazon Marketplace are really just leasing space on the Amazon website. Amazon can unilaterally choose to have you there or to remove you.