It is much cheaper to build an eCommerce site using a specialist eCommerce platform like BigCommerce than to pay a developer to create your online shop from scratch. And it is certainly easier to build an online store using BigCommerce than to try and shoehorn one into a traditional site built with WordPress alone. And thanks to the BigCommerce App Store, you have many add-ons and additional features you can include in your shop.
BigCommerce separates its apps across many categories, including Accounting & Tax, Analytics & Reporting, Checkout, CRM & Customer Service, Marketing, Merchandising, and many more. They also offer collections of apps, designed to help businesses at different stages. These include Must-Haves, Growth Stage, Shipping Essentials, Startup Stage, Make It Look Good, Backend, and more.
This post looks at a selection of the many apps available in the BigCommerce App Store, some of which require payment, and others free (or freemium).
---
15 BigCommerce Apps to Boost Your eCommerce Earnings:
---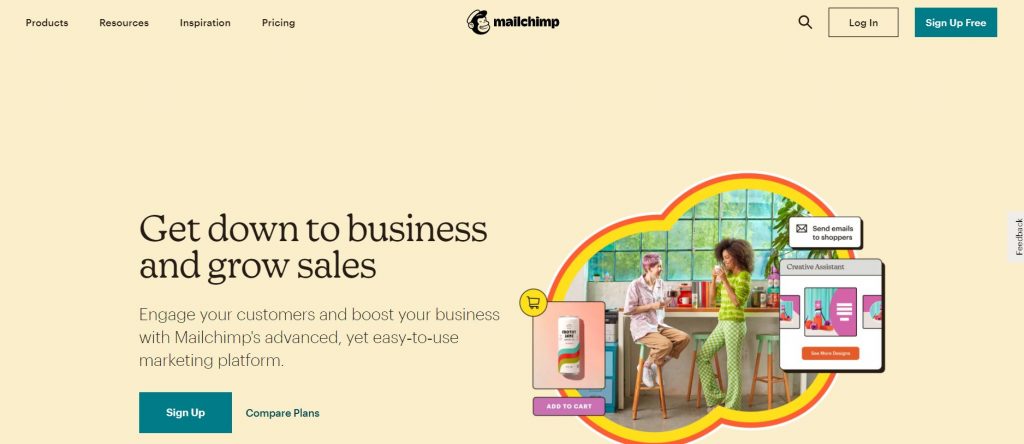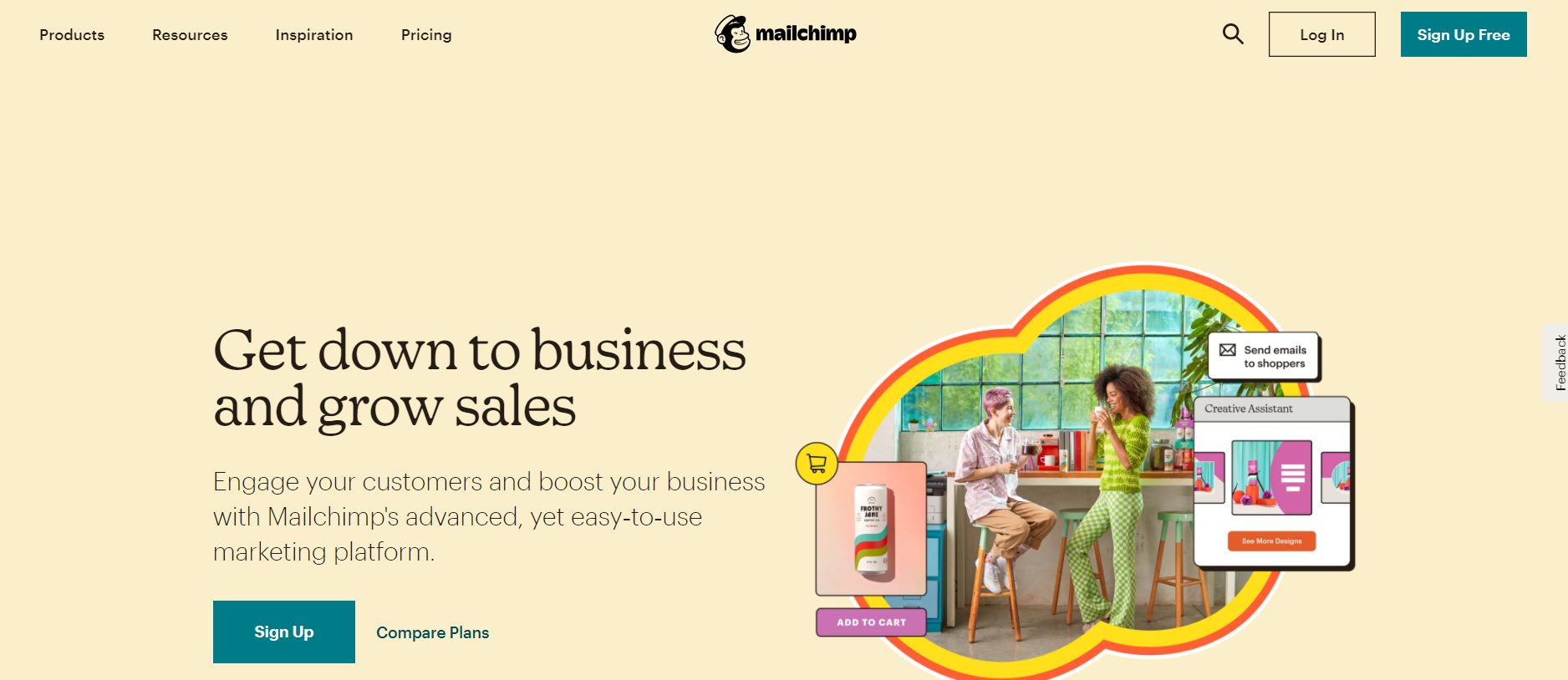 Mailchimp is a popular email management app that you can use to build your email list and send targeted email campaigns. It is one of the most popular email management apps globally. It is available for far more than just BigCommerce websites. The Mailchimp integration with BigCommerce automatically syncs your store data with your Mailchimp account, making it easy to access all the features you need.
The BigCommerce Mailchimp app includes features relating to audience management, marketing automations, digital ads, optimization, and marketing performance. You can organize your contacts with tags and use segmentation to send targeted marketing across multiple channels.
---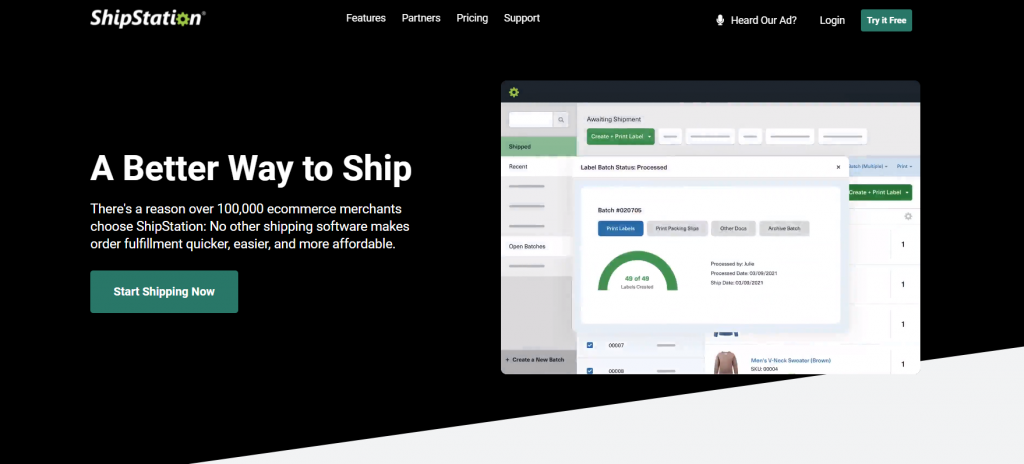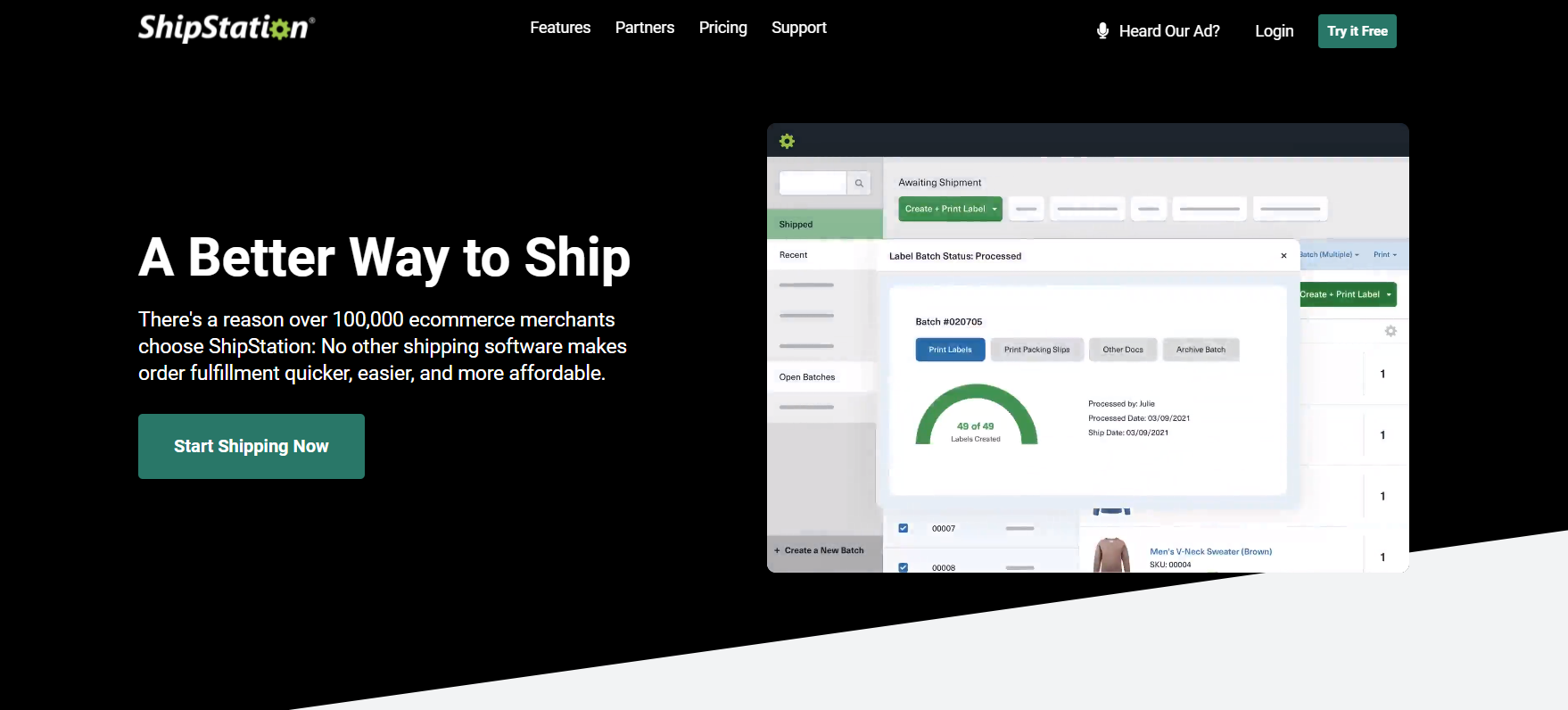 ShipStation helps you to import, manage, and ship your orders. With direct integrations to over 70 of the bestselling channels, ShipStation makes it easy to manage all your orders from one platform. You can gain complete control and insight into all your orders at every stage of the shipping process, from all of your different selling channels. Sync as many orders as you like, across as many sources as you use by connecting a selling channel, manually create orders, upload a CSV, or input via API.
ShipStation gives you premier discounted rates on USPS, UPS, FedEx, and DHL, no matter how much you ship. Alternatively, you can connect your existing accounts and keep your negotiated rates. You can compare prices in-app with real-time rate information.
---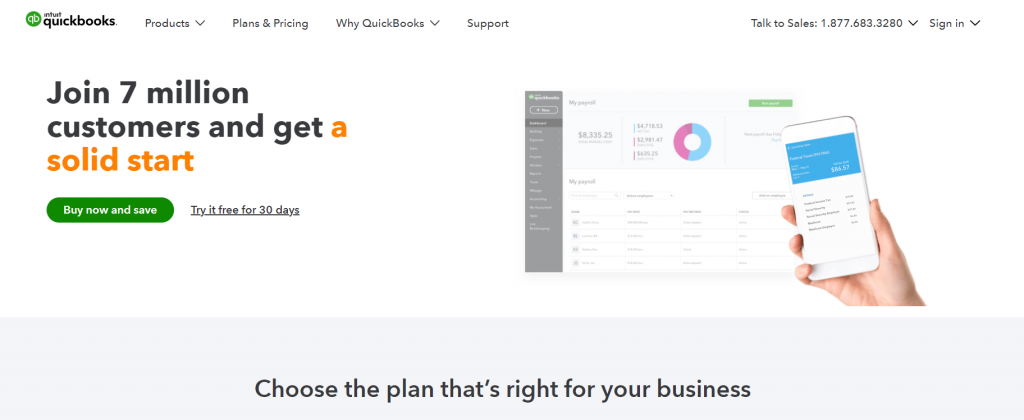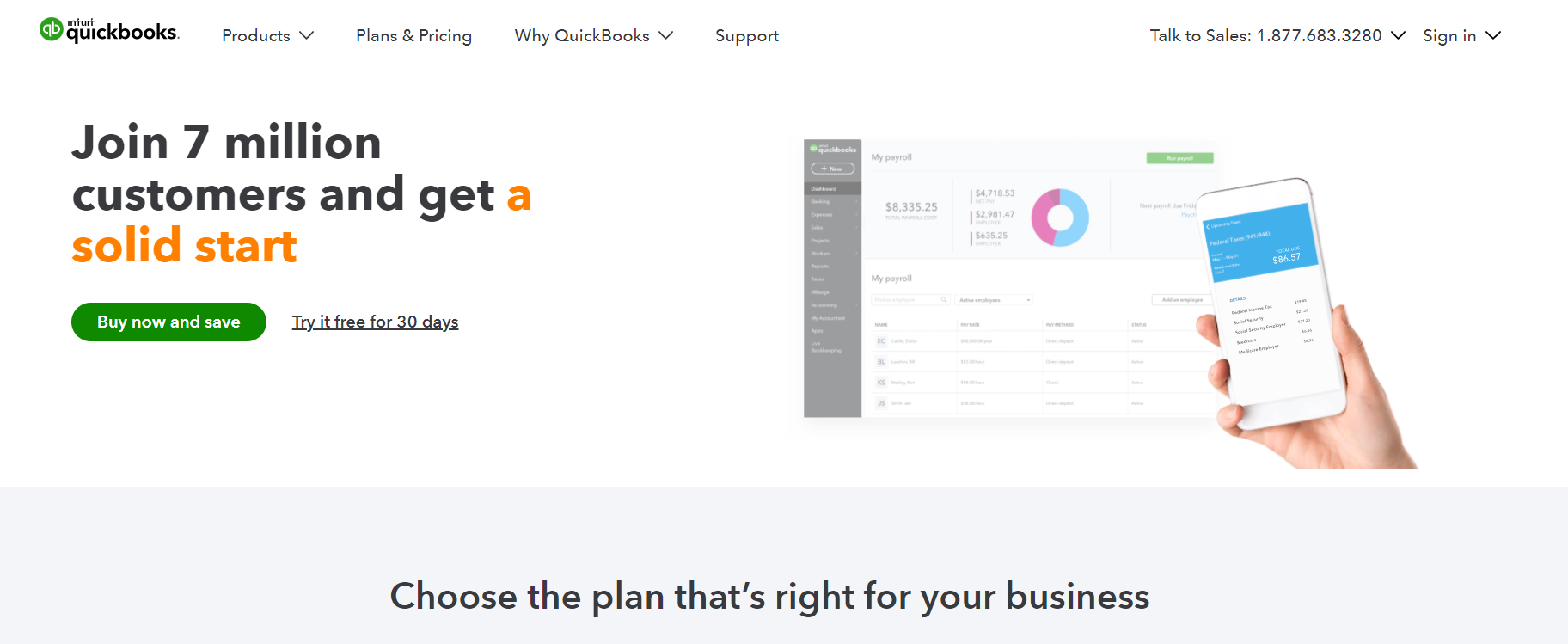 QuickBooks Online integrates the well-known accounting app, QuickBooks, with your eCommerce website. It supports multiple countries, including the United States, Australia, New Zealand, the United Kingdom & Ireland, Canada, and India.
You can easily set the app up with just a few clicks. You specify what you want to happen when updates occur to both BigCommerce and QuickBooks Online. Once you're set up, your orders in BigCommerce will be automatically created as Sales Receipts in QuickBooks Online. It automatically syncs your orders, products, customers, taxes, discounts, refunds, and shipping charges from your BigCommerce store to QuickBooks Online.
---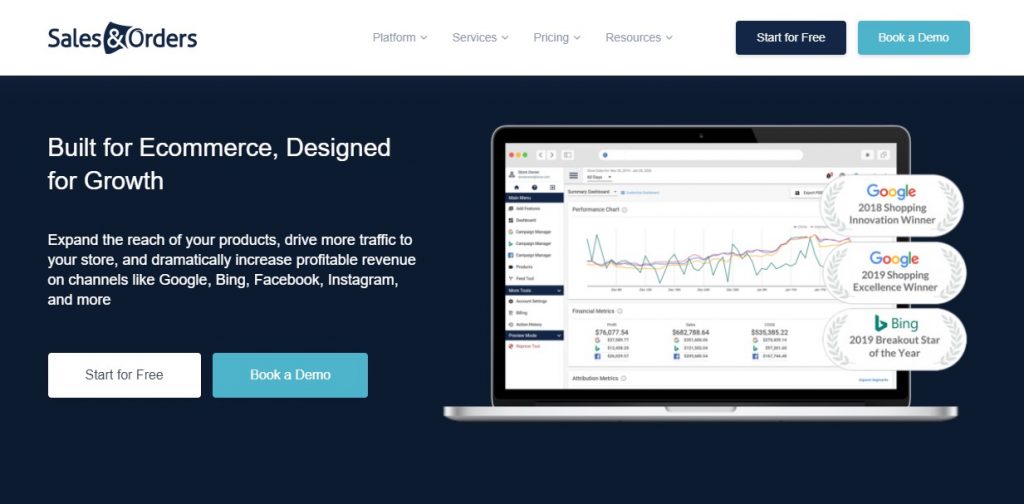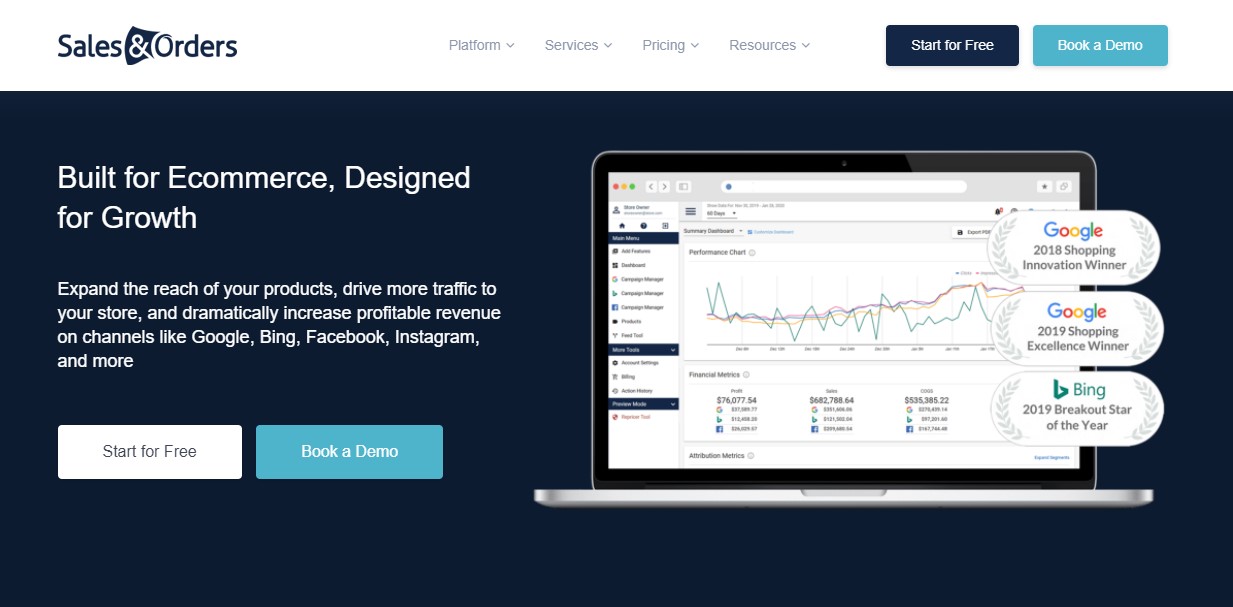 Google Shopping by Sales & Orders offers all new users a free 15-day trial where they can access just about every core feature and their plans start from as little as $10/month.
Seamlessly connect your BigCommerce store to Google, Bing, Facebook, and Instagram and have your products imported and sent automatically while you wait. You can build, manage, and optimize Google and Bing Shopping campaigns, and Dynamic Product Ads for Facebook & Instagram to drive more shoppers to your BigCommerce store and increase profitable revenue with advanced tools and features.
You gain free access to the Product Feed tool that gives you a feed dashboard, error reporting, the ability to do a basic modification of products, add and remove products from your feed, map your products against Google Product Categories, and adjust some settings relating to taxes.
You also gain limited access to a marketing suite allowing you to spend up to $500/month on tracked Shopping campaigns. If you have greater needs, you can purchase a paid plan. You can also buy add-ons to improve your eCommerce shop's capabilities.
---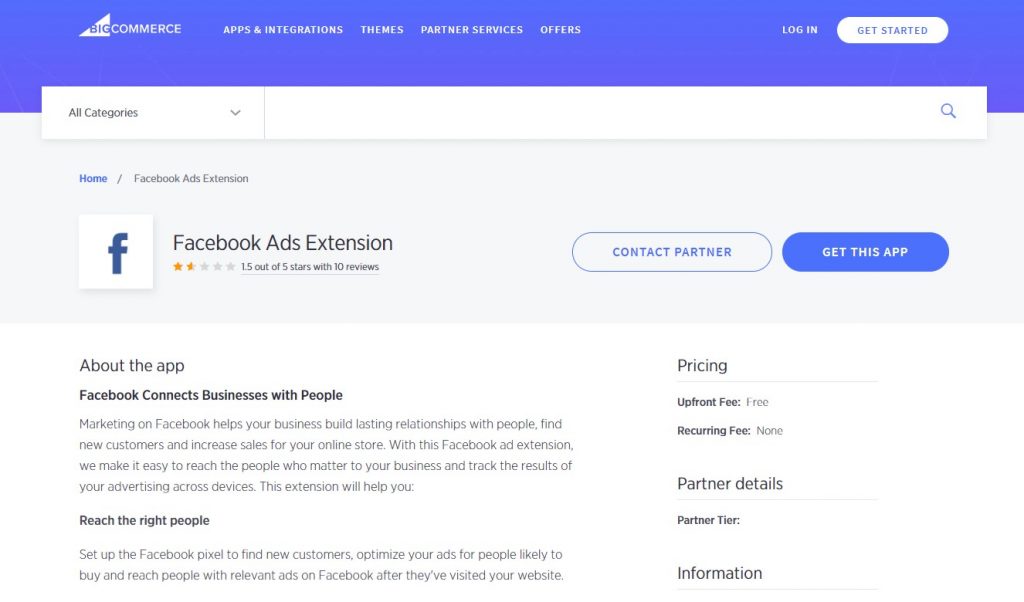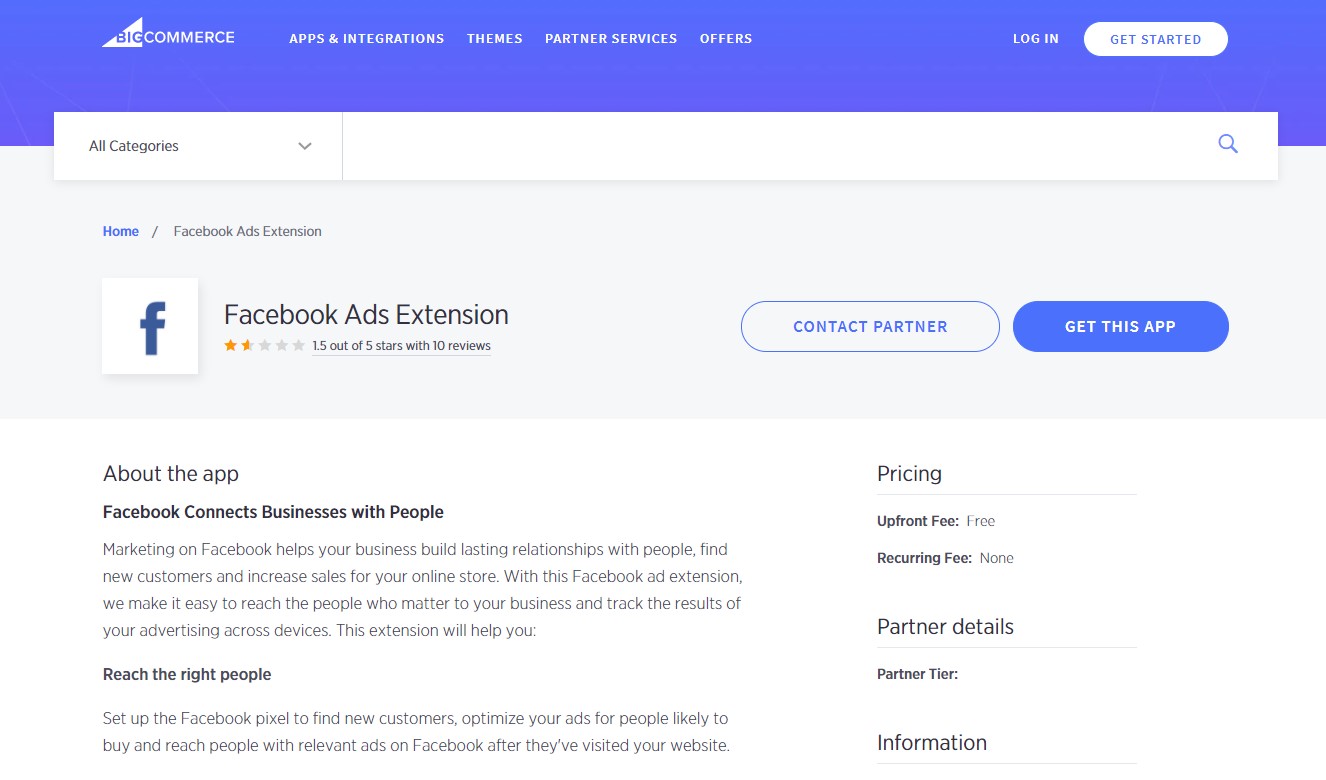 Facebook Ads Extension makes it easy to reach the people who matter to your business and track your advertising results across devices.
You can set up the Facebook pixel to find new customers. The app helps you optimize your ads for people likely to buy and reach people with relevant ads on Facebook after they've visited your website.
It ensures that you show people the right products to match their interests. Connect your product catalog to Facebook to use dynamic ads. Reach shoppers when they're on Facebook with ads for the products they viewed on your website.
When you have the Facebook pixel set up, you can use Facebook ads reporting to understand the sales and revenue that resulted from your ads.
---


Justuno describes itself as the most powerful free marketing app in the marketplace. Over 50,000 businesses around the world use it.
Justuno is a conversion marketing and analytics platform that provides retailers with powerful tools to convert shoppers along with data insights to optimize marketing campaigns. With Justuno, any retailer can engage and convert visitors with effective marketing touchpoints like eCommerce promotions, email capture pop-ups, relevant website messaging, and more.
It includes email pop-ups, the simplest and most effective way to build your email list and generate sales opportunities. You can use any theme from Justuno's expansive library or take complete control of your design with its powerful design canvas.
Another focal point is cart and checkout abandonment offers. Prevent cart abandonment with targeted offers proven to convert shoppers into customers. Features include full-screen, countdown timer, spin-to-win, age verification, holiday specific, mobile, social media, and many more.
---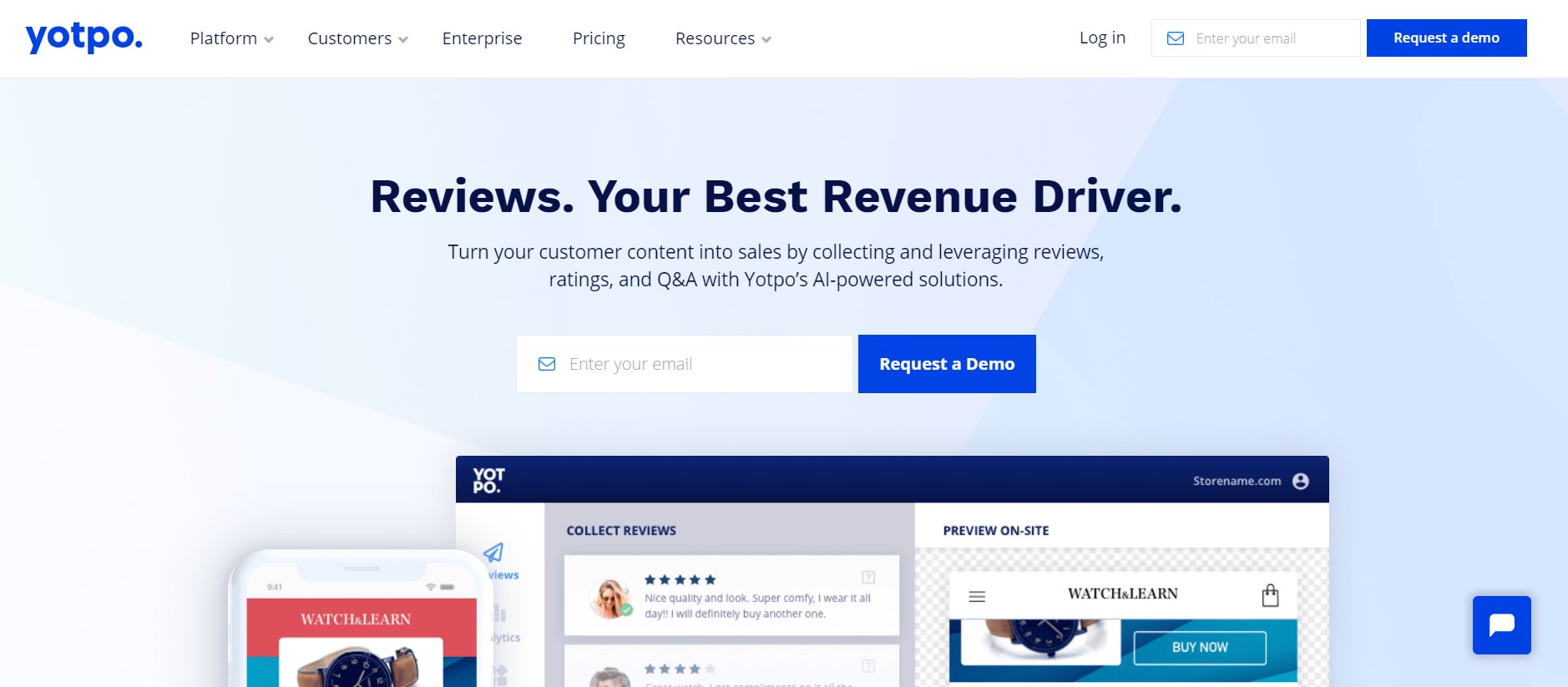 Yotpo Product Reviews helps BigCommerce businesses generate tons of product and site reviews, photos, videos, Q&A, and other user-generated content, and use them to drive qualified traffic, increase conversion rate and boost sales. Its basic version is free, while you can purchase premium features for an additional cost. Setup takes only three minutes.
Yotpo has official partnerships with Google, Facebook, and Instagram, and integrations with many of your favorite apps.
Premium (paid) packages include social curation, user-generated photos, full social integration, SEO success, community Q&A, Yotpo ads, coupons, product recommendations, and comments.
---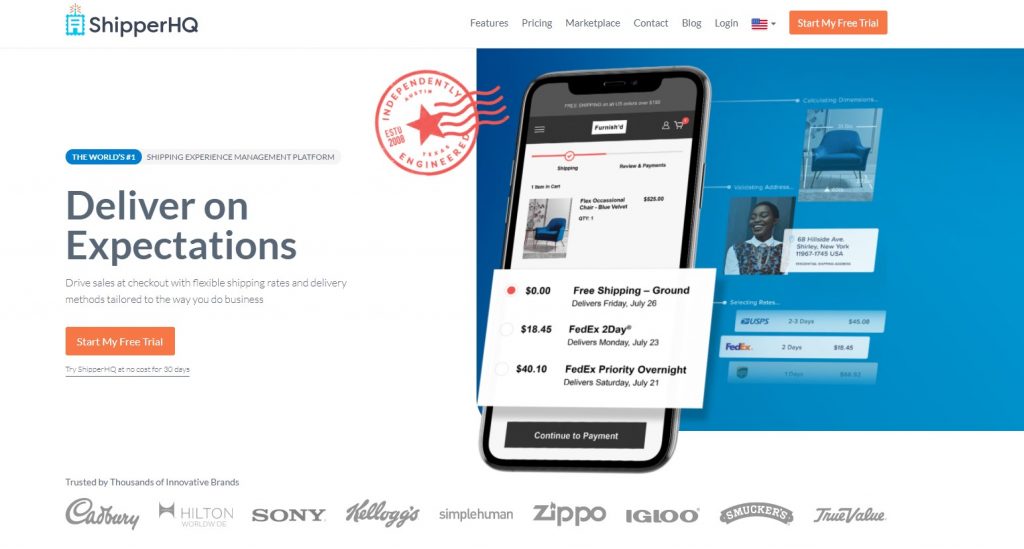 The ShipperHQ app helps you optimize your BigCommerce store's checkout experience with flexible shipping rates and delivery options from ShipperHQ. Whether you want to reduce cart abandonment, lower your shipping costs, or offer international shipping, ShipperHQ gives you the power to tailor your shipping and checkout experience to the way you do business.
You can create shipping rules or restrictions based on what you sell and offer discounts, surcharges, and promotions like free shipping. It helps you manage shipping from multiple origins, calculate dimensional shipping rates and automate real dimensional packing to avoid under and overcharges. The app shows real-time shipping rates, or you can define your own rates for 40+ carriers and methods, including LTL freight, same-day delivery, and cross-border options. With ShipperHQ, you can manage all your carriers in one place, offer innovative delivery methods, and provide live shipping rates at checkout.
ShipperHQ's BigCommerce app is available for merchants of any size with plans starting at $50 per month. Enterprise clients have access to ShipperHQ's Essentials plan for free.
---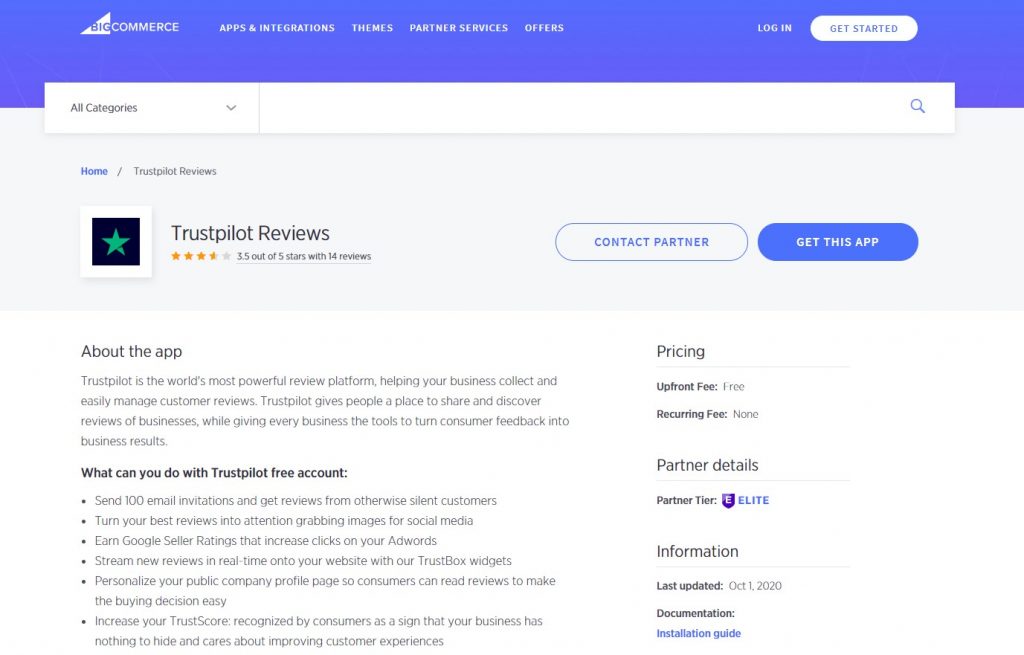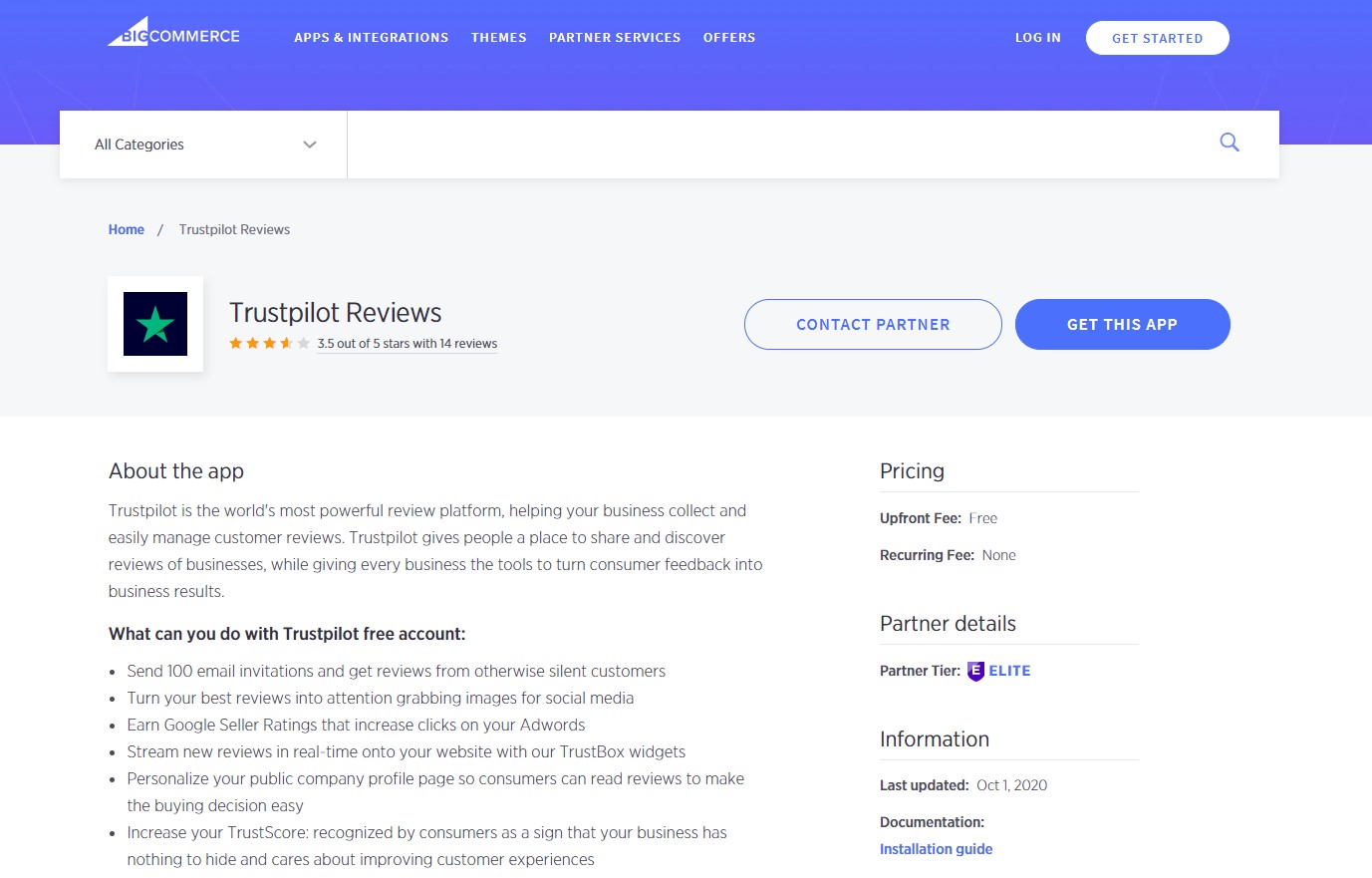 As this app's name suggests, Trustpilot Reviews is a highly trusted review platform, helping your business collect and easily manage customer reviews. It provides people with a place to share and discover reviews of businesses while giving every company the tools to turn consumer feedback into business results.
With the free Trustpilot account, you can send up to 100 email invitations and get reviews from otherwise silent customers. Turn your best reviews into attention-grabbing images for social media. It also helps you earn Google Seller Ratings that increase clicks on your AdWords. Stream new reviews in real-time onto your website with their TrustBox widgets. You can even personalize your public company profile page so consumers can read reviews to make the buying decision easy.
Trustpilot offers paid plans for businesses wanting greater capabilities.
---

PayHelm Reporting provides you with all the necessary data to analyze your total sales, gateway fees, shipping cost, product cost, and profits across multiple BigCommerce accounts. With this app, you will know which products are your best performers and which customers are your key customers. Analyze marketing performance across all your products and account for the best results. Drill into any aspect of your data so you can answer the key questions and verify your assumptions.
The app creates product reports, customer reports, and tax reports. You can set custom filters and drill down deep into product options, custom fields, brand, SKU, vendor, and product type. Analyze referral or paid search performance, and know which campaigns convert best and are the most profitable. It will even tell you which customers come in through which campaigns.
---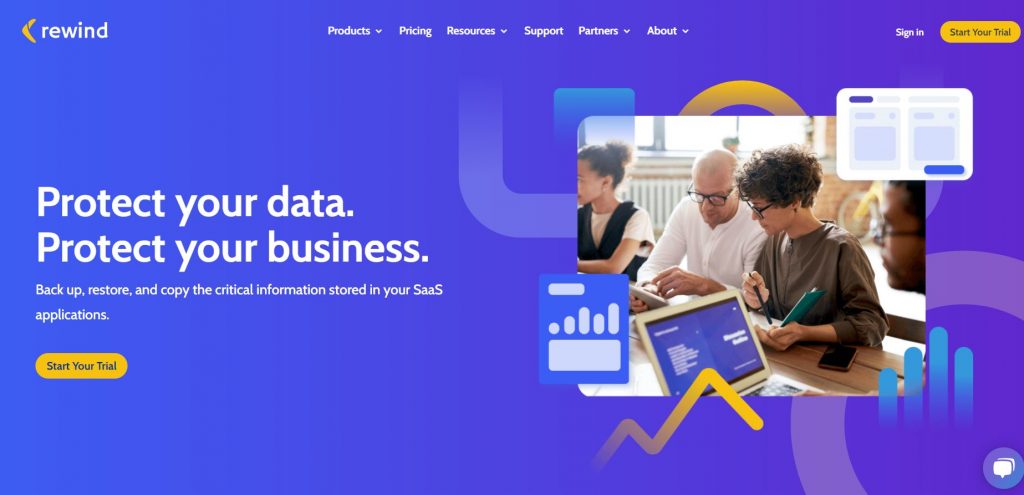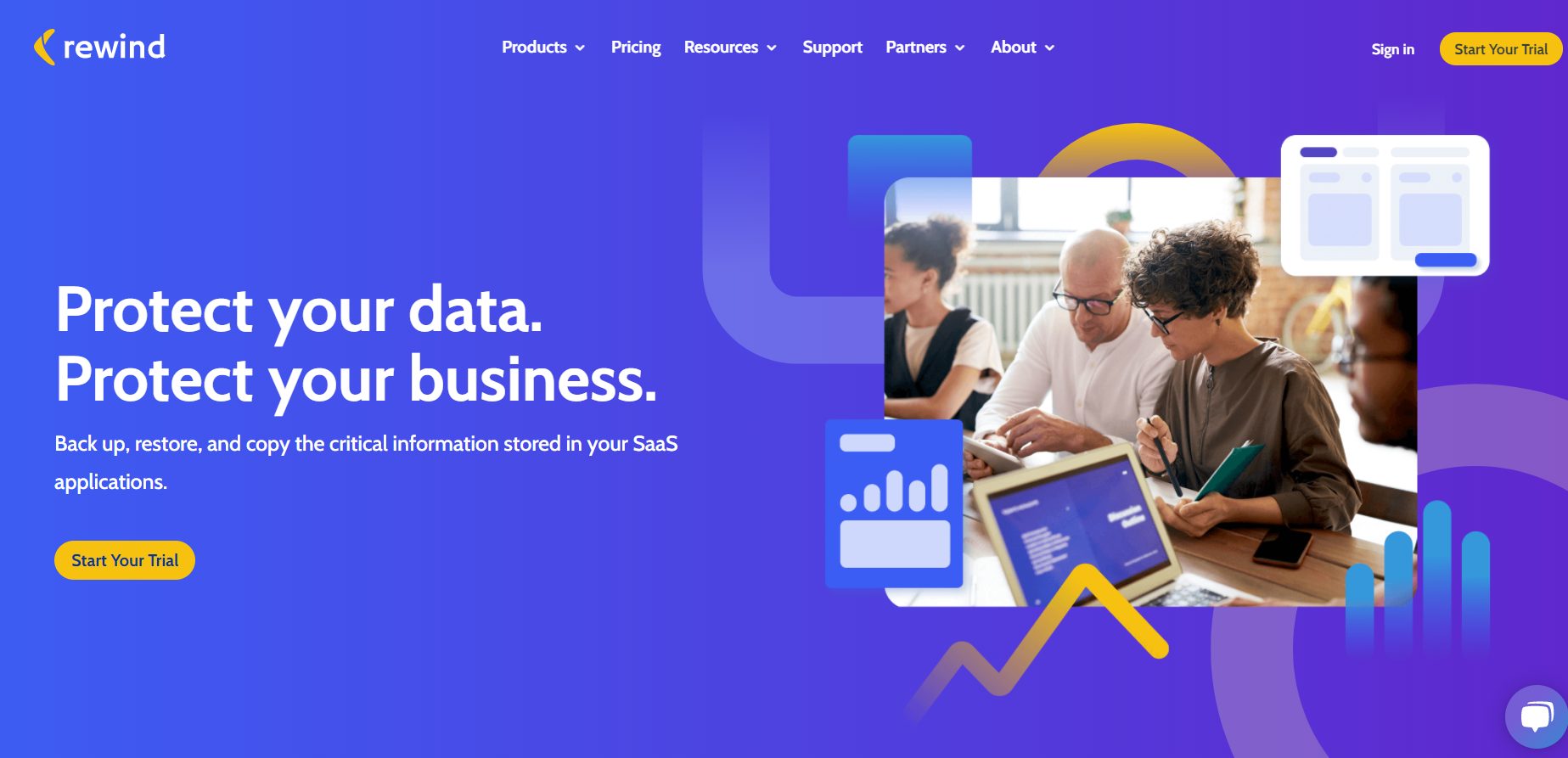 Rewind Backups gives BigCommerce store owners peace of mind by automatically backing up your most important store data, including products, product details, product images, themes, customers, orders, and more. After installing Rewind, you can quickly undo unwanted changes with just a few clicks.
Although BigCommerce backs up its platform, items that get deleted from your store are gone forever. You cannot recover your store items if you do not have a backup in place. Rewind Backups solves this problem.
Rewind backs up millions of items for merchants of all sizes, from hobby shops to Enterprise stores. Pricing depends on the number of orders you have per month. Plans range from $3/month (for fewer than 20 orders/month) up to $299/month, if you have more than 2,000 orders/month.
---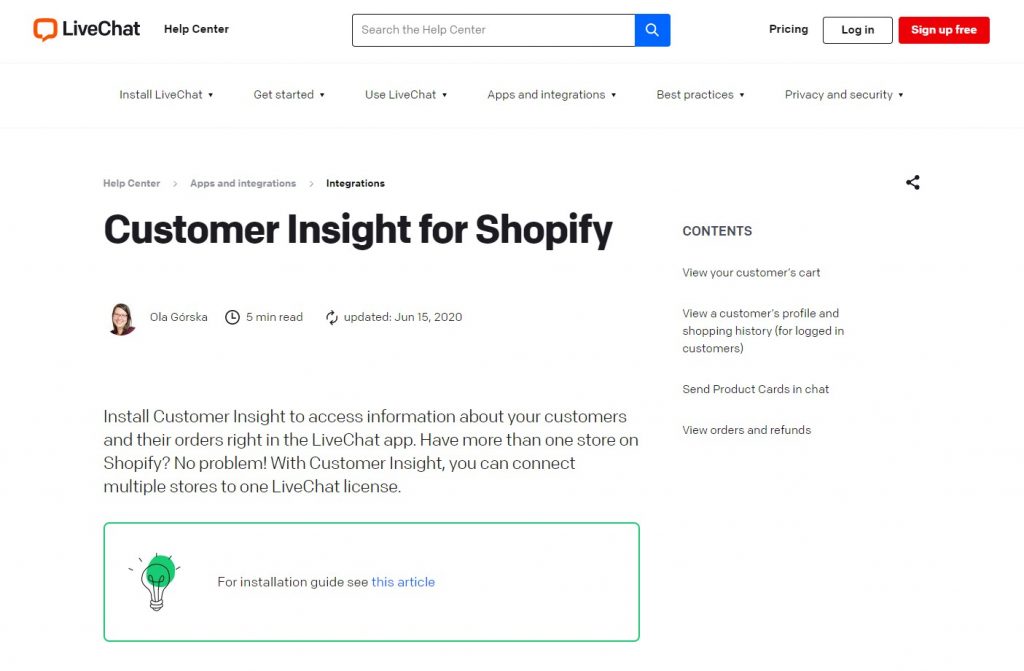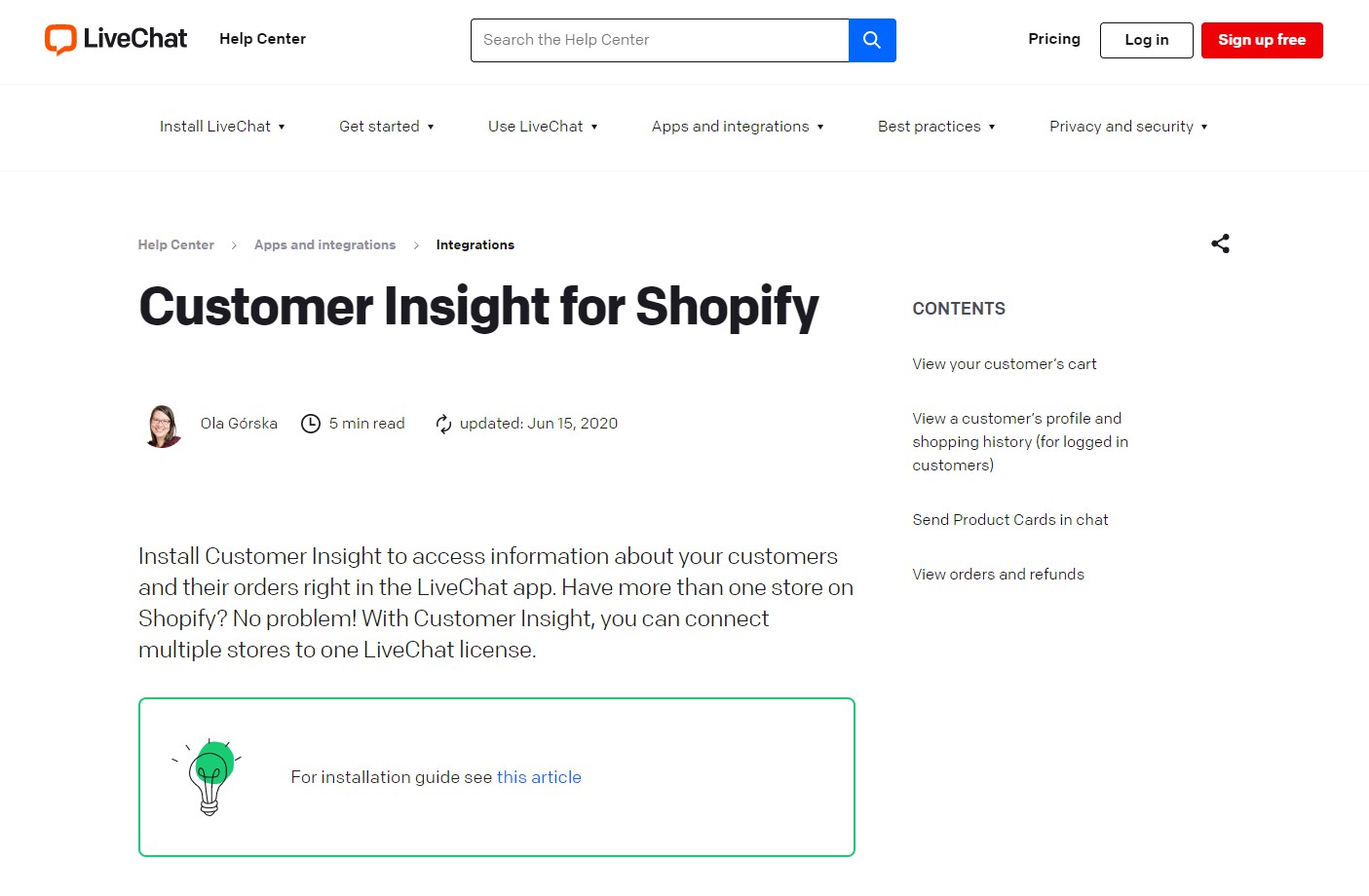 With the Livechat + Customer Insight chat widget, you can answer incoming sales and support questions as they come in. Having live chat on your BigCommerce website means that you can minimize the time needed to contact your current or potential customer.
A typical chat widget sits on the bottom right side of your website. On-site visitors can choose to chat with you, or you can actively engage them with chat invitations. You can use the widget as a contact form to offline messages or even to enable customers to sign up to your mailing list.
Customer Insight allows you to view the customer's cart without clicking through tabs, right in the Livechat app. This enables you to immediately recognize the customer's context, answer their questions faster, and suggest other products based on the pages viewed and the items already in the cart.
---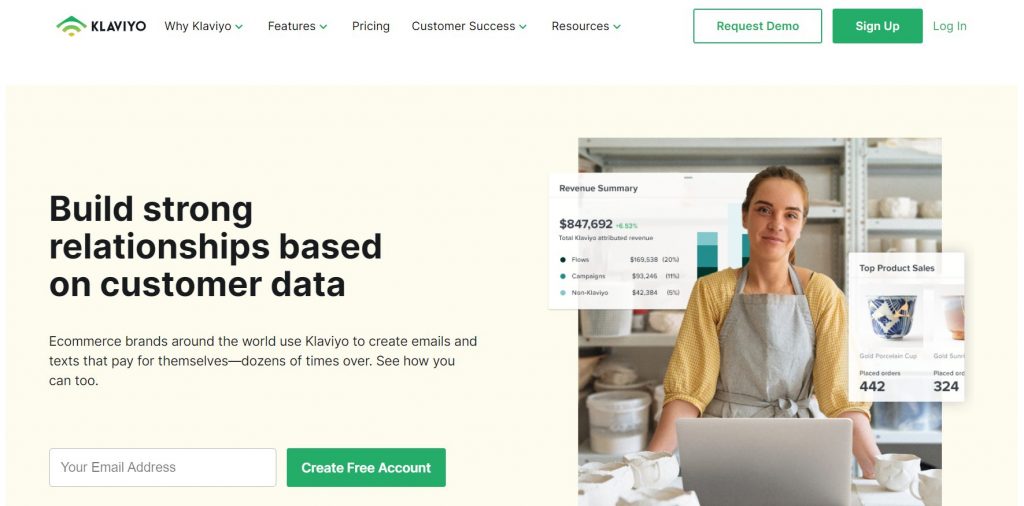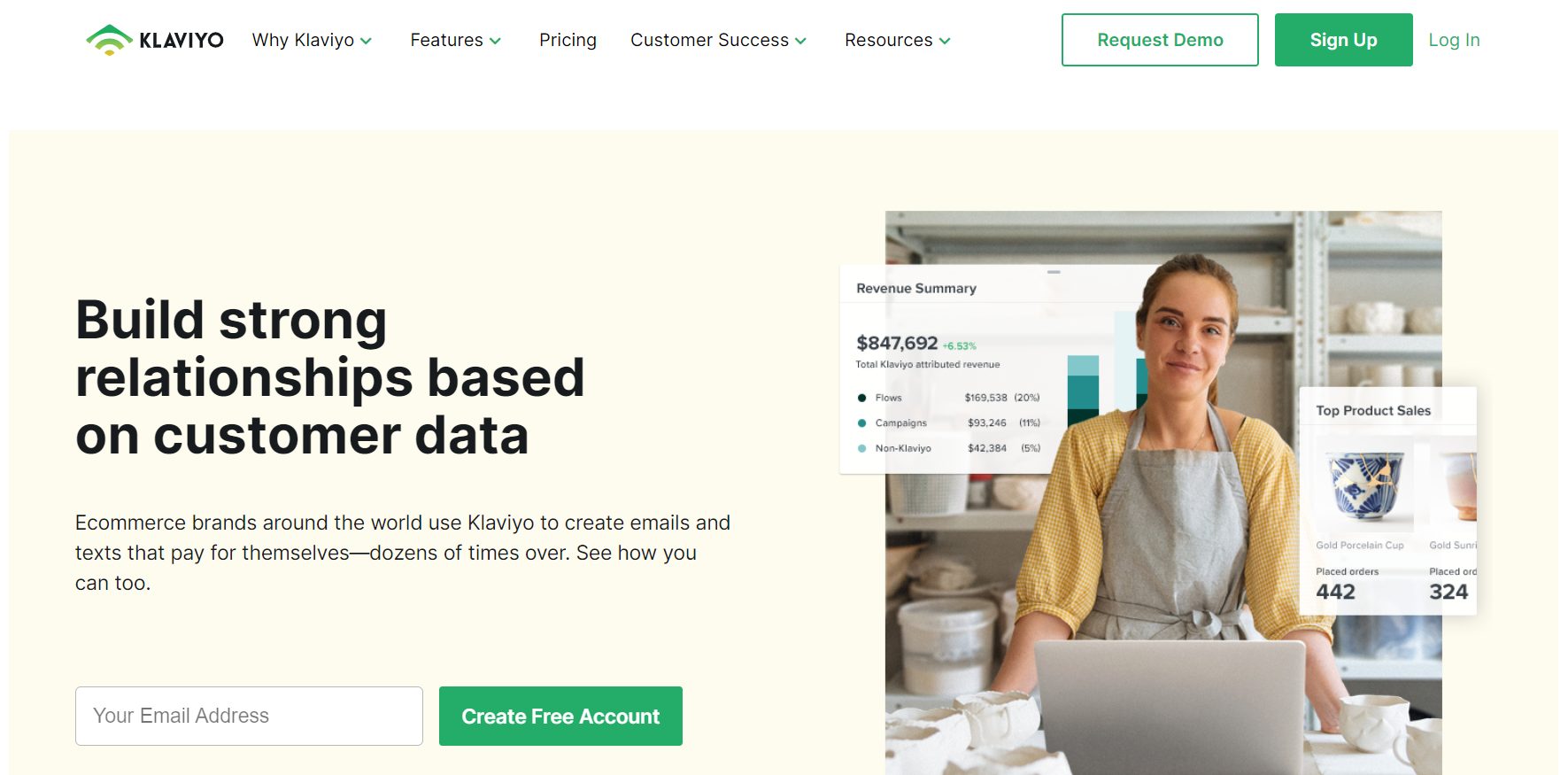 Klaviyo helps businesses create memorable experiences across owned marketing channels—email, SMS, web, and in-app notifications—by listening for and understanding cues from visitors, subscribers, and customers, and turning that information into valuable, relevant messages. The company claims that eCommerce stores switching to Klaviyo see an average 67x increase in ROI.
Klaviyo offers 100+ pre-built integrations ranging from shipping solutions to rewards programs. Top integrations include Facebook, ShipStation, Yotpo, Smile, Privy, and more.
You can leverage Klaviyo's free Form Builder to collect more information about your customers and grow your email list without any coding. The customer profile provides a unified view of your customer's actions, preferences, behaviors, and history.
Businesses can find the perfect audience using Klaviyo's best-in-class segmentation. Target customers based on any event, profile, metric, and even location or date. Use segmentation to build important groups of customers like VIPs, engaged profiles, and churn risks.
---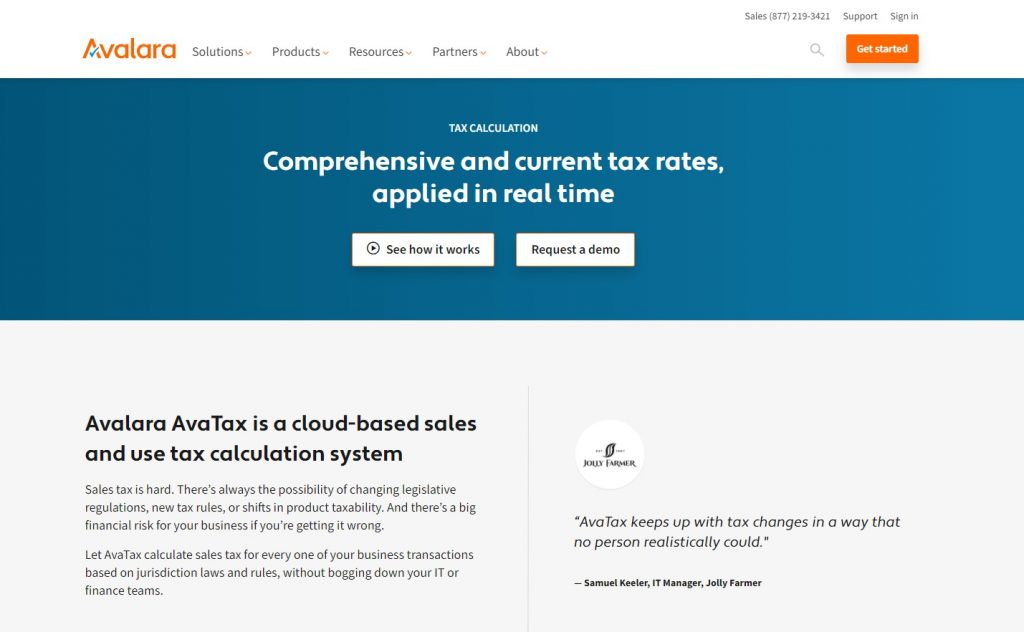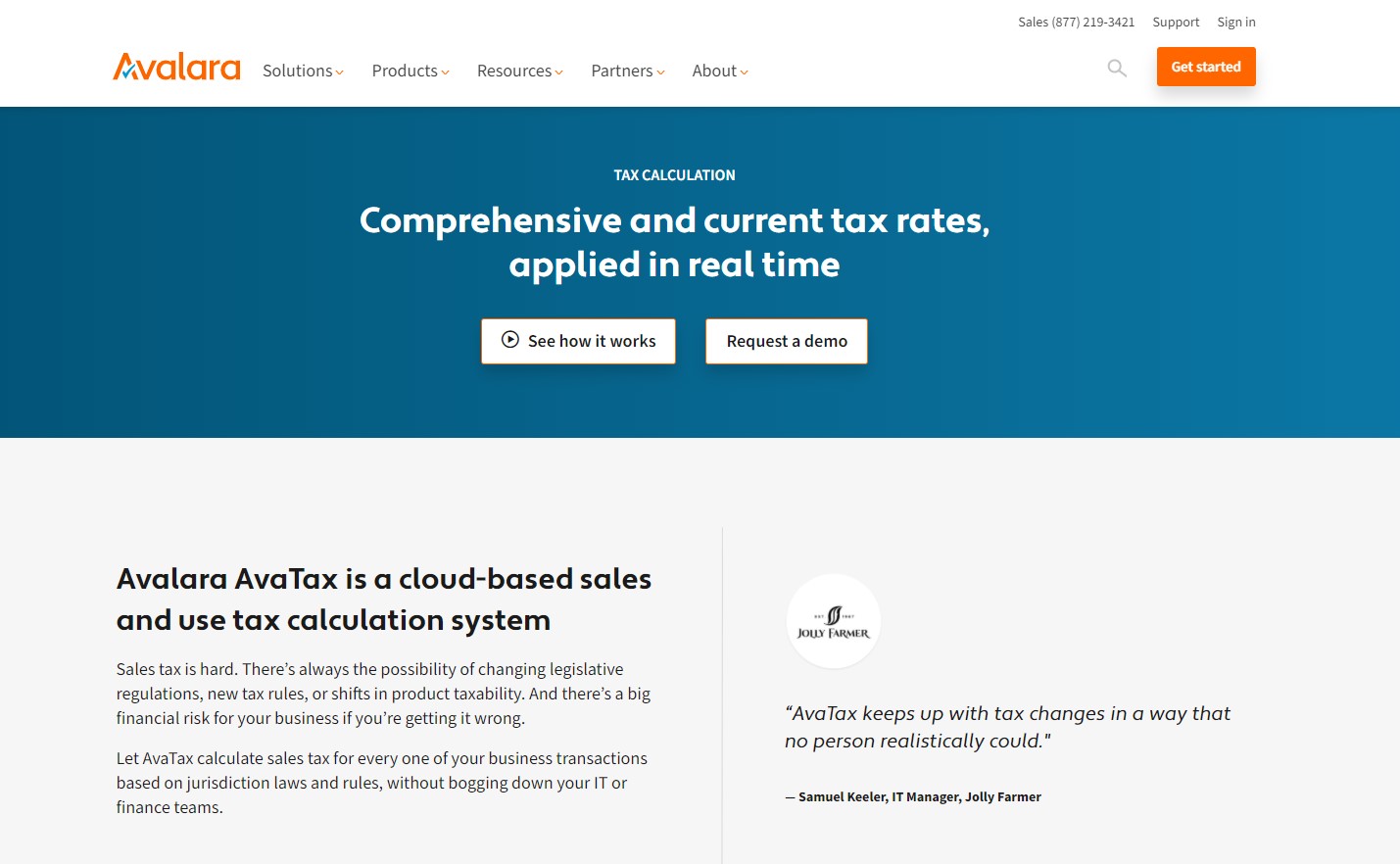 If you base yourself in the USA, you can use Avalara AvaTax to ensure that you meet sales tax compliance. Companies of all sizes benefit from sales tax automation, whether you have to collect in one state or many states. With a certified integration to BigCommerce, you can be up and running quickly.
The app includes tax calculation on every order for all state and local tax jurisdictions. It includes full compatibility with Avalara Returns filing service. If you already use AvaTax and need help with filing, Avalara can automate and file your sales tax returns on time, in every state.
---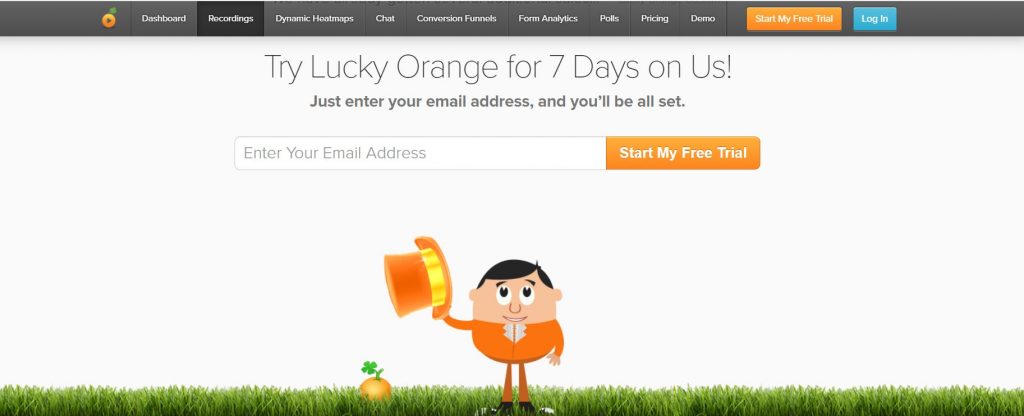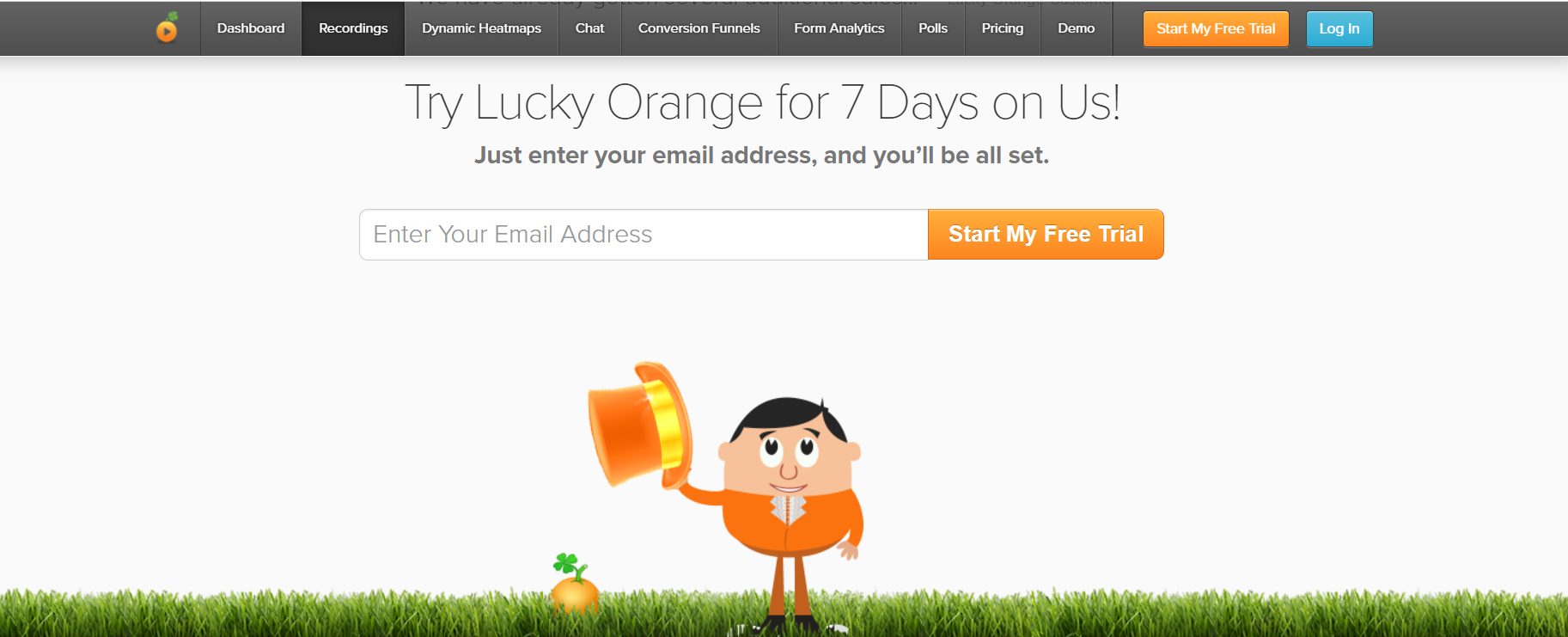 Lucky Orange Heatmaps & Session Recordings automatically creates funnels for BigCommerce's checkout process. Dynamic heatmaps show you what visitors clicked and how far they scrolled. See which parts of your navigation get the most clicks or if visitors saw your CTAs.
Session recordings help you find roadblocks by watching a video playback of visitors browsing your site. You can even use live view to watch visitors while they're on your site. If you see them struggling, it might be a good time to use live chat to answer their questions.
Form analytics shows you which form fields are the most abandoned and how long it took to complete them. Fix form issues to decrease cart abandonment.
You can also use the app to create pop-up poll questions for a specific page on your store or just for targeted visitors, such as those coming from Facebook. Common questions include, "What stopped you from making a purchase today?" or "Would you like to be contacted for a free estimate?" Recordings are linked to responses for further insight.