Best for:
Campaign creators, Influencers, Small Business
A print on demand service with a troubled past, Teespring has finally found their groove, and profitability, by getting more clever about their product. Marketing and multichannel sales are built right in, while a host of integrations provide influencers and creators more ways to monetise their social media accounts.
Whoever said it takes money to make money never stumbled upon the world of customised on-demand products. For someone looking to sell their original designs on clothing and other swag, all they need is a great idea. No investment necessary. Teespring isn't nearly the first company to offer this service in a market that's saturated with these kinds of services. But they do have some unique offerings and excellent integrations that make them stand out from the field. It's a first-look company for aspiring entrepreneurs of all kinds, but also seems particularly well-suited to influencers looking to capitalise on their newfound (and likely fleeting) success.
It wasn't always that way, though. Teespring got off to a (seemingly) good start after its founding in 2011. Its use of Facebook as a marketing and sales channel attracted thousands of new sellers to the platform. In 2015, Teespring pulled in $228 million in revenue, and even turned some of its power sellers into millionaires. As it turned out, Teesprings customers were doing better than the company itself. Even with that revenue, they operated at a loss for 2015, with a net income of -$36 million. And then things got really bad. By 2017, annual revenue had dropped precipitously, down to $42.4 million. There was good news that year, as they lost less money by a factor of 10. But when your good news is that your company only lost $3.5 million dollars, it's time for a little self-reflection, at least. 
Which is exactly what they did. After doing some business-y type stuff that this writer doesn't understand (except the part about layoffs), Teespring was able to forge ahead, operating in a leaner fashion and expanding out their offering to go beyond selling T-shirts on Facebook. Adding new products and sales channels to the mix, as well as some big name collaborations and marketing directly to influencers, helped push things along. By 2019, Teespring hit $1 billion in lifetime sales and, more importantly, became profitable.
With recently launched integrations with Twitch, Streamlabs, and Discord, Teespring has also positioned itself as the go-to print-on-demand service for influencers and creators in the gaming community. It's a smart move to focus their efforts here: gamers are some of the most popular personalities on YouTube, and they've cultivated loyal fanbases among Twitch's 15 million users. They also, as a group, aren't generally sought after by brands outside of the gaming world, and are more likely serving the kind of content (irreverent, crass, profane, etc.) brands don't want to associate with. With Teespring's recent integrations aimed at this group, it provides brand-unfriendly personalities more opportunity to monetize their fame.
---
Pricing
Like most Print-on-Demand services, Teespring is free to use. You can set up an account, upload your designs, and start selling without any financial risk. Teespring earns its money by keeping a portion of the total sale price. Rather than a percentage of the sale, there's a fixed cost for each item: users are able to set their price wherever they want it, and Teespring's cost remains the same. 
Because there are so many items available, it would be much too time consuming (and ugly) if we listed them all here. Here's a general idea of what items will cost you, with the stated range being dependent on style and fabric:
Short Sleeve T-shirts — From about $10 to $18
Long Sleeve T-shirts —  From $13 to $23
Tank Tops — Around $13
Sweatshirts/Hoodies — From $18 to $32
Baby Stuff — From $10 to $23
For all of the above, Teespring offers volume discounts on a month-to-month basis. That is, if you cross a sales threshold by the end of a month, your next month's pricing is based on that. You can see the full pricing for all Teespring products, in US dollars and Euros, here.
---
Setting Up Your Store
Because Teespring was purpose-built for print-on-demand products, the setup process is pretty straightforward. Setting up a store essentially means uploading your designs and creating products from them. In fact, once you're logged in for the first time, the main Overview dashboard will have a link to create products as the first step in setup. There are a few other things you'll need to configure in Settings, mainly related to payouts, and this isn't necessarily made clear. It's also not hard to figure out, either. All told, during our test of Teespring, it took just a bit more than six minutes to create the account, configure all settings, and upload our first design.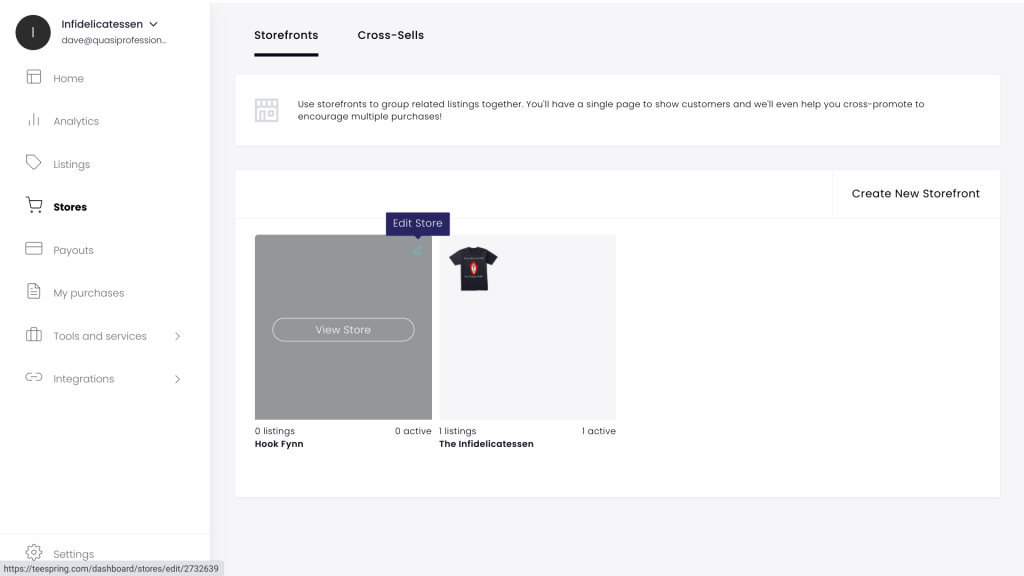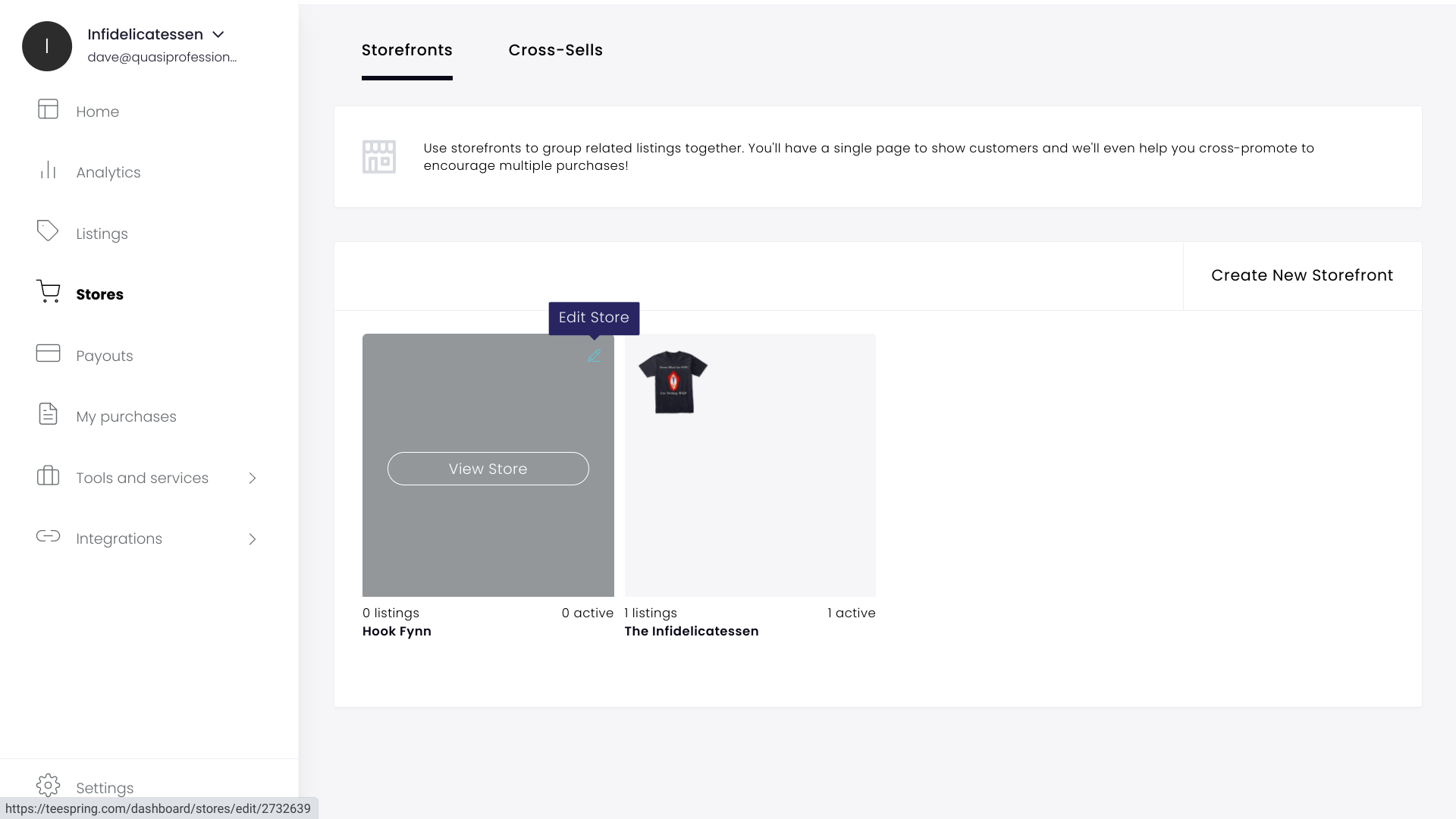 Along with uploading your design, you'll need to pick an initial product on which you'll lay everything out. If you select a t-shirt, then you'll know what your design looks like on the t-shirt (naturally). Here you can add text, though if you're good with image editors you're better off adding your text beforehand: While there's a decent variety of fonts to choose from, you have very little control in the way of styling the font beyond bold or italics. There's no arcing or shading or offsets or 3D effects. As for colors, there's a limited color palette to choose from—just fourteen colors. If you want something beyond those you'll need to have your Hex Color Code translator handy, and if you don't know what that is: don't worry. The people who do know what it is are annoyed at this also.
Laying the image and the text out on the shirt is very easy, though, with guides showing the printable area. You can resize, drag, or rotate images and text within the printable area, the elements snapping and sticking to the center of the shirt (or hat, or gaiter, or…) as you drag them.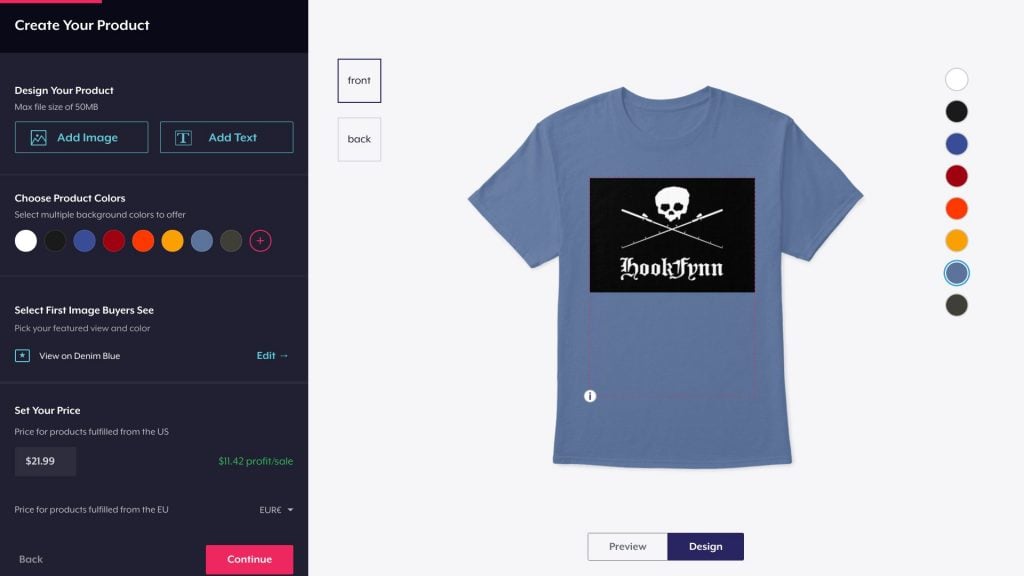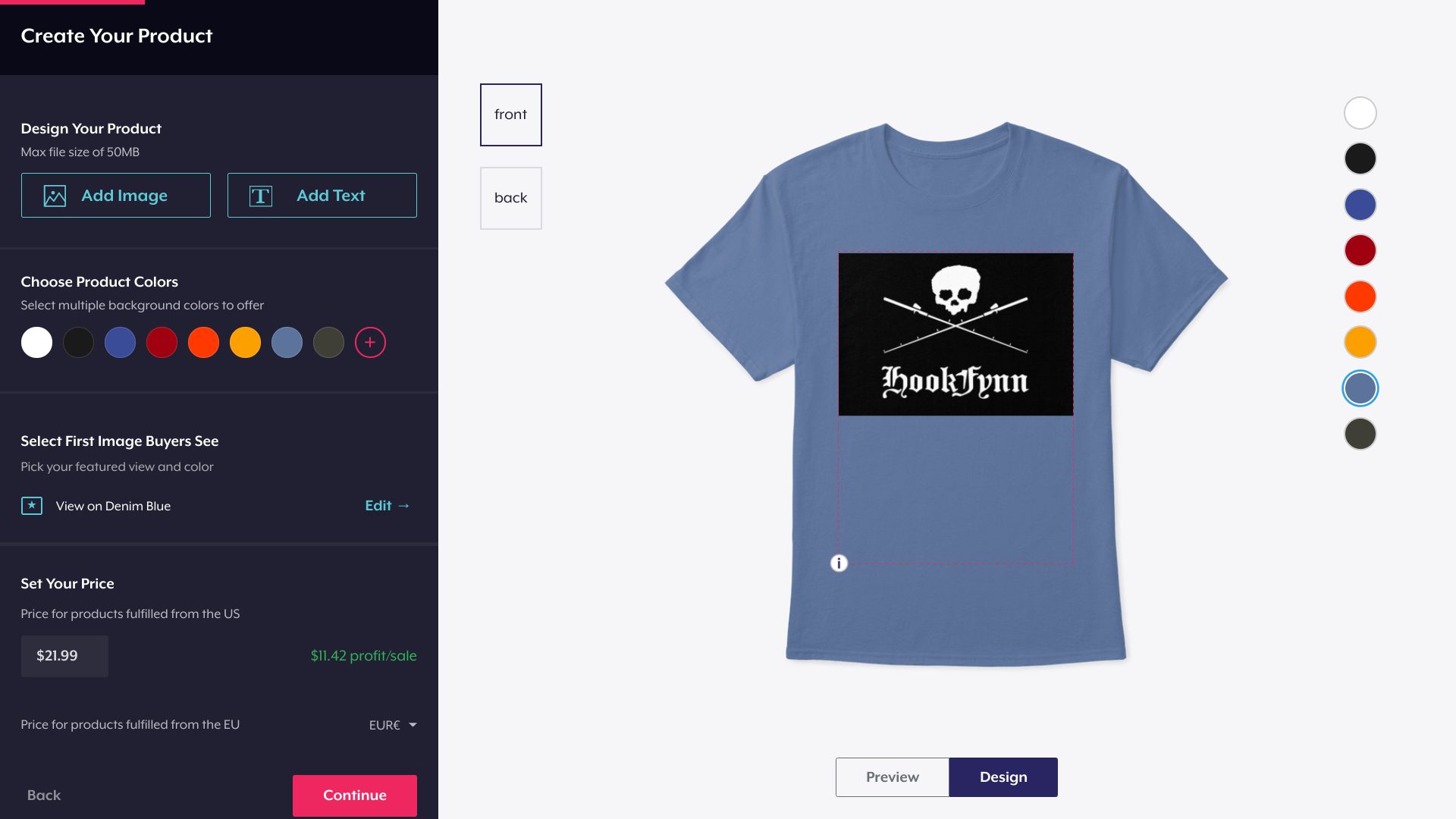 Getting this far is simple and quick, but when you start putting the design on other products, the process can get pretty laborious. There are seven different styles of Men's/Unisex t-shirts, and seven different styles for the Women's. Hoodies, sweatshirts, long sleeve T's and tank-tops all have multiple options. There are leggings, cloth masks, kids and baby clothes, socks, phone cases. And you'll need to edit each one you want to sell, to make sure the design layout looks good on this new shape, and you'll need to choose all the colors that go with the design. It's a lot of clicking and waiting for the web page to refresh. Considering Teespring handles the printing and payments and shipping and customer service, this seems like a small sacrifice of time to make. 
---
Content Management System
The "CMS"—such as it is—the most basic of customisation tools. To call it a CMS isn't even accurate: Teespring is in the business of print-on-demand merchandise, not web hosting. The storefront design options are as follows:
Header —

You can select a color for the background, which at least gives you a proper palette with sliders and fine degrees of each color's shade. You can also choose whether your logo or a site title will appear at the top, and whether or not that site branding you just defined stays with every page.



Banner —

An optional image to put under the header.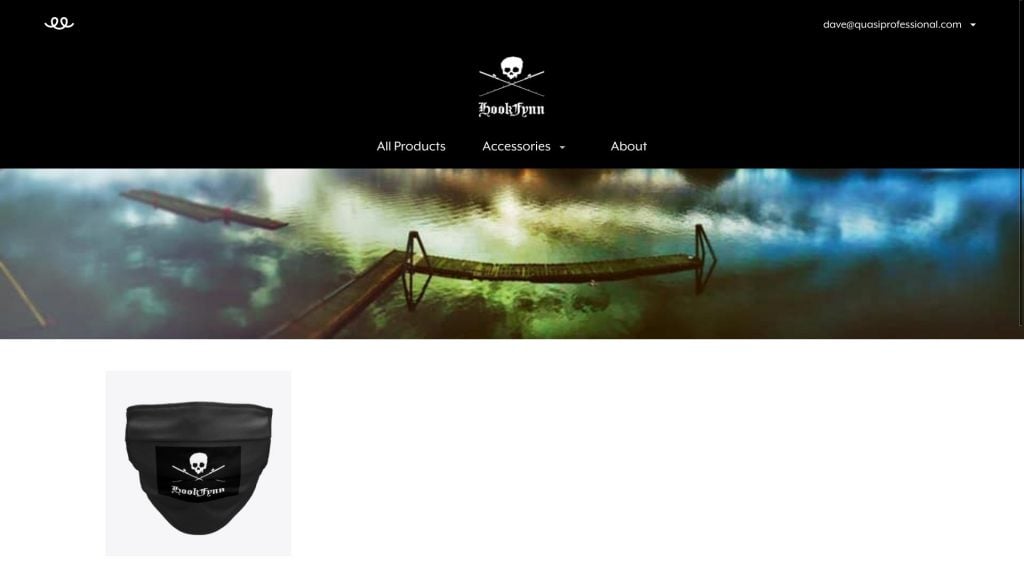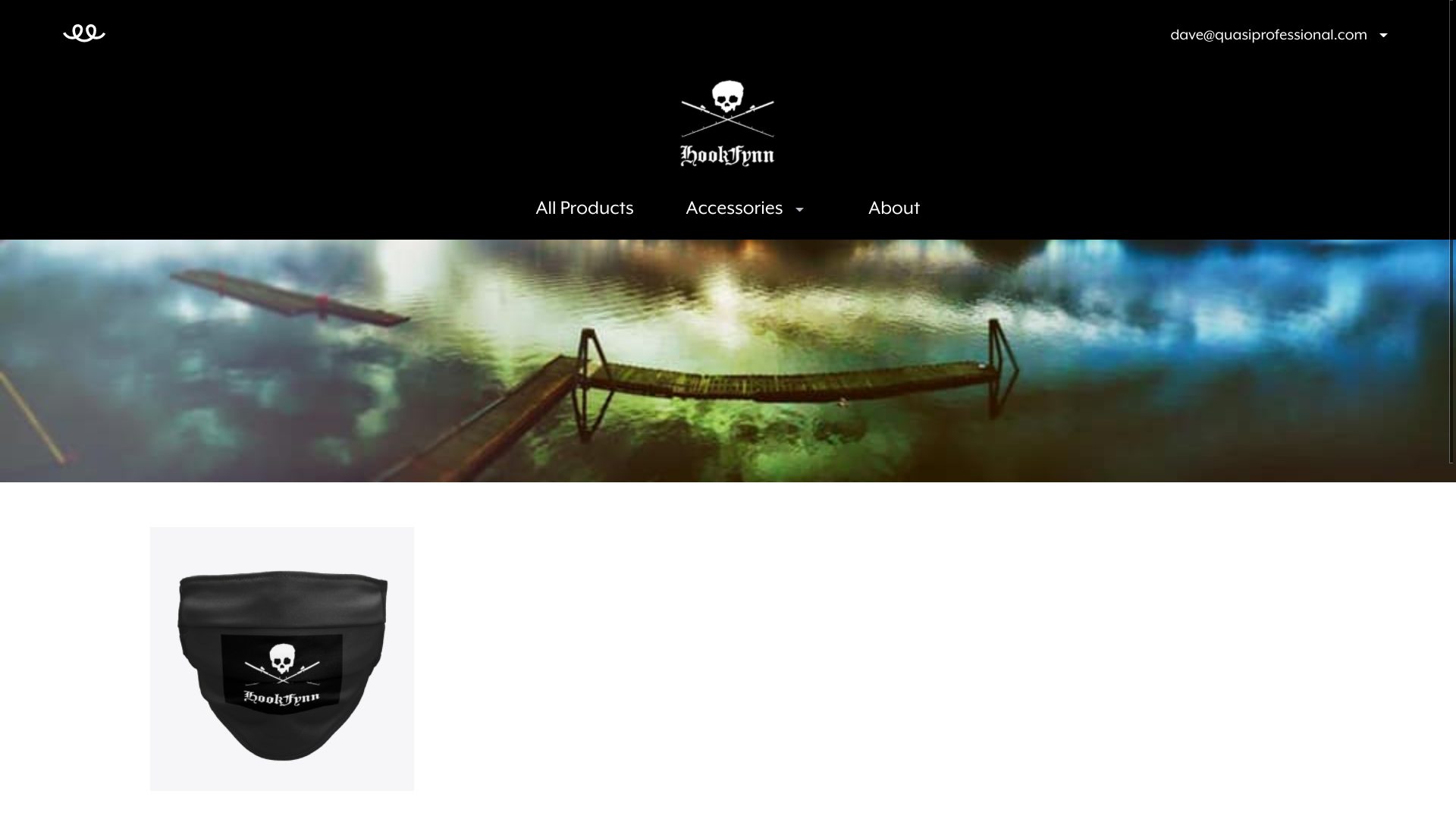 About —

Creates an "About" page where you can type a very brief description of the store/you, as well as add links to your social accounts. The interface doesn't tell you how the limit for the bio, but we went over it in just three sentences. 
And that's about it for branding your store. From the storefront/design page, you'll also add your products, which is not to be confused with creating products. We created products in the initial step, but that just populates the database with the items you'll be selling and sets their prices and options. Here, you're adding those products to the storefront/website. If you're wondering why products aren't just automatically added to the store, that's because you can have multiple storefronts, and only add certain products to each one. All of Teesprings products are automatically categorized, and the categories are added to the navigation menu at the top of your storefront. 
Think of your Teespring storefront less as a full scale online retail shop, and more as a merch table at a concert or festival. It's barebones, built to sell products and not create an experience.
---
Notable Features
Teespring offers Same Day printing and 2-Day shipping options, so anyone can create an Amazon-like shopping experience. They also handle taking payments, eliminate the need for merchants to hold inventory, and take ownership of the customer service. Beyond that they've added some pretty innovative features that have been a major part of Teespring's resurgence in recent years. 
Boosted Network —

When you set up a store with Teespring, there's a lot you can do to promote your products and increase sales. But then there's also some stuff that Teespring does behind the scenes, as an included benefit. Teespring integrates with seven different online marketplaces to create multiple sales channels for its customers. An algorithm handles the load here, finding products and sellers that meet certain criteria (no controversial content, has sold at least once, good trust scores) and automatically offering these products up for sale on any or all of the following platforms: Amazon, eBay, Walmart, etsy, Wish, jd.com, and Rakuten). It's not anything that you'd need to opt-in to, though you're free to opt out if you're not in the mood to have sales happen without any effort by or cost to you. Your item will appear on the most appropriate of these marketplaces and all the sales and support happen without you lifting a finger. The algorithm decides the selling price on these other channels, so the profit per item varies. That said, there is a minimum profit you'll make for each kind of product.



Basic and Boosted Retargeting —

If someone views your design but doesn't buy it, Teespring will target ads at them, reminding them of your awesome product.



Email Marketing —

There are two ways Teepsring makes email marketing work for its users. The first is by featuring its customers' products in Teespring's own branded marketing emails. This doesn't happen for every product, of course: they're not going to feature products that aren't selling well to begin with. But they give you another way to market via email that puts the control in your hands. Using the "Messaging" feature, you can send promotional emails right from your Teespring dashboard to anyone who's purchased from your shop before. You can send emails to all customers, or create segments of them based on past purchases for more targeted emails.



Specialty Items —

In addition to the standard print-on-demand products like t-shirts, sweatshirts, mugs, and phone cases, you also have the option for many of these products to have the design printed all over, or just on sleeves, rather than simply centered on the front or back. They also offer beanies, trucker hats, keychains, pop sockets, backpacks, pins, and even fully custom plush dolls of your own design.




Teespring Go —

You aren't limited to just print-on-demand products. With Teespring Go, you can sell literally anything you want. To do this, you can either buy a bunch of inventory and ship it to Teespring's warehouse, or work with them directly to source whatever it is you want to sell. In both scenarios, Teespring handles all the payments, shipping, and customer service, just as they would with their POD line of products, taking a flat 15% of the sale prices as their fee.




Tracking Pixels —

You can set up tracking pixels with Facebook, Twitter, Pinterest, and Google. The results of this tracking feeds directly into Teespring's analytics module, getting you much more meaningful and helpful data than a simple sales report.
---
Integrations

YouTube Merch Shelf —

This is a YouTube plugin aimed squarely at influencers and other popular YouTube creators whose channels are eligible for monetisation. The plugin, as its name implies, creates a virtual merchandise "shelf" of your products which appear directly below your videos on YouTube. For influencers, this opens up a new way for them to profit off their popularity. There are no content restrictions here, either, so anyone with a popular YouTube channel can use it and start earning money over and above what YouTube pays out for ads and such. The plugin also includes something called a "Merch Alert" for use during livestreams. The Alert is a kind of social proof tool, alerting viewers to purchases of your merchandise in real time. Savvy livestream hosts can create limited time or quantity promotions which, along with alerts showing, can create FOMO among your viewers and drive sales. You can even pin your products to the top of the chat in your YouTube livestream to make it easier for fans to buy.




Instagram Checkout —

When Instagram granted access to its new checkout feature in 2019, they only allowed a couple dozen global brands to participate. Teespring was one of them. Be aware, though, that not every Teespring store is eligible for this feature as it's all very exclusive. Requests are taken on a case-by-case basis because—and you're forgiven if you didn't know this—Instagram has

standards

.



Google Shopping —

Like the Instagram integration, access to this one is on a case by basis. If you are among the lucky chosen few, Teespring makes promoting your business through Google streamlined and easy. They handle your product feeds (just add a product to your storefront, and it's automatically added with Google). They also manage your Merchant Center account, keeping it synced up with your Adwords account.



Twitch Merch Store —

The Twitch extension takes things further by integrating the entire shopping experience directly within your livestream. Any of your designs can be offered here, but you can also create and sell subscriber-only merchandise sold exclusively through your streams.


Streamlabs —

Buyers can create custom merch alerts when they purchase during a livestream. This means that instead of a canned "

Username

just bought a shirt" message, customers can write their own alerts to appear on screen during a stream. Teespring claims this has been proven to boost sales by 30%. Keep in mind, too, that Streamlabs is itself a product that integrates with other services, so your customers can do this on YouTube and Twitch and any other channel that integrates with Streamlabs.


Discord —

The same idea is behind the Discord integration: users can push custom merch alerts to the channel of

your

choosing. The message is written by the buyer and a link is included to the product they just bought. This opens up social proofing to a wider, always-on community.



---
Conclusion
In its nearly 10 year history, Teespring has certainly been through its ups and downs. It's very much on the upswing right now, and it's because they've made a lot of smart decisions around growing their core print-on-demand service. For people looking to sell their own merchandise there isn't a more risk free way to do so than with Teespring or similar services. Among those services, however, there may be no more effective service to use than this one. 
WIth marketing tools built in, automated third party marketplace listings and sales, and an analytics engine that integrates with Google Analytics, aspiring apparel moguls aren't just given a free way to start a business, they're given free tools to grow it. 
They've also recognised a valuable niche market that would benefit from their service—influencers and creators—by integrating with social channels. Now, these digital celebrities don't have to wait to reach certain thresholds to monetise their YouTube channel, or rely on potential collaborations with brands to earn money. They can set up shop in minutes, and sell their products across all the platforms they're known on. 
Teespring is definitely having one of its Up moments, and there's no reason to believe there are declines in the future. They're doing all the right things in all the best ways.
Frequently Asked Questions
Can I use Teespring for free?
Teespring is free to use like the majority of print-on-demand services. You can create an account, upload designs and begin to sell without taking any financial risk. Teespring makes money by keeping a portion (instead of a percentage) of the total sale price. It charges a fixed fee per item and then users can set whichever price they want to charge for the item. For example, a tank top starts at about $13 while a long-sleeved T-shirt can cost anything from $13 to $23.
Is it easy to create a store on Teespring?
It's simple to set up your store on Teespring. In minutes, you can create an account, configure all the settings and upload your first design. The first step is to create products. You'll need to select an initial product on which you'll lay everything out. It becomes more time-consuming when you start placing your design on other products, but as Teespring takes care of the printing, payments, shipping and customer service, spending some time on adding your designs to different products isn't a big issue.
What are some of the cons of using Teespring?
While Teespring offers a huge selection of products to sell (some might even argue it is too big), they offer limited styling of text on products. It offers a decent selection of fonts, but you can't add 3D effects, or shading. It also has a limited color selection (there are just 14 colors). The storefronts are also barely customisable. You can use it to sell products, but it is not enough to create an experience.
What are the pros of Teespring?
Teespring offers same-day printing and two-day shipping options. They will also take payments and offer customer service. What's more, without having to opt-in, it will integrate with seven different online marketplaces: Amazon, Walmart, eBay, etsy, Wish, Rakuten and jd.com. This will help you to get more sales without you having to pay extra money or do more work.
Who can use Teespring?
In short, Teespring is a print-on-demand service. It offers built-in marketing and multichannel sales and a wide range of integrations that creators and influencers can use to monetize their social media accounts. This feature sets Teespring apart from other similar services. For example, their integrations with Twitch, Discord and Streamlabs have made them the preferred print-on-demand service for creators and influencers in the gaming industry. If you want to sell your own merchandise, Teespring offers a risk-free way.
Ease-of-Use:

CMS:

Backend Management:

Overall Features:

Best for:
Campaign creators, Influencers, Small Business