Best for:
Influencers and content creators
What is it, exactly?
Kitly is a management tool for influencers and creators, available as an app for both iPhone and Android. It's the brainchild of Anthony Richardson, who founded a tech company called Q-83 back in 2018. The origin story is a common one: founder has a business, tries to enlist influencers for marketing, is frustrated by the process, then decides to make software to make influencer management easier and more transparent. We've heard this one before, but Richardson took it a step further: he made software for the creators, too.
With Kitly, users have an all-in-one tool that gives them access to a variety of tools that can only serve to make them more professional and organized:
Media Kit

— Users can customize their media kit to showcase their social accounts, highlight past collaborations, and provide rates and contact information.



Collaboration Management —

A streamlined project manager for all active collaborations, this tool can be used for an at-a-glance understanding of the status of all content creators are working on.



Brand Relationship Management

— Keep all your brand contacts organized in one place.



Reporting — 

In addition to having access to the performance metrics of their social accounts, creators and influencers can share them with prospective brands, as well. This is the highlight of the app: users are able to pick the content they want to include, rather than just sending a link to an entire profile. Brands will see the actual content in the report, and all the engagement metrics are live. Every time someone opens the report, they're getting a real time look at how the included posts are performing. Also included is a Weekly Performance Report that shows how all this performance compares with similar influencer/accounts.



Invoicing/Payments —

Kitly integrates with Stripe, allowing users to send invoices and receive payments within the app.
---
What's the Cost?
Kitly offers three levels of subscription:
Free, $0/mo  —

Connect 1 social account, create 1 media kit, create 1 report, manage 1 collaboration. Taking payments costs 3% of the total invoice (in addition to Stripe's processing fees)



Starter, $9/mo —

2 social accounts, 2 media kits, 2 reports, 2 collabs, Weekly performance report, 2% fee (plus Stripe fees)



Creator, $19/mo —

Unlimited everything, 1% fee (plus Stripe fees)
---
Is It Easy to Setup and Use?
It's not necessarily difficult, but it isn't entirely intuitive either. Actually, strike that: setup almost relies on intuition, because things aren't explained very well. As an example: when you sign up you're given a few SSO choices: If you log in using Facebook, your Instagram account will be linked. If you log in using Google, your YouTube account will be linked. Can you link all of these simultaneously? Yes, but you don't find that out til later, and you have to find where to do this. There's no guidance, and no help files, either. Another problem here is that if you're on the Free plan and can only have one social account connected, there doesn't appear to be a way to make that one account Instagram. You sign in with Facebook, and that's your one account.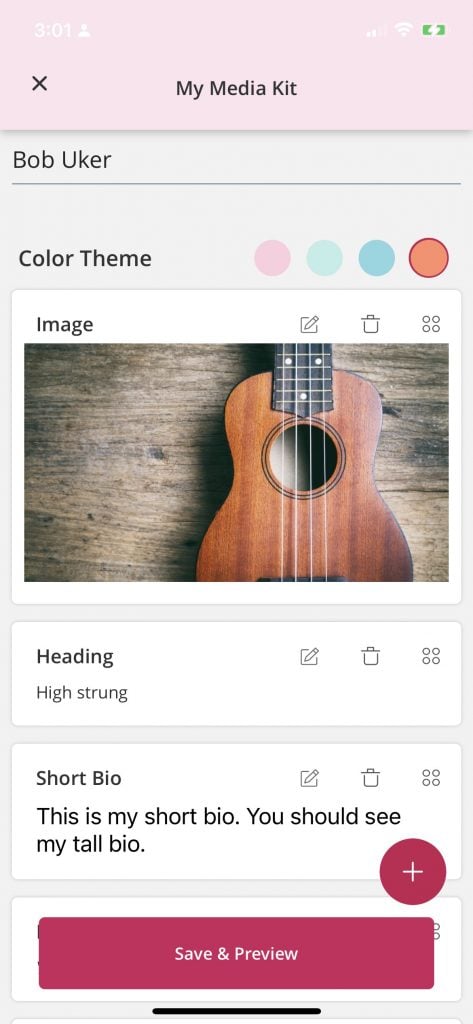 Creating a media kit is a bit cumbersome, too. You tap on the field to create a header and you're brought to a new screen to enter it in. Save it, go back to the main page, scroll down to the bio field, tap on it again, you're off to a new screen, and the process begins anew. It's clunky.
Once you've set everything up, though, it's smooth sailing. And for as clunky as it might be to work with, it's not a chore and still very much makes all the real world aspects of being a creator a lot easier to manage.
---
Show Me the Money
By being more organized and professional as a creator, it stands to reason that you'll be able to make more money. And with a payments function integrated into the app, you'll be able to centralize all that income to a single point of management. 
We're not crazy about the fact you're charged for taking payments, though. If Kitly were acting as the payment gateway and handling the processing of credit/debit card payments directly on their own platform, the 1% - 3% fees would be exceedingly fair. But they're not doing it. Stripe is, and they're charging 2.9%, plus 30 cents per transaction. All Kitly is doing is accessing Stripe through the API. Imagine the company that put the doors on the movie theater, charging you to get to the lobby where you can buy your tickets, and that's pretty much what's going on here.

---
The Bottom Line
Kitly isn't a perfect app, but the functions it serves—all together in a single place—makes the imperfections go down a little easier. There just aren't many companies developing apps to make a creator's life easier; those that are doing this aren't putting as many features in. Maybe you can make a media kit, but there's no way to take payments. Maybe you can take payments, but there's no way to manage your to-do list for collaborations. Or maybe you can run a report, but it's static and might contain obsolete data. Kitly's true innovation is in bundling all these things together, and having the smarts to do it on a mobile app—which is exactly where creators want their tools to be. Whatever little hiccups and imperfections exist don't overshadow Kitly's usefulness, and the app's only been live for a little more than a year. It's sure to grow and develop over time, just as the creators and influencers who use it will.

Best for:
Influencers and content creators