Best for:
Bloggers and social media influencers
What is it, exactly?
Ten years into its existence, Instagram still only gives its users one tiny place where they can stick a functioning link. Meanwhile, TikTok seems to have been created by people who thought Instagram videos were cool, but involved too much reading. Of course, platform limitations like these tend to spur cottage industries of solutions and workarounds. Toward this end, there are plenty of "Link in Bio" tools available aimed at giving you more control over where you can direct your web-enabled audience. The good news about these tools is that most of them are free. The bad news is that most of them are free, and you often get what you pay for.
This is not so with LinkFolio. While they do have a level of service that's entirely free, it's the lowest tier plan of a freemium model, which means its developers have incentive to make it better than competing offerings. And if you decided you wanted to pay for it, it only gets better from there. Most of these sorts of link tools seem purpose built to help brands. Even in use case scenarios with influencers and creators, the tool is essentially a springboard out to URLs for sales and promotions and the like. LinkFolio can do that, too, of course—it's the nature of the tool. But it also includes as much or more ways for influencers and creators to grow their own personal brands, and that makes all the difference. And it doesn't hurt that the whole thing is made by FamePick, which also operates an influencer marketing platform for brands. 
---
What's the Cost?
Free, $0/month - You can connect 1 social media account, with unlimited links listed on your LinkFolio. You can set up your media kit with a contact form built in, get insights into your audience and LinkFolio view counts. Plus you get access to 5000+ brands, outreach to 1 brand per month & a look at the influencer campaigns each requested brand has launched over the past 6 months, verified brand contacts, top 10 US Instagram brands each month and the ability to generate new leads on the fly. 

Premium, $10/month or $99/yearly - All of the above for 5 social accounts, plus: fan counts and channel insights updated weekly, 10 LinkFolio theme colors to pick from, a full analytics suite, outreach to 15 brand contacts per month + a look at influencer campaigns they've launched and the CollabMe feature which allows you to offer services straight to your audience from your LinkFolio. On top of all that you'll get full brand insights, priority access to new brands, 100 top US Instagram brands report updated every month with access to 18 months of historical data.
If you opt for the Premium yearly plan, you will also receive 1 on 1 with a Famepick Grow Advisor.
---
Is It Easy to Setup and Use?
The most difficult or confusing thing about LinkFolio is when you log in for the second time, at least on the desktop version. The first time is easy: you click the "Sign Up" button, do all the sign up things, and you're in. You're presented with an onboarding video, and it's all very intuitive to set up and configure. When you come back to log in a second time, though, you'll click on the "Login" button, and you'll be taken back to the same sign up page. Then you scroll down to the bottom, and notice it says in fairly small print "Already have a login? Sign in here." A little annoying but easily fixable.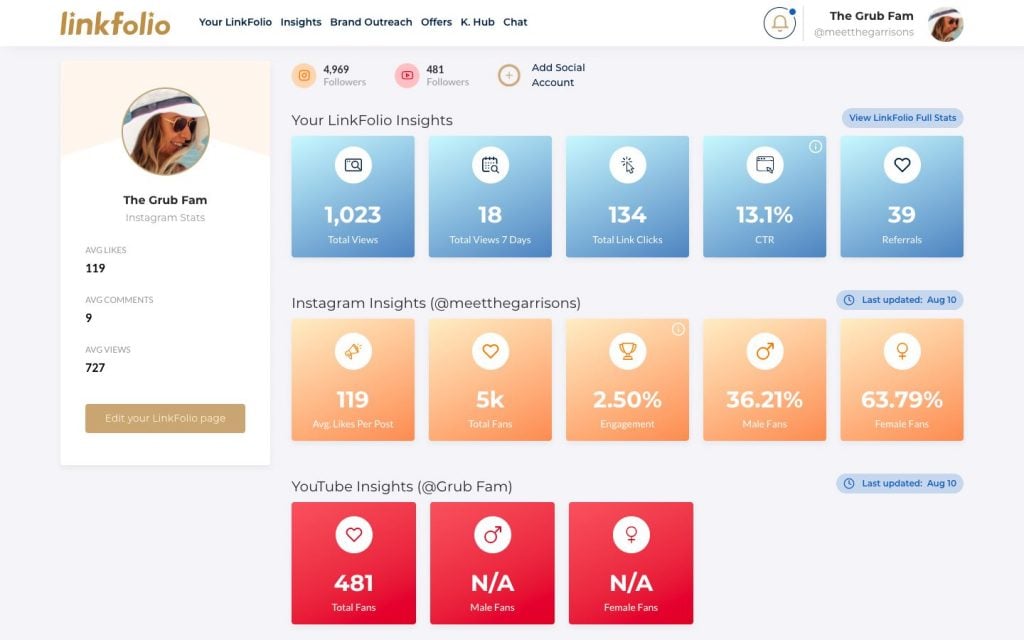 In any case, all subsequent logins bring you right to your dashboard, which gives you quick insights into the performance of your LinkFolio page and social accounts. Scroll further down and you'll get recommendations on brands you may want to work with and a way to get the right contact info if you want to send out pitches.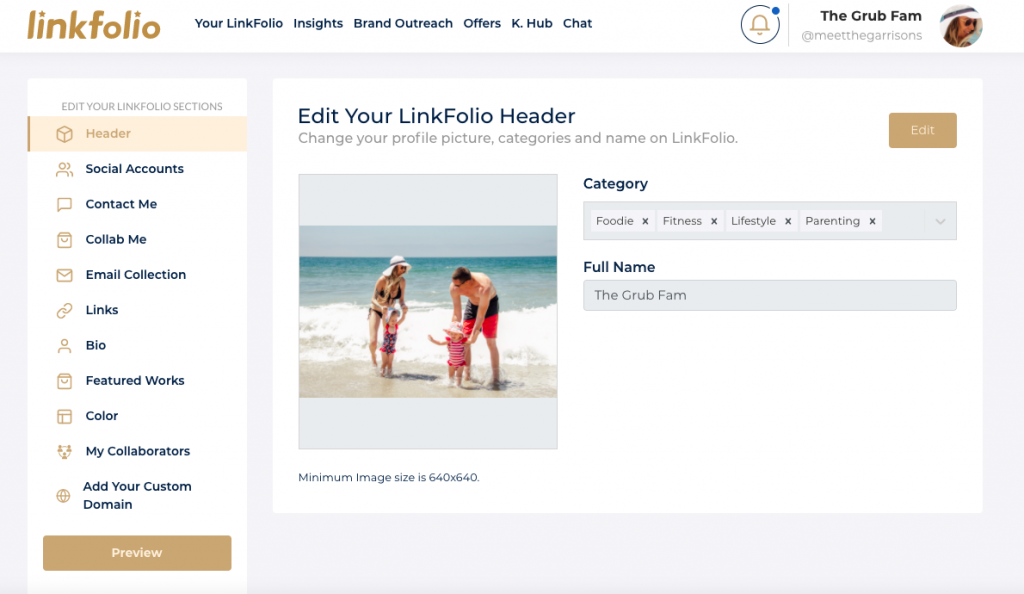 Clicking on the "Your LinkFolio" menu item in the navigation bar brings you to where all the set up occurs. If you can read and write English, you can set up any aspect of your folio page. Adding links, creating your bio, setting the theme color, and connecting your social media accounts (Instagram, TikTok, Twitter, Twitch, and YouTube), are all just button clicks and filling out forms. One of the cooler/more unique things you can do here is to enable e-mail collection simply by toggling the option on. This adds a form to your LinkFolio page asking fans to sign up for a newsletter.
One of the best and most surprising features is called Collab Me. It's not a great name, because it has little to do with collaborations, but the service it provides is excellent. And you can change the heading so it says something other than Collab Me. It's a way to sell whatever product or service you can imagine to your fans directly—think of it as OnlyFans Lite, and by "Lite" we mean there's no subscription or any expectation of nudity. You can use this feature to take commissions on art, photographs, or music. You can charge for one-on-one video conferences. Whatever you can think of, and think your fans will pay for, you can use this feature to help sell it.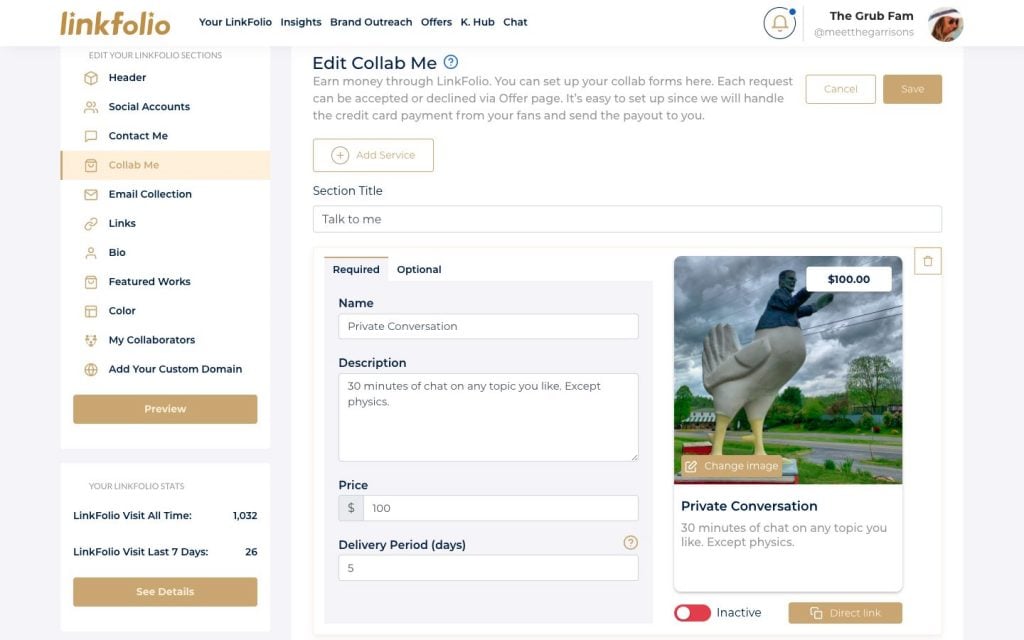 One thing lacking is a more complete ability to customize the look of your LinkFolio page. You can select from 10 different colors to alter the appearance, and that's it. Users are otherwise limited to the same layout and font as one another, and they aren't very attractive to boot. This is just not enough for people who are trying to demonstrate what makes them unique, and who are by and large earning their keep on the strength of their visual talents. 
---
Show Me the Money
Like any other creator tool, the ability to monetize your personal brand is steeped more heavily in your ability to market yourself than it is in any software tool. That said, LinkFolio's tools provide perhaps the most direct route from Popularityville to Cashtown than any other competing tool available. From the ability to directly contact brands for a pitch to the Collab Me feature, you're able to work both sides of the influencer equation—and brands, and your audience.
These features are elevated by the presence of what is incredibly thorough data and insights on your audience. You get access to all the same kinds of information that brands use to sharpen their marketing strategies, which is of course helpful in figuring out the kinds of Collab Me offerings you can design. But it also arms you with insights you can bring directly to brands. When you know the brand affinities for both your overall audience and your engaged audience, you don't have to sit around hoping those brands will find you in order to score a gig with them. If you can't earn money from the connections you make here, you probably weren't that popular or talented to begin with.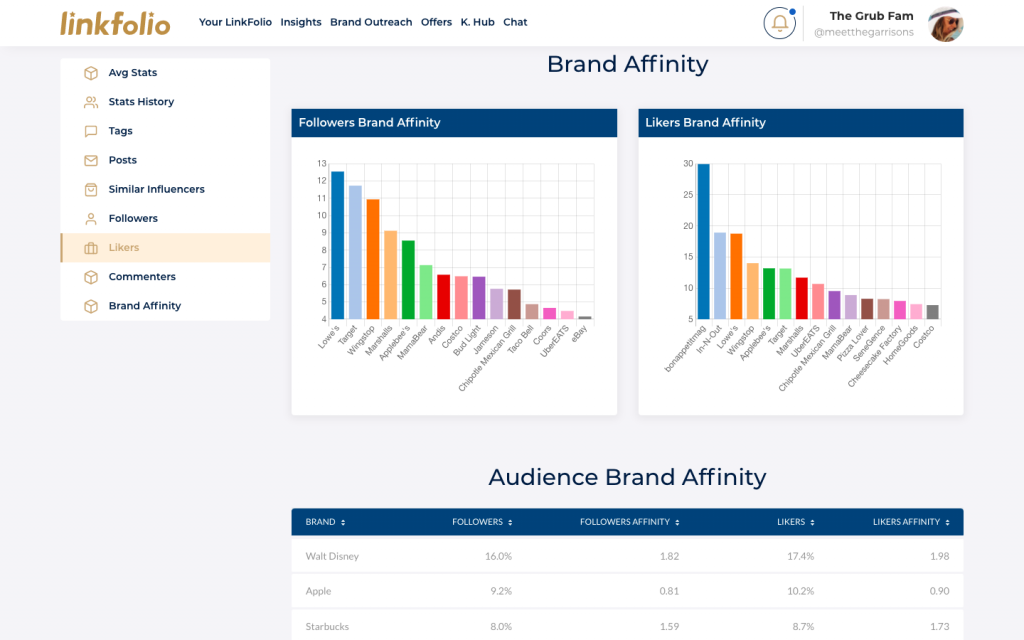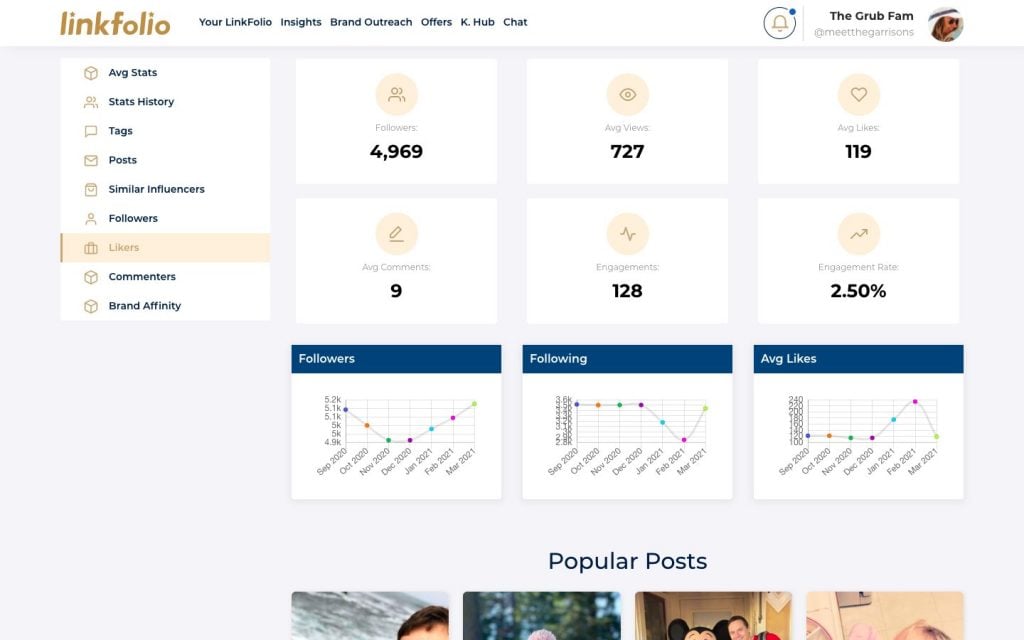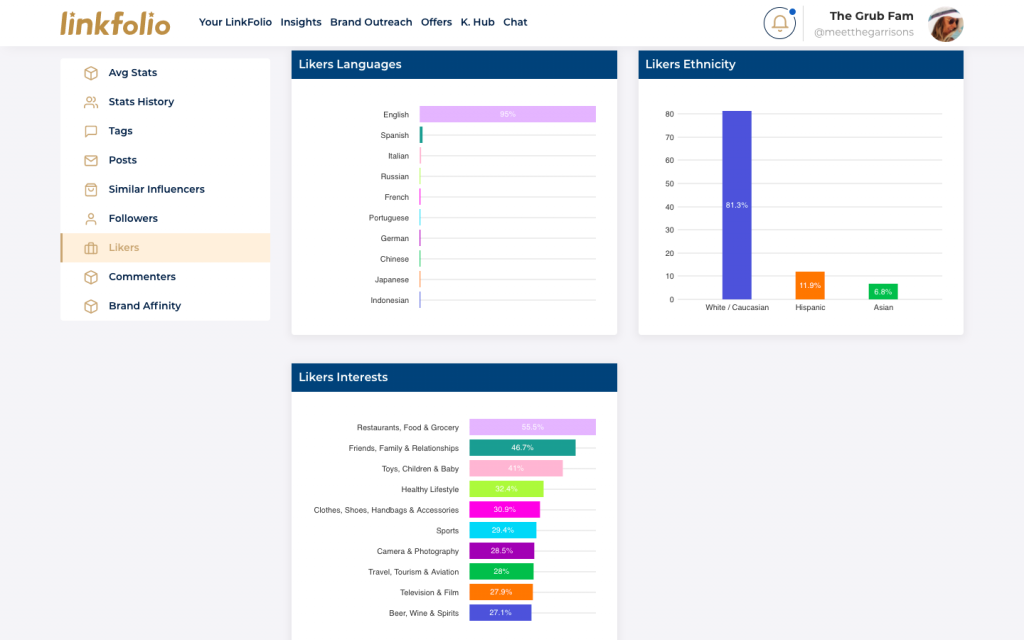 ---
The Bottom Line
While Link-in-Bio tools are nothing new, LinkFolio's approach to it is. More than just a repository of links, influencers can set up a full on media kit to act as their online portfolio. Visitors to these pages will be able to see as much or as little as the influencer wants them to, including top posts, social reach, and deep audience insights. But beyond just being a tool to make them more attractive to brands, LinkFolio also empowers influencers to take matters into their own hands, giving them the ability to research brands and their audiences and learn how to appeal to, and earn money from, each of them. 

Best for:
Bloggers and social media influencers