Best for:
Retail store, online ordering for a restaurant, enable in-person pickup
As a standalone product, Square Online has little to offer the average merchant looking to open an online store. If you're already a Square customer, though, there might be something here for you. It kind of feels like a rough draft for something more polished in the future.
Overview
Square began life back in 2009, the brainchild of founders Jack Dorsey and Jim McKelvey. If one of those names sounds familiar, that's probably because McKelvey is currently the Independent Director of the St. Louis Federal Reserve—a huge deal in midwestern America's financial circles. The other guy invented something called The Twitter, whatever that is. 
Its origin story is a pretty good one: McKelvey used to design and create glass fittings and faucets for high end home-remodels. As Mckelvey told it to Fast Company a decade ago, he'd lost quite a few sales: people just don't carry enough cash on them to afford thousands of dollars worth of plumbing fixtures as an impulse buy. The story is nonsense—there are no people with that kind of money who just happen to enter a glass-blowing studio with no agenda in Saint Louis, Missouri. But credit card sales are kind of a boring topic. Whether or not the story was real, the problem it solved was.
Square's been around long enough, and their product offering has expanded enough, that it's easy to forget how mind blowing it really was at first. Anyone—and I mean anyone—could accept payments with credit cards using a smartphone app and a device that plugged into its headphone jack. By making it possible for the smallest of businesses—even solo artisans—Square did for in-person sales what Shopify was doing for online sales at the time. Retail had become more democratised than ever. 
Interestingly, as Shopify grew so big it started to creep into the brick-and-mortar space, so, too, did Square start creeping into the online space. Both companies are trying to create their own hardware and software ecosystems, where online sales are tied to the same physical inventory as real-world stores, and all payments, digital marketing, and reporting are centralised into a single system.
Each of these companies is trying to bust out of their opposing niches, but these opposite histories present the same challenge: If you don't already have a physical Square POS, why would you use their e-commerce solution when so many good ones (like Shopify) already exist? And if you don't already have an online Shopify store, why would you use their POS when so many good ones (like Square) already exist?
Ultimately, the answer can be found in the software. Let's see how Square does in the face of the questions.
---
Pricing
Square doesn't so much offer a free trial as it does a free subscription to its e-commerce offering. They started as, essentially, a payments services provider: the cost of the card reader was nominal and the software was free. Square's revenue came from their transaction fees, and that's no different now that they're going online. Still, an online store should be more than just a digital sales terminal, and it definitely shouldn't contain advertising for the company that makes the digital sales terminal, and so there are premium plans that are more what you'd expect from e-commerce software.
Free, $0/mo —

unlimited products, 500MB storage, SSL security, inventory management, in-store and curbside pickup option, syncs inventory and sales with the POS, Instagram & Pinterest integration, gift cards, coupon codes, lead generation forms, 2.9% + 30 cents per transaction



Professional, $12/mo (annual billing only) —

all of the above (including the same 2.9% + 30 cents transaction fees), plus: publish to a custom domain, free domain registration for first year, no Square branding or ads on your site



Performance, $26/mo (billed annually) —

all of the above (including the same 2.9% + 30 cents transaction fees), plus: customer reviews, discounted shipping, and abandoned cart recovery



Premium, $72/mo (billed annually) —

all of the above, but lower transaction fees: 2.6% + 30 cents. Also includes: higher discounts on shipping, and a Real Time Shipping Rate calculator
---
Setting Up Your Store
Getting started with Square is a mixed bag of intuitive and frustrating. The main dashboard is clean and organized, and there's a setup guide you can click through. The guide is broken into eight steps, and unlike many e-commerce platforms Square starts you on the design of the website. There are no themes or anything like that to worry about—it's a one-size-fits-all approach to web design. Pick a font, choose a color that comes closest to your existing branding, upload a banner image, and voila! You've got a website in about 30 seconds.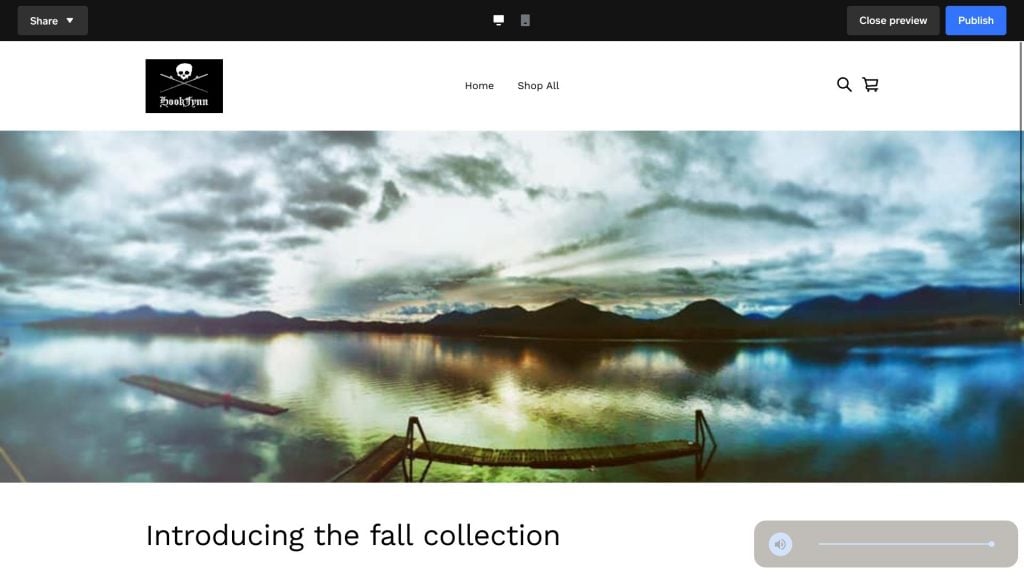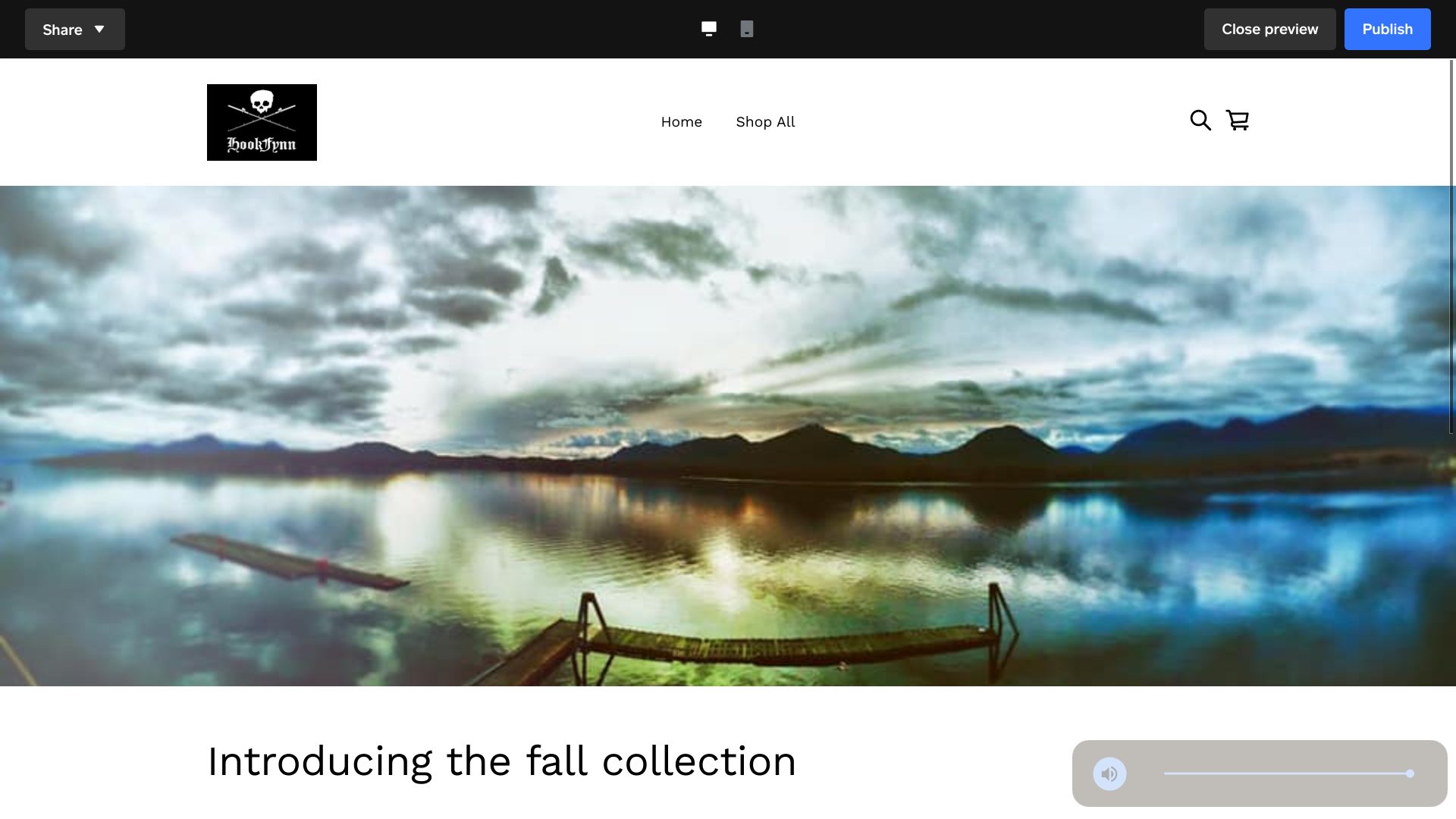 Once you've gone through this exercise, you can start adding items—and this is where the transition from intuitive to confusing happens.You add your items from the website editor and behind the scenes, Square is creating two separate databases of your products, one for your online store and one tied in to your back end Square payments system. Everything syncs between the two databases automatically, and you'd never know it was doing this—unless you wanted to stylize the text on your product description. Want to make a word bold or italic in the description? You have to break the link between your web products and your main products. Pricing changes, variations, and other details all must be updated/maintained separately.  
It sounds like an easy fix: don't stylize the text in that one little spot and there's no problem. And while, that's correct, it's also a really weird cause and effect. It's the kind of thing that demonstrates Square Online is meant to be an add-on service for brick and mortar stores with an already established Square-based ecosystem.
Apart from those that are not using Square in their physical stores, the other kind of company that Square Online isn't made for are those selling anything with large numbers of variations. If you're doing take out, Square Online's method for handling things like different sizes is fine. It's when you get into multiple types of variants, like size and color. A more advanced system would have the customer choose their size and their color from different menus, and the backend handles mapping those to a single product. This doesn't happen with Square. Instead, you have to input every single combination into a single list of variants—Small, Red; Small, Black; Small, Blue, and so on down the list for every size. Add in another kind of variant like, say, long sleeve vs short sleeve, and the list grow exponentially. With a bulk import the setup of it can be quite easy. But your customers' experience suffers. 
---
CMS
As noted above, the website design feature of Square Online is very limited. Putting together the website's look is literally just two choices: font and color. There's no CMS in a true sense. No themes. No blog options. There's just the most basic of tools to create pages, and sections within that page, all of which is customizable to a limited degree. The tutorial video on how to work with their "Website Builder" is maybe a little too long at 2:37.
Could you create a full blown website, with content in addition to your product catalog? Yes. And it's not a bad interface to do so. Square partnered with Weebly—a web hosting company with its own CMS—to create something that is at least true to Square's origins. It's taking something that's normally out of reach for the small business owner—whether that's website design or credit card payments—and putting it into a stripped down, convenient, and easy-to-use package. But again, there's no reason to have to do it with Square's stripped down system if you're not already their customer. If your business' primary focus is online, you'll find the web creation capabilities limited and restricting.
---
Notable Features
Square Online contains a surprising number of features for its basic approach. They're not always done well (see: Item Variations, above), but in all fairness the focus here is a quick-and-easy way for merchants to add a digital sales channel.
Dashboard —

The Dashboard is an expected and required feature for just about any SaaS platform, so it's not surprising that Square Online has their own. It actually has quite a few. When you sign up and login to your Square Online account you're brought right to the dashboard. Or, as it later turns out,

a

dashboard. Just the one for the website. There's another main Dashboard for the whole Square ecosystem, with each service having its own. It makes sense, but it's not abundantly obvious how it's done. And knowing where you are at any moment can be confusing sometimes.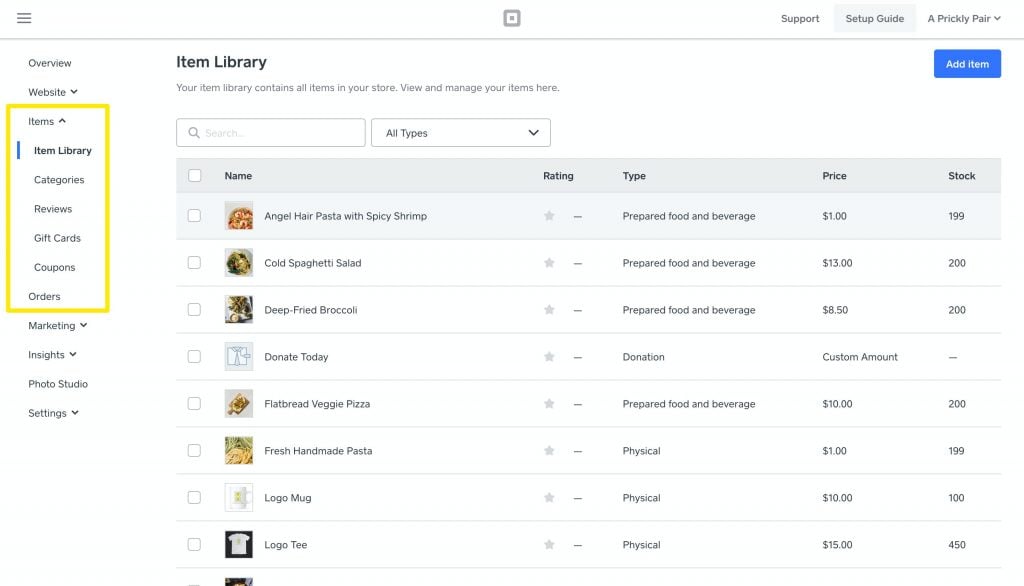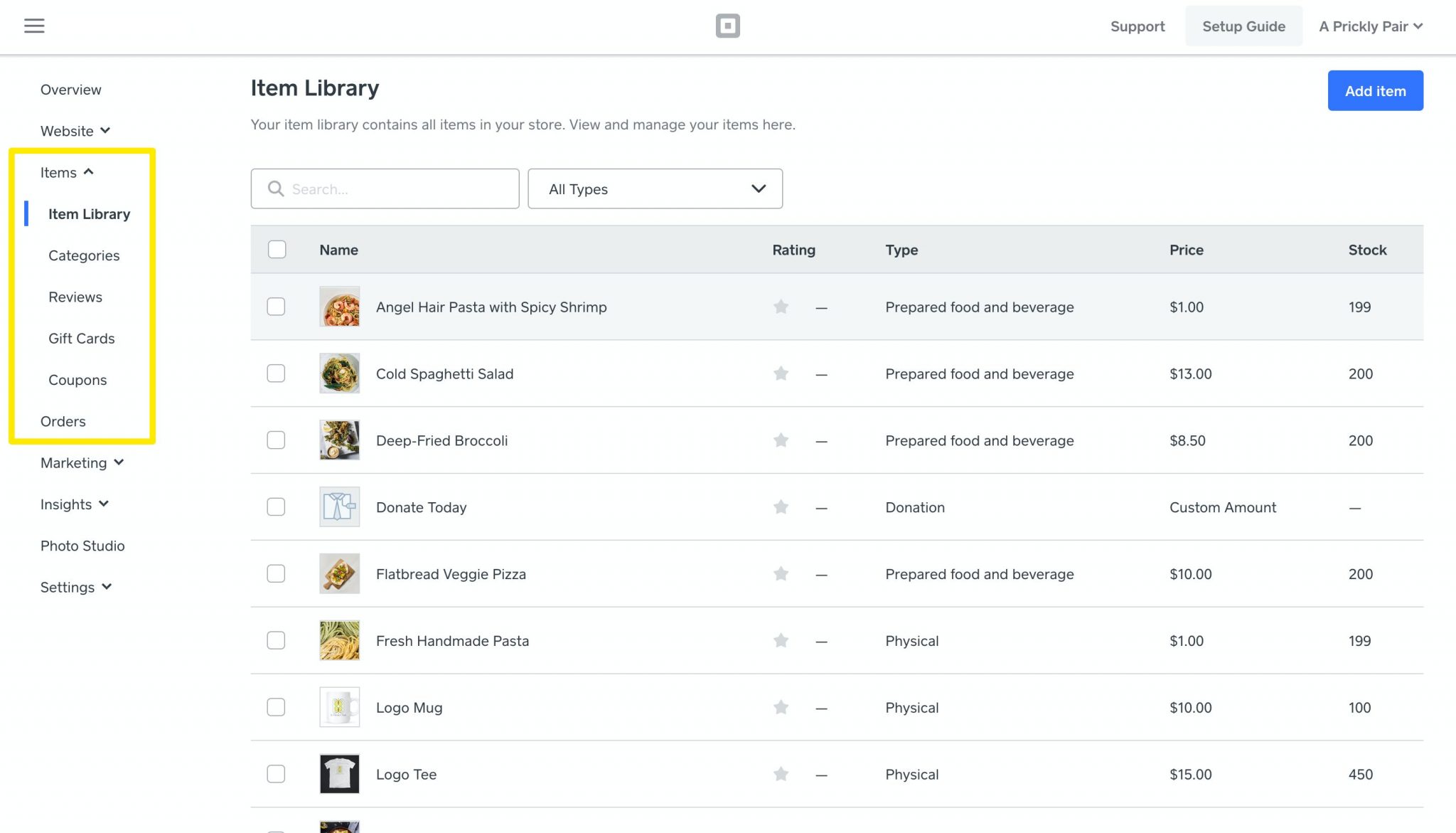 Multi-channel Selling —

Given the target audience of this service, this is less a feature than it is a reason for existing. But still, that it can flip a switch on any store or merchant's online presence and work in tandem with their store's inventory is a great selling point.



Inventory Management —

Inventory tracking covers your web store and all of your locations, centralised in one platform.



Square Online Checkout —

Technically, this a separate and distinct service from Square that allows users to create links directly to a checkout page. It can be for a specific product, subscriptions, services, billing for services, donations—you name it. If you want to charge someone money for something, you can bring them right to a checkout page and make it easier for them to pay, and it all can tie in to your Square Online store.



SEO Tools —

The tools included aren't exactly going to help you get found by search engines. But they'll help you look better when you are found, giving you control over things like your page title and descriptions.



Insights/Analytics —

No surprise that there's a module for reporting and analysing data, but the amount of info you get is really quite impressive: you'll get stats on traffic, sources, which pages are most popular, overall sales, item specific data, and coupon usage. These are only available with a paid subscription, and very much worth the investment.



Shipping Features —

WIth the exception of the Premium plan,the shipping features are pretty basic, and could even end up costing you money if you're not calculating rates properly, or your flat rates don't end up covering the final price. With Premium, however, you'll have access to real-time and discounted shipping rates.

 
---
Integrations and Add-ons
Starting with the free plan, Square Online offers integration with Instagram and Facebook, opening up even more sales channels for your business. The Instagram integration is especially good, because you can sync your feed to your IG profile and turn your posts shoppable.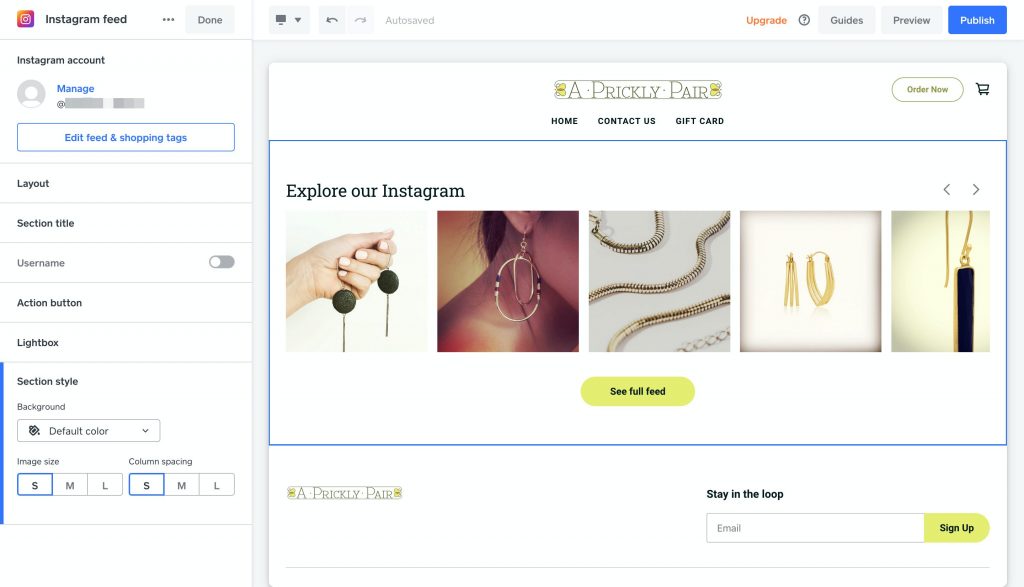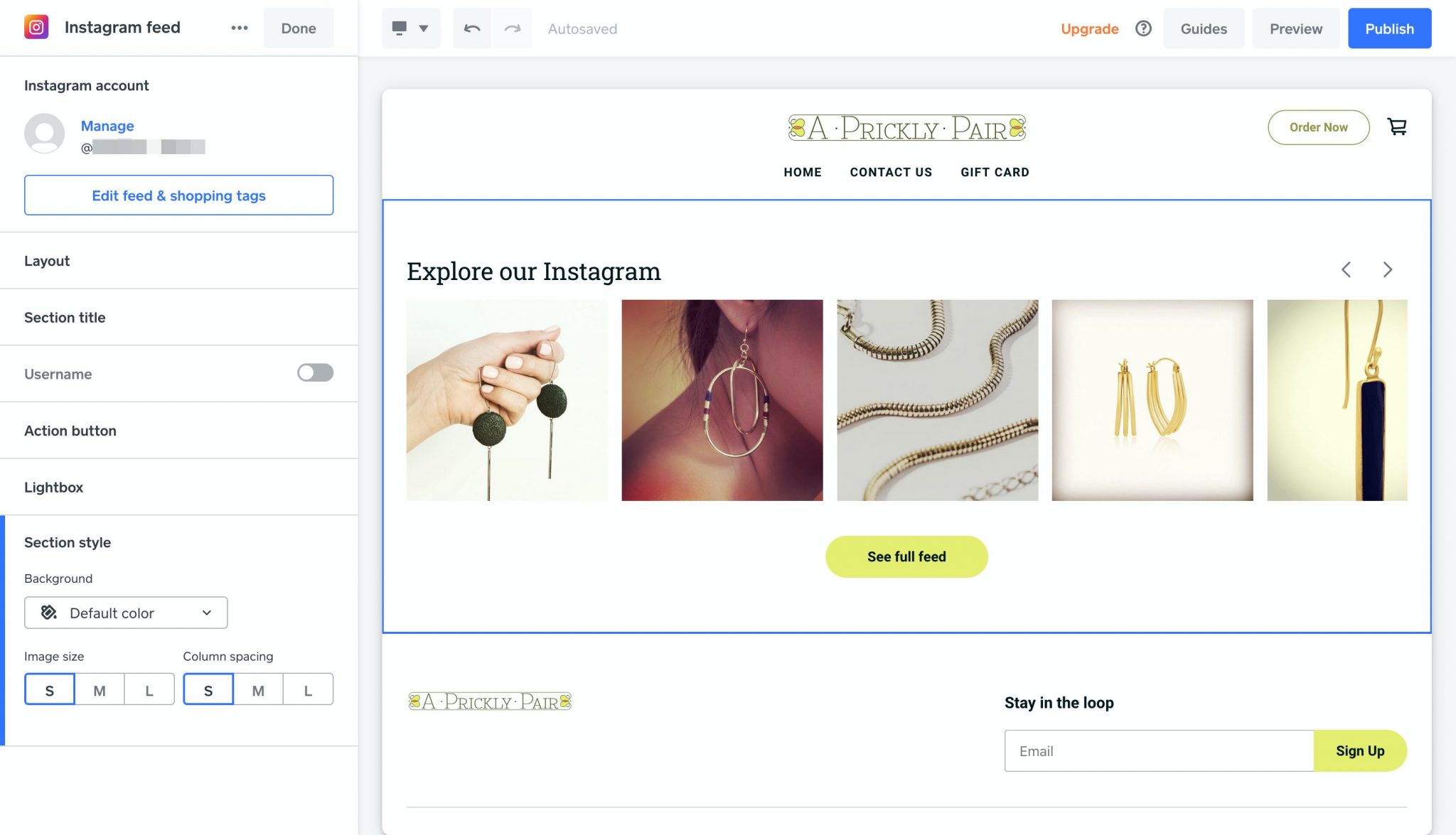 Because the e-commerce platform is part of the greater Square ecosystem, many integrations happen through Square itself. Accounting, marketing, data analytics, and loyalty programs are some of the categories covered by the nearly 150 add-ons and third party integrations. It's a modest amount, relative to other platforms, but Square is a modest platform. Merchants can greatly benefit from exploring their options with add-ons to boost sales. The monthly price point of Square Online justifies the additional expense to increase its capabilities.
---
Conclusion
If you were the kind of person who's looking to start a digital-first business, where your brand lives and dies by its brand reputation and the impact of its digital presence across the web and social, we'd recommend you look elsewhere for an e-commerce platform. There are too many limitations for you to be able to grow into the kind of business you want to be. 
However, if you're already operating in the material world and using Square—whether it's in retail or hospitality—there's probably no easier way to bring your store online than with Square Online. All the heavy lifting has been done already: you'll be able to easily add your existing products to a website, and that website will be shoppable and halfway decent looking. You'll have enough flexibility, design-wise, to imprint your brand voice on the shop, but don't expect your website to be a full expression of your identity as a whole. 
There are compromises to be made, for sure. And even if you're using Square already in your physical locations, Square Online still might not be right for you. Like the original Square reader and payment app from a decade ago, this platform is most suited to small, independent businesses with small catalogs that have little variation. If you're selling lines of clothing that come in different sizes, colors, and styles, your product pages will be a mess. Artisans, crafters, thrift shops, some service businesses, subscriptions, and artists—businesses with a specific focus—will all be well served, however. 
Frequently Asked Questions
Can I use Square Online for free?
Square Online does offer a free subscription to their e-commerce offering. Their revenue comes from transaction fees (they charge 2.9% and 30 cents per transaction). The free plan offers unlimited products, 500 MB storage, inventory management, integration with Pintrest and Instagram, coupon codes and gifts cards, SSL security, collection option (in-store and curbside), and lead generation forms. For lower transaction fees, users should sign up for their Premium plan that costs $72.
What does Square Online cost?
Square Online offers four pricing plans: Free, Professional, Performance and Premium. The Professional plan is $12 per month and offers all the features of the Free plan plus free domain registration for a year, the ability to publish to a custom domain and the option to remove Square branding/ads. The Performance plan costs $26 per month and offers customer reviews, discounted shipping and abandoned cart recovery as well. The Premium plan costs $72 per month which includes all the features and lower transaction fees.
How can I remove Square Online's branding or ads on my website?
To remove Square's branding or ads on your site, you will have to sign up for one of their paid plans. You can either sign up for the Professional, Performance or Premium plan. All these plans are billed annually.
Is it easy to set up your store on Square Online?
It depends. While it can be easy to use at times, some parts are frustrating. The main dashboard is clean and organized. Instead of using themes, it uses a one-size-fits-all approach which means that you can design a website very quickly. Though, it becomes more difficult to add items and it becomes very difficult if you are selling a product that has many variations.
Is Square Online good?
Square Online's website design feature is very limited. It does not offer themes or blog options. You only have very basic tools to create a page and sections within that page. While it offers a surprising number of features, these features are not always easy to use. You will also be locked into Square Payments. All things considered, it offers many limitations that can make it difficult to grow your business as your website won't be able to express your identity as a whole completely.
Ratings
Features

Ease of Use

Support

Best for:
Retail store, online ordering for a restaurant, enable in-person pickup