Best for:
Small to mid-size on standard plans and Enterprise companies on Shopify Plus.
Easy to set up and use, Shopify is one of the most popular e-commerce platforms in the world—and the most popular in the English speaking world. Between its native features and the more than 3,500 add-on apps developed for it, the platform appeals to businesses of all sizes. Small businesses especially benefit from not having to pay for features they don't need, though everyone needs to keep an eye on their monthly fee as they add more features to it.
The founders of Shopify meant to start a whole other business than the one they created. In 2004, Tobias Lütke, Daniel Weinand, and Scott Lake set out to open an online store specialising in snowboarding gear. They appear to have gotten as far as creating the name, Snowdevil, before hitting their first major roadblock as they searched for a suitable e-commerce platform to power their sales. Everything they'd looked at as a potential solution had—to put in computing terms—sucked. 
Lütke, a more accomplished programmer than snowboarder, decided he'd just go ahead and code his own to do what they wanted it to. Two months later, he'd cobbled together his first prototype to power the Snowdevil store. He'd go back to add tweaks and improvements based on their testing, and as time went on everyone was a lot less interested in snowboards than they were in building a better shopping cart. By June of 2006, Snowdevil was a distant memory as they launched Shopify to the world. 
While they'd created something that was a vast improvement over the options available at the time, the platform didn't really take off until Shopify released an API for developers to integrate their own software with the platform. The founders had focused more on ease-of-use than a full suite of features—a sensible goal, as they were targeting small businesses as their customers—and had done this to great success. Developers of all kinds were easy to jump on to the bandwagon, and customers no longer needed to compromise functionality in favor of a good experience.
Shopify's been on a growth trajectory ever since. As of the time of this review, the platform powers more than 1.2 million online stores worldwide. And those stores powered Shopify to over $1.58 billion in revenue in 2019. So if you're wondering if Shopify can handle your sales, rest assured that the company does use its own software, and it does just fine processing up to at least $1.58 billion a year. 
---
Pricing
Shopify offers 5 levels of service, though we'll only be focused on the middle three tiers. On the low end, Shopify Lite is for those of you who've already got a website built out and just need a way to take payments. The top of their offerings, Shopify Plus is for companies so large that spending $2,000 a month on their e-commerce platform is worth the investment.
For the purpose of this review, we'll list out what's available for small to medium sized businesses. Note that even though Shopify is first and foremost an e-commerce platform, they offer a brick and mortar POS that ties in with it. When you see references to locations that could include these, but also multiple warehouses, pop-ups, or anywhere you're keeping your products.
Shopify Basic, $32/mo —

Up to 2 users and 4 locations get unlimited products, a website with SSL certificate, discount codes, abandoned cart recovery, shipping label printing, shipping discounts (location dependent), POS for physical locations, and Shopify Payments with fraud analysis at 2.9% + 30 cents per online transaction, 24/7 support. If you choose a payment provider that isn't Shopify, you'll be charged a flat 2% rate on all transactions.

Shopify, $92/mo —

Up to 5 users and 5 locations get all of the above plus professional reporting. Shopify Payments costs go down a bit here: 2.6% + 30 cents per online transaction, or a flat 1% if you're using another payment provider.

Advanced Shopify, $399/mo —

Up to 15 users and 8 locations get all of the above, plus advanced reports and third-party shipping options. Shopify Payments fees go down again: 2.4% + 30 cents per online transaction, flat 0.5% if you're using another payment provider.
For any of the above plans, you can get a 10% discount if you pay for a year up front, or 20% discount for two years up front.
---
Setting Up Your Store
Shopify was conceived as a way to quickly and easily deploy an e-commerce backend for businesses that would otherwise not have have the resources to do it. Resources means more than just money or infrastructure: it also includes time and IT expertise, which is generally not something a small retail business is investing in. That Shopify is still around 14 years after launching should answer the question of whether they succeeded in making e-commerce feasible for the little guy. They did.
You only need to login to see this is true. Signing up for the free trial is an under-a-minute process; on your first look at the dashboard it's already guiding you through the process of adding products.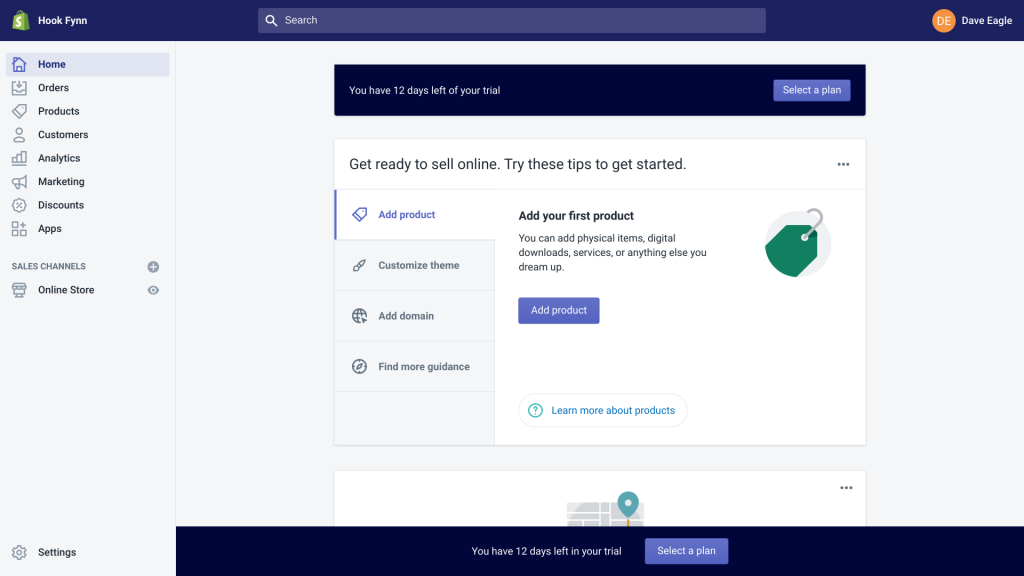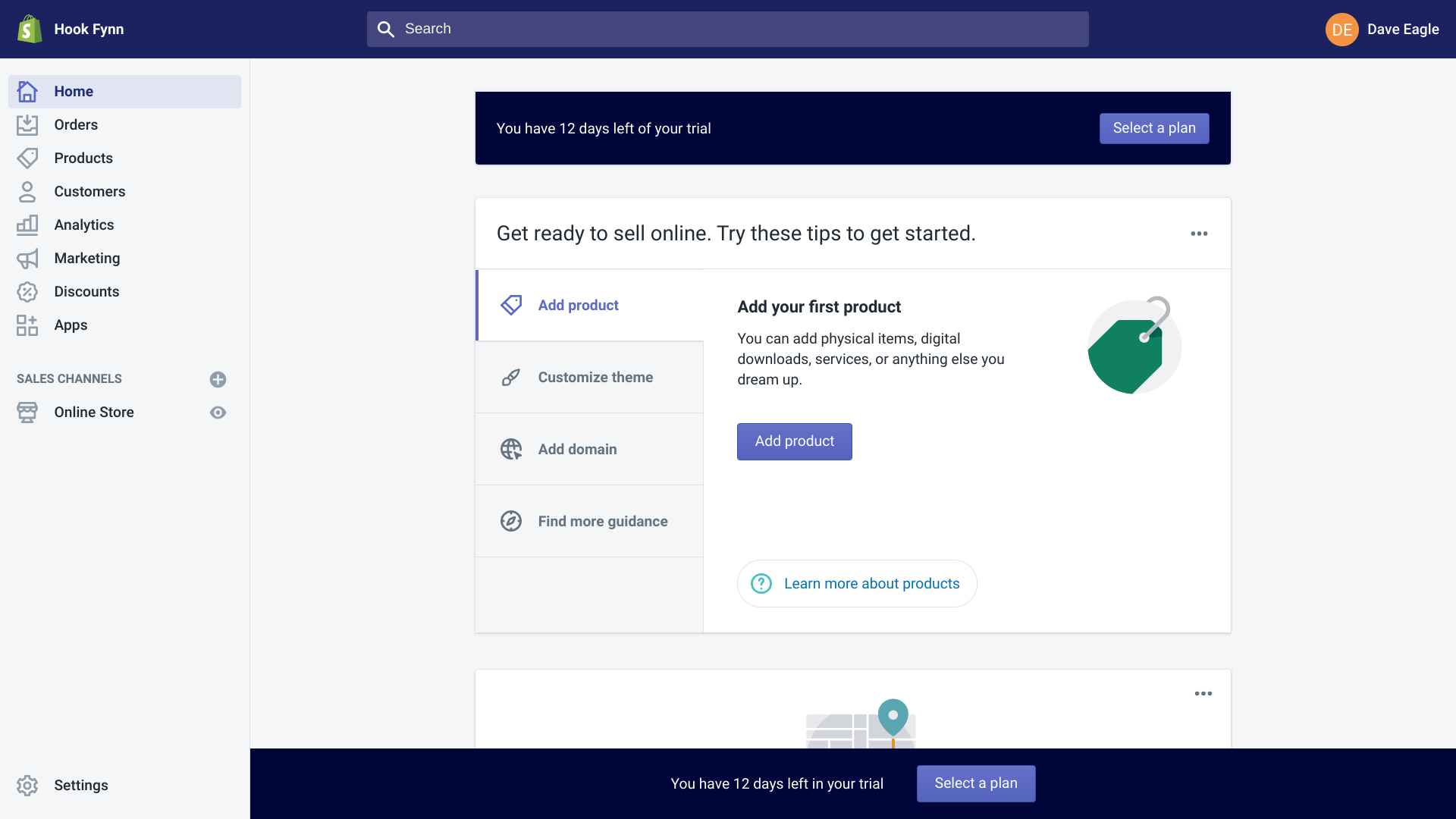 It's only a few more minutes before you've added your first product, though at this point it's a good idea to get to know every nook and cranny of the "Add a Product" page. There are a lot of fields to fill out, and while many attributes you can set for each product. Not everything is required, but the more you fill out ahead of time the easier your life will be in the long run. SHopify's done such a good job of connecting all the pieces together, so that attributes you set in the product catalog can make other tasks like putting together the frontend website that much easier. 
For example, before you add products you might want to add Collections—essentially a grouping of products by certain criteria. Let's say you sell clothing, and you've got 15 different style of jackets you sell. You start by creating a "Jackets" collection. Within a Collection you can define one or more conditions which products have to match in order to be automatically added to the collection.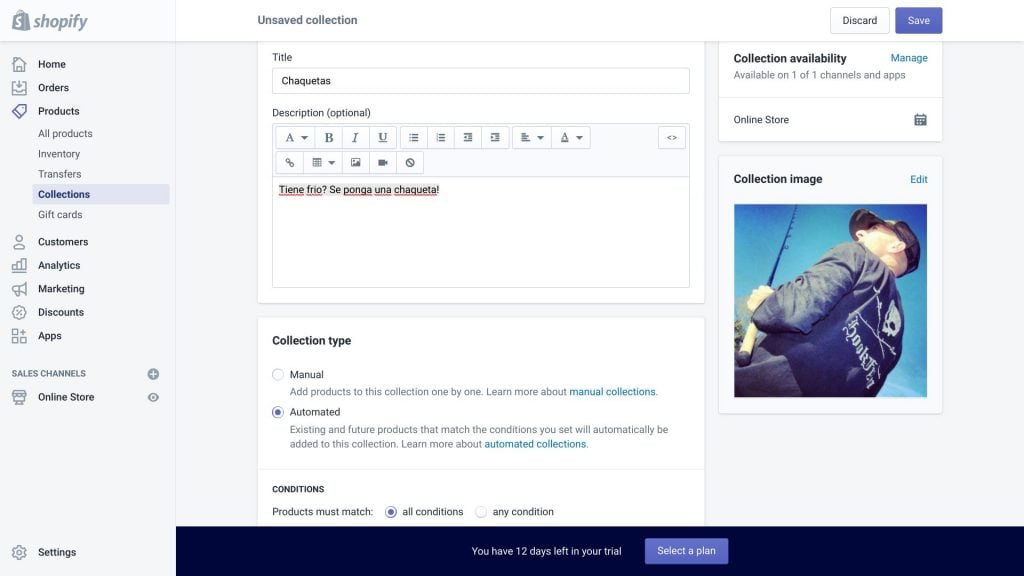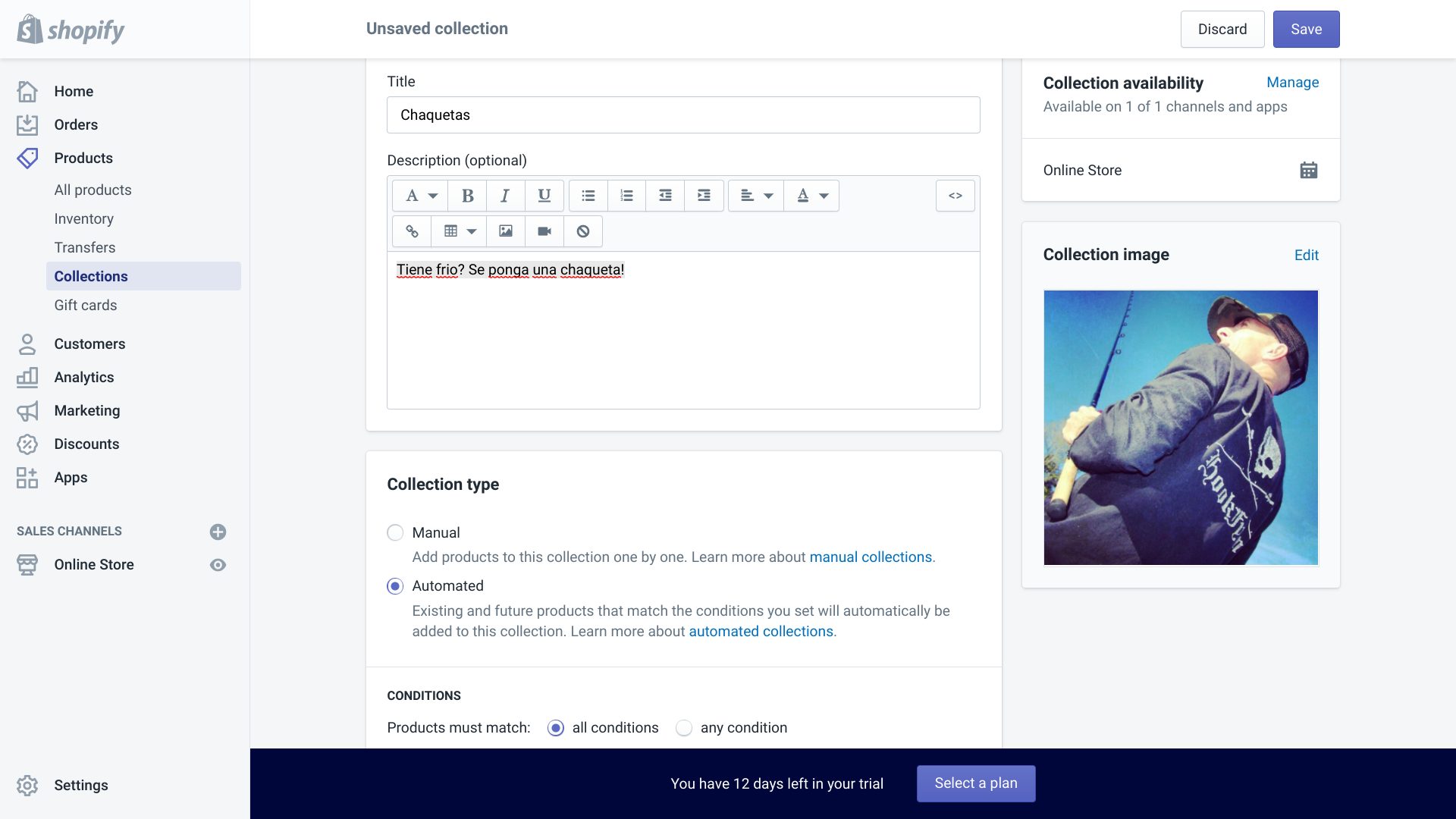 If you've set it so that anything with the tag "jackets" goes into the collection, then you simply add that to the "Tags" field as you're defining all its other characteristics. Adding that tag doesn't just add the item to the Collection, though that is a nice saving of a step. It also means that when you're putting together your customer facing store, you just add a collection to any page on your site, and the CMS adds a link to it on the home page, along with a fully formed web page of products, descriptions, prices—ready to buy.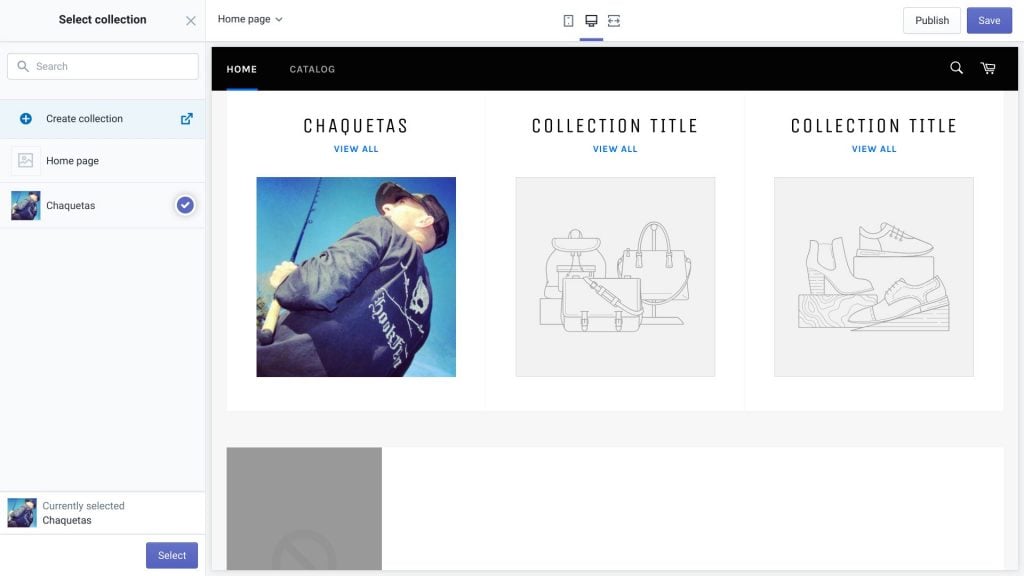 This level of detailed interconnectedness is apparent all over Shopify, and the platform rewards an investment of time to get things done right from the get-go. Shopify starts out easy to use, and gets easier the more you feed it.
---
Content Management
Another huge advantage of Shopify is its built-in CMS. There are nine free themes to choose from, and another 63 premium ones available on the Shopify Theme Store. All of their themes are created to work across mobile and desktop platforms. There are also third-party markets you can look to—like this one, which has over 1,100 themes from independent designers. Each theme itself is customizable to a certain degree, so no need to worry that your website will look like it came from some cookie-cutter template, even though it did.
Just as important as the robust CMS is the ability to include a blog with your store. Content marketing is a key component to getting your store in front of the most possible eyes, and with the included blogging feature you're not bouncing between platforms to maintain your online presence. For a great number of smaller businesses, there's no need to look for separate web hosting. Simply point your domain to Shopify and you can have a professional looking site that's not lacking in content.
---
Notable Features
This bears repeating again: Shopfy's most important feature is its ease of use. You can almost sense from using it that its developers had to navigate the space between being feature-rich and easy-to-use. It's a hard balance to maintain, but they've clearly succeeded. A small business will be online and selling right out of the box, with little need to expand beyond what they offer. If the business grows, there's always the option of an add-on (more on that in the next section). 
Here are some of their standout features, notable either because they're implemented so well or because they make Shopify more than just an e-commerce starter kit:
Shopify Shipping —

This is only available when the shipping origin is in the US and Canada, but if we're talking about ease-of-use then we can't let this feature go unnoticed. You can buy and print labels from major carriers like the US Postal Service, Canada Post, UPS, and DHL Express and enjoy discounts on your shipping costs as well. This is next-level ease of use, as it's mitigating real-world annoyances (labelling/shipping) as well as computing ones.

Manual Ordering —

This gives you the flexibility to create orders on behalf of your customers, as well as send invoices and manage the payments that way. While not a do-or-die kind of feature, it is helpful in that it gives you more ways to create happy customers.

Unlimited Products —

If e-commerce is supposed to free you from the constraints of the physical retail world, it makes no sense to limit the number of products you can sell—which some shopping cart platforms do. Realistically, though, how many products can a small organization handle? Physical storage space for products is a finite thing, and even if you're drop shipping there's only so much you can keep track of. And in either case, making sure you don't go over your product limit is something no one wants to keep track of.

SEO Guidelines —

Built-in to Shopify's themes and templates is an adherence to the things that optimize your website for

search engines

Google. Alt text on images, H1 and H2 headings, automated creation of a sitemap, and more all happen without you even knowing about it. But Google will, and that means people will find you.

Multichannel Sales —

As mentioned earlier, Shopify has an optional POS for IRL setups if you wanted to take your business out into the physical world. It will also integrate with other third party POS systems, as well as online marketplaces like eBay and Amazon, and social platforms like Facebook and Pinterest. There's a total of more than 20 channels you can link up to.

Shopify Email —

Create and run email marketing campaigns right from Shopify

Blogs —

We mentioned this one in the previous section, but if you jumped right to the features section we didn't want you to miss anything. The CMS inside Shopify includes a visual editor, linking your content marketing directly to your sales platform. That's a big deal.

Shopify Balance —

This actually hasn't been launched yet, but the

official announcement was made

and it's worth including here. Shopify Balance is a new feature that creates a bank account for businesses using the platform. It's always easier when your payment processor and bank are the same entity; the money flows pretty easily into owners' pockets that way. Users will also get a debit card linked to the account, allowing them to have their money coming in and going out right from one place, and giving a highly unified view of their financial health. They've also promised a rewards program that gives users cashback and discounts on everyday business expenses.

Mobile App —

Management tasks can also be done on-the-go with the Shopify Mobile App. Order fulfillment, customer support, inventory management, and a mobile dashboard are among the features available.

24/7 Support —

Your online store never closes, and Shopify's support has you covered—by email, live chat,

and

phone.
While this isn't a complete list of all the features, it gives you an idea of the depth and breadth of the platform's capabilities. 
---
Integrations
Another big selling point for Shopify is its marketplace, filled with over 3,500 different apps that integrate with it. Normally, in this section, we'd list the all the different integrations and add-ons supported but that just isn't possible here. 
The big thing to understand is this: there's an app for that. From big ticket items like CRM, Social Proof, and Loyalty (to name just a few categories), to more niche things like connecting with suppliers for dropshipping, the app you're looking for exists. 
The upside of this is obvious: you can keep adding features and functionality to your online store and never grow out of your Shopify store. The downside is that you run the risk of spending more money per month on app subscriptions than if you'd found a platform that included some of the features you're adding. Of course, if these apps help you boost sales or save money, that might not matter in the long run.
---
Conclusion
If you've read every word of this review up until this point, you probably already know how we feel about Shopify and have an understanding of all that it can do. So why are you reading this? Just go test-drive it already with a free trial. That's the obvious recommendation. The author of this review is contractually obligated to write a conclusion, but you're free to go at any point.
For those of you just skimmed through, here's the lowdown: Shopify has been doing its thing for nearly fifteen years, and it has never not been excellent software. Over the years, the platform grew, adding more features, more integrations, more services—and more acquisitions of other companies. If you look through the history of the company on their Wikipedia page, you'll notice that there isn't a single dumb decision they've made or bad idea they've chased. Every move they've made to grow has been about improving their product and customer experience. That's rare in the tech world, where the slightest hint of success can send companies on acquisition sprees, and sometimes those acquisitions are about eliminating competition and have nothing to do with satisfying customers. Shopify's track record on growth is enviable, and its list of happy customers moreso.
Any small to medium sized business should begin their search for a suitable platform not by asking whether or not can work for their business. Instead, the starting assumption should be that you're signing up for the free trial to see if there's any unforeseen reason you shouldn't use it. And if there is a reason why it won't work out, then you start looking for something else.
Frequently Asked Questions
How does Shopify's pricing work?
Shopify has five levels of service. Shopify Lite is aimed at businesses that already have a website, but just need a way to collect payments. Shopify Plus is aimed at big businesses that can afford to spend $2,000 per month on their e-commerce platform. For smaller and medium-sized businesses, there are Shopify Basic ($29 per month), Shopify ($79 per month) and Advanced Shopify ($299 per month). Discounts are also available for these plans if you opt to pay for a year upfront.
What are the disadvantages of using Shopify?
While it offers a huge collection of add-on apps, it can get expensive. So, businesses should keep track of their monthly fee as you add more functionality. You really run the risk of spending more money per month on app subscriptions than if you found a platform that included some of the functionality that you are adding. However, if these apps can help you to generate more sales or save money, it does not have to matter in the long run.
What are the advantages of using Shopify?
Shopify is very simple to set up and easy to use, while remaining feature-rich. You can add your first product in only a couple of minutes. In fact, it can become even easier to use it the more time you spend feeding it as it offers such detailed interconnectedness. Another advantage is that it offers a robust built-in CMS. Businesses of all sizes will find it appealing thanks to its native features and huge collection of add-on apps (there are over 3,500).
Why is Shopify so popular?
Shopify has been doing what it does for almost 15 years. During this time, it has always done an excellent job. Over the years, the platform expanded and included more features, integrations and services. Everything that they have made to grow the company (including the acquisitions of other companies) was done to improve the customer experience and its product. This is something that is quite rare among tech companies. It is easy to use, offers many templates and themes and a huge catalog of add-ons.
Can I use Shopify for free?
Shopify has no Free plan. You can, however, take advantage of their free trial to see if there is a reason why you should not sign up for one of their paid plans. That being said, their cheapest plan (Shopify Lite) is only $9 per month. If the other plans are too expensive, this plan can work for a business that already has a website but just needs a way to gather payments. You can also consider paying for two years upfront to receive a 20% discount.
Features

Ease of Use

Support

Best for:
Small to mid-size on standard plans and Enterprise companies on Shopify Plus.