Best for:
Amazon Sellers using Amazon Ads
Let's try something different here. Let's start this review of Sellozo by talking about another company, NetRush. Since 2006, they've been helping brands thrive on Amazon with a mix of software, algorithms, and strategy. Over the next decade and beyond, NetRush evolved and grew into a Top Rated Service Provider for Amazon Sellers. And, even with all that they can do for other brands to succeed on Amazon, they still became a customer of Sellozo.
Where NetRush's solutions focused on things like audience insights and analytics, brand reputation management, catalog management, and fulfillment logistics, Sellozo was designed to help sellers with the one thing they all want to be doing: making a sale.
Sellozo sprang to life in 2017 after its cofounder, Nitin Mamillapally, had his own set of troubles as an Amazon seller. He learned the hard way, as most sellers often do, that Amazon makes it very easy to set up a store—and almost nothing after that comes easy. With so many sellers in the marketplace, competition is fierce enough. But when you take into account that Amazon is either competing with you for the sale, or just taking a cut of the ones you make, and finding your way to profitability can be an uphill battle.
The idea behind Sellozo was, in a nutshell, to use AI and algorithms to analyze past advertising performance and the most profitable keywords to automatically optimize and place ad bids in real time. It was a quick hit, generating over $1m in revenue in the first year. By 2019, the buzz around Sellozo carried them through a $5 million funding round, money which allowed them to keep growing and impress the people over NetRush. Though it was definitely an acquisition, and not a merger, each platform has improved as a result of the melding of their tech. The biggest boon to NetRush is the final piece of the puzzle in their otherwise complete suite of ecommerce selling tools. For Sellozo, they get access to the brands on the NetRush platform and the company's larger network of resources.
---
Sellozo Review:
---
Pricing
Sellozo is a SaaS product, but can also be a fully managed service—though pricing is done on a subscription basis in either case. For self-service access, pricing starts at $149 per month. Managed Service is custom priced, on a monthly basis. However, there's no contract, and many customers start out with Managed Service plans and then move to Self Service once everything is running.
---
The Details
For AI to work, it has to have been "taught" its subject matter by feeding it loads and loads of data. Sellozo integrates with Amazon by way of your seller's account—connect it and all your data starts rolling in. If you've already got campaigns going with Amazon ads, all that data is ingested, too. Hop over to your dashboard and you can see just how thorough Sellozo is.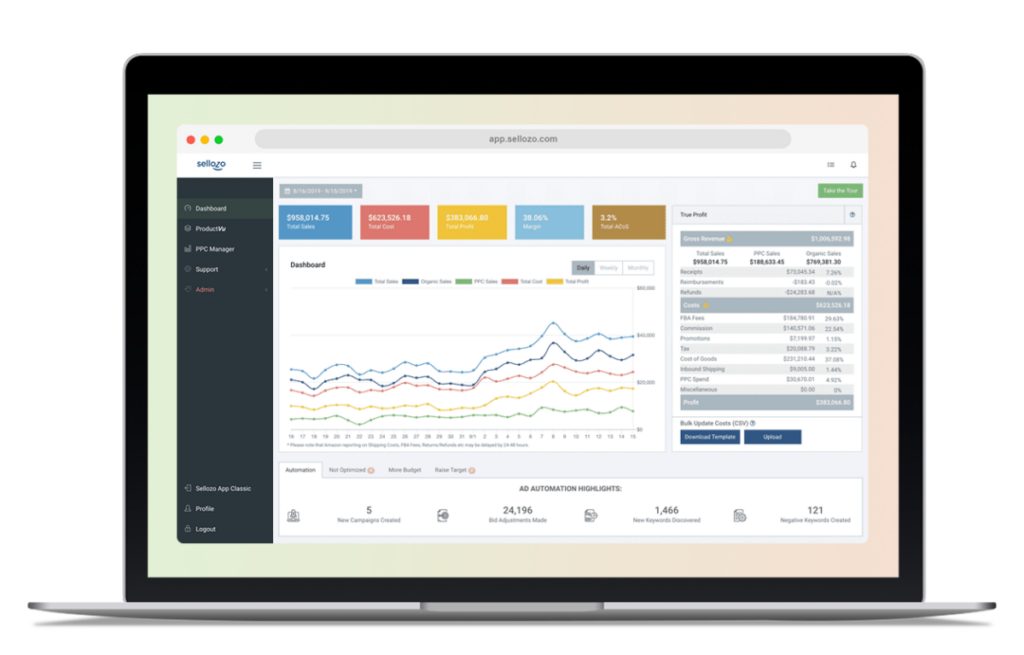 You get quick access to sales figures, margins, and breakdowns of various Amazon costs and fees. There's an easy-to-read section that informs you of what your automated tasks have been up to. It even goes into your inventory—what's in stock, what will be gone in a couple months, what's out of stock now. There's a running list of recent orders, with each entry as detailed as everything else around it. A map shows you the regions where orders are coming from, and you can zoom in down to the city level. It's just an impressive amount of information, all of which is laid out in a way that's intuitive and almost sparks your curiosity to go deeper into the numbers.
With all your campaigns imported, you can start to use Sellozo's PPC Manager to optimize all these ads. It's as simple as telling it what you want your Advertising Cost of Sale (ACoS) to be. You're basically telling Sellozo, in reverse, what you want your Return on Ad Spend to be. You want a 2x return, for example? Your AcoS is 50%. It's as simple as entering that 50% number into Sellozo, and then enabling optimization. At this point, the algorithm works behind the scenes to place bids so that you show up as a Sponsored Product for certain keywords (this also works for Sponsored Brand and Sponsored Display ads). It manages different bids for all the different keywords, updating each day to get your best shot at the winning bid—without you selling at a loss.
For those of you used to checking in with your ads and updating, to have this happen behind the scenes could feel unsettling. You can, at least, check in and look at the bid history, which is meticulously listed for each campaign in the Activity Log. At this level, you'll see an individual listing for each time a bid has changed, for every keyword. And Sellozo does a good job of organizing all the data you're most interested in before you even get to that Activity Log. You'll see the application correcting bids up or down over time as it learns what's working. For example, a keyword that's underperforming drives your ACoS up, so Sellozo starts spending less and less on those keywords, freeing up that money on the keywords that are really delivering.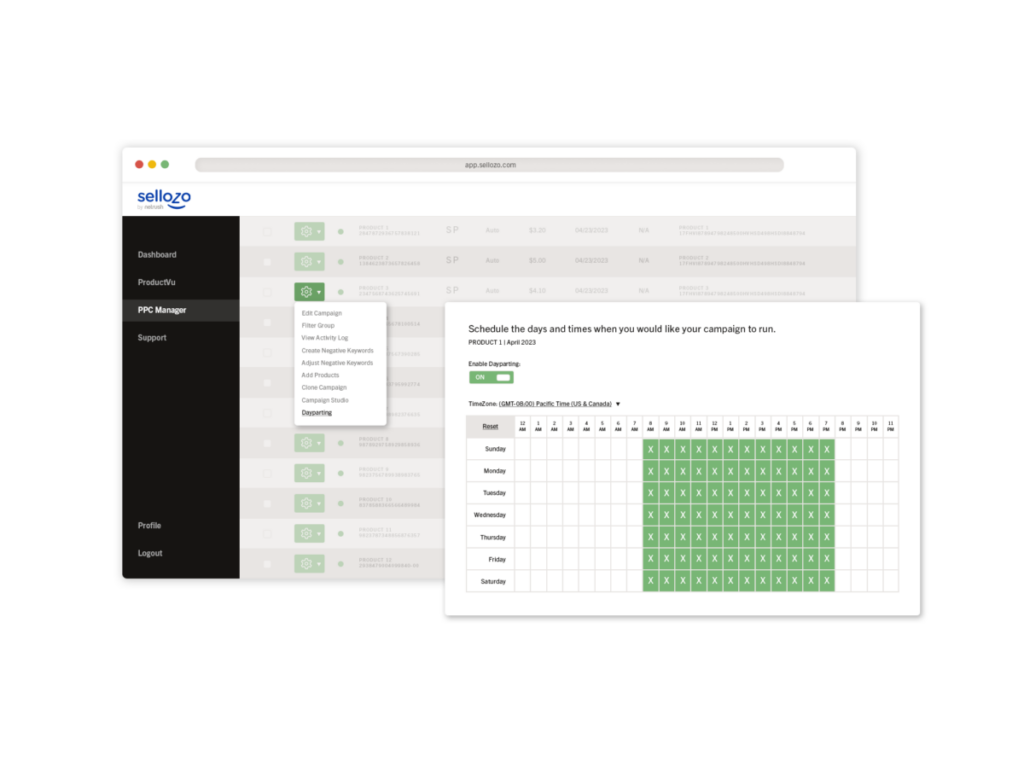 Another way Sellozo helps you to spend your ad money better is with its Dayparting feature. You can turn on AI Dayparting and have the software optimize the timing of your bids automatically, buying ads when you're more likely to make a sale. Or you can manually set days and hours where you pause the campaign. Sellozo provides a kind of heat map showing you when your sales tend to take place and you match against that to make sure you're not spending money during times that tend not to bear fruit.
If that all sounds confusing, imagine having to pore through all that manually, every day, and making the changes, one by one. This time savings alone make Sellozo worth checking out. Sellozo goes one step easier than that, though, with its Autopilot feature. Here, you simply identify a product or group of products you want to sell, give it a budget, and a target ACoS, and the system does the rest. The campaign continues until the budget has been spent.
One final highlight to mention is Sellozo's Campaign Studio, a tool that makes building a campaign workflow a matter of dragging and dropping icons on a screen. Think of these workflows like email campaigns, where you're sending follow up emails based on user reactions. With Campaign Studio you can direct a flow of ads—both Auto and Manual—at customers who are engaging with them.
While Sellozo's big value-proposition is the PPC Manager, its developers seemed to have taken the approach of "Well, we've got access to all this Amazon data, what else can we do with it?" If that question was every asked, the answer is ProdctVu, another tool in the platform. Seller's can get very precise in their level of understanding about each product in their catalog. On a single page you'll get insight into revenue, costs, profit, your Buy Box performance, an inventory summary—there's more to this list but these sentences need to be readable.
To be sure, all of this info can be had inside Amazon's Seller Central, but they are each different reports you run and view separately. Here, in ProductVu, all that data is neatly organized into a single screen. You simply scroll from one product to the next, getting all the information that was a "mere" 12 clicks away in Seller Central. Add to this an included Financial Reporting module, more tools for DSP (Demand Side Platform) sellers, and general marketplace insights to round out the offering. It's no wonder that NetRush wanted to buy it.
---
Integrations
Apart from Amazon (naturally), there really are no integrations for Sellozo—it's really not that kind of platform. It's a self contained tool, and they do such a great job across the board with all the data visualizations there's no need to work with any other reporting platform. The financial reporting does allow for export to CSV, if you wanted to import it into something like Quicken.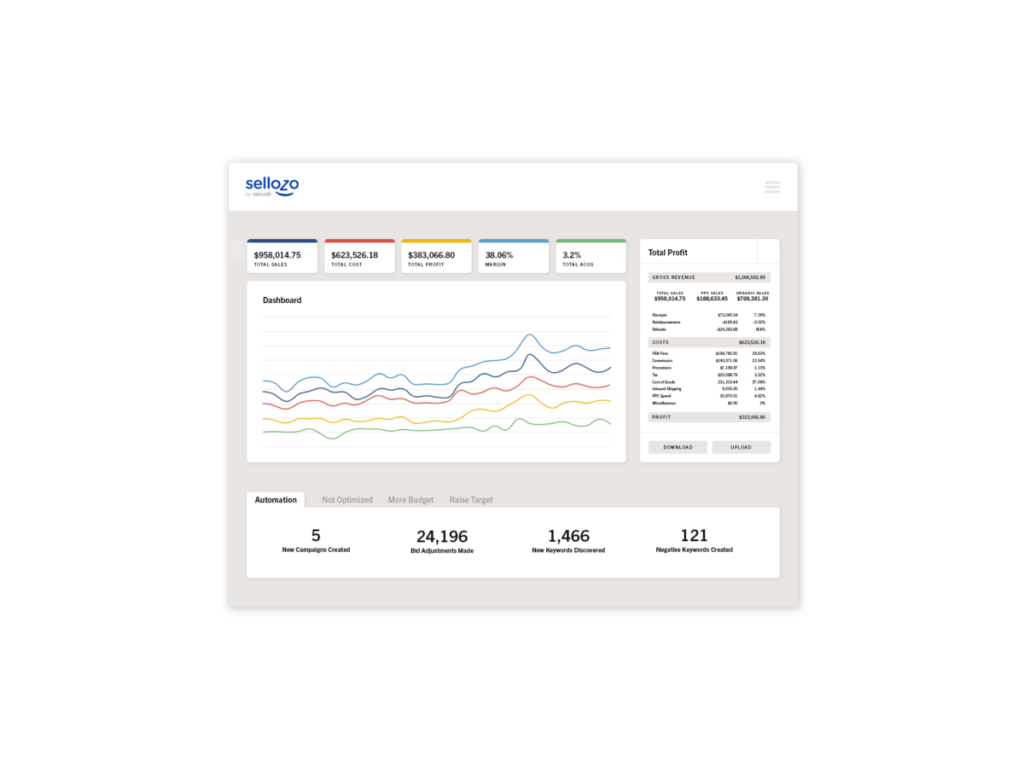 ---
Conclusion
First and foremost, Sellozo is a PPC Manager, and one of cleverest examples of one we've seen. There's a big "set it and forget it" vibe about Sellozo's approach that Amazon Sellers, long used to scrolling through the trenches of their ad campaigns, are going to love. Daily bid updates made by an AI that slowly learns the best time and placement for the ad will, at the very least, save you The extra flourishes of business intelligence—especially in ProductVu, which condenses a maddening amount of mouse clicks in Seller Central into a lovely-to-look at array of actionable data, make the platform all the more worth a look for anyone who's selling on Amazon.
Sellozo
Features

Ease of Use

Reporting

Integrations

Best for:
Amazon Sellers using Amazon Ads