Thinking about taking on a side hustle to earn a little extra cash? Or maybe you want to start a side hustle that will one day turn into your main hustle? Either way, we've got you covered with these 11 side hustle ideas to help you save for a down payment, pay down those debts, put some money aside for fun, or whatever else you want. The side hustle ideas we include here make it easy to get started on the path to earning extra money—and they're scalable should you decide to give up the 9–5.
---
11 Side Hustle Ideas You Can Start Right Now:
---
What Is a Side Hustle?
A side hustle is work that you do outside of your regular job to bring in extra money to help you pay the bills or supplement those things you want to do that your 9–5 job doesn't give you the money to do. Side hustles can be enough to earn you anywhere from an extra couple hundred to thousands each month. As you'll see when we get into our side hustle ideas, you can turn just about anything into extra money.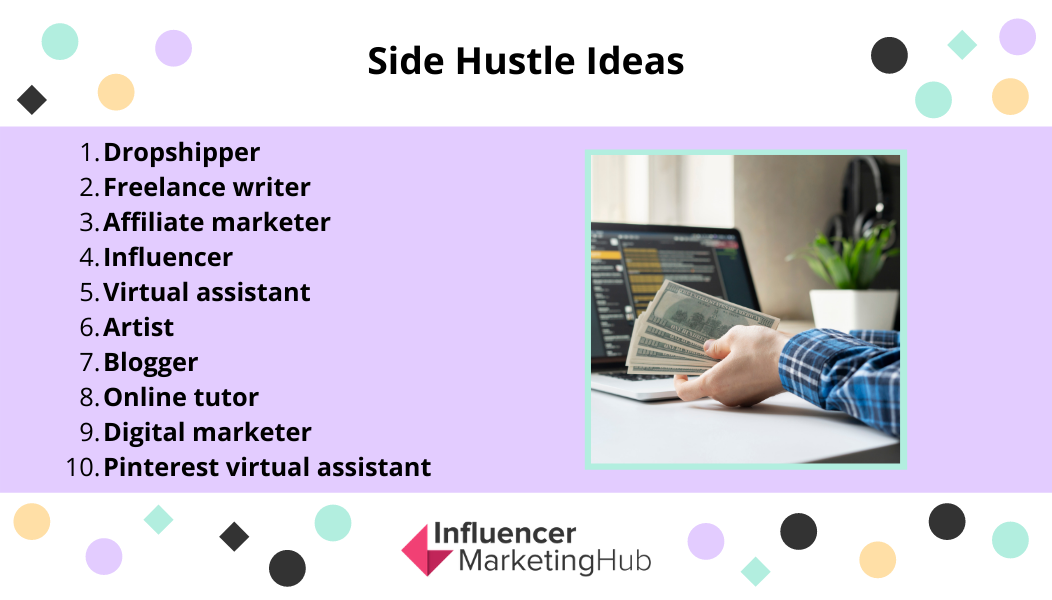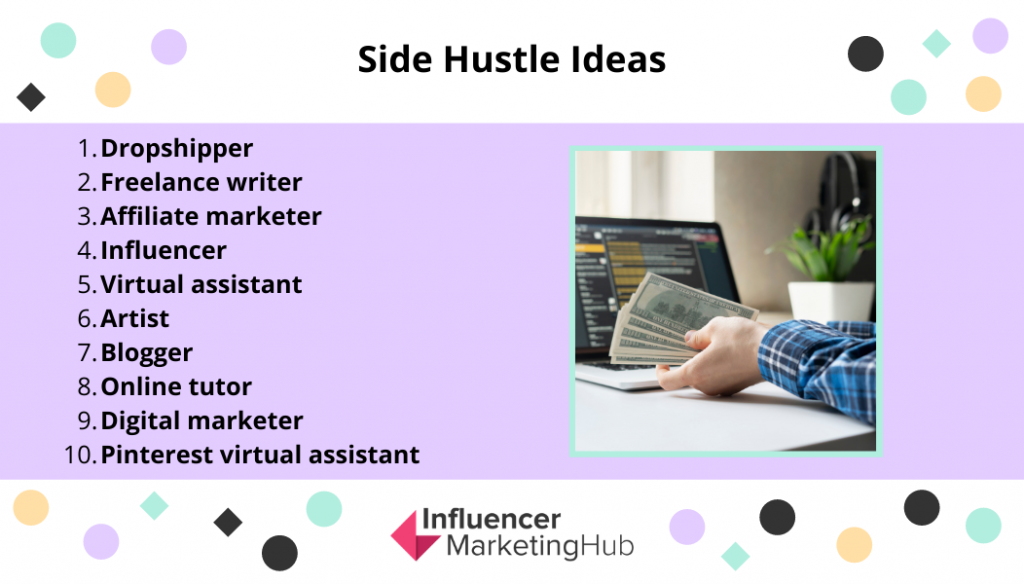 Having a side hustle is nothing new. According to a 2019 Bankrate survey, up to 45% of working people in the United States have a side hustle, spending an average of 12 hours each week on that side hustle. What do they get for that 12 hours? Some earn up to $500 a month—more than $40 for each side hustle hour.
Sounds good, right? We think so, too. So, let's take a look at how to build a successful side hustle.
---
How to Build a Successful Side Hustle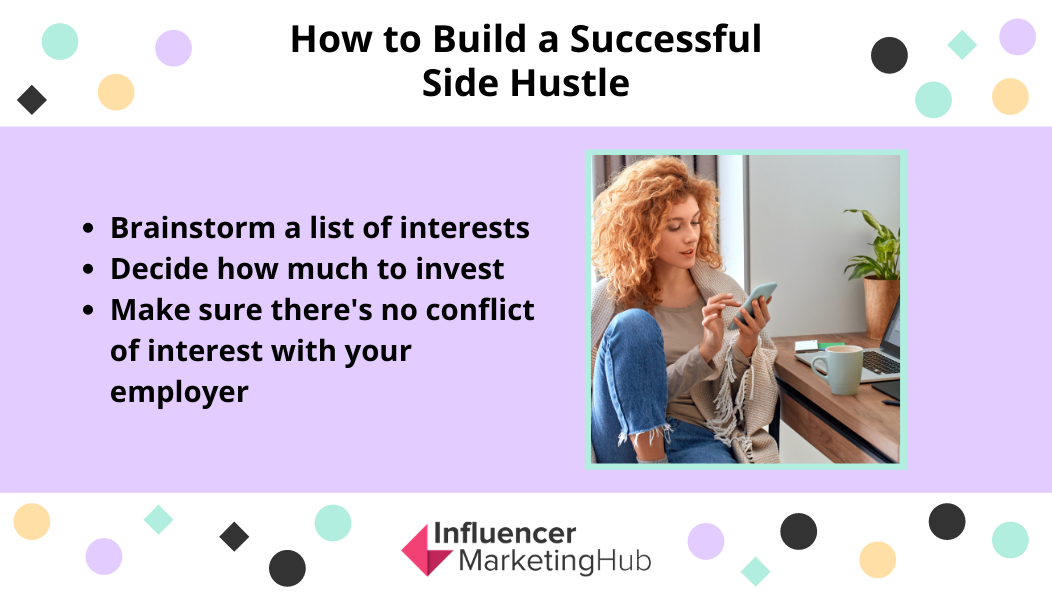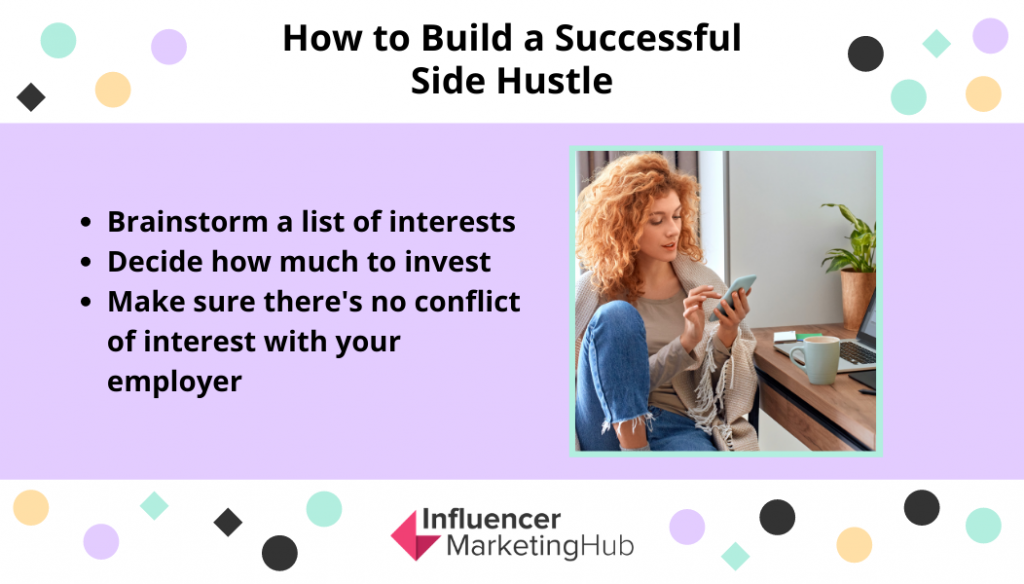 If you're ready to jump into a side hustle, you're probably wondering where you should start. We recommend making a list of things you're interested in. Your side hustle should be something you enjoy doing. You're going to be spending time working on this side hustle that you might otherwise have spent doing leisure activities, so you don't want to take the time you spent doing something you enjoy and start doing something you hate. Make a list of the things you think you could spend 10–20 hours a week doing outside your normal job and still feel good about life.
You'll also want to decide if you're going to invest money or need a side hustle that costs little-to-nothing to start. Your side hustle shouldn't cost you a lot of money (remember, you're trying to earn more money here), but you might need to spend money on tools, materials, equipment, branding, website hosting, advertising, and more. So, decide upfront how much money you're willing to invest in your side hustle.
Perhaps the most important thing to think about is whether or not your side hustle will interfere or present a conflict of interest with your day job. Review your employee handbook to ensure that your employer doesn't have any policies against their employees taking on a second job or puts restrictions on the type of second job you can take on. For example, if you work as a bookkeeper or accountant for an accounting firm, chances are you're not going to be able to start a side hustle as a bookkeeper with the blessing of your employer.
You'll also need to make sure that you're not taking time from your employer to work on your side hustle. So, while you're working for your employer, no working on your side hustle. If you work from home, it's much harder to keep these things separate, so you'll need to be diligent in working for your employer during working hours and working on your side hustle when you're no longer on the clock. With a calendar or planner and good boundaries, this won't be a problem.
---
11 Side Hustles for 2021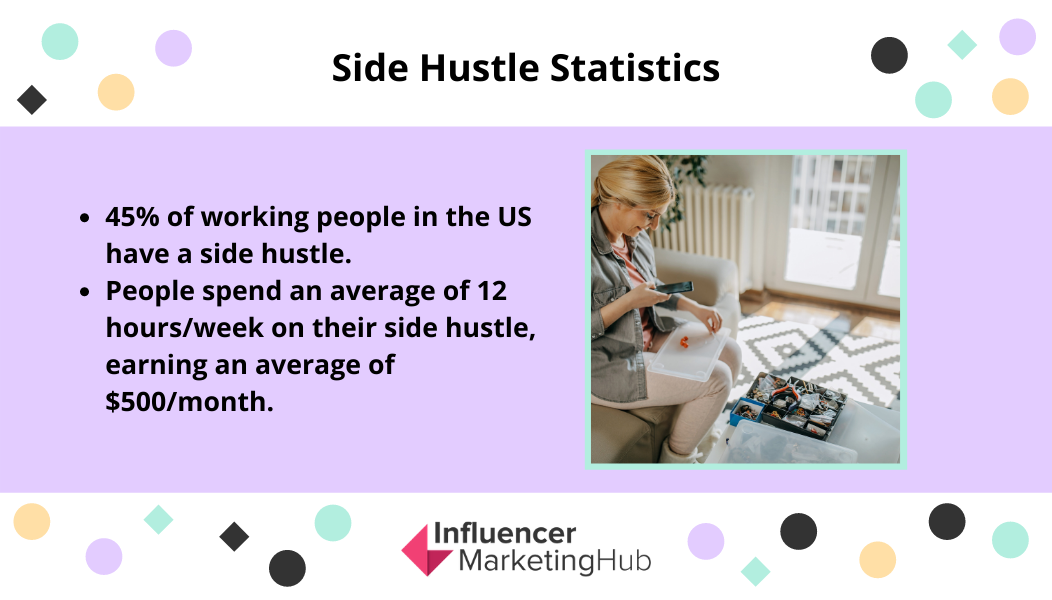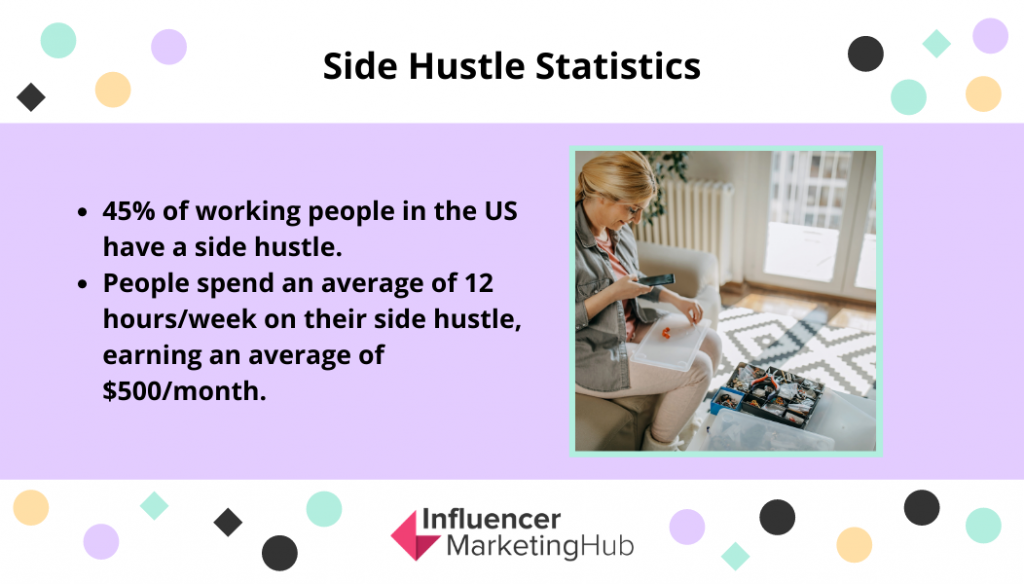 Now that we've covered how to get started with a side hustle let's get into the side hustle ideas so you can find the right thing for you. For many side hustles, you won't need any special training—just time and maybe a little money to get started. Other side hustles might require you to be certified or licensed. This list of side hustle ideas is intended to be used as inspiration, so if you don't see anything on here that jumps out at you, check out our list of the best side hustles. Still nothing? Refer to your list of interests and get creative!
1. Become a Dropshipper
Dropshipping is one of the easiest side hustle ideas to get started with. With dropshipping, you can sell products directly to customers without having to buy or keep inventory. That means that your startup costs will be minimal, and you won't have to lay out a bunch of money to buy products that might not sell, minimizing your risk. No matter what your interests, there's likely to be a dropshipping business waiting for you. As a dropshipper, you can make a couple thousand dollars or more per month.
One of the easiest ways to get started as a dropshipper is by signing up for Oberlo. With this eCommerce platform, you can choose from millions of products and start selling right away. The process is automated and adding new products is really easy.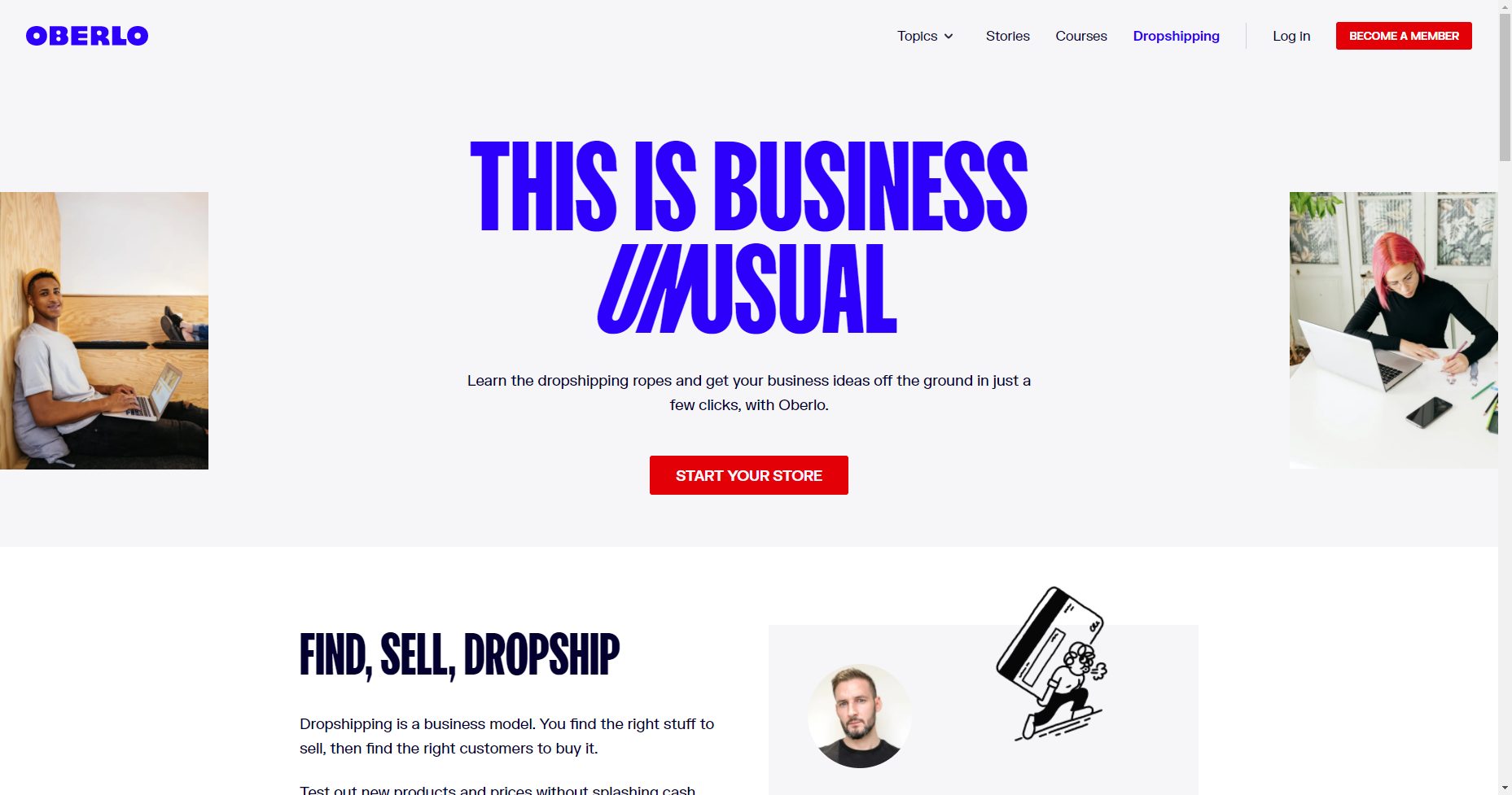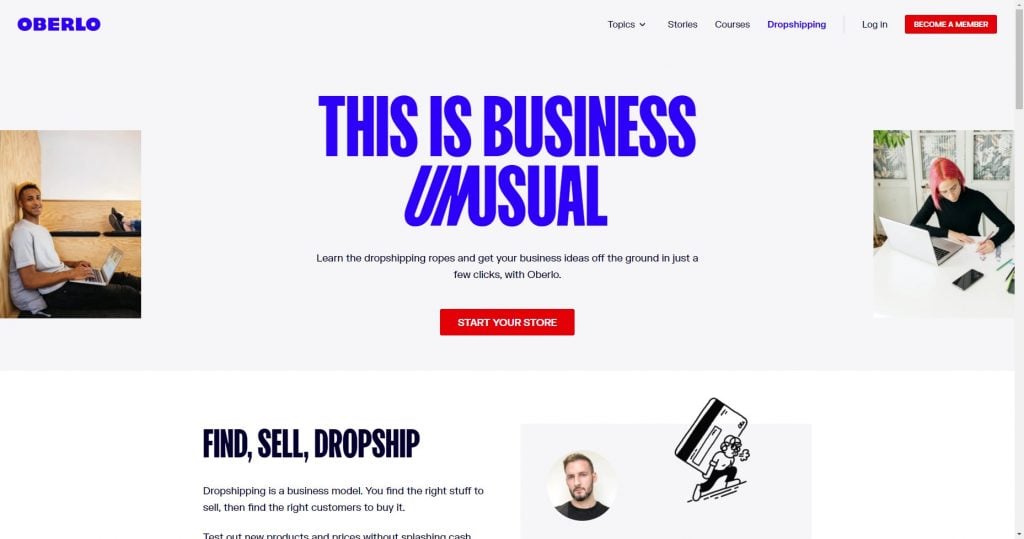 ---
2. Start Freelance Writing
If you love writing, consider this one of the best side hustle ideas for you! As a freelance writer, you can work on whatever topics you find interesting and can work as a content writer, copywriter, or both. Since writing is a time-consuming endeavor, you're limited in how much you can earn based on how much time you have to devote to writing, but earning an extra $1,000 a month can be as simple as writing an article per week.
Freelance writing is also a side hustle that can easily turn into a full-time job where you can earn thousands of dollars each month working remotely, from the comfort of your own home. And you get to be your own boss.
You can get started as a freelance writer on sites like Upwork and Fiverr, but we recommend using those sites to develop your portfolio before reaching out to find new, higher-paying clients. Many freelance writers fall into the trap of trying to underbid other writers and end up writing for pennies. This is a recipe for burnout and unhappiness. So, once you have a few projects in your portfolio, branch out to higher-paying clients that appreciate the work that goes into creating content that drives traffic and copy that drives sales.
---
3. Become an Affiliate Marketer
Affiliate marketing is a great way to earn extra money. There are tons of affiliate marketing networks out there you can use to find the right combination of products to sell. If you do it right, affiliate marketing can earn you a great income. Blogger and entrepreneur Adam Enfroy regularly earns five figures every month through affiliate marketing!
Really consider the products that you want to promote with affiliate marketing. While you can be an affiliate marketer for eCommerce stores, you might be better off becoming a dropshipper for those products instead since you'll likely earn more money that way.
---
4. Become an Instagram Influencer
Influencer marketing is one of our favorite side hustle ideas. While Instagram tends to be the platform of choice for most influencers, you can be an influencer on any social media platform—or even using a blog. You don't even have to be in the spotlight if you don't want to. There are tons of pets that can be considered influencers, like Nala Cat on Instagram or Tatum on TikTok.
You can also use your art, fashion and beauty know-how, cooking skills, or a number of other things. There are even therapists, dieticians, and doctors who are popular influencers.
You can monetize your social media accounts through sponsored posts, selling products, takeovers, and other fun things. The amount you can charge for sponsored content will vary depending on your follower count and engagement, so check out these tips for getting more followers on Instagram to build your audience faster.
---
5. Start a Subscription-Based Business
There are several ways to start a subscription-based business and several types of subscription-based businesses to choose from. The most common business types are boxes, SaaS, eCommerce, and access. Through the subscription revenue model, you can generate revenue by charging a recurring fee. You can create a subscription-based business on platforms like Patreon, OnlyFans, and others.
---
6. Become a Virtual Assistant
If you love keeping things organized and helping businesses thrive, you might want to consider becoming a virtual assistant. There's a need for virtual assistants across fields and duties, so if you're interested in clerical tasks, social media posting, bookkeeping, being a personal assistant, or any number of other things, you're likely to find the perfect virtual assistant role for you. As with writing, you're going to be limited in how much you can earn depending on the hours you have to devote to this side hustle. Also, like writing, you can easily turn a virtual assistant side hustle into a full-time job.
You can find virtual assistant roles on sites like Upwork, but you'll probably earn a lot more money by finding your own clients.
---
7. Sell Your Art
Do you have artistic talent? Why not sell your work? There are several ways to make this side hustle idea work for you. For starters, sites like Etsy make it easy for crafters and artists to create a site and sell their work. No matter what your medium—watercolor, photography, cross-stitch, or anything else—you'll find an audience interested in buying what you're selling. Selling your art can earn you anything from a couple hundred to thousands of dollars each month. Plus, you can commission custom pieces or, if you're a photographer, get into events like weddings.
---
8. Start a Blog
Starting a blog is probably one of the easiest side hustle ideas you can do. We recommend blogging in a specific niche so you can build an engaged audience that's interested in everything you have to say. You can even combine blogging with affiliate marketing or dropshipping to create your own empire. It can take a while to turn a profit with your blog, but as your audience grows, you'll be able to use retargeting ads to drive more traffic and get more sales.
---
9. Become an Online Tutor
If you're a teacher, a lifelong student, have a degree in something, or just have lots of knowledge on a specific topic, you can get paid to tutor people online. This could mean anything from teaching English as a second language to people outside of the United States to tutoring students in math, science, English, art—you name it, there's probably someone who needs tutoring in it. Many online tutoring companies will expect you to have teaching experience or a degree as well as good equipment to teach at home (webcam, lights, mic, etc.). There are several websites to check out if this is a side hustle you might be interested in:
Tutor.com

Tutorme.com

Skooli.com

Varsitytutors.com

...and more
Bonus Idea: Not interested in tutoring but have knowledge to share? Create an online course!
---
10. Run Facebook Ads
You might think you need experience to start running Facebook ads for businesses, but you actually don't. As with freelance writing and some other side hustle ideas we've mentioned, you'll probably want to start with sites like Upwork to build your portfolio before moving onto larger, higher-paying clients. You can also reach out to small businesses in your area to pitch.
---
11. Become a Pinterest Virtual Assistant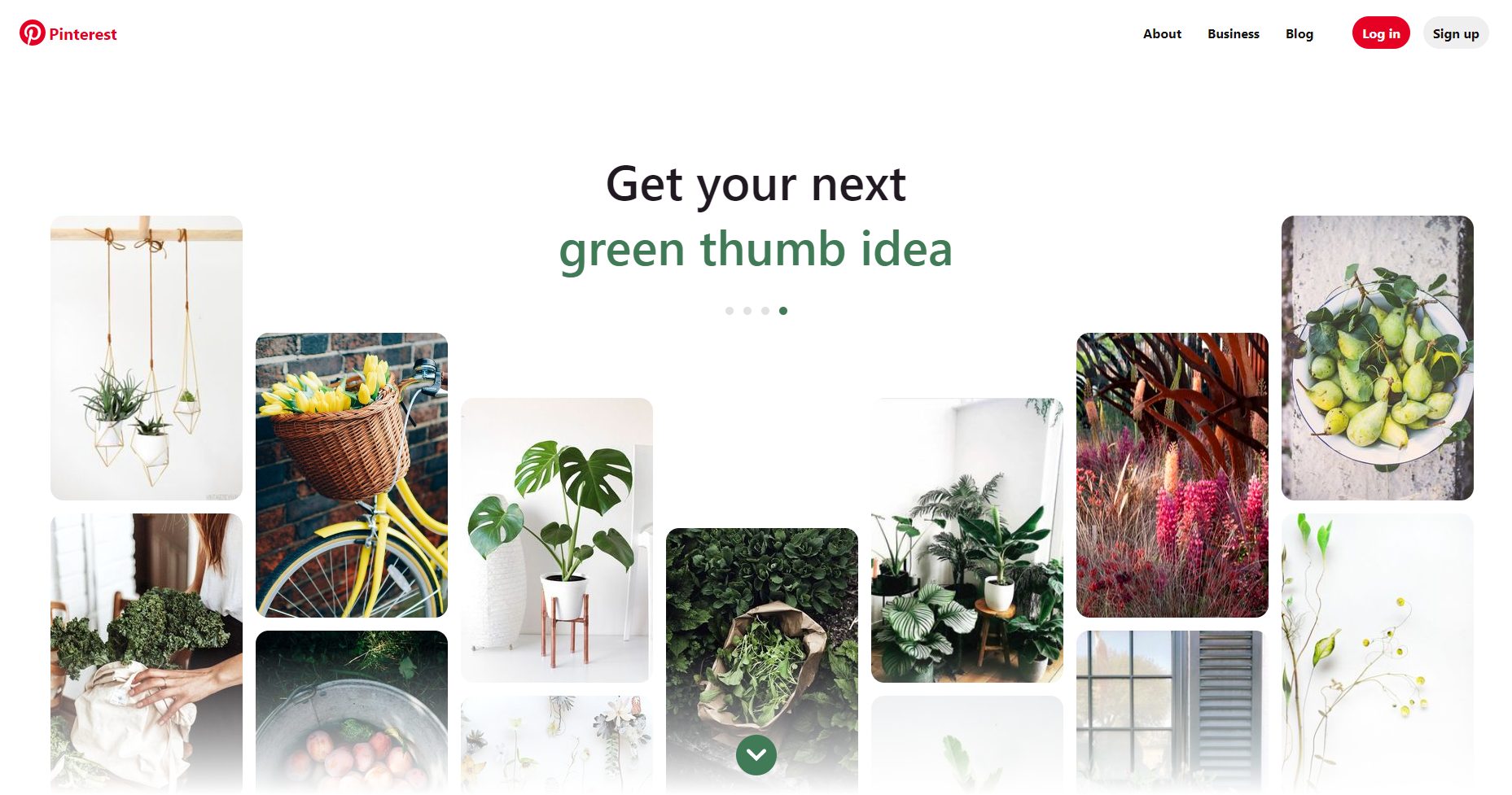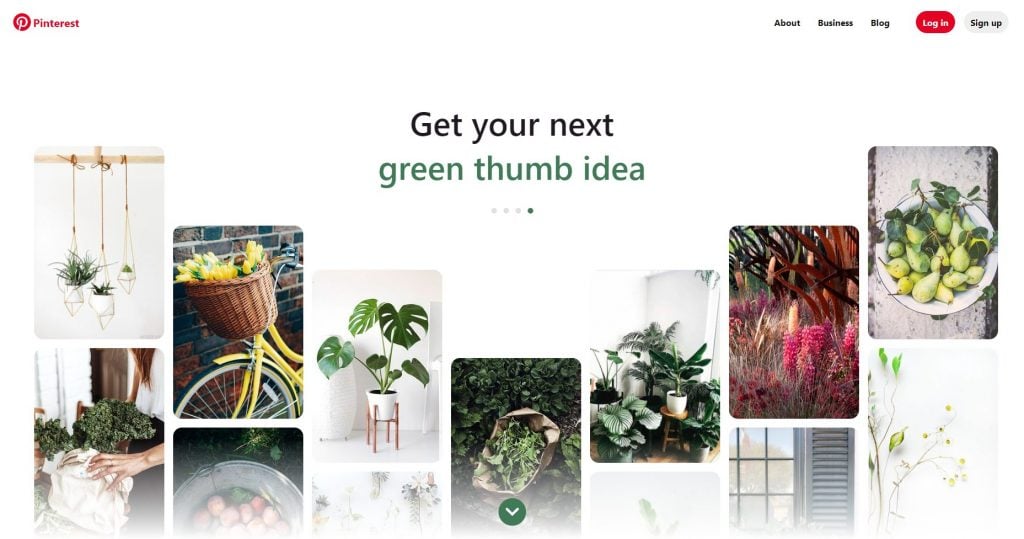 Pinterest requires a lot of time and effort in order to get a return. Many Pinterest experts recommend posting on the platform 30–40 times every single day. When you're an online business owner or blogger, that's a lot more than you have time for. As a Pinterest virtual assistant, you'll help businesses create and optimize Pins and images, develop and stick to a schedule, and conduct keyword research so their Pinterest content brings in the right audience.
---
Start Earning Extra Cash With a Side Hustle
A side hustle can help you earn some extra cash that you can use to live the kind of life you want to live, but there are other benefits, too. No matter which of the side hustle ideas you choose to focus on, you'll be able to build your own business, develop new skills, create a powerful portfolio, and build your personal brand. Plus, many side hustles can easily turn into full-time jobs that afford you more freedom through being your own boss, setting your own hours, and focusing on the work that makes you happy.