Facebook has over 2.6 billion monthly users per the latest estimates. It is the single largest social media platform, way ahead of the other top platforms.
This represents a unique opportunity for marketers to use it as a marketing and advertising platform. With the potential to reach billions of people, it really is a great place to advertise. However, a lot of people still don't know how to create and run Facebook ads. Luckily for them, Facebook offers a powerful tool called "Facebook Ads Manager" which makes it easy to create and run ad campaigns. In this post, we will discuss the detailed process of using the Facebook Ads Manager to create ad campaigns. We will also give you actionable tips to help you get better at it. Let's get started.
---
How to Create Facebook Ads:
---
What is the Facebook Ads Manager and How Can You Access it?
The Facebook Ads Manager is a tool offered by Facebook to let users design and run ad campaigns on the platform. It has a comprehensive set of features that you can use to create ad campaigns from scratch.
It also has several advanced targeting options to make sure that your ads are shown to the most relevant audiences.
Here are some things that you can do using the Facebook Ads Manager.
Design ads and ad sets

Create and run Facebook and Instagram ad campaigns

Manage and optimize ad bids

Create lookalike audiences

Precisely target different audiences with different ad sets

Optimize your campaigns

Track the performance of your ad campaigns

A/B test your ads
That's just a broad overview of what this brilliant tool can do. However, once you start using it, you will understand the numerous features and functionalities that it offers.
Now, let's take a look at the practical aspect of where exactly you can find it.
Here are three ways to access this tool:
First, you can simply click on this

link

.

Second, you can go to your Facebook page and click on the

+

icon. Select

Ad

and it will take you directly to the Facebook Ads Manager.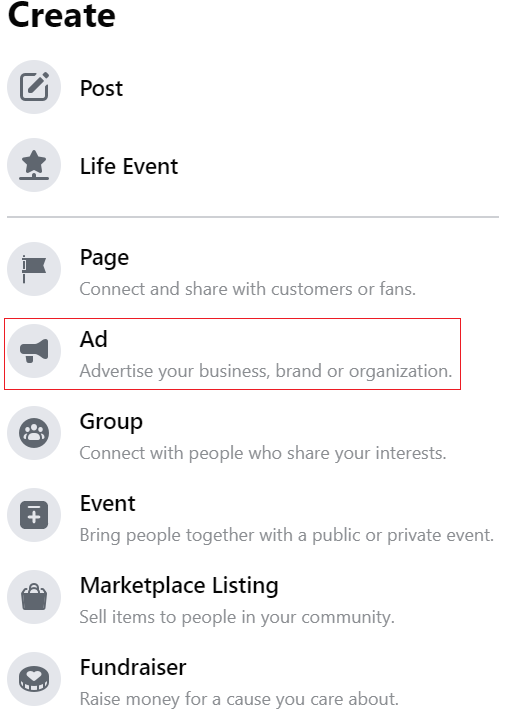 For new users, we recommend using the Ads Manager on a desktop to get familiar with the interface. Once you are proficient enough with the tool to create and manage ads on-the-go, you can use it in the mobile app.
Now that you know the basics, let's get started with the actual process of creating an ad using the Facebook Ads Manager.
---
How to Create Ads Using the Facebook Ads Manager
Once you open the Ads Manager, you will see four tabs—Overview, Campaigns, Ad Sets, and Ads. The Overview tab gives you a summary of performance data for your active campaigns. The Campaigns tab shows all the campaigns that you have created.
Ad sets are a part of a campaign and you can have multiple ad sets for each campaign. These can be viewed from the Ad Sets tab. Similarly, an ad set can have multiple ads and each individual ad can be viewed from the Ads tab.
So, if you have active campaigns and want to create a new ad or ad set, then you can go the respective tabs to do that. However, for the scope of this post, we will focus on creating a new ad campaign from scratch.
---
Step-by-Step Guide to Create a New Facebook Ad Campaign
Here is the process that you need to follow to create and run a Facebook ad campaign.
---
Step 1
---
Step 2
The first step is to select a campaign objective. You will see a list of objectives categorized under the different stages of a marketing funnel—awareness, consideration, and conversions. Select the one that matches your goal and click on Continue.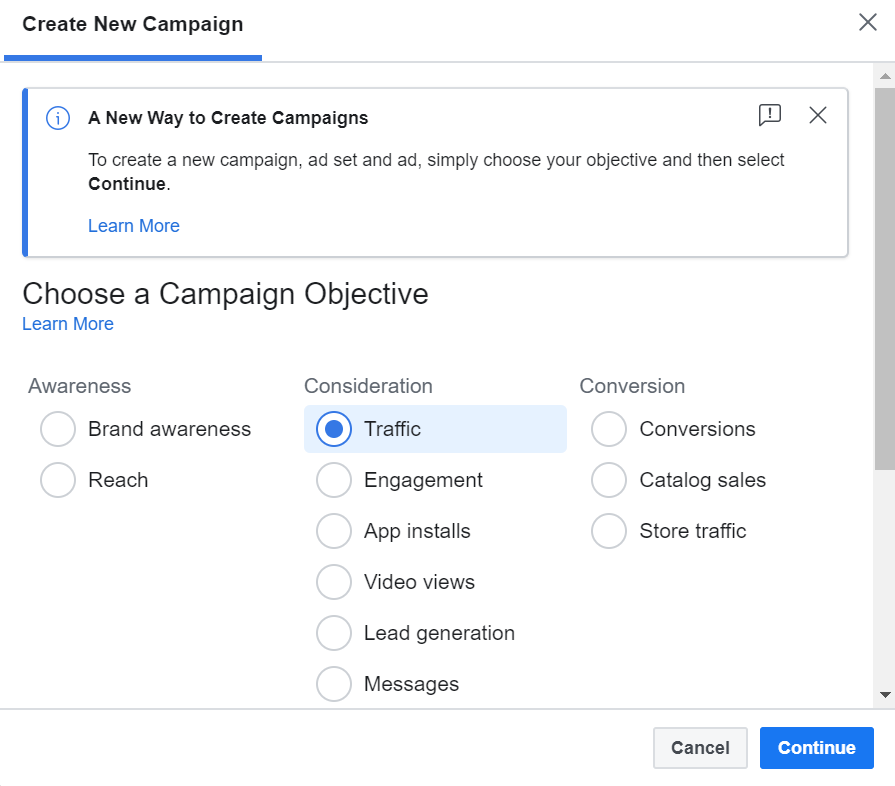 ---
Step 3
---
Step 4
You will also see a Campaign Budget Optimization option, slide it on. Select the type of budget, i.e. daily or lifetime budget.
If you select a daily budget then the Ads Manager will ensure that your average daily spend does not exceed your budget. It may vary from day-to-day, but the average will remain within your budget.

If you select the lifetime budget option then your total ad spend during the course of your campaign will be under the specified amount.

There are options to select your bid strategy, ad scheduling, etc. For now, you can go with the default settings and can edit them later.

Check out our guide on the different factors that affect the

cost of Facebook ads

to learn more about bid strategies.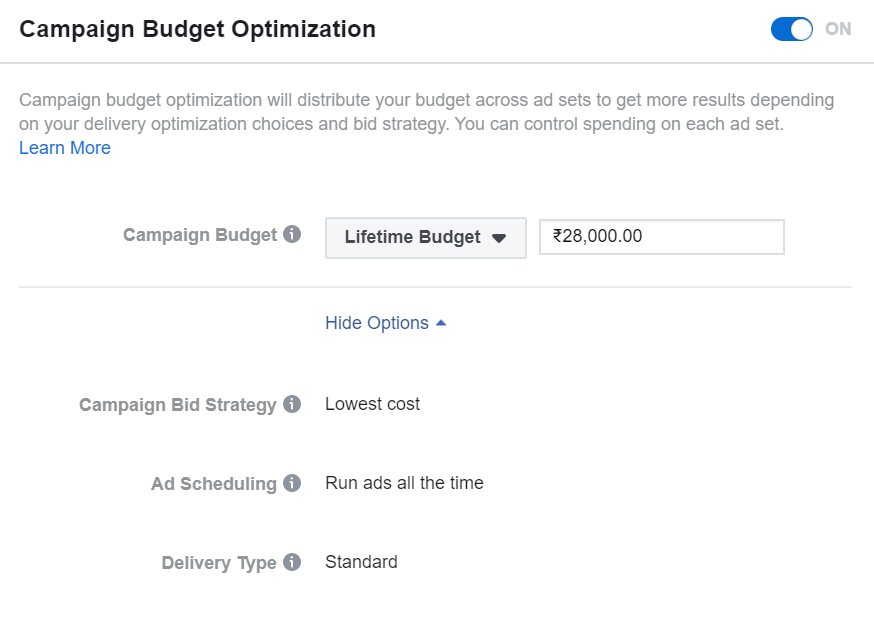 ---
Step 5
The next step is to create an ad set for your campaign. Fill in the name for the ad set and set the start and end dates for your campaign.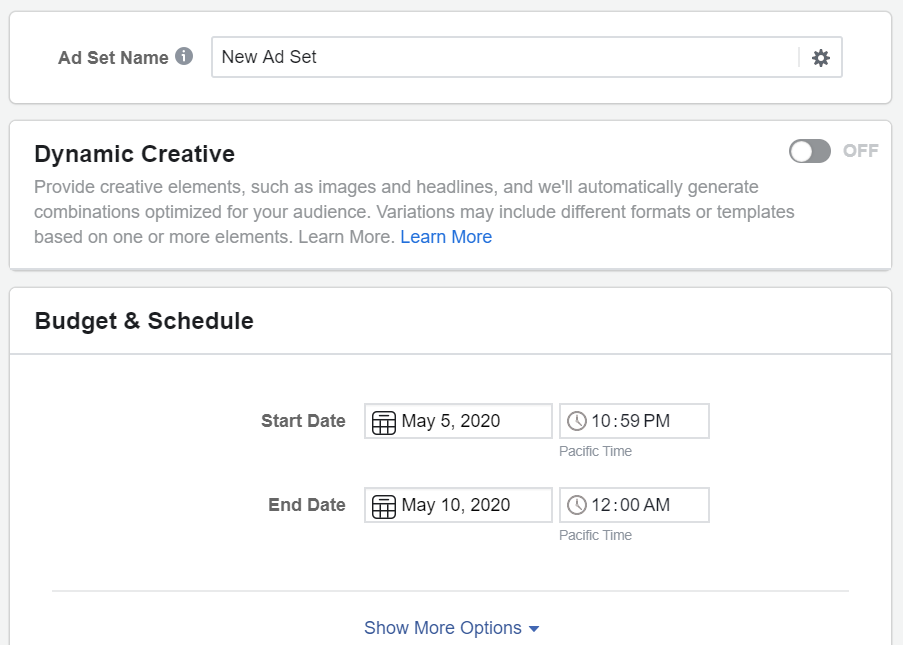 ---
Step 6
If you want help creating your ad creative, then you can try the Dynamic Creative option. Otherwise, scroll down for more options.
---
Step 7
The next thing that you need to do is select or create your audience. Facebook provides advanced audience targeting options, so, do your research and fine tune your audience targeting.
---
Step 8
You can choose from a list of demographic and behavioral targeting filters and then save your audience.
---
Step 9
Select your placement option from automatic and manual. For new users, we recommend automatic placements.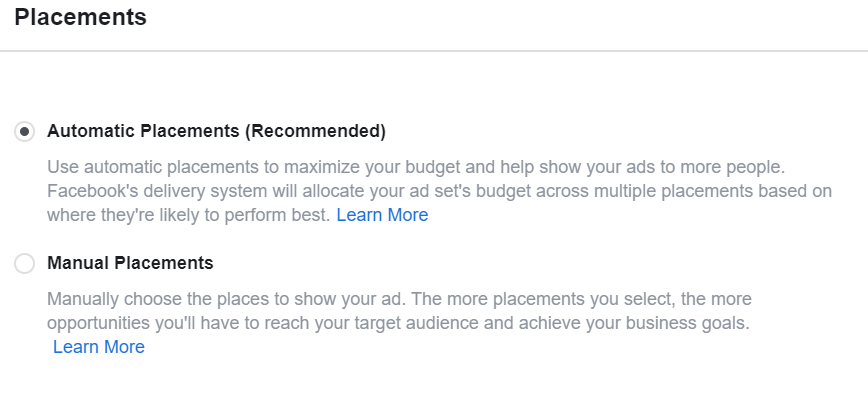 ---
Step 10
Select from the optimization and delivery options and click on Next.
---
Step 11
Now comes the final stage where you actually create an ad for your campaign and ad set. Write an ad name and scroll down to the Create Ad tab.
---
Step 12
---
Step 13
---
Step 14
---
Step 15
If you want to use an existing post as an ad, you can skip steps 11-13 and directly select the post under the Use Existing Post tab.
---
Step 16
Preview your Facebook ad, make any changes if needed, and publish.
This process may seem complex to first-time users, but it really isn't. The interface is very simple-to-use and self-explanatory.
After you have created your campaign, you can create as many ad sets and ads as you want using this same process. You can target different ad sets to different audiences.
---
Tips and Hacks for Creating Facebook Ads
While the process for creating ads remains the same for everyone, you can still get an edge by learning some techniques to optimize your campaigns.
Try these three and you will feel more confident the next time you create a Facebook ad or campaign:
1. Try Facebook Ads Mockup
To familiarize yourself with the different types of Facebook ads, we have created a Facebook Ads Mockup. There, you can explore the various ad formats, placement options, and conversion goals.
Try creating ads there and look at the previews to get better at creating your Facebook ads. This is a good place to experiment and become a pro at designing Facebook ads.
Also, check out our Facebook ad sizes cheat sheet to get an idea about the various size options available for your ads.
---
2. Create Lookalike Audiences
One of the best features of the Facebook Ads Manager is the option to create a lookalike audience. This basically means that you can take your existing audience and ask Facebook to show your ads to a similar audience.
For this, you will need a list of your existing customers, it may be from your email lists or loyalty program or other sources. If you can create a list of your existing customers and even categorize them under different categories, then you can take your Facebook ads targeting to the next level.
For each audience list that you have, you can create a lookalike audience and create a specific ad set for them. This is how you can get the best results from your Facebook ad campaigns.
---
3. Learn Budget Optimization for Facebook Ads
Facebook provides a lot of different budget optimization options that you can select from. However, if you are new to this, then it might be daunting to you at first.
In this case, it is best to do your homework and read about these options and how they can benefit you. Facebook provides a detailed guide on budget optimization. Go through this and familiarize yourself with the various options available.
Once you know the different options, you will find it much easier to create and optimize your Facebook ad campaigns.
You can also go through other resources provided by Facebook explaining the different options available in the Facebook Ads Manager. You might want to look at ways to optimize delivery and scheduling options as well.
---
What Next?
Now you have all the basic information required to create your first Facebook ad campaign. But, if you want to get it right the first time, we recommend exploring the interface and the various options.
So, go ahead and experiment with the Facebook Ads Manager until you are confident enough to launch your first campaign. Remember that, like everything else, this also has a learning curve.
You will get better results with each campaign if you learn from your past mistakes and keep upskilling yourself. Go on then, create your Facebook ads campaign today.