Advertising Disclosure
Advertising disclosure:
Our partners compensate us. This may influence which products or services we review (also where and how those products appear on the site), this in no way affects our recommendations or the advice we offer. Our reviews are based on years of experience and countless hours of research. Our partners cannot pay us to guarantee favorable reviews of their products or services.
Paid social isn't for beginners. There are a number of factors that demand your continuous attention. Add to the fact that it's more than just your time that you're plowing into this endeavor and the stakes become a whole lot higher.
One of these critical elements is your ad copy. However, copywriting is few mortals' strong suit. If you're one of those who feel that words elude you, especially when you need it the most, it's time to befriend an AI tool or two. These types of tools are becoming increasingly popular among marketers, journalists and business owners. Not only for the speed at which they can churn out copy, but also because of the ton of available data that it offers.
If you need more reasons why you should start embracing AI for creating marketing material, continue reading. While this article focuses on Facebook Ads specifically, the tech and tools can be used for various other popular platforms like LinkedIn and Instagram too.
---
Facebook Ads: How AI Can Help You Write Better Ads:
---
Why Use AI for Marketing Copy?
For marketers, AI can be beneficial in several ways. From data processing to bid management, it offers unbiased input and, when you're creating strategies and assets, that type of "second opinion" can be invaluable.
Anyone who works in marketing will be able to tell you that there's a lot of planning that goes into creating ads. Even a short social media post can take hours, if not days, to plan and create.
One of the reasons for this is that you need to complete thorough research. And, this is where AI shines. Here's how: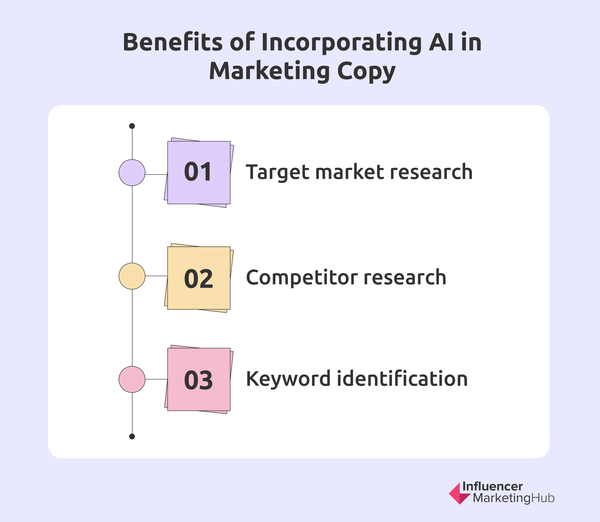 Target market research
Your intended audience is searching for something. Identify that and half the battle is won. Then, to create Facebook ad copy that will convert, you need to dig deeper and understand their reasons for needing that specific product or service. Know this and you're well on your way to creating ad copy that converts. If you can address the what as well as the why, your copy will resonate much better with your target market.
Competitor research
Not only do you need to know your target audience, but somewhere in the back of your mind you also need to keep in mind what your competitors are up to.
What types of Facebook Ads have converted for them? Is there a specific format that works better, such as video posts?
When doing competitor research, you kind of need to split your brain in two. You need to focus on identifying what has generated clicks for them, but also scan for lucrative areas that they've ignored. For example, are there any keywords or topics that they haven't explored? This is a difficult job for mere mortals, on the other hand, AI has little trouble thinking in this way.
Keyword identification
In addition to collating tons of data about your audience and competitors, AI is also very useful for keyword research. Without a touch of AI assistance, you'll fall into the trap of simply resorting to the obvious keywords that everyone else is vying for. However, with AI tools, you'll get access to real-time data. This means that you can quickly adjust your Facebook ad copy so that you can leverage new keywords as they pop up.
---
4 AI Tools to Help With Facebook Ads
To help you create more personalized content and identify untapped opportunities, there are a number of AI-powered research tools that you can use. Here are four that you can check out that mostly focus on the writing aspect.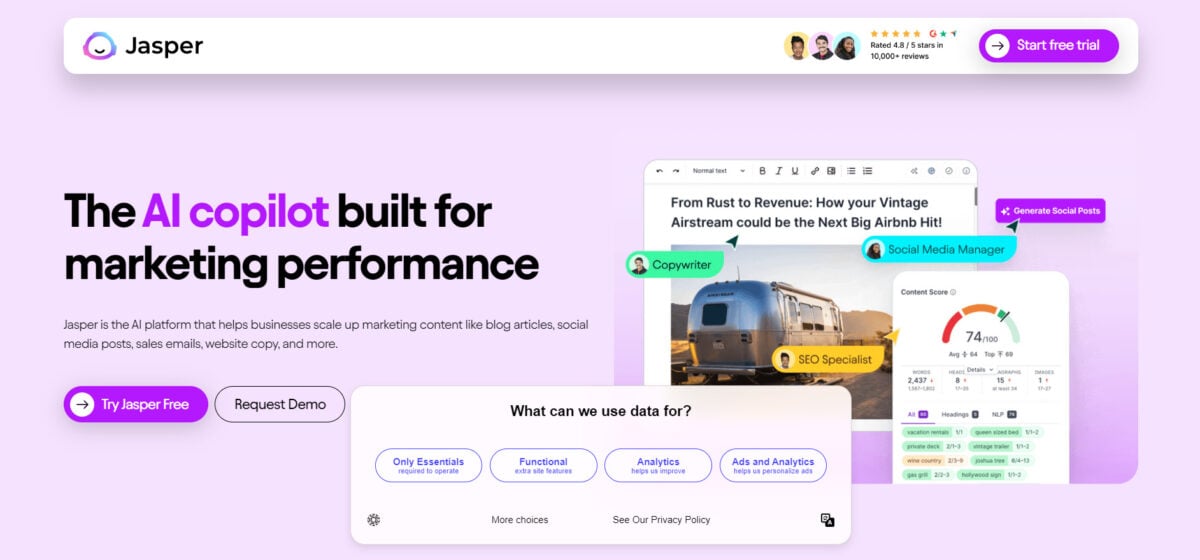 Jasper is one of the leading AI marketing tools. While it's best for small and mid-sized businesses, it's trusted by a number of major brands like Airbnb, Canva, and Sports Illustrated.
All you need to do is select a template and complete your prompt by adding details like your brand name, description of your product, and tone of voice. According to their website, what makes them such a great tool for Facebook Ads specifically is that Jasper offers several unique angles. It can also help with audience research and help you figure out the needs and pain points of your buyer personas. Other time-saving features include:
A template library with Facebook-specific ad copy templates
An ad copy generator
A sentence rewriter
A paraphrasing tool
A slogan generator
Plans and pricing: After a free five-day trial, pricing starts at $59 per month (or $49 per month when billed yearly).
---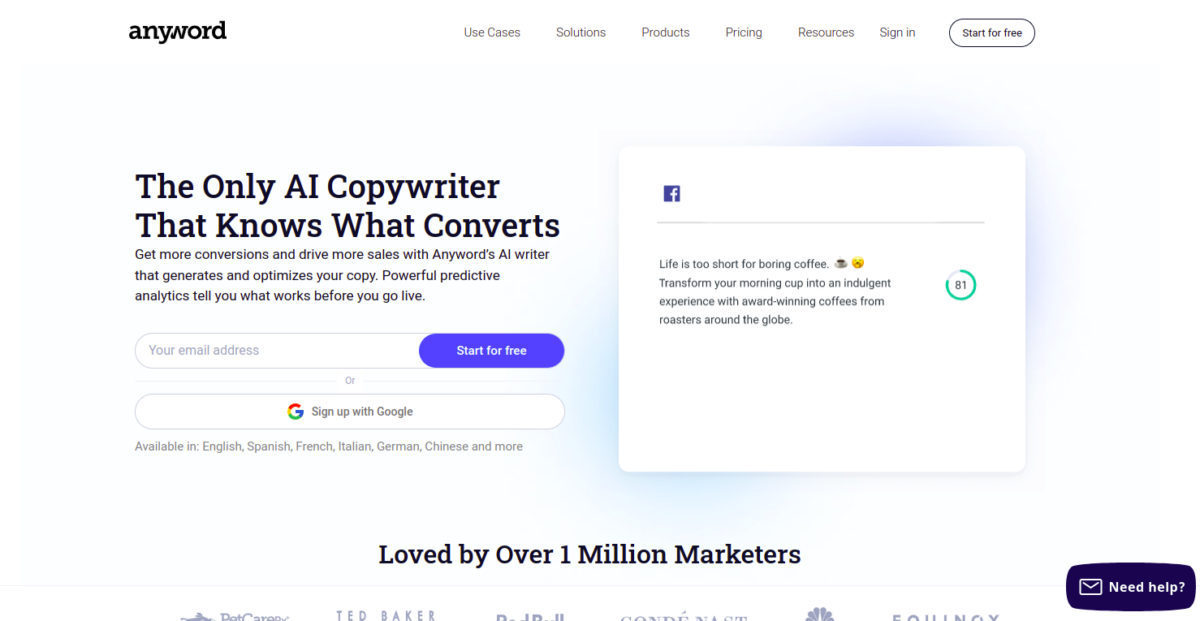 Included in Anyword's impressive list of use cases is ad copy. It offers an AI Ad Copy Generator that you can use to create high-converting copy (including headlines) for Facebook (as well as other main channels). Not only does it play well with various popular ad channels, but it can also create a number of variations simultaneously.
While it can generate text quickly, it does take some time to create the "project brief". You'll still need to share some details about your niche and offering and select a tone and style.
A standout feature that deserves special mention is its Predictive Performance Score. On top of dishing out the actual copy, it also gives a score that predicts how well the copy will perform. Plus, as personalization is critical, it also includes demographics analytics that you can use to select which variations your specific market will respond to better.
Plans and pricing: After a free seven-day trial, pricing starts at $29 per month (or $29 per month when billed annually).
---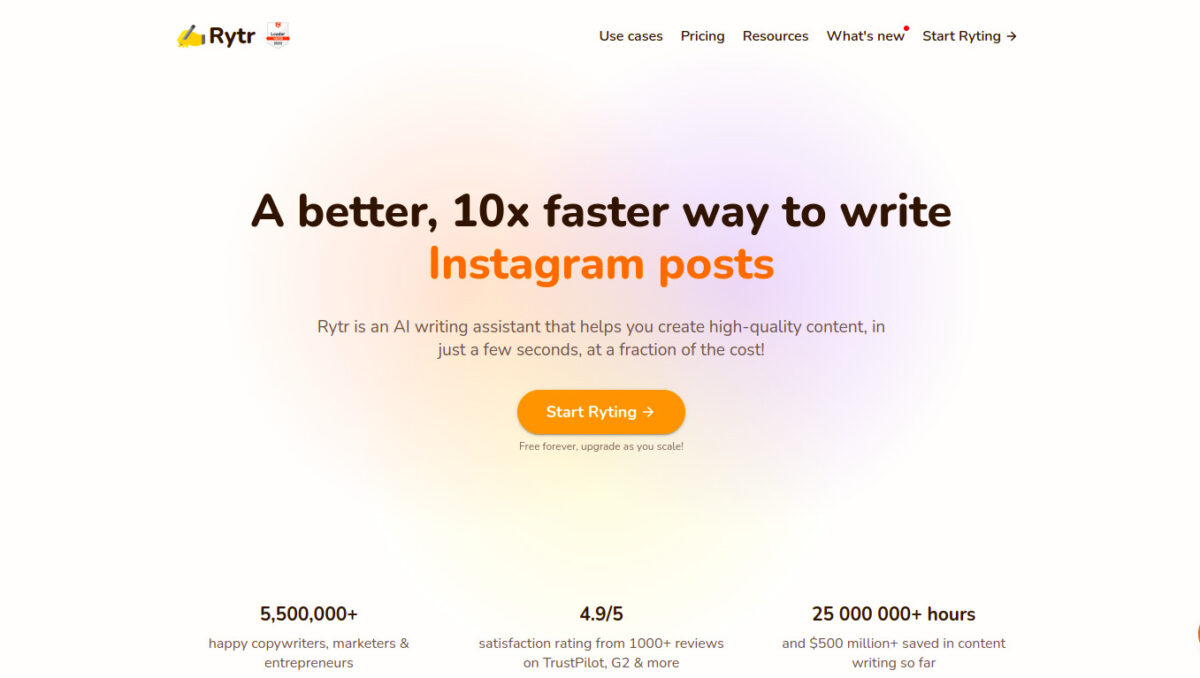 Here's what Rytr had to say (or rather write) for itself about how it can help with Facebook Ads:
Rytr is an AI-powered tool that can help with all aspects of your Facebook Ads campaigns. It uses advanced artificial intelligence to analyze the performance of your ads and suggest changes to optimize them for maximum results. Rytr can also be used to create new ad campaigns, track the results of existing ones, and provide detailed insights into how they are performing. With its powerful features, Rytr makes it easy for marketers to get the most out of their Facebook Ads campaigns and maximize their return on investment.
Now, here's what we like to add about its ad feature…
Compared to some of the other tools, it's much easier to get started. The pricing is also more flexible. Rytr is one of the few tools to offer a free plan. What's more, this free plan is actually pretty decent.
As for the results, it's very generic. While it gives you the option of selecting the creativity level, the texts that it churned out for us were a bit lacklustre. That being said, as with most AI tools for journalists, the goal isn't to let it create a final copy for you. Rather, think of it as an assistant that can write a first draft. Even if you're still required to add your own personal touch, it can still save you a lot of time, especially when your biggest challenge is getting started.
Plans and pricing: Rytr offers a free plan and two paid options. Pricing starts at $9 per month when billed annually.
---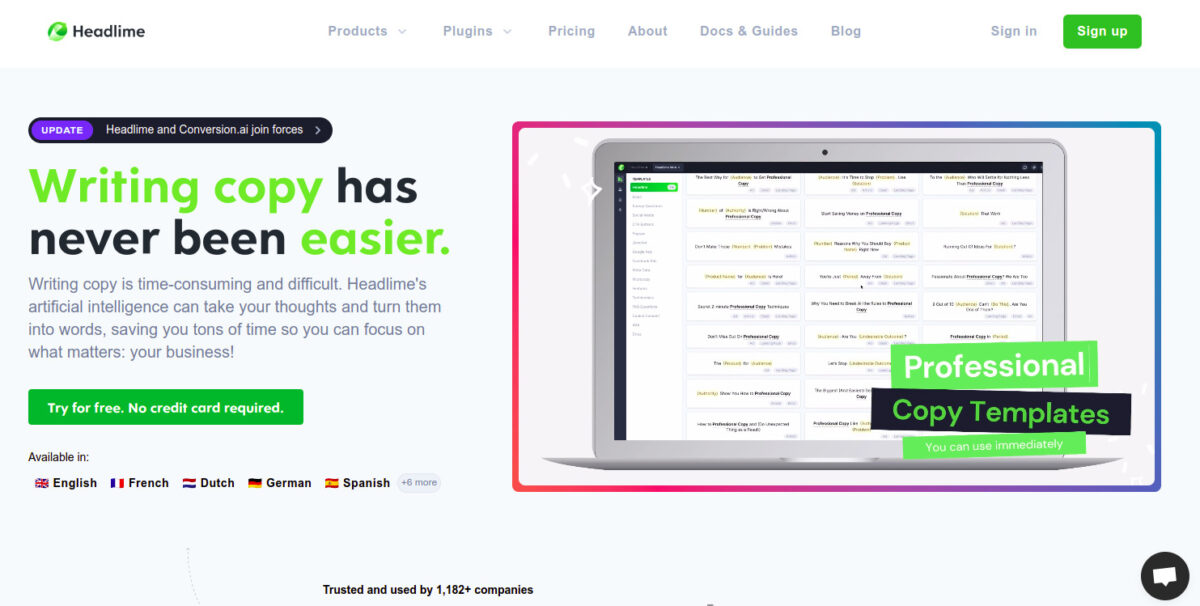 Headlime is powered by GPT-3 and can be used for various types of short-form copy. Aimed at business owners, marketing agencies, and copywriters, it can help with Facebook Ads and other critical elements like headlines, your value proposition, and link description.
To ensure that the copy resonates with your target audience and portrays your brand consistently, you can select the level of creativity, tone of voice, and audience. In terms of creativity, the results are less generic (than a tool like Rytr). It's also quite good at setting the right tone. However, you might need to give a bit more input than simply a one-word answer in the Audience field.
As for the headline generator, it creates about seven mediocre variations. Though, if you combine these variations by either repairing some of the words or phrases, you can get a catchier headline. This applies to its link description feature too.
Plans and pricing: Headlime offers a free plan and two paid plans. The Individual plan that's aimed at personal use or for small businesses costs $59 per month. The Business plan that's aimed at bigger companies, marketing agencies, and teams starts at $399 per month.
---
Tips to Write Better Facebook Ads
Here's the thing about using AI-powered copywriting tools for your marketing campaigns. It can help you to write faster, but it won't help you to write better. And, for your content marketing efforts to pay off, it's more than just dishing out words.
Smart copy is all about connection. It needs to draw logical connections between your product and your customer persona's pain points. It needs to connect your potential customers to your brand and vice versa.
Sure, use writing tools to get your started, whether that's to identify content ideas, create specific elements like calls to action, or generate an entire first draft. Then, when you edit the results, keep these tips in mind. This way, you'll get high-quality content faster.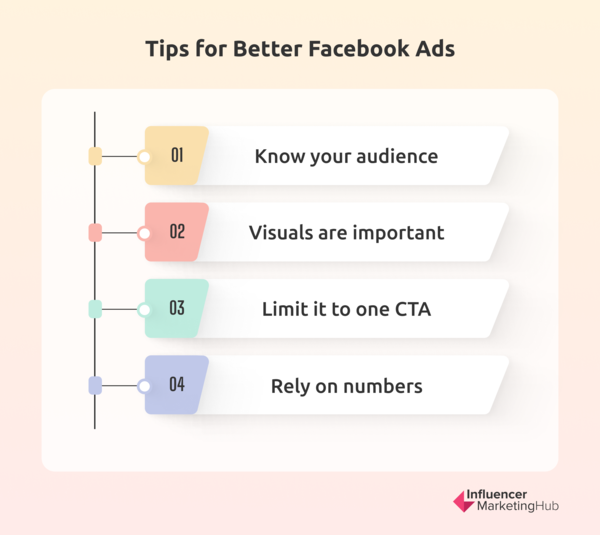 Know your audience
Facebook's ad targeting features are one of the main reasons behind its popularity. To leverage this powerful functionality, though, you'll need to have a rock-solid understanding of your target audience. As mentioned, there are AI tools that can help with this step. You can, for example, use IBM Watson Advertising Predictive Audiences. It can help you to go beyond simply reaching your current target audience but also identify new audiences for your brand that are worth tapping into.
Then, when you create your Facebook Ads, keep your audiences in mind at every step. In other words, all the elements that make up your ad should speak to them directly. Your headline, copy, images, link description - all of these should use a tone that they're familiar with. In short, the Facebook Ad should be more about them, than you.
If you find that your target audience is too broad which makes it difficult for you to speak to everyone equally, create variations. With AI, it's much easier to create multiple ads for the same product. Use this to your advantage.
---
Visuals still carry a lot of weight
While a lot of this article's focus was on the ad copy, visuals still have a powerful role to play. Facebook might not be as visual-oriented as Instagram, for instance, but it needs a visual. The trick is to check that there's a clear link between the copy and the visual.
You can either start with the visual or text. If you already have a visual in mind, check that what you write captures the image. Think of it in this way — the image needs to be captured twice. Once by the artist and then by the copywriter again.
If you already have a high-converting ad copy, use tools like Canva to find an appropriate image.
---
Limit it to one CTA
Ads that convert focus on a single goal. Strength is in clarity, not in numbers.
Basically, after Facebook users have learnt what it is that your offering is and how it will be of use to them, they need to know what they need to do next. And, wait for it, it doesn't necessarily need to be to buy the product.
Not every ad needs to focus on making a sale. Sometimes generating more brand awareness can be equally valuable.
Once you know what your ad's goal is, create a call to action (aka CTA) to communicate that to your viewers. For example, if it's to increase social commerce sales, you can use a CTA like "Shop Now". If it's to promote brand awareness, something more along the lines of "Discover Our Story" will be more fitting.
---
Rely on numbers
Whether it's to create excitement about your sale or your brand, numbers can be a powerful tool. For example, if you're running a promotion, include how much discount they can save. If it's to celebrate Valentine's day, a 14% discount will make sense. For top-of-the-funnel marketing, it might be more difficult to quantify your offering. In this case, you can, for example, refer to the number of years you've been in business, projects you've completed, or clients you have.
---
Wrapping Things Up
Consumers might be losing interest in Facebook, but it still offers exceptional ad targeting capabilities, making it a firm favorite channel among businesses and marketers. For example, with its Custom Audiences selection tool, you can specifically target those who've already engaged with your brand and possibly closer to converting into paid customers.
Just like the social media scene has exploded since the inception of Facebook, the tech landscape has also been busy. Moving forward, see how you can combine the old (Facebook) with the new (AI tools). As any experienced marketer will tell you, it doesn't always have to be out with the old, in with the new.
Frequently Asked Questions
How can you preview your Facebook Ad before publishing it?
There are a number of Facebook Ad preview tools that you can use to see what your ad will look like without first having to complete the whole ad creation process. You can, for example, check out:
Facebook Ad Preview tool by Influencer Marketing Hub
Facebook Ad Preview
Smart1 Ads
Fb Ads Preview Tool
Ad Mockup Generator (by Adparlor)
Blvck
How can you make your Facebook Ads more effective?
To improve the return on investment of your Facebook ads, here are some practical tips that are easy to implement:
Play around with audience targeting
Ensure that it's optimized for mobile devices too
Incorporate video
Use various ad formats like carousel ads and Messenger ads
Run A/B tests
Can you include video in your Facebook Ads?
Yes, you can (and should) include videos in your Facebook Ads. It's a very engaging medium that can help you to drive traffic and give your sales an uplift too. What's more, it's very versatile and can be used to generate brand awareness or promote a specific product or service. When creating a video, keep it short and sweet. Also, try to include some movement in the first few seconds to help capture users' attention.
Which tools can businesses use for Facebook marketing?
Facebook remains an effective and important social media channel for marketing purposes. To help businesses leverage all its marketing potential, there are a number of tools that they can add to their MarTech stack. Plus, with the development in artificial intelligence, many of these tools are AI-powered too. Here are some of the essential Facebook tools for businesses:
Canva for Facebook ad templates and digital asset creation and management
Brandwatch for consumer insight and social media listening
Agorapulse for ad campaign performance tracking
Hootsuite for scheduling
Which AI tools can you use to generate ad copy quickly?
There are a number of AI tools that you can use to create copy for your paid ads on social media channels like Facebook. You can, for example, try out:
Anyword
Jasper
Rytr
Headlime
Writesonic
Copysmith
That said, you'll still need some human input. While AI can do the job quickly, certain input fields need to be completed and the "final" result should still be edited and improved.