A chatbot is a special computer program using artificial intelligence (AI) which conducts a conversation with people, either via auditory or text input. Programmers design chatbots to realistically simulate how humans speak as conversational partners. Brands increasingly using chatbots to communicate with their customers and market their products.
There are a wide range of AI chatbot platforms available to help brands develop suitable chatbots to help them attract and retain customers. These AI chatbot platforms usually contain tools to help you develop and customize suitable chatbots for your customer base.
With their ability to guide customers through the marketing funnel, keep people engaged after sales all the while adding personality to a company's brand, AI chatbots are adding new value to brands' content marketing. These chatbots create more personalized experiences for customers by tailoring companies' responses and content to the customers' queries and interests, which aids reputation management. They are also cheap and can work around the clock without requiring human intervention.
According to Grand View Research the global chatbot economy will total $1.25 billion by 2025. A survey done in 2016 by Oracle showed that 80% of business decision-makers said they already used chatbots or plan to use them by 2020. Chatbots.org lists more than 1,350 chatbots and virtual agents in use around the world. Many large brands have created fascinating bots that have hit it off with their customers and their target demographics. Most people already know or use chatbots in some form, such as Siri, Alexa, Cortana and Google Assistant.
---
Best AI Chatbot Platforms In 2022:
---
What is an AI chatbot?
A chatbot is a computer program that imitates human conversation, either spoken, written or both. Chatbots have conversations with people online, and developers usually design chatbots in the hope that its users will not be able to tell whether they're talking to a person or a robot.
The term chatbot comes from "chatterbot," a name coined by its inventor, Michael Mauldin, in 1994. He created the first chatbot named Julia. A chatbot (also known as a talkbot, bot, IM bot, intelligent chatbot, conversation bot, AI conversation bot, artificial conversation entity, or virtual talk chatbot) is a computer program or an artificial intelligence which conducts a conversation via auditory or textual methods.
What differentiates Artificial Intelligence chatbots from regular chatbots is that it is possible for chatbots to "learn" things about users by tracking patterns in data. Without training, these chatbots can then apply the pattern to similar problems or slightly different questions. This ability gives them the "intelligence" to perform tasks, solve problems, and manage information without human intervention.
AI chatbots are very much the future of online marketing, with many businesses incorporating it in their inbound marketing strategies. Here are the 10 of the best AI chatbot platforms to build the exact right bot for your business.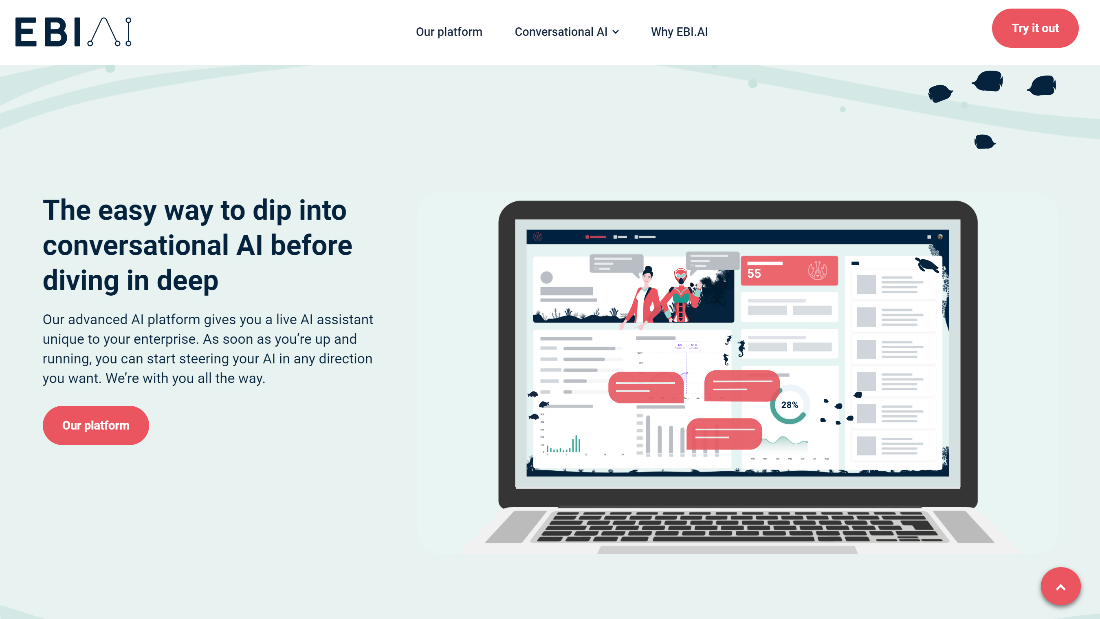 EBI.AI have created their own advanced conversational AI platform that comes with a free trial. This experienced team develops advanced AI assistants that help people do all sorts of things, like finding recipes, booking appointments or tickets, or sorting out travel plans on the go. EBI.AI create novel chat and voice experiences across all channels with AI assistants that go far beyond your basic FAQ bot. You can set up your AI assistant online and your first couple of weeks of using the platform are free, so you can see how you like it. The best bit is, with EBI.AI, you can get as deep into conversational AI as you want to go. Their platform has everything you'll ever need to grow your AI assistant over time, including live chat and integration with other business systems you use daily. They're not tied to any AI provider, plus there's bank-grade security throughout.
Working with you all the way, EBI.AI has a team of specialists who know about conversation design, linguistics and psychology who review every conversation your AI assistant has with your customers. By doing this, they are constantly improving the performance of your AI assistant without you having to lift a finger! The engineers at EBI.AI have also been working in data engineering for more than twenty years, so there are no two pieces of tech they can't get to talk to each other.
You'll find loads of case studies on the EBI.AI website for clients like Coop Sweden, Legal & General Insurance and Stena Line ferries as well as helpful blog posts and features by industry or use case. They even have their own AI assistant called Clawson who you can chat to on their home page. If you're looking for a chatbot platform, EBI.AI's really does suit everyone, whatever stage you're at.
---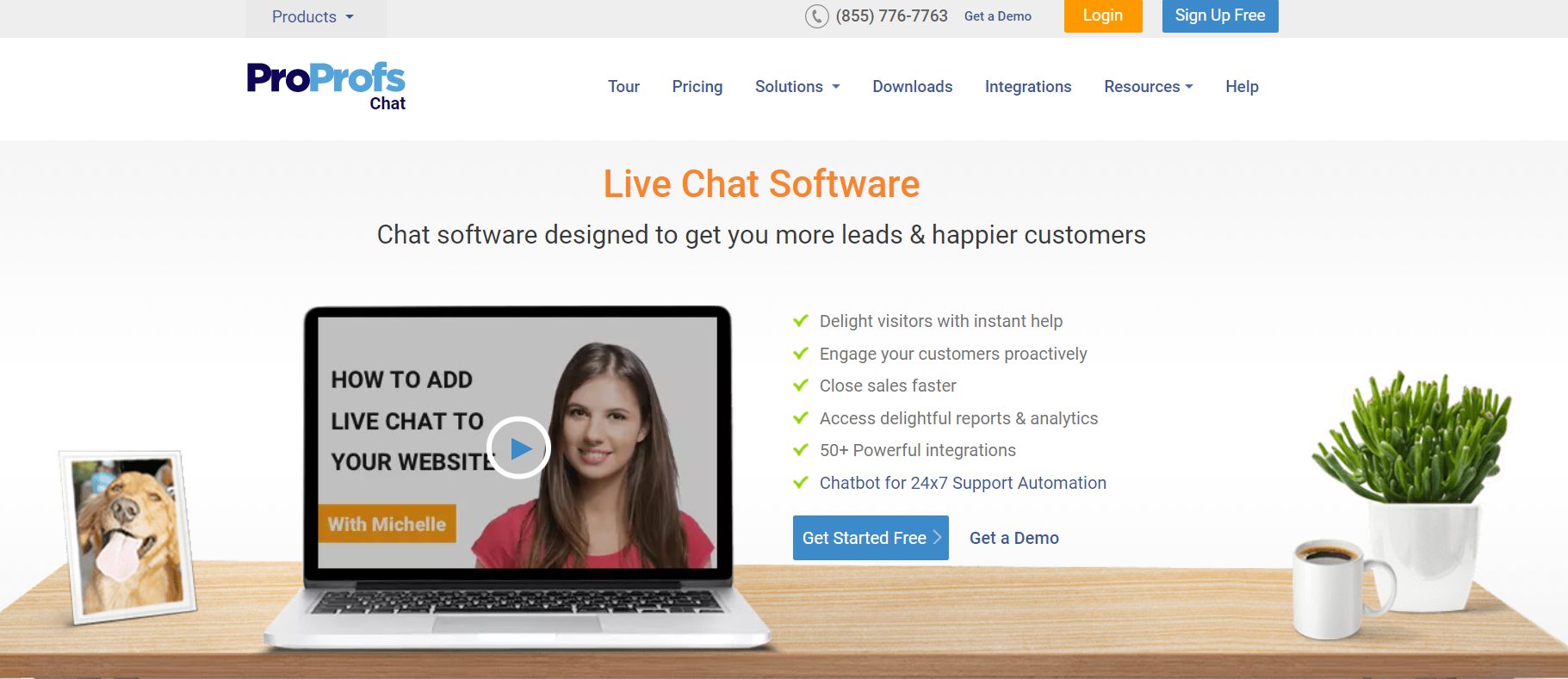 Connect, engage, and convert using live chat software built for 24/7 automation. ProProfs Chat is designed specifically for businesses looking for real-time sales and support solutions for their websites. The software enables users to build their custom chatbots that automate support, convert leads, and grow sales.
Building chatbots using ProProfs does not require coding skills. You can easily customize your chat flow within minutes. Create chat invitation pop-ups, customize greetings, and add product tours. Use the chatbot to engage customers proactively by sending personalized greetings or tailored product announcements.
ProProfs Chat also helps ensure a great customer experience by anticipating customer questions, providing quick responses, and resolving issues fast. Canned responses can be set and self-help articles incorporated into chat widgets to give customers real-time answers to their questions.
Other features worth noting are ProProfs' ease of integration with other apps and data analytics capabilities. The software can be integrated with over 50 apps and platforms so you can build your support bundle. Moreover, ProProfs gives you access to in-depth reports and analytics that help you monitor website traffic, track customer ratings, and analyze performance. These provide you with valuable insights for optimizing customer service and personalization.
With all these features, ProProfs offers businesses a comprehensive customer support solution that ultimately rakes in profits. It is a worthwhile investment for businesses looking for cost-effective yet efficient solutions for marketing, sales, and customer support.
---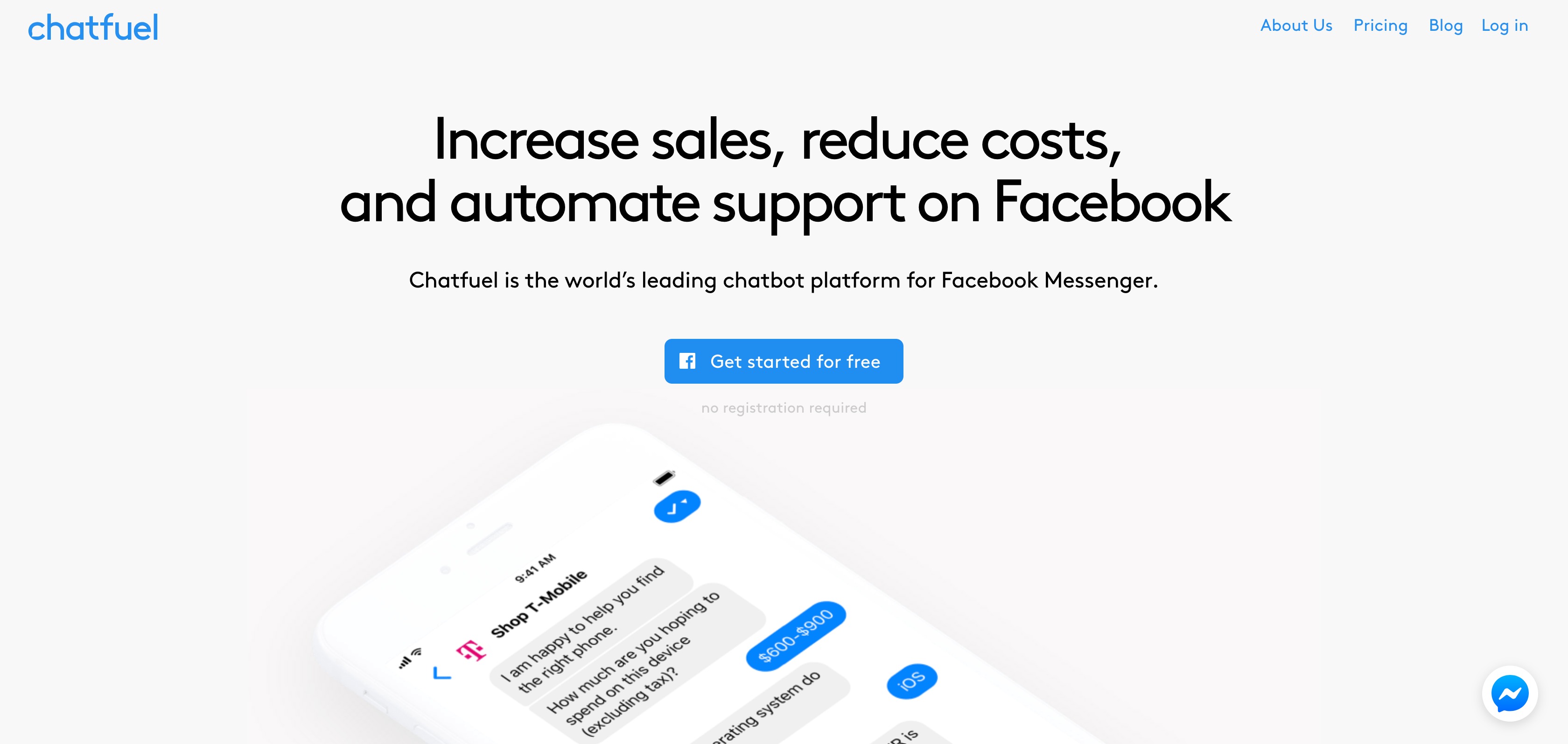 Chatfuel is another great, easy-to-use platform for building bots without coding but specifically for Facebook. Founded in 2015, the platform offers different editing tools for you to design your chatbots as you want them and allows you to set up conversational rules in the dashboard.
The bot will use NLP to understand and recognize phrases, and will send users predefined answers. You can build a chatbot to serve as a customer service advisor, an event assistant, or a personal avatar. A useful feature is that when a person interacts with the chatbot, it adds them to your database, which allows you to reach out to them in the future. Chatfuel's analytics technology provides insights about the performance of the bot. It has created Facebook Messenger chatbots for various big client including Adidas, TechCrunch, Lego and T-Mobile.
In terms of pricing, some of Chatfuel's features are free, but the Premium Plan starts at $300/month to build unlimited bots and for up to 30,000 users.
---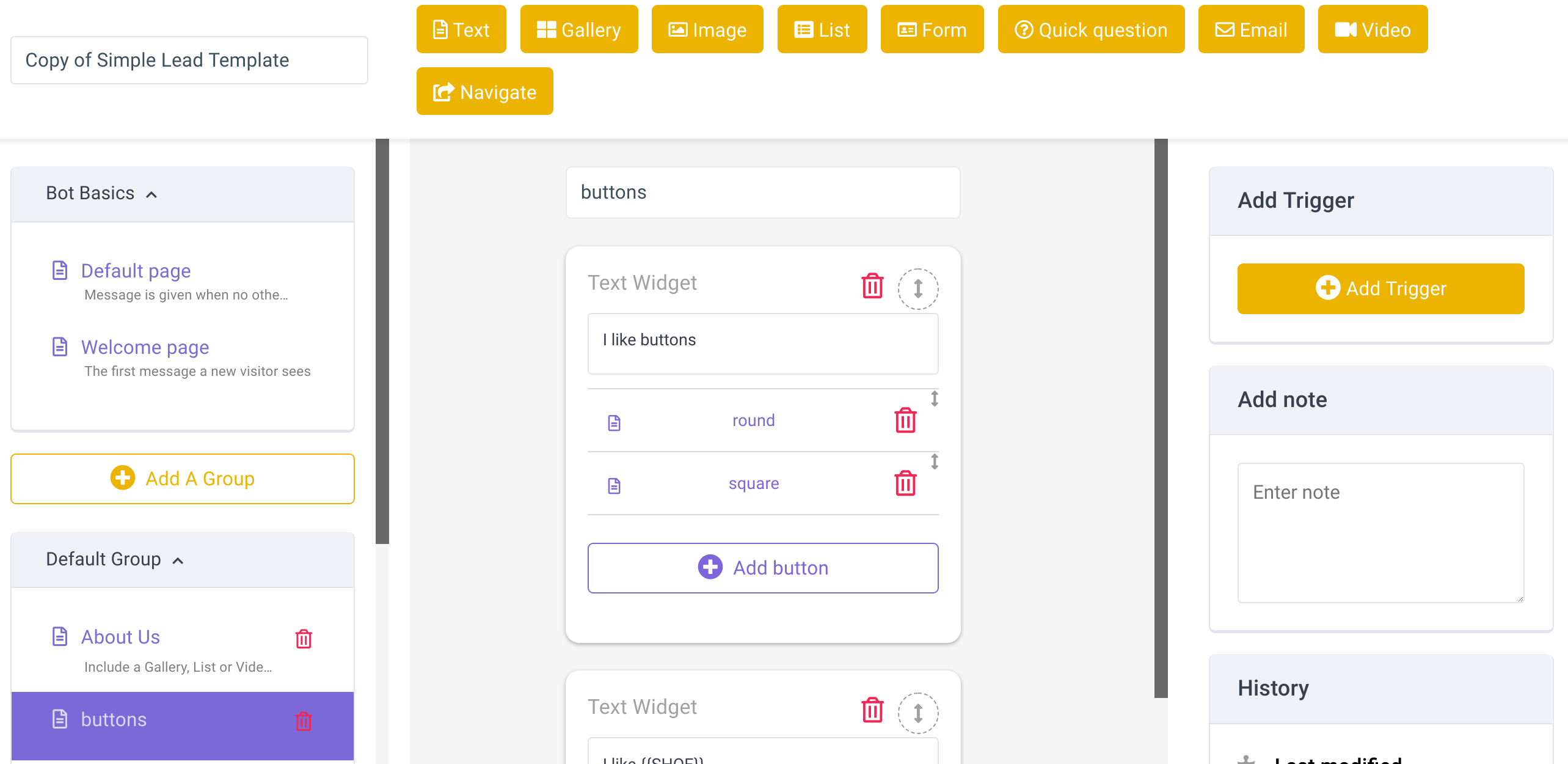 While a full-service mobile agency, in terms of chatbots, MobileMonkey plays in the same field as Chatfuel and Botsify in that it is aimed at non-technical users.
While MobileMonkey is easy to use for the novice, it also has features that can build sophisticated behavior. For example, it can store the user's response to a question in a variable to be reused later in your bot's replies.
With MobileMonkey you can build chatbots for Facebook Messenger and employ various lead generation tools such as chat blasts or broadcast messages (messages sent to multiple users, whether all users or a specific segment), drip campaigns, and list building to enhance business's marketing efforts. It also allows you to automate customer service by providing the answers to frequently asked questions and reduces the wait time. It allows for easy human intervention and lets you override your chatbot and to enter the conversation at any time.
This service is free for unlimited contacts but limited features. Its Premier Plan is $149/month and includes an agency dashboard, unlimited live bots and Facebook pages, and is limited to 5,000 contacts. It also offers a very adequate $49/month plan, which offers most of the services of the Premier Plan but without the premier support.
---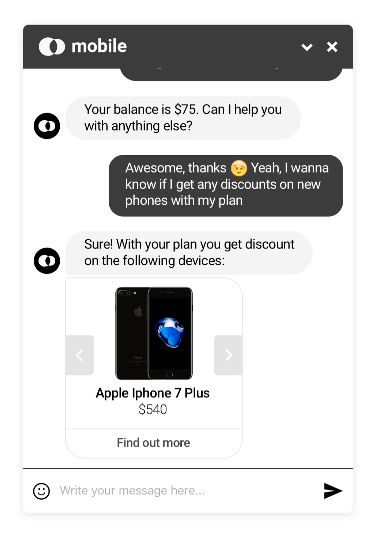 Aivo was started in Argentina in 2012 when its founders were looking for a way to reinvent the communication between companies and their customers. Today, with offices in nine countries, it is one of the world's largest and most successful AI chatbot platforms and handled over 120 million conversations in English, Spanish and Portuguese the world over in 2018. Their clients include Visa, Uber, LG and General Motors.
Aivo builds bots for organizations of all shapes and sizes. Their bots are AI-powered and allows your business to respond to customers in real-time with either text or voice, and can be set up to understand the different rules for each channel, then adapt to offer the appropriate auto-responses. It easily integrates with a number of third-party tools, including Salesforce and Zendesk.
Aivo's AgentBot pricing starts at $240 per month, which includes 1,000 monthly sessions. Additional sessions cost $26 per 100. It also comes with a free 30-day trial.
---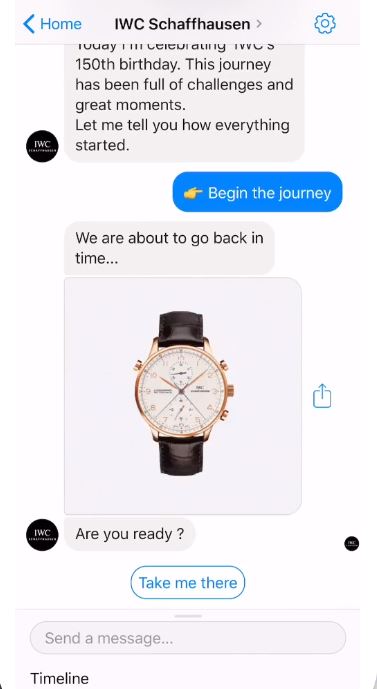 This French startup has developed into one of the best AI chatbots for Facebook Messenger. It helps businesses shorten their response time to frequently asked questions by answering them directly through the chatbots by detecting keywords in Facebook Messenger. As with most AI chatbots worth their salt, you can hand over the conversation to a human when necessary.
ItsAlive is a bit more tech orientated than counterparts such as MobileMonkey and Chatfuel, although it goes to a lot of effort to make sure non-tech users can also use it. Its bots work with keywords that it learns from users in order to answer their questions in future. It also makes use of recipes to automatically respond when users use specific keywords or phrases. You can add as many recipes as you want and switch them ON/OFF as you want.
Big clients include Coca-Cola and Johnson & Johnson. Its free plan lets you send 1,000 messages per month. Its Pro Plan is $99/month and includes full analytics and KPI's, as well as lead generation and Intercom support.
---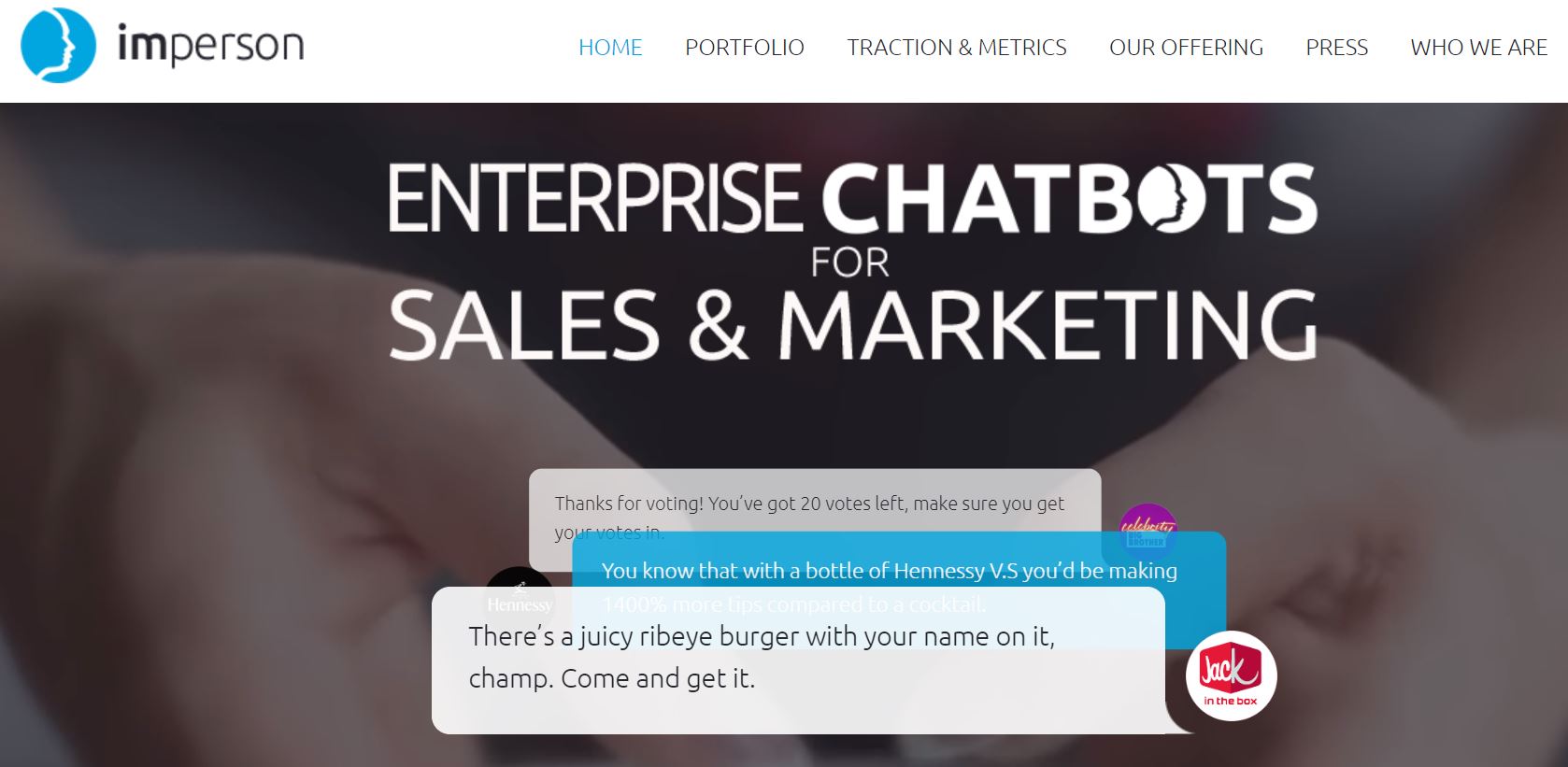 Imperson is one of the leading agencies in enterprise chatbots that support text, audio, video, AR, and VR on all major messaging platforms. Its full-service creative studio deploys and hosts your bot, and provides an advanced analytics dashboard including real-time insights to improve performance. They also monitor your chatbot's performance and continuously customizes it based on user behavior.
The conversation navigator uses relationship memory, NLP user intents, and deep dialogue context to lead conversations. And an AI moderator helps to achieve customers' goals.
According to its website, Imperson strives to build its bots to use natural language that is tailored to each brand's authentic voice in order to create connections with customers that translate to relationships.
Its partners and clients include Disney, Microsoft, Amazon and National Geographic.
---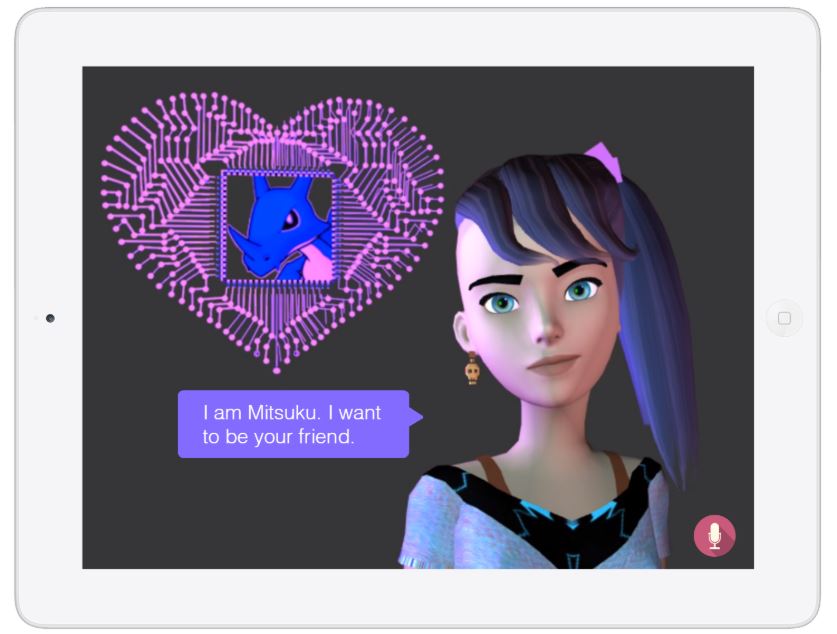 Pandorabots is one of the oldest and largest chatbot hosting services in the world and more than 300,000 chatbots have been built on this platform, including the widely acclaimed Mitsuku chatbot. Developers and enterprises, including Fortune 500s and global brands, use Pandorabots' cloud-based services to build conversational interfaces for applications and the Mitsuku codebase can be licensed from Pandorabots and incorporated into other chatbot applications.
The platform supports an open standard scripting language called Artificial Intelligence Markup Language (AIML) and while it's easy to use even for those who don't have a programming background, it drives sophisticated conversations. Its bots can be built and deployed on web, mobile, home hubs, and popular messaging platforms like Twitter, Telegram, Line, and Slack.
Pandorabots has a free service that allows you up to 1,000 messages/month and two bots, a developer plan at $0.0025/message and up to 10 bots and custom enterprise plans.
---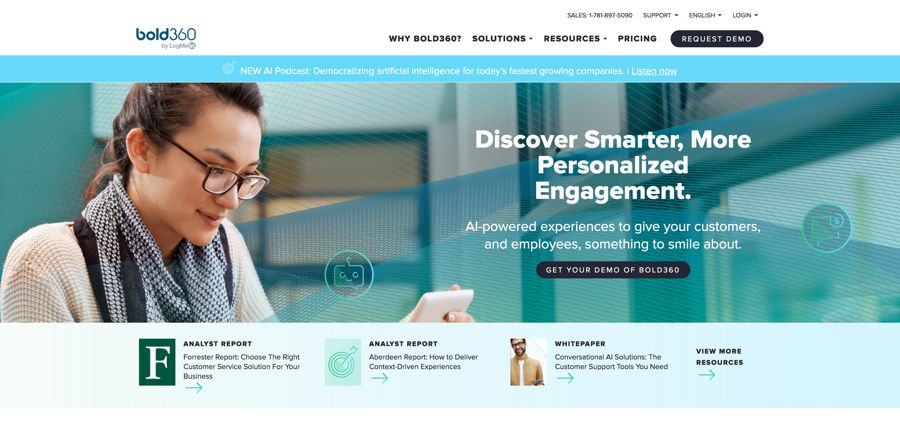 As the industry's most tightly integrated agent and bot solution, Bold360 uses AI to help agents be more efficient and provide seamless transitions from bots to agents. What makes Bold360 unique is that it patented its own natural language processing technology to help brands build chatbots that can understand their customers' intent without the need of keyword matching. Its conversational AI can interpret complex language, remember the context of an entire conversation, and reply to customers with natural responses. Customers can even buy your products through the chatbot. You can also give your chatbot its own personality and run it on most messaging channels. Bold360's customers include companies such as Intuit, Edible Arrangements, and Vodafone.
---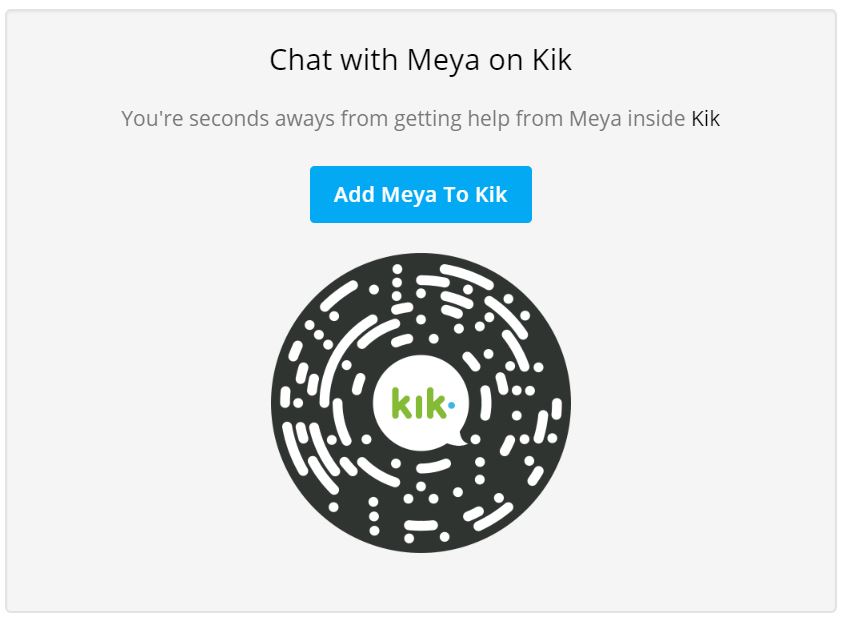 Meya AI assists you in building sophisticated bots or 'cognitive applications', as they call it, without getting stuck on the basics. Its cognitive framework contains everything you will need to build an AI bot and lets you build, host, and train your cognitive application/AI bot in one place.
Its Bot studio has a code editor, test chat, live debugger, and visualizer. It integrates seamlessly with third-party applications and lets you easily scale your bots to take advantage of those that are most popular.
Meya has a dedicated customer support manager that you can communicate with through a private Slack channel. You can expect to receive a response within 12 hours of any query.
Its cloud-based system lets you and your team work collaboratively by allowing you to connect directly to your business backend to send and receive data. You'll also be able to gather insights into your customers and keep them engaged with your business.
Meya offers a 14-day free trial. Its standard plan costs $99/month.
---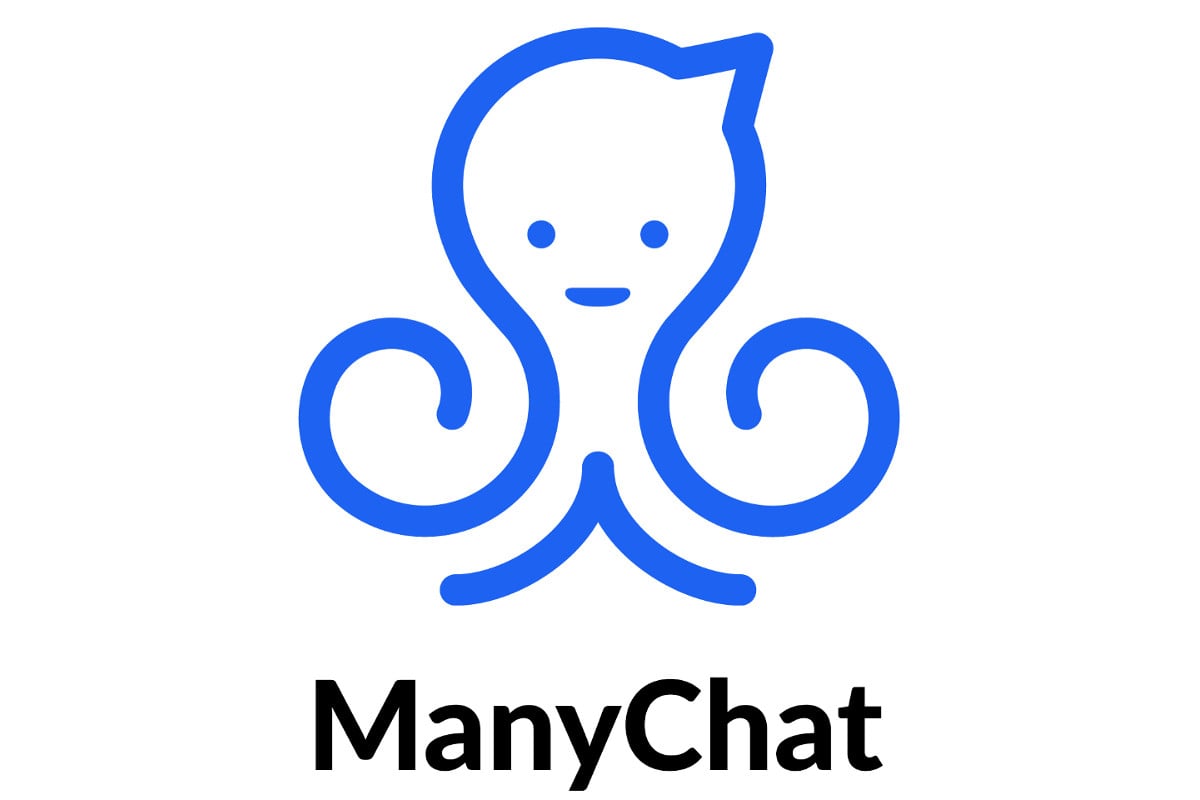 ManyChat is great for creating Facebook Messenger bots for marketing, sales, and support and to grow ROI and revenue. The platform powers more than 400,000 businesses across the world and has supported 1B+ monthly business-to-customer conversations. Its visual drag-and-drop bot-builder allows even novices to set up a Facebook Messenger bot.
It also provides tools to grow your Messenger audience. It lets you broadcast content to all of your subscribers at once. Broadcasts are not based on an algorithm, but go out to your subscribers, who, once they signed up, are forevee yours. You can also automate your Messenger marketing and send messages from RSS, Facebook, Twitter and YouTube based on time delays or certain user actions.
Sign up for free and upgrade to a range of packages depending on how many subscribers you have.
---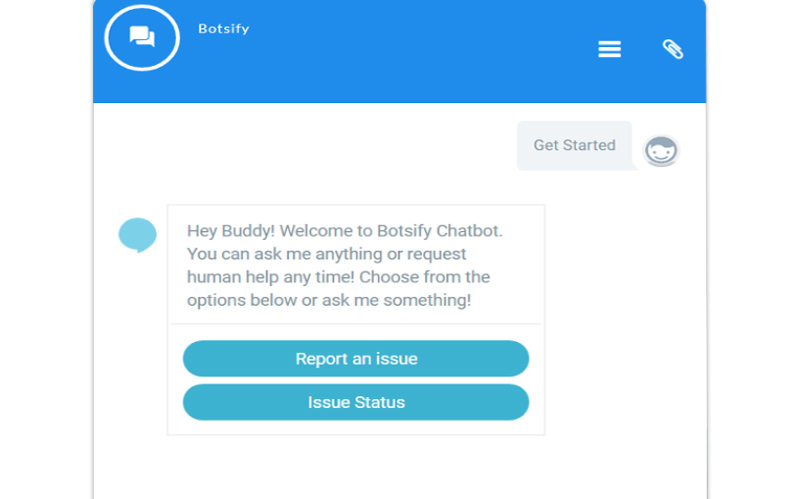 If you're in a rush to get your bot set up and going, Botsify is the platform for you. It is an extremely easy tool to use and you don't need any programming knowledge to use it. For instance, it lets you create intelligent chatbots for sites like Facebook Messenger, Slack and others without coding. With customizable templates and a drag-and-drop interface it's as user friendly as they come. The bot can be taught how to handle complex conversations in the future and allows for a live agent to take over a conversation at any point, which can be very helpful if a human intervention is required urgently.
The platform introduces conversation forms which collects information from users through chatbot conversations and it offers plugins for integration of your platform with chatbot via JSON API or RSS Feed. Their customers include Apple, Shazam and Unicef.
Botsify's Pro Plan costs $50 per month. It'll give you unlimited chatbots, up to 30,000 unique users and unlimited messages. It also offers a free 14-day trial.
---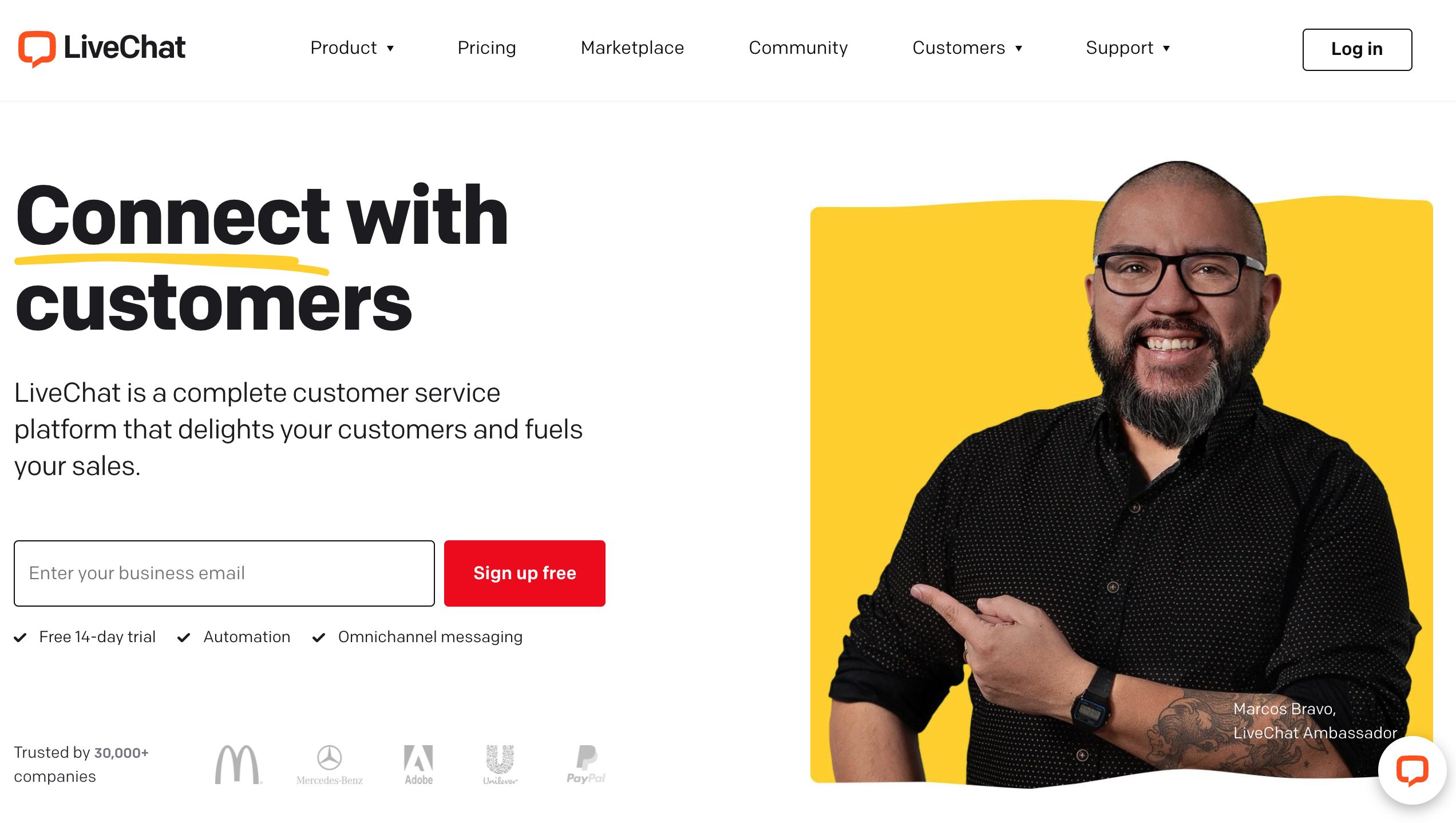 Live Chat is a unique AI chatbot platform that makes capturing leads and buying easy and straight-forward. The Control panel houses all the conversations developed on the web pages of a specific site. You can track users in real-time, start conversations, and even transfer from one exchange to another.
Live Chat has an excellent capacity for customization, analysis, and administration functions. The program is highly recommended by companies and websites with high volumes of traffic, capable of segmenting and managing a quantity of information.
---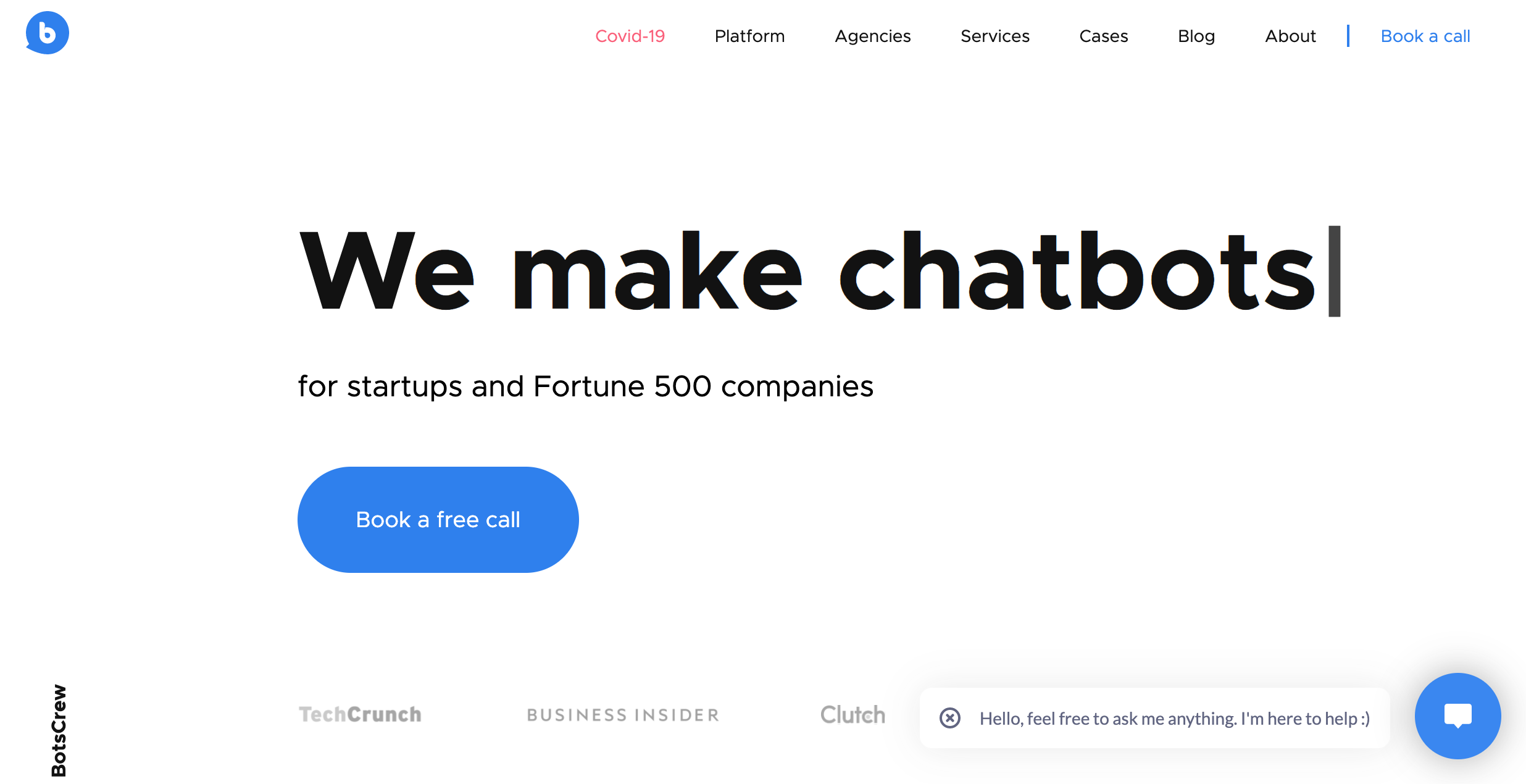 BotsCrew chatbot platform is a perfect solution for mid-market businesses and enterprises. The team can adapt the platform to your needs and guide throughout the development process. So it is a low-risk, low-effort solution that can be scaled and stored on your servers if you care about security. And it is more pricy, on the other hand.
You can start with the platform on your own. The platform was created with non-coders in mind. It allows you to create, update, train, and analyze the chatbots results on the go with a simple, user-friendly interface.
The platform currently offers multilingual bots with native integrations with FB Messenger and website widget. You can connect other platforms like WhatsApp, Twitter, Telegram, etc. on-demand. The bot you create will live on multiple platforms with no need to duplicate it.
The BotsCrew chatbot platform pricing starts at $600.00 per month, but the price can vary based on the integrations, features, and customization that you would like to have. The setup fee usually starts from $3K.
---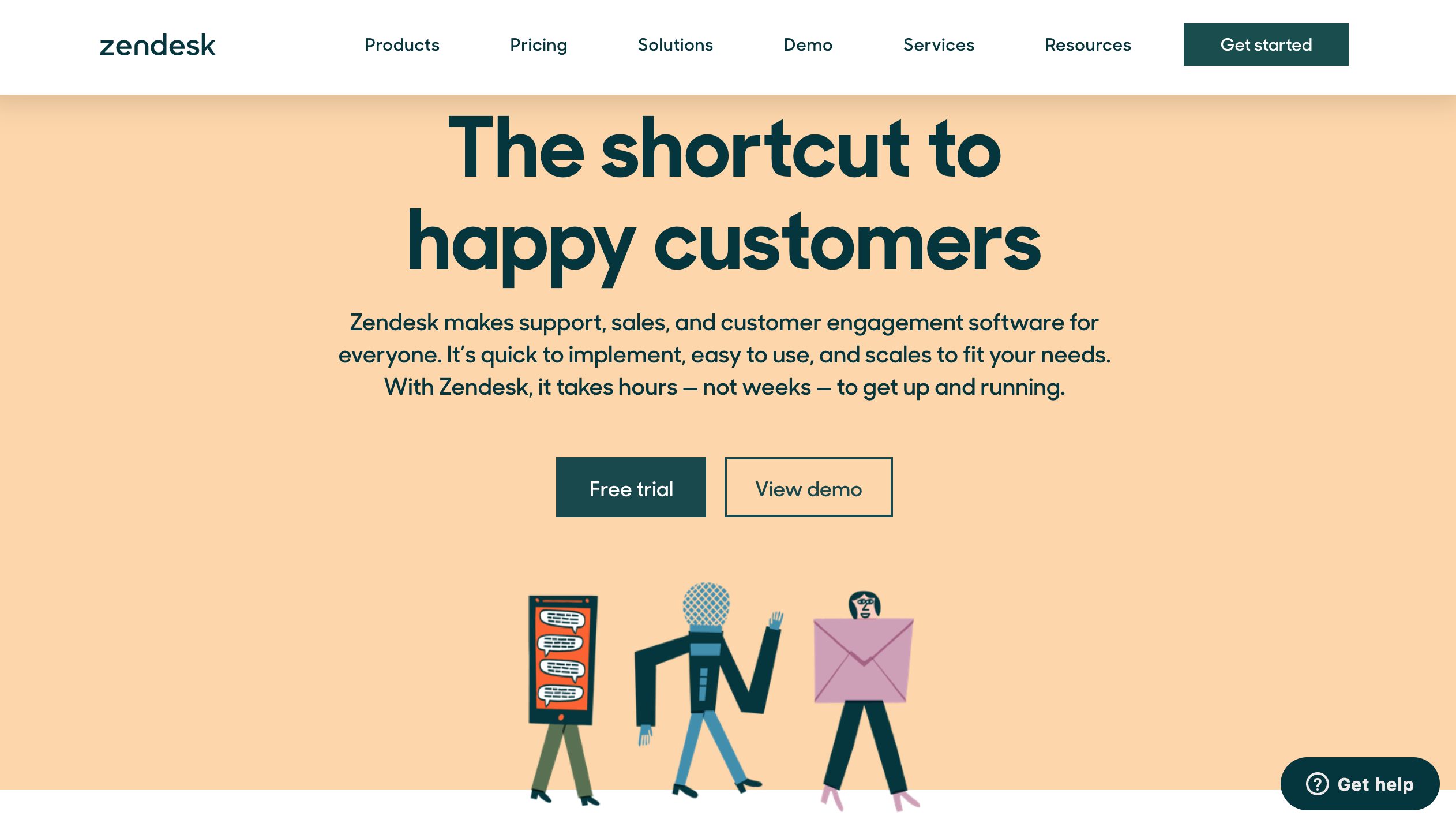 Zendesk is a popular AI chatbot platform choice for brands. One of the most straightforward chatbot applications to install, it's naturally integrated into all types of media: voice, chat, social networks.
The benefits of Zendesk are spectacular: advanced personalization, sales/conversion tracking, and real-time monitoring. It allows you to keep a record of all the information related to the chats from a single screen, allowing the configuration of objectives and different follow-ups.
It is one of the best live chat tools for a wide range of businesses, whether small or large. It can be a good fit for 24/7 online service portals that need a broad knowledge base and FAQ searches. Also, the free plan may be sufficient for smaller websites that only need to have one chat at a time.
---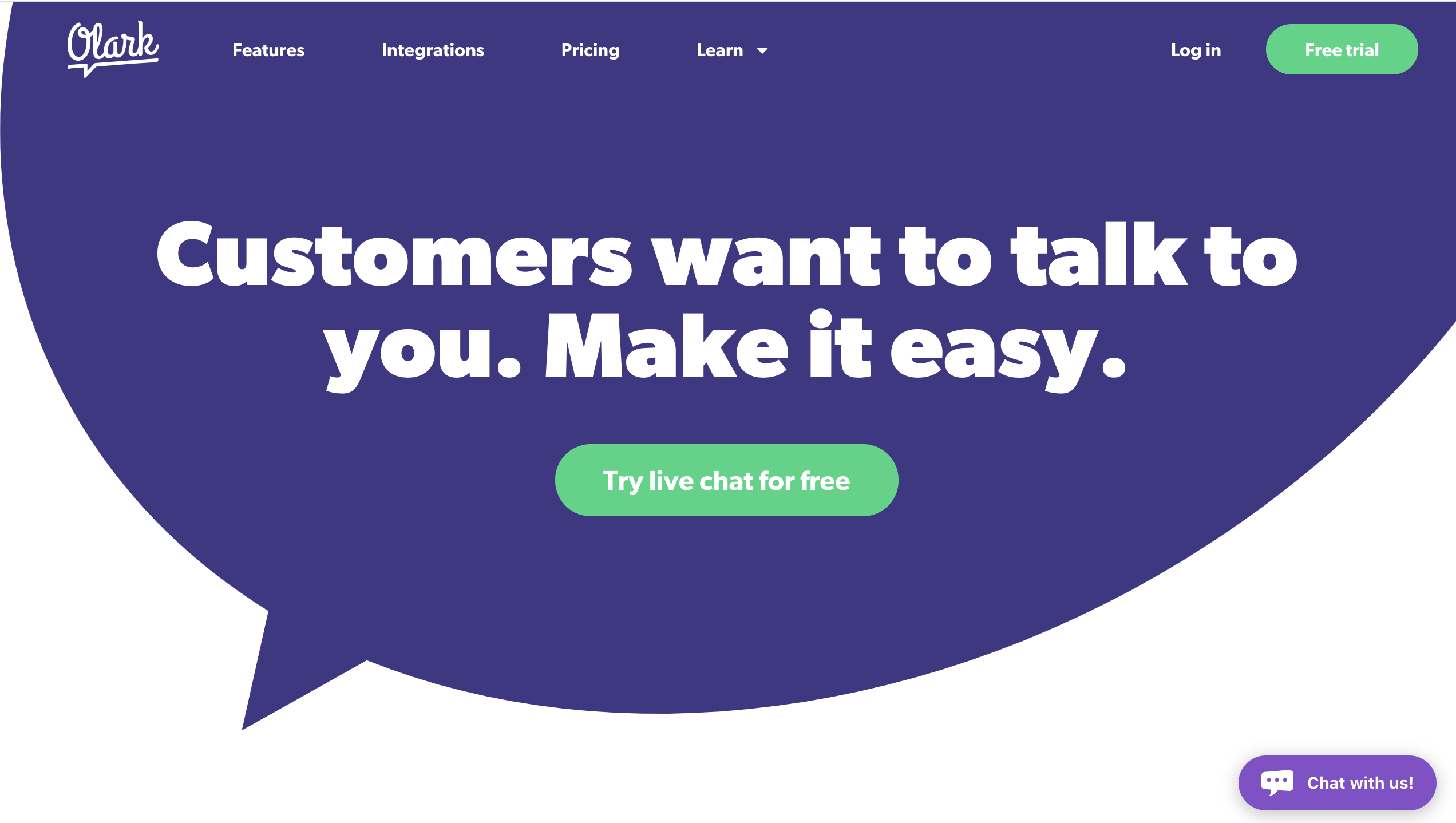 Olark is an excellent alternative for those businesses that want to attract potential customers, increase sales, and offer support. Olark's advanced plans offer everything you need for optimal interaction and management: customizable chat boxes, access to chat history, monitoring team performance, or the possibility of conducting pre-conversation surveys.
This conversational marketing platform is suitable for any business looking to grow, as it is designed to help capture leads, increase sales, and provide support.
---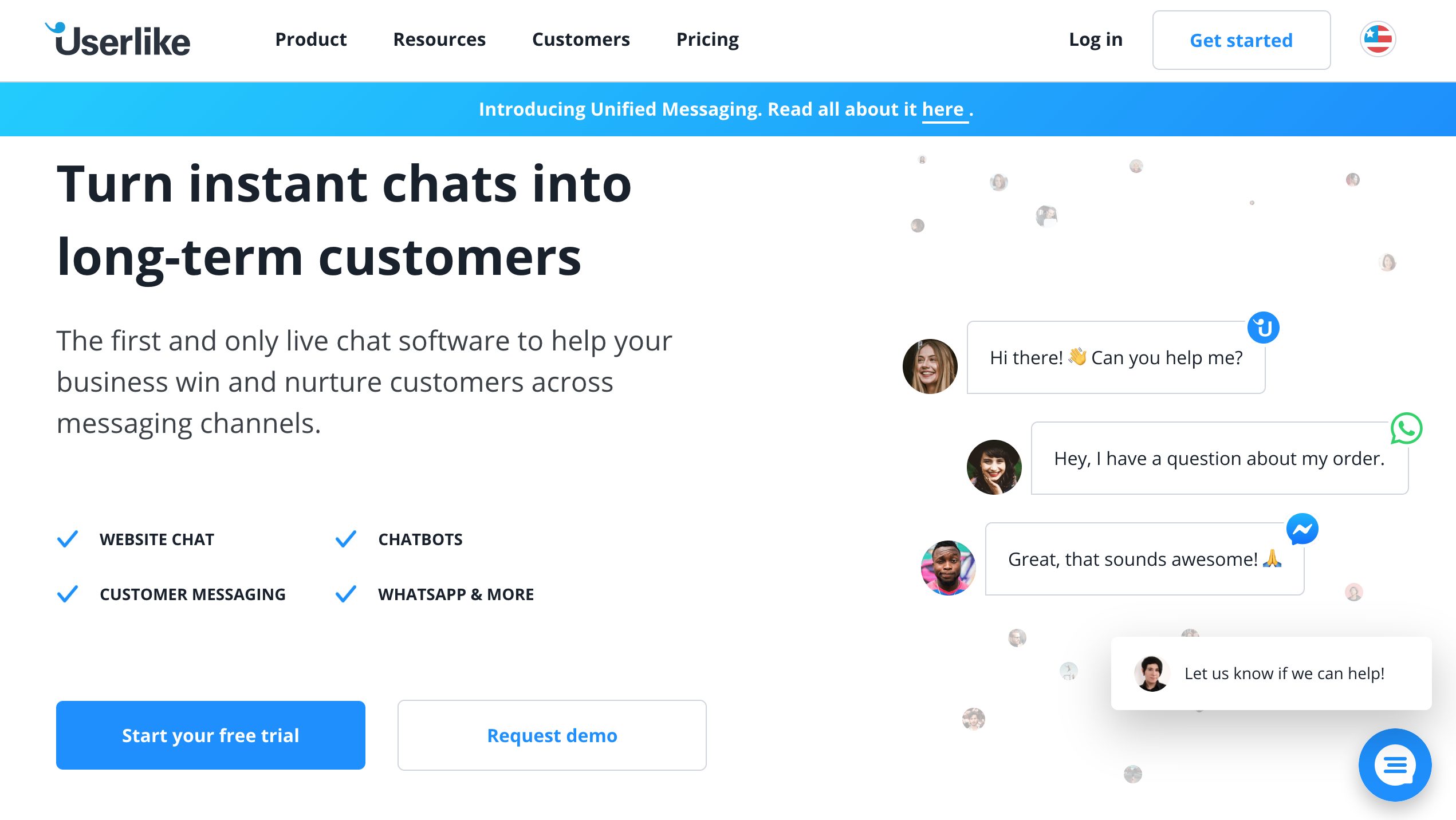 Userlike is a chatbot application that can be implemented on your WordPress site. It stands out for its excellent design that enhances the improvement of the user experience: chat widgets, chatbots, and natural integrations on different platforms, CRM, and email.
It also enables analytical reports to help you improve conversation performance and optimization. Finally, they provide GDPR-compliant services, making them an ideal option for companies in the European Union.
It is recommended for medium-sized teams that need a live chat that meets the needs of their customers and allows different integrations with their tools.
---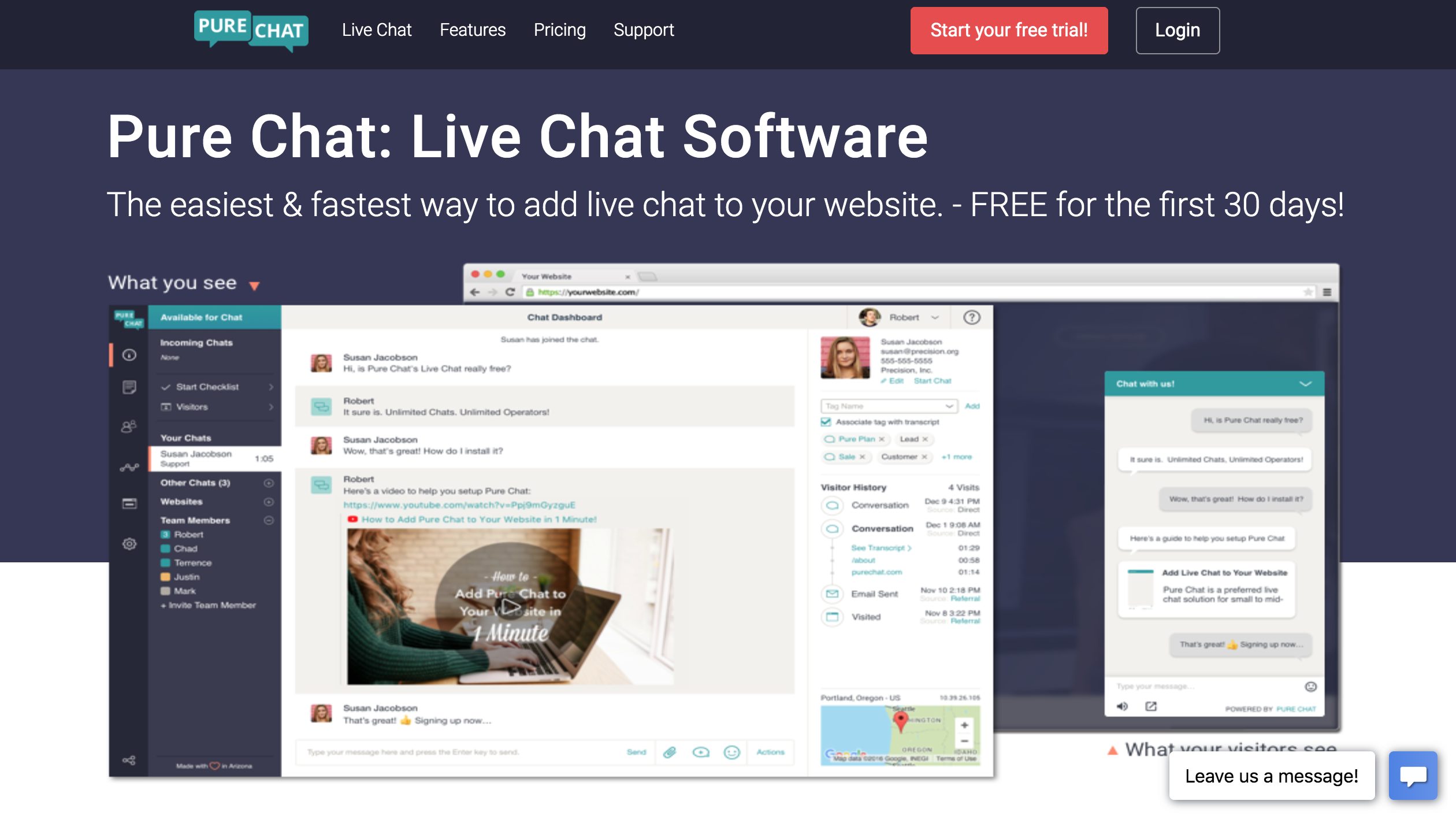 Chabot's application is designed to increase the skills and tasks of the sales and marketing teams. Supports unlimited conversations managed through a central panel, allowing changing chat widgets' appearance and access to histories.
The most advanced plans integrate analytics and user and conversation tracking options.
Pure Chat is the ideal solution for sales and marketing teams who need a dedicated live chat operator for pre-sales or support.
---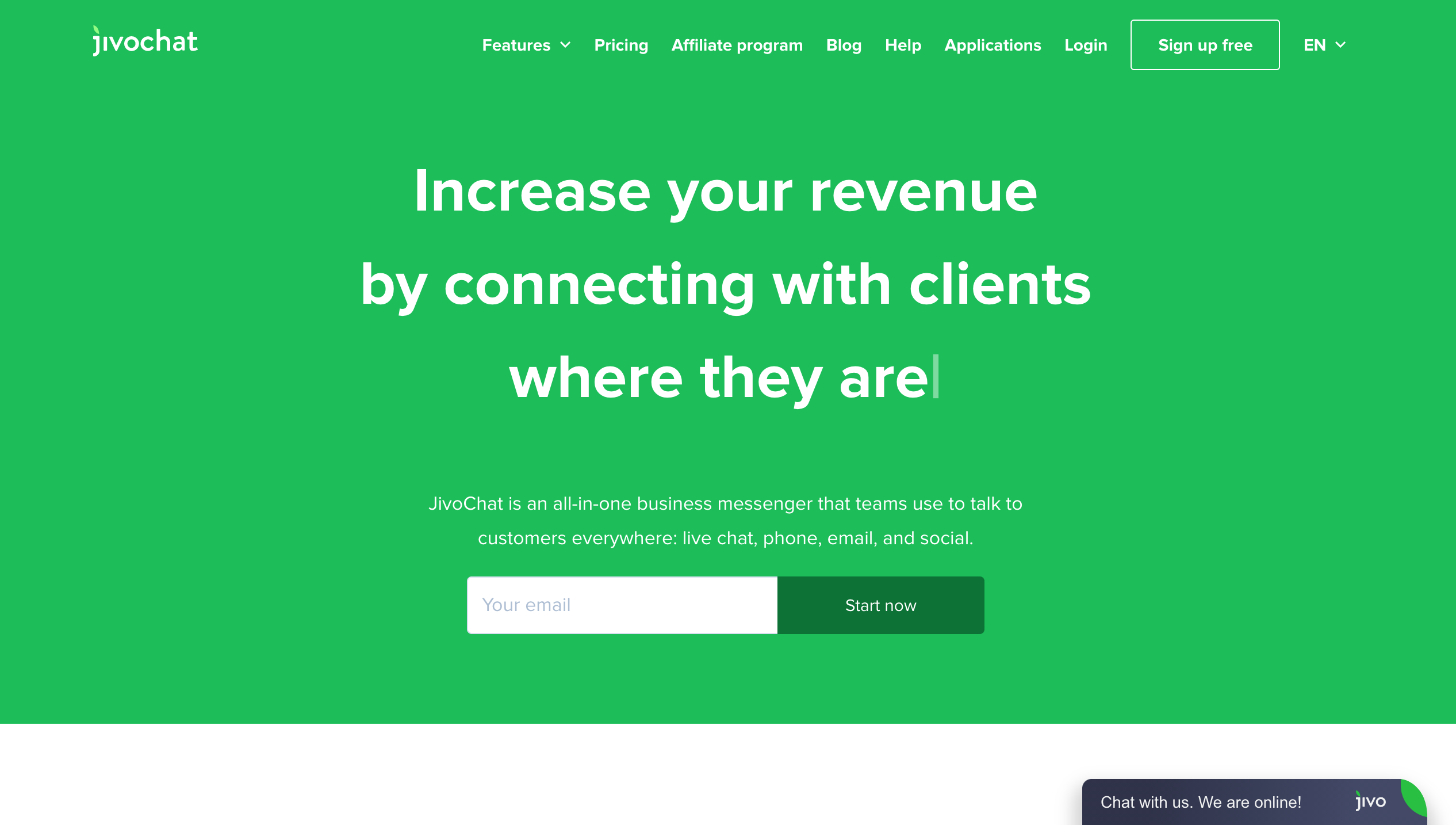 Jivochat is a live chat tool that allows you to manage and interact with customers in real-time through different communication channels such as your website, Telegram, Facebook, and Viber.
This tool allows you to respond to chats in an estimated time of 15 seconds, offering optimal customer service. Jivo Chat offers visitors a non-invasive chat with personalized messages. In this way, if the potential client decides to start a conversation, you or your agents will receive an immediate notification on their mobile or computer to answer this question.
It is very easy to use and integrates with daily tasks efficiently. Furthermore, it can be installed on an unlimited number of web pages at no extra cost. It is recommended for businesses that need a simple and inexpensive online chat solution to improve the experience with customers interacting in real-time.
---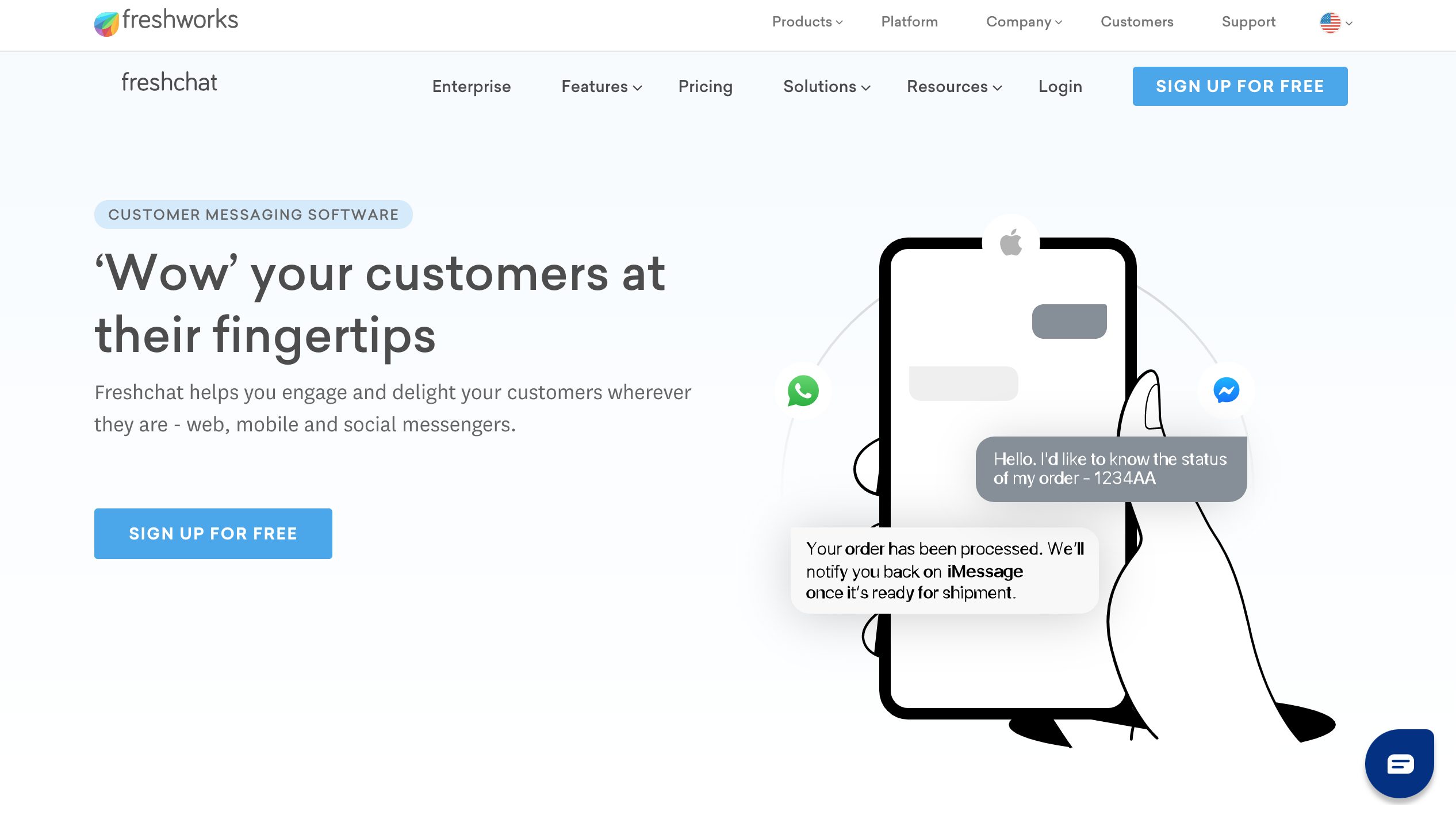 Freshchat is another one of the best live chat support services with unique features that rival other companies on this list. Conceived to be a conversation and messaging application allows you to start chats in real-time with clients through agents or artificial intelligence. It also offers customer history, live profiles, and custom bots for automated conversations.
Companies looking for not just a live chat, but a complete package on the same platform: support assistant, lead generation tool, marketing automation, and user engagement software.
---
It is an engaging free chatbot, fast, and very easy to handle. Its free version can be used without a time limit, which is a great advantage. Some of its features are as follows: more than 1880 emojis, support for 27 languages, offers unlimited chat history, tracking, and statistics. It is recommended for: Any customer service team that needs a fast, reliable, and scalable live chat.
---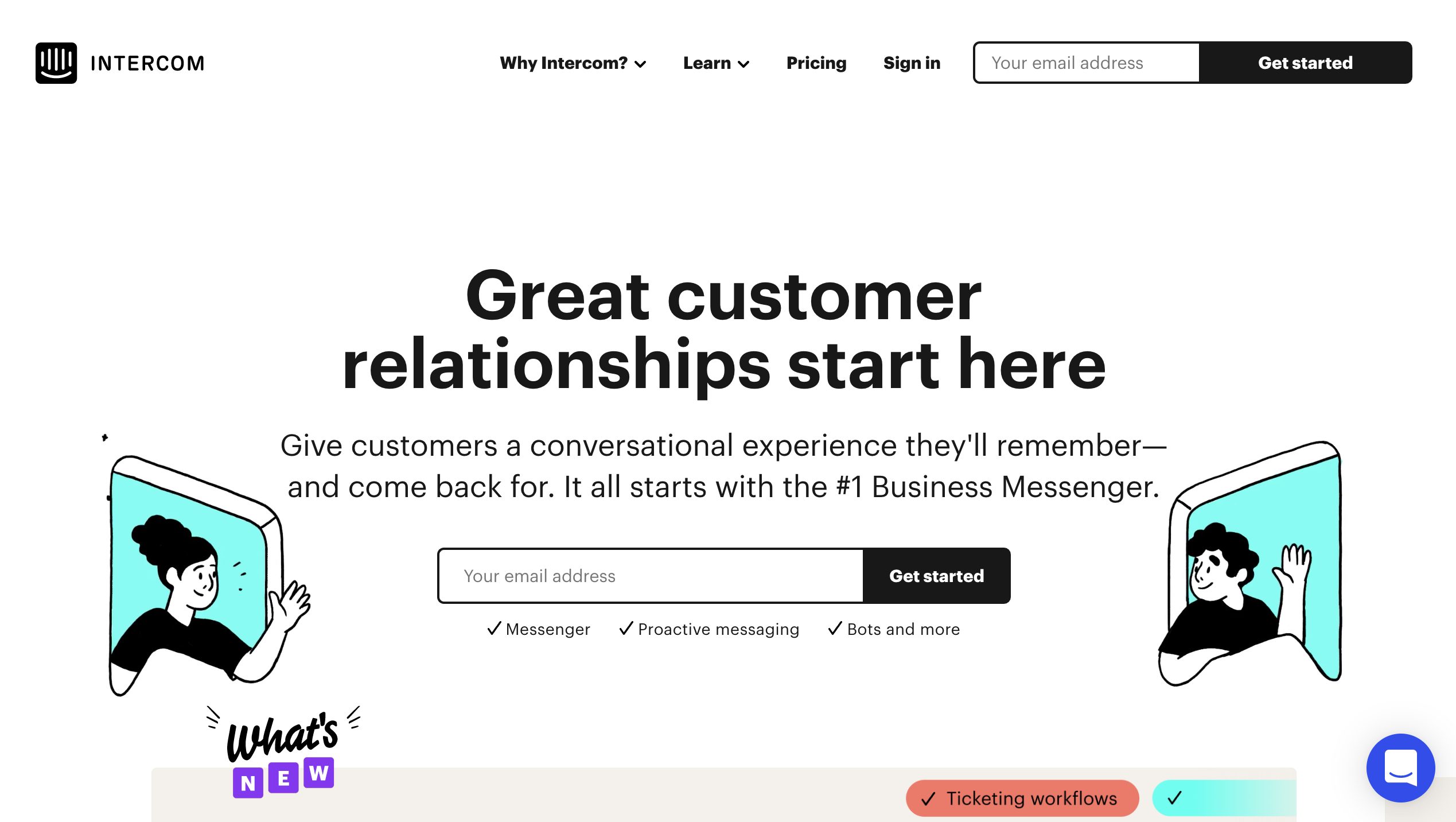 This powerful chatbot system links your responses based on user behavior and artificial intelligence to understand and benefit from user interaction. Intercom chatbots use visitor browsing information, data, and automated tasks to target users, allowing for more personalized interactions.
It is recommended for any customer support platform based on user behavior and smart segmentation to understand and benefit from customer interaction.
---
Frequently Asked Questions
What are the best AI chatbot platforms?
There is a wide range of AI chatbot platforms available to help brands develop suitable chatbots to help them attract and retain customers. These AI chatbot platforms usually contain tools to help you develop and customize suitable chatbots for your customer base. We have examined 11 of the best AI chatbot platforms to build the best bot for your business:
Botscrew
Chatfuel
MobileMonkey
Aivo
ItsAlive
Imperson
Pandorabots
Bold360
Meya AI
ManyChat
Botsify
On which platform can a chatbot be deployed?
You can build a chatbot for your business on any of the AI chatbot platforms we have covered in this article. Select the one that appears most suitable for your needs and budget. You can deploy your chatbot in numerous places, basically wherever you wish to communicate online with the public, but don't want to tie up staff to have the conversation. These include website landing pages, messaging platforms (Facebook Messenger, WhatsApp, and the like), or in a mobile app.
What is AI-based chatbot?
A chatbot is a special computer program using artificial intelligence (AI) that conducts a conversation with people, either via auditory or text input. Programmers design chatbots to realistically simulate how humans speak as conversational partners. Brands increasingly use chatbots to communicate with their customers and market their products. An AI chatbot can understand language wider than a set of pre-programmed commands and continues learning based on the inputs it receives. It can make changes based on patterns and become smarter over time.
What is a chatbot platform?
There is a wide range of AI chatbot platforms available to help brands develop suitable chatbots to help them attract and retain customers. These AI chatbot platforms typically contain tools to help you develop and customize chatbots for your customer base. Each of the chatbot platforms takes its own approach to help you build the most suitable AI chatbox for your needs. Many of the platforms enable you to create a basic chatbot for free and add improved tools for an additional cost.
Is Alexa a chatbot?
Amazon Alexa, Apple Siri, Microsoft Cortana, and Google Assistant are all, to some extent, chatbots. A chatbot is a special computer program using artificial intelligence (AI) that conducts a conversation with people, either via auditory or text input. This is precisely what you do when using Alexa and the other products mentioned. However, none of these apps are as advanced as many other chatbots – they really only give predetermined answers to questions that people ask, rather than using much AI to learn from conversations.
How do you make an intelligent chatbot?
The easiest way to make an intelligent chatbot is to sign up for one of the platforms we have covered here. You can use the tools they provide to make a chatbot that will meet your needs. Most of these platforms cater to non-coders. For example, Botscrew allows you to create, update, train, and analyze the chatbots results on the go with a simple, user-friendly interface. Many other platforms also cater for non-technical users. Some, like ItsAlive and Pandorabots, target more technical users.