Partner with
Influencer Marketing Hub
Join the world's Top Marketing Agencies and unlock the power of purchase intent traffic. With over 5 million readers per month, our
hyper-granular
focus ensures unmatched ROI for our partners.
High Intent Traffic
Attract high-quality leads with our targeted PPC partnerships, driving valuable and engaged visitors to your agency.
Unparalleled Reach
Maximize your exposure across various niches, leveraging our platform's 5 million visitors.
Social Proof
Enhance your credibility and trustworthiness with genuine reviews and testimonials from industry experts and satisfied clients.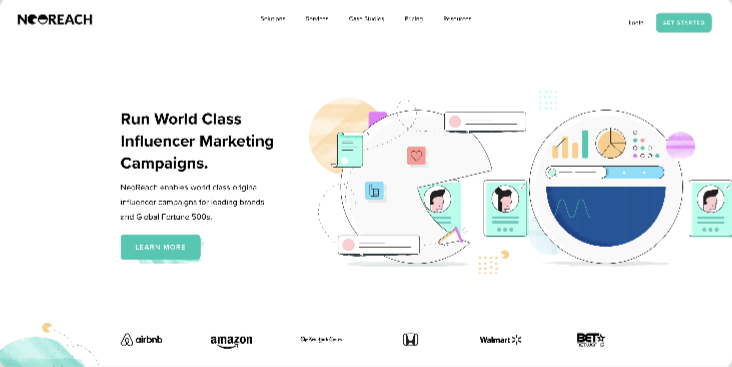 Through this partnership, NeoReach was able to generate significant revenue and achieve their growth goals, all while building a strong, collaborative relationship with a trusted partner…
April 18th, 2023
"How NeoReach generated a 7x return on investment with IMH within 8 months"
"Influencer Marketing Hub's PPC partnership program has helped NeoReach generate well over 693% ROI within 8 months of coming on board. Their platform has been instrumental in connecting NeoReach with high-intent traffic and building strong relationships with the global leading brands." - Chris Gonzalez, CMO - NeoReach
Need: NeoReach aimed to differentiate themselves in a competitive industry and drive high-quality leads to their platform by specific influencer niches at a early stage.
Solution: Influencer Marketing Hub tailored a hyper granular strategy and planned content that supported their services, which led to a 5X ROI within the first month.
Result:
5 Million
visitors per month are drawn to Influencer Marketing Hub to find the right solutions for their marketing needs.
United States - 62.9%
United Kingdom - 6.6%
Canada - 4.6%
Australia - 2.8%
Germany - 2.7%
Others - 20.4%
C-Level Executive - 34%

Founder / Owner - 16%

Digital Specialist - 19%

Other - 31%
Retail - 13.1%
Financial Services - 5.0%
Entertainment - 7.2%
Digital Tech - 15.2%
Beauty & Healthcare - 19.6%
Apparel & Fashion - 16.9%
Rest - 23.0%
Our PPC programs are highly focused and data-driven, ensuring that your campaign delivers optimal results.
With over 5 million monthly visitors, we cover thousands of hyper-granular niches and services with marketing agency offers, giving your message maximum visibility to the right audience.
By leveraging our authoritative content and proven conversion tactics, we help you drive more business impact from your campaigns, delivering exceptional ROI and long-term success for your brand.