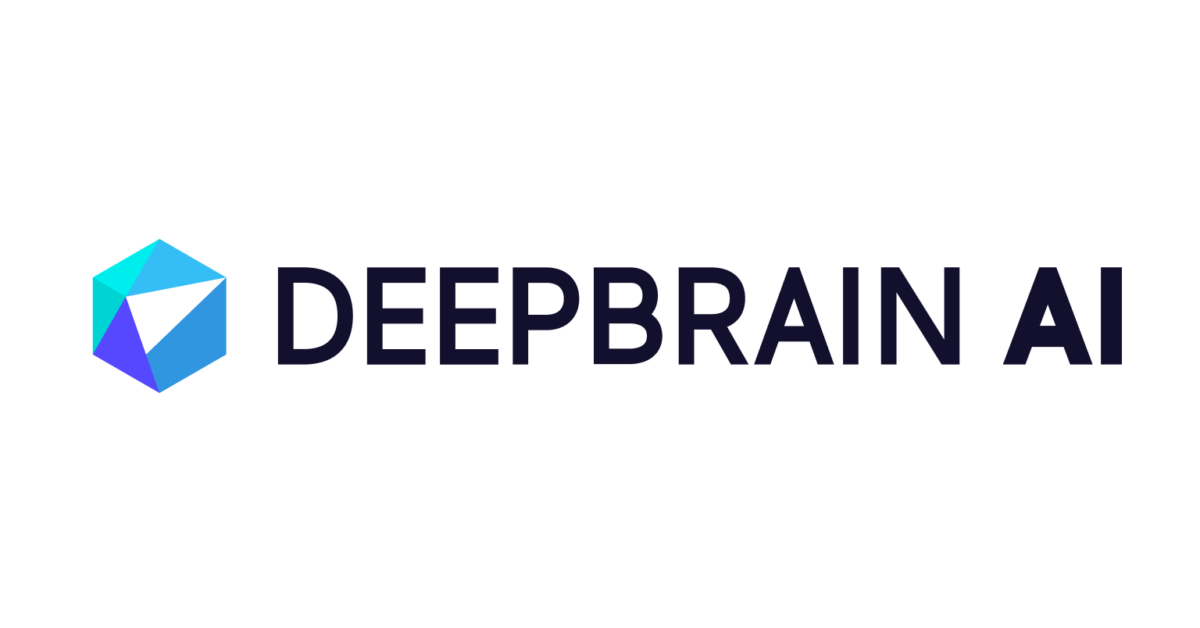 Best for:
Small, Medium, and Large Media & Retail Brands, Agencies, Educators
The essence of DeepBrain AI rests on a philosophy that seeks to blend the best of human intellect with AI's computational prowess. This isn't about a future where machines overtake humans; instead, it's about fostering human-AI collaboration to enhance the potential of every individual. By developing state-of-the-art AI tools that are accessible and user-friendly, DeepBrain AI dedicates itself to enhancing daily experiences, transcending traditional barriers.
DeepBrain's applications span across diverse industries, from finance and healthcare to media and retail. These are sectors that, despite the ubiquity of AI, often find themselves wrestling with the practical implementation of this technology. DeepBrain AI fills this void by not only providing AI Human solutions but also guiding businesses to reap empirical benefits from them. This tailored approach has enabled companies to optimize their processes, cutting time and cost without sacrificing quality or human touch.
While the rapid advancement in AI video generation has brought several players into the field, DeepBrain AI's commitment to both innovation and human experience sets it apart. Their approach not only offers a platform for generating videos but also nurtures creativity, making the process accessible and personalized. By bridging the gap between what technology can achieve and what human creativity can envision, DeepBrain AI is crafting a future where technology doesn't replace humans but elevates them, fostering a world that values both efficiency and empathy. The interplay between these two dimensions forms the core of DeepBrain's mission and underlines why they stand as a luminary in the field of AI video generation.
---
---
Key Features
DeepBrain AI's Video Generator epitomizes technological innovation, addressing diverse user needs. Scripting is simplified with ChatGPT, allowing human-like text creation and freeing you from content and grammatical worries. The AI avatars, customizable in appearance, clothing, and accessories, provide a lifelike viewer experience aligned with your brand. Adjustable settings offer control over aesthetics and tone, from voice to color scheme, shaping either serious or light-hearted moods. With support for multiple languages, it broadens your reach, empowering the creation of videos and scripts in various languages, crafting a tool finely attuned to global necessities.
Creating realistic AI avatars
With DeepBrain's AI Studios, the creation of lifelike AI avatars is brought to an entirely new level, revolutionizing personalized and efficient communication in business. Offering more than 100 native AI avatars, covering various ethnicities and professions, all proficient in over 80 languages, this technology is designed to reflect the world's diversity. By capturing human models on video and training a machine learning system, DeepBrain achieves real-time avatars with movements that include synchronized lips, mouth, and head, providing a hyper-realistic experience. This has been employed to great effect by broadcasting companies to create AI news anchors with synthesized voices and faces. The application of AI avatars extends to enhancing customer service, offering a personalized touch, and thereby increasing satisfaction and loyalty. The result is a tool that not only mimics human interaction but elevates it, making DeepBrain's AI avatars a game-changing innovation.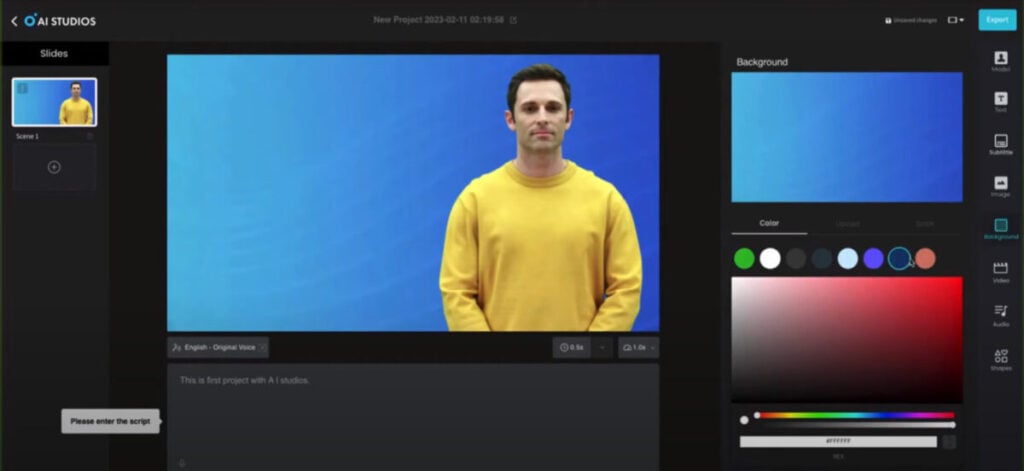 Ready-made templates
DeepBrain's customizable, user-friendly AI video solution offers over 100 pre-built templates, covering various use cases from business presentations to YouTube events. Ready-Made Templates allow the quick crafting of stunning AI videos, ideal for diverse platforms. The advantages include saving time and effort while ensuring an optimized, professional appearance. Whether it's a presentation, commercial, or tutorial, these templates, often designed by experienced professionals, guarantee quality and consistency across different projects. The additional benefit? The availability of a free AI video creation demo, with no credit card required. Prestigious endorsements such as the CES Innovation Awards and partnerships with major tech companies highlight the quality and innovation of this video generator tool, facilitating video creation that is not only more accessible but effortlessly professional.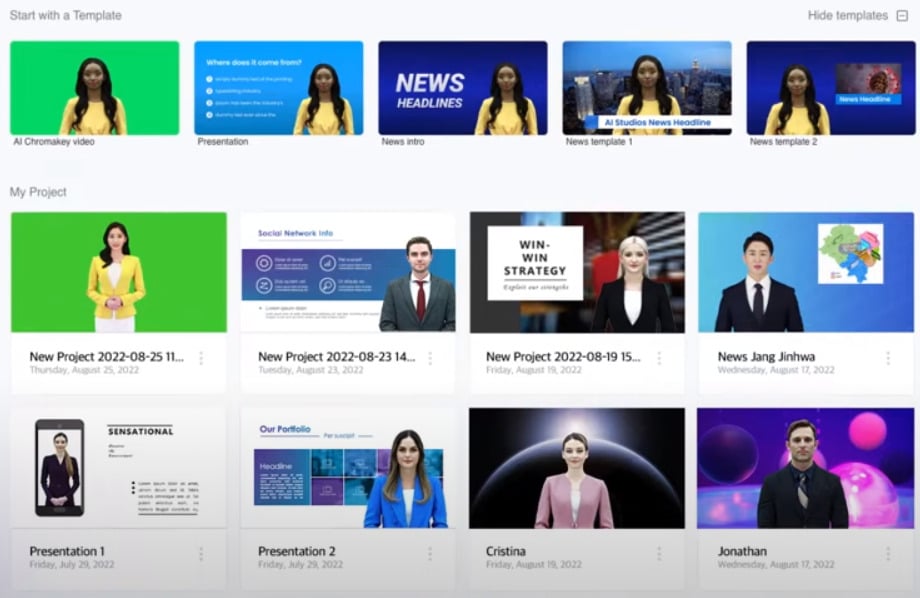 AI for recruitment
The recruitment solution revolutionizes the hiring process by offering 10 AI interviewers that auto-generate relevant questions, saving up to 80% of time and resources. The process is streamlined into four steps: creating questions, sending interview emails, conducting AI interviews, and submitting interview videos. This system allows scalability without needing more human interviewers and supports multiple languages. The technology also analyzes an applicant's propensity and characteristics, extracting suitable questions based on resumes. It's an efficient and cost-effective way to handle hiring - efficiency, redefined.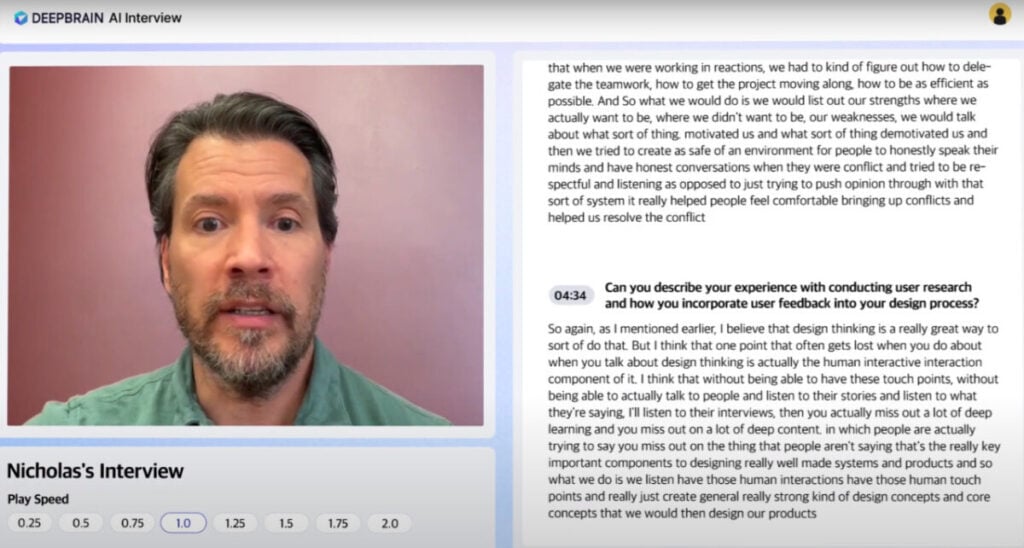 AI video generator
AI Studios introduces the best AI-powered text-to-video editor, transforming text into video within minutes using photo-realistic AI avatars. This innovation cuts traditional video creation costs and eliminates the need to hire actors, filming teams, or deal with costly equipment. The intuitive tool offers custom-made AI avatars that best fit your brand, ensuring both ease of use for beginners and efficiency in the entire production process. Further features include 'One-Click' subtitle generation, automatic PPT to AI video conversion, and a variety of templates for quick start-up. AI Studios, holder of 148 Artificial Intelligence Patents and a winner of CES Innovation Awards for two consecutive years, stands as a global leader in Generative AI.
---
Pricing
Price starting from: $30/Mo
DeepBrain AI Studios' Hyper-realistic AI avatar video service, recommended by 50,000 satisfied users for its time and budget efficiency, offers various plans tailored to meet individual needs and aspirations. Recognizing that AI video generation's demands vary from newcomers to established professionals, DeepBrain AI has meticulously crafted its pricing structure to cater to different segments.
Starter Plan
For those just starting out, the Starter plan, priced at $30 per month, presents an ideal entry point. It provides 10 minutes of video per month, with up to 10 minutes and 6 scenes per video, and access to 100+ AI Avatars in 80+ languages & voices, all without any watermarks.
Pro Plan
The Pro plan, intended for small businesses ready to grow, comes at $225 per month. It includes 90 minutes per month, allowing videos of up to 20 minutes and 25 scenes, with priority video processing and API access among other features.
Enterprise
For long-term professional use and larger enterprises with more complex needs, the Enterprise plan offers a customized solution. It includes all the Pro features, with extended scenes per video, custom AI Avatar, and 24/7 priority support, with pricing to be determined after understanding your specific requirements.
The prices are 20% lower if billed annually.
---
Ease of Use
Central to Deepbrain's appeal is the capacity to produce hyper-realistic AI Avatar videos initiated simply from text. The standout aspect concerning its ease of use is the straightforward text-to-speech feature, enabling users to swiftly have a video ready in as little as 5 minutes. Such expedited video creation aligns with the demand for quick yet engaging content solutions. Additionally, the platform's extensive features, such as a range of AI Avatars, multilingual support, and customizable scenes, further accentuate its user-friendly nature. While the intuitive design facilitates beginners to dive into video creation, it's worth noting a potential hindrance for visual enthusiasts: the platform leans heavily on text, which could mean traditional video editing functionalities might be missed. Nevertheless, Deepbrain AI simplifies the complex realm of AI-infused video creation for its users.
---
Conclusion
DeepBrain AI, a leading force in the AI realm, has pioneered the next wave with conversational AI avatars, seamlessly blending hyper-realistic 2D and 3D avatars with chatbots across various platforms, from mobile apps to the metaverse.
Their AI Human solution showcases DeepBrain AI's dedication to excellence, offering features like face swapping, integration with chatbot builders, and support for over 200 languages in a user-friendly package. Its adaptability spans sectors like retail and education, promising consistent engagement that mirrors genuine human interaction.
In essence, DeepBrain AI's foray into conversational avatars has redefined customer engagement. Merging advanced tech with user-centric design, they're not just innovating but defining the next standard for AI-driven communication.
Frequently Asked Questions
What are some applications of DeepBrain AI's technology?
DeepBrain AI can be used in financial consultations, educational coaching, retail inquiries, video consultations, and more, providing versatile and cost-effective solutions.
Is it easy to integrate DeepBrain AI with other chatbot builders?
Yes, DeepBrain AI offers easy integration with various chatbot builders such as Google Dialogflow and IBM Watson using the Webhook method.
Is DeepBrain AI recognized in the AI industry?
Yes, DeepBrain AI is globally recognized for its technical competitiveness, holding 148 AI patents, winning CES Innovation Awards, and ranking among the Global Top 250 Generative AI Enterprises.
Can DeepBrain AI's avatars be used inside the metaverse?
Yes, moving to the metaverse was always part of the plan at DeepBrain AI, and all their AI models are 3D-ready for a more immersive experience inside the metaverse.
How does DeepBrain AI ensure hyper-realism in its avatars?
DeepBrain AI employs sophisticated technology to create hyper-realistic 2D and 3D AI avatars that support real-time conversations with full HD quality, simulating a human-like appearance and interaction.
Does DeepBrain AI offer a diverse cast of AI avatars?
Yes, DeepBrain AI provides over 100 fully licensed AI avatars ready to support video productions, and it can create enterprise-ready custom avatars, offering diversity in appearance and functionality.
Ease of Use

Features

Support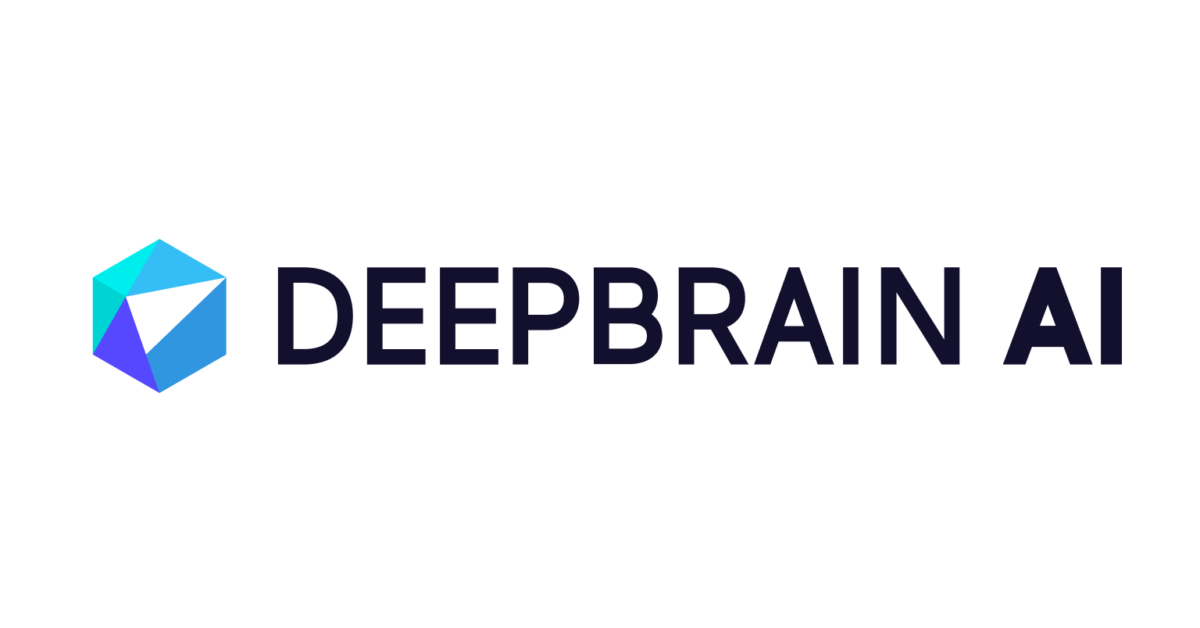 Best for:
Small, Medium, and Large Media & Retail Brands, Agencies, Educators