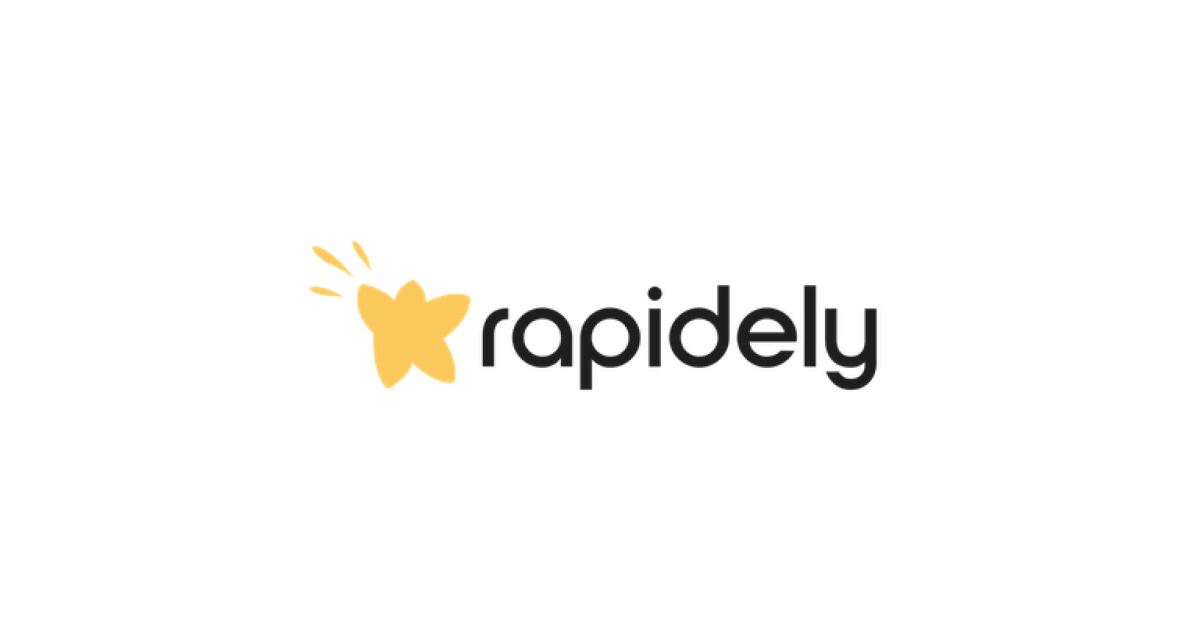 Best for:
Small Businesses and Entrepreneurs
Rapidely is a transformative tool designed to elevate the sphere of social media content creation. Its foundation is built on the sophisticated GPT-4 technology, providing entrepreneurs and social media professionals an unparalleled experience in generating captivating content with remarkable ease. Behind this innovative tool are two tech pioneers whose dedication to efficiency and automation led to the creation of Rapidely.
---
---
Key Features
Strategy Tool: At the heart of this platform is its core feature - the AI's capability to masterfully craft a comprehensive content strategy. It then follows this up by generating a month's worth of finely-tailored written content that aligns seamlessly with the devised strategy. Furthermore, users benefit from the added convenience of either immediate publishing options or the flexibility to schedule ahead.
Collaborate, Plan & Post: This feature allows users to manage multiple accounts with ease, collaborate with their teams and maintain a seamless workflow. The result is an effortless social media management experience, even for the busiest entrepreneurs.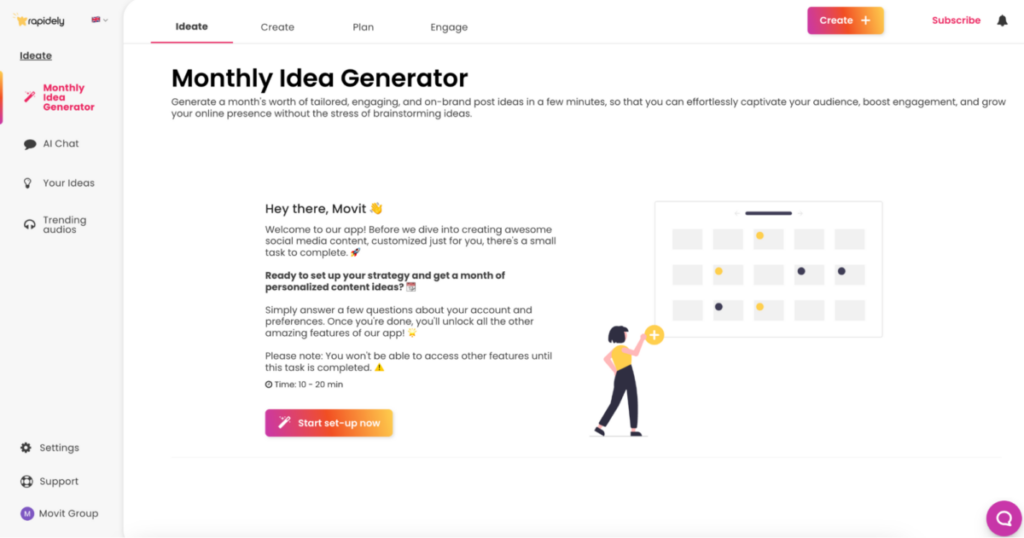 Monthly Calendar Generator: No more fretting over your content calendar. With this tool, watch it populate with engaging, customised posts in less than a minute. This is stress-free planning taken to the next level.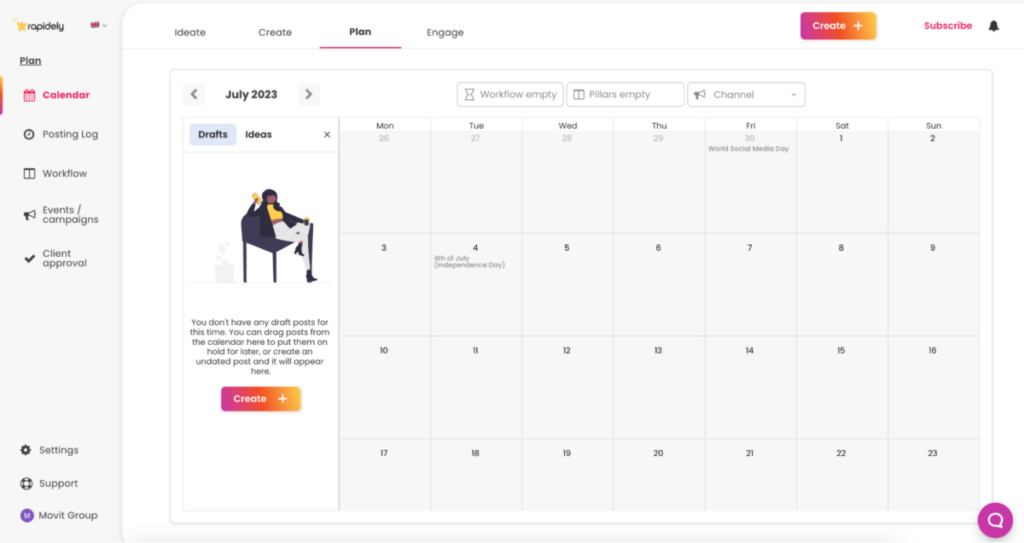 Carousel Maker: Create engaging, on-brand carousels in no time - be it explainer posts or quick tips. The carousel maker makes it easy to boost your social media engagement.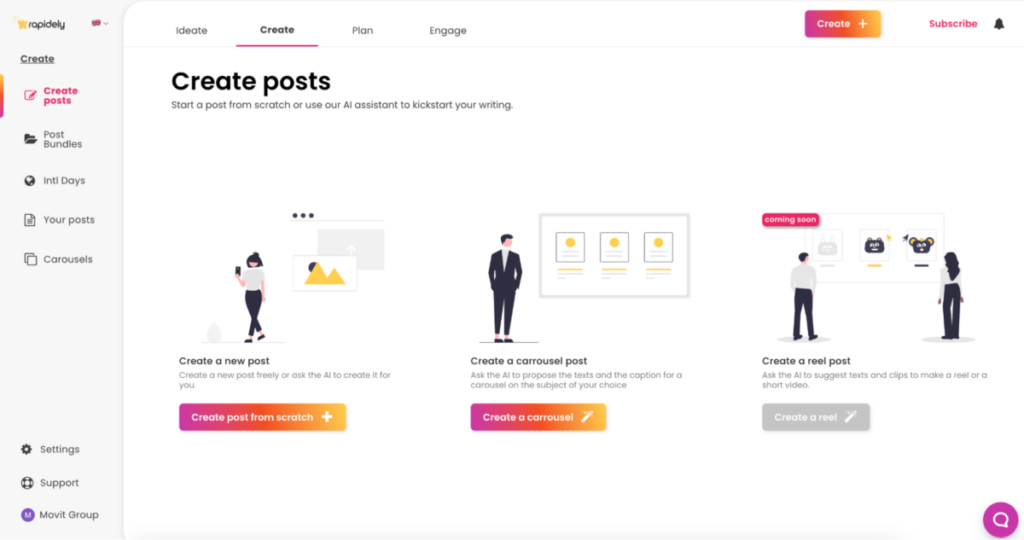 Captivating Content: Using advanced AI tools tailored to your brand voice, you can craft compelling captions in seconds. This feature aims to simplify your content creation process and increase the appeal of your content.
Trending Audios: Stay in tune with the latest sound trends for your Reels with this feature. This dynamic collection updated weekly keeps you on top of the trends.
---
The Story Behind Rapidely
The creation of Rapidely is a story of understanding, innovation, and dedication. The founders, both tech enthusiasts with extensive backgrounds in digital marketing and AI, realised the potential of GPT-4 technology and the benefits it could bring to social media content creation. They envisaged a tool that could alleviate the stress of content creation while boosting the quality and effectiveness of social media engagement.
Drawing from their own experiences of the time-consuming nature of content creation, the founders sought to build a tool that could not only expedite the process but also increase its efficacy. The result was Rapidely, an AI-powered platform that simplifies and streamlines social media content creation, helping users unlock their social media potential.
---
Pricing
All plans come with a 5-day free trial or 10k tokens. Yearly billing options are available, offering savings equivalent to two months of service."
Creator Plan:
Priced at $29 per month, this plan is perfect for individuals and small businesses. It includes one business account, one user, automated monthly post creation, advanced AI copywriting, AI chat, 200,000 AI tokens per month, a workflow manager, and chat support.
Social Pro Plan:
At $69 per month, the Social Pro Plan is designed for those managing multiple accounts. It includes all features of the Creator plan, plus client collaboration tools and priority chat support, for up to four business accounts.
Enterprise Plan:
Starting from $89 per month, the Enterprise plan offers features that cater to businesses and brands. It includes two or more business accounts, two or more users, and team collaboration tools. You also receive assisted strategy setup. Additional accounts and team members can be added for $19 and $20 per month respectively.
Agency Plan:
Starting at $129 per month, this plan is aimed at agencies and large teams. It offers 10 or more business accounts and five or more team members, along with the features of the Social Pro plan, team collaboration tools, and a dedicated account manager. Additional accounts and team members can be added for $19 and $20 per month respectively.
---
Conclusion
In conclusion, Rapidely represents the future of social media content creation. With advanced AI technology at its core, it helps users craft compelling content in a fraction of the time, transforming the way entrepreneurs and social media professionals engage with their audience. With a free trial available, it's certainly worth exploring Rapidely's potential to enhance your social media strategy. Rapidely has received positive reviews for its capabilities in idea generation and content creation for social media platforms. Users appreciate its user-friendly nature and constant platform improvements. Some users have reported limitations in word count and the tone of the AI-generated content, but the company has been responsive and committed to addressing these issues.
Features

Ease of Use

Support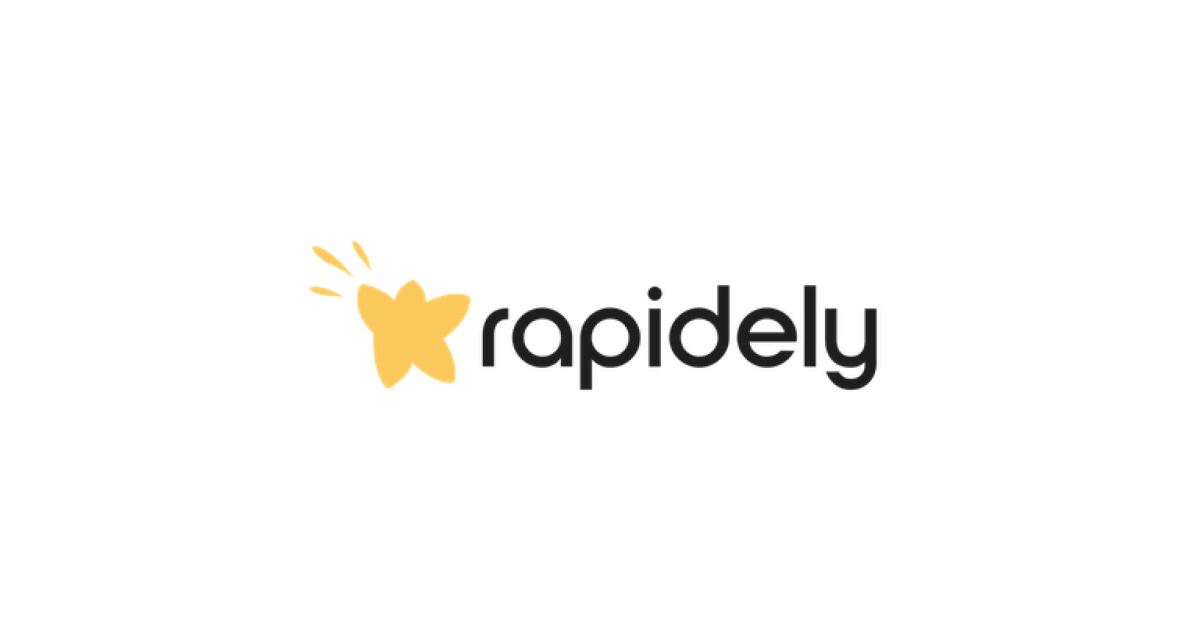 Best for:
Small Businesses and Entrepreneurs