Best for:
Brands and Agencies of all sizes
Brand24 has a history of seeming to know what's next in marketing, and then jumping on to that trend before it becomes a trend. Four years ago, we looked at their platform and introduced it like this:
It's not an overstatement to say that social media has transformed the marketing landscape. It didn't take long for brands to figure out banner ads, pop-ups, and overlays—the digital versions of old school advertising techniques—just weren't very effective ways to reach consumers. The new "social" aspect of media meant that marketers couldn't just deliver one-way content; they needed to start a dialogue. It didn't take much longer for Brand24 to appear on the scene with software that gave these businesses a way to listen for and manage the thousands of conversations that were happening on the daily.
Founded in Poland in 2011, Brand24 was one of the earlier entries into a still-growing space, and they quickly established a name for themselves. An article from 2013 announcing their entry into Indonesia also casually mentions the fact that the two year old software had already been adopted by companies like Intel, Panasonic, and AirFrance. Back then it might have been easy to explain their rapid rise with the nascent social listening market still relatively uncluttered. But six years and 2.4 million Polish zloty in funding later, Brand24 is still going strong.
Well, four years after that review—and a growing customer portfolio later—they've done it again. In 2011, they proved themselves prescient by creating a social media listening tool before anybody really understood what social media was good for. Now it's 2023, and while most of the MarTech industry is scrambling to figure out ways to build out AI-powered tools, Brand24 is out front again.
The AI component adds context to the raw data, helping Brand24 users make sense of the metrics and numbers. It's cool to know that 1,000 people are talking about your brand, but it's useful to know the general sentiments behind what they're saying. Beyond giving you context, the AI also gives you hours and hours of your life back, saving you the time of scrolling through mention after mention across more than 25 million sources. These go beyond social media, and include news sites, discussion forums, and even audio/visual sources like podcasts and videos. It's a true 360 degree view of your brand from an outsider's perspective, all the better to inform the rest of your marketing plans.
---
Summary:
---
Pricing
Brand24's four tiers of pricing are designed to appeal to businesses of all sizes. Each tier has a ceiling on the number of keywords you can listen for. You're not just listening for your own mentions, but also those of your competitors, as well as any topics that your audience would be interested in. The higher the tier, the more you can hear. We didn't mean to make that rhyme, but here we are.
Individual, $99/mo ($79/mo if billed annually) —

1 user can track up to 3 different keywords and see up to 2k of these mentions per month. The data you'll get is sourced from Facebook, Instagram, Twitter, Reddit, blogs, news sources, and other forums, and is updated every 12 hours. The only AI feature included here is for Sentiment Analysis, and basic analytics and reporting is included.



Team, $179/mo ($149/mo if billed annually) —

Unlimited users,

7 keywords, 5k mentions per month, updated every hour. All the same data sources as above, plus: LinkedIn, Medium, Quora, YouTube, and TikTok. Basic AI is available, same as the Individual plan, plus some additional analytics.



Pro, $249/mo ($199/mo if billed annually) —

Unlimited users, 12 keywords, 25k mentions per month, updated in real time. All of the data sources as above, plus: Reviews, Twitch, and Newsletters. 1 additional AI feature (Discussion Leaders), plus AI reports for 1 project per month, advanced analytics, and advanced reporting.



Enterprise, $499/mo ($399/mo if billed annually) —

Unlimited users, 25 keywords, 100k mentions per month. All data sources as above, plus podcasts. All AI features as above, plus Topic Analysis and AI reporting for up to 3 projects per month, advanced analytics, and advanced reporting.
---
The Features
Getting started with Brand24 is easy enough: you create a "Project," which is essentially the umbrella name for the social presence you'll be tracking mentions for. You can then add your keywords to each project. You can, especially at the higher levels of service, track for campaigns, or more than one brand—maybe you have a project for your brand, and a project for your main competitor and you define specific keywords to each. It's a pretty flexible setup, allowing you to search for things by either just typing in a list of keywords or by doing it in a more advanced way, specifying keywords to exclude to make sure you're not pulling in mentions that weren't what you were looking for.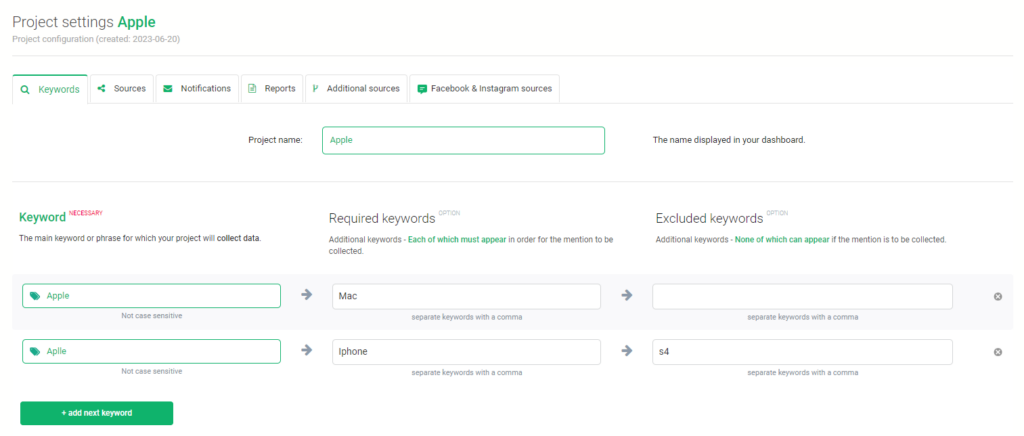 Your initial look at the Dashboard, once you've created your Project is both reassuring—because there's a lot of data to look at—and maybe a little intimidating—because there's a lot of data to look at. The left-side navigation menu itself has more than a dozen different sections to click through to, starting with Mentions. Remember, Brand24 doesn't just pull in mentions from social media so much as it crawls through the entire web looking for every occurrence of your keywords. When you click on Mentions, then, you're brought to a screen that looks like a social timeline of its own. At the top is a graph that charts your mentions and reach over time, and then below that are all the individual mentions that Brand24 found.
Unlike a social timeline, there's no algorithm selectively feeding you content. Brand24 simply ingests all the mentions of your keyword, up to the maximum dictated by your subscription tier, and displays them in reverse chronological order by default: you're given multiple sort and filter options should you want to view things by channel or by sentiment, for example. For social posts, the entries look just like they do where they were posted: a Facebook post that talks about your brand, for instance, has all the familiar icons along the bottom for likes, comments, and shares. You're also given a quick indicator of the general sentiment (positive, neutral, or negative) surrounding this mention, as well as a menu of actions you can take for each post: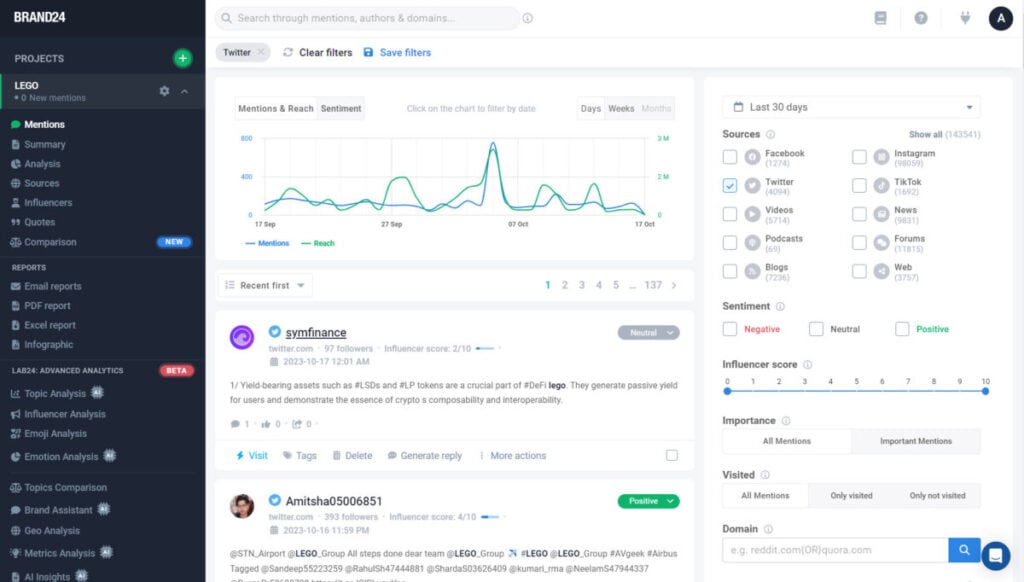 Visit

takes you directly to the source of the mention

Tag

allows you to classify the mention according to whatever internal system your team uses

Delete

removes it from your feed

Generate Reply

gives you the ability to interact with social posts directly from the dashboard

Add to Report

throws this entry into a PDF along with any other entries and compiles them into a single report
There are more actions than this, but you can see just from this level of detail at the Mention level how powerful a tool Brand24 can be. It makes quick work of interacting with users on social, allowing you to defuse customer service issues or just surprise and delight random brand loyalists.
Move into the summary section and you'll get exactly what it sounds like: a summary of what your keywords are up to out in the wild. It's a collection of stats that can give you an at-a-glance, yet somehow holistic, insight into your overall online presence. You can dig into your most popular mentions, the sites that are the most influential in shaping perception, and the top profiles of people talking about you. There are also a host of stats, including the number of mentions, the number of sources, the number of interactions, and more.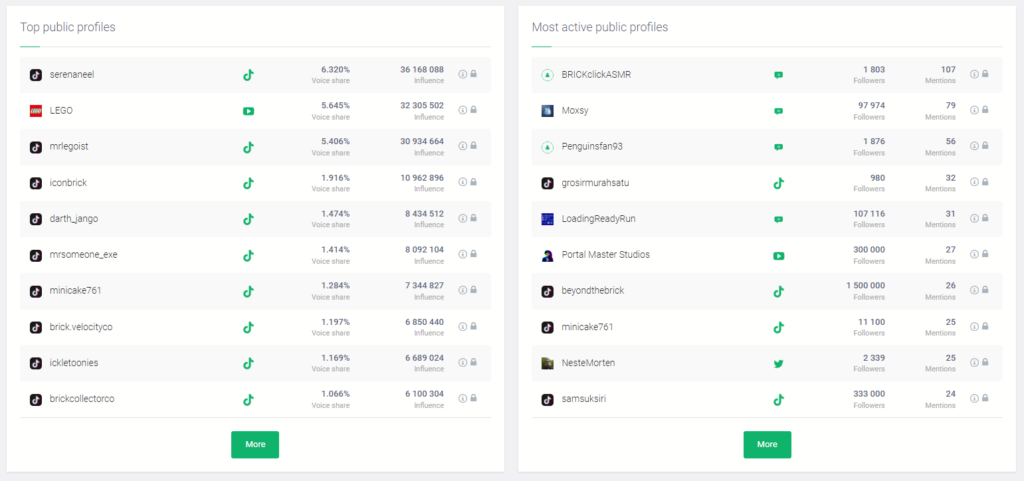 Moving on to the Analysis section, we had to wonder why this just wasn't part of the summary. Everything here is useful, it's just weird that there's a separate section that repeats things like "Most popular mentions," and gives more stats (Estimated social reach, Positive mentions, etc.) that would be just as at home in the summary section. There's also a great metric on this page, the Presence Score, that is essentially a summary represented as a number. You're given a score, on a scale of 1-100, measuring how big your presence is and also comparing that to other brands. Again, our gripe here isn't that this information isn't useful, it's just not really "analysis," and belongs in the Summary section.
The other thing is, Brand24 has so much great analysis built into it, they don't need to gild any data-based lilies here. In the Influencers section, for example, you get more than a listing of all the different user accounts that are having an impact on the conversations happening around your brand. You get metrics and scores that help you to sort, rank, and compare them easily. Brand24's comparison tool is exactly the sort of thing we expect when we hear the word analysis. It's been very much enhanced since our last look, and it was pretty great when we saw it last.
Comparing your brand to another is as simple as adding each project to the comparison tool and watching the data populate. Brand24 goes deep here, starting with a total number of mentions, then breaking down the sources and sentiment, comparing Presence Scores, advertising values (in dollars), reach on social and non-social sites, user generated content, and more. The report continues with graphs that chart mentions, reach, positive sentiment, negative sentiment, share of voice, as well as a breakdown of the different sources of mentions. The visualizations really help with digesting the data, and so we were excited to see that Brand24 added the ability to export to PowerPoint in addition to the eyesore that is a CSV file.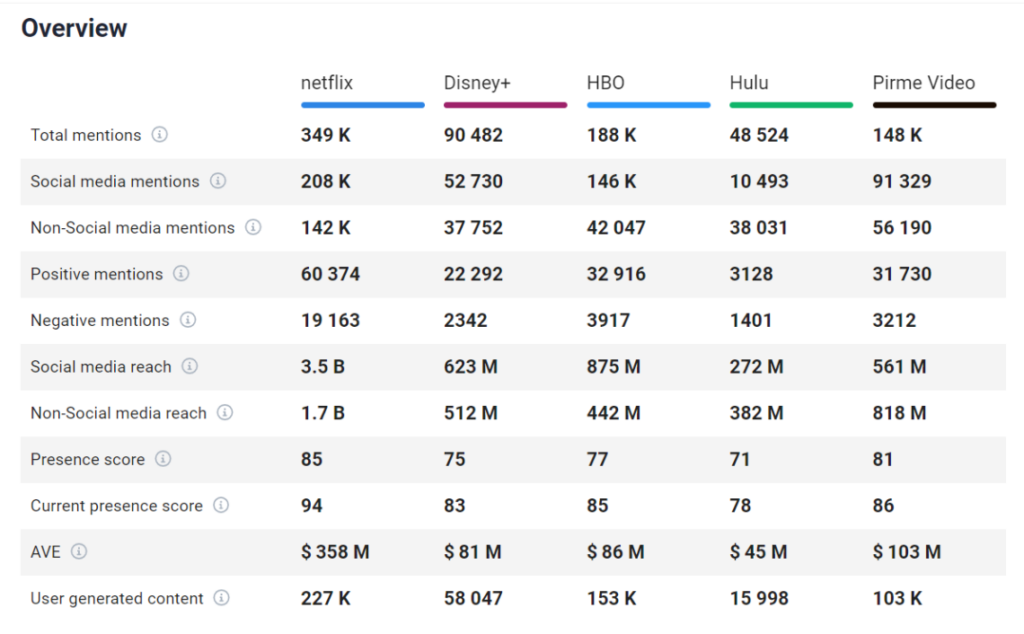 If this were all that Brand24 was offering, we'd call the solution a winner and move on to the next review. But there are still the new AI features to cover, and these are truly impressive. The Topic Analysis tool, for example, analyzes all the mentions that the listening algorithm collected and seeks to put them into the context of the conversations that are happening. So, for example, we here at IMH could run a topic analysis on our mentions, and we'd find that people are mentioning us in conversations around influencer discovery, marketing software, and creator tools. We can then dig into each of these conversations and get more info about popular phrases used in these conversations, sentiment, and categories. The AI identifies these conversations, names them, and creates a "topic map," a visual representation of each topic of conversation and how much activity surrounds each one. Topics are grouped according to similarity, too: the AI might classify "Influencer Discovery" and "Influencer Search" as two distinct conversations, but it will map them out very close to one another, because they're essentially the same topic.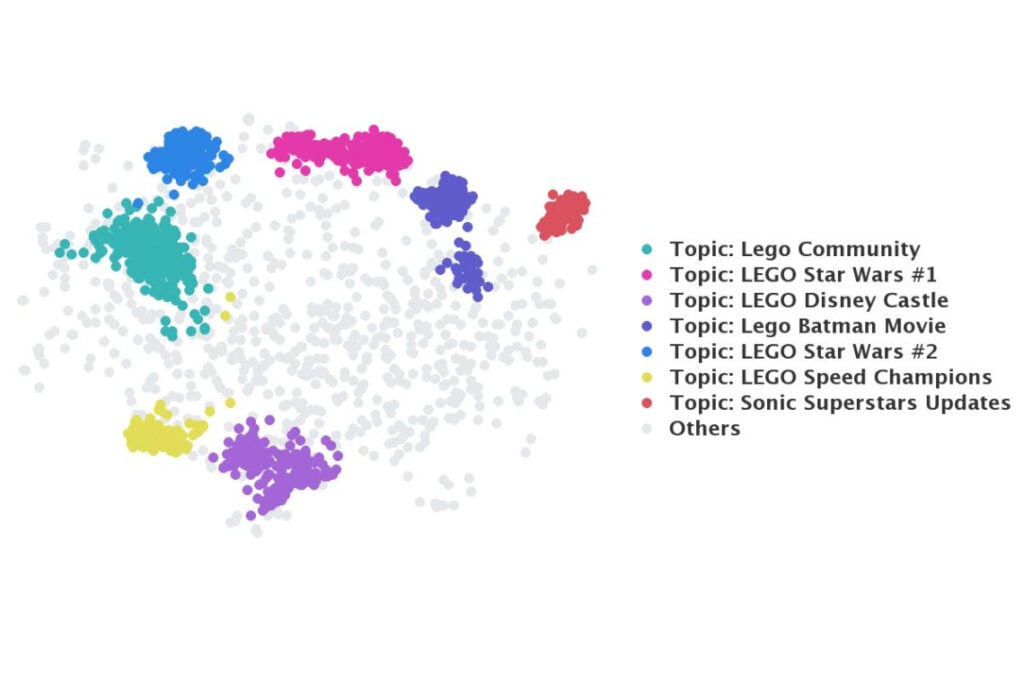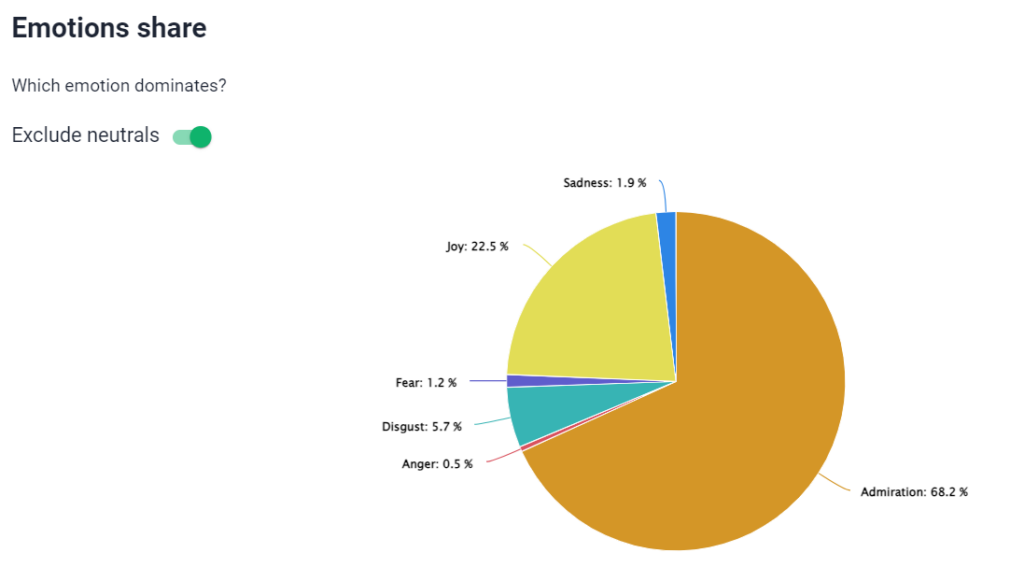 The Sentiment Analysis AI tool goes much further than the Positive/Negative/Neutral breakdowns used elsewhere in Brand24. Here, the AI provides something that's kind of revolutionary for a computerized brain: nuance. Hearing that 20% of people reacted negatively to your brand is not as helpful as knowing that 8% expressed anger, 10% were disgusted, and 2% just got sad. You'll also get an accompanying graph showing how the emotions changed over time.
Finally, we don't want to leave out the weekly AI reports that Brand24 emails out to its users. These are reports based on the projects you've created, highlighting trends and news that you ought to know. The email is a plain-English (or whatever language you choose) narrative, not just a list of stats. If there's a spike in your mentions, for example, the AI will tell you about it, and suggest some possible reasons for that spike. Each fact or analysis in the email is accompanied by one or more citations, links to the source that the report is based on. It's the sort of thing you might have an intern do, only the AI can go through several billion more sources of news in a week than an intern. And it will do it right every week, without asking.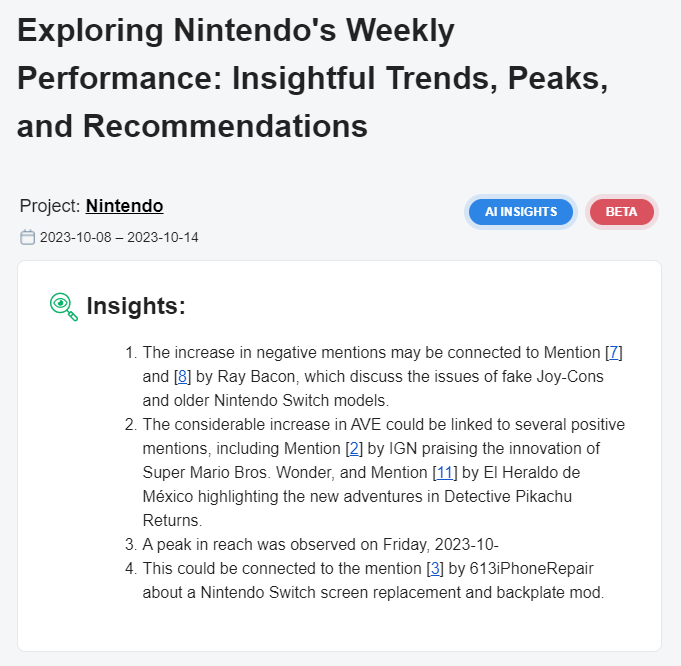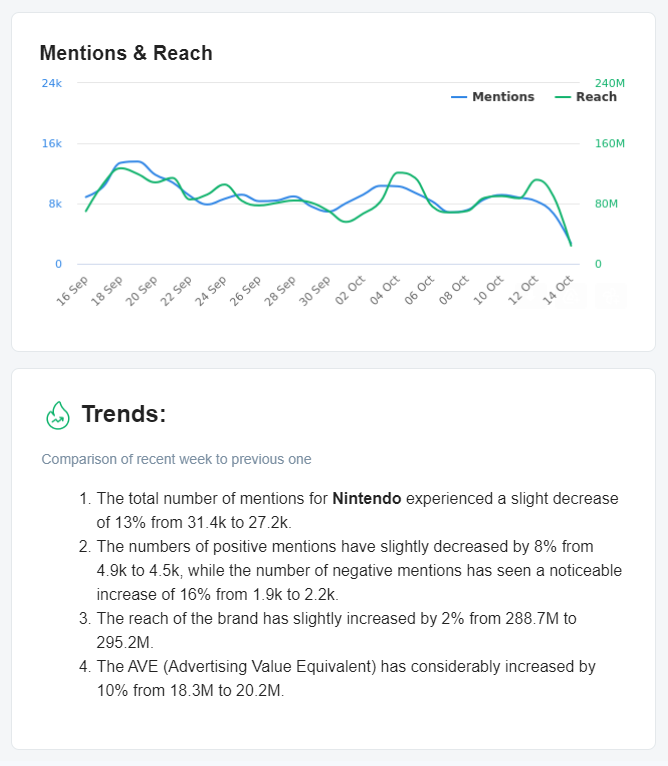 ---
Conclusion
Brand24 is a comprehensive social media monitoring and analytics tool that has a history of being ahead of the competition. Considering that they make software designed for brands to understand their competitive positioning in the marketplace, it's not entirely a surprise. If the first thing they did was make Brand24, the second thing they did was use it to gain competitive advantage. For more than 12 years, they've demonstrated a peculiar prescience to the trends around social media, marketing, and now, artificial intelligence. It's almost as if they were listening to all the conversations people were having around these topics and used the intelligence to build out a roadmap. For a company that was built to help its customers maintain a competitive edge, their own prolonged success has to mean something. Having seen their software, we can see why they continue to excel.
Brand24
Features

Ease of Use

Reporting

Best for:
Brands and Agencies of all sizes