Are you looking for a way to boost sales, increase engagement, and up your customer support game? Messenger chatbots are the way to make it happen! Chatbots are constantly running. This means that sales and marketing don't have to stop when your team isn't available.
Using chatbots, you can:
Qualify leads by collecting basic qualification details.

Route high-intent leads directly to your sales team.

Nurture leads and offer upsells.
With all of the chatbot builders out there, creating your own chatbot is easy. But, what exactly do chatbots look like in action?
---
Top 12 Messenger Chatbots to Inspire You:
---
1. Molly Mahoney—The Prepared Performer

Molly Mahoney is a firm believer in chatbots.
In fact, she used her chatbot created with ManyChat to reach more than 1 million organic users.
When you start chatting with Mollybot, she lets you know right away that you're talking to a bot and how to interact with it.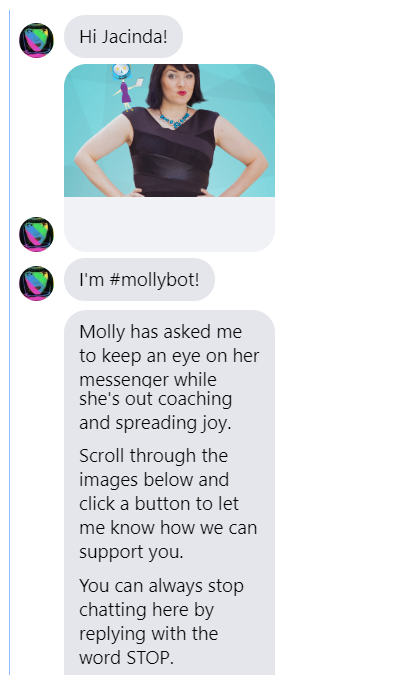 Then, Mollybot shows you some of the key content that you can access directly from the chat window. Just click Show Me! to see more about the content.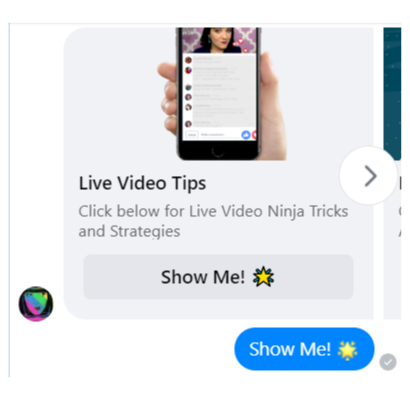 Once you make a choice, Mollybot gives you different options you can choose based on your goals: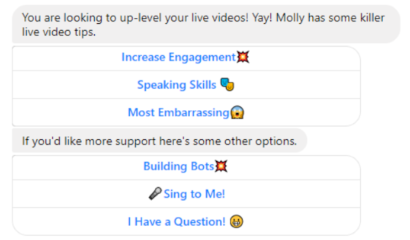 Different things happen depending on which option you choose. While choosing Increase Engagement takes you to a Facebook video, Building Bots will open up a teaching sequence within the chat window.
And, you can always click I Have a Question! to reach out to human Molly.
---
2. Duolingo
While Duolingo has since taken their chatbots away, we loved them. They're an excellent example of what chatbots can be!
Duolingo's chatbots were a great way of learning how to speak a new language conversationally, through AI-powered chatbot conversations.
There were a few different personas you could interact with like Renée the Driver, Chef Robert, and Officer Ada, and each would react differently to your answers, correcting you as needed.
Plus, Duolingo is pretty advanced in terms of language flexibility, so instead of requiring you to interact in a specific way, the chatbot recognized any of the ways you could say something.
---
3. Amtrak
Amtrak's chatbot, Julie, isn't exactly personable, but she gets the job done.
You simply type what you're looking for in the chat bar on Amtrak's site, and a messenger box pops up showing information related to what you're looking for.
One of our favorite things about Julie is that she'll also bring up web pages related to your questions. So, when we asked for train schedules from St. Louis to Battle Creek, Julie automatically brought up today's schedule.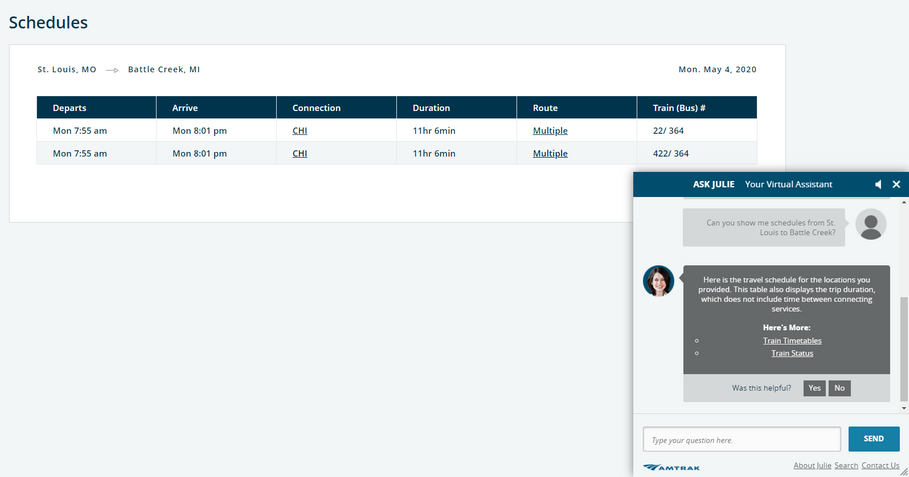 Then, in the chat window, there are options for additional information like more train timetables and train status.
---
4. HelloFresh
HelloFresh's Freddy is a fun way to interact with a brand. We especially loved this breakfast quiz that lets you test your knowledge about breakfast foods around the world and learn something new.
The chatbot will even recommend a Spotify playlist based on what you're cooking!
Using their chatbot, HelloFresh was able to deal with their two biggest problems:
High volume of incoming messages

Slow response times
They were able to reduce response time by 76%!
---
5. National Geographic
To promote their show Genius, a look into the life of Albert Einstein, National Geographic created a chatbot that gave users the chance to ask questions of a delightfully chatty and wise Mr. Einstein.
It's an incredible use of chatbot technology to promote a television show, getting National Geographic's users personally involved with the title personality.
In addition to the Einstein chatbot, National Geographic used a quiz chatbot to engage users...
...and sell books!
---
6. PrAna

PrAna's chatbot is a great example of conversational commerce. They use a casual, friendly tone and sprinkle in emoji to grab attention and give you the sense that you're talking to more than just a computer.
They provide buttons that you can click to take you to the information you want to know about. For instance, if you want to shop, just click Shop Collections. Then, you can choose what you want to see.
Throughout, the chatbot gives you helpful tips on how to get back to a certain menu. Plus, you always have the option of typing a message.
---
7. Beer BOT
This chatbot is specifically for the adults!
Beer BOT is a beer genius that starts off by showing you a random selection of beers you can learn more about.
If those aren't what you're after, just let it know the kind of beer you want to know about. We typed in "I prefer stouts." and Beer BOT brought up a selection of stouts for us.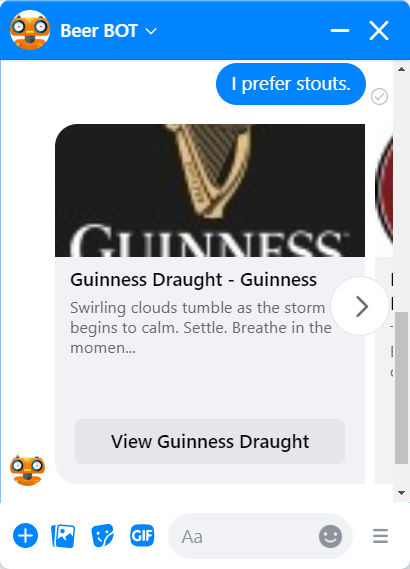 You can scroll through the selection and click View under the beer you're interested in to bring up more information.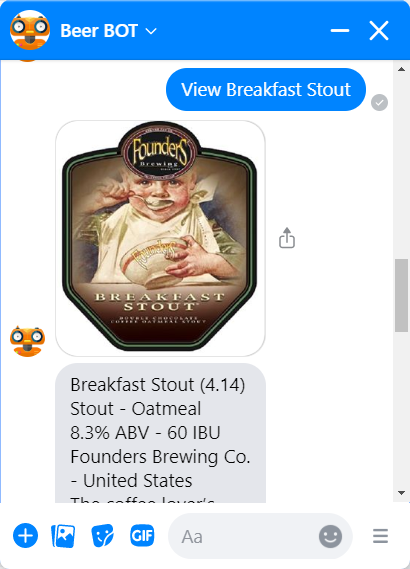 No matter what beer you're looking for, Beer BOT can give you all the info about it. And, you can even look up breweries!
---
8. Domino's
Dom, the Domino's pizza chatbot, is available on several different platforms as well as the Domino's website. You can use any platform to place an order and each platform tracks your recent orders.
On Facebook, you can order from the full menu without even leaving Messenger!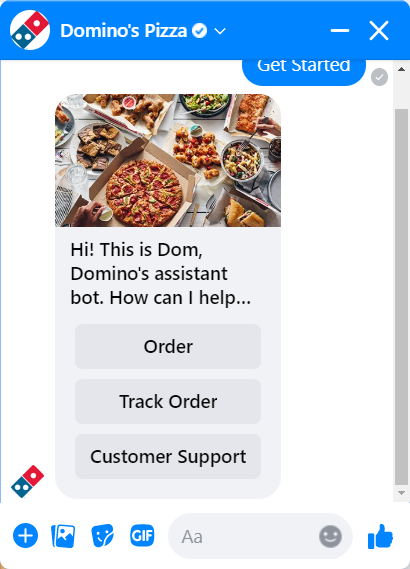 Dom is a ridiculously well thought out chatbot that makes ordering, tracking orders, and contacting customer support a breeze.
---
9. Kayak

Kayak uses chatbots on multiple platforms. With Slack and Alexa, users can make purchases directly from the chat; Facebook and Google Assistant send users to the webpage for booking.
What we love about the Facebook Messenger chatbot from Kayak is that it remembers previous conversations and even uses your Kayak search history for personalization.
If you're not sure where you want to go, you can ask Kayak's chatbot for travel ideas: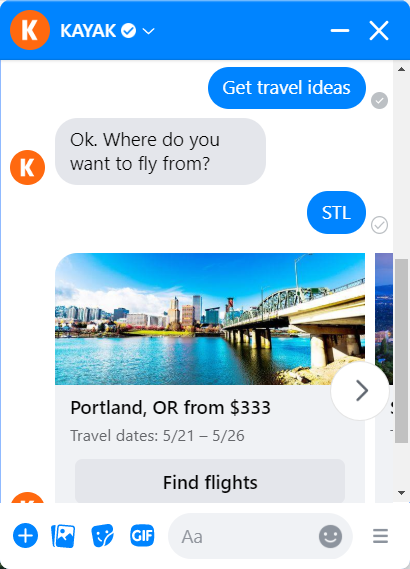 Once you find something you like, just click Find Flights.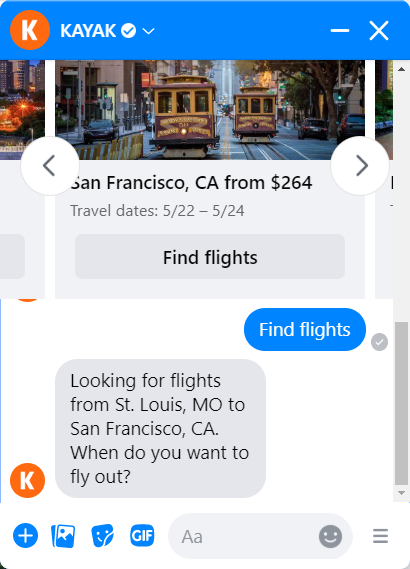 While Kayak's chatbot doesn't have much in the way of personality, it gets the job done quickly and efficiently. And, you don't have to talk to a human, which is why we love chatbots anyway, right?
---
10. Trim
Trim is a personal finance assistant chatbot designed to help you trim costs and save money.
Once you sign up, Trim's algorithms show you all of your recurring payments and subscriptions. If you want to cancel any of them, Trim does it for you.
And, Trim will even negotiate a better rate on your internet or cable bill!
---
11. Capital One
Capital One's chatbot, Eno, is available via web, mobile app, and SMS (text). Eno works in the background constantly, and will proactively reach out to you if it finds something noteworthy like a 150% tip, double charges, or when a recurring transaction is unusually large.
Eno also gives users the ability to get quick access to account balances and recent transactions or even make a payment to your credit card, just by sending a text.
---
12. World Health Organization
In response to COVID-19, the Word Health Organization launched both a Whatsapp chatbot (seen above) and a Facebook Messenger chatbot to provide users with information about novel coronavirus.
The chatbot doesn't seem to be AI-driven, instead relying on a menu-type systems to disseminate information. However, we love that chatbots are being used to get out vital health information from a reputable source.
Users can reach out to the chatbot to learn about current infection rates, how to protect themselves, and get answers to frequently asked questions about the disease.
---
3 Chatbot Builders to Try
To create your own chatbot and leverage the power of conversational commerce, we recommend giving one of these three chatbot builders a try.
Chatfuel
Chatfuel is one of the best chatbot builders for Messenger. You can use it to increase sales, personalize your marketing, and automate support. No coding skills required.
Botsify
Botsify is an AI-enabled live chat solution that offers human handover/takeover. This means that if you Messenger chatbot can't answer a question, you can seamlessly shift the conversation to a customer support agent.
Mobile Monkey
Mobile Monkey is a growing Messenger chatbot builder that offers a very nice free plan. You can use Mobile Monkey to automate conversations, design conversion funnels, and run interactive Facebook Ads.
Building a successful Messenger chatbot requires you to understand the goals of your customers. Once you know what your users want to achieve with your chatbot, you can design a chatbot conversation that meets those needs.
When building conversations and interactions for your chatbot, develop a script that includes short, easy-to-read, and friendly messages and always—always!—ask for permission before sending messages.
---
Wrapping Up
As you can see, you can do just about anything with a Messenger chatbot. From online ordering to customer service, a well-designed chatbot can greatly improve existing relationships and help you develop new ones, without having to add additional support staff.
With these inspiring chatbot designs in your toolbelt, you'll be able to create a Messenger chatbot to cut costs, boost sales, and increase customer satisfaction.