There's much about WhatsApp's story that makes it one of the most interesting of our time. Back in 2009, founders Brian Acton and Jan Koum, both former Yahoo! employees realized the potential of the iPhone app store. But there was a good chance that they hadn't imagined the level of success they would achieve.
What's equally surprising is that Acton and Koum were rejected by Facebook when applying for roles in the social media giant's dev team. Fast forward to 2014, and Facebook acquired WhatsApp for a cool US$1.5 billion. And like all valuable apps, WhatsApp's evolution has been influenced by a range of factors. 
While WhatsApp was initially designed for private use, the need to expand its reach to support businesses quickly became apparent. Today your business can become easily contactable via WhatsApp plugins on their websites and run push marketing campaigns. And the WhatsApp's created seamless integration options, making it just as simple to create a business WhatsApp presence as an individual would.
What's more, you can automate your communication with clients. And that's the beauty of using chatbots. 
---
The Birth of Chatbots
One of the first chatbots developed was called ELIZA. Created by Joseph Weizenbaum at MIT in 1994, ELIZA functioned much in the way that current chatbots do. ELIZA could recognize keywords or phrases and then produce pre-programmed responses.
Since 1994, much has evolved. AI programs have been incorporated with the goal of passing the Turing Test, and this, along with other applications of the tech, has led to an entire industry of solutions tailored to help organizations optimize sales and marketing activities for bottom-line profits.
And when it comes to combining chatbots with WhatsApp, you get a match made in heaven. WhatsApp's reach allows you access to a global audience, one that's already familiar with the chat app's features and functionality, and chatbots help you scale engagement. 
---
WhatsApp Chatbot Tools
If you're on the lookout for WhatsApp chatbot tools, this blog post is for you. In it will share eight WhatsApp chatbot tools you can use to design your chatbots and engage your buyers.
---
Founded in 2012, Aivo set out to streamline communication for their customers. One of their solutions is Agentbot. Like all bots, Agentbot offers brands the opportunity to build conversation flows, but does so with the help of AI.
What's unique about Agentbot is it's beautifully designed interface. It's clean and offers an easy-to-use design decision tree to help you quickly build the most effective conversation flow. 
Insert diagram of the decision tree here.
Agentbot also helps you elevate conversation flows based on customer interactions. You can train your bot (using AI) to offer better responses to customer queries and even include nifty touches like GIFs.
Reporting and analytics are a critical component for building agile business and Agentbot rises to the occasion. It provides a host of analytical data directly related to customer interactions. 
These include stats on types and numbers of interactions, the average time on the conversation, and also get qualitative feedback on your interactions (think successful and incomplete interactions).
You're also able to integrate with a collection of applications. While their list is not as long as most would want, custom API integrations are possible, too. Today, you can link Agentbot to Zendesk, Salesforce, Zapier and Genesys.
Altogether, Agentbot is one of the most comprehensive WhatsApp chatbot tools we've seen and worth investigating further.
Price: 
Schedule a demo to begin your sales engagement.
---
If we've learned anything about the WhatsApp chatbot tools landscape, it's that it's relatively broad. There is a solution for almost every kind of business out there. Take Botscrew, as an enterprise solution, it includes some interesting marketing capabilities. Need to tailor chatbot messages as part of your remarketing strategy? You can, in just a few clicks.
Botscrew's conversation flow can be managed by category or product, depending on how your business is structured. Unlike Agentbot, designing your conversation flow is text-based, but equally intuitive and easy to use.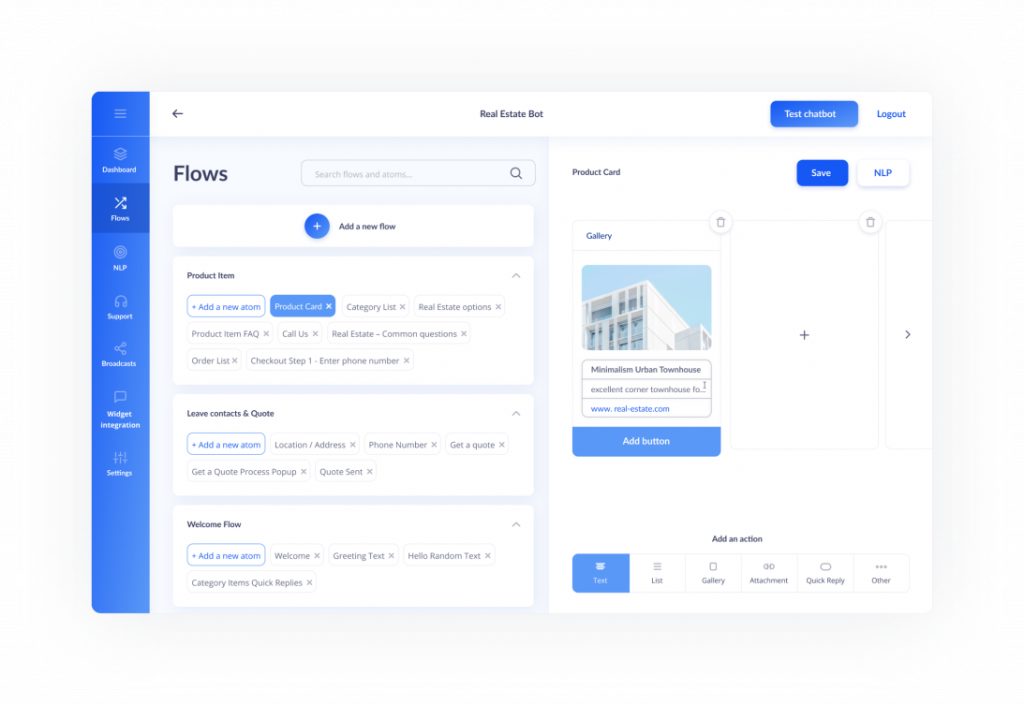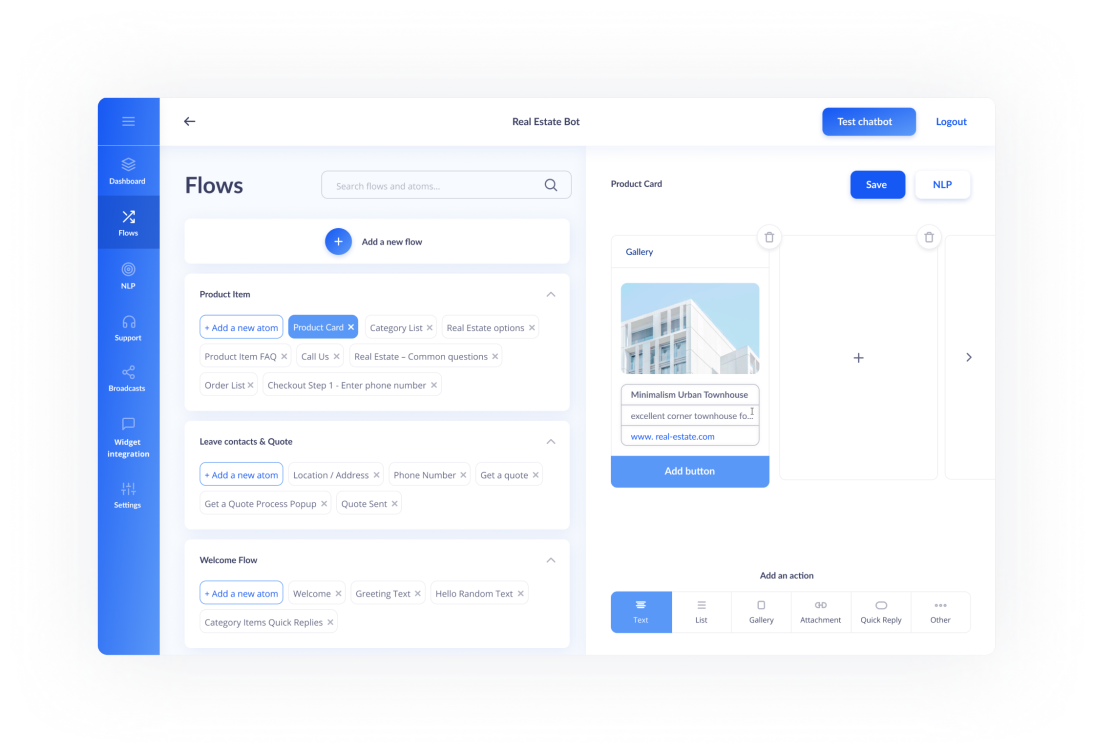 Botscrew also packs AI, making it possible to train your chatbot to offer more accurate and helpful responses.
It takes more than one piece of software to run a business. Botscrew, therefore, integrations with your CRM, Salesforce, Messenger, Trello, Slack their API.
Analytics are also available, helping you further customize your WhatsApp chatbot to drive better results.
Price: 
Schedule a demo to begin your sales engagement.
---
MessengerPeople has been designed for medium and large businesses. It's positioned as a relatively easy-to-use WhatsApp chatbot tool, and it really is.
You're able to easily build conversation flows to make customer communication more intuitive and professional. MessengerPeople also offers the ability to gather user characteristics, a feature not often marketed in this space. 
User characteristics are saved as chatbot conversations take place, making it possible to drive more meaningful engagements with customers about their needs and how your brand can help. 
They've also put work into their backend to give users a clean interface. While automation is the ultimate goal, MessengerPeople also offers helpful functionality like ticket assignment. Users can easily drag and drop tickets generated from WhatsApp chatbot engagements.

MessengerPeople's success is relatively impressive. Implementations of their solution have help BMW automate their workshop customer service.
Price: 
Pricing starts are €99. 
---
What if you'd like to prototype your WhatsApp chatbot before committing to it? There's a tool for that. Botsociety has created a prototyping solution for brands want to get a preview of their WhatsApp chatbot's look and feel like, before pulling the trigger. 
Designing your chatbot is relatively easy and done using a clean drag-and-drop interface. Botsociety also offers brands and team members the ability to collaborate and share updates. 
You can also test bots in real-time by granting access to hundreds of certified testers from various locations and demographics. As you'd imagine, the ability to test the effectiveness of your bot with real users speeds up enhancements, helping you design more effective conversation flows.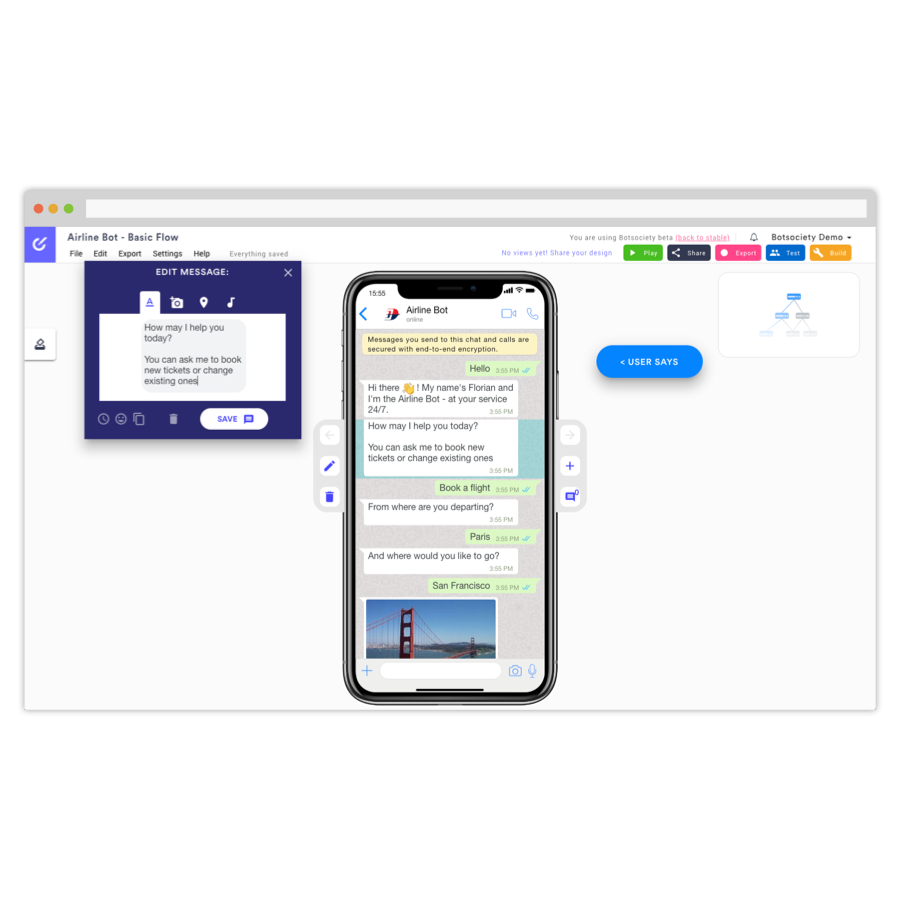 We like the idea of being able to prototype a WhatsApp chatbot and later export your work into Excel, AVI, MP4 or GIF formats or development team. It takes what could be a lengthy chatbot design process and simplifies it. 
Price: 
Get started with a free account with the option to upgrade to a professional package with more features for $79.
---
Raphiwa offers a WhatsApp API designed for mass communication at an enterprise level. The tool allows you to pair a number with your WhatsApp business account, create a webhook and send and receive chats.
It also comes with a chat manager interface for fielding queries and an auto-reply chatbot. While not as sophisticated as other chatbot tools, you're still able to create replies to common queries your customers have. 
Price: 
Pricing is based on a daily reception fee of $1.5. This "opens" your channel of communication with customers and allows unlimited replied for 24 hours. If sending messages, you're charged $0.0273 per sent message. If sending and receiving, reception and sending fees apply.
---
Headquartered in Silicon Valley, Gupshup offers a globally recognized and used messaging platform. To date, they processed over 225 billion messages and off integrations with Twitter, Slack, WeChat, Viber, Facebook messenger and WhatsApp.
As a messaging platform provider, they are more popular for their bot scripting tool. With it, developers are able to create chatbots capable of performing simple and complex interactions.


They also offer an out-of-the-box solution which includes automated response creation, the ability to customize your chat assistant, and switch to live chat mode if need be.
Price: 
Start sending messages from $0.001 per message. 
---
Yalochat is a WhatsApp chatbot development company with a twist. They help businesses engage and develop customer relationships with the use of AI-powered CRM. This means more intimate customer interactions can be made at scale. 
Yalochat has a strong AI focus. Through deep learning, chatbots experiences are enhanced, along with continuous training from developers. And their results prove their tool highly successful. According to its website, Yalochat serves over 700,000 users weekly. 
The tool is also said to be capable of automating up to 90% of conversations, a feat that would be music to any marketer's ears. As for analytics, we imagine they feature in some form. Yalocat doesn't offer much information about the extent of its reporting functionality, but with customers like Amazon, Unilever and American Express, the likelihood of not having a reporting dashboard is very low.
---
LivePerson gives brands a glimpse of exactly how intricate and valuable chatbot tech can be. For example, LivePerson offers intent analysis. Through LiveIntent, your brand can leverage AI to identify customer intent and quickly tweak messaging. And did we mention that you can do all of this in real-time?
LivePerson also comes with a powerful dashboard that allows any department to gauge how well they are performing. Anyone from sales to technical and customer support is able to track the level of engagement with their chatbot, see how many sales it was responsible for and measure other equally important stats like average order value, total conversion time, and tell how satisfied customers after a chatbot interaction.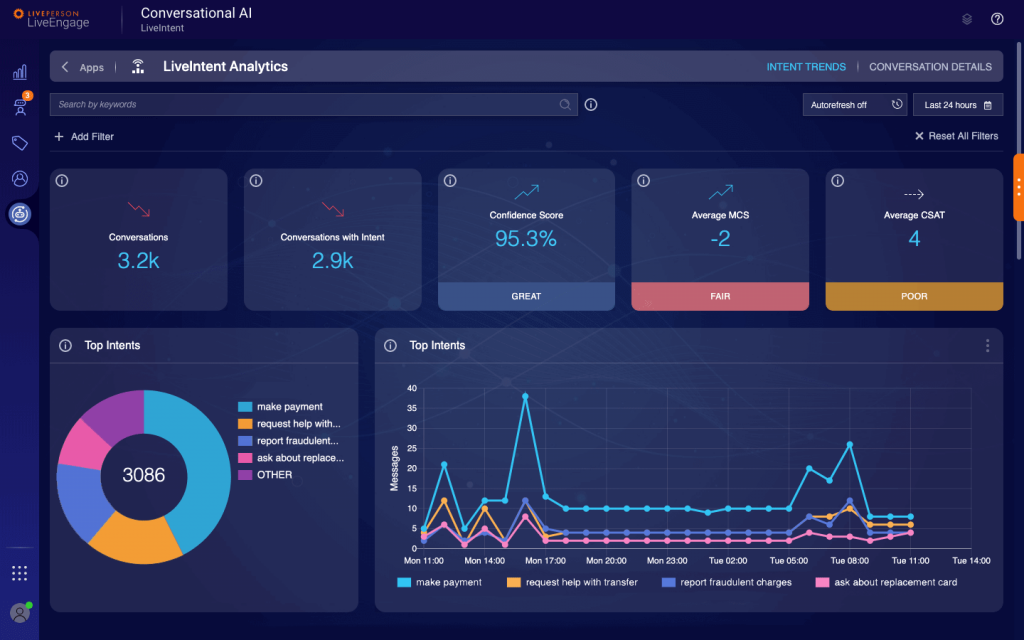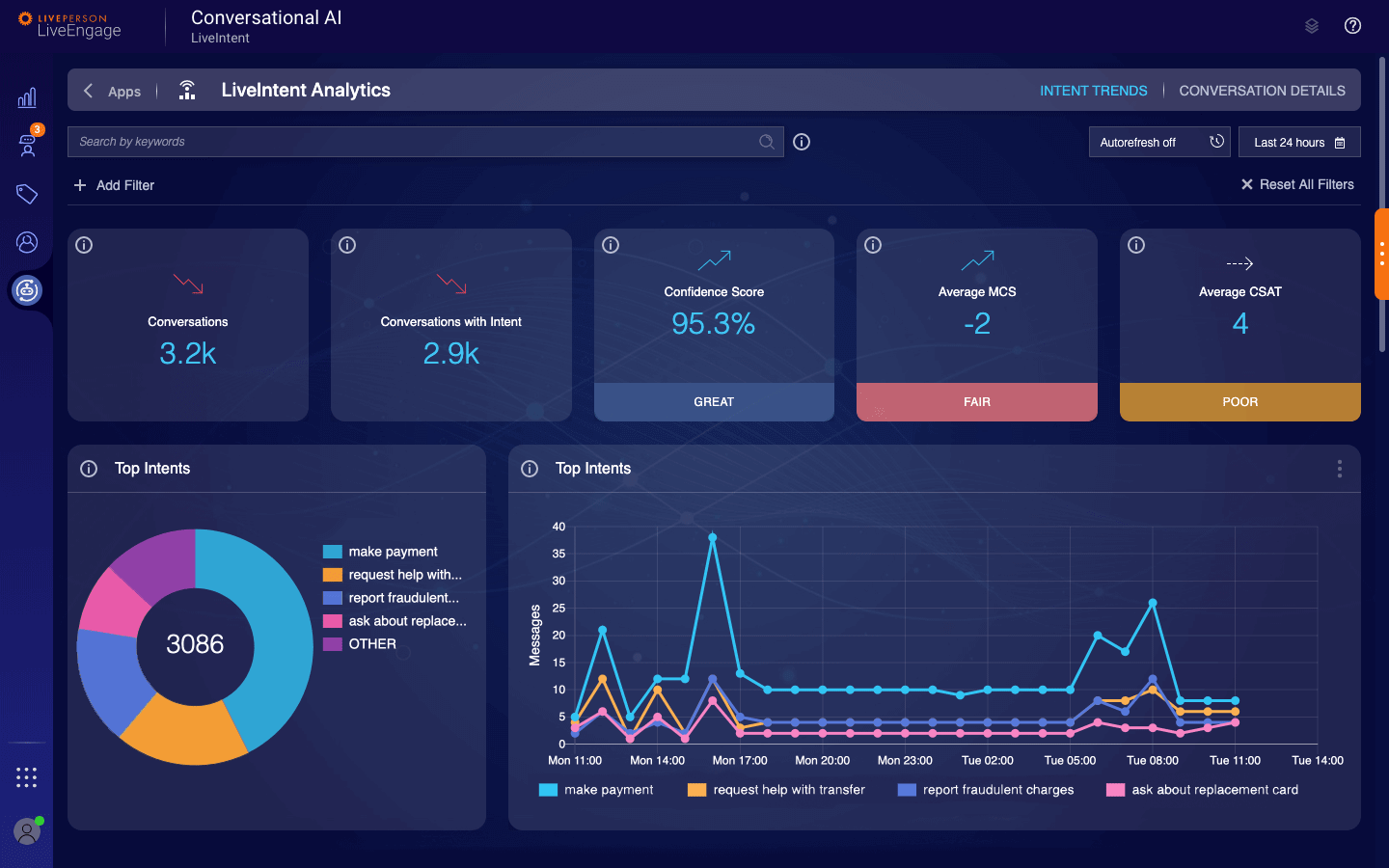 Price: 
Contact LivePerson for a quote and demo.
---
Wrapping this up
WhatsApp chatbot tools are plenty, but not all are created equal. Some offer basic integrations and functionality, while others include more detailed features designed to offer more business intelligence. 
When picking your WhatsApp chatbot tool, make a clear assessment of what your business needs right now. Does customer intent matter? Do you want to be able to develop relationships after the initial chat? Would it make business sense to build something complex with long conversation flows?
While there's definitely more to consider, we're certain that WhatsApp chatbot tools will continue to evolve. And for brands looking to scale and do so effectively, without compromising their image and customer service levels, the more sophisticated the solution, the better.