It's a well-known fact that content marketing is crucial for promoting a brand's products and services. But a successful content marketing strategy needs the right technology and tools to back it up. In fact, 28% of B2C marketers say that content marketing technology and tools increased their content marketing success.
And 67% of the most successful B2B content marketers say their organisations are either advanced or expert in their use of content marketing technologies. 75% say that content marketing technologies give them better insights into how their content is performing. 56% say that it helps them better understand audience preferences and behaviour.
Equipped with the right tools for content marketing, you should be able to see immense success in the execution of your strategies. Let's take a look at the top 14 content marketing tools that can help you develop and promote your content more effectively.
---
Content Marketing Tools To Boost Your Reach:
---
#1: Build a Content Marketing strategy with SEMrush
Building an effective content marketing strategy requires more than just the best intentions. You've got to dig deep and gather competitor intelligence to guide your content marketing (a never-ending responsibility). And while there are tons of tools out there capable of offering insights, SEMRush does an amazing job of simplifying the entire process, and some. 
The tool rolls-in SEO, paid traffic, social media, content and PR, and market research into our neatly designed interface. You're able to handle all technical requirements for SEO, schedule social media posts, find the best content and track the effectiveness of yours, while strengthening your approach with solid insights from your market. It really is an all-in-one marketing toolkit. 
---
#2: Use BuzzSumo to Generate Brilliant Content Ideas
For your content marketing efforts to really pay off, you need to create content that appeals to your target audience. The best way to do this is by identifying which content pieces are performing well in your industry. 
BuzzSumo can help you do this by analysing the most shared and trending content on a particular topic.
It provides you with in-depth insights into how a certain piece of content is performing in terms of shares, engagement, and links. So you can use this information to come up with brilliant content topic ideas that are bound to gain traction among your audience.
---
#2: Personalize your Content with Hubspot CMS
With HubSpot CMS, you have all the tools you need for content creation, distribution, and analytics, all in one place. 
The tool allows you to create and edit blog posts, landing pages, site pages, and emails with ease, whether you choose from one of our pre-built templates or start from scratch. You'll be backed by a world-class content delivery network to serve your content all across the globe in the fastest way possible.
HubSpot's content management software tool has nice features like A/B testing, but it's particularly powerful when it comes to features like personalized content and smart content. If you're using HubSpot's marketing platform, it also works seamlessly with forms, your email list, and database management.
There are also some great out-of-the-box features designed to help with content creation -- like the ability to natively host video and add forms and calls-to-action in the video using the native editor, along with video analytics and a YouTube analytics integration.
Some of the features marketers will love on a platform level are the ability to partition content so it's easier for teams to work together. Additionally, you can publish content behind passwords and easily personalize content. Best of all, there's high-quality security and hosting, which takes the worry out of the technical side. And, of course, you get top-notch analytics since everything is working together
---
#3: Discover Profitable Keywords Using Ubersuggest
If you want your content to gain visibility in search engine results, you need to optimise it with highly relevant keywords that get a ton of searches every month. 
You can use Ubersuggest to identify the most searched keywords in your industry along with the search volume and level of competition. So you can discover some great keyword ideas that will help you optimise your content for relevant search results.
---
#4: Improve Readability with Hemingway App
Content readability is an important factor that influences how people engage with your content. The easier it is to read your content, the more likely people are to engage with it. 
But if you create something that's extremely difficult to understand with complicated words and lengthy sentences, people might not read it for very long. Even if it's a topic that intrigues them. 
That's why you should use a tool like the Hemingway App to simplify your writing and make it easier to read for everyone. The tool grades your writing and provides you with improvement suggestions like reducing adverbs and passive voice usage, pointing out hard-to-read sentences, etc.
---
#5: Create Compelling Titles with CoSchedule Headline Analyzer
Your headline is the first thing that people will notice about your content. This holds true for both your text-based and visual content. Most people will read the title first and decide whether or not to engage with the content. That's why it's crucial to write compelling headlines that will intrigue that audience at first glance.
You can use the CoSchedule Headline Analyzer to test the potential of your content titles before you decide to publish them. This tool analyses your prospective titles and grades them based on the structure, grammar, and readability. It also gives you suggestions on how to make them more powerful and entice your audience to engage.
---
#6: Organise Ideas Using Evernote
Anyone who's ever had to create content knows how difficult it is to organise their thoughts and ideas to develop something substantial. 
That's where Evernote enters the picture. It can help you take notes and capture ideas in one place so you can organise them more effectively. It lets you save articles, images, webpages, and PDFs so you can easily access them when you need to. 
You can create to-do lists and reminders, making it easier to manage all your tasks and stay on track with your projects. The best part is that you can access these notes anywhere, on any device, and even share them with your team to make content collaboration much easier.
---
#7: Create Eye-Catching Visuals with Canva
People are much more likely to engage with your content if it has eye-catching visuals. BuzzSumo analyzed 100 million articles and found that articles having at least one image are twice as likely to get shared. 
So you need to create as much visual content as possible if you want to drive more engagements. In addition to relevant screenshots and graphs, you might also want to create original graphics to accompany your blog posts and social media posts. 
You can use a free design tool like Canva for this. This tool comes with a ton of attractive templates that you can customise according to your needs. You can find templates for presentations, blog banners, social media posts, email headers, and more.
---
#8: Use ClickFunnels to Create Effective Sales Funnels
Sales funnels allow you to organise the journey that people take from visiting your site to actually converting. An effective funnel enhances the customer experience at every stage so you can get more conversions and higher average order value. 
If you want to generate more leads or drive more sales through content marketing, you'll need to set up a proper sales funnel to guide the readers from awareness and interest stages to conversions. 
Instead of creating a sales funnel from scratch, you can use a platform like ClickFunnels to easily design high-converting funnels. This platform lets you create a simple funnel based on your specific goal – whether it's to generate leads, increase sales, or drive event attendance. 
You'll be able to easily customise the template with an easy drag-and-drop editor that lets you add, shift, or remove pages as needed.
---
#9:  Check for Plagiarism Using Copyscape
Duplicate content may not get your website penalised, but it can seriously harm your traffic and rankings and therefore, your search visibility. 
So it's one of the most damaging elements that could set your content marketing efforts a few steps back. You may have other websites copying your content or you may have quoted another article, which will bring up a duplicate content issue.
This makes it crucial to always check for plagiarism before publishing new pieces of content and repurposed content. You can use a tool like Copyscape to run a search for similar content across the web so you can fix these duplication issues well ahead of time.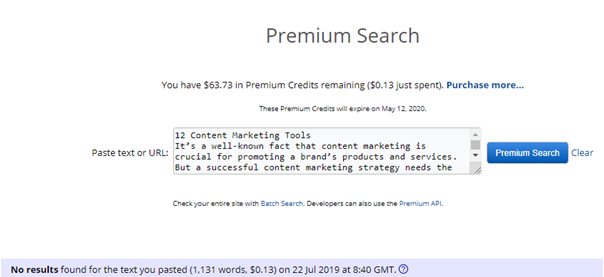 ---
#10: Make Sharing Easier with ShareThis
One of the most common content marketing goals is to get more shares to increase visibility and impressions. The more shares you get, the more people who will see your content. And the more visibility you get for your content, the more leads you could get. 
This makes it crucial to allow easy content sharing rather than putting your readers through the gruelling process of copy-pasting the URL onto their social media posts. 
To do so, you can add social sharing buttons to your blog posts and website content using ShareThis. Then your readers won't have to open their social media accounts to share your posts.
---
#11: Automate Email Content Distribution with GetResponse
Email is still one of the most effective channels for content distribution. A MailMunch survey even found that along with social media, it is the second most preferred method of content distribution. It is, therefore, crucial for content marketing as it helps you nurture your leads and retain existing customers. 
However, email marketing is a challenge in itself. But you can simplify the whole process using an email marketing automation tool like GetResponse. This tool does everything that's needed by an email marketing tool – from creating eye-catching emails and developing automation workflows to designing high-converting landing pages. 
The automation workflows on GetResponse are fully scalable. You can customise them as needed and make sure you send out the right emails according to your subscribers' behaviours and reactions.
---
#12: Use Hootsuite to Manage Your Social Media
As mentioned earlier, social media is the second most preferred channel for content distribution along with email. 
This makes it crucial to invest in a comprehensive and effective social media management platform like Hootsuite. You can use this platform to schedule all of your social media posts so that they get published when your followers are most likely to engage. 
Hootsuite also lets you curate pre-approved content that your teams can post and schedule at the right times. 
It even provides you with in-depth insights into how your social media posts are performing. This is a great way to discover what type of posts your audience prefers and when they're most active. So you can use these insights to further optimise your social media content strategy.
---
#13: Use Trello to Promote Team Collaboration
It takes a team to execute an effective content marketing strategy. Easy communication and collaboration is essential if your team has to stay on track with all your tasks and projects. 
You can use a platform like Trello to created boards for specific projects, assign tasks, share content briefs, and more. 
This platform makes it much easier to keep track of your tasks and assignments so you won't miss deadlines. You'll be able to see who's working on a card, how far they've progressed, and what they have finished.

---
#14: Repackage Content Using Kajabi
A unified dashboard at Kajabi allows you to aggregate your scattered content and manage it efficiently. 
The tool helps you convert your content ideas into marketable products in a few minutes. You can decide everything about your product from within the platform, from packaging to delivery and pricing.
You get access to a number of one-click templates for plugging your existing content into online courses. You can then use the tool's analytics to track metrics like customer progress and user engagement with your content.
The tool is compatible with all major payment gateways, including PayPal and Stripe. It's a one-stop destination for small businesses who are looking for a single tool to handle all of their requirements, including website creation, content management, email marketing, and landing page creation. 
---
#15: Use Pexels for High-Definition Imagery
Digital content looks lusterless without quality images. Pexels is a platform that offers you a rich repository of free stock photos and videos to use in your content. From mockups to backgrounds, Pexels has thousands of free pictures for you to choose from.
Their Explore feature lets you filter your search by categories and subcategories. You can organise your curated images in Pexels' Leaderboard. Plus, they have a great blog with informative articles and resources on graphic designing and content management. 
But the best part about Pexels is that it's completely free and it doesn't ask you to attribute the pictures to their creators. You can also upload your own images into the tool's gallery so that you don't have to switch between platforms to look for pictures.
---
#16: Use QuestionDB to Generate Content Ideas for Your Blog
One of the hardest parts of content creation is ideation. QuestionDB simplifies your topic search by identifying the exact questions audiences in your niche are asking.
QuestionDB is not your typical keyword research tool. With each question suggestion that the tool produces, it gives you the source where the question was asked originally. From there, you can understand the context of the question and also get ideas about what to include in your posts.
You can sort your search results by topic or by popularity. You can use the ideas suggested by the tool to create YouTube videos, especially how-to demos.
For $10 a month, QuestionDB is a smart investment since it makes your idea search easy. It also has a free version, which generates limited results per search and offers basic search filters.
---
#17: Spy on Your Competitors' Content Strategy Using SimilarWeb
If you need insights about your competitors' best marketing strategies, target keywords, and traffic sources, SimilarWeb can come in handy. 
Additionally, the tool offers advanced analytics about the PPC campaigns and affiliate marketing of your competitors so that you can tap into high-converting sales opportunities. It also identifies the top marketing trends in your industry and investors who are looking for collaborations.
SimilarWeb even analyzes your market share and your buyers' journeys so that you can learn ways of maximising your share. In short, this tool can help make you a market leader by keeping on top of trends, competition, and opportunities.
---
#18: Export Google Docs to WordPress by Wordable
If you have most of your content in Google Docs and have to copy-paste them to your WordPress-hosted site, you know what a pain that is. That's where Wordable comes into play. 
The tool exports all your Google Doc content to WordPress with a single click, with the formatting intact. It shows you the 10 latest files you've exported so that you don't have to go around searching for the files you just exported.
Plus, it gives you a choice of publishing your content as a page or post. You can use all of Google Docs native features from the platform, including track changes, comments, and document history.
---
#19: Analyze User Interaction with Your Content Using Hotjar
If you want to learn how exactly users interact with your website, Hotjar is the ideal tool for you. Using heatmaps and real-time recordings of customer visits, you will know the points where visitors leave your pages and where visitors are spending maximum time.
Along with that, Hotjar provides their own analysis about each page's performance, with regard to its engagement, readability, layout, and content. 
Hotjar collects incoming feedback and conducts surveys and polls of your site visitors, without interrupting their buyer journey. It is compliant with GDPR and CCPA and protects end-user privacy.
The best thing about Hotjar is that they offer a 30-day money-back guarantee with all their plans, along with access to unlimited reports and users.
---
#20: Schedule Your Editorial Calendar Using Loomly
Loomly is a content scheduler with a difference. You can use it to generate content ideas for your social media postings. You can also leverage its collaborative capability to keep your content team in the loop after a content piece is posted. This allows your team to respond promptly to customer questions and requests.
The tool also provides timely optimisation tips for organic and paid campaigns. And of course, it stores and organises all of your content in one place so that you can whip up delectable content in minutes.
---
#21: Improve Your Editing Workflows with Frame.io
If you get a lot of your visual content designed by third-party creators, you will know that it takes many iterations to get the visual elements right. Frame.io is a tool that streamlines your editing workflows and keeps all the concerned team players on the same page.
The cloud-powered platform stores your content in a secure environment that you can access any time from anywhere in the world. It shortens development cycles by optimising the feedback-approval loop.
Frame comments and annotations help designers and editors communicate clearly and get work done according to their expectations. Frame.io is an essential tool for you if you depend heavily on visual platforms like YouTube and Instagram.
---
#22: Reduce Your Page Load Time Using Kraken.io
Compressing your website images is one of the most effective ways of improving the page load speed of your site. Kraken.io compresses and optimises images so that they load faster, consume less storage space, and don't eat up bandwidth.
If you deal with application development, you will love Kraken's features. The tool resizes images to make them responsive to small screen sizes. If you're a WordPress or Magento user, you will find Kraken's plugins very useful.
With pocket-friendly prices, Kraken is a must-have for all web designers and developers.
---
#23: Do Start-to-Finish Content Marketing Using WordPress
One of the most powerful CMS in the world, WordPress powers 30% of all websites on the internet, according to VentureBeat. The highly-customizable platform is a favourite among bloggers. And there are many reasons for its popularity.
It's an open-source CMS that allows you to self-host your site or host it via the platform. It not only lets you build and manage your site and its content, but also helps when you want to scale it.
It has a huge library of mobile-friendly themes that you can use as templates in your site. You also get free support and maintenance with your account.  
---
#24: Write SEO-Friendly Content Using Yoast
Since we just talked about WordPress, let's take a look at a great WordPress plugin, Yoast. It is a one-in-all tool that handles your on-page, off-page, and technical SEO.
It enriches your content with keywords, optimizes meta descriptions, titles tags, and URLs, and suggests appropriate internal links to include in your content. Since Yoast mainly works for WordPress sites, it has many features dedicated to WordPress optimisation.
You can also get access to their educational online courses about SEO if you purchase their high-end plans. Whether you want to boost the performance of your ecommerce site or your blog, Yoast can meet all of your SEO requirements.
---
#25: Use Vidyard for Video Marketing
Vidyard is a great tool for hosting, sharing, and promoting videos. With its robust analytics, it makes measuring the impact of your video marketing a breeze. 
You can also run A/B tests on your video content to fine-tune granular elements in your vides, including calls-to-action (CTA) and duration. On top of this, you get video SEO and personalisation capabilities.
If you want to check out the performance of Vidyard, opt for the Free Forever plan. It allows you to share and upload unlimited videos and host up to five videos for your websites, blogs, emails, and social posts.
---
#26: Use Loom for Creating Screen-Share Videos
While on the topic of video marketing, we can't ignore Loom. If you regularly share technical demos and video walkthroughs on your websites, Loom can be of help to you. You can publish videos which allow you to simultaneously share your screen, face, and voice.
Loom is also great when you want to go live on social media platforms since you can interact with your audience through the comments and reactions feature. For the price, Loom is a cost-effective and worthy addition to your content marketing toolkit.
---
#27: Personalise Your Content Using Mutiny
This is the age of dynamic content which is tailored to your audience's needs and aspirations. Mutiny takes B2B content personalization to a different level altogether. 
For instance, if you want to add a CTA when a website visitor has read 75% of your email content, Mutiny can do the job for you. Or you may want to offer a gated content piece to a visitor who has read three free posts on your site. That's the kind of personalisation you can attain through Mutiny.
---
#28: Use Google for End-to-End Content Marketing
No list of content marketing tools is complete without the mention of Google. Google Keyword Planner discovers keywords that are relevant to your industry, location, and target audience. It helps you find high volume-low competition keywords for both organic and paid campaigns.
Google Search Console simplifies your content research and bookmarks webpages. Google Trends drills down on trending content topics. 
Google Analytics tracks the performance of your published content. Last but not least, Google Optimize is a robust tool for A/B testing your website content.
---
#29: Check Domain Authority with Moz
If guest posting on high-authority websites is an important part of your content marketing strategy, Moz can come in handy. It ranks websites according to their domain authority, which helps you identify the best sites for guest posting.
Apart from this, Moz also evaluates your backlink profile. It measures the potential of the anchor texts and links included in your content. Using Moz's insights, you can replace or repair dead links with links that provide value to your brand.
The nifty MozBar you get with your subscription can be added to your Chrome browser. It shows the search, page, and social metrics of any page that you visit.
---
Final Thoughts
These 12 content marketing tools are highly effective and can help you manage almost every aspect of your content marketing strategy. Make the most of them to create better, more engaging content, organise your schedule, collaborate with team members, and distribute your content effectively for content marketing success.