Best for:
Professional marketers, marketing teams, and marketing agencies
Most of the social media marketing platforms we look at place their emphasis on scheduling social media messages across your various social media accounts. CoSchedule does offer this. However, it is much more. At its cheapest and most simple level, it helps you organize your blog posts and social media. The higher-priced tiers, however, offer a full online marketing suite, where you can create and schedule all of your marketing activities.
CoSchedule caters to businesses of all sizes. However, it particularly focuses on organizations that run a blog or at least a frequently-changing website.
At its bottom end, it offers the Marketing Calendar for solopreneurs, bloggers, startups, and small businesses. This blog and social media editorial calendar is a cut-down version of the full product that recognizes the limited needs of smaller organizations.
If you have more significant needs, then you can subscribe to CoSchedule's Marketing Suite, or you can even cherry-pick the components that best meet your marketing requirements. The Marketing Suite comprises four parts:
Content Organizer

Work Organizer

Calendar Organizer

Asset Organizer
As you can see from the pricing tiers below, there is a core set of Marketing Suite services "(the Growth plan)", and larger firms can add additional features as needed. "in either the Professional or Enterprise plans". You can add extra users and social profiles to plans for an extra cost.
There are further add-ons, in the form of an Agency Toolkit and the Actionable Marketing Institute. The latter consists of more than 20 on-demand courses specifically designed for marketers ready to up their game. I watched the (free) Marketing Calendar Onboarding For Individuals & Startups course and found it invaluable for using the platform.
The central focus of CoSchedule's Marketing Suite (and indeed its Marketing Calendar for small organizations) is content marketing. It helps you publish more content to generate a higher ROI by increasing your existing team's productive work capacity. You can place any item of content into a centralized marketing calendar, including all of the content creation, related social messages, email promotion, and even overall To-Do tasks.
---
CoSchedule:
---
Pricing
Access to CoSchedule is sold on a monthly and annual basis. CoSchedule offers a range of paid plans. The figures given below assume monthly payment. You receive a discount on an annual plan.
Marketing Calendar:
$39 per month per user

Plan features include: Marketing Calendar, task templates, read-only views, task management & discussions, Social Publishing &
Templates, ReQueue, and integration capabilities.
Marketing Suite:
Call for price - plans are custom built

All Marketing Calendar features plus: Calendar Organizer, Content Organizer (API and custom development services), Work Organizer (advanced security and access logs, advanced team permissions), and Asset Organizer (call for storage limits).
---
The Details
The exact process you follow when using CoSchedule will depend to some extent on the size of your organization, your marketing needs, and the precise options you select. As a solopreneur, most of my work with CoSchedule has been with the Marketing Calendar, although I did take advantage of the 14-day free trial to test some of the Marketing Suite features. I haven't used it with a team, however, although that looks like a clear-cut process with distinct work patterns.
The centerpiece of CoSchedule is its calendar (an agency would have multiple calendars). So you begin the process of setting up CoSchedule by giving your calendar a name. You will see all of your upcoming blog posts, social posts, email blasts, and other types of content in your calendar. Your calendar also shows you the To-Do tasks you and your team set to create and distribute the material.
You have a few other steps you have to go through when setting up CoSchedule. As with most of these social media management platforms, you will need to attach your social accounts, giving them the appropriate permissions so that CoSchedule can post on your behalf.
Just as importantly, you will need to set up CoSchedule so it can post to your blog. This is extremely simple if you operate a WordPress blog. You even add a mini-version of CoSchedule into the backend of your website, so you can work on your calendar without having to leave your blog.
As you can see, the CoSchedule plug-in adds an extra item to your WordPress blog menu.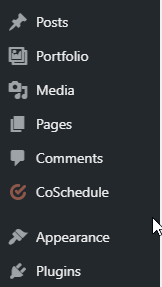 CoSchedule works around your calendar. You can choose to lay your schedule out in several ways, but a typical calendar shows all of your projects and activities.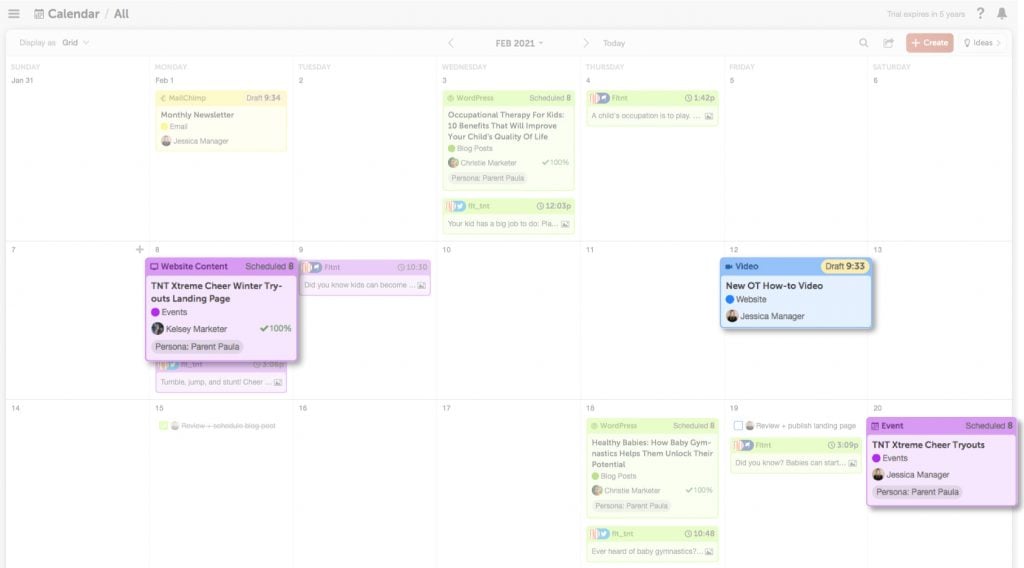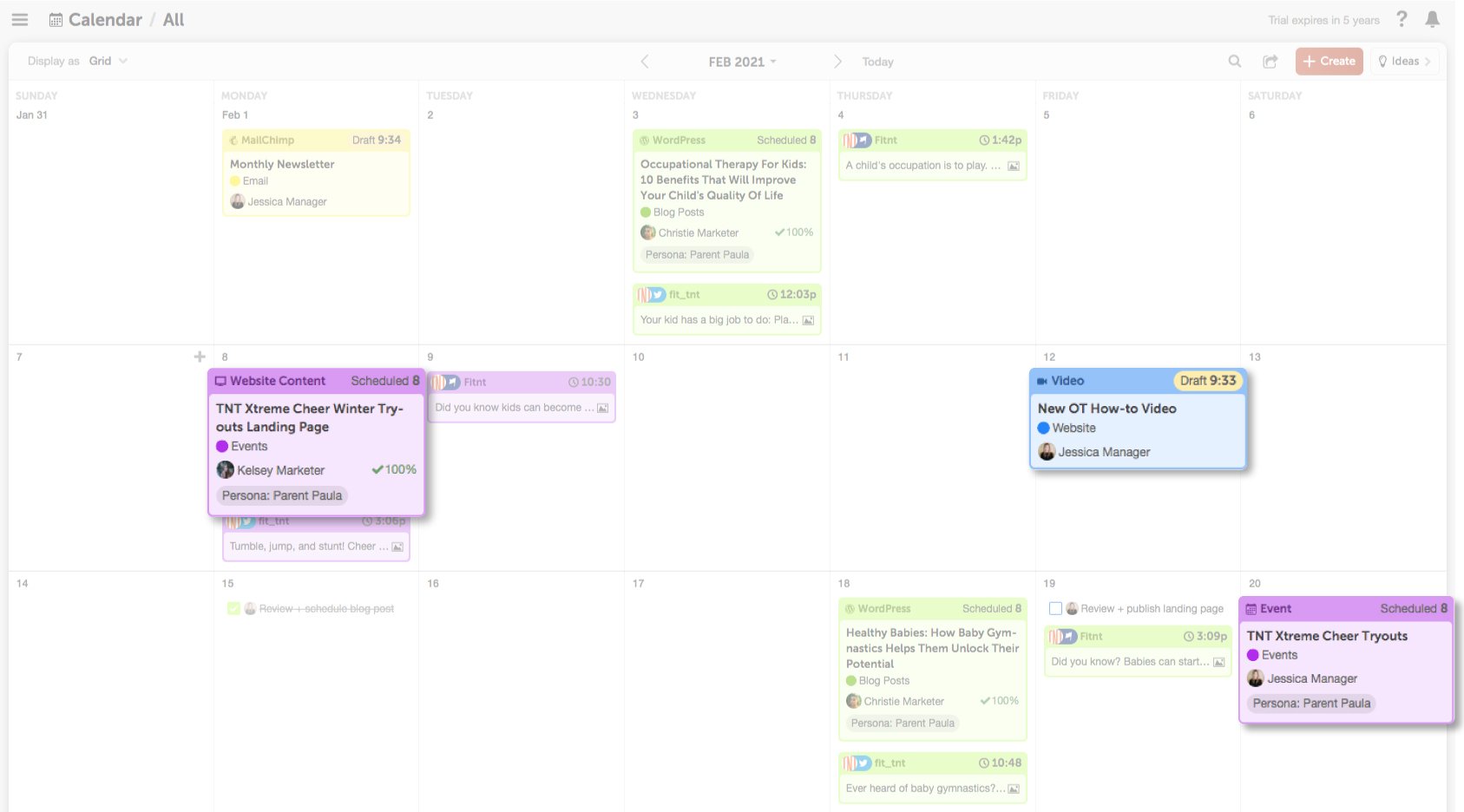 Each distinct marketing activity is a project. You can build, plan, and even execute all of your marketing projects in CoSchedule. This goes as far as writing
your WordPress blog posts and all of your social posts, directly inside the platform.
With the simple Marketing Calendar, you have two main types of project – blog posts and social posts. If you subscribe to the more advanced Marketing Suite, you can add many more varieties. Indeed CoSchedule wrote a blog post about 113 content types you can organize with your marketing calendar.
You can add a project to your calendar by clicking on the + symbol in the upper right corner of any date. You are then asked to pick the project type (blog post, WordPress, promotion, social campaign, e-course, etc.)
If you have linked your WordPress blog to CoSchedule, you would generally pick the WordPress icon, rather than the generic blog post one. Also, if you intend to create social posts for your blog post, you do this as part of your blog post creation process. You would only select the Social Campaign for a social project unrelated to a new blog post.
CoSchedule then asks you what types of attachments you would like to add to your project. Your choice will, of course, depend on your chosen project type. It will also be affected by your preferred workflow.
For example, if your project is to write a blog post, you could choose to import a file if you wrote your posts in Microsoft Word. Alternatively, you could select Google Docs if you create your posts in Google Documents. Some people like to write their posts directly into the backend of their site, in which case you would select the text editor.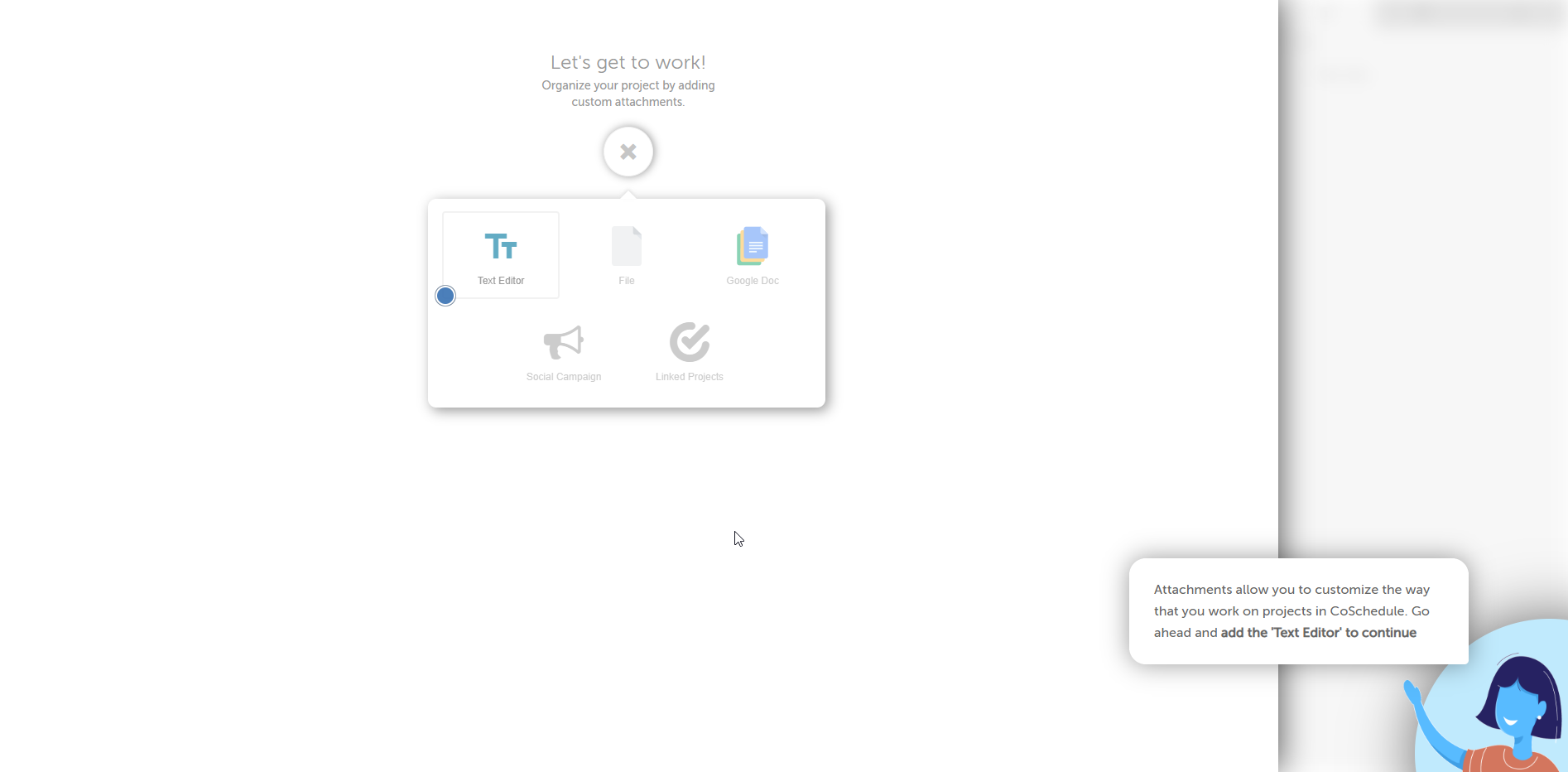 If you write in the text editor, you have the usual editing capabilities of working on your website.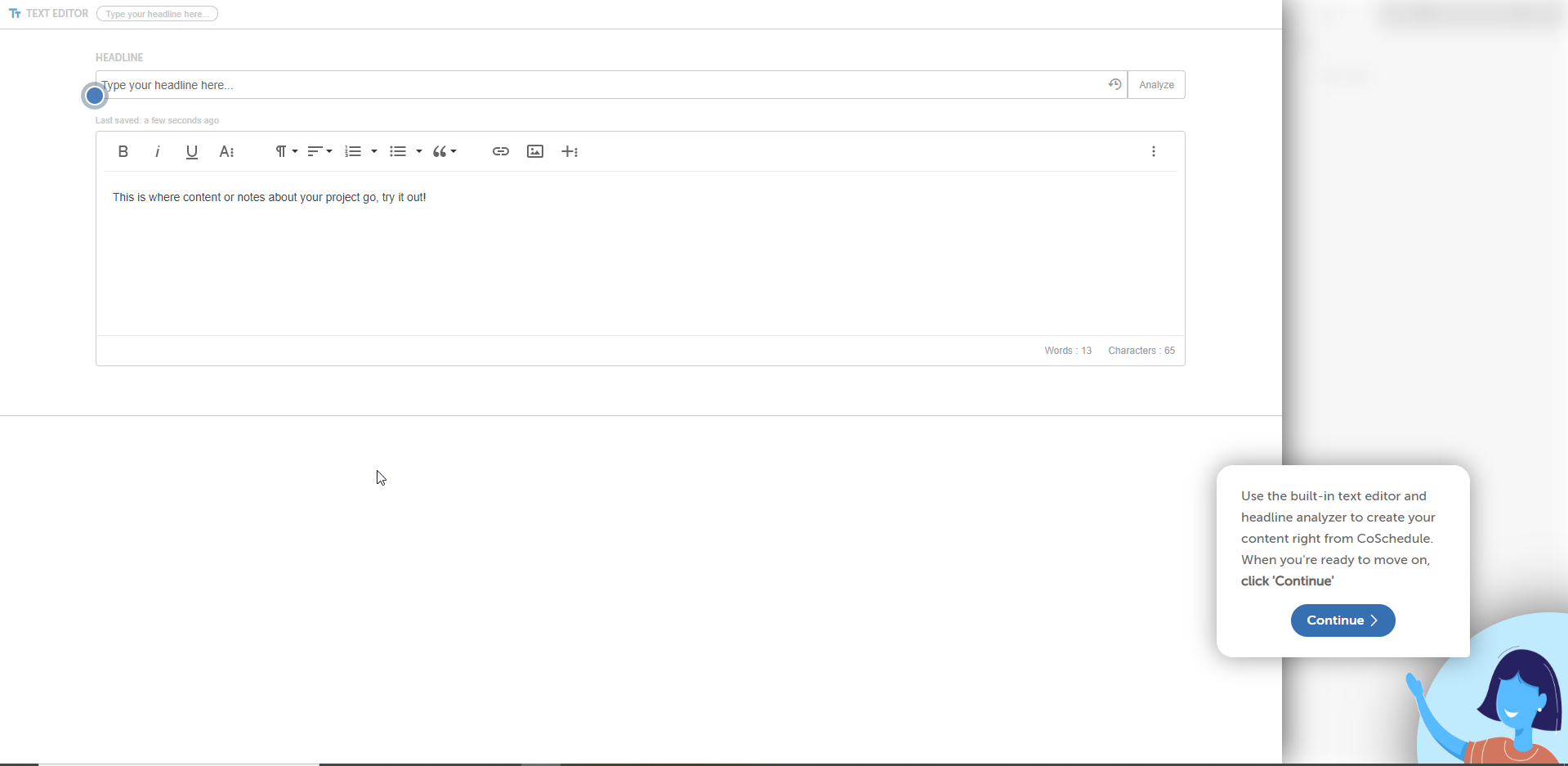 Whichever method you choose to write your blog post, you will probably want to create social posts to accompany it. CoSchedule directly pulls information from your post to help you create your social posts.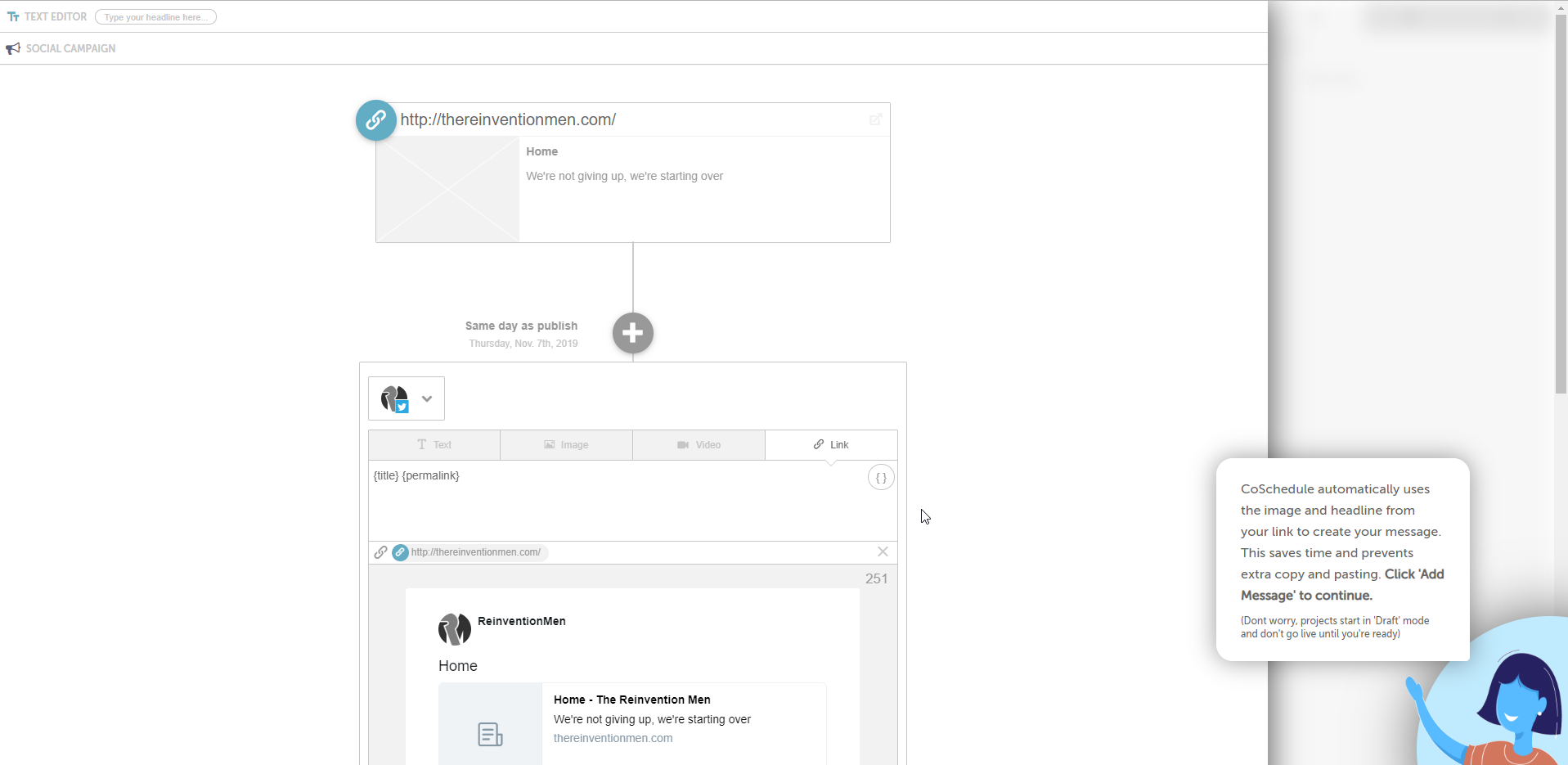 This can be particularly useful when setting up social posts for your campaign. You can use one of CoSchedule's templates or set your own. These allow you to create a series of social posts (relating to a single piece of content) over a period, taking much of the text and images from the post itself.
You can also set up a workflow for yourself and any other members of your team. You can use a pre-existing task template (such as a Blog Post creation one) or create your own to better match your actual working style. CoSchedule adds these tasks to your calendar.
If you later decide to change the date of your blog post, you can easily drag the reminder in your calendar, and all the associated tasks and social posts move automatically with the blog post.
Once you start on your post, you can create everything within your CoSchedule project. You can add attachments as you need them.
At the higher plan levels, you have access to CoSchedule's Asset Organizer. This allows a team to store all its marketing assets in one place. It can be particularly useful for giving everybody access to graphics for blog and social posts.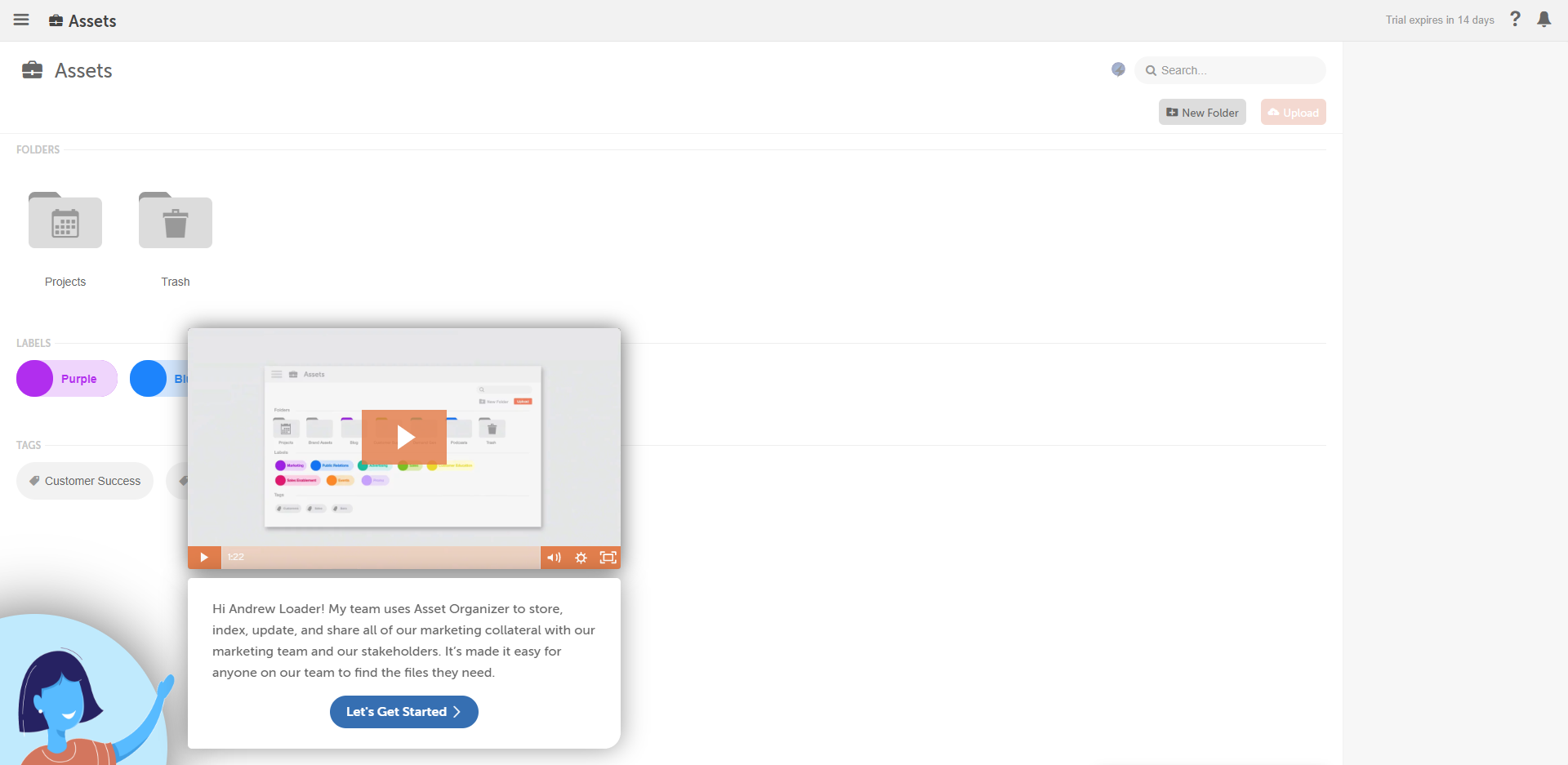 Eventually, the time comes when it is time to publish your post and begin promoting it with your social messages. If you have done your preparation, you shouldn't have to worry about this – your social posts will already be scheduled to go.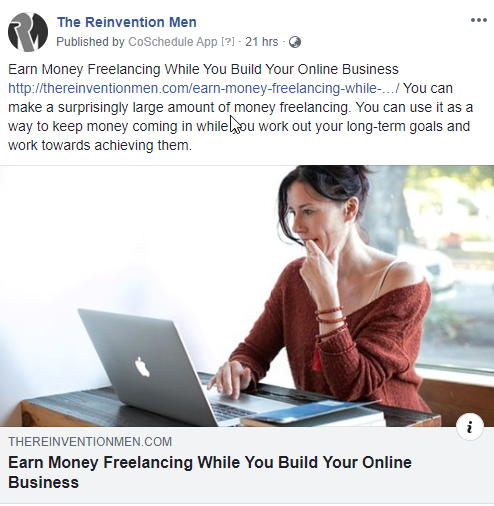 Of course, you don't need to create a blog post to create a social campaign in CoSchedule. You can start a social campaign from scratch by selecting the Social Campaign attachment when you set up your project. You can add as many social posts as you like (across all your preferred social networks) and save a template if you are likely to use this combination of posts in the future. You can create your one-off social posts and campaigns in much the same way as you would ones connected to blog posts.
CoSchedule also offers Requeue that allows you to select past blog posts to repromoted in the future. This ensures that your best posts become evergreen content.
I found CoSchedule's Chrome plug-in particularly useful. It allowed me to click on blog posts and other webpages I wanted to share, and they became social projects, which I could them schedule to share as I desired.
If you have the Marketing Calendar (or the stand-alone Social Organizer), you will have access to CoSchedule's Conversations. These bring your social conversations into CoSchedule so that you can see them all together in one place.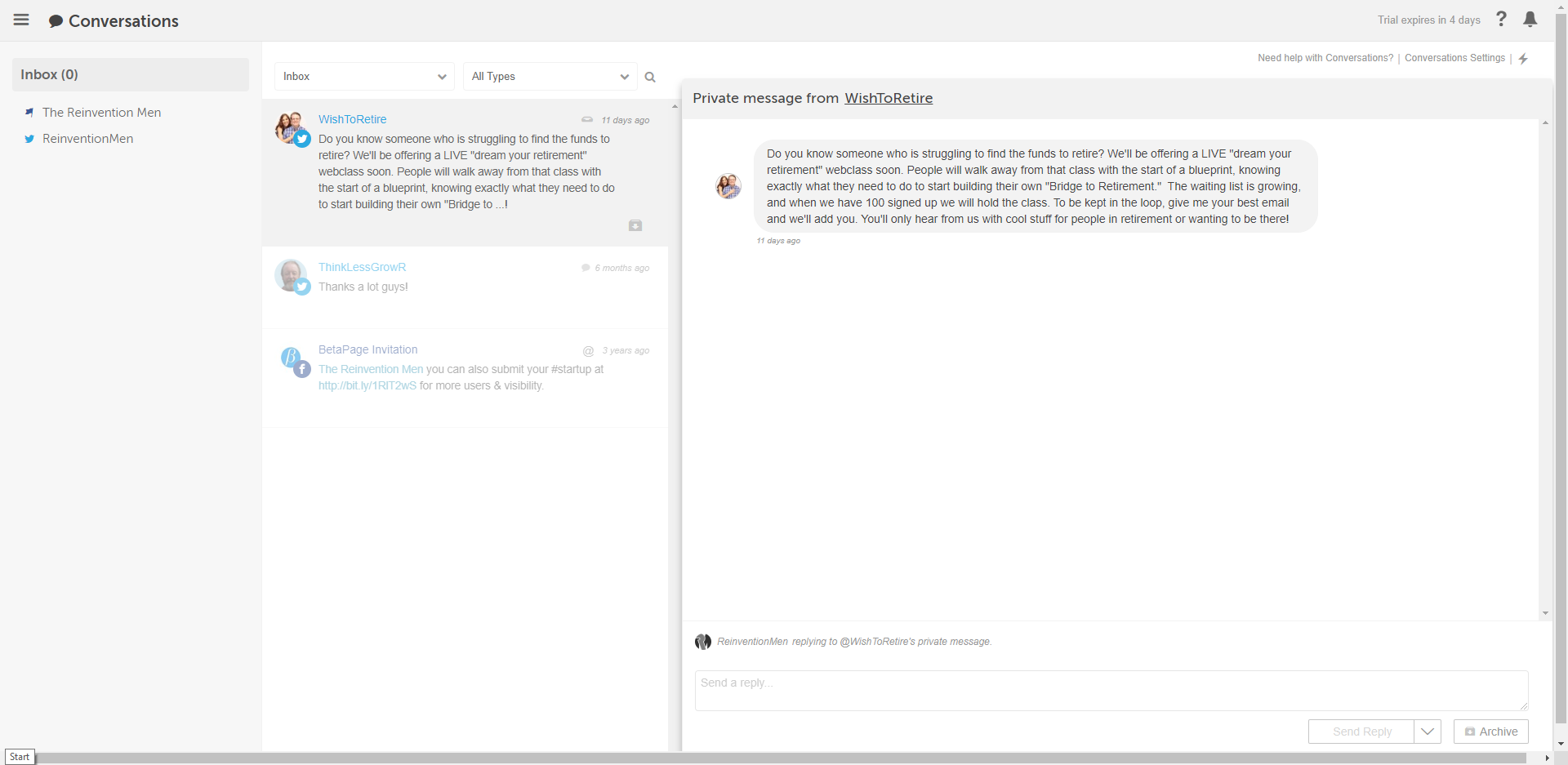 As with most of these social media marketing platforms, CoSchedule offers you a range of analytics, often much more detailed than in the native social media apps. You can see reports for each of your social networks, along with dedicated reports for Social Engagement, Social Campaigns, and Top Messages. The image below shows part of the Twitter report.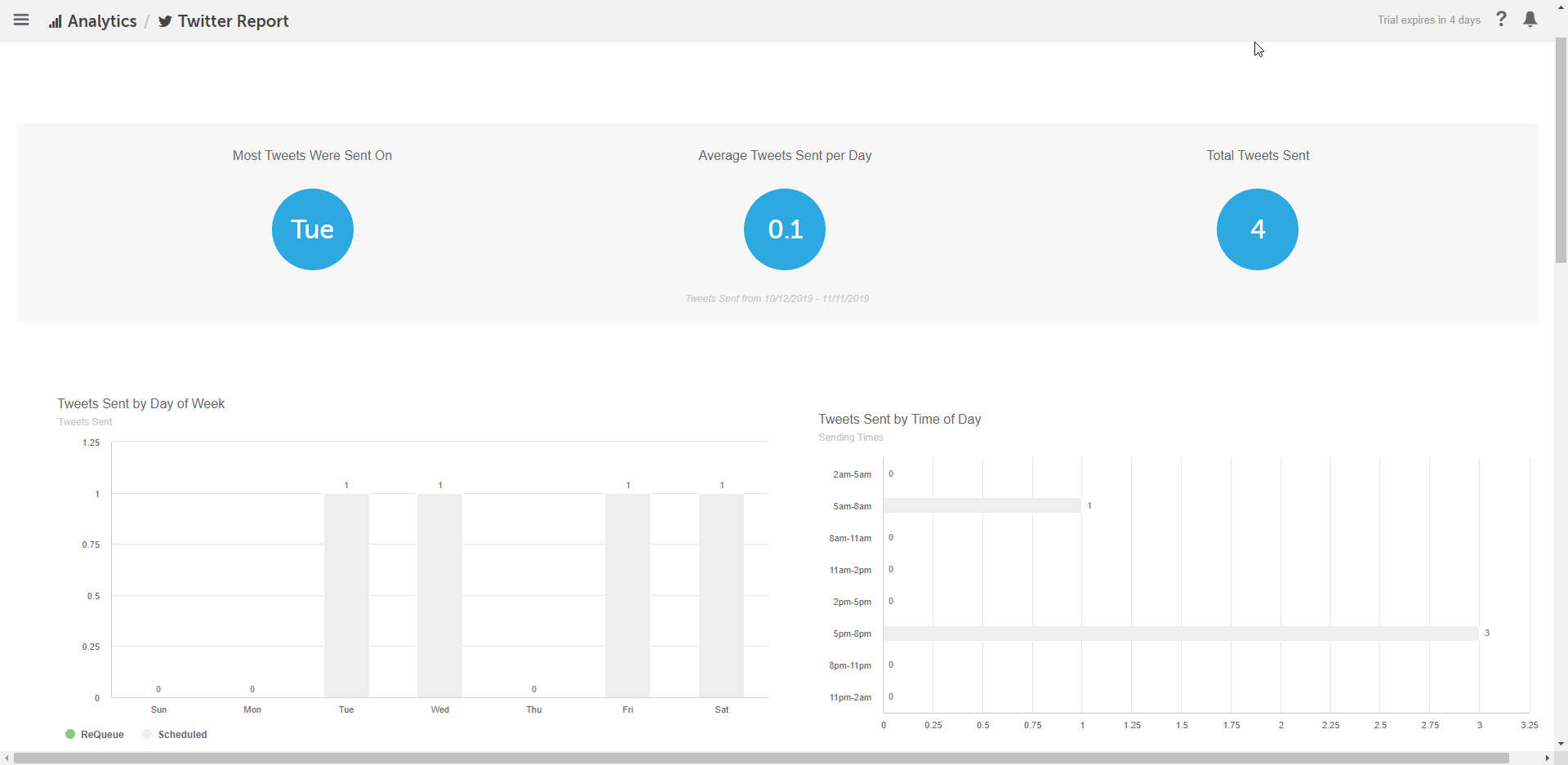 The one oddity I encountered was with my dashboard. This is the first page you open each day, and by default, it should show calendar items for the next week. However, in my case, it steadfastly refused to show any activity for the upcoming week, despite their being tasks, blog posts, and social posts showing in the overall Calendar view. I'm not sure if I was doing something wrong, but I found it confusing.
In many ways, I have only touched the surface of CoSchedule's capabilities. I never had the chance to play much with the settings, use color-coding, or use the less common project types. There is a useful section for setting up email campaigns with Mailchimp, Campaign Monitor, HubSpot, Constant Contact, and ActiveCampaign, although I didn't have a chance to test these.
---
Conclusion
I found CoSchedule a joy to use. It certainly made scheduling my marketing activity easy and simplified the tasks I needed to take.
However, it would probably be overkill for somebody simply wishing to schedule a few social posts. You really need to run a blog to make the most of this product.
As a solopreneur, the full Marketing Suite would be beyond my resources, and probably my needs. However, CoSchedule offers something for everybody, by also providing the Marketing Calendar for people like me. The only problem is that even the "small guys" deliver emails and other types of content. Having tried the full model, I suspect I will begin to miss sections once I downgrade. But there is a gigantic price leap once you jump up from the Marketing Calendar to the Marketing Suite.
I particularly like the way everything integrates. You create your blog post using your preferred method and use CoSchedule to assemble it. You then create a full social campaign for that post, using a template. This allows you to promote the one post across all of your social networks over a matter of days, weeks, and months. You can automatically insert text, links, and images from your blog post into your social messages. If the post performs well, you can use ReQueue to continue promoting that post in the months and years ahead.
Frequently Asked Questions
Is CoSchedule good for small businesses?
CoSchedule caters to all businesses, irrespective of their size. That being said, it concentrates in particular on businesses that have a blog or at least change their website frequently. At the lower end of its range, its Editorial Calendar is great for bloggers, solopreneurs, small businesses and startups. If you just want to schedule a couple of posts, this would be too much. To unlock its full potential, you need to have a blog.
What does CoSchedule do?
CoSchedule helps you to publish more content to create a better ROI by improving efficiency. After you have attached your social accounts, CoSchedule can post on your behalf to your social media management platforms. While CoSchedule also focuses on scheduling social media messages across different social media accounts like the majority of social media marketing platforms, the main focus of CoSchedule's Marketing Suite and its Editorial Calendar for smaller businesses is content marketing.
How much does CoSchedule cost?
CoSchedule offers an Editorial Calendar geared toward smaller businesses and a Marketing Suite. The Editorial Calendar has two paid plans: Individual ($39 per month) and Startup ($69 per month). The Marketing Suite has three paid plans: Growth ($190 per month), Professional ($750 per month) and Enterprise (price available upon request). If you want to test out its features, you can take advantage of its free 14-day trial.
Can I use CoSchedule for analytics?
Like with the majority of social media marketing platforms, CoSchedule also offers you a good selection of analytics. In fact, it is often a lot more detailed than the native social media apps. You can view reports for all your social networks and see reports for social engagement, social campaigns and top messages.
Is CoSchedule a good choice?
It depends a lot on the size of your business. Smaller businesses will most likely not be able to afford its full package. While you can use CoSchedule to create and post various types of content (including social messages) centrally, it is best for businesses that have a blog. Thanks to its Requeue feature, it is great if you want a tool that can help you to ensure your blog posts become evergreen.
CoSchedule – Social Media Management Software
Features

Ease of Use

Support
CoSchedule
CoSchedule is ideal for firms and individuals who run blogs. You can use CoSchedule to centrally create and post all of your content, including the social messages. ReQueue is an excellent tool to help you make the best use of your successful old posts.
Best for:
Professional marketers, marketing teams, and marketing agencies