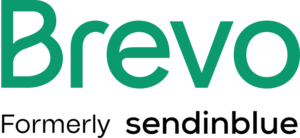 Brevo is the quintessential business marketing platform. It's more than email and SMS marketing. It offers chat and CRM, and bundles these critical tools alongside marketing automation, personalization, segmentation capabilities, a quick and easy-to-use landing page builder, sign-up forms, and the ability to create and publish Facebook ads.
---
Trusted by over 300,000 businesses worldwide, Brevo real power comes from its flexible and versatile marketing platform. Brevo is a business marketing platform that pulls together tools brands need to attract, nurture, and convert audiences into paying customers. Tools are well-paired to make getting results easier, and for the busy marketing lead, conveniently situated in one place. There's no need to spend money on individual platforms or worry about how they'll integrate and if you'll be able to prove ROI. 
Features include:
Email Marketing
Use an intuitive drag and drop email builder to design personalized email messages that can be sent to segments of your target audience. A/B testing functionality is also available and powered by AI to help optimize content for the best possible conversions.
SMS Marketing
Create personalized promotional and transactional SMSs to support larger marketing campaigns and important customer engagements like order and shipping confirmations.
Chat
Add chat to your website as the first line of engagement for prospects. It's customizable to match your brand's look and feel. It comes with workflows for assigning conversations to team members so the right people make the right contact with customers for maximum impact.
Shared Inbox
Shared Inbox shows all customer emails in one place. This makes it easier to assign emails to the correct team members and control what has been handled. Shared Inbox provides a complete history of engagements with leads and prospects via email, making it easy to stay on top of where the conversation needs to go next.
CRM
Brevo CRM stores all customer information, including notes and tasks your team makes about engagements. Contacts can also be assigned to segments based on similar characteristics, acquisition sources, where they are in your funnel, or any unique criteria your team uses.
Marketing Automation
Create smart automations to streamline workflows. Base them on conditions and triggers that can initiate anything from an SMS to an email, or assign a contact to a new list in your database. Automations can also be A/B be tested to find the most effective workflows. 
Transactional Email
Design branded transactional emails that integrate with eCommerce plugins or can be set up with API, SMTP Relay, or marketing automation.
Segmentation
Segmentation helps you get granular by uncovering who your audience is made of for more effective marketing. Identify declared interests, segment by previous engagements or purchase history, or group customers by socio-economic or geographical characteristics.
Landing Pages
Build professional landing pages in minutes using templates and Brevo drag and drop builder. Control all elements of your landing page design and link all forms to your database.
Signup Forms
Add branded signup forms with any custom fields you need. Forms come with GDPR regulation checkboxes and the option of double opt-in confirmation. Forms can also be placed anywhere using an HTML embed.
Facebook Ads
Create single or carousel Facebook ads from within Brevo to promote your product or service. Control how long ads will run for, budgets, daily spend and track performance across campaigns.
Reporting
Track everything from email marketing conversions and Facebook ads to how well your transactional emails and SMSs perform. Reporting is available in real-time, by device, geography, and heat map, and to track open and click stats.
Pricing
/ month
Brevo Email Marketing Software is tailored for developers and offers transactional email capabilities.
It is available for FREE, allowing users to send up to 300 emails per day.

Date founded
2012
Located
Paris, Berlin, Seattle, Toronto, Noida
Company size
450+
Reviews
Brevo
Features

Ease of Use

Support