Including video in your Facebook marketing can do amazing things for your business. Video can help customers and potential customers learn more about your brand, products, and services. It can reduce the number of support requests your business receives. Video can even increase traffic, engagement, and sales. That's probably why 87% of marketers use video in their marketing. But it can be a lot harder to create high-quality video content on a consistent basis—especially when you compare creating, editing, and posting a video on Facebook to simply creating and posting a Facebook post. Fortunately, you have access to Facebook video makers you can use to make the process of creating, editing, and sharing your Facebook videos, or creating Facebook video ads, a lot easier.
To make it easier for you to succeed in Facebook video marketing, we've put together a list of 15 Facebook video makers that will help you create engaging, high-quality videos and Facebook video ads that will draw in and delight viewers.
---
Important Features for Facebook Video Makers
Before we dive into our list, let's talk features. What features should you look for when considering the Facebook video maker you'll use? If you don't have an in-house video team, you'll want to make sure that the app you choose is user-friendly while still offering the editing and sharing tools you need. Here are a few of the features to keep in mind as you're choosing between all the Facebook video makers out there.
Editing Tools
Some Facebook video makers will only let you record, add some text or filters, and share. Others will give you limitless options to edit, cut, trim, and modify your videos. More isn't always better, though. Remember that the more features something has, the harder it could be to learn to use effectively. Choose a Facebook video maker that has the features you need. Don't get distracted by all the bells and whistles, particularly if you're not likely to use them.
Video Formats
What formats does the Facebook video maker support? You might want the freedom to create landscape, portrait, and square videos. Can you optimize your videos for both Facebook and Instagram? Other social media platforms? What image sizes are available?
Direct Share
How easy is it to get your video creations uploaded to Facebook? If you can share your video with a single click, that's probably going to be better than having to export from a Facebook video maker to your computer and then upload it into Facebook from there.
Ease of Use
Look for a Facebook video maker that's easy to use. It should have an intuitive layout where everything is easy to find and not require professional video editing skills to operate.
Pricing
Pricing for Facebook video makers varies depending on features and whether the platform is cloud-based or requires a download. Choose a price you're comfortable with and make sure that you're getting the features you need.
---
15 Facebook Video Makers
No matter what platform you're using—Windows, Mac, or your smartphone—there are tons of video editing tools to choose from. Let's take a look at our picks for the best Facebook video makers.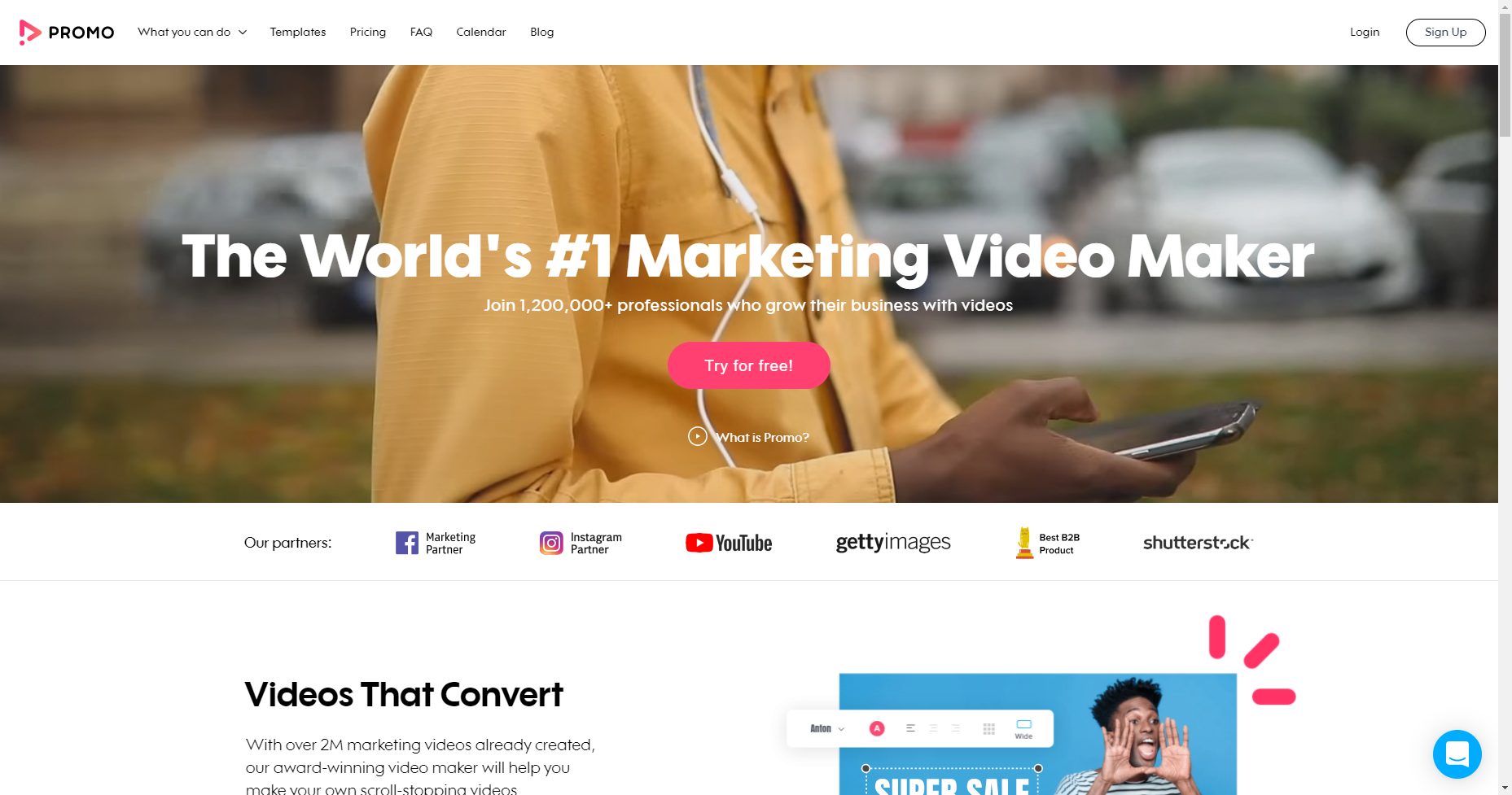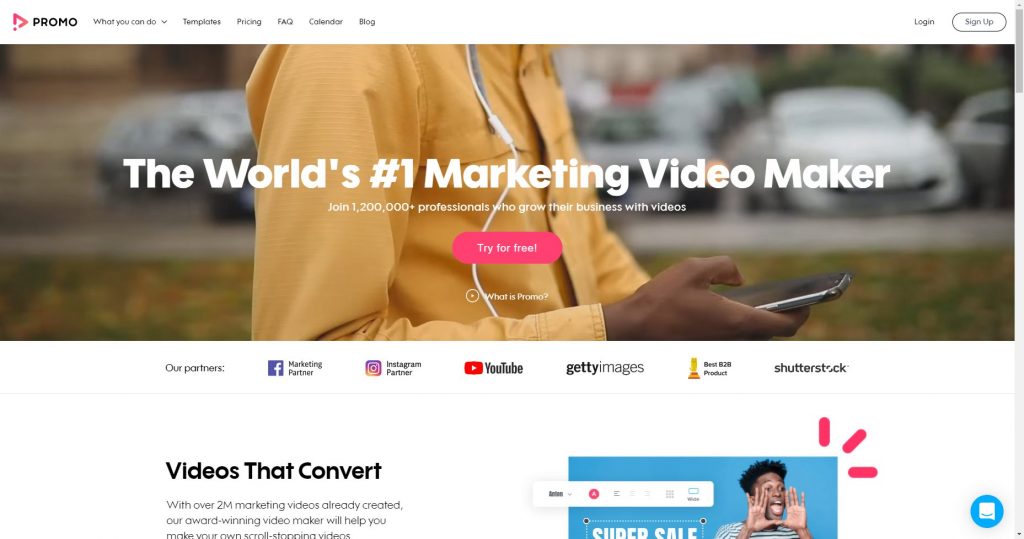 Promo is an award-winning video platform that includes professionally-design video templates, more than 12.5 million video clips, licensed music, and a user-friendly video editor. Simply choose your favorite template from Promo's library of 2,500+ templates and customize it to your heart's content. With Promo's Facebook video ad maker, you get access to a team of creative professionals that are constantly putting together customizable, ready-to-use Facebook video ad templates, a video editing tool that's user-friendly and gives you the option to use your own videos, images, and music, the ability to post videos directly to Facebook and all social platforms straight from Promo.com, a social media calendar to help you stay on top of your marketing, and more.
Pricing
Promo's Annual Basic plan is $39/month (billed yearly) and includes 36 premium clips per year. Both Annual Standard and Annual Pro include unlimited premium clips and are priced at $69/month and $249/month, respectively (annual billing).
---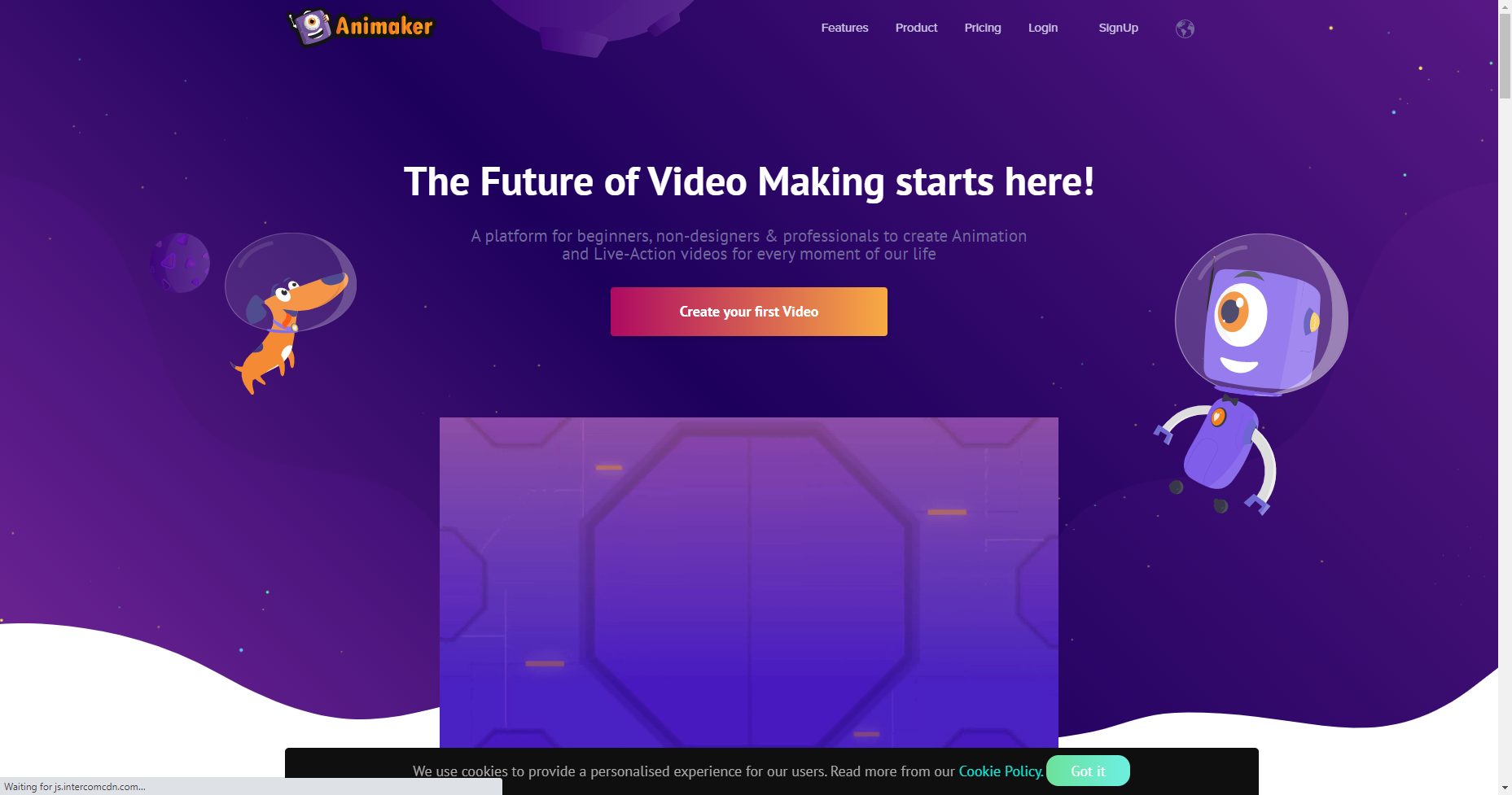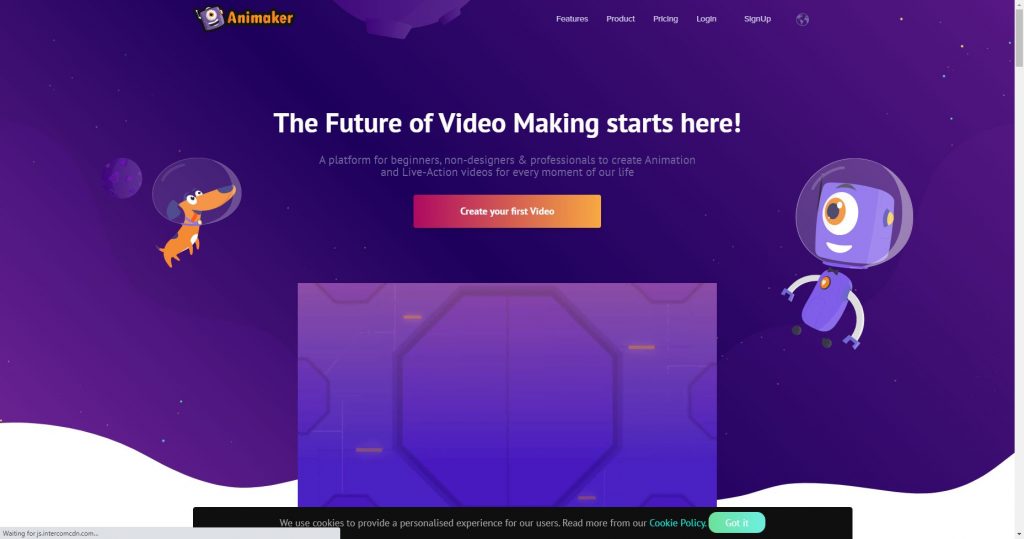 Animaker is an online Facebook video maker that's great for videos, non-designers, and professionals alike. You can use it to create animation and live-action videos. It has a simple drag-and-drop builder as well as a character builder that can be used to create billions of unique characters. Animaker offers 100+ million stock videos and photos and 1000+ templates that make it easy to create the Facebook videos and Facebook video ads you need to promote your business. You can upload and edit videos up to 4K video quality and even resize the videos for other social media platforms.
Pricing
Animaker has a free plan which will get you 5 watermarked downloads each month and 2 custom characters each month, along with access to basic editing tools. The paid plans start with the Basic plan at $10/month (billed at $120/year) with 5 premium downloads and 5 custom characters each month. The Starter plan is $19/month (billed at $228/year) and the Pro plan is $39/month (billed at $468/year). Animaker also offers Enterprise plans with custom pricing.
---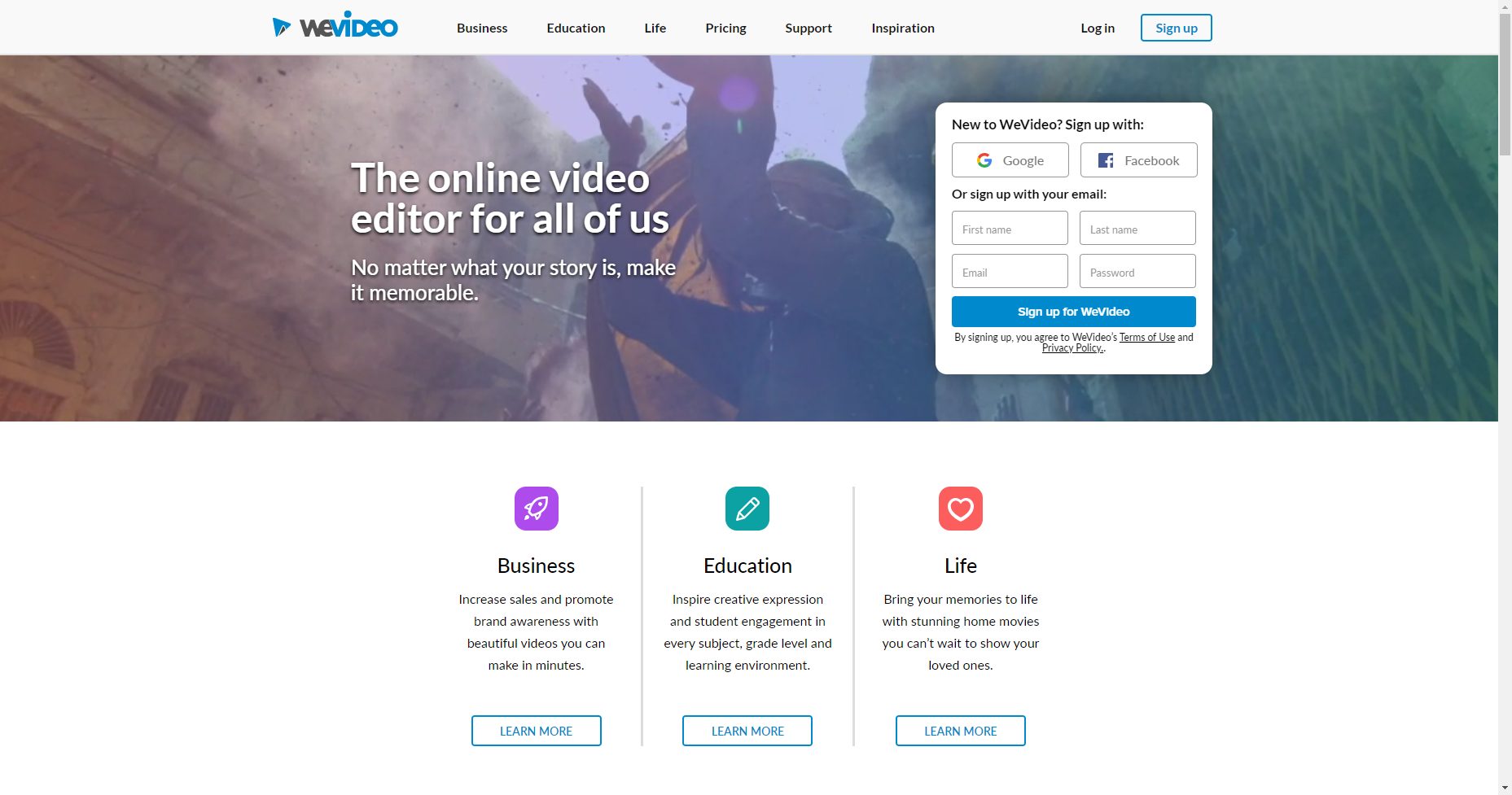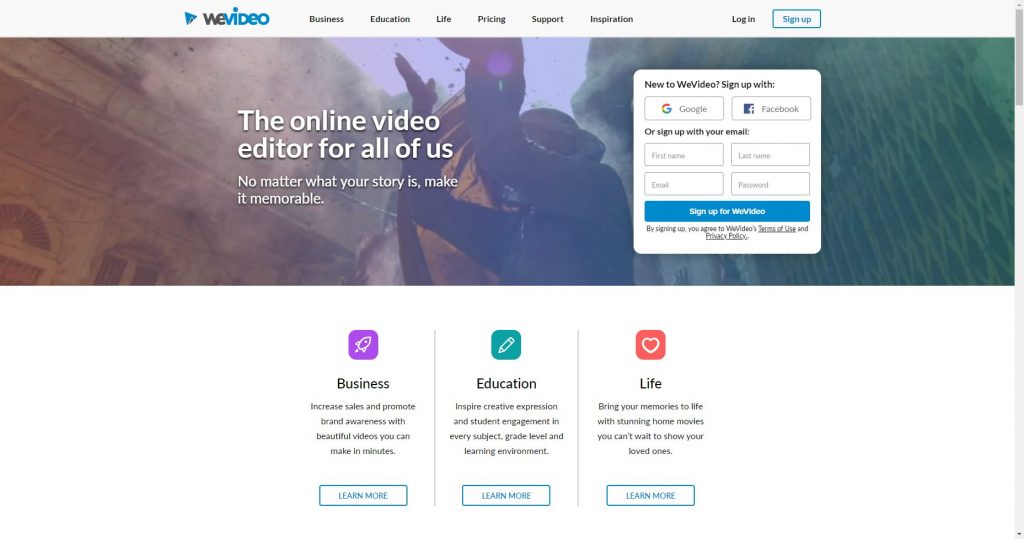 WeVideo lets users make videos on any device, including Chromebook, Windows, Mac, and mobile. You can edit from anywhere with mobile apps for Android and iOS devices. This video editing software supports square, vertical, and horizontal videos so you can create your video once and share it to Facebook, Instagram, YouTube, and other social media platforms. WeVideo includes a green screen feature as well as unlimited use of over 1 million pieces of commercially-licensed and royalty-free stock media including videos, images, and music.
Pricing
WeVideo has a free plan that includes 5 minutes of publish time per month. Paid plans start at $4.99/month (billed annually) for the Power plan and go up to $29.99/month (billed annually) for the Business plan.
---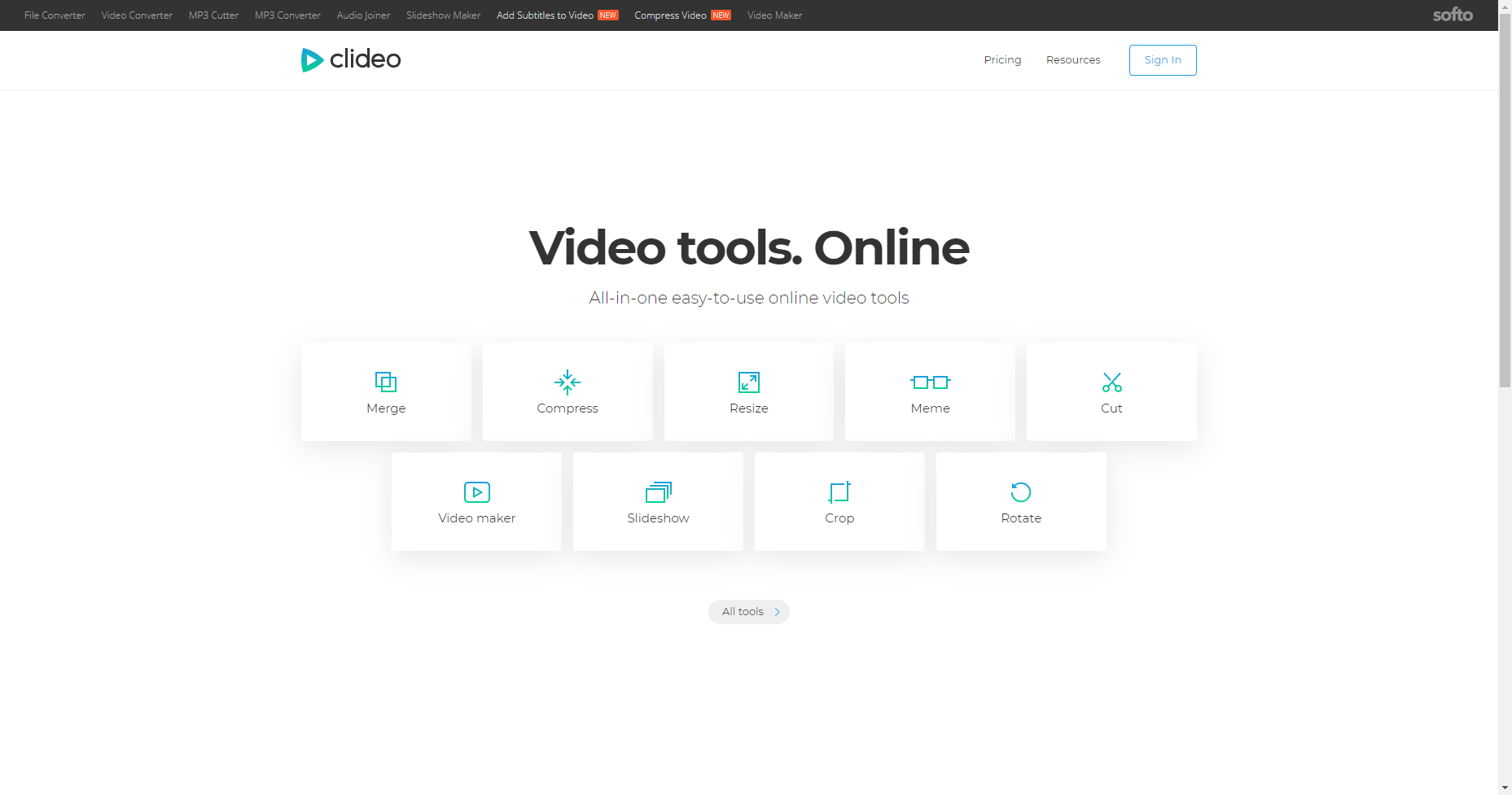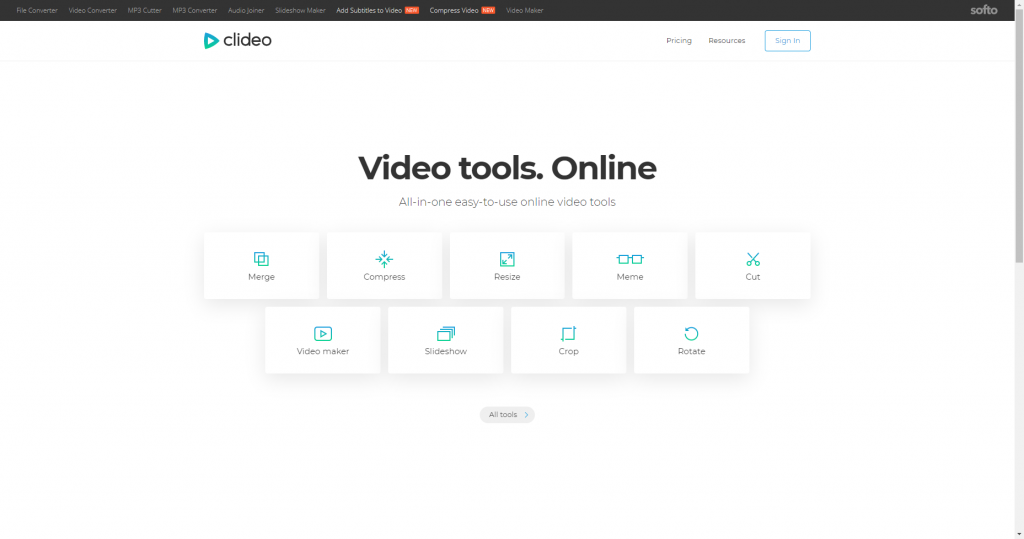 Clideo's Facebook video maker is easy to use and lets you create a video using your own videos, photos, GIFs, and music. It includes preset resolutions for Instagram posts, Instagram Stories, YouTube, and Facebook. Just import the files you want to use, create your video and add music, and save your video. You'll need to download the video to upload it to Facebook. Clideo is browser-based and doesn't require a software download. Jump onto the site and drag and drop your media files into the editor, add your soundtrack, and you're good to go.
Pricing
Clideo Pro pricing is $9/month or $6/month when paid annually. Both options come with unlimited videos.
---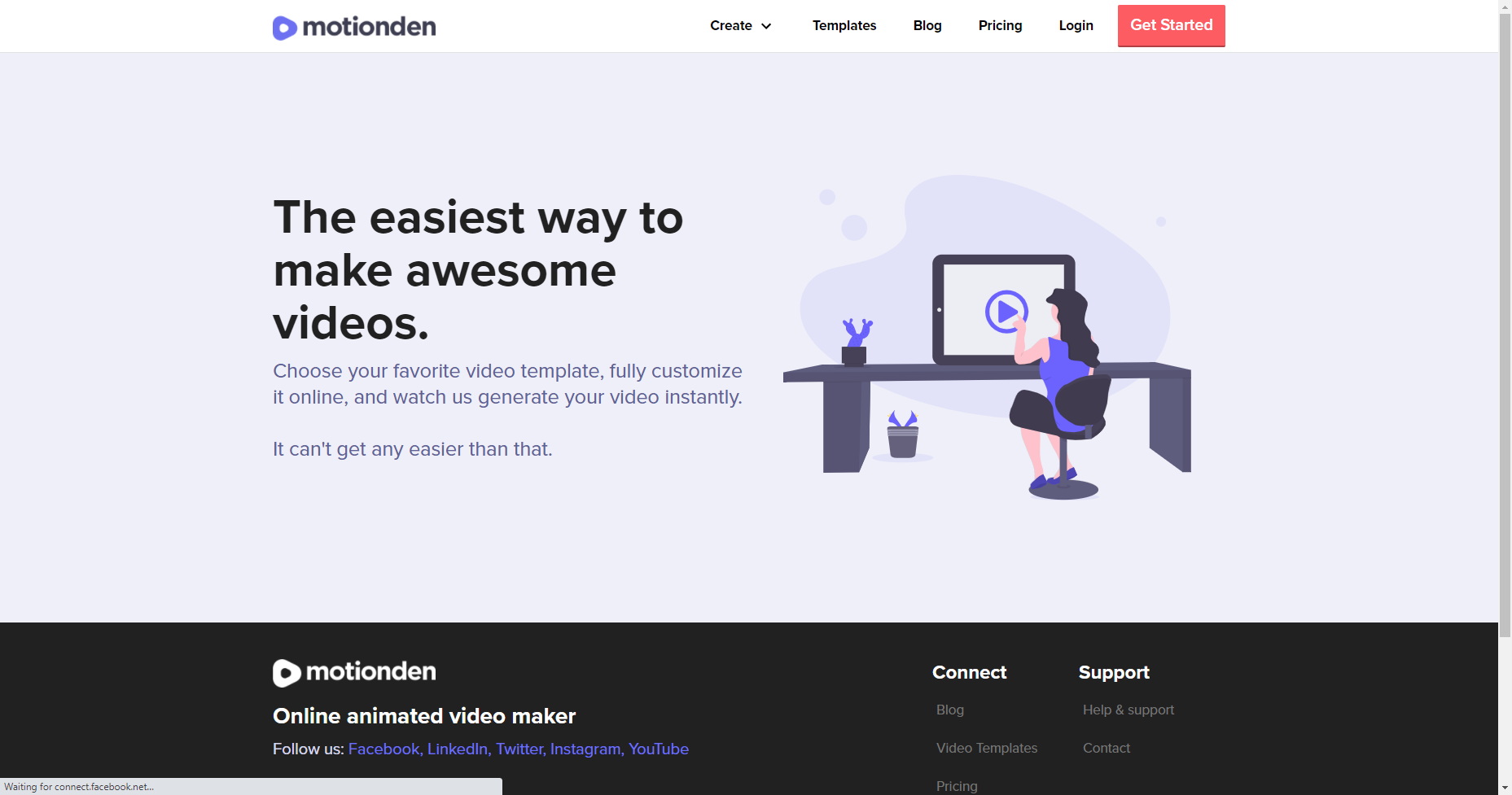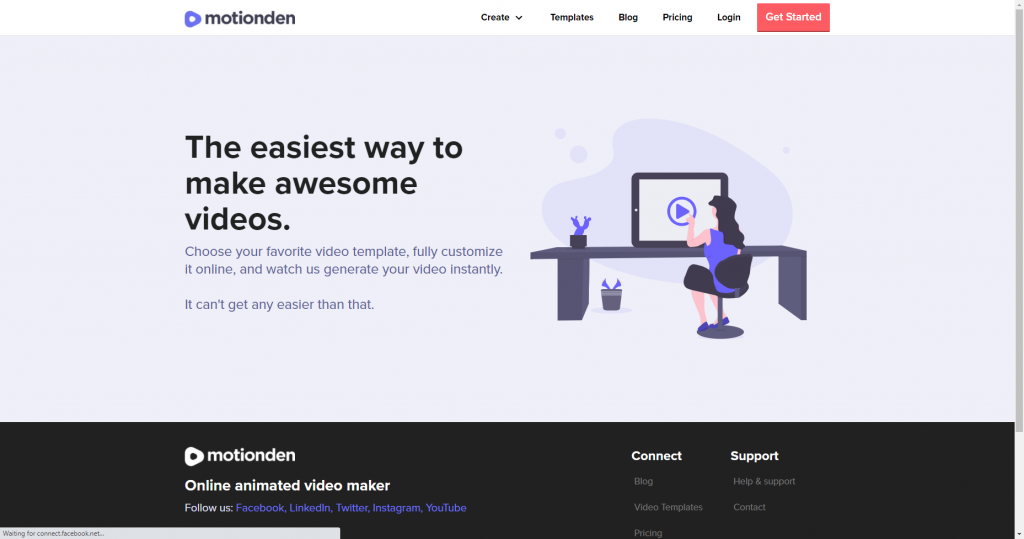 MotionDen is a Facebook video maker for businesses and marketing professionals. Users can create high-quality, engaging Facebook video ads quickly and easily, for free! Simply choose your favorite video template, customize it, and MotionDen generates an awesome video. With MotionDen, you can create a wide range of videos for Facebook:
Video ads

Explainer videos

Typography videos

Social media videos

Infographic videos

Corporate videos

Mobile app promos

Video presentations

Video commercials

...and more!
Pricing
MotionDen has a free plan that includes up to 5 watermarked videos. There's also a "pay as you go" plan for $9/video (additional cost to remove watermark) and an unlimited plan for $29/month (billed annually, no watermarks).
---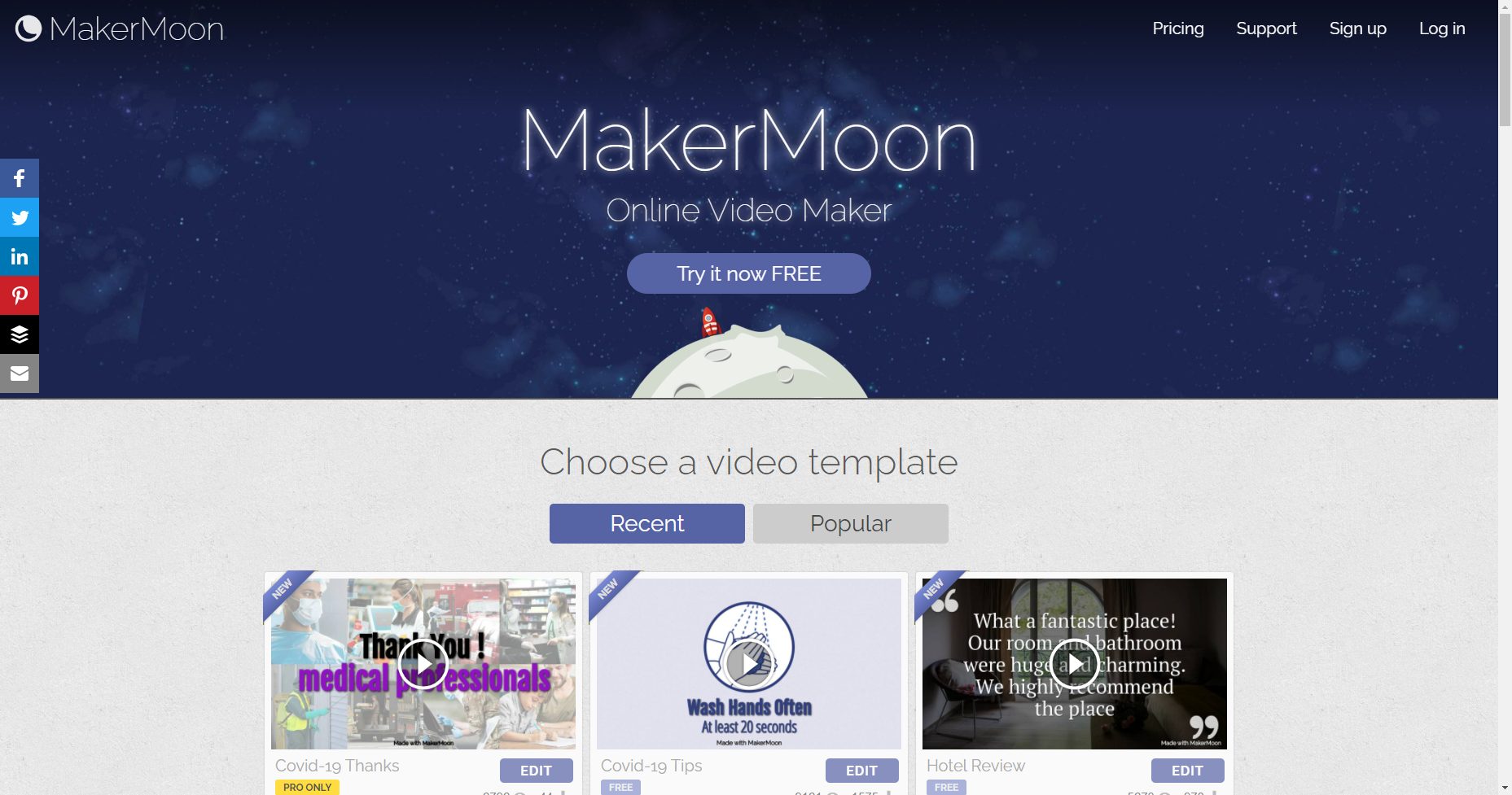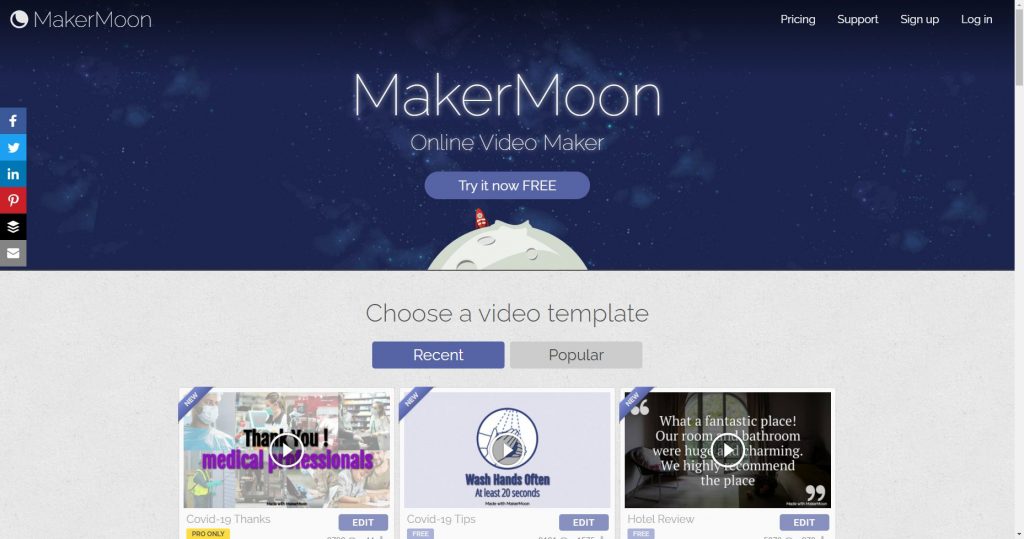 MakerMoon is a Facebook video maker that markets heavily to real estate but can be used by any industry or niche. You start creating your video by customizing MakerMoon's pre-made templates. Most of the videos are free but some will include a watermark. All of the videos are customizable and you can change images, text, fonts, colors, and more. After you've found just the right template, move onto editing. MakerMoon is great for creating Facebook video ads, product presentation videos, promotional videos, and animated slideshows, among others. And, your videos will be compatible with all major social media platforms.
Pricing
MakerMoon has two plans, Personal and Professional. The Personal plan is $69/year. The Professional plan is $119/year and includes a reseller license.
---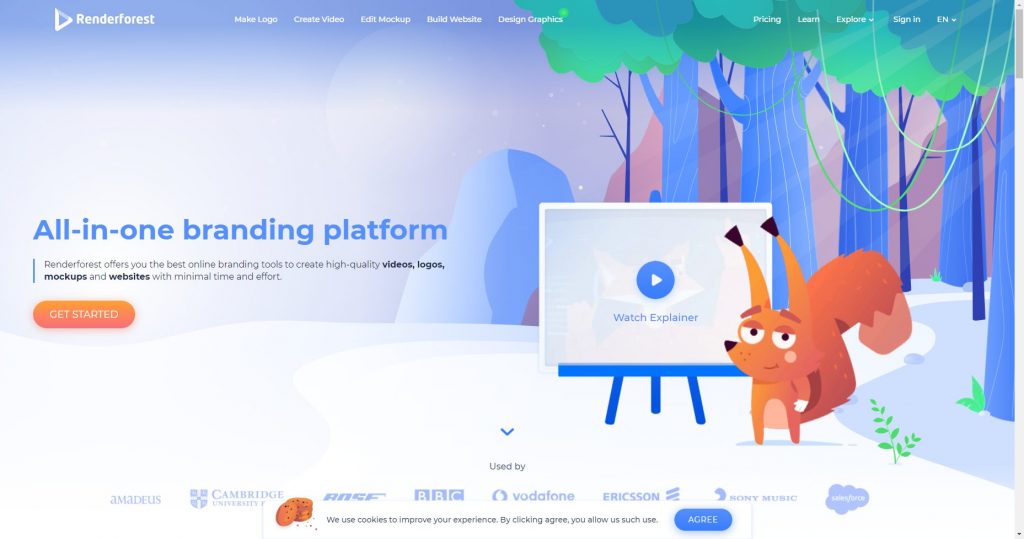 Renderforest is one of the best free Facebook video makers that lets you create videos online, no software download required. It includes a wide range of video templates, thousands of promotional videos, logo animations, intros, explainer videos, presentations, and slideshows. Just choose the template you want and build your video. Renderforest has a built-in editor so you can customize the included templates using ready-made color palettes, fonts, styles, and transitions.
Pricing
Renderforest offers a free plan that includes watermarks. Paid plans start at $6.99/month (billed yearly) for the Lite plan and go up to $49.99/month (billed yearly) for the Agency plan.
---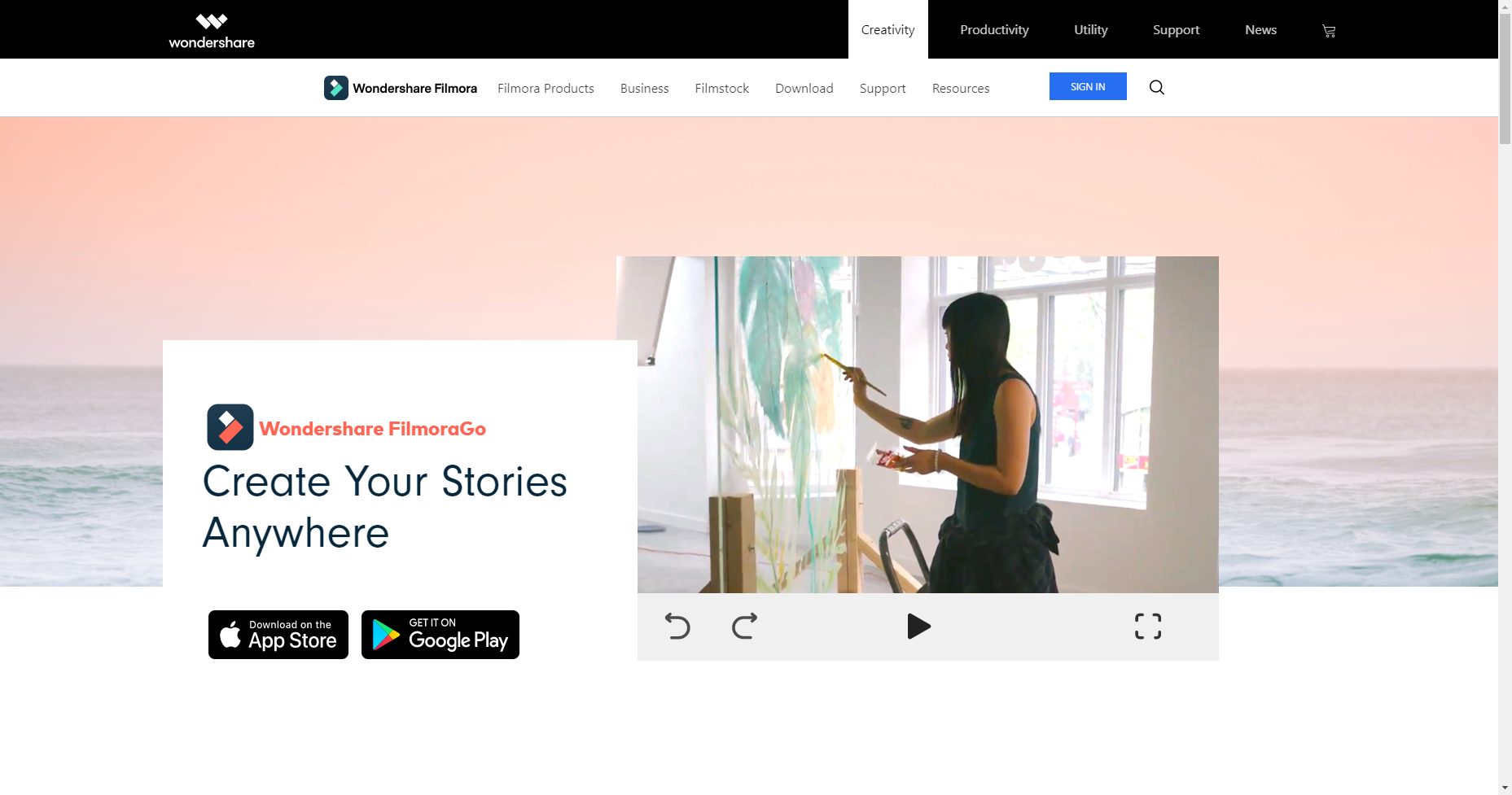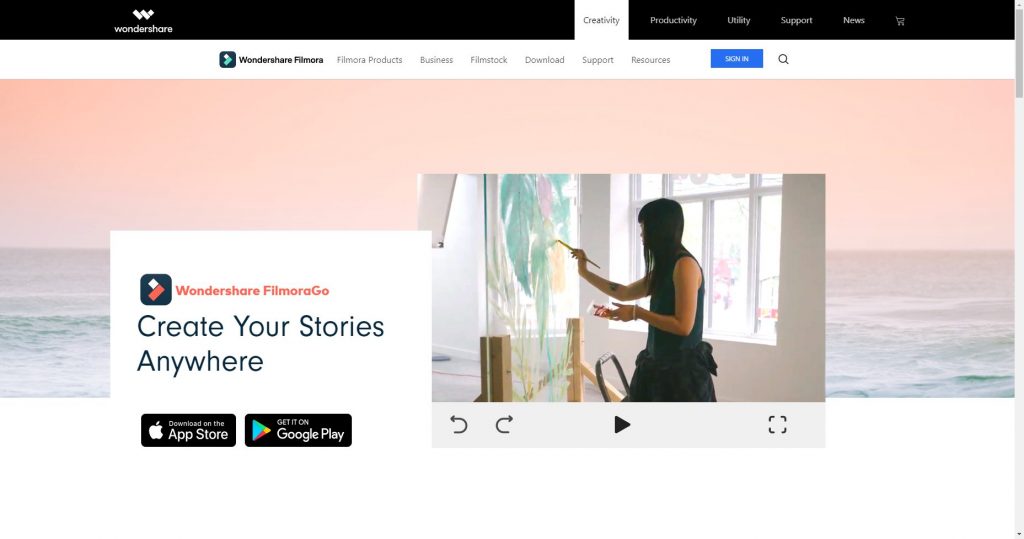 FilmoraGo is an easy to use smartphone-based video editing tool that has iOS and Android apps. It includes the basic editing tools you need like trim, split, transitions, reverse, speed, and even a canvas feature so you can choose the best aspect ratio for your video. In addition to those editing tools, FimoraGo offers advanced features like effects, stickers, filters, and text. You can choose from FilmoraGo's royalty-free music and sound effects, import from your iTunes library, or create your own recording.
Pricing
FilmoraGo offers a yearly subscription for $29.99 (iOS pricing) and a lifetime plan for $49.99. You can also get a monthly subscription for $4.99/month if that's your thing.
---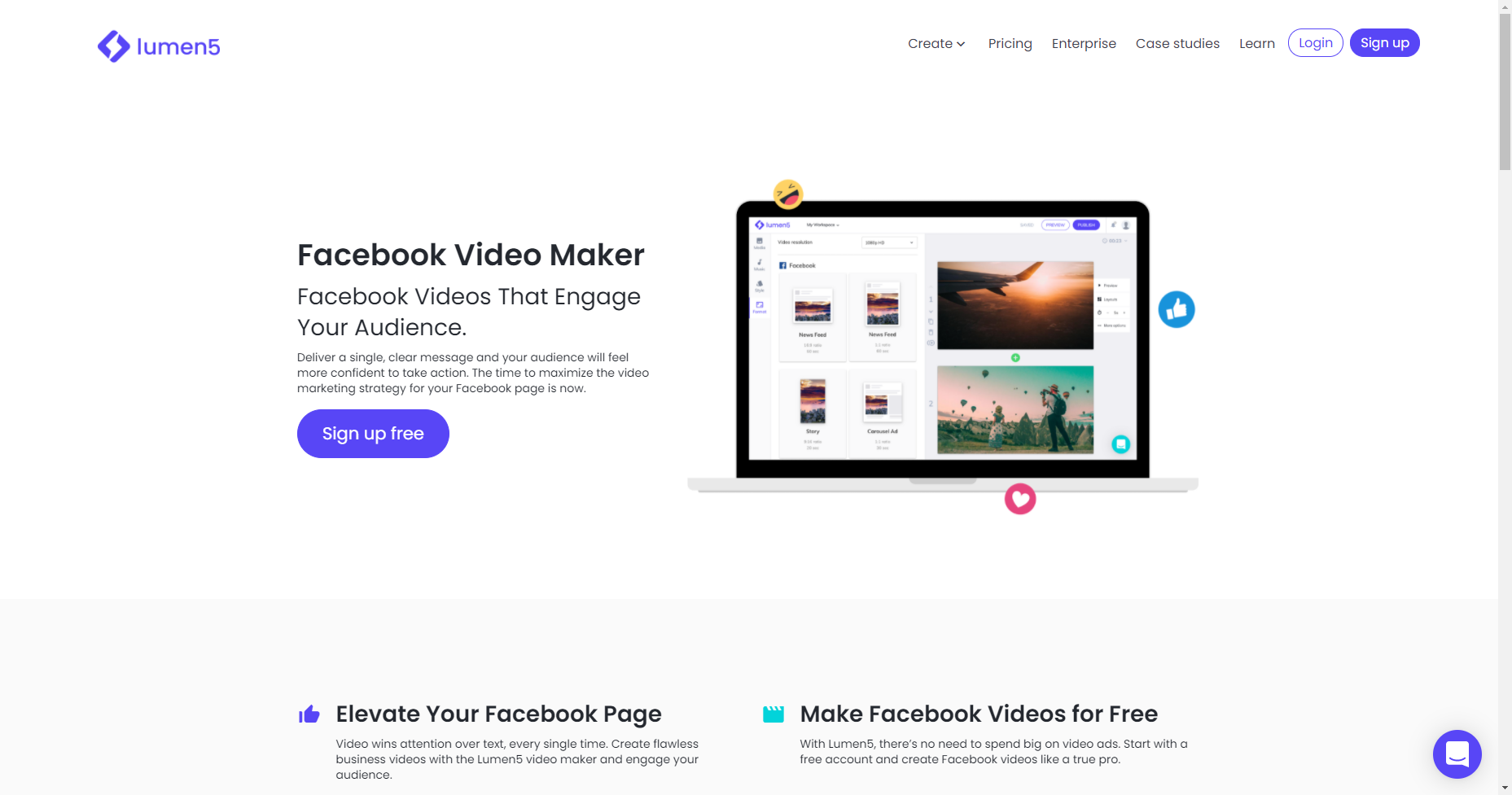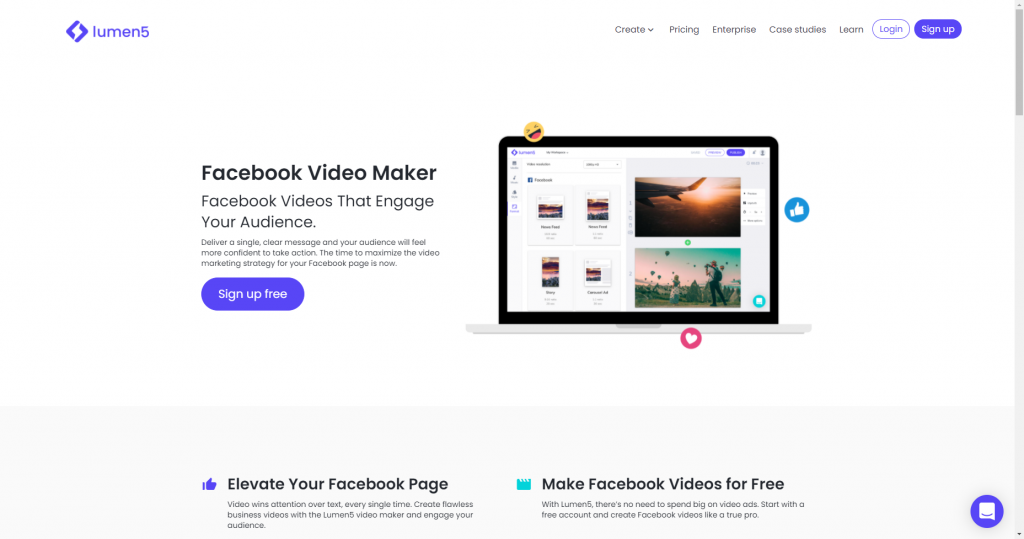 Lumen5 is one of the easiest social media video makers. It offers AI-powered technology to help you storyboard your ideas, fit your content to a specific layout, and find music and visuals that make your message even better. Lumen5 has a media library that gives users access to 160+ million photos, video clips, and audio files. And, with Lumen5's brand presets, you can choose from hundreds of themes, colors, fonts, and more.
Pricing
Lumen5 offers a free plan limited to 3 watermarked videos per month. Paid plans range from the Starter plan at $19/month (annual billing) to the Business plan at $149/month (annual billing). Lumen5 also has an Enterprise plan with custom pricing.
---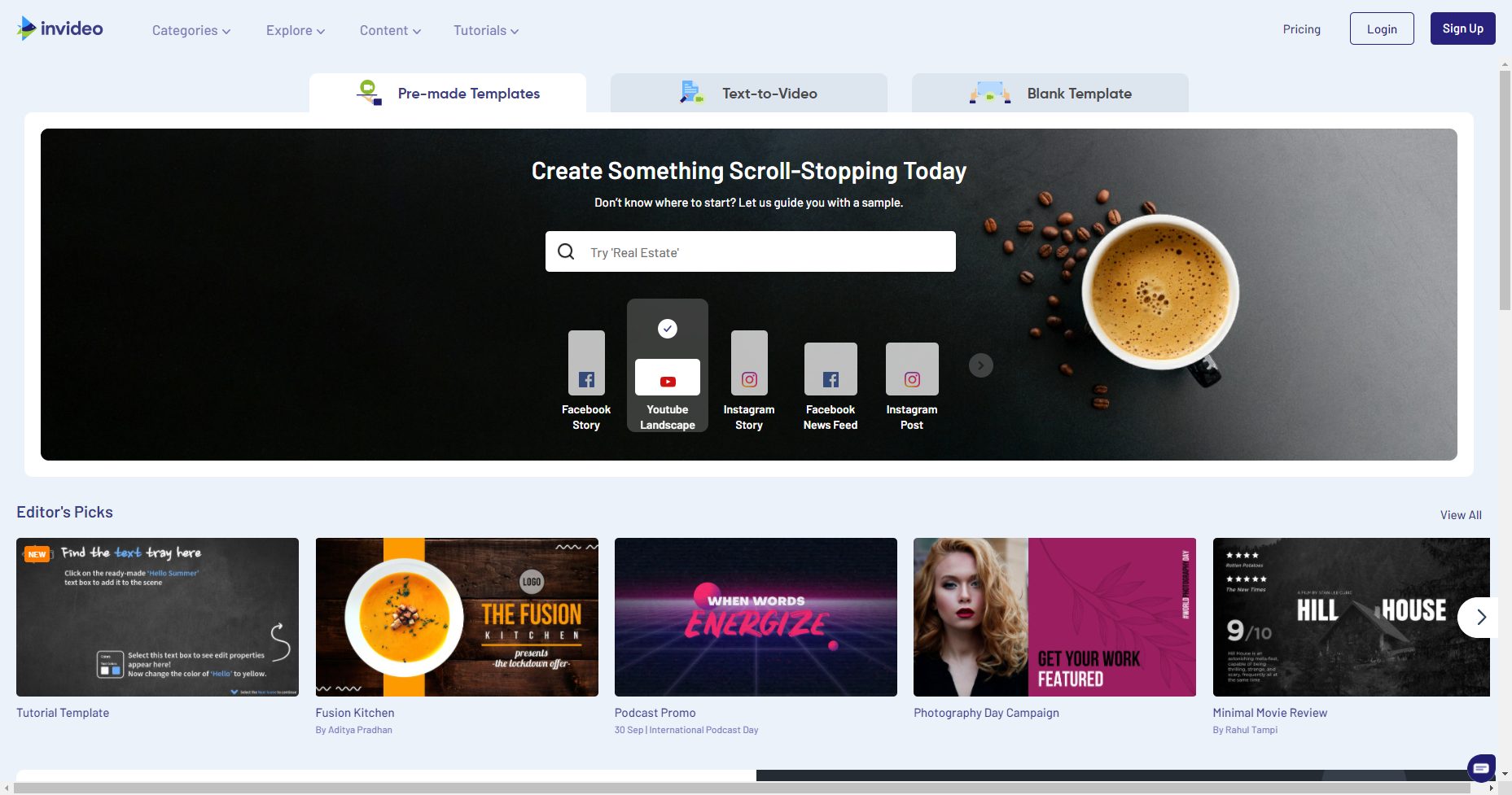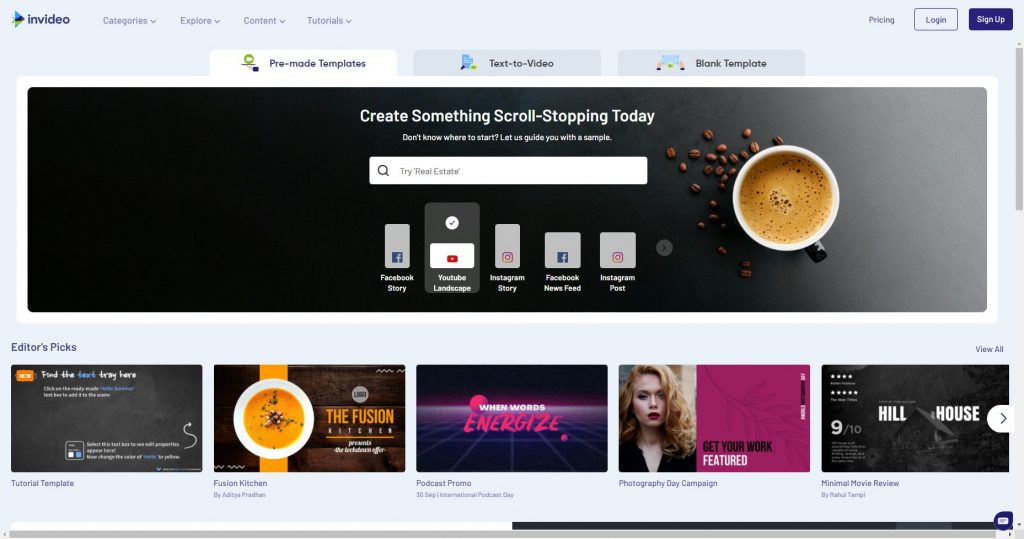 With InVideo, you can create Facebook video ads in just a few minutes with access to thousands of images, stickers, and text boxes. To get started fast, you can log in to InVideo and click on Quick Videos to choose from a variety of templates (don't worry, you can start with a completely blank canvas if you want). Once you've found the template for you, customize away!
Pricing
You can try out InVideo for free, exporting up to 60 watermarked videos per month. Paid plans start with the Small Business plan at $10/month (billed annually). You can get the Unlimited plan for $30/month (billed annually).
---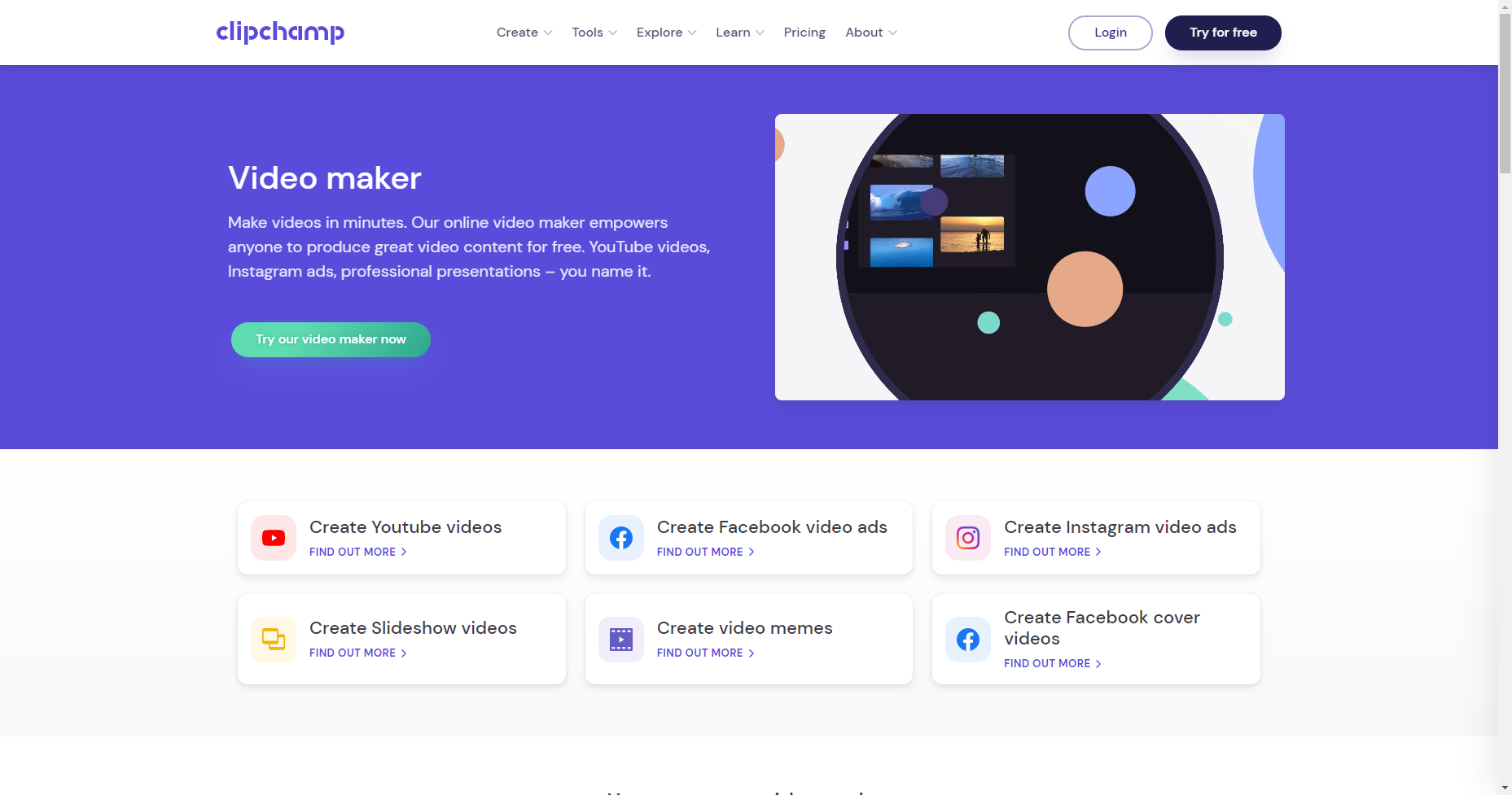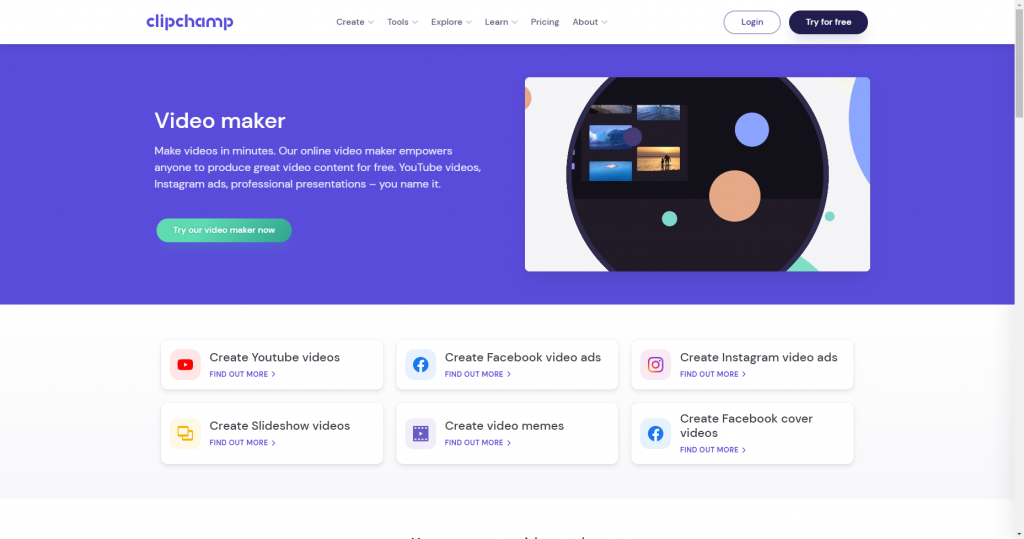 Clipchamp Create is a free video editor, compressor, converter, and webcam recorder. The Facebook video maker is ridiculously easy—just add your customized text and contact information on top of stock footage, add audio, and you're done. Clipchamp Create includes tons of templates you can use if you're running low on creativity. Once you've created your Facebook video ad, sign into the editor to finetune your ad with other elements and assets.
Pricing
The Basic plan is free. Paid Clipchamp Create plans start with the Creator plan at $6/month (billed annually). Their most popular plan, Business, is priced at $13/month (billed annually).
---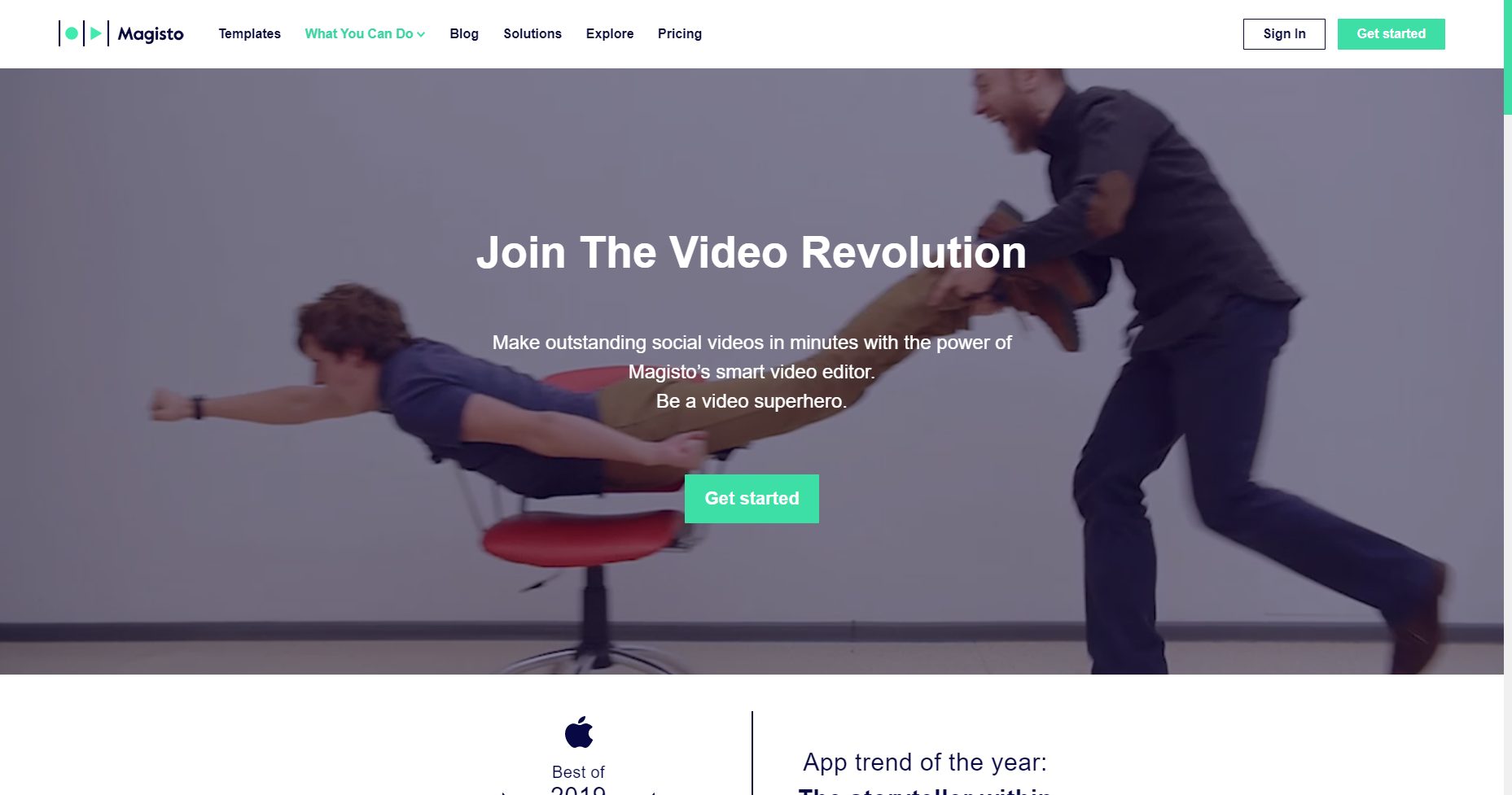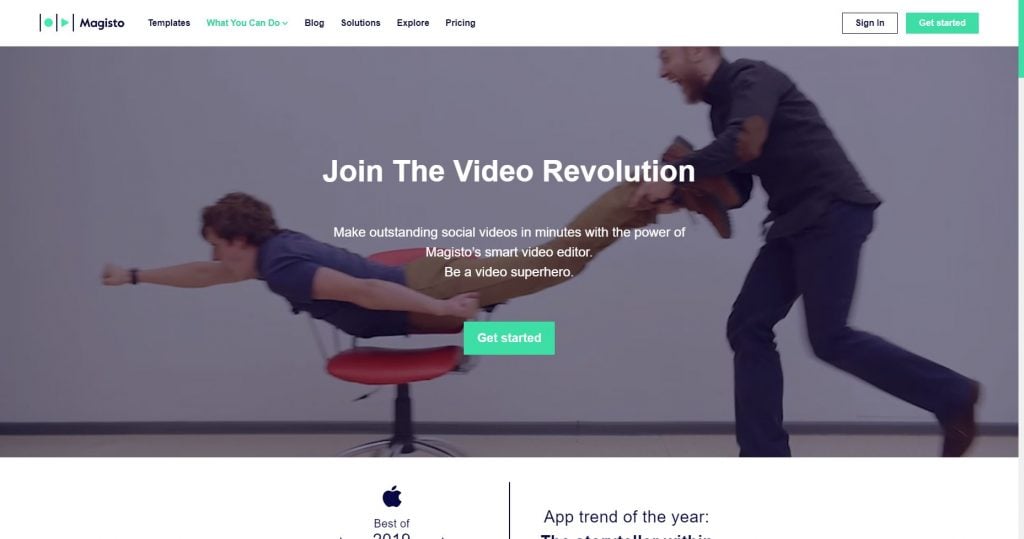 Magisto is a Facebook video maker with a simple and intuitive user interface. It offers a wide array of editing tools and custom branding tools. In addition, you can choose audio from Magisto's commercially-licensed music store and easily add logos to videos. Magisto includes AI-powered editing. Just choose your template, add your elements, and Magisto edits your creation into a stunning video.
Pricing
Magisto has three plans: Premium, Professional, and Business. Pricing starts at $4.99/month (with annual plan) and goes to $34.99/month (with annual plan).
---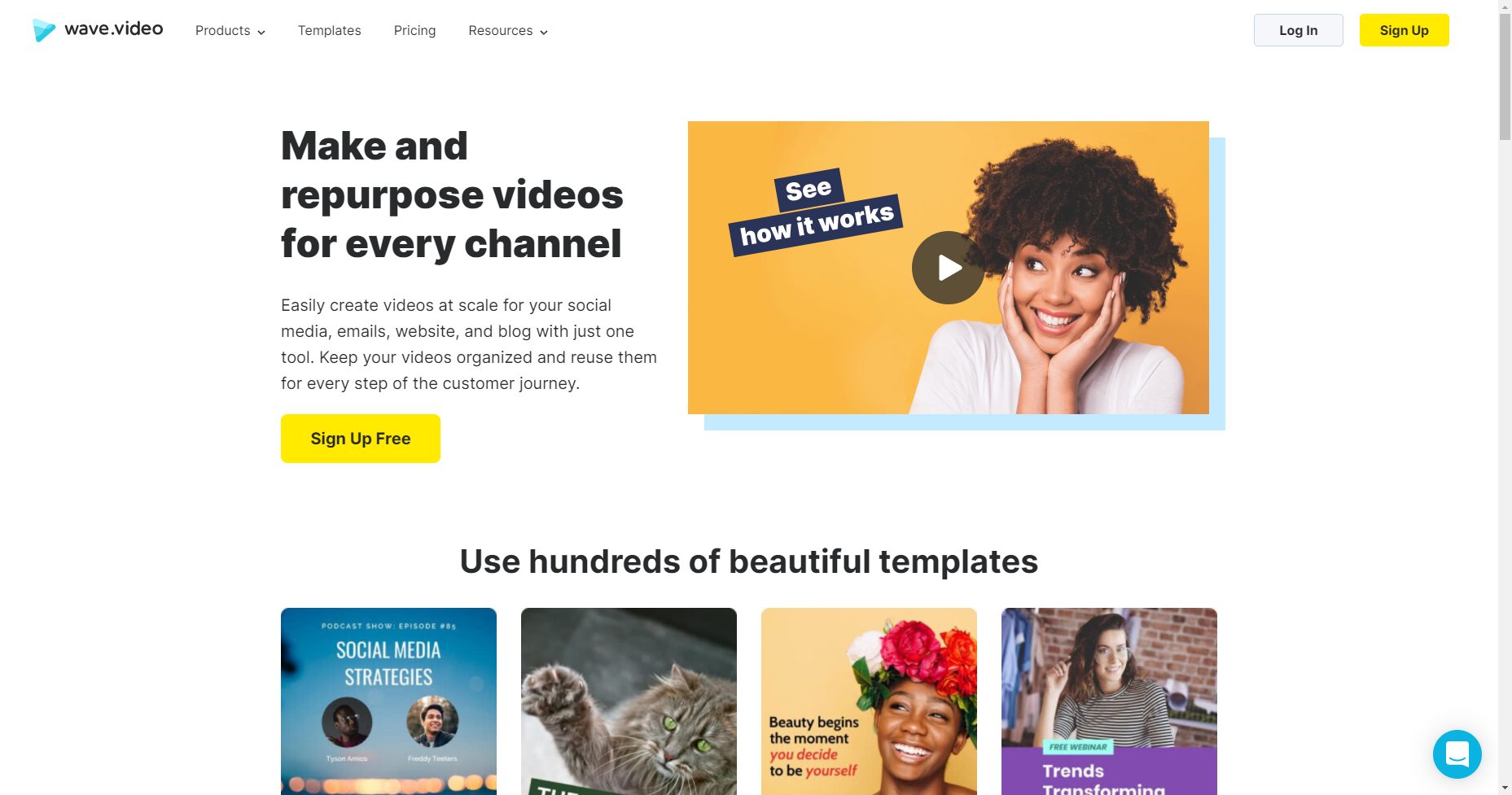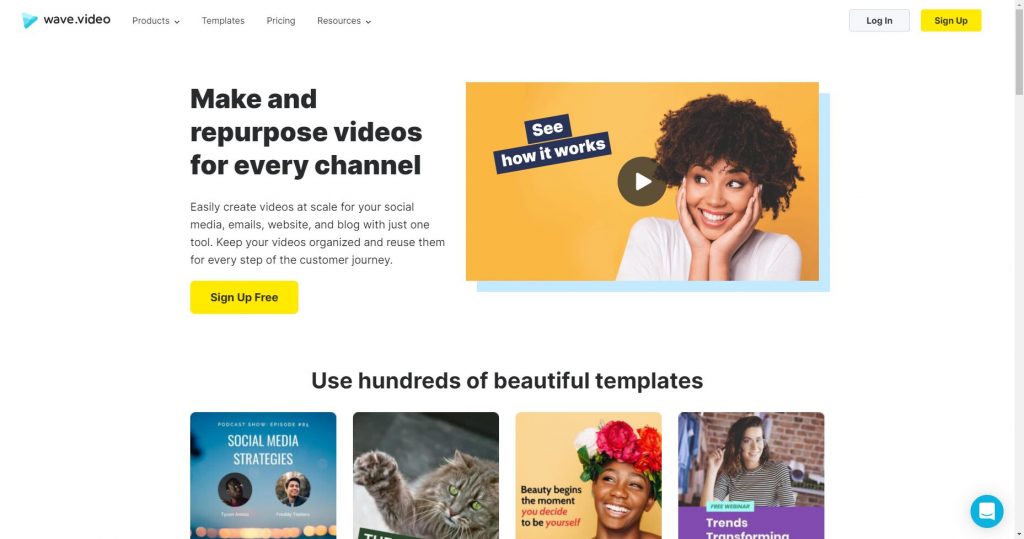 Wave.video is an online, drag-and-drop Facebook video maker that lets you resize your videos (square, vertical, horizontal) with just a click in case you want to share them on other social media platforms. With Wave.video, you can trim and crop your video, apply video filters, and resize your video to 30+ formats. You'll also get access to more than 400 million built-in stock images and music files, animated text, GIFs, stickers, and more.
Pricing
Wave.video offers a free plan. Paid plans start at $20/month (billed annually) for the Creator plan and $40/month (billed annually) for the Business plan.
---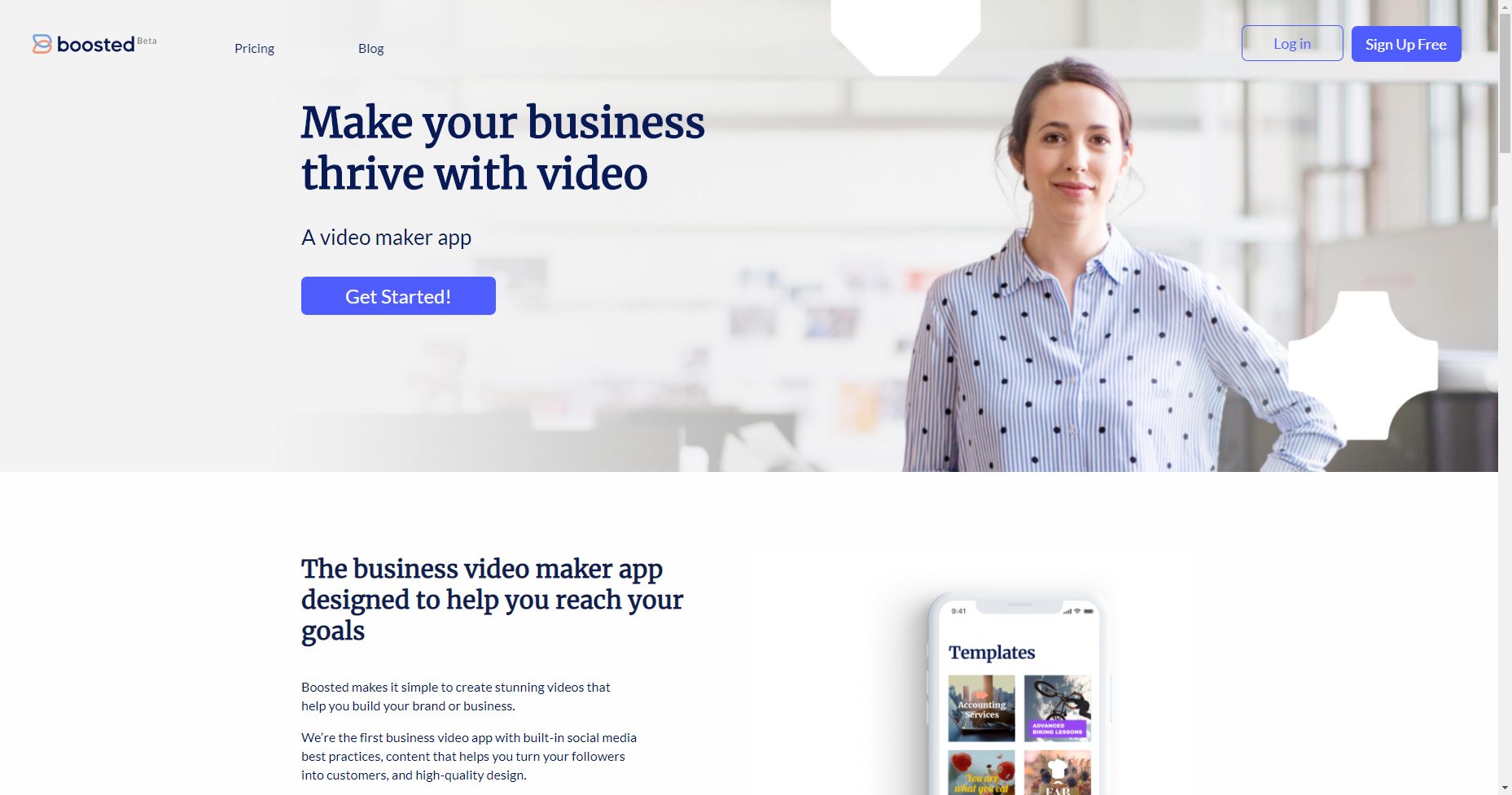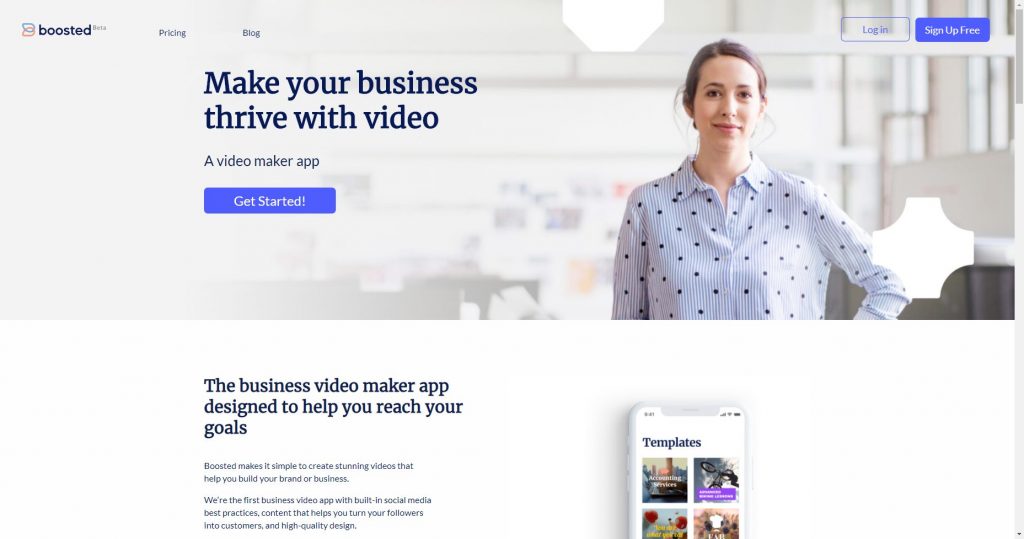 Boosted makes it easy to create high-quality videos with professionally-designed templates, video resizing, and quick video editing. You can create a wide range of videos with Boosted, including video ads, product, demos, teasers, and a lot more. Boosted has a free stock image library, a free music library, and custom fonts and colors.
Pricing
Boosted's Premium plan is $12/month (paid annually).
---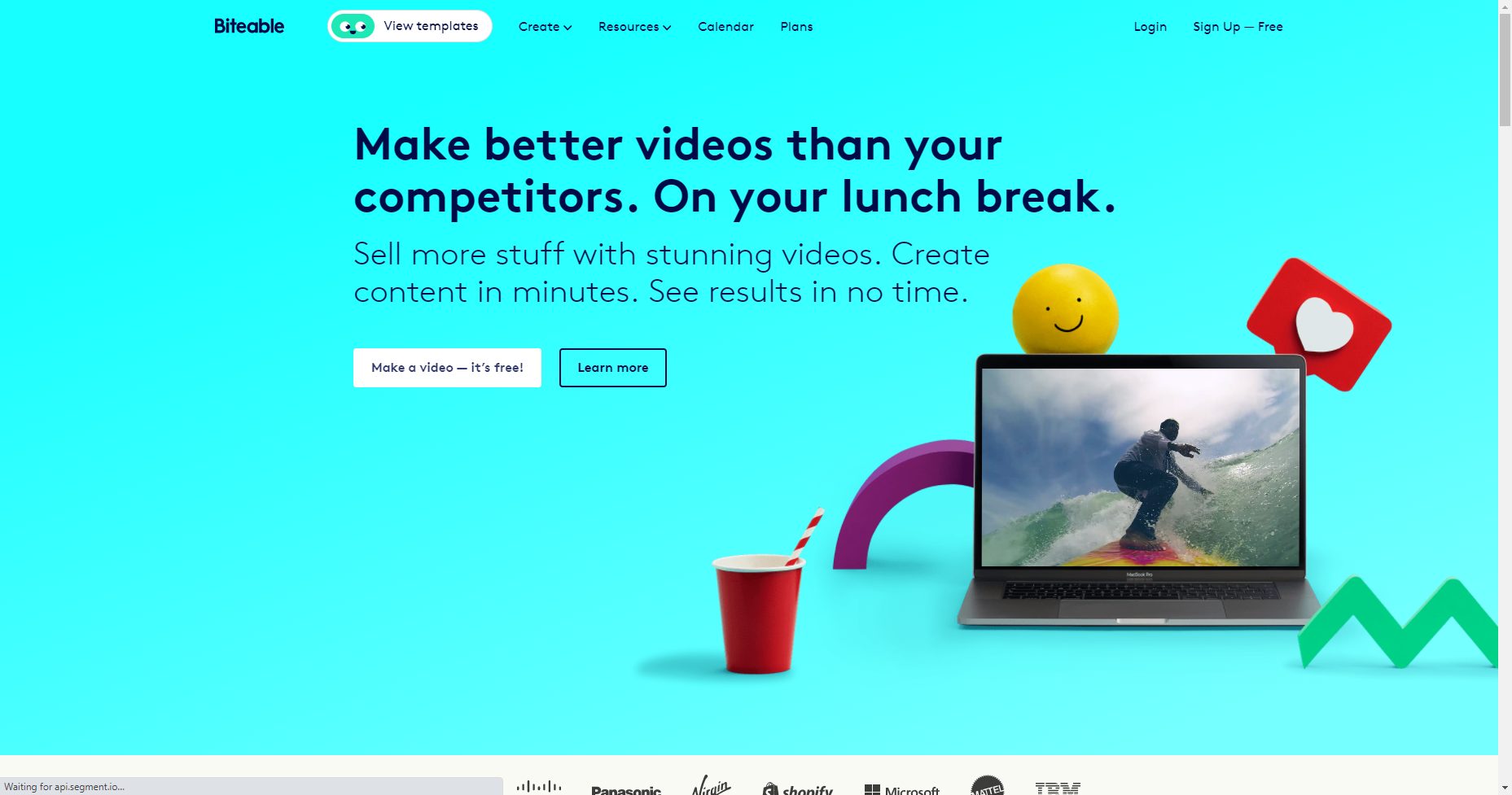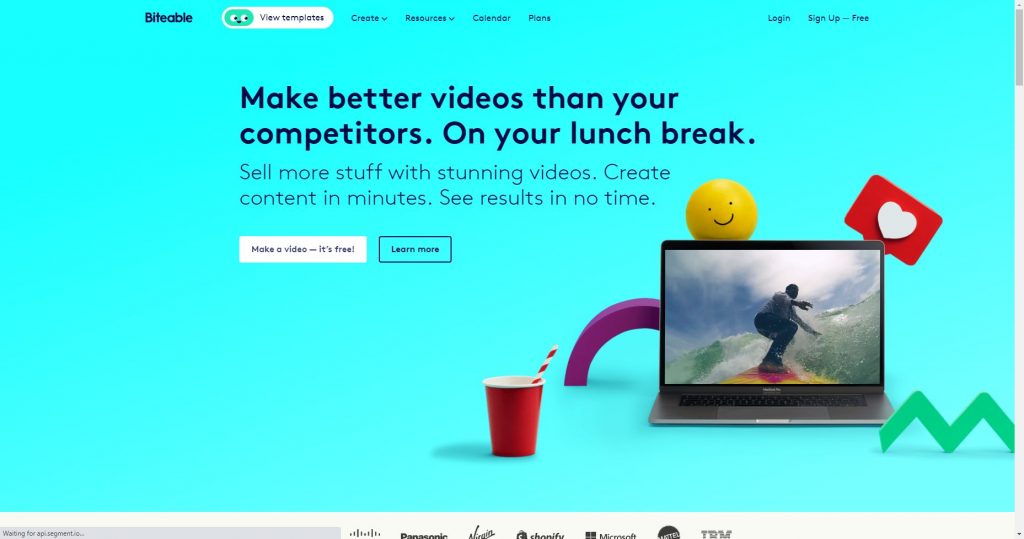 Biteable is a social media video maker you can use to create videos, ads, explainers, slideshows, and more. It offers 800,000+ stock footage clips and animations as well as a huge collection of templates. You can also upload your own photos and clips, mix in pictures and clips of your products or service, add effects and animations, and even brand your projects to make your videos truly your own.
Pricing
Biteable has a free plan that includes watermarked exports and Biteable branding but no commercial usage rights. Biteable's Plus plan is $19/month (billed at $228/year). The Professional plan is $49/month (billed at $588/year) and includes collaborative editing and video creation assistance.
---
Wrapping Up
Being successful with Facebook marketing doesn't mean spending countless hours creating and editing videos. Any of the Facebook video makers we've covered here provide the editing tools you need to create engaging Facebook content and Facebook ads that convert.