Video marketing is far from a new concept. As the medium continues to be used by more brands across the globe, more video marketing statistics develop in its favor. And rightly so, video is capable of doing more to engage and motivate the sale than text or image-based content.
Through sound, psychologists have found that it's possible to influence the moods of audiences. And that's a big deal. If brands can strike the right emotional chord with their audience in a video, they could realize as much as a 31% success rate for their marketing campaigns
There's more to the impact and importance of video. Which is why we've developed this list of video marketing statistics. It's filled with amazing figures that show how powerful including video in your digital marketing strategy can be for your brand.
---
60 Powerful Video Marketing Statistics:
---
Video Marketing Statistics & Trends
As the world bounds forward, it can be hard to determine how video marketing is being used to help brands and server people. Here's a look at video trends and how the medium is being used.
Over 100 million people watch YouTube TV on their TV screens each month in the U.S. (

Think with Google

)

There has been an 800% increase in global watch time of ad-supported and purchased feature-length movies in the past year. (

Think with Google

)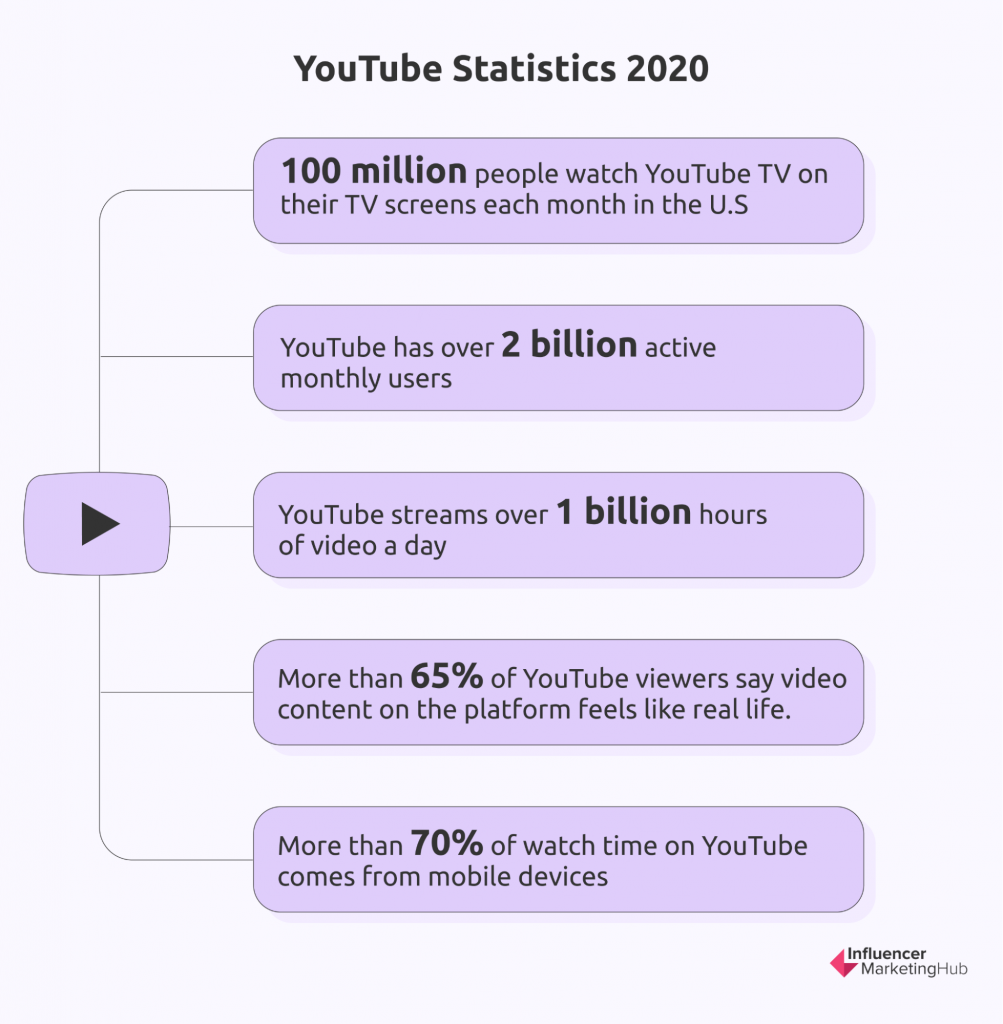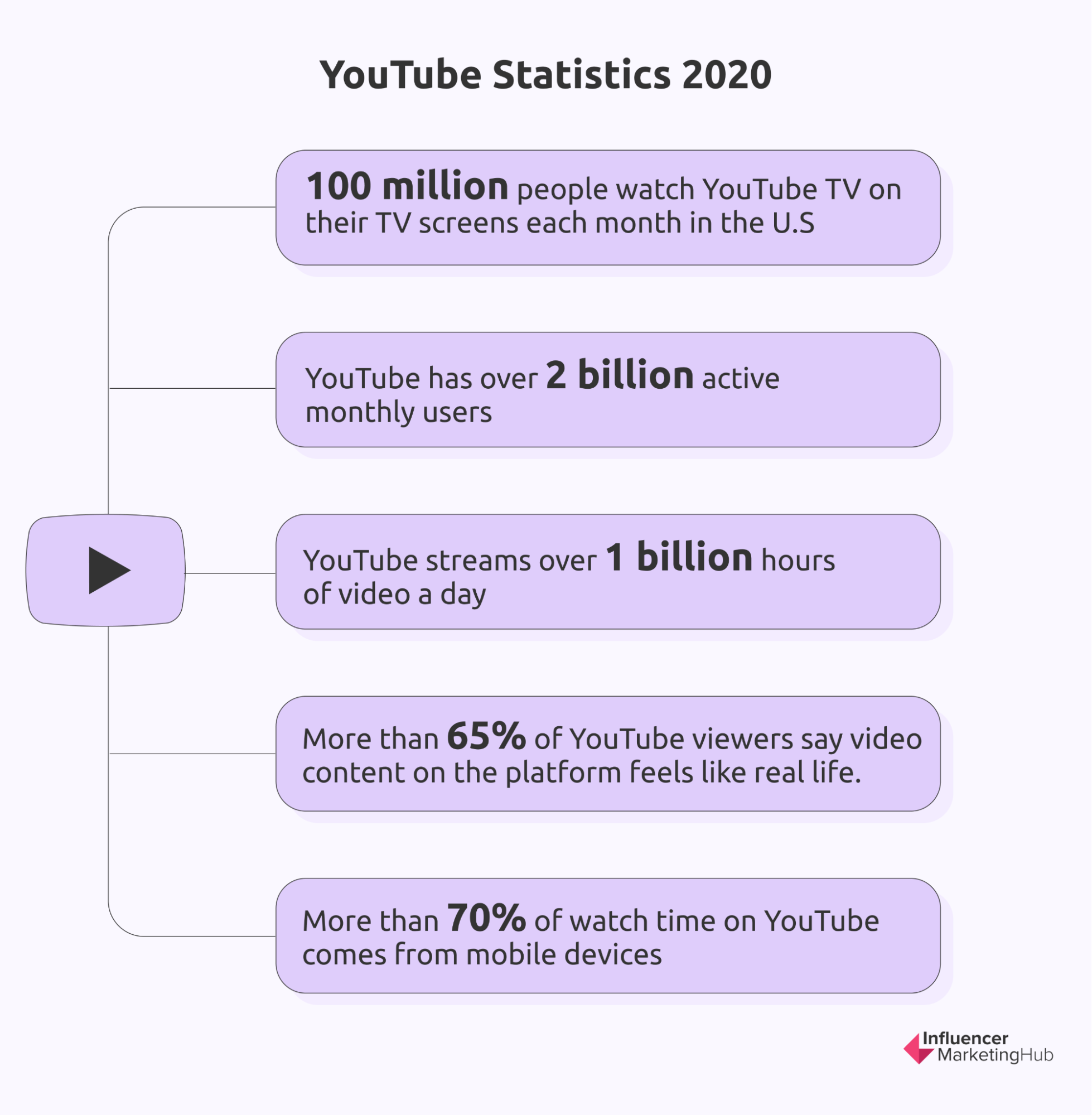 ---
Video Marketing Statistics for Social Media
It's hard to escape the influence that social media has on the world, harder yet to ignore how video has played its part in charging social media. Here's a look at video marketing statistics for social media.
---
Video Marketing Statistics for Marketers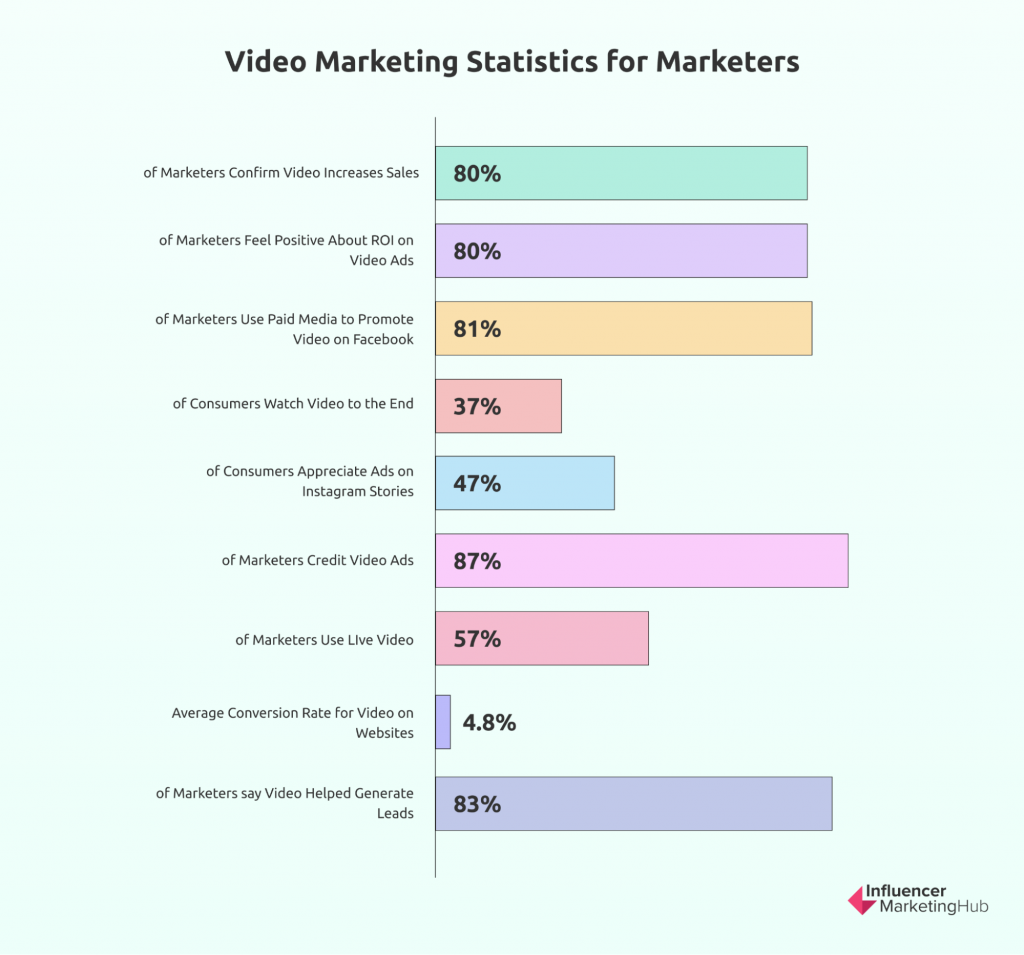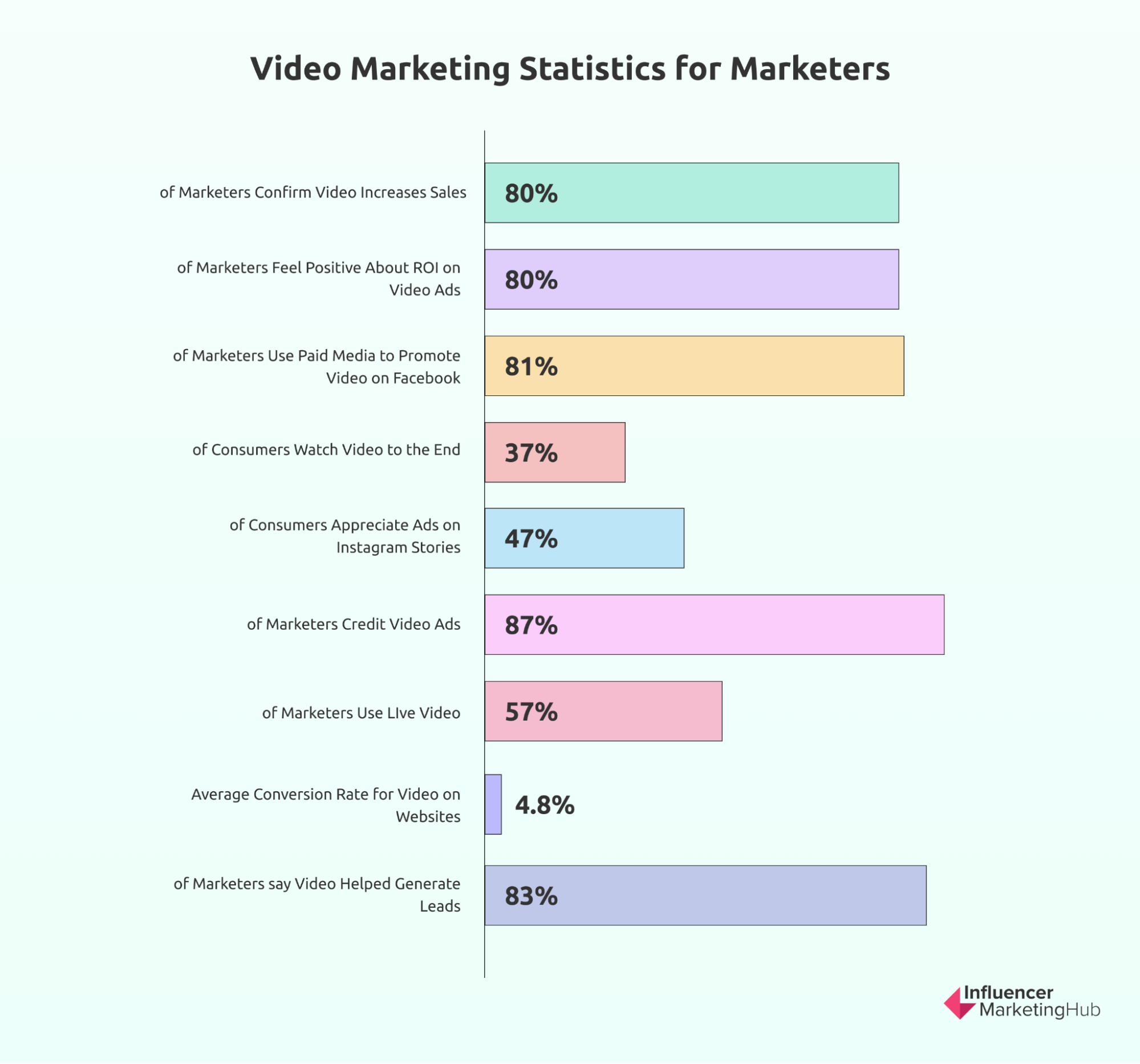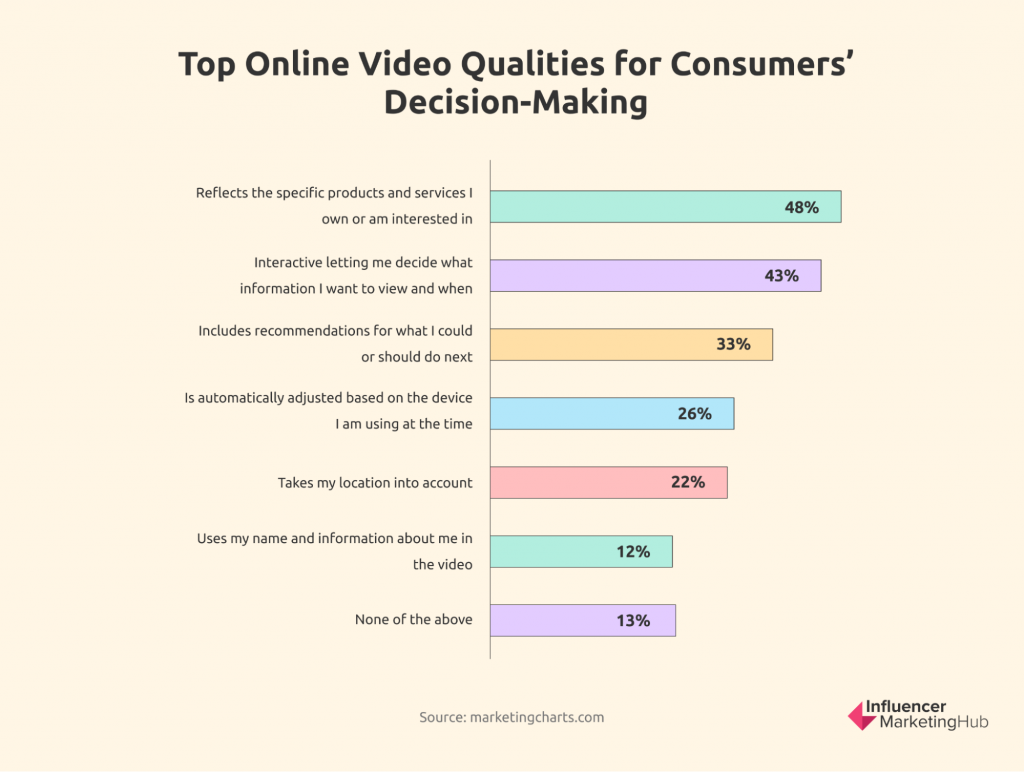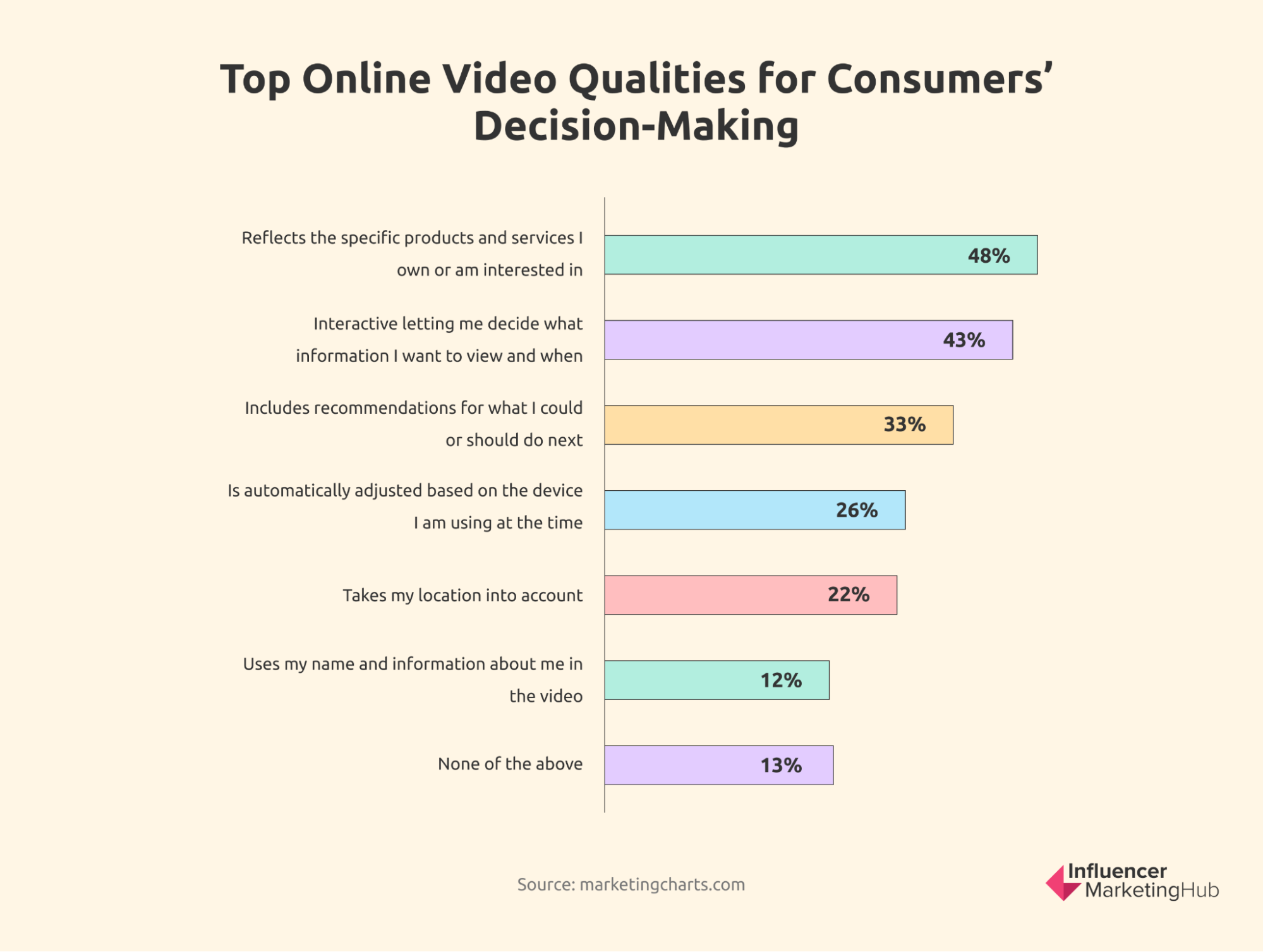 ---
Why You Should Use Video Marketing
1. More people are watching more video
More people across the globe are watching tons of video today. For example, YouTube has over 2 billion active monthly users who stream 1 billion hours of video each day. Sure, most people turn to YouTube for entertainment, but not all do. According to Google, people watch videos to see products before making a purchase, to learn how others have used them, to find out more about a product they are interested in, and to find credible reviews from buyers. This proves that the right video marketing can help buyers find, and purchase your products and services.
2. Video triggers emotional responses
Video is more engaging than text and images. They offer more sensory stimulation through. Psychologists have discovered that the right music can induce emotional states, making it possible to directly influence how viewers respond to your videos. What's more, research by the University of Southern California shows that ad campaigns with emotive content outperform those without.
3. Video is an always-on salesperson
Creating an effective video marketing funnel can help you boost business growth. As your videos attract, educate, and convert more people from prospects into leads and sales, you're also able to reach more people whenever they are looking for your products.
---
Wrapping Up
Video is a powerful marketing tool. When planned and integrated into a content marketing funnel, they can elevate your brand message, attracting, educating, and converting more buyers into leads and sales. If you're yet to take the leap and invest in video marketing, take the time to learn as much as you can about your audience.
While these states prove that video is effective, they are also backed by hours of research and execution by marketers across the globe, and span various verticals. To find what works best for you, commit to quality content that adds value to your buyer's life before opting for the sale.