Social media has snowballed in importance over the last decade. However, just how much do people love their Facebook, Instagram, YouTube, and other such accounts? We've looked at the numbers and come up with some key social media statistics and facts. The figures are truly mind-boggling. While some might still shun this new type of media, there are undoubtedly many people who have embraced social media and use it daily.
While we have tried to gather the most up-to-date statistics and facts for this article, the nature of social media means that they will always be changing. That is one of the reasons we've developed our tool that demonstrates the changes to the top Instagram accounts over the last five years.
Not only that, 2020 and 2021 have had a major effect on social media. With stay-at-home orders across the globe to help curb the spread of Covid, increasingly more people have been "forced" to use social media in other ways and/or more frequently. It would be interesting to see how our use of social media will be shaped by the pandemic years going forward.
---
Below is an interesting visualization of what happens on the internet in real time.
Since you visited this page
24 hours
---
Growth of social media Networks

---
Growth of chat services

---
100+ Social Media Statistics for 2022 :
---
Infographic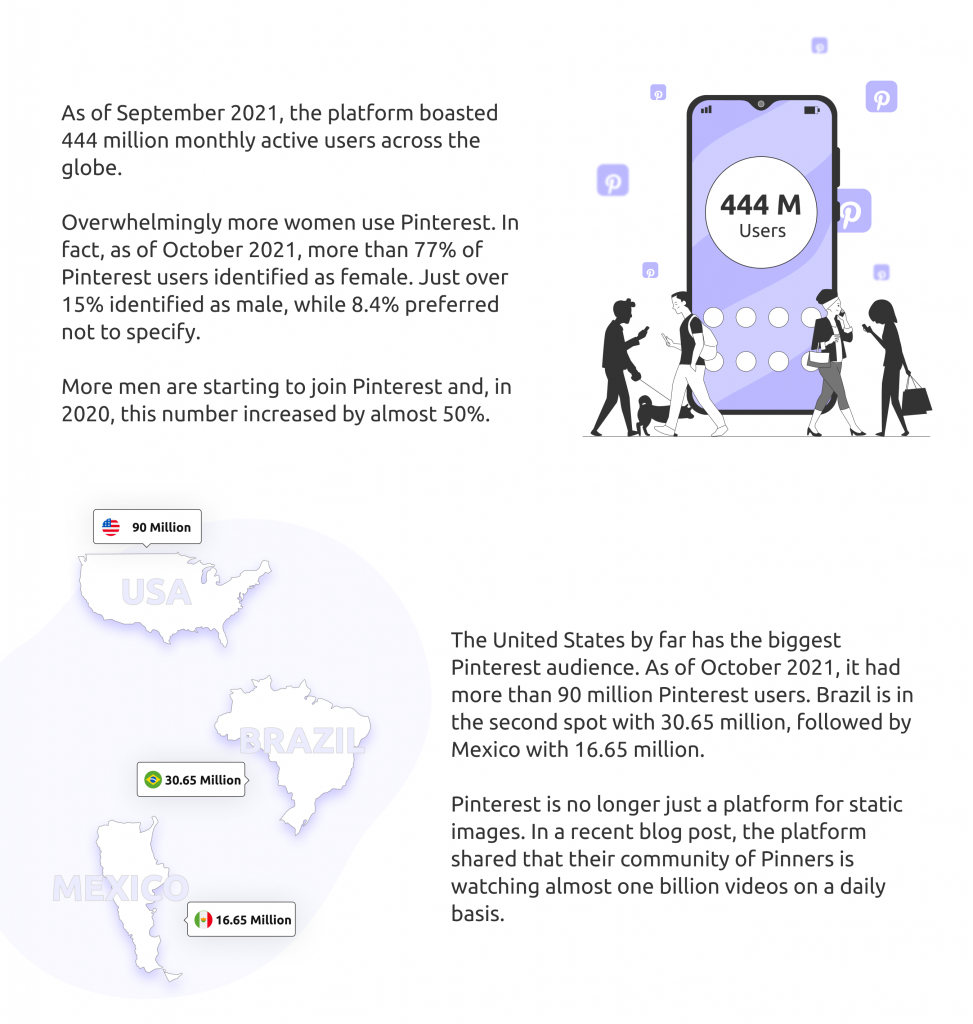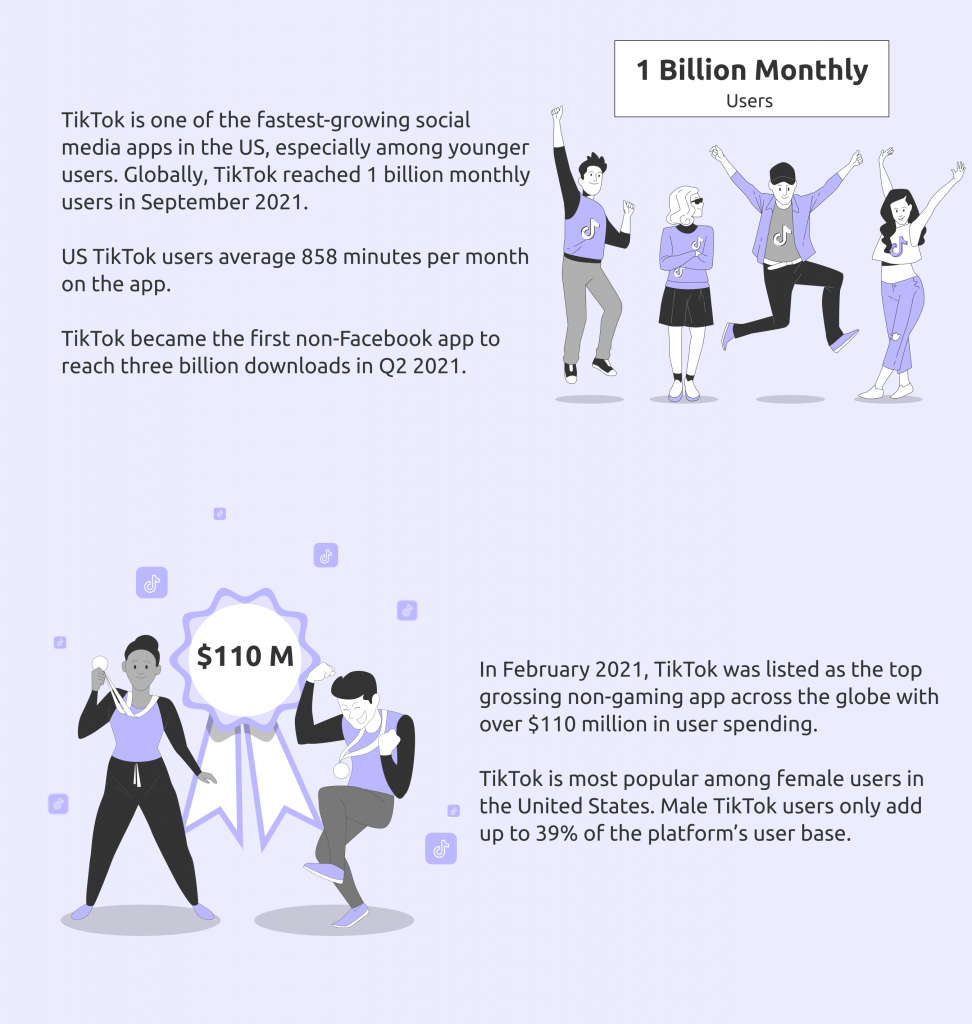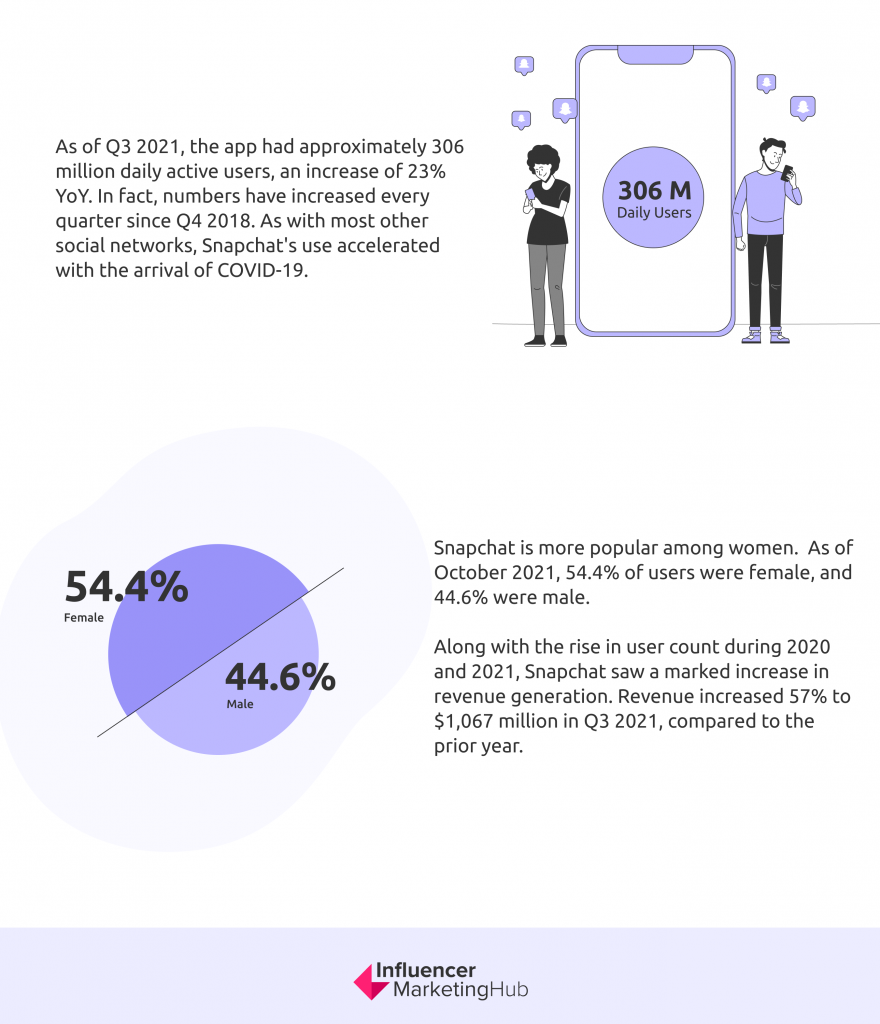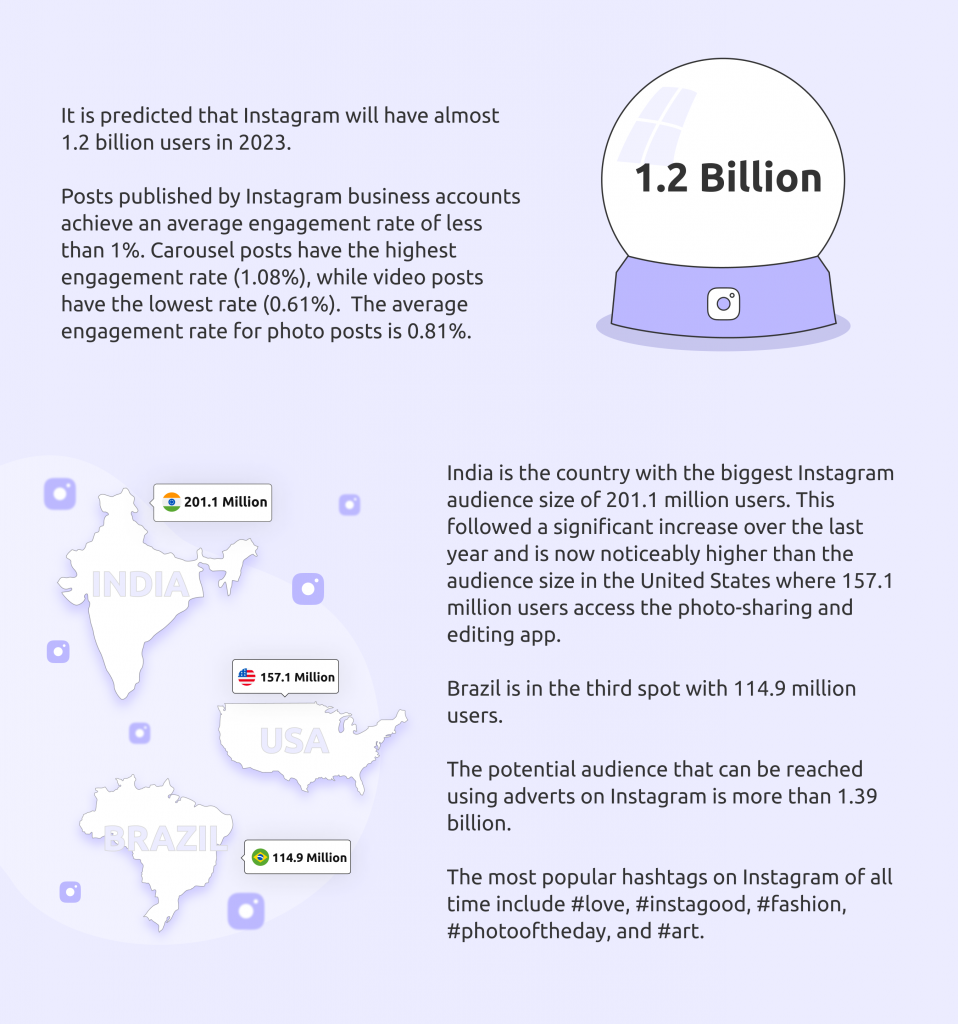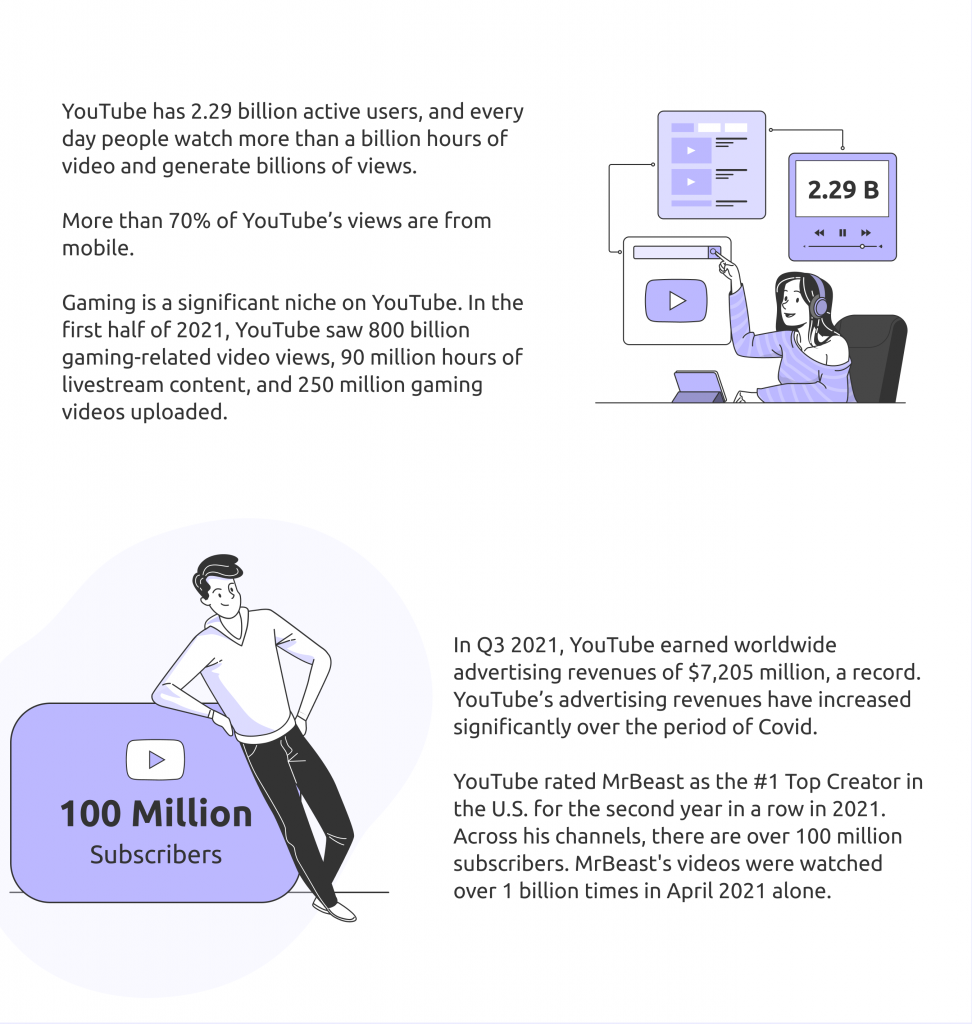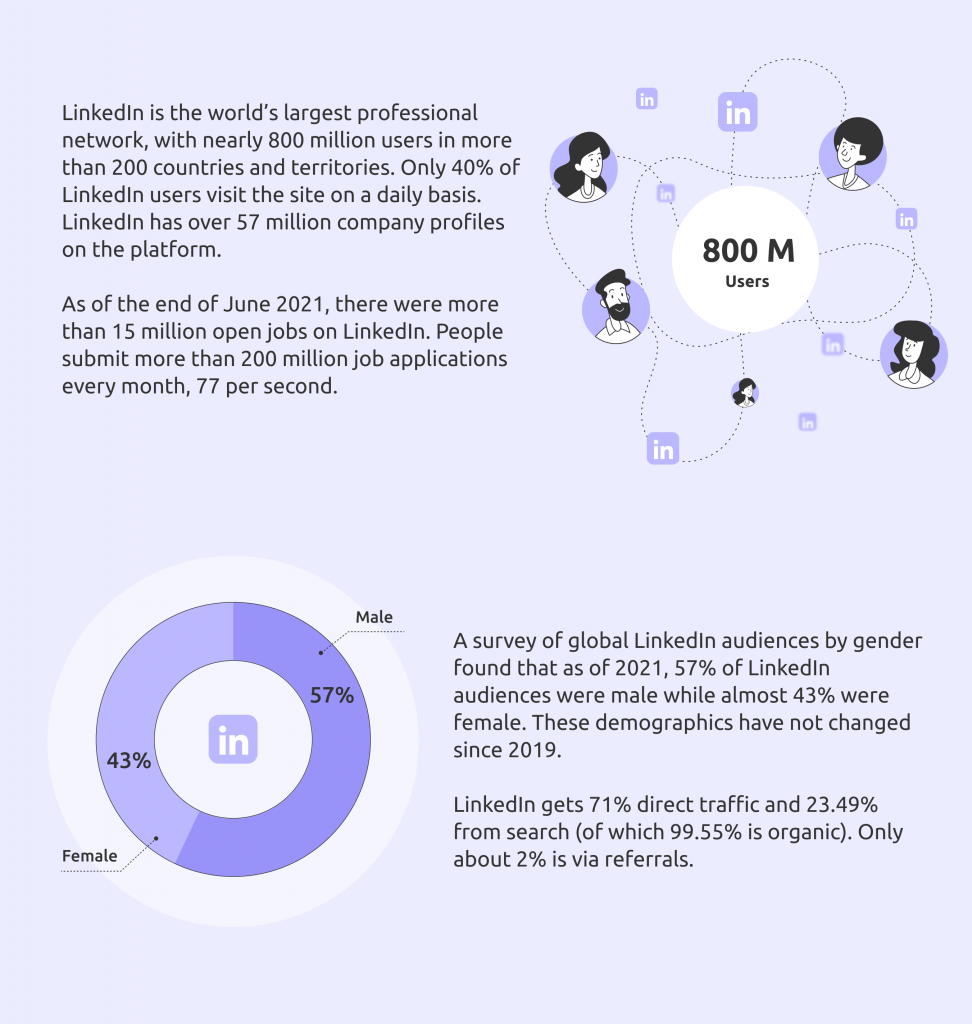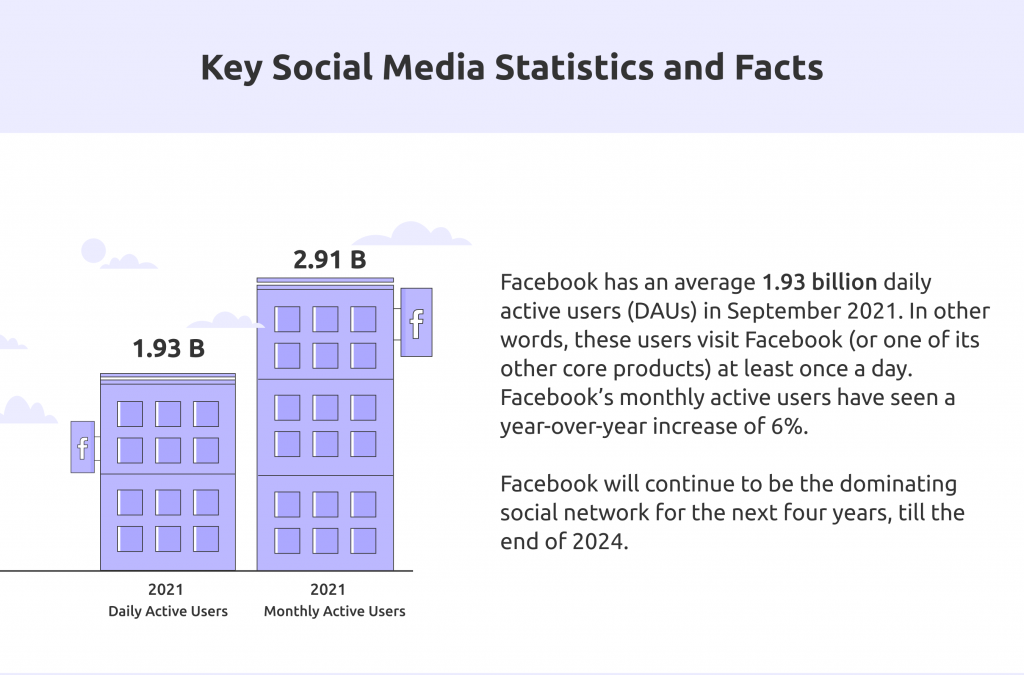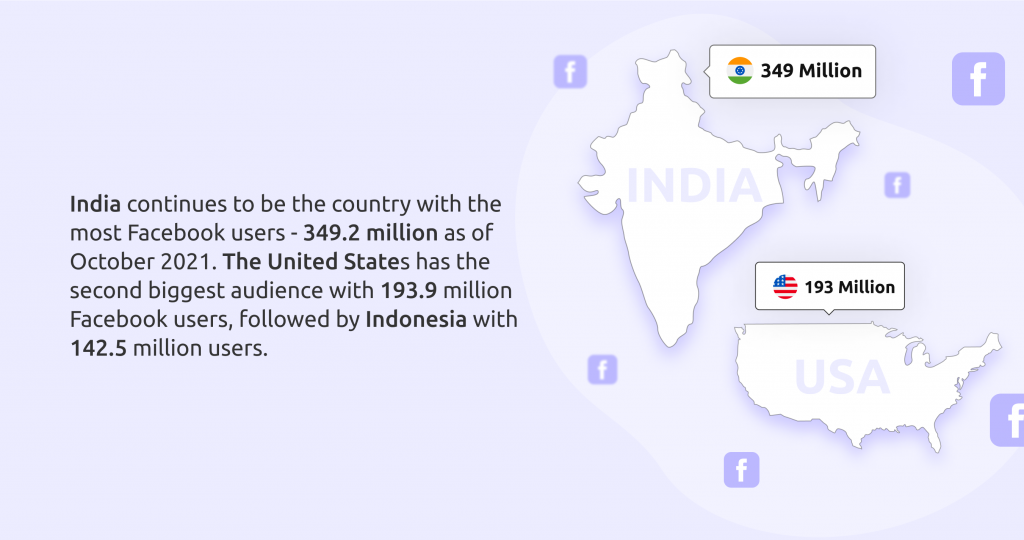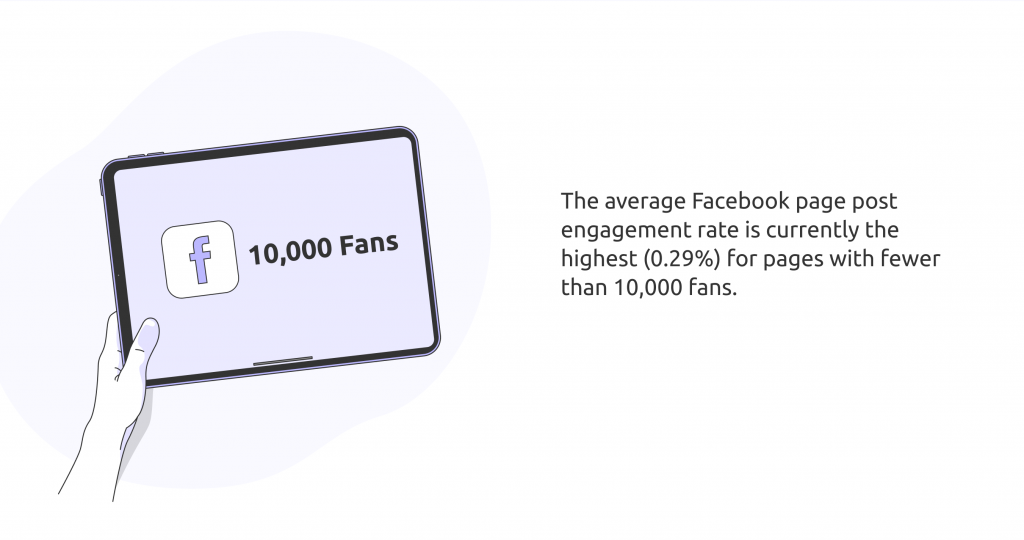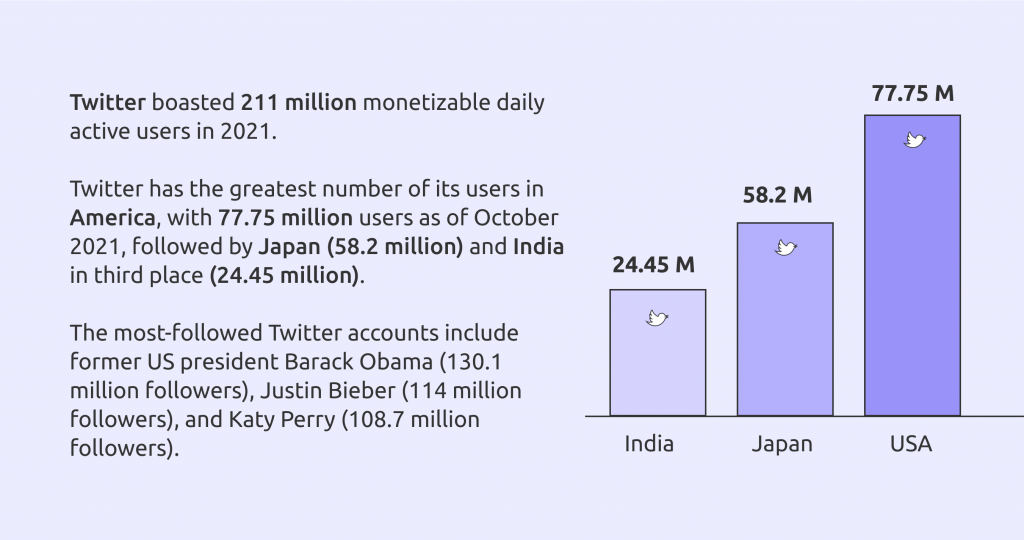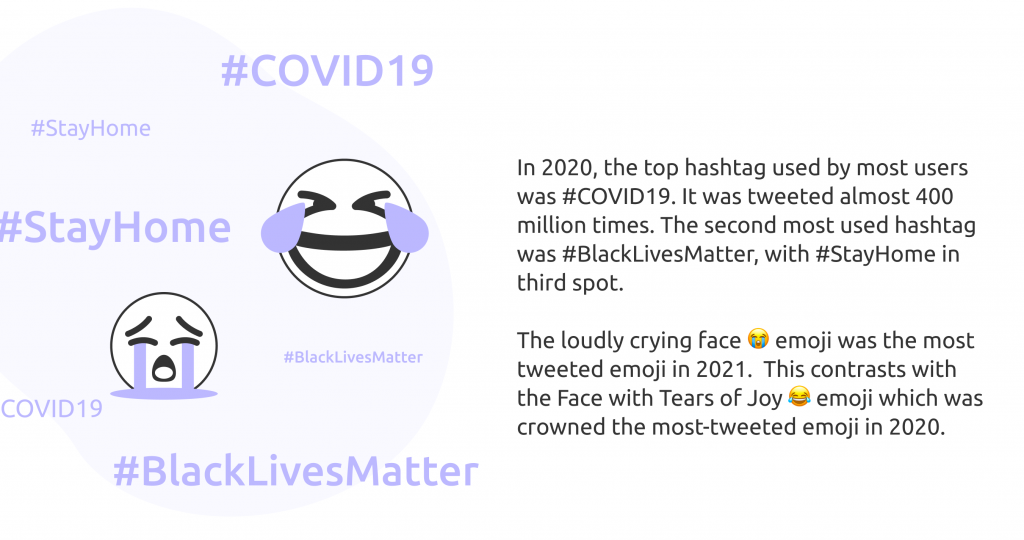 ---
Facebook Statistics
1. According to Facebook's data, the platform had an average of 1.93 billion daily active users (DAUs) in September 2021. In other words, these users visit Facebook (or one of its over core products) at least once a day.
2. With regards to Facebook's monthly active users (MAUs), this number reached 2.91 billion in September, 2021, a year-over-year increase of 6%.
3. eMarketer predicted in December, 2020 that Facebook will continue to be the dominating social network for the next four years, till the end of 2024. Although they have more recently commented on " the severity of Facebook's young people problem", with Facebook's usage by teens being down to 28% by Spring 2021 (compared to 45% in Spring 2018).
4. For adults, however, recent eMarketer data stresses how Facebook continues to dominate the social landscape. 83% of adult social media users in the US report that they visit Facebook in a typical week, with only YouTube (68%) and Instagram (52%) also exceeding 50%.
5. According to Alexa, Facebook is the 7th most popular website across the globe, with an estimated daily time per visitor of 17 minutes and 44 seconds.
6. India continues to be the country with the most Facebook users. As of October 2021, India had the biggest Facebook audience with 349.2 million users, an increase of nearly 50 million since January 2019. The United States has the second biggest audience with 193.9 million Facebook users, followed by Indonesia with 142.5 million users.
7. Most of Facebook's revenue is generated via advertisements. In Q3 2021, the company generated $28.276 billion from advertising, a 33% increase year-on-year. In the year ended 31 December 2020, the company generated more than $84 billion in ad revenue, a year-over-year increase of 21%.
8. Facebook is also clearly a favorite platform for businesses. Over 200 million small businesses around the globe use its tools.
9. According to the Reuters Institute Digital News Report 2021, Facebook and other social media groups are used on average by 32% for local news. 22% of UK respondents believe that social media is best for news about local crime, 14% for local politics news, 12% about Covid-19, 26% for things to do, 6% for the weather, and 11% for local jobs.
10. The Reuters Institute Digital News Report also indicates that only 24% trust the news they see in social media, compared to 34% who trust the news they find in search, and 44% who trust news overall. 50% trust the news sources they personally use.
11. 28% of respondents (particularly in the Philippines, UK, and Slovakia) believe that Facebook is the most misleading for Covid misinformation.
12. In January 2021, the Facebook pages with the greatest number of followers included Samsung, Cristiano Ronaldo, and Mr. Bean.
13. The average Facebook page post engagement rate is currently the highest (0.29%) for pages with fewer than 10,000 fans.
---
Twitter Statistics
1. According to Statista, as of the third quarter of 2021, Twitter boasted 211 million monetizable daily active users.
2. Unlike Facebook, Twitter has the greatest number of its users in America, with 77.75 million users as of October 2021. Japan has the second biggest audience based on the number of Twitter users (58.2 million), followed by India in third place (24.45 million). Previously, the United Kingdom boasted the third biggest Twitter user base, but they have now dropped to fifth, behind Brazil.
3. The most-followed Twitter accounts include former US president Barack Obama (130.1 million followers), Justin Bieber (114 million followers), and Katy Perry (108.7 million followers), and as of November 2021.
4. Just like Facebook, the vast majority of Twitter's annual revenue comes from advertising services. In 2020, Twitter reported that it generated over $3.2 billion dollars via advertising. Twitter classified the remaining $508 million revenue as coming from Data Licensing & Other.
5. eMarketer predicts that Twitter's user base will increase by 2.0% in 2022. In 2023, it is anticipated that this growth will be slightly lower at 1.8%.
6. In 2020, the top hashtag used by most users was #COVID19. It was tweeted almost 400 million times. The second most used hashtag was #BlackLivesMatter, with #StayHome in third spot.
7. The most liked tweet in 2021 came from Joe Biden, reaching 4 million likes by the end of the year, proclaiming that "It's a new day in America," on the day of his inauguration.
It's a new day in America.

— Joe Biden (@JoeBiden) January 20, 2021
8. The most tweeted TV shows in 2021 included reality TV competition favorites Big Brother Brazil and A Fazenda 13, while K-drama Squid Game took the third spot for most discussed TV show worldwide.
9. Manchester United moved up a spot from 2020 to be the most discussed sports team worldwide in 2021, while the team's Tweet welcoming Cristiano Ronaldo home was the second most retweeted Tweet worldwide. The most retweeted tweet of 2021 came from the official account of BTS, calling for an end to racism.
10. With 2020 being a big year in politics, more than 700 million tweets about elections were sent in 2020. The departure of Donald Trump from the platform undoubtedly led to a reduction in political tweets in 2021.
11. The loudly crying face 😭 emoji was the most tweeted emoji in 2021, according to Twitter. This contrasts with the Face with Tears of Joy 😂 emoji which was crowned the most-tweeted emoji in 2020.
12. According to Alexa, the estimated daily time per visitor is 12 minutes and 34 seconds, which is down slightly on 2020's figures.
---
Instagram Statistics
1. According to a forecast from October 2020, it is predicted that Instagram will have almost 1.2 billion users in 2023.
2. The average monthly growth in Instagram business accounts followers is up by 1.69%, according to the averages for Q3 2021.
3. According to Alexa, Instagram is only the #23 most popular website across the globe, with an estimated daily time per visitor of just over 9 minutes.
4. The most popular post on Instagram as of June 2021 is of the Instagram egg. This picture was posted by @world_record_egg and has more than 55 million likes (although like numbers no longer show publicly on Instagram posts).
5. The second most popular post on Instagram is a photo of Ariana Grande's wedding. By the end of June 2021, it has received more than 26 million likes.
6. According to Locowise, photo posts are still the most common type of content on Instagram (62.7%), with videos posts making up 16.3% of all main feed posts and carousel posts amounting to 21.0%.
7. For posts published by Instagram business accounts, the average engagement rate is less than 1%, according to the averages for Q3 2021. Carousel posts have the highest engagement rate (1.08%), while video posts have the lowest rate (0.61%). The average engagement rate for photo posts is 0.81%.
8. If you have been a regular reader of the Influencer Marketing Hub, you would have noticed that we have regularly praised the virtues of working with micro-influencers. The reality is that influencer marketing involving micro-influencers is far more successful for most businesses than campaigns using mega-influencers and celebrities. This was echoed by figures collected by Locowise in Q3 of 2021. According to their figures, the average Instagram engagement rate for business accounts with fewer than 10,000 followers was the highest at 1.11%. The engagement rate dropped as the followers increased. Business accounts with 10,000 - 100,000 followers had an engagement rate of 0.93%, while those accounts with over 100,000 followers had an engagement rate of 0.76%.
9. As of October 2021, India is the country with the biggest Instagram audience size (201.1 million users). This followed a significant increase over the last year and is now noticeably higher than the audience size in the United States where 157.1 million users access the photo-sharing and editing app. Brazil is in the third spot with 114.9 million users.
10. More than half of the platform's global population is younger than 35.
11. Surprisingly, Instagram is more popular among men than women in the 13-34 age group, according to Statista's data and data published in Facebook's self-service advertising tools. The difference is particularly noticeable with 18–24-year-olds, where 13.1% of females use the platform, compared to 13.9% of males.
12. While Brunei does not even feature in the top three countries with the most Instagram users, it has the highest Instagram reach. In other words, it is the place where Instagram reaches the biggest percentage of a population with a percentage reach of 92%. Instagram also reaches more than half the population in Guam, the Cayman Islands, Kyrgyzstan, and Argentina.
13. According to Facebook, the potential audience that can be reached using adverts on Instagram is more than 1.39 billion.
14. Instagram and TikTok have become popular among younger groups for getting COVID-related news. In fact, the Reuters Institute Digital News Report found that Instagram was by far the most popular source of coronavirus news among users in the 18-24 age group in 2020, although their 2021 report focused more on that age group's use of TikTok.
15. As of July 2021, Cristiano Ronaldo is the user with the most Instagram followers (more than 315 million followers). In second spot is Dwayne (The Rock) Johnson (254.76 million), followed in third place by Ariana Grande (252.84 million).
16. The most popular hashtags on Instagram of all time include #love, #instagood, #fashion, #photooftheday, and #art.
---
YouTube Statistics
1. According to YouTube's own statistics (collated by WeAreSocial), YouTube has 2.29 billion active users, and every day people watch more than a billion hours of video and generate billions of views. That is seriously a lot of people watching YouTube videos.
2. Their statistics also revealed that more than 70% of YouTube's views are from mobile. While YouTube is now available on most smart TVs, most people still opt to watch it on a much smaller screen – their phone. A possible reason for this is that many people choose to look at YouTube while they are commuting, often on a train or bus.
3. The number of monthly active users (MAU) of the iOS YouTube app has risen considerably since the onset of Covid, but there is no similar rise for Android devices. According to Statista, there were 844.9 million iOS monthly active users in Q3 2021 and 23.44 million Android users, although these Android numbers seem surprisingly low, considering the dominance of Android over iOS for most other usage stats.
4. The video-sharing platform has launched local versions in more than 100 countries. You can navigate YouTube in a total of 80 different languages.
5. In 2021, Data Driven Investor estimated that the number of YouTube channels with over 1 million subscribers is approximately 23,000-24,000 channels.
6. Recent data from YouTube indicates that gaming is a significant niche on YouTube. In the first half of 2021, YouTube saw 800 billion gaming-related video views, 90 million hours of livestream content, and 250 million gaming videos uploaded.
7. Over the past five years, YouTube has paid out more than $2 billion to its partners who have selected to monetize their claims by means of Content ID. YouTube's partner program now has 2 million members.
8. According to Alexa, YouTube is the second most popular website globally. With Google taking the #1 slot, that also makes YouTube the second most popular search engine in the world. The estimated daily time on YouTube per visitor is 19 minutes and 29 seconds.
9. The most watched video on YouTube is "Baby Shark Dance" by Pinkfong Kids' Songs & Stories. It has had nearly 10 billion views to date. It is followed by "Despacito" by Luis Fonsi ft. Daddy Yankee, while "Johny Yes Papa" by LooLoo Kids has now overtaken Ed Sheeran's "Shape of You" for third spot.
10. In Q3 2021, YouTube earned worldwide advertising revenues of $7,205 million, a record. YouTube's advertising revenues have increased significantly over the period of Covid.
11. With regards to its ad audience, there is no real difference, but males make up a slightly bigger percentage of its total advertising audience at 54.2%. With regards to the share of YouTube's advertising audience by age group, 21.2% fall into the 25-34 age group.
12. In 2020, the top search queries on YouTube in the US included pewdiepie, asmr, music, markiplier, old town road, and billie eilish according to AHRefs.
13. "Dynamite" by BTS earned more than 101 million views in its first 24 hours, setting a new record for the biggest music video debut. Equally impressive is that when it premiered in August 2020, 1.54 million concurrent viewers tuned in to watch it, another new record for the biggest YouTube premiere. Since then, it has been watched over 1.3 billion times and received 32 million likes.
14. Videos relating to Minecraft have been viewed more than one trillion times over a 12-year period to 2021. Although male creators dominated this niche for many years, the creator who now generates the most views of Minecraft videos is a woman. Aphmau.
15. YouTube is one of the few social media platforms where there is not a sharp decline in usage among older age groups. In fact, according to Statista, 67% of US internet users who are older than 56 indicated that they use YouTube. These numbers clearly bust the myth that only millennials enjoy YouTube.
16. The yoga community continues to grow on YouTube. In 2020, there were over 85 million views of video with "30 day" in the title from creators in the yoga community.
17. YouTube rated MrBeast as the #1 Top Creator in the U.S. for the second year in a row in 2021. Across his channels, there are over 100 million subscribers. MrBeast's videos were watched over 1 billion times in April 2021 alone.
18. T-Series, the biggest music label and movie studio in India, is the top YouTube channel by subscriber count, having now broken the 200 million level with 203 million subscribers.
19. In the first half of 2020, the total daily live-streams on the platform increased by 45% compared to the same period the previous year, according to internal YouTube data. Almost 60% of live-stream viewers reported that watching live-streams helped them to feel connected to something larger than themselves. That being said, fans reported that games were not as enjoyable when the stadiums were empty, but that the live-comment feed offered some fun.
20. New channels trying to grow an audience on the platform increased by a whopping 95% in 2020, according to internal YouTube data.
21. On behalf of YouTube, Ipsos MORI completed an online survey in November 2020. The results revealed that almost half of the participants (47%) agreed that it was challenging to categorize their favorite online creators into one genre. The same study found that nearly half of viewers were open to watching content from virtual creators, while 58% were open to viewing digital content made by creators of any age.
22. Just over 70% of participants who participated in an online survey indicated that in 2020 they relied on YouTube to keep fit or exercise, while 82% have used the platform during this time to learn to do things by themselves. Videos with the word "beginner" or variations of the word in the title received more than 9 billion views across the globe.
23. In 2020 with all its challenges, it was not only for upskilling and exercise that users relied more on YouTube. According to the online study completed by Ipsos MORI, 54% of the participants watched funny creators or content online to help them deal with challenging moments.
24. There have been over 1,500 "reaction videos" for Lil Nas X's "Montero (Call Me By Your Name)" uploaded to YouTube during 2021.
---
LinkedIn Statistics
1. According to LinkedIn's own statistics, LinkedIn is the world's largest professional network, with nearly 800 million users in more than 200 countries and territories. Total monthly active LinkedIn users are estimated to be much lower at only 310 million, although this figure dates back to 2019. LinkedIn doesn't appear to have released more current data. Only 40% of LinkedIn users visit the site on a daily basis.
2. With regards to its app usage in the United States specifically, Statista found that only 5.7% of LinkedIn users in the US accessed the app more than two to three times per month. In fact, according to App Ape, the majority of US LinkedIn audiences via Android were inactive.
3. American Samoa has the highest LinkedIn audience reach, as of October 2021. In second place, it is Bermuda, followed by Iceland in the third spot. These places have the largest LinkedIn advertising audience compared to their population of 18 and older.
4. LinkedIn was slow to take off, however. Although it launched on May 5th, 2003, it generated only 6,000 users in its first month. By the end of its first six months, LinkedIn had 37,000 users.
5. LinkedIn has over 57 million company profiles on the platform. The platform is popular among both job seekers and companies. However, some of these company profiles are as a result of LinkedIn automatically creating company pages. 120,000 schools are also listed on the platform.
6. As of the end of June 2021, there were more than 15 million open jobs on LinkedIn. People submit more than 200 million job applications every month, 77 per second.
7. Microsoft paid $26.2 billion for LinkedIn in 2016.
8. According to Alexa, the estimated daily time on LinkedIn per visitor is 11 minutes and 10 seconds.
9. A Statista survey of global LinkedIn audiences by gender found that as of 2021, 57% of LinkedIn audiences were male while almost 43% were female. These demographics have not changed since 2019.
10. The largest age group using LinkedIn worldwide is adults aged between 25 - 34 at 60%. The 18 to 24 age group follows at 20%.
11. LinkedIn videos are popular and effective. Wyzowl found that close to 40% of marketers post video content on the platform with 75% of those claiming that it was effective. 63% of video marketers planned to include LinkedIn in their 2021 video marketing strategy.
12. For LinkedIn, long-form content works best. OkDork found that the longer your posts are on LinkedIn, the better the results. Posts with word counts between 1,900 and 2,000 words performed better and got more engagement. In fact, LinkedIn also recommends that you share content with other industry experts. According to their own data, you can get 15 times more content impressions than with job postings.
13. According to the Content Marketing Institute, 97% of B2B marketers prefer LinkedIn for their organic content marketing. Most of them (94%) also consider LinkedIn as the platform with the best content marketing results.
14. With the help of the LinkedIn sales navigator, marketers can target the right buyers, personalize their outreach, and understand key insights. As a matter of fact, marketers who use it get +18% more pipeline when finding customers. Moreover, they also get a +7% higher win rate when closing deals.
15. The majority of LinkedIn users (57%) access the platform by means of their mobile devices. You should, therefore, optimize your content on the platform for mobile. In other words, ensure that your images and videos are also optimized and can open without having to leave the platform.
16. According to SimilarWeb, LinkedIn gets 71% direct traffic and 23.49% from search (of which 99.55% is organic). Only about 2% is via referrals.
17. The average visit duration is shorter than 8 minutes, according to SimilarWeb.
---
Pinterest Statistics
1. Pinterest was the site in history to get more than 10 million unique monthly visitors the fastest. What makes this achievement even more impressive is that for much of its initial launch it was invite-only. As of September 2021, the platform boasted 444 million monthly active users across the globe.
2. As of October 2021, Pinterest was ranked as the 14th biggest social network across the globe, according to WeAreSocial and Hootsuite's Digital Trends: October 2021.
3. Overwhelmingly more women use Pinterest. In fact, as of October 2021, more than 77% of Pinterest users identified as female. Just over 15% identified as male, while 8.4% preferred not to specify. Though, in a recent blog post, the platform's global Head of Business Marketing stated that more men are starting to join Pinterest and, in 2020, this number increased by almost 50%.
4. According to Statista, 22% of responding B2B and 28% of B2C responding social media marketers indicated that they use Pinterest for marketing.
5. The United States by far has the biggest Pinterest audience. As of October 2021, it had more than 90 million Pinterest users. Brazil is in the second spot with 30.65 million, followed by Mexico with 16.65 million.
6. While Pinterest's annual advertising expenditure increased drastically in 2019 to $55 million, it almost halved in 2020.
7. In 2020, it was reported that Pinterest had 2,545 full-time employees, an increase of nearly 19% from the previous year.
8. Each year since 2016, the visual bookmarking site managed to increase its annual revenue steadily. In 2020, it generated $1692.66 million.
9. The majority of US Pinterest users (40%) have an annual household income of more than $75,000. While in the United Kingdom, 31% of millennials with a household income of more than £100K are on the platform.
10. According to SimilarWeb, the average visit duration is just over 5 minutes for the period between September and November 2021.
11. SimilarWeb also found that the majority of the platform's traffic (64.15%) is direct, followed by organic search accounting for 32.52% of its traffic on desktop. Referrals make up less than 1.5% of its traffic. In other words, the majority of users go directly to Pinterest when they need inspiration or simply crave some mindless scrolling. In fact, according to Pinterest, more than 200 billion ideas had already been pinned by December 2019.
12. More specifically, in the United Kingdom, 61% of Pinners have indicated that when they start a new project, they go to Pinterest, with almost half of UK Pinners having discovered new brands or products via the platform.
13. Based on Pinterest data, the top trends for 2021 included athflow, skinimalism, jalapeño pepper jelly, and vibey lights.
14. Pinterest is no longer just a platform for static images. In a recent blog post, the platform shared that their community of Pinners is watching almost one billion videos on a daily basis.
---
TikTok Statistics
1. TikTok is one of the fastest-growing social media apps in the US, especially among younger users. Globally, TikTok reached 1 billion monthly users in September 2021.
2. According to Statista, US TikTok users average 858 minutes per month on the app. This statistic gives information on monthly TikTok app user engagement in the United States in March 2020.
3. Although monthly app downloads vary greatly, TikTok took second place in the list of most downloaded iPhone apps for 2020. It was also coming in second place as of October 2021. The only app with more downloads was, perhaps unsurprisingly in the first year of COVID, Zoom, although WhatsApp took the title in 2021. TikTok even managed to achieve more downloads on Apple's mobile platform than Facebook, Messenger, Gmail, Netflix, YouTube, and Instagram. When you add both Apple and Android downloads, TikTok surged ahead of all the other apps in 2020, with global downloads of 850 million.
4. TikTok became the first non-Facebook app to reach three billion downloads in Q2 2021.
5. In February 2021, TikTok was listed as the top grossing non-gaming app across the globe with over $110 million in user spending. The vast majority (79%) of this revenue came from China, with the United States in second spot and Turkey in third place. All in all, this was almost twice its revenue the previous year.
6. India is another country where younger audiences were attracted to TikTok. TikTok had attracted over 200 million users in India by the middle of 2020 before the government decided to ban it, citing political reasons as the motive. That being said, it was still the top downloaded app in the country in 2020. Between July 2019 and June 2020, the app was downloaded more in India than anywhere else.
7. While TikTok is still relatively new to the social media scene, it already boasts user loyalty. According to the platform's official statistics, 90% of its users use the app numerous times per day.
8. According to Statista, TikTok is most popular among female users in the United States. Male TikTok users only add up to 39% of the platform's user base. Though, according to WeAreSocial and Hootsuite's Digital Trends: October 2021, 56.1% of TikTok's audience is female and 43.9% is male.
9. When Morning Consult created their Fastest Growing Brands 2020 report, they named TikTok as the third fastest growing brand after Zoom and Peacock. Morning Consult observed that almost every brand that had a spot on this list was meaningfully connected to pandemic-related behavior. Just like TikTok, Peacock also offers video streaming, but appeals more to older generations. Considering this, TikTok was actually the second fastest growing brand of 2020, behind just Zoom, for Generation Z and millennials.
---
Snapchat Statistics
As of Q3 2021, the app had approximately 306 million daily active users, an increase of 23% YoY. In fact, numbers have increased every quarter since Q4 2018. As with most other social networks, Snapchat's use accelerated with the arrival of COVID-19.
1. According to the 2020 Piper Sandler survey reported by MarketingCharts, 36% of teens in their survey listed Snapchat as their favorite social platform in early that year. Instagram was in the second spot, with 31% of teens citing it as their favorite platform. The most significant change in the 2020 survey from previous editions was the emergence of TikTok. It was the third most popular social platform for 13% of those surveyed. Twitter and Facebook got only 4% of the votes respectively. In the same poll a year later, Snapchat remained US teens' favorite social platform, although the results are much closer. 35% of the teen respondents favored Snapchat, 30% TikTok, and 22% Instagram. Support for Twitter and Facebook halved to 2% each.
2. In the United Kingdom, the youthful popularity of Snapchat looks similar. According to Statista, 77% of Snapchat users in the UK are aged between 18 and 24.
3. There is some difference in the distribution of Snapchat users by gender. It seems that the platform is more popular among women. Statista reports that, as of October 2021, 54.4% of users were female, and 44.6% were male.
4. Along with the rise in user count during 2020 and 2021, Snapchat saw a marked increase in revenue generation. Revenue increased 57% to $1,067 million in Q3 2021, compared to the prior year. This wasn't enough to make Snapchat profitable, however, although the Net loss improved 64% to $(72) million in Q3 2021.