Over that last decade, there has been a significant cultural change that is now global. It is the norm now to spend time each day checking your social media feeds. What began as a teenage fad has gradually spread to encompass more than half the world's population. For most people, scrolling through your social media posts is fine and perfectly normal, if somewhat time-consuming. To some people, however, social media has become an addiction.
Social media addiction is a behavioral addiction characterized as being overly concerned about social media and driven by an uncontrollable urge to log on to or use social media. Social media addicts spend so much time on their social apps that it impairs other important life areas.
Social media platforms such as Facebook, Snapchat, and Instagram produce the same neural circuitry caused by gambling and recreational drugs. A constant stream of retweets, likes, and shares affects the brain's reward area and triggers the same kind of chemical reaction as other drugs, such as cocaine. Some neuroscientists have compared social media interaction to a syringe of dopamine being injected straight into the system.
There aren't many social media addiction stats, particularly for 2021, yet. But we have included stats we feel are relevant, in some cases extrapolating older data to make predictions for 2021.
By the way, if you feel that you may be suffering from social media addiction, you should ask yourself the following six questions. If you answer "yes" to more than three of them, you may be developing a social media addiction.
Do you spend a lot of time thinking about social media or planning to use social media?

Do you feel urges to use social media more and more?

Do you use social media to forget about personal problems?

Do you often try to reduce the use of social media without success?

Do you become restless or troubled if unable to use social media?

Do you use social media so much that it has had a negative impact on your job or studies?
---
The Real Social Media Addiction Stats for 2021:
---
An Estimated 330 Million People Potentially Suffer From Internet Addiction in 2021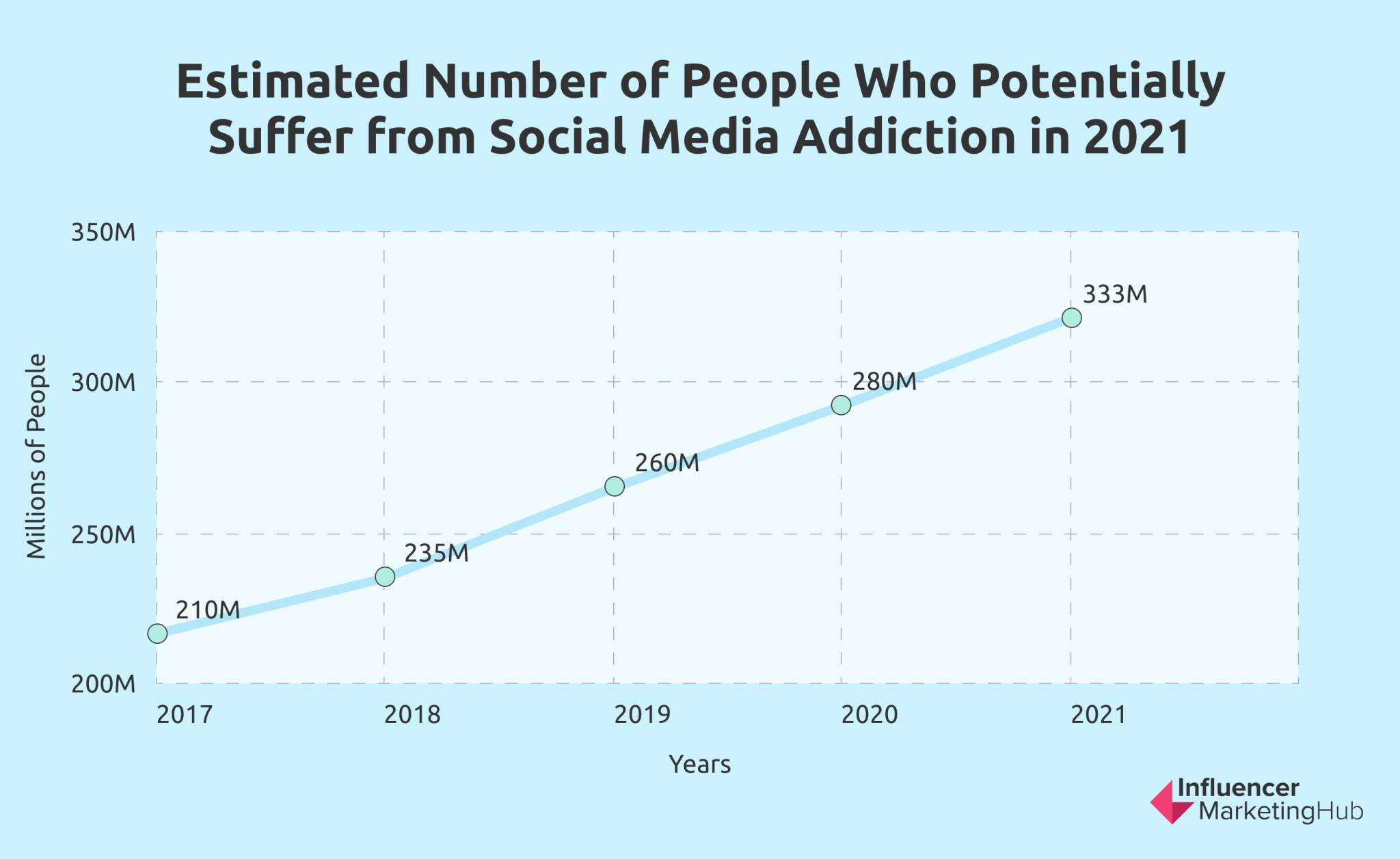 According to a 2017 report in Technology in Society, estimates suggest that over 210 million people worldwide suffer from internet and social media addictions. Allowing for the marked increase in social media usage since 2017, there are probably many more people with a digital addiction now. According to Addiction Center, as many as 5 to 10% of Americans meet the criteria for social media addiction today. With the U.S. population currently being 333 million people, that means there could now be 16-33 million people addicted to social media in the United States alone.
---
4.72 Billion Internet Users
According to data reported by WeAreSocial, internet users grew by more than 330 million over the year to April 2021, reaching a total of 4.72 billion users. That's 60.1% of the world's population.
---
4.38 Billion Mobile Internet Users
Most people now have a mobile phone. There are currently 4.38 billion mobile internet users (cellular and/or Wi-Fi), equivalent to 92.8% of all internet users. And most of these will have social media capabilities. 91.5% of total internet users have smartphones. Only 4.8% have old-style (button) feature phones.
---
4.33 Billion Active Social Media Users
Of those 4.72 billion internet users, 4.33 billion are active social media users, 55.1% of the world's population. More than half a billion of these joined social media in the twelve months to April 2021.
It is notable that if we look back to WeAreSocial's 2017 report, there were only 3.773 billion internet users and 2.789 billion active social media users. That means between 2017 and 2021, the number of internet users has risen 25%, and the number of social media users has risen 55%. So if we extrapolate from those internet addiction estimates of 2017, keeping percentages roughly the same, the number of people suffering from internet addiction would be around 260 million now, many of whom would also suffer from social media addiction.
---
2.797 Billion Facebook Users
WeAreSocial has accumulated data from various sources to show the latest global active user figures for the different social platforms. However, some statistics will be understated as some social networks haven't released data for a while.
The most popular social apps worldwide as of April 2021 were Facebook (2.797 billion users), YouTube (2.291 billion), WhatsApp (2 billion), Facebook Messenger (1.3 Billion), Instagram (1.287 billion), Weikin/WeChat (1.225 billion), TikTok (732 million), and Douyin (600 million). Snapchat is in 11th position with 528 million followers, Pinterest in 14th place with 459 million users, and Twitter in 16th spot with 396 million users.
---
2H 22M Spent on Social Media Each Day
We Are Social compared the different times that internet users aged 16 to 64 spend with various kinds of media and devices. They found that the average person spends 2 hours and 22 minutes using social media each day. In comparison, they spend an average of 3 hours 17 minutes watching all types of television (broadcast and streaming), 1 hour 56 minutes reading press media (both online and physical print), 1 hour 33 minutes listening to music streaming, 58 minutes listening to broadcast radio, 52 minutes listening to podcasts, and 1 hour 10 minutes playing video games on a games console.
---
Facebook 3rd Most Visited Website
According to March 2021 SEMrush data, Facebook has the third most total website traffic, after only Google and YouTube. There were 16.4 billion visits to Facebook during that month, averaging 22 minutes 42 seconds per visit. YouTube had 21.9 billion visits, with a surprisingly low average of 9 minutes 3 seconds per visit. Other regularly visited social sites include Instagram (4.1 billion visits averaging 17 minutes 27 seconds) and Twitter (3.6 billion visits, averaging 5 minutes 10 seconds).
---
WhatsApp is the Most Popular Social Media Platform For those Aged 16 to 64
Perhaps surprisingly, WhatsApp is the most popular social platform outside China with 24.1% preference. Facebook comes second with 21.8%, followed by Instagram with 18.4% support. No other social platform has support that is greater than 5%.
---
32.9% of Females and 28.3% of Males Aged 16-24 Prefer Instagram as a Social Platform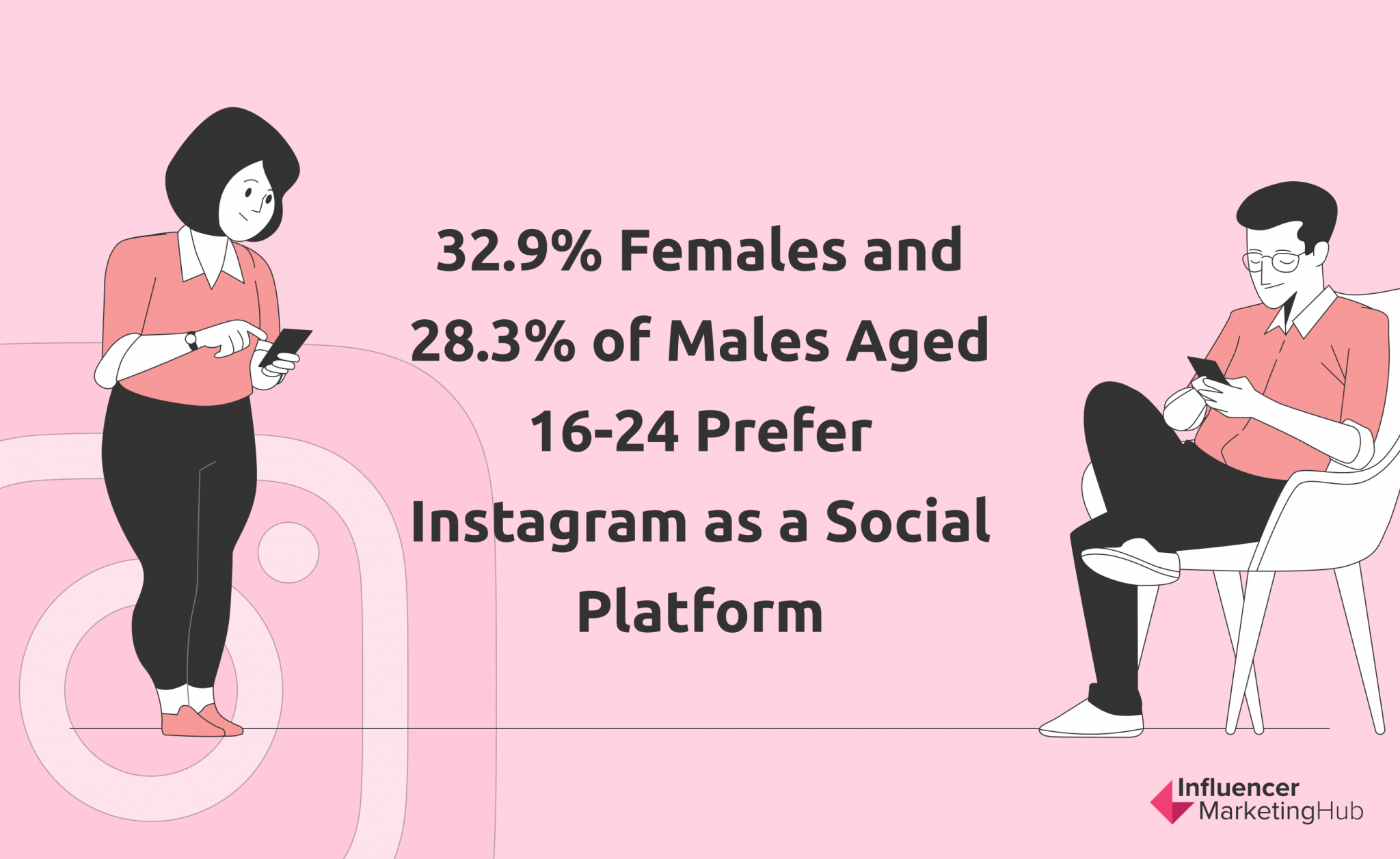 When you look at 16–24-year-olds, there is more of a preference for Instagram. 32.9% of 16-24-year-old females and 28.3% of 16-24-year-old males rate Instagram as their preferred social platform. In both cases, this is greater than their love of WhatsApp, Facebook, or any other social platform. Females aged 25-34 continue to prefer Instagram, with 23.4% considering it their favorite platform (followed by WhatsApp). Males of that age group prefer Facebook (24.7%), followed by WhatsApp, however. Both sexes aged 35-64 prefer WhatsApp, followed by Facebook, however.
It must be remembered that these stats don't include those aged under 16.
---
85% of Teens Use YouTube, But They Say They Prefer Snapchat
Unfortunately, data for teenage social use appears to be less recent than for older age groups. Pew Research examined U.S. teenage social usage in a 2018 survey. They found that 85% of teenagers said they used YouTube, followed by 72% who used Instagram, 69% Snapchat, and 51% Facebook. TikTok hadn't yet reached its zenith by this stage, and Pew Research did not include it in their 2018 survey.
At that stage, 35% of teens claimed that Snapchat was their favorite platform, followed by 32% YouTube, 15% Instagram, and 10% Facebook.
---
Kids Spend an Average 75 Minutes Per Day on TikTok
Qustodio has carried out more recent studies on children's digital habits across the U.S., the U.K., and Spain.
Their latest study is recent enough to show the burst of TikTok popularity. TikTok was the most used social app in all three nations surveyed by children aged 4-15 years old. However, these stats exclude YouTube as Qustodio instead classifies it as an online video app rather than a social app.
In 2020, kids used TikTok for an average of 75 minutes per day, up from 38 minutes in 2019. Instagram came second with 44 minutes of use, followed by Snapchat (39 minutes), Pinterest (17%), Facebook (17%), and Twitter (13%).
---
TikTok Is Also the Social App Most Blocked by Parents
Parents chose to block TikTok more than other social apps in 2020 (unlike in 2019 when they blocked Instagram most.) Perhaps this is recognition by some parents that social media can be addictive, and they tried to control their children's usage.
In order, the most blocked social apps in 2020 were TikTok, Instagram, Snapchat, Facebook, Pinterest, and Twitter.
The most blocked video apps by parents in 2020 were YouTube, Netflix, Twitch, Disney Plus, Amazon Prime Video, and YouTube Kids.
---
Kids Are Spending 76% Longer on Social Media Apps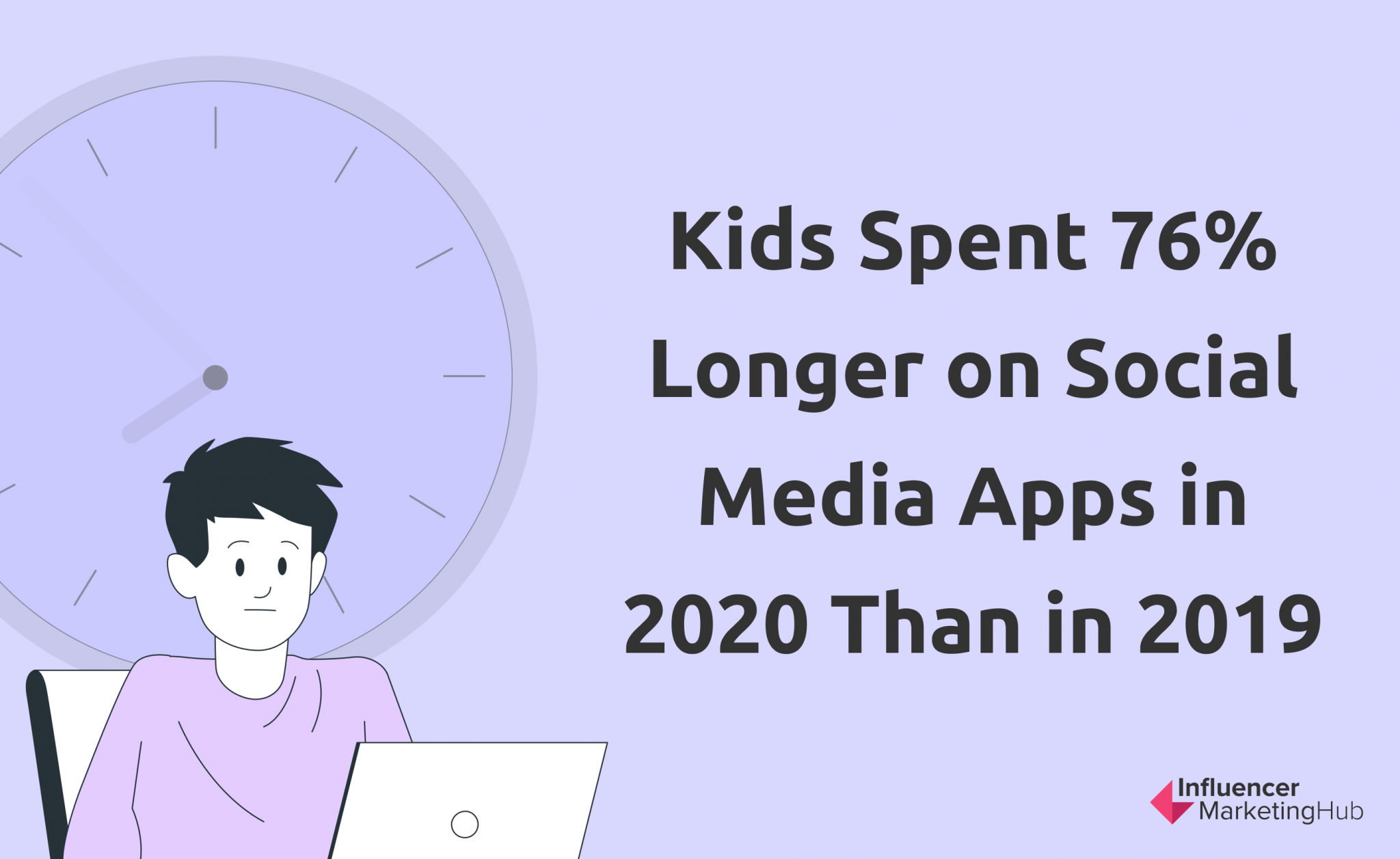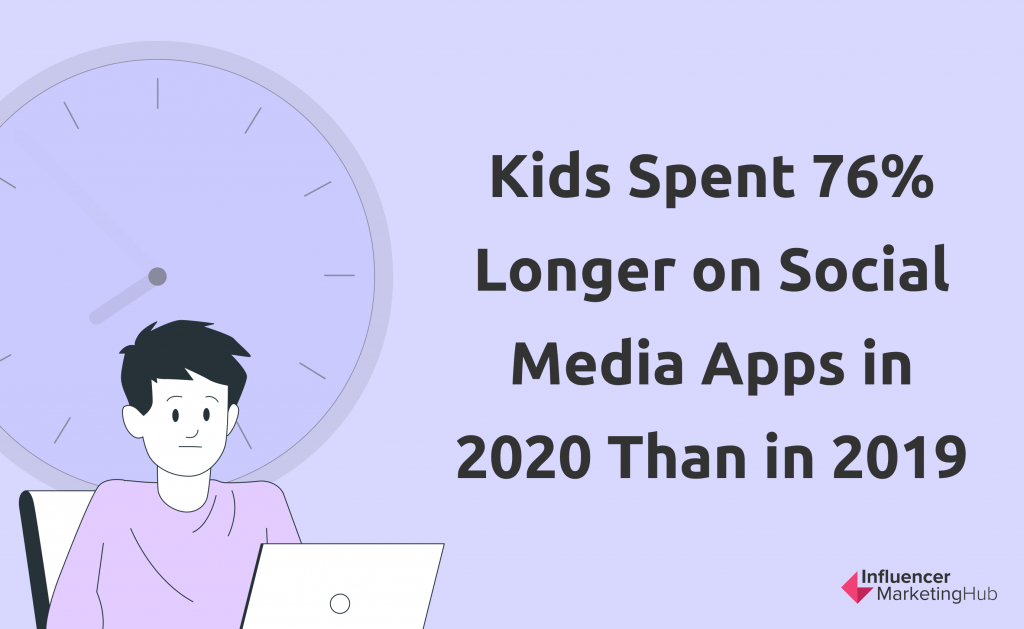 The time kids spent on social media was affected by COVID-19 and associated lockdowns, however. Minutes watched on all these social apps peaked in May 2020 when COVID lockdowns were most widespread. In a typical year, the peak would come much later, in October. Overall, kids spent 76% longer on social media apps in 2020 than in 2019.
---
The Rate of Individuals Reporting Major Depression in the Last 12 Months Increased 52% in Adolescents Between 2005 to 2017
Research published by the American Psychological Association found that more U.S. adolescents and young adults experienced serious psychological distress, major depression, or suicidal thoughts in the late 2010s, compared with the mid-2000s and more attempted suicide. In addition, the rate of individuals reporting symptoms consistent with major depression in the last 12 months increased 52 percent in adolescents from 2005 to 2017.
There was also a 71 percent increase in young adults experiencing serious psychological distress in the previous 30 days from 2008 to 2017. The rate of young adults with suicidal thoughts or other suicide-related outcomes increased 47 percent from 2008 to 2017.
There was no significant increase in the percentage of older adults experiencing depression or psychological distress during corresponding periods.
---
27% of Children who Spend 3 or More Hours Daily on Social Media Exhibit Poor Mental Health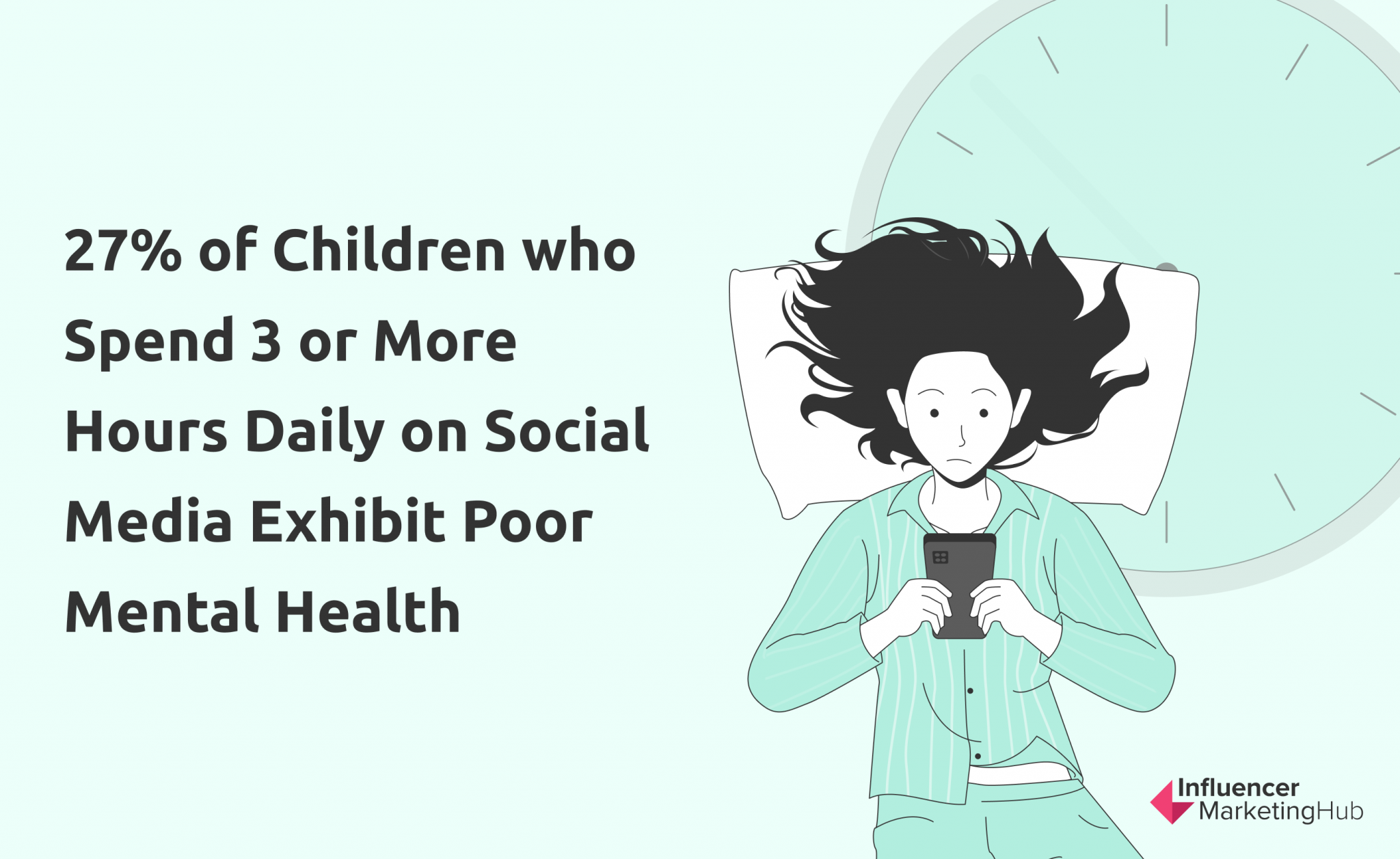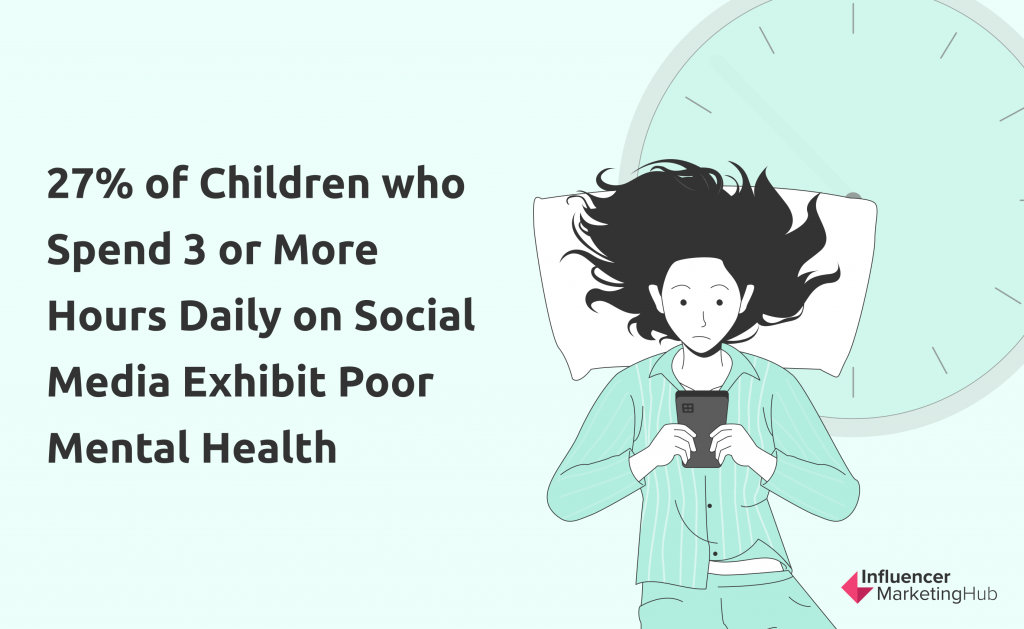 According to Addiction Center, an estimated 27% of children who spend three or more hours a day on social media exhibit symptoms of poor mental health. They observe that overusing social networking sites is much more problematic in children and young adults because their brains and social skills are still developing. Adolescents who habitually use social media from a young age have severely stunted social interaction skills. These people have worsened social anxiety in groups, higher rates of depression, negative body image, and lower levels of empathy and compassion towards others when surveyed.
---
People Who Visit Social Media Site at Least 58 Times Per Week are 3x More Likely to Feel Socially Isolated and Depressed
A study from the University of Pittsburgh in Pennsylvania published in the American Journal of Preventive Medicine found that heavy social media users were three times as likely to feel socially isolated. They found that people who used social media for more than two hours per day were twice as likely to feel socially isolated than those who only used social media for under half an hour every day. In addition, study participants who visited social media platforms 58 times a week had three times the risk of perceived social isolation, compared with those who reported fewer than nine visits per week.