The pandemic-induced lockdowns have since raised the demand for video content. In 2020, video consumption saw a year-over-year (YOY) increase of 120%. Last year, a quarter of American consumers subscribed to at least one new paid streaming video service. This year, Cisco predicts that online video traffic will comprise 82% of all consumer internet traffic.
A Wyzowl research found that videos had a positive return on investment for almost 90% of video marketers. It's no wonder 86% of businesses are now utilizing video content to drive their sales and engagement. In particular, content creators have set their sights on two of today's biggest video streaming platforms: TikTok and YouTube.
Since 2005, YouTube has remained one of the most popular social media platforms in the world. Thanks to the pandemic, 43% of YouTube audiences are even spending more time now on the platform. But TikTok isn't one to shy away from competition. One of the fastest-growing social media apps today, it shot to popularity during the pandemic because of its short-form layout and relatable content.
TikTok and YouTube are both ideal platforms for any video marketer. Choosing one over the other can greatly impact your marketing campaign. So, which one is right for you? To help you decide, we compared these two video sharing behemoths, from their features and demographic to their advantages and differences. Then we evaluated the best choice for you this 2022.
---
TikTok vs. YouTube: Which Platform Should You Choose in 2022:
---
An Introduction to Both Platforms
About TikTok
TikTok is a social media app that enables audiences to watch, create, and share bite-sized videos. Chinese startup ByteDance launched the platform in 2017 as Musical.ly. Originally, it was meant to be a music and lip-sync app that would churn out funny videos. Today, however, you'll find an array of video-sharing functions on the platform as well as a wide selection of content from different industries.
TikTok is most notable for its convenience in terms of content production. Users can simply create content from their phones, then finish it off with a background, stickers, filters, and emojis. They can even share it online for comments and reactions. Now, more brands are leveraging TikTok to create brand awareness and engage with a younger demographic.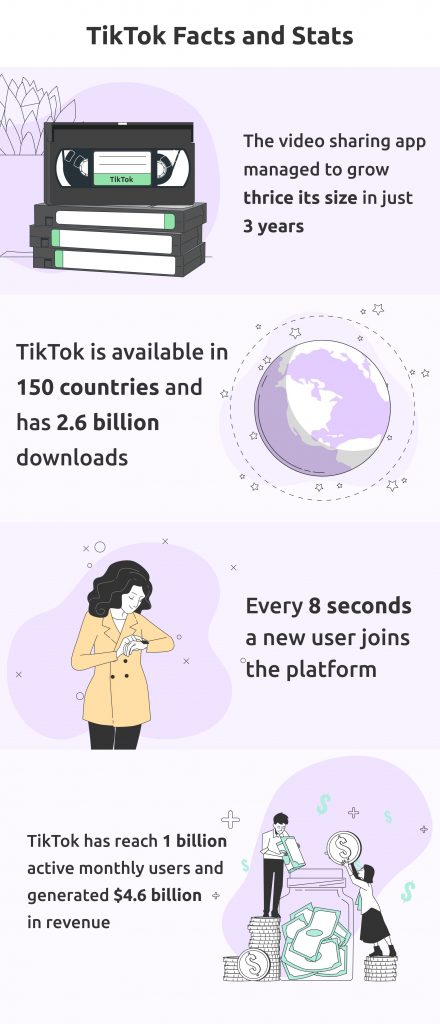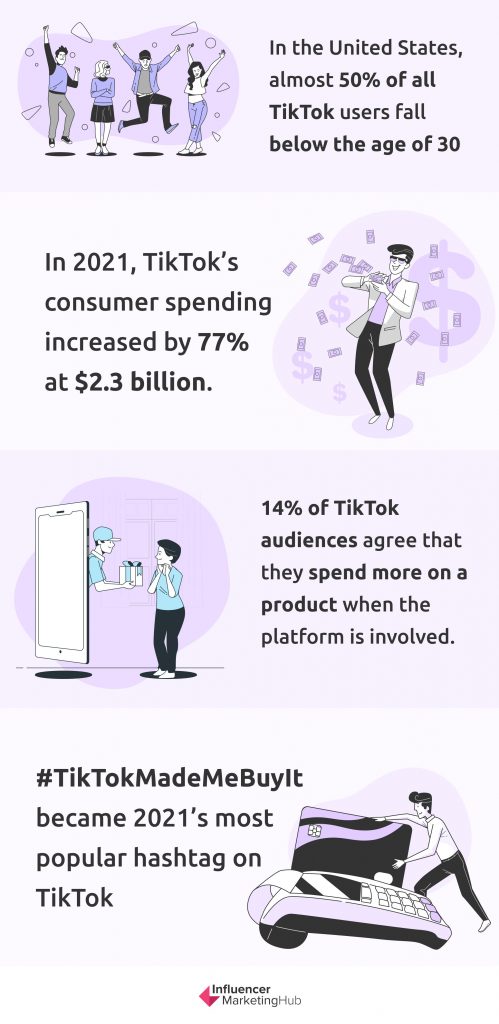 Not surprisingly, TikTok has seen massive growth since its unveiling in 2018. In fact, the video sharing app managed to grow thrice its size in just three years. It's now available in 150 countries and has 2.6 billion downloads worldwide. Every eight seconds, a new user joins the platform. Before 2022, TikTok has reached one billion monthly active users and generated $4.6 billion in revenue.
Aside from video creation, TikTok's other notable features include adding popular music on videos, co-creating content through duets, adding visually compelling filters and effects, and live streaming.
TikTok appeals mostly to young audiences. In the United States, almost 50% of all TikTok users fall below the age of 30. Last year, the platform surpassed Instagram's popularity among Gen Z users. This demographic is not only heavy smartphone users but is also up to date with the latest trends. It's no surprise that TikTok has its own brand of teen creators and influencers.
But that doesn't mean that the app doesn't draw an older crowd. In the US, over 40% of TikTok users are between the ages of 30 and 50, while 11% of TikTok users are older than 50. The platform is slightly more popular among female audiences.
In 2021, TikTok's consumer spending increased by 77% at $2.3 billion. This made the platform one of the 16 non-game apps that has generated over $1 billion in gross revenue.
TikTok users have a massive spending power as well. Aside from its largely Gen Z following, 14% of TikTok audiences agree that they spend more on a product when the platform is involved. In fact, almost half of TikTok users have confessed to purchasing an item after seeing an advertisement on the app. This was the reason why #TikTokMadeMeBuyIt became 2021's most popular hashtag.
2022 GlobalWebIndex survey finds that most TikTok users use the platform to find funny and entertaining content. In 2020, entertainment ranked first as the most popular content category on the app with 535 billion hashtag views. That's almost five times more than dance, the next popular category. TikTok users also enjoy videos of pranks, sports and fitness, and home renovation or do-it-yourself (DIY).
---
About YouTube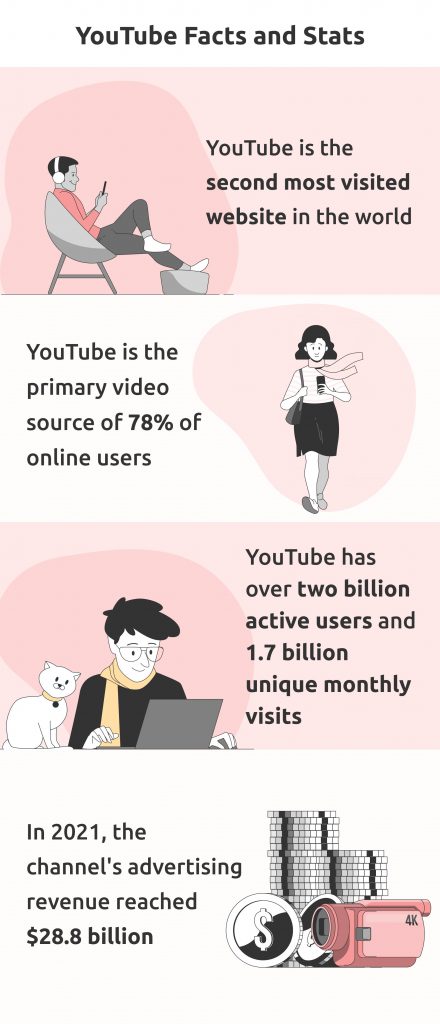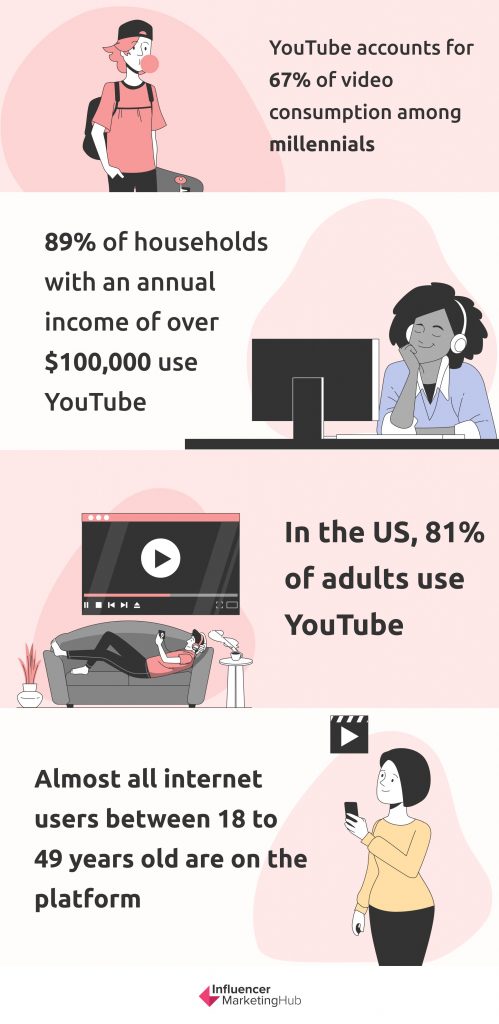 YouTube is the second most visited website in the world. This video sharing platform came out less than two decades ago with the objective of having users share their home videos. Shortly after the site's launch, it started attracting 30,000 visitors daily. Search engine behemoth Google then purchased the platform, turning it into the YouTube that we know today.
YouTube's appeal is in its massive free-to-use video database. In fact, it's the primary video source of 78% of online users. Anyone can find YouTube content on just about any topic that interests them, making YouTube a viable channel for brands to seriously market their products. This opportunity for self-promotion has also led to the huge influx of content creators and influencers on the platform.
Over the years, YouTube's user base has only continued to grow. Today, it has over two billion active users and 1.7 billion unique monthly visits. Due to the pandemic, 43% of YouTube audiences are spending more time on the platform. Last year, its global advertising revenues increased by 25% YOY at $8.6 billion and brought in a total of $28.8 billion for the whole year.
Some of YouTube's most notable features include suggested and trending videos, comments and shares, likes and dislikes, a subscription feed, channel analytics, and playlist auto-play.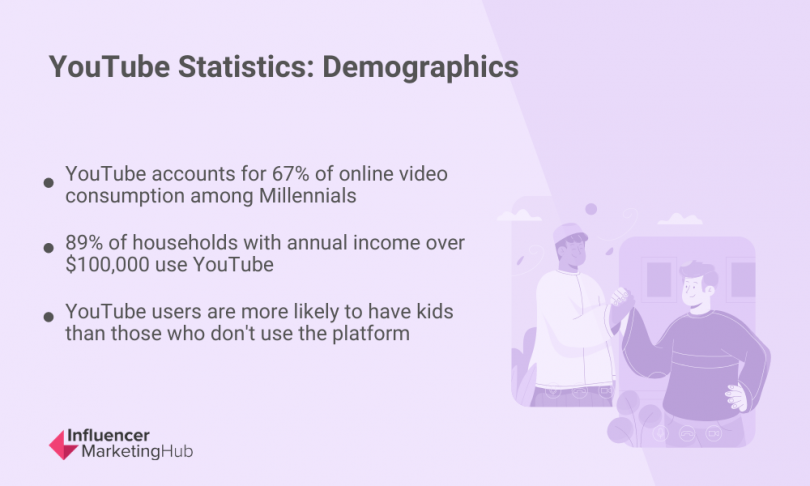 In the US, 81% of adults use YouTube. Almost all internet users between 18 to 49 years old are on the platform. All together, they make up three generations of consumers and a strong purchasing power. This demographic is almost always online, switching between two to three different devices at a time. Millennials appear to be YouTube's biggest draw with 37% saying they binge-watch YouTube daily.
Worldwide, YouTube is slightly more popular among male users. India has the most number of YouTube users by a large margin, while the US comes in second. In terms of platform penetration, the Netherlands and South Korea rank the highest.
In 2021, YouTube ranked third among non-gaming apps and first among live streaming apps by global lifetime consumer spend. The US holds the largest share of the lifetime app revenue.
Think with Google lists YouTube's top four content categories as comedy, music, entertainment or pop culture, and DIY or how-to videos. True enough, the most subscribed channel on YouTube is T-Series, India's largest music label. Gaming is also one of the most profitable niches on the site. In 2020, users watched over 100 billion hours of gaming content on the platform.
---
YouTube vs. TikTok: How to Choose the Right Platform for You
A HubSpot research reveals that 65% of millennial consumers want to see more video content from brands. With TikTok and YouTube stars generating millions of dollars a year, these two social media platforms have attracted content creators from various industries. Here's how TikTok and YouTube are helping businesses thrive in video marketing.
YouTube for Business
Despite the meteoric rise of several video content platforms, YouTube remains a clear leader in the industry. The social media platform's revenue-sharing program is simply unmatched. It channels 55% of its ad revenue to creators, which only means that it paid its creators more than $15 billion last year. This is a great reward for brands who are going all-out with their video marketing efforts.
This factors into why users have been creating more YouTube content than ever. In 2021, the number of YouTube channels that raked in at least $10,000 in revenue rose to more than 40% YOY. Aside from that, content creators are leveraging the platform's non-ad products, like Super Chat and Channel Memberships.
In addition, YouTube has recently released Shorts to combat TikTok's rising fame. According to Alphabet CEO Sundar Pichai, this alternative effort has been earning 15 billion views daily worldwide. It's made more popular by the platform's $100 million Shorts Fund. Now available in over 100 countries, this initiative aims to reward creative and original Shorts within the YouTube community.
YouTube is currently exploring a revenue source that TikTok is already using to its advantage: product placements. Brands can now add a product feed to their video campaign, while live commerce is an emerging avenue. This is a massive opportunity to advertise on the platform, considering that 90% of users discover new products on YouTube and that YouTube clips are linked to Google as well.
Some of the major brands that use YouTube include Google, Red Bull, Evian, Volvo, and PlayStation.
---
The Benefits of Advertising Your Business on YouTube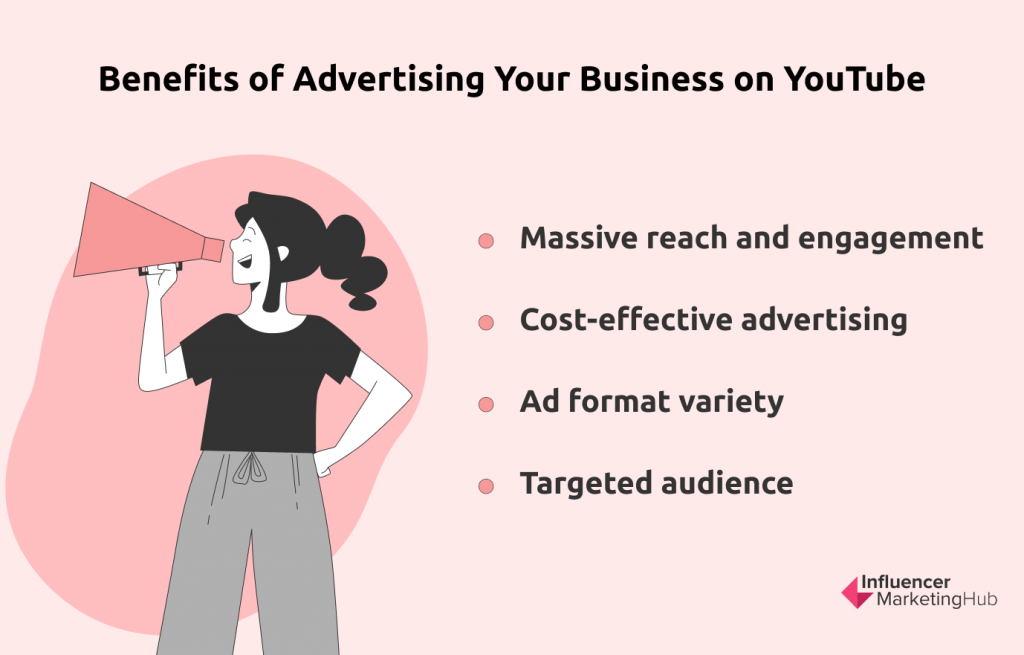 Massive reach and engagement
There's no denying the size and scope of YouTube's audience reach. The platform appeals to almost every demographic segment. In fact, 95% of the internet population around the world watch videos on the platform. Additionally, YouTube makes up 25% of all mobile traffic.
With two billion unique users, the social media site boasts not only five billion videos watched per day but also one billion total hours of video watched daily. Video ads can help you connect with your audiences, as well as reach the right audience—all within a couple of seconds.
Cost-effective advertising
Despite being a billion-dollar platform, YouTube isn't beyond reach for small businesses. The average cost-per-view of ads within the platform is $0.010 to $0.030. The average cost of reaching 100,000 viewers, on the other hand, is $2,000. Each view counts towards your total viewer count, and YouTube doesn't even charge you for views that don't go beyond five seconds.
The platform follows a pay-per-click model, which lets you set exactly how much you're willing to pay for each click. The platform also provides fast results and easily measurable metrics. You can check out your campaign's performance by simply clicking on your Analytics tab.
YouTube has several ad formats to choose from. You can use these to your advantage, depending on your business and advertising goals. For example, use skippable in-stream ads if your goal is to increase leads and sales. If you want to increase your brand awareness and reach, use bumper ads. How you format your ads can impact how you connect with your audience.
YouTube users typically search for content that they want to see on the platform. This means that you can target specific audiences that you want to reach. You can create content for a specific demographic, customer match, and even life events. This increases the chances of converting views into sales.
---
TikTok for Business
Almost a quarter of marketers find TikTok an effective platform for reaching their business goals. The app is simply a mine of opportunities. There is an array of growing communities within the platform and a newly installed advertising medium. Plus, the futility of conventional advertising is forcing brands to come up with fresh, quirky, and fun content that TikTok's younger demographic would want to click.
TikTok has also proven that it's merely an app for entertainment. Last year, Finance TikTok grew by 255%, and the #crypto hashtag exploded with almost two billion views on the platform. This proves that any niche or industry can gain a foothold within the video-sharing app.
Moreover, TikTok is a top app for driving consumer spending. Last year, its user purchases rose by 77%. In fact, more than two-thirds of TikTok users say the platform inspired them to shop even when they weren't planning to. It's no surprise then why brands are eager to advertise on the platform despite its novelty.
With more content creators wanting a bigger piece of the pie, TikTok is coming up with other ways to facilitate creator funding without relying on mid-stream ads. The social media app's main revenue source is currently product advertisements tied to the creator's video clips. In the absence of a more reliable revenue source, brands within the platform have sought alternatives like brand partnerships.
Some of the popular brands to ever advertise on TikTok are NYX Professional Makeup, Tinder, Fortnite, and Mountain Dew.
---
The Benefits of Advertising Your Business on TikTok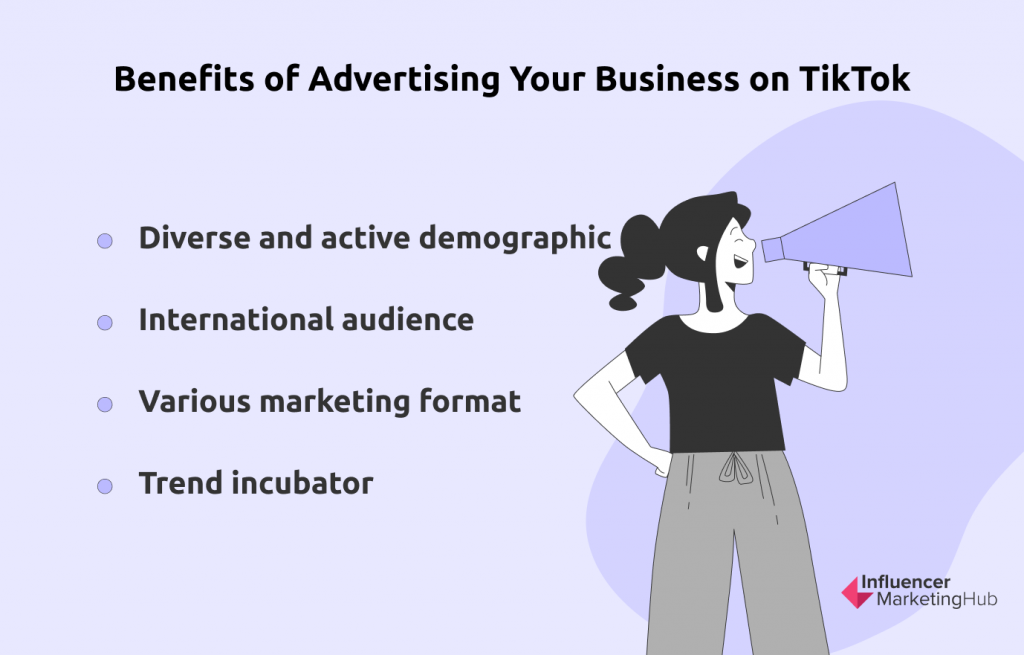 Diverse and active demographic
Gen Zs make up 41% of the TikTok population, which only means that millennials, Gen Xs, and baby boomers make up more than half of its demographic. Sure, Gen Zs are still the ideal market when it comes to advertising on the platform. But there's also a real opportunity here to reach communities within any niche and age group.
Right now, TikTok's user engagement from all generations is at an all-time peak. In less than 18 months, US users on the app grew 5.5 times. TikTok users not only visit the app more than once a day but also spend an average of 52 minutes a day on the app. For brands, this means more exposure and a rewarding cost of advertising.
TikTok is available in over 100 countries and 75 languages. These features make TikTok an ideal platform for reaching a global demographic. When the entire world sat out 2020 due to the coronavirus pandemic, audiences around the world sought light and funny short-form video content.
As the rest of the world slowly rebuilds itself, demand for video content won't wind down any time soon. This is especially true now that consumers are shifting to online spending. Right now, TikTok is influential in shaping purchase decisions, making advertising on the platform a worthwhile endeavor.
There are many resources to get you started on a TikTok advertising campaign. The app has a variety of ad formats to choose from. Among these is In-Feed, which is the only self-serve format that is available to all advertisers. But there are also other ad creatives to help you create more dynamic content. Knowing which ones to choose can directly help you engage audiences better.
One of the factors that makes TikTok videos viral is their memorability. TikTok's use of sound compels people to scroll endlessly, where they discover one entertaining clip after another.
Incorporating trends into your content makes it easier to gain views on the platform as well as build a large following. Hashtags are a powerful weapon for spreading content, while branded hashtags allow users to participate in a campaign by creating their own content around your hashtag.
---
Understanding TikTok's Algorithm
TikTok uses a recommendation system that delivers curated content to each user. This content is based on the interest of each audience, making it unique for every user. They can see this myriad of curated content on their For You page. This ultimately makes it easier for audiences to find content and creators that appeal to them.
Specifically, TikTok's algorithm recommends content based on several elements, such as:
User interactions, which can be comments that they posted, videos that they liked, and accounts that they follow

Video information signal or content that they search on the Discover tab, which includes hashtags, sounds, captions, and trending topics

Device and account settings, including language preferences, types of mobile devices, and interest categories that they selected when they signed up on the platform
---
What Type of Video TikTok Favors
TikTok favors light, fun, and unconventional content over serious ones. While the platform caters to different niches, you'll likely find more humorous and dance videos, as well as lip-sync and tutorial videos.
Preferred Video Length
TikTok's video length only used to be 60 seconds long. Last year, the company increased it to three minutes. Then a month ago, TikTok increased it again to ten minutes. These longer videos receive five billion views worldwide. Their popularity among countries like Japan, Thailand, and Vietnam also make them an opportunity for brands to expand their global reach.
Interaction
Engagement is key when it comes to TikTok's algorithm. The app will suggest your content to users that will find them interesting. These users may have interacted with similar content or have engaged with your brand in some way or another. As more people watch, engage, and interact with your content, the algorithm will mark your content as trustworthy content and show it to more users.
---
Understanding YouTube's Algorithm
Like TikTok, YouTube also uses artificial intelligence to recommend content that captures the user's interest. However, it wasn't always that way. In fact, the platform's earliest metric for recommending video are clicks and views. With the rise of clickbait videos, YouTube changed its algorithm overtime, focusing on watch time, then satisfaction and personalization before landing on its current measure.
Now, YouTube's goal is to keep viewers longer on the platform. To do that, the social media giant leverages personalized recommendations based on three factors:
Personalization or user watch history and activity

Performance, which includes view duration and satisfaction

External elements, such as interests, competition, and seasonal relevancy
What Type of Videos YouTube Favors
Compared to TikTok, YouTube has a bigger arsenal of video content. This ranges across industries and niches, as well as target audience and demographic. In terms of tone, YouTube videos can be formal, serious, casual, and light. There are also various genres and formats to choose from, including commentaries, reaction videos, tutorials, and vlogs.
Preferred YouTube Video Length
The default video length that YouTube supports is 15 minutes. But verified accounts can increase this length on their settings. The maximum video length that the social media site can support is 12 hours. The best duration for your video depends on your audience and purpose. Still, Social Media Examiner recommends a video length of seven to 15 minutes for the audience's optimal experience.
Interaction
YouTube recommends personalized content to viewers using different tools, such as trending videos, recent searches, and subscriptions. Like TikTok, YouTube shows your content to users based on their interaction with similar content. These interactions may include likes, shares, subscriptions, and videos that they last viewed.
---
YouTube vs. TikTok Similarities
While YouTube and TikTok are competitors, they still have similarities. For one, both are video-sharing platforms that feature a variety of topics, from dance and fashion to art and food. Both platforms also publish content from different industries, which make them ideal for any niche. Anyone from big brands to individuals can publish content on both.
Both YouTube and TikTok are also big on user-generated content. These two popular social media apps offer features to increase the content's engagement, such as shares, likes, and comments. Moreover, both apps have metrics and analytics that can easily measure a video's performance.
Finally, the algorithms of these two platforms work similarly: your content appears on a user's feed based on their past interactions with other content. This not only helps them find content that they're interested in, but it also leads you to the right audiences.
---
TikTok vs. YouTube Differences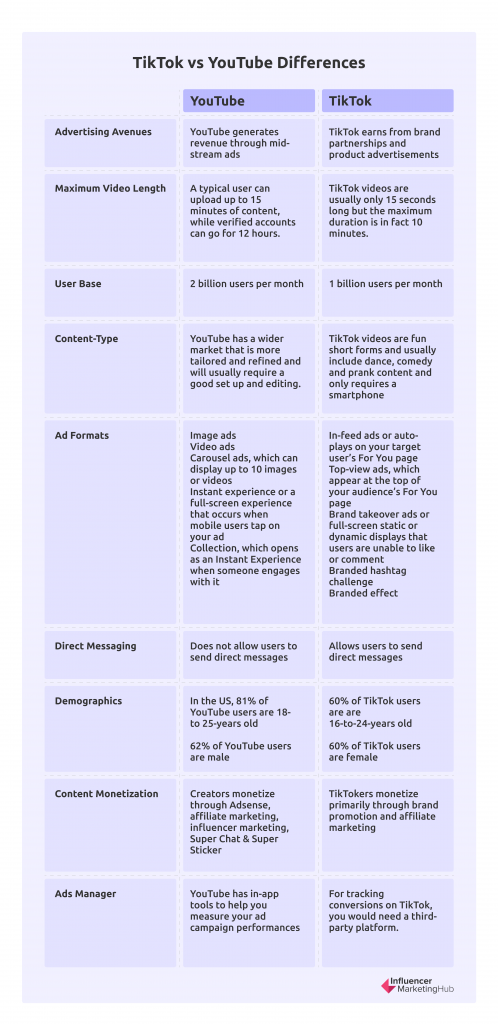 On the other hand, TikTok and YouTube have pronounced differences.
Advertising Avenues
YouTube generates revenue through mid-stream ads, while TikTok earns from brand partnerships and product advertisements.
Maximum Video Length
While most uploaded TikTok videos are only 15 seconds long, the maximum duration is in fact 10 minutes. On the other hand, YouTube is more flexible in terms of content duration. A typical user can upload up to 15 minutes of content, while verified accounts can go for 12 hours.
User Base
Worldwide, TikTok has more than a billion users per month, while YouTube has over two billion. On both platforms, India tops all other countries in terms of the most number of users (for YouTube) and most app downloads (for TikToK).
Content-Type
TikTok videos are fun short forms that usually include an element of sound. These are usually dance videos and lip-sync videos. On occasion, there are also prank videos, as well as stand-up comedy content.
With YouTube, there's a wider market for content, which is also more tailored and refined. That is, YouTube videos usually require a good set-up and editing, while TikTok merely requires a smartphone camera.
Ad Formats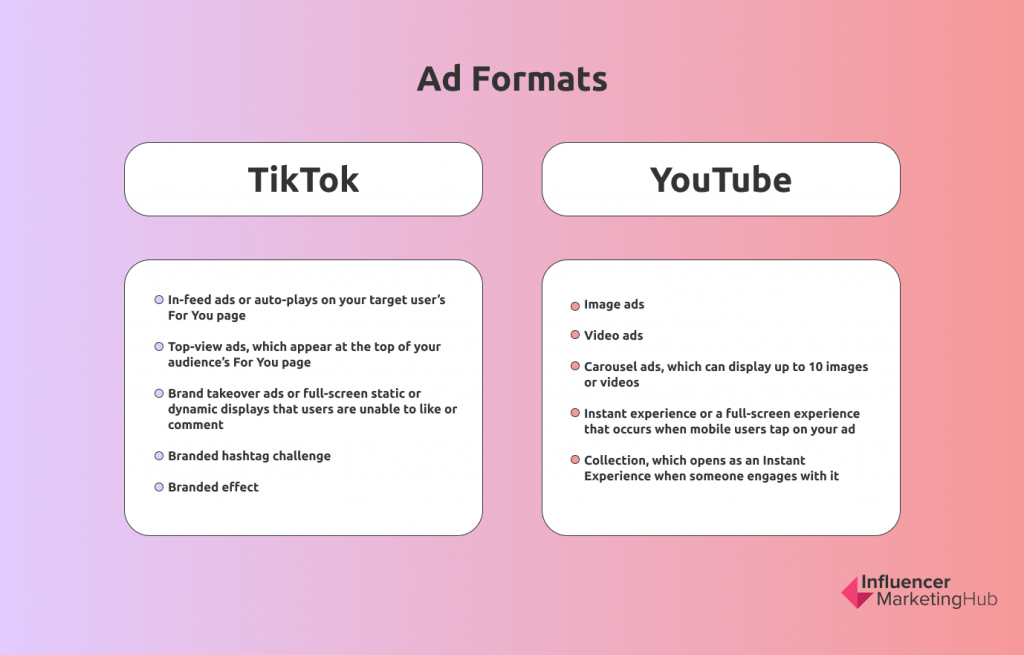 On TikTok, you can run the following ad formats:
In-feed ads or auto-plays on your target user's For You page

Top-view ads, which appear at the top of your audience's For You page

Brand takeover ads or full-screen static or dynamic displays that users are unable to like or comment

Branded hashtag challenge

Branded effect
As for YouTube, the types of ad formats are more diverse.
Image ads

Video ads

Carousel ads, which can display up to 10 images or videos

Instant experience or a full-screen experience that occurs when mobile users tap on your ad

Collection, which opens as an Instant Experience when someone engages with it
Direct Messaging
TikTok allows users to send direct messages, while YouTube lacks this feature.
Demographics
In the US, 18- to 25-year-olds make up 81% of YouTube users. Overall, 62% of YouTube users are male, while 38% are female. Meanwhile, users aged 16 to 24 comprise 60% of TikTok users. In the United States, 60% of the TikTok population are female, while 40% are male.
Content Monetization
In terms of monetizing content, YouTube has varying options for earning money. Most content creators primarily use AdSense. But other options, such as affiliate marketing, influencer marketing, Super Chat and Super Sticker are also available. On the other hand, TikTok has fewer means of monetization. The most common means are affiliate marketing and brand promotion.
Ads Manager
For tracking conversions on TikTok, you would need a third-party platform. YouTube, on the other hand, already has in-app tools to help you measure your ad campaign performances.
---
Final Words
TikTok vs. YouTube: which one is the best platform for you this 2022? There really is no right answer for everyone. The best video-sharing app still depends on your brand's marketing goals.
If you're catering to a younger audience, for example, then TikTok is the way to go. But if you're looking for a more flexible demographic, then stick it out with YouTube. Of course, when choosing either of the two, you also need to consider several factors, such as monetization, tone, and style.
Additionally, YouTube is great for increasing your audience reach and converting views into sales. Meanwhile, TikTok is one way to generate buzz around your product through gimmicks, hashtags, stickers, filters, and various social media trends.
Now that we've provided an in-depth comparison of YouTube and TikTok, choosing between the two shouldn't be hard. At the end of the day, whatever you decide should address your objectives and bring you closer to your goal.
Frequently Asked Questions
How are TikTok and YouTube different?
TikTok and YouTube are different in terms of their content's length, tone, and means of production. TikTok offers content that lasts up to 10 minutes, while YouTube content can be 12 hours long.
TikTok is also more casual, light, and humorous. Meanwhile, YouTube content contains a range of tones, from fun to formal.
Most TikTok videos are also shot using a phone camera, while YouTube videos are often more fine-tuned in terms of set-up and editing.
TikTok vs. YouTube: which one is more popular?
TikTok is quickly rising in popularity as more people are downloading the app. Specifically, it's a hit among teenagers and young adults. But YouTube is still unmatched in terms of scope and number of viewers. Compared to TikTok, it also has a more diverse demographic that spans across generations.