From dance challenges that get everyone grooving to viral songs that everyone's using in their videos–TikTok is the home of internet trends. With 1 billion monthly active users who watch 167 million videos per internet minute, trends catch on easily on the platform. And those trends then spread to other social networks, taking over the entire internet.
This is why TikTok is such a powerful marketing platform for brands, as long as you know how to make the most of it. If you want your brand and products to go viral on the platform, why not tap into TikTok's most valuable resource–its users? User-generated content is the reason why trends catch on so quickly on TikTok because they inspire other users who inspire other users and so on.
In this post, we take a closer look at what constitutes user-generated content on TikTok, why it's a powerful tool, and what you can do for your TikTok UGC campaign. Let's get started.
---
User-Generated Content on TikTok:
---
What Is User-Generated Content on TikTok?
User-generated content on TikTok is much like user-generated content on other social media platforms. It's the videos created by TikTok users and content creators that feature your brand in some form or the other.
They might be using your product in the video and reviewing it or showing their viewers how to use it. They might be participating in a TikTok challenge that you started–whether it's a dance or a unique task. Or they could simply be creating a video using your branded hashtag as a prompt.
Alternatively, you might also see user-generated content where people make use of features like Duet and Stitch. So, they might be Stitching or Duetting with your video and creating unique new content to engage their viewers.
Many brands may reshare these videos with their audience (with the permission of the original content creator, of course). You can even amplify the impact of your TikTok user-generated content by using them for your ads.
---
Why Focus on User-Generated Content for TikTok?
Consumers trust other consumers, which means they're most likely to trust content created by other customers just like them. In fact, a majority of people in a Stackla study found consumer-created content to be most authentic. Almost 80% of respondents in the study said that this type of content influences their purchasing decisions.
As such, content from real users is likely to perform well even on TikTok because of its relatability and authenticity. In a study by the Real Eyes video testing platform, UGC videos on TikTok had a 22% higher score than brand videos. These UGC videos were able to capture and hold viewers' attention for the longest time compared to TikTok brand videos and Facebook video ads.
Additionally, UGC videos were found to have a much bigger emotional impact than brand videos. TikTok UGC videos could encode emotion 22% better than brand videos. Plus, their encoding score was 4.7x higher than Facebook ads and 10x higher than conventional ads. This speaks volumes about the power that user-generated content on TikTok has to emotionally engage your audience.
---
Best Practices for TikTok UGC Campaigns
Now that you know how TikTok user-generated content can work for your brand, you may be all set to start your own campaign. Before you start, make sure you're following the best practices below to guide your campaign.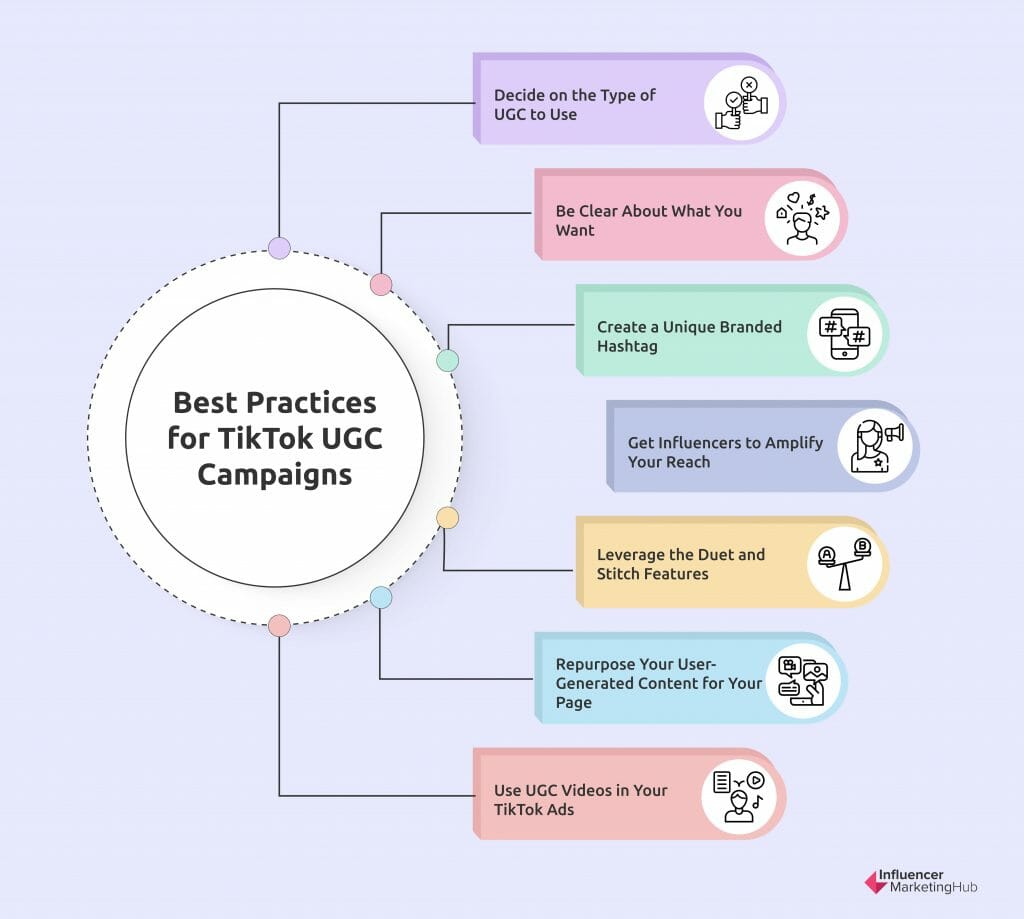 1: Decide on the Type of UGC to Use
Start with a clear idea of the type of user-generated content that would work best for your campaign. This entirely depends on the goal of your campaign and what you wish to ultimately achieve. Some of the most common types of UGC you can see on TikTok are:
Challenges – This would involve challenging your audience to perform a specific task based on your prompt and featuring your products. Let's say you want to promote a new eyeshadow palette. You could challenge people to create a unique makeup look that incorporates the product. For example, Coca-Cola challenged people to #ShareTheMagic by connecting with their loved ones over Coca-Cola.
Contests – This type of UGC campaign gives your audience a chance at winning something of value, giving them more reasons to participate. It could be a gift card, a new product, or even an experience that would entice them to be a part of your campaign.
Reviews – In this type of UGC, reputable content creators provide an authentic review of your product. This is a great way to earn the trust of your target audience and inform their purchase decisions. Here's an example of a TikTok influencer reviewing swimwear products from Skims.
Instructional videos – As the name suggests, this type of UGC involves creators providing how-to tips and instructions. This is another informative way to garner trust and inspire people's purchase decisions.
---
2: Be Clear About What You Want
Don't be afraid to tell your audience exactly what you want to see from them. Provide clear instructions on how to participate such as how they should show the product, what they need to include, and which hashtags they should use.
This is essential to avoid confusion and to get high-quality content from your audience. It's especially important for UGC campaigns involving contests as you need to establish clear rules for people to follow so that their content can count toward a submission. That way, you can prevent the risk of people coming to you with complaints about how their submission wasn't counted.
---
3: Create a Unique Branded Hashtag
Hashtags are crucial if you want to bring all the user-generated content together in one cohesive place. You can use these hashtags to easily keep track of all the content that people have created for your campaign. So, it's important to come up with a branded hashtag that's unique to your brand and stands out.
There are two things to keep in mind when creating a branded hashtag for your TikTok user-generated content campaign:
It should be unique to your brand. That means it should contain your brand name, catchphrase, or product name to differentiate it from more generic hashtags. You don't want to pick out something too generic as you'll end up with people piggybacking on your hashtag only to create content that's completely irrelevant to your campaign.

For example, Laura Mercier launched the #ReadySetGo challenge to get people to share their transformations using the brand's products. However, the top videos using the hashtag are no longer relevant to the brand at all.
It should be easy enough to read and use. You don't want people mistyping the hashtag because it was too confusing or too difficult to spell. Otherwise, you won't be able to collect as much user-generated content as you're supposed to because the search results will only bring up videos that use the correct hashtag. Keep it as simple and straightforward as possible while still making it unique to your brand.
---
4: Get Influencers to Amplify Your Reach
If you want to collect plenty of user-generated content, you need to reach as many people as possible. This would require getting your campaign in front of the right people so it can spread and reach even more users. One of the best ways to reach the right audience is by working with influential TikTok creators.
TikTok influencers have the kind of reach you need to get your campaign in front of hundreds of thousands of people at once. And what they do on TikTok tends to catch on very easily–whether it's dancing to set choreography, using a certain product, or trying a "hack." So, when you get them to participate in your challenge or contest, it could inspire many of their followers to follow suit.
When e.l.f cosmetics came up with the "Eyes. Lips. Face" song, they challenged their audience to create fun videos using the song. Influential creators on the platform such as Brittany Tomlinson and Kira Kosarin helped to amplify the campaign's reach. More than 1.4 million TikTok videos have been created using the song and the #eyeslipsface hashtag has garnered over 9.4 billion views.
When partnering with influencers, make sure you choose creators who can influence your target audience. This means working with influencers who specialize in your industry or niche. More importantly, give them the freedom to stay true to their personal style even if it's a sponsored video. This is one of the best ways to get unique, authentic, and awesome influencer content because you're not putting a leash on their creativity.
---
5: Leverage the Duet and Stitch Features
TikTok offers plenty of features to support community engagement and collaboration within the platform. Features like Duet and Stitch offer an excellent opportunity for brands to encourage more user-generated content. You could create a video and challenge your followers to Duet or Stitch with it. This gives your audience the opportunity to get creative while you get to collect valuable user-generated content.
Let's say you want to promote a new collection of clothes that you recently launched. You could create a video prompt asking people to create an outfit using items from the collection. People will then Duet or Stitch a video of them following your prompt and wearing unique outfits. These videos may even be able to inspire others to shop from the collection to create their own outfits.
For example, when Urban Decay collaborated with Prince 4 Ever to come up with the new UD x Prince makeup collection, they had influential creators Stitch with their original video. These creators used the collection to come up with unique makeup looks or artwork to give the audience a preview of what they can expect.
---
6: Repurpose Your User-Generated Content for Your Page
Creating content for TikTok may seem like a walk in the park because you only need to create a few seconds of video. But TikTok is all about creativity if you truly want to engage your audience. As such, it can be challenging to consistently have to brainstorm new content ideas to share with your TikTok audience.
You can get creative by leveraging user-generated content to fill up your TikTok page even when you've run out of ideas. Take the opportunity to share authentic reviews and tutorials from influential creators and regular TikTok users alike. This not only lets you fill your page with brand-positive content to win the trust of potential customers, but it also gives your fans the recognition they deserve.
Alternatively, you could also go the extra mile by Stitching or Duetting with these user-generated videos. Using these features, you could have your social media team create videos inspired by content from your audience. You can even use these features to answer questions from your audience and respond to comments in your previous videos.
Fabletics regularly shares UGC from different customers to showcase the real people for whom their clothes are made. This gives them the recognition they deserve while establishing trust with potential customers.
---
7: Use UGC Videos in Your TikTok Ads
Your user-generated content can be repurposed even beyond your regular TikTok page. Remember how we talked about the impact of UGC ads on TikTok and how they're much more powerful than brand videos? So, why not take the user-generated content you've collected and incorporate them into your ads?
Get permission from the original creators and combine multiple review videos into a powerful video for your TikTok ad. You could also leverage tutorial videos and turn them into informative ads that might compel many people to make a purchase.
To maximize the impact of your ads, you could even involve influential TikTok creators in your UGC ad campaign. Collect the videos created by influencers for your brand and turn them into ads. This is a great way to capture the attention of an audience that's already familiar with those influencers and raise awareness about your brand.
---
Become a TikTok Sensation with UGC
User-generated content holds the key to becoming a viral sensation on TikTok. But you have to be strategic with your approach so that your efforts don't go to waste. Make the most of the tips and best practices we've provided above to leverage the power of UGC on TikTok.
Frequently Asked Questions
What is an example of user-generated content?
Reviews, product photos, and customer videos are some examples of user-generated content.
What counts as user-generated content?
Any form of content created by consumers such as written reviews, photos, and videos is considered user-generated content.
How do I get user-generated content?
You can get user-generated content by coming up with hashtag challenges and contests and encouraging people to participate.
Is user-generated content worth it?
With the kind of credibility and trust that you can establish through UGC, it's definitely worth the effort.
What is the purpose of user-generated content?
The purpose of UGC is to provide social proof, engage your audience, and create opportunities for audience recognition.