With a billion monthly active users from around the world, TikTok is growing to be one of the most popular social media platforms. While this massive user base may be cause enough for brands to start using the platform, there's also the fact that TikTok users spend an estimated $110 million per month, which makes it the top-grossing non-gaming app.
If that convinces you to use TikTok for your business, this post will help you find your footing on the platform. Read on to learn how to get started with TikTok for business.
---
Ultimate Guide: How to Use TikTok for Business:
---
Who Should Use TikTok?
Now you may be skeptical about using TikTok for your business because "Isn't it just for Gen-Zs?" While the platform has a large concentration of younger users, the app is just as popular among young adults and middle-aged users.
According to statistics, 25% of TikTok users are between 10 and 19 years old. Meanwhile, people in the 20-29 age groups make up 22.4% of the platform's user base. And 30-39-year-olds make up 21.7% of the total TikTok audience.
Additionally, you can find 20.3% of users between 40 and 49 years old. People over the age of 50 make up the remaining 11%. So if your assumptions about the platform demographic have been keeping you away from using TikTok, these numbers show that the platform's audience is much more diverse than you'd think.
Moreover, the platform isn't just for entertainment content (although the category is indeed popular). TikTok also sees a ton of informative and educational content from brands and influencers alike. That's why you can see even the most unlikely brands winning on the platform.
Who'd have thought the Association of Chartered Certified Accounts (of all organizations) would find their place on TikTok? Partnering with influencers like @deafimmy, ACCA was able to break the stereotype and connect with a younger audience.
So if you're thinking that TikTok isn't the right platform for you because of your industry, you might want to rethink that. Take a look at what your competitors are doing and see if there are any creative ways to leverage the platform for your business.
---
9 Steps to Using TikTok for Business
If you're convinced that TikTok is the right choice for your business, it's time to learn how to start using it. Here are the steps to use TikTok for business:
Step 1: Creating Your TikTok Business Account
The first step, of course, is creating a business account. To do this, download the app and register using your phone number or email address. If you have a registered social media account for your business, you can also use that to sign up on TikTok.
From your "Me" page, click on the "…" button at the top and select "Manage Account." Choose the option to "Switch to Business Account," select the category that best matches your industry, and that's it. You now have a TikTok Business account that you can use for engaging with your audience and posting content about your business.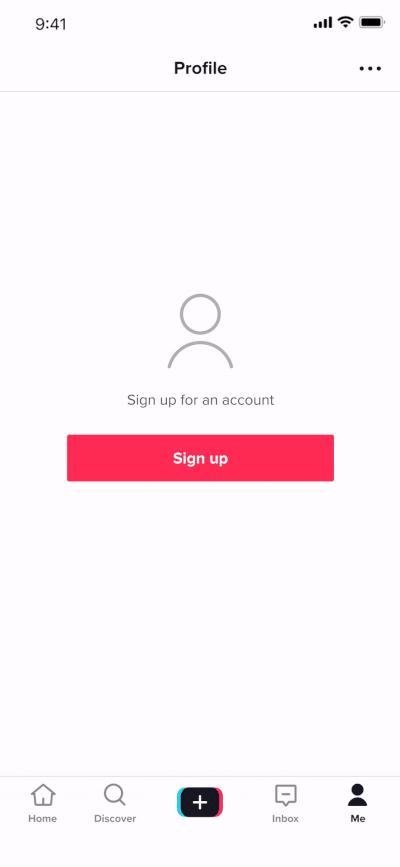 ---
Step 2: Optimizing Your Profile
When you're serious about using TikTok for business, it's not enough to just have an account. Once you have your account set up, you'll get the option to edit your profile. This is an important step because your profile acts as a digital storefront for your business. So it's important that you optimize it to authentically represent your brand.
That means updating your bio, profile photo, and URL. Here are a few best practices to help you get this step right:
Choose a photo that perfectly represents your brand
Your profile photo should not only look great, but it should also visually represent your brand. Make sure there's a consistent and coherent visual identity across all your social accounts. This would involve using the same logo and/or colors that would help people make an instant connection between your TikTok profile and your brand.
Chipotle, for instance, uses the same profile photo as on Twitter and Instagram. This helps them to maintain a consistent brand image.
Sum up your brand in a short bio
With TikTok, you only have 80 characters to write a short description about your brand. To make the most of this space, keep it short and to the point without losing your brand essence. You could include your slogan or catch phrase. Or you could even add a short bio quote that aligns with your brand personality.
BUXOM Cosmetics uses just three words in their TikTok bio that matches what they stand for i.e. big, bold, and sexy. This is short and concise while perfectly aligning with the brand's personality.
Be strategic about your URL
TikTok allows you to include one clickable URL in your profile. So you need to be strategic about what link you add. You can link to your homepage, landing page, blog post, or even app download page depending on your goals. But make sure the URL is recognizable so it's trustworthy–a vital factor to get people clicking on your links. It should also be clean so it doesn't confuse people.
For example, florence by mills includes a link to their LikeShop page so viewers can quickly find (and buy) the products from their TikTok feed. The URL clearly shows the brand name so it looks clean and reliable. Similarly, you can use other link in bio tools to easily guide people to your content or products. Here are some powerful tools for that purpose:
Koji,
InstaBio,
Linktree, and
LinkFolio.
---
Step 3: Understanding Your Target Audience
While your specific goal may be unique, there's one main reason why you're using TikTok–to connect with your audience. But you can't connect with your audience if you're not creating the kind of content that resonates with them. This is why it's crucial to take a closer look at who your audience is and understand what kind of content they'd be interested in.
As we've established earlier, TikTok has a diverse demographic of users even though it may be most popular among Gen-Z. Think of where the TikTok user base overlaps with your target demographic. Or you can even look for opportunities to reach a new and unexpected audience. Whatever the case is, make sure you study this target audience closely to understand their behavior, preferences, and interests so you can craft a compelling content strategy that resonates.
BarkBox knows exactly who their target audience is and what kind of content they'd like to see. They use TikTok to share funny animal videos that pet parents and animal lovers would either enjoy or find relatable.
---
Step 4: Understanding How the TikTok Algorithm Works
If you're serious about using TikTok for your business, a crucial step is to understand how the platform's algorithm works. You need to know the factors that influence the TikTok algorithm so you can use them to your advantage and improve visibility on the platform.
This would involve including a relevant caption along with relevant and popular hashtags to drive up visibility in front of the right audience. Besides the information on your video like captions and hashtags, user interactions play a critical role in influencing the algorithm.
So it's important that you create content that people would want to view and engage with. The goal is to drive up engagements in your target niche so that more people can notice your content in their "For You" pages.
Moreover, using popular TikTok sounds is another excellent way to improve your visibility in the TikTok algorithm. Look for opportunities to leverage them in your videos so people searching for the sound can find your content more easily.
---
Step 5: Scoping Out the Competition
Is your competition on TikTok? If yes, what are they doing? What types of content are they creating and are their followers engaged?
Looking at your main competitors and seeing what works/doesn't work for them is a great way to build out your TikTok marketing strategy. Since they've already given the platform a try, they could serve as a valuable source of insight for your business.
Make sure you keep a close eye on the types of content that seem to get the most engagement. And see if there are any creative approaches you could replicate or get inspiration from.
---
Step 6: Developing a Powerful Content Strategy
Based on your research, you can start building out your TikTok content strategy. This involves outlining details such as the types of content you'll create and how often you'll publish new content.
While entertainment and dance content seem to dominate the platform, informative and practical content is just as popular. That means how-to and tutorial videos, DIYs, life hacks, advice, etc. So find a way to work these categories into your content strategy to engage your audience. And make sure you try to maintain a balance between different content types to diversify your feed and appeal to different types of people.
For instance, funny and entertaining videos like the ones BarkBox makes may be great for general engagement. But you can also provide tutorial videos on how to make the most of your products to inform and educate your audience. This is a great way to get people more invested in your brand's content so they can keep coming back for more.
Take, for example, how Le Creuset regularly shares cooking videos that utilize the brand's cookware products. Many of these videos show the products in action to speak for the quality. Others are just meant to be pleasing to the eyes and entertain viewers.
Additionally, you should also build a content calendar specific to the platform. Just like on other social networking platforms, consistency is essential to maintain strong visibility on TikTok. So creating and following a content calendar can help you keep up the momentum and maintain the right publishing frequency.
---
Step 7: Partnering with Influential Users
With the ability to reach millions of users at once, influential TikTokers have the power to make your business an overnight success. Having the right influencer promoting your brand in front of their followers is a great way to instantly boost your visibility on the platform.
Your TikTok influencer marketing strategy could be as simple as getting an influencer to briefly mention your brand. But ideally, find a way to have them feature your product or service in a way that would resonate with their followers. You could also partner with influential creators for a duet, get them to use your branded hashtags, or have them promote your brand challenge to drive participation.
When mattress brand Simmons wanted to use TikTok to connect with a generation of young consumers, they partnered with a diverse range of TikTok influencers. These influential creators helped bring visibility to the brand's #Snoozzzapalooza hashtag challenge, encouraging over 2 million video submissions and garnering 6 billion video views.
---
Step 8: Using TikTok Advertising to Maximize Reach and Impact
Another excellent way to give your business TikTok an instant boost is by paying for TikTok advertising. Since this requires some financial investment, it's important to carefully set up and manage your TikTok ads to attain good ROI. This starts with a clear and realistic goal and a defined target audience.
You can then design your ad keeping these two factors in mind. Create a powerful TikTok ad strategy that will help you get your business in front of the right people and leave an impact on them.
---
Step 9: Using Analytics to Grow and Optimize
Finally, success on TikTok requires constant optimization. Make the most of TikTok analytics tools to track your performance on the platform and look for opportunities to improve. Use these tools to measure content-specific engagement metrics, hashtag reach, and best times to post. Some tools can even help you identify potential influencers and predict upcoming trends in influencer marketing.
These insights can be leveraged to plan ahead and optimize your content strategy for improved performance. For example, posting at a time when you get tons of engagement is likely to boost your content visibility.
---
Making TikTok Work for Your Business
Now that we've got all the essential steps laid out for you, it's time to follow them and start using TikTok for business. Make sure you start with a strong profile, a well-defined target audience, and a powerful content strategy to get the ball rolling and improve your chances of succeeding on the platform.
Frequently Asked Questions
How do I promote my small business on TikTok?
You can promote your small business on TikTok by posting great quality content regularly, engaging with your audience, using popular hashtags and TikTok sounds, and working with influential creators.
Is it better to have a business account on TikTok?
Having a business account on TikTok is better for brands as it gives you access to many tools and functionalities that are essential to promote your business on the platform.
How do I promote my brand on TikTok?
Influencer collaborations, paid advertising, and branded hashtag challenges are some of the best ways to promote your brand on TikTok.
How do you promote a product on TikTok?
You can promote a product on TikTok by sharing tutorials on how to use it, featuring it in aesthetically-pleasing setups, and getting influential creators to feature it.
What is a TikTok business account?
A TikTok business account is a type of account that's specifically designed for brands and businesses to use. It comes loaded with features and gives you access to robust analytics and TikTok Ads Manager.